Musicasaurus.com excavates the best concerts on DVD…
A new review will be posted every two weeks, on Sunday evening.....All of the DVDs reviewed here are (or were!) commercially available for purchase. We will list a few highlights from each of the DVDs, having mined them for the moments that make endorphins flow, pleasure centers pop, and smiles break wide.
_______________________________________________________________________________
Posted 6/16/19.....
(Next posting: Sunday evening, June 30, 2019)
Johnny Winter - Live Through The '70s - A 2008 MVD Entertainment Group release…
This DVD has gathered up both live-in-concert and television performances (1970-1979) from Texas blues guitarist Johnny Winter, and it features stops in Denmark, Germany and London in addition to native soil appearances in Chicago and Waterbury, Connecticut...
Recommended tracks:
"Frankenstein" - from a 1970 performance...Albino blues brothers Johnny AND Edgar play on this instrumental that Edgar later on parlayed into a monstrous hit (he first released it in studio form two years later, via his 1972 album They Only Come Out At Night.) The setting is a small stage in a low-ceilinged, firetrap-lookin' teen club in Denmark, Copenhagen and the jam includes not one but two drum solos (one by Edgar, who jumped over from keyboards to drum kit perhaps to prove his "multi-instrumentalist" tag was warranted). Admittedly, the song as performed here is not entirely captivating; it's just worth a peek because of the look and feel of a young and hungry blues-rock band bangin' it out in a club setting.
"Be Careful With A Fool" - This is more like it. From that same 1970 Denmark club session, Johnny stretches out on a B.B. King composition and plays heartfelt blues-rock riffs punctuated by his own guttural growls that seem to goad his flying fingers. This is the Winter of my content--the more straight-ahead blues before he blossomed into an arena headliner a few years down the road, sometimes wearing (as he did on a '73 Don Kirshner's Rock Concert appearance), a top hat, cape and platform shoes.
Also on the disc: Winter with bandmates Randy Jo Hobbs (bass) and Richard Hughes (drums) in performances circa '73 and '74, the time period that—on vinyl—Winter was also pushing out albums like Still Alive And Well and Saints & Sinners, both featuring guitarist Rick Derringer as well. Still Alive And Well—a release so named because it marked Winter's personal emergence from a heroin habit—is especially a treat. Village Voice music critic Robert Christgau says of that record: "Winter will never be an especially personable singer, but I like what's he's putting out on this monkey-off-my-comeback: two late-Stones covers, plenty of slide, and a good helping of nasty.
_______________________________________________________________________________
Posted 6/3/19.....
Glastonbury - A Julien Temple film - A musical documentary (BBC Films / HanWay Films / TH!NKFilm) released as a two-DVD set in June 2007.
Glastonbury is a long enduring English music festival that started up in 1970, and with just an occasional year off here and there, has endured through present day 2016. It is always held on a farm near the village of Pilton, in the county of Somerset in southwest England.
Director Julien Temple (who early in his career made an arresting 1979 documentary about the Sex Pistols called The Great Rock And Roll Swindle) used amateur video footage from past festivals, clips and full performances from artists, and his own 2002-2005 filmed material to fashion a historic record of the event.
Glastonbury the film also features extended interviews with founder Michael Eavis, who traces his own evolution as a Methodist farmer-turned-music festival activist. The festival itself evolved as well, and the audiences & artist line-ups (over stretches of years) has essentially mirrored the socio-political changes going on in Britain and beyond.
In an interview with the BBC's Helen Otter after an April 2006 screening of his new film, director Temple said "I wanted to create a sense of being there at Glastonbury...A feeling of being there with the crowd, and of what it's actually like to be at the festival." He succeeded in that quest, right down to his down-and-dirty segment about the cleaning of the loos (toilets). Temple told Otter, "That part of the film grounds you...You're on an exhilarating trip throughout the festival - you get so inspired by the sounds, the music, the people you meet...But then you have to remember that when that many people come together, they are human beings, and they do have to go to the loo. And the loo is not a good place to go."
The average attendance of the nearly yearly festival? Approximately 175,000.
The film contains clips from Bowie, Bjork, Joe Strummer, Morrissey and more, and the set's second disc has uncut performances--full songs from The Foo Fighters, Kaiser Chiefs, The White Stripes, The Killers, Goldfrapp, Fun Lovin' Criminals, Paul McCartney, R.E.M., Radiohead, and Nick Cave And The Bad Seeds...This two-DVD set is a solid one-two punch: Historical Significance meets Music & Mayhem.
_______________________________________________________________________________
Posted 10/3/16...
Just a few weeks back, while filling the shopping cart on Amazon.com, I decided to put my near-future satisfactions in the hands of the Police...So I bought the following two concert DVDs, curious about what a gap of 24 years might look and sound like in terms of two different tours, that many years apart:
Synchronicity Concert / DVD released in 1984 - From their 1983/1984 Synchronicity tour.
Certifiable: Live in Buenos Aires / DVD released in 2008 - From their 2007/2008 reunion tour.
When the shipment arrived, musicasaurus.com did a quick experiment right out of the box (or boxes, technically). I took one song, and not any of the hits which have nestled sometimes too well into our consciousness; to seek some measure of objectivity, I chose a track from the band's first studio album Outlandos d'Amour from 1978--"Hole In My Life".
It's been a favorite album track of mine through the years, all punky and propulsive. How would the songs compare? In this corner: The Police during their initial 9-year ascension to global superstardom. In the other corner: The Police reunited after 21 years apart--and was it for Love? Or was it for Money? Was it for Love of Money?
Comparing the Two Performances of "Hole In My Life" (performed live, 24 years apart):
'84: Bassist/Vocalist Sting, guitarist Andy Summers and drummer Stewart Copeland look hungry (in terms of putting every bit of energy into the song). They're animated and focused.
'08: The trio tries, but to musicasaurus.com's eyes and ears, there's just a bit of a lag in the song's rhythmic energy.
The Crowd:
'84: The song has an irresistible one-word chant of "YEAH!" that crops up on the choruses. Various fist-pumping audience members are seen--in quick, one-second edits--energetically providing these "yeahs".
'08: Sting attempts to get some yeah, yeah, yeahs from the crowd, but it doesn't appear to completely "rock the house" as it did 24 years earlier.
The On-Stage Look:
'84: Sting has a cockatoo haircut (perhaps each time record sales spiked, he did so to his head). Plus he's wearing some kind of multi-colored tattered and fringed vest that looks like Big Bird's been chased down by a kindergarten art class who were running with scissors.
'08: Sting's in a black T-shirt and jeans; no fashion excess this time, just confidence on display.
Production Values:
'84: The video isn't in high-def, no duh, but the overall quality isn't too bad on DVD...The edits help propel the song; they don't fall prey (as some do) to a tendency toward extremely dizzying cuts and distracting camera angles.
'08: The big news here is on the stage itself: The reunion tour had the buck$, so the band has huge on-stage video-screens to benefit the poverty-stricken ticket holders at the back of the venue (tickets ranged from $50 back there, to $225 up front--kind of a crime, but useless to call The Police.)
_______________________________________________________________________________
Posted 5/5/19.....
LIVE AID—July 13, 1985.....Various artists; staged simultaneously at Wembley Stadium in London and JFK Stadium in Philadelphia.....DVD released in November 2004.
Live Aid distilled down to its essence is...Bob Geldof. If ever oh ever a Wiz there was, Geldof was, because because...because of the wonderful thing he did: Originating and orchestrating a famine-relief concert of unbelievable scope, directly benefiting sub-Saharan Africa and directly injecting, with a higher purpose, a billion and a half people who in part or in total watched this televised, two-continents concert on July 13, 1985.
In 1985, no mobile phones existed and there was no email; computers weren't a part of most people's lives, and fax machines were just on the rise...and Geldof almost singlehandedly mobilized and mounted this historic event that was beamed across the globe, raising both funds and moral consciousness in a quest to alleviate human suffering in Africa, where millions were dying from a famine that had swept across that continent.
Geldof was also behind the fundraising-for-Africa song "Do They Know It's Christmas?," a multi-artist sing-along released as a single in Britain and the U.S. in November 1984. This was the precursor to Live Aid, as Geldof felt he had to do more to raise funds and awareness.
Geldof never intended for there to be a filmed record of the event and the performances, due to the anticipated legal wrangling and virtually no time to fully bring that particular concept to fruition. So this DVD is a bit of a miracle itself—footage from the BBC and MTV was discovered, examined, and assembled, some of it requiring "surgery" and other performances—like Zeppelin's "reunion" and a highly-hailed Bob Dylan-Ron Wood-Keith Richards set—were lost for all time.
According to the liner notes in the Live Aid DVD package, all of the performers appeared at Live Aid free of charge and also waived any royalties/fees for having their performances included in this DVD set.
Last but not least: In 1985, Live Aid raised over $80 million dollars for African famine relief.
Musicasaurus.com's recommended tracks:

"Bad" – U2.....Do you know the Mullet Man, who lives in Ire-land? Bono on a bad-hair day leads the band through a hair-raising version of "Bad", and at one point in the song he makes a direct one-on-one connection with his massive stadium audience.
"Roxanne" – Sting.....Sting does his thing with just Branford Masalis assisting on soprano sax.
"Slave To Love" – Bryan Ferry.....The former lead singer for Roxy Music performs a song from his 1985 solo release Boys and Girls. David Gilmour from Pink Floyd provides the haunting guitar work.
"Money For Nothing" – Dire Straits and Sting.....This match-up delivers "live" what was once committed to wax on Dire Straits' 1984 album Brothers In Arms (the song was a huge hit for the band, and the MTV video flourished as well).
"Radio Gaga" – Queen.....Mercury rising, for sure. The Wembley Stadium audience is enraptured by Freddie's charismatic front-man moves, and it is a staggering sight when his entreaty to rhythmically clap along is answered—in perfect unison—by the approximately 80,000 fans in attendance.
"Won't Get Fooled Again" – The Who.....One of the best live bands ever performs a song from Who's Next, and though original drummer Moon had risen to the skies seven years prior, new kit basher Kenny Jones powers the band along led by the windmill moves of guitarist Pete Townshend and the microphone hurling of vocalist Roger Daltrey.
"It's Only Rock 'n' Roll" – Mick Jagger & Tina Turner.....A great pairing, this is chockfull of Mick's moves and manic expressions, and—alliteratively speaking, as musicasaurus.com often does—tantalizing Tina titillates.
"What You Need" – INXS.....This performance by the Australian band was part of "Oz for Africa," which ran the same day as Live Aid in Philly and London. The band cooks, and lead singer Michael Hutchence exudes Jagger-like confidence in his stage strutting and singing. A powerful piece.
"I Don't Like Mondays" – The Boomtown Rats (Bob Geldof's band).....Geldof and his band deliver an impassioned performance of this classic song from their 1979 release The Fine Art of Surfacing. The song is based on the true account of a January 1979 school shooting in San Diego and the teenaged girl who perpetrated the crime famously offering up that excuse. There is a line in the song that says "...and the lesson today is how to die"—and when Geldof gets to that particular line, the stadium of concert-goers begin to roar with the recognition that the meaning has a deep, double resonance that day. It's a chilling, up-the-spine moment to see Geldof stopped mid-song by the outpouring from the many, many thousands in attendance.
_______________________________________________________________________________
Posted 4/21/19.....
TELLURIDE BLUEGRASS FESTIVAL / 30 YEARS…..DVD released in June 2005.
The Telluride Bluegrass Festival is a longstanding tradition for roots revelers and acoustic music fans who flock to this beautiful box canyon setting every summer. The site is nestled among the snow-capped San Juan Mountains, where one can breathe in clean air and soak in the restorative sounds…
The festival features a wealth of diverse performers who practice bluegrass, jamgrass, newgrass, and—not saying this in a disparaging way—pull-it-outta-yer-assgrass.
Filmed at the festival over four days in June 2003, Telluride Bluegrass Festival / 30 Years serves as an excellent representation of most of the bluegrass strains, with artists ranging from Bela Fleck, Jerry Douglas and Sam Bush, to Yonder Mountain String Band, Nickel Creek and String Cheese Incident…If one could literally "map out" bluegrass, it would show these performers tumbling out of the wellspring, creating their own channels and tributaries, crisscrossing with others in time-honored patterns yet flowing into new directions all the while.
Musicasaurus.com's recommended tracks:

"BT" – A dazzling workout by a trio consisting of string bassist Edgar Meyer, mandolin marvel Sam Bush and mandola player Mike Marshall
"Going to Glascow" – An inspiring piece by progressive banjoist Alison Brown, who started out in the late 1980s as a member of Alison Krauss' band Union Station, but then went on to a solo career fronting an excellent quartet in further explorations and incorporations of jazz…There's a very cool sequence during the song when there's some "thumpin' on the ol' banjo"—to say more would spoil the effect.
"Human Fly" – A song from The Horse Flies, at the core a traditionalist band that has fully embraced a wacky meld of other styles, including Caribbean, jazz, punk, and classical minimalism…I've seen them just once in concert, and at that particular gig, the vibe was very much a Celtic Talking Heads.
"Deeper and Deeper" - The Sam Bush Band with Bela Fleck and John Cowan…Mandolin brandisher Bush is the founder of legendary group The New Grass Revival, from which the generic subset term "newgrass" first arose. He's been on the scene and instrumental in the growth of newgrass since 1972.
"When I Die" - This is the most infectious, grin-inducing performance on the DVD. Australian folk band The Waifs is fronted by sisters Vikki (Simpson) Thorn & Donna Simpson, who share lead vocals and a love of performing that just ain't constrainable. It's pure joy pouring out of this one.
______________________________________________________________________________
Posted 4/7/19.....
THE OLD GREY WHISTLE TEST, VOLUME THREE..... The UK's legendary live music show (DVD released in 2006).
This is the third volume in the 1971-1987 British television series that largely captured English and American artists in a high-quality, in-studio performance setting.
Musicasaurus.com's Recommended Tracks in this Volume Three:
"Jamaica Say You Will" by Jackson Browne – This is Jackson alone at the piano, with a dark blue shirt, clear aviator glasses, and a simple but clear-voiced reading of this tune from his 1972 self-titled debut album (which is sometimes mistakenly referred to as Saturate Before Using, simply because that's written on the cover in addition to Browne's name).
"Black Coffee" by Humble Pie – This 1973 performance is a staggeringly soulful treat because of the vocal prowess of lead singer Steve Marriott, but also because of the setting—just Marriott on guitar, with a slide player, a bass player, and instead of a drummer, three female African Americans providing the tantalizing back-up. The song is a slow, swinging groove, kind of like "the gospel according to Marriott"; he was a gifted rock 'n' roll front man with a deep-seated love of rhythm & blues.
"Sweet, Sweet Baby (I'm Falling)" by Lone Justice – Country rockers Lone Justice—featuring sweet, sweet Maria McKee on lead vocals—appeared on Whistle Test in 1985. The song is a decent rocker; not compelling, but the big voice that leaps out of that little girl certainly is...Musicasaurus.com was made to wonder, "How beautiful a thing would it be if she just hauled off and tore into some Janis Joplin?!!"
"Frame By Frame" by King Crimson – This is Crimson from the early 1980s in a riveting (yes, challenging for some) performance by this progressive rock band. Adrian Belew in a pink suit bounces and shreds on guitar, while the band's other guitarist (and most famous member) goes frippin' crazy with lightning-fast notes as the song's major underpinning. Rounding out this particular court of the Crimson kings is Bill Bruford on drums and Tony Levin on Chapman Stick. There are no in-betweens about King Crimson—one either falls to their knees, or scratches their head.
"Meet Me On The Corner" by Lindisfarne – Lindisfarne? Musicasaurus.com suspects you recognize this name ONLY if you regularly fingered through the "Miscellaneous L" bins in record stores in the very early 70s. They were a talented British folk-rock band armed with acoustic guitars, bass, drums, harmonica, mandolin, banjo, and harmonies aplenty. Their sound (judging from this performance) is not really dated, either; this song could be heard in a club in any college town, present day.
"Sunday Papers" by Joe Jackson – Musicasaurus.com has always appreciated the recorded odysseys of Jackson as he's sumptuously laid them out for his fans through the years—power pop, swing, jazz, and a lot more. "Sunday Papers" is Joe from his power pop period circa '79 and it's herky-jerky heaven with a great New Wave-ish rhythm anchored by a strong sense of, and appreciation for, pop music.
"Dreamer" by Supertramp -- Love 'em or loathe 'em, Supertramp delivers on this quirky showing from '74. The high-pitched vocals blend well with the keyboard swirls and "Dreamer"—from the band's Crime Of The Century album— is an endearing mix of prog-rock and pop music.
OTHER ARTISTS CAPTURED ON THIS THIRD EDITION OF WHISTLE TEST INCLUDE...Janis Ian ("At Seventeen")...Johnny Winter ("Jumpin' Jack Flash")...Howard Jones ("No One Is To Blame")...Steppenwolf ("Born To Be Wild")...Fairport Convention ("Brilliancy Medley") and sixteen more.
_______________________________________________________________________________
Posted 3/24/19.....
I stumbled upon an interesting DVD recently, and had known nothing about it beforehand. It's a unique mix of a concert and a history lesson—uh, remember the Alamo?
On the evening of May 2, 2005, an outfit called WOW Music Group produced and filmed a concert at the Alamo and there are full song performances on the resulting DVD from Gipsy Kings, Lyle Lovett, Los Lobos and…Arc Angels! The latter is a supergroup—and maybe only rock snobs call them that—composed of killer guitarists Doyle Bramhall II (who's played with Clapton) and Charlie Sexton (who's played with Dylan), plus the rhythm section from Steve Ray Vaughan's Double Trouble, drummer Chris Layton and bassist Tommy Shannon. Back in 1992 Arc Angels released their self-titled debut album, and it is still one of musicasaurus.com's favorite classic rock indulgences because of its rock 'n' roll heart and searing blues hues. The DVD might be worth it for the Angels alone, but the other performances are really fairly riveting as well.
Here's an explanatory snippet or two from a July 9, 2007 press release about the project and the event, from Cary Floyd of the WOW Music Group:
"The Remember The Alamo concert was designed to pay tribute to the Alamo and the City of San Antonio through an entertaining, made-for-history musical event. The concert film, via performances by some of the world's best-known artists and light-hearted comedic entertainment by Paul Rodriguez, retells the story of the 13-day battle that took place in 1836, thus solidifying the Alamo shrine as an historical wonder of early American culture.
"The 90-plus minute concert film includes a documentary about the Alamo and an historical tour of the shrine led by Alamo Director David Stewart and Paul Rodriguez."
Also interesting as hell: The WOW Music Group were attacking this project as one of more to come. They had created the concept of a Wonders of the World Music Series which was intended to marry together on film "distinguished musical artists with the world's most storied historical sites"—and they may have since pulled another one off at the Great Wall of China, with more planned for the Grand Canyon, the Eiffel Tower and other key historic hotspots. Cool idea, but I have no update on their progress…
Enjoy!
_______________________________________________________________________________
Posted 3/10/19.....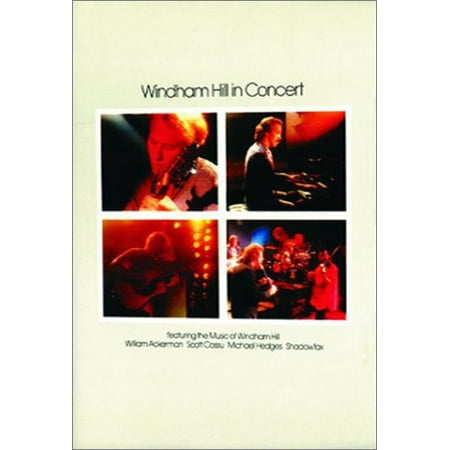 Windham Hill is a record label—often labeled New Age—founded in 1976 by acoustic guitarist Will Ackerman. By the time the compact disc began to penetrate home sound systems in the early 1980s, the label had expanded beyond its original folk emphasis into world and electronic music as well. The Windham Hill "sound" became a brand of sorts; the production was superior, the album art classy, and the artist roster impressive.
Windham Hill In Concert...featuring the music of Will Ackerman, Scott Cossu, Michael Hedges and Shadowfax...released in 1986 (Windham Hill Productions, Inc. / Pioneer Entertainment)
The artists' performances were captured live in the studio in July 1986 at S.I.R. Sound Stage in Hollywood, California, with additional footage from Red Rocks Amphitheatre near Denver, Colorado
If your initial responses to the tag "New Age" are a nose in the air and an attitude that this is elevator music, you need to check out this DVD if only to witness the performance of Michael Hedges...
Musicasaurus.com's Overwhelmingly Recommended Track:

"Aerial Boundaries"

Michael Hedges was 33 years old when this DVD was released. He was a classically trained guitarist and composer who frequented Baltimore in the very late 1970s and early 1980s, playing clubs and restaurants—and developing his own unique style to playing a steel-string acoustic guitar.
In his best recorded works, it seems he's totally in tune with the music of the spheres, weaving into his own stamped style a very complex set of tunings, strums, and percussive guitar-body slaps.
On this track, he comes off visually like a serene yet laser-focused fellow from the corner of Haight & Ashbury, wielding his guitar and coaxing out breathtaking sounds while his pigtails wave and the incense stick on the neck of his guitar spins off a trail of tiny smoke.
The song itself is an acoustic marvel. It is hard to fathom the depths (or heights) from which Hedges pulls these sounds together, and also whether he's channeling or just that damn accomplished (in a Malcolm Gladwell "10,000 hours" sense of the word). Regardless..."Aerial Boundaries" as performed here is a force of energy from a harmonic paradise beyond our ken.
Michael Hedges died at the age of 43 in late 1997, after a solo car crash about 100 miles northwest of San Francisco.

The Rest of the DVD: Includes...

"Silent Anticipations", "Woman of the World", "Because It's There", and "Follow Through"—all from Michael Hedges.
"The Impending Death of the Virgin Spirit", "Visiting", and "The Bricklayer's Beautiful Daughter"—all from guitarist Will Ackerman.
"Vashon Poem" from pianist Scott Cossu.
"The Orangutan Gang", "What Goes Around", "New Electric India", and "Streetnoise"—all from world-music fusion ensemble Shadowfax.
_______________________________________________________________________________
Posted 2/24/19.....
Peter Gabriel's Secret World Live…..This concert DVD is a product of Geffen Records / Real World productions; filmed in Modena, Italy on tour in 1994.
This is my personal favorite, from the standpoint of artistry in design, production and execution. With his unique artistic vision, Peter Gabriel created and mounted "one for the time capsule"—the perfect synthesis of musicians playing as one, a brilliant stage set, and seamless and savvy editing that captures all of the emotion inherent in the live music experience.
Though an artist of vision in his own right (in writing, recording, video and performance), Peter Gabriel collaborated with Quebec City's playwright/actor/film director/stage director Robert Lepage in the creation of the Secret World Live tour. (Lepage is one of Canada's most honored theatre artists; among his other triumphs: Cirque du Soleil's Las Vegas show entitled Ka, and Quebec City's The Image Mill, the latter constituting the largest outdoor architectural projection ever made in the world.)
The Secret World Live band:
Drums – Manu Katche
Bass, vocals – Tony Levin
Guitar vocals – David Rhodes
Keyboards, vocals – Jean Claude Naimro
Violin, vocals – Shankar (not Ravi, in case that name gave you pause)
Vocals – Paula Cole
Vocals, keyboards – Peter Gabriel
Musicasaurus.com's recommended tracks:
The opener, "Come Talk To Me".....Start the DVD from the very beginning to get a true sense of the wizardry at work. Peter and Paula are locked into a powerful musical and philosophical exchange.
"Steam" and "Sledgehammer".....Some of Peter's more recognizable songs (from the MTV glory days). Here, you can bask in the band's prowess and thus easily overlook the masterful editing—but don't!
"Secret World".....A track that unfolds quietly at first; an artist's inner journey masterfully expressed that builds to an unleashing near the end—and the exiting of the band, one by one, before encore.
"Don't Give Up".....Another beautifully expressive piece that is once again Peter and Paula (the latter taking the voice part originally recorded by Kate Bush for the studio album track).
The best track: "Shaking The Tree" (written by Peter Gabriel and Senegal's Youssou N'Dour).....One could even approach this song knowing very little about Peter Gabriel's work, and come away indelibly changed in terms of discovering a heavenly convergence of song and performance, sound and vision. It doesn't make you wish you were there; you ARE there. The joy is inescapable. It's everything that we hope for in a live musical performance.
_______________________________________________________________________________
Posted 2/10/19
THE BEST OF THE JOHNNY CASH TV SHOW 1969-1971
This two-DVD set captures for posterity sixty-six musical performances that aired on The Johnny Cash TV Show from the summer of 1969 through March of 1971. The show was produced in Nashville's Ryman Auditorium which was, back then, the home of the Grand Ole Opry. Johnny's show was the first major network series produced at this venue, and as the DVD's informational brochure points out, the Ryman today is a "refurbished, restored landmark. The '69 version, cramped and creaky, was untouched by modern heating and cooling."
Johnny handpicked his guests, some of which were appearing for the very first time on network television. The DVD set contains great performances by Johnny solo, with wife June Carter Cash, and with a myriad of musical legends and major talents ascending...
Musicasaurus.com's recommendations:

Bob Dylan (in a rare TV appearance) performing two tracks from Nashville Skyline: "I Threw It All Away" (performed solo) and "Girl From The North Country" (performed with Johnny). The latter is a relaxed classic—Dylan and Cash evidence their real connection and mutual affection.
Derek and the Dominos (guitarist & singer Eric Clapton, keyboardist Bobby Whitlock, bassist Carl Radle and drummer Jim Gordon).....Alas, no "honorary 5th band member" appearance here by Duane Allman, though of course he contributes mightily to the one (and only) Derek and the Dominos album Layla. On Johnny's show, in an episode that aired in January of 1971, Derek and the Dominos perform "It's Too Late" from Layla, and then Johnny Cash and Carl Perkins come out to join the band in a slap-down, scorching version of Perkins' 1956 rockabilly classic "Matchbox." You can see Clapton, sandwiched by his mentors, beaming with delight; it's almost as if the thought swirl "I am not worthy" is runnin' 'round his head during this heady, 3-guitar workout.
Neil Young, 26 years old, in a passionate solo performance of "The Needle and The Damage Done."
Louis Armstrong, world-renowned jazz singer & trumpeter, performing with Johnny on a Jimmie Rodgers tune from the 1930's, "Blue Yodel # 9." Satchmo (Armstrong's nickname) had played on the original Jimmie Rodgers recording of this song; eight months after this Johnny Cash Show episode aired in October 1970, Armstrong passed away.
Mother Maybelle Carter, Johnny's mother-in-law and original member of the Carter Family, performing "Wildwood Flower" with the Carter Sisters, and then solo—on autoharp—on the traditional instrumental "Black Mountain Rag." Notably, Mother Maybelle helped to influence the overall shift of the guitar from rhythm to more of a lead instrument, through her own developed style of thumbing melody lines on the bass strings while her fingers strummed to fill out the rhythm.
Jerry Lee Lewis, 35 years old and at his piano bench-kickin' best, in a 1970 performance of "Whole Lotta Shakin' Goin' On." The performance is Suggestive with a capital "S"; just ten years or so after the famous scandal involving his third wife—his 13-year-old cousin—Jerry certainly wasn't married to the concept of propriety. Hey, it's only rock 'n roll (and we like it).
June Carter Cash with Homer & Jethro singing their 1949 parody of "Baby, It's Cold Outside." Okay, I can't really recommend this, but you might Hee and Haw over it.
Truly Honorable Mentions: Linda Ronstadt dueting with Johnny on "I Will Never Marry".....George Jones.....Pete Seeger.....Waylon Jennings.....Tammy Wynette singing "Stand By Your Man".....Roy Clark pickin' up a storm on the lightnin'-fast "In The Summertime / 12th Street Rag".....Chet Atkins.....Ray Charles doing "Ring of Fire".....Roy Orbison performing "Crying" (solo) and "Pretty Woman" (with Johnny).....and a small dose of classic cheese: Glen Campbell layin' it ON, locked into sincerity overdrive on the song "Wichita Lineman."
_______________________________________________________________________________
Posted 1/27/19.....
MUSIC SCENE: THE BEST OF 1969-1970, Volume 2.....(DVD released in 2001)
Someone here has raided the catacombs of Old Television Shows That Tried to Lure In Hip Viewers, But Ended Up Breaking Their Hip Quotients...
This DVD contains four episodes of Music Scene from its ill-fated ABC-TV limited run; debuting on the television fall schedule in 1969, the show gasped for breath and sustainability through the early parts of 1970, but lost its battle for survival reportedly due to lack of corporate advertising support.
The show was hosted by 1960s comedian David Steinberg who just doesn't weather well, as They say...
The performances range from lip-synched presentations to live performances, and the sound production on the DVD is...well...very television-like. Expect not to be overwhelmed with the audio efforts here.
Musicasaurus.com's One Truly Recommended Track: There's a gem buried deep in the "bonus performances" section, and that's a 1969 performance by British bluesman John Mayall. Here he has his ensemble in tow from a classic live album he released that same year. Entitled The Turning Point, this album is an amazing blend of acoustic blues featuring harmonica by Mayall, acoustic guitar by Jon Mark, and sax & flute work by Johnny Almond. The song performed on Music Scene is entitled "The Laws Must Change", and it resonates ("resin-ates?") once again today because of the current drive to legalize marijuana in various state legislatures.
Other Artists featured on the disc: James Brown, Dusty Springfield, Creedence Clearwater Revival, Neil Diamond, Gordon Lightfoot, Lee Michaels, The Everly Brothers, Zager & Evans, Pete Seeger, Johnny Cash, Three Dog Night, The Cowsills, Moms Mabley, Bobby Sherman, Janis Joplin and Judy Collins---all proving that The Sixties were a bit of a landmine, so be careful as you excavate for worthwhile artifacts.
_______________________________________________________________________________
Posted 1/13/19.....
Bryan Adams - Unplugged - recorded September 26, 1997 at the Hammerstein Ballroom in NYC - part of MTV's Unplugged series - released on DVD in 2002
Musicasaurus.com was never wild about Adams (really always likin' Ryan rather than Bryan) but this DVD caught my attention, as sometimes "unplugged" situations reveal more nuances and artistic divergences compared to the standard "live" concert approaches of electrified + amplified.
Adams is aided here by some fluid backing from his band, and a couple of nontraditional touches including Irish pipes and some masterful Juilliard string players under the direction of conductor Michael Kamen.
When surfing through the song selection menu, opt for the unknown especially if an Adams' radio hit has irked you in the past (whether that's from the song's construction, or the fact that it has been played to death)
Musicasaurus.com's recommended tracks:

"Fits Ya Good" - the original studio version of this song is on Adams' second album You Want It, You Got It (from 1981)...Here in the acoustic band setting, it is a beautifully moody, insinuating piece featuring Adam's heartfelt, husky tone.
"18 Til I Die" - the song first popped up on Adams' seventh album which was named for that tune, and released in 1996...In performance here, the song is an earnest plea to exhaust yourself in pursuit of living Life to the fullest, and it is augmented by a Juilliard string quartet, one of whom (a female violinist) has a very brief but outright sizzling solo turn...Quite good stuff.
There are more treats here, but the above two selections almost make the purchase worthwhile on their shoulders alone.
_______________________________________________________________________________
Posted 12/30/18.....
Musicasaurus.com was trolling for new concert DVD purchases when Celebration at Big Sur popped up on my computer screen--lo and behold, finally, here was a DVD of the September 13 & 14, 1969 folk festival at Big Sur, California. I had heard about this particular "gathering of the tribes", and that it had occurred just one month after the newly minted Woodstock generation was born on Max Yasgur's farm in Bethel, New York. But I hadn't been aware that the film of this festival had finally seen a DVD release in 2011, forty-two years after the event...
Big Sur is a pretty, pristine location where the Santa Lucia Mountains meet the Pacific Ocean on California's central coast, and from 1964 through 1971, the Big Sur Folk Festival was held there on the grounds of the Esalen Institute. (The institute is a non-profit organization that espouses humanistic alternative education via teachings and workshop settings, and it promotes spiritual growth, psychology, environmental stewardship, mediation, organic food--you know, all of the things that the late-'60s hippies should have embraced, without the detours to the brown acid and the EZ widers.)
The 1969 Celebration at Big Sur is a great snapshot of Sixties Youth and Change:
Featured artists included Joan Baez (a Big Sur festival regular who coaxed more pop & rock acts onto the bill as the '60s progressed), CSNY, Joni Mitchell, John Sebastian of The Lovin' Spoonful, gospel act Dorothy Combs Morrison and the Combs Sisters, singer-activist (and Joan Baez's sister) Mimi Farina, and more...
This DVD includes one of the earliest filmed appearances of Joni Mitchell and also of Neil Young (the latter appearing here with CS&N). Neil had also played with CSN at Woodstock, but reportedly had refused to be filmed as part of that festival appearance
Musicasaurus.com's Favorite Couple of Tracks:

"4 + 20".....A solo acoustic number by Stephen Stills, and it lives up to expectations for anyone who treasured that 2-minute song from CSNY's 1970 album Déjà vu.
"Get Together".....A song originally written by Jesse Colin Young and performed by his band The Youngbloods, here it is exquisitely covered in a loose and free-spirited rendition by Joni Mitchell, backed up in harmonious fashion by David Crosby, Graham Nash, Stephen Stills and John Sebastian...The sound quality is a bit lacking, but the enthusiasm of the players (and the decent harmonies) nudge this past a mere nostalgia trip.
_______________________________________________________________________________
Posted 12/16/18.....
Classic Albums: The Band (The Band) - Isis Productions / Distributed by Eagle Rock Entertainment.
Classic Albums is an ongoing series of documentaries (most of them 50 minutes in length) that dissect one particular landmark album of an artist or group, specifically in terms of production and recording.
Series episodes have been aired on television channels here and abroad (including the BBC, and VH1 and VH1 Classic), beginning with Dire Straits' Brothers In Arms in May of 1989. The series is also available on DVD.
Classic Albums: The Band pores over the production process of this group's second album, the eponymous release that came out in 1969. This is the album that contained "The Night They Drove Old Dixie Down", "Up On Cripple Creek", "Rag Mama Rag", "Across The Great Divide", and more.
Musicasaurus.com's favorite moments:

Any of the interviews with Levon Helm, whose smile is wider than the barn door of his Midnight Ramble sessions at his Levon Helm Studios in Woodstock, New York (incidentally, the rambles are continuing to this day, even without Levon; for more information, go to http://www.levonhelm.com/midnight_ramble.htm)
Rick Danko, Robbie Robertson and Garth Hudson are also interviewed about the creation of the album and its various songs. The interviews were done around 1997, eleven years after the passing of Band keyboardist/occasional drummer Richard Manuel, whose heavenly heart & soul are propped up, I'm sure, by the endearing comments of his Band mates.
The album's producer John Simon also weighs in, as does Eric Clapton and George Harrison (the latter two in terms of how important this particular record and group were to them at the time of this classic album's release).

This is likely one of the better "behind the scenes" accounts of any band at a pivotal crossroads, and in this case, the viewer is easily led to reflect upon what a rich slice of Americana music was born back then in '69. The Band is a mature rock record with music mightily influenced by country, R & B, blues, folk, gospel and more, full of historical themes and incredible imagery—five distinct musical talents and storytellers, weaving as one.
_______________________________________________________________________________
Posted 12/2/18.....
Here's a brief look at an early 1970s "master and commander" who was steeped in tradition and yet wooed & wowed the youth market during that era of unparalleled musical experimentation brewing in San Francisco...
Commander Cody - Blues-Rock Legends Vol. I (part of the Rockpalast series of concert DVDs recorded for German television, starting in 1974) - This particular performance was recorded on July 1, 1980.
George Frayne, alias Commander Cody, helmed a unit called Commander Cody and his Lost Planet Airmen (1967-1976), and their recordings and live shows were a mix of heritage covers (tributes to earlier styles of music) and novelty hits.
Lost In The Ozone (1971) was the group's recording debut, and with songs like "Seeds and Stems (Again)," the band immediately appealed to a growing legion of youths hungering for wildly different musical experiences. The band--based in San Francisco after a career start in Ann Arbor, Michigan--mixed Western swing, jump blues, boogie-woogie and rock 'n' roll into a unique and spirited blend, and their concerts were marathon-length events.
Musicasaurus.com's recommended track:

"Hot Rod Lincoln", the band's cover of a 1955 ode to these souped-up, big engine roadsters. Before the song speeds down its own musical highway, Commander Cody rattles off the famous spoken-word intro: "My Pappy said, 'Son, you're going to drive me to drinkin' if you don't stop drivin' that hot rod Lincoln.'"

Also on the DVD:

"It Should Have Been Me" (originally performed by Ray Charles in 1954).
"Beat Me Daddy 8 To The Bar" (first recorded by the Will Bradley Orchestra in 1940).
"Rocket 88" (some say that this was the first real rock 'n' roll song; it was written and first performed by Jackie Brenston and his Delta Cats in 1951).
"Riot In Cell Block No. 9" (written by legendary songwriters Jerry Leiber & Mike Stoller in 1954, this was first a hit by an R & B group called The Robins--and later covered by groups including the Grateful Dead, the Beach Boys, and Johnny Winter).
_______________________________________________________________________________
Posted 11/4/18.....
Here's a mixed bag of concert DVDs--one is from a North Carolina band whose style is a mash-up of influences.....the second is by a classic rock lygynd--er, legend.....and the last one features Finnish and Swedish jazz fusion guitarists. If one doesn't fulfill, you know another probably will...
The three DVDs:
The Avett Brothers - Live, Volume 3 - recorded on August 8, 2009 at Bojangles' Coliseum in Charlotte, NC

The band: Two brothers front this North Carolina band that incorporates a wide number of influences into their music--folk, bluegrass, country, pop, alternative, and more.
Musicasaurus.com's recommended track: A tossup between "I and Love and You" (reminiscent--a little, at least--of The Band) and "Head Full of Doubt / Road Full of Promise".

Lynyrd Skynyrd - A double feature DVD including Freebird: The Movie and Tribute Tour

FreeBird: The Movie is part documentary and part concert film, originally released in 1996. Most of the live footage emanates from a festival performance in England in 1976, after Skynyrd had added guitarist Steve Gaines to the band.
Tribute Tour is a documentary about Skynyrd post-plane crash, and their decision ten years after that band-ending calamity to do a Tribute Tour--a reemergence that led to resurgence).
Musicasaurus.com's recommended track from Freebird: The Movie: Hands down, it has to be "That Smell". The band is crisp, tight and focused, and the guitar work by Steve Gaines and Gary Rossington is enough to make even non-smokers grab a lighter. The song's performance was shot in black & white which is neither a distraction or a detraction, but it also (unfortunately) has less-than-stellar sound reproduction. Still, it's a powerhouse performance.

Jukka Tolonen and Coste Apetrea - Scandinavian Guitars - recorded February 19, 1982 at Holbaek Power Plant

The artists: Jukka Tolonen is a Finnish jazz-rock guitarist of great renown in his native country, and he's been on that music scene since the early 1970s. While pulling together musicians for his five-man band in 1977, Tolonen welcomed in the Swedish fusion guitarist Coste Apetrea, and in 1982 the two paired up for a special acoustic evening concert which was videotaped for future sale.
Musicasaurus.com's recommended track: There are only four tracks on this 35-minute DVD, and all of them swing in this lovely acoustic-only, all-instrumental setting. While one handles rhythm flourishes the other is tearing off fleet-fingered leads, and the style is a melting pot of influences including classical, jazz, Gypsy, and more. Not for all tastes, but quite intriguing due to the level of artistry on display.
_______________________________________________________________________________
Posted 10/21/18.....
SHORT TAKES.....A couple of concert DVDs and recommended tracks...
1. GUSTER.....from Guster On Ice / Live From Portland Maine.....released in 2004.
The original three members of Guster formed as freshmen at Tufts University in Boston in 1991.....This is a band that very capably blends folk & pop elements in quite catchy, intelligent tunes that are far from the usual radio pablum. Fourth member and multi-instrumentalist Joe Pisapia joined the band in 2003, which is when this live CD/DVD set was recorded.
Guster's signature sound (on a number of their releases and tours) featured guitars, keyboards, bongos and other hand percussion—no drum set in sight. Through relentless college circuit touring throughout the 1990s, the band built up a loyal following (in evidence on this DVD, with occasional shots of rapt, rabid audience members mouthing the words to all of the songs).
Musicasaurus.com's recommended tracks: "Fa Fa"....."Happier" (with standout contrapuntal lead vocals from Ryan Miller and Adam Gardner).....and "Demons".
2. R.E.M......from Perfect Square.....released in 2003.
R.E.M formed in 1980 in Athens, Georgia and their DIY approach in their early years—relentless touring; cryptic, mumbled vocals from Michael Stipe; and their solid support of college radio and other up-and-coming bands—was the perfect prescription for "from the ground up" credibility and audience building.
Their 1995 tour in support of their album Monster was a huge success, as they had taken a number of years off the road before that time, though were pumping out albums in the interim. I remember from my amphitheatre days in Pittsburgh that their June 10, 1995 Star Lake concert was a sellout, aided by a very smart move on their part—putting the concert on sale in January of that year, to avoid the usual March-April-May pile-up of many other amphitheatre shows' on-sale dates. That logjam of on-sales only served to cannibalize the entertainment dollars in the market, and led to more than one concert limping out of the gate.
Musicasaurus.com's recommended tracks: "What's The Frequency, Kenneth?"....."The Great Beyond"....."Orange Crush"....."Losing My Religion"....."It's The End of the World As We Know It (And I Feel Fine)".
_______________________________________________________________________________
Posted 10/7/18.....
Musicasaurus.com's Recommended Tracks from Three DVDs recently unearthed from the archives…
1. The Jeff Beck Group's "Situation".....From the DVD The Jeff Beck Group / Got The Feeling...This is Beck circa '71-'72, when his group featured Bobby Tench on vocals (even though the DVD cover clearly shows Rod Stewart, who by this time had left the band). This unit produced two albums from this era, Rough And Ready and The Jeff Beck Group....Though the sound quality is flat--i.e., this television appearance predates any real audio advances in this area--the performance is blistering with Beck on guitar, Max Middleton on keyboards, and Cozy Powell on drums.
2. X's "The New World".....From the DVD X: Live in Los Angeles...This concert by this American punk-and-folk rock band was recorded in their hometown of L.A. in 2004 as a celebration of the twenty-fifth anniversary of their debut album Los Angeles. The stand-out song of the moment is "The New World" which originally came from their 1983 album--the band's fourth--More Fun In The New World, produced by ex-Doors keyboardist Ray Manzarek.
3. Counting Crows' "Anna Begins".....From the DVD August And Everything After / Live At Town Hall...This 2011 DVD is the first official "live in concert" video release by the group, and it captures an innovative and accomplished rock band in its musical prime, aided immeasurably by the walking, stalking, ruminating, words-tumbling-forth style of lead singer Adam Duritz. The performance consists of all songs, front-to-back, from their first album August And Everything After released in 1993..."Anna Begins" beautifully unfolds; it is like Theatre of the Mind--more precisely, a revealing and most melodious excursion into Duritz's mind.
_______________________________________________________________________________
Posted 9/23/18.....
America: A Tribute To Heroes (aired on television and the internet on September 21, 2001, and released on DVD & CD on December 4th of that year)
Low-key, somber, and impactful...This is the benefit concert that aired ten days after 9/11 on over 35 major network & cable systems simultaneously across the USA.
Structured as a telethon, the program featured musical performances with celebrity spoken-word interludes; over $200 million was raised during the broadcast for the United Way's September 11th Telethon Fund.
The musical performance settings: Studios in Los Angeles, New York City and London. No applause, no pomp & circumstance; just candles and shadows as a backdrop to the messaging and the music.
It may be sacrilegious to say that some of the performances were only modestly moving, if at all, but that's a matter of personal taste, of course; all were well intentioned and from the heart but with the passage of time, only some key performances still resonate powerfully...
Musicasaurus.com's Recommended Tracks:

Bruce Springsteen's "My City Of Ruin".....Springsteen opened the show with this song that hadn't yet appeared in recorded form. Originally written about Asbury Park, the song would ultimately appear on the artist's album The Rising, released in 2002. Here, it's a powerful, inspiring treatment with Springsteen on acoustic guitar & harmonica, backed only by seven singers (including Patti Scialfa and Steven Van Zandt) who by the end are all linking hands as the chorus hits its peak with the repeated refrain "C'mon, rise up"...
Tom Petty and The Heartbreakers' "I Won't Back Down".....In hindsight, it's unusual to see Petty and his longtime band members not fully rocking out with their trademark intensity, but the group here adeptly balances pure power with reverence and even some slight restraint. The occasion also beautifully lays an elevated spin on Petty's words about standing ground and not backing down. There are lovely guitar accents by the amazing Mike Campbell, and the song ends with a subtle, nonverbal salute by Petty with the last chord struck--he arcs his guitar upward in a final note of determination and a silent plea for perseverance.
Neil Young's "Imagine".....Majestic in every way...First of all, how damn appropriate that Neil Young, a truly trailblazing & idiosyncratic musical legend (and socially conscious force in the world, via Farm Aid) would do this particular song. It's beautifully rendered, with Young at the piano and no-syrup strings in the background that heighten the simple & sweet aspirations of the tune. Young also has two "moments" during the song, and who the hell knows what was rolling around his head, but I'd like to conjecture here: 1) The first moment comes when he sings the line "No religion, too" and turns quite suddenly to look directly into the camera, but just for a second--was this a deep-set editorial comment? Perhaps...And 2) The second moment comes at the very end of the song, after the closing lines "I hope someday you'll join us / And the world will live as one". Young closes his eyes and his head rolls back for just a few seconds, eyes still closed, before he looks straight ahead again and then down--maybe it was a reflective nod to Lennon, or a prayer-like missive to The Great Beyond.

Honorable Mentions: Dave Matthews's solo-acoustic "Everyday" and Eddie Vedder's "Long Road."
_______________________________________________________________________________
Posted 9/9/18.....
Stevie Wonder's Live At Last (released in 2008)
Finally...47 years after his first song was released--the regional Detroit single "I Call It Pretty Music, But the Old People Call It the Blues"--Stevie Wonder was finally captured in full live performance for a DVD.
The DVD is a mix of two evenings' performances at the O2 Arena in London on September 30 and October 1, 2008.
Musicasaurus.com's Most Recommended Track: "All I Do", a song from 1980 originally on Wonder's 19th album Hotter Than July, is replicated here in a stunning version of sleek musicianship and that wonder of a voice.
Also Kinda Cool: Though the song is abbreviated as part of a medley, "Isn't She Lovely" is especially heartwarming. Wonder's daughter Aisha Morris—one of the tour's back-up singers—was 32 years old at the time of this filming, and she had made quite the initial splash in the music business some 31 years before: In 1976 Wonder had captured her beautiful baby squeals during a tub time washing, and then planted them in the original recording of this tune that ended up on his Songs In The Key Of Life album.
Other Songs On The DVD: "Master Blaster (Jammin')"....."Higher Ground"....."Don't You Worry 'Bout A Thing"....."Signed, Sealed, Delivered I'm Yours"....."Superstition"....."Living For The City"....."Sir Duke"....."My Cherie Amour"--and more.
______________________________________________________________________
Posted 8/26/18.....
Steely Dan: Aja (released in 2006)
Steely Dan is headed to Pittsburgh this October for a show at the Benedum Center.
This DVD is the story behind Steely Dan's recording of their classic album Aja, and is part of a series of such exhumations released to select television entities (such as VH1) and to DVD under the series umbrella "Classic Albums". Other artists/albums that have had this treatment include Hendrix's Electric Ladyland, Paul Simon's Graceland, U2's The Joshua Tree, The Who's Who's Next, and more...
Steely Dan started their recording career in 1972, though the dynamic duo behind the group--Donald Fagen & Walter Becker--met at Bard College in 1967 and discovered immediately a need to be joined at their hipness.
In 1977 they were already five albums deep into their quest to create cerebral yet stirring rock-meets-jazz, and they reached the pinnacle with the release of their sixth album Aja.
We fans of Dan lapped this album up to make it the band's best-selling effort to date, and all of us marveled over its crystal-clear sound and flawlessly layered songs. With the advent of the compact disc in the early 1980s Aja was much in demand once again, as this new CD technology seemed tailor-made to showcase this band's musically sophisticated career milestone.
Warning: If you are NOT a fan of Dan, then beware--this DVD could be the slightest bit dry. However, for the faithful, it is an incisive look at the meticulousness (nay, obsession) of Fagen & Becker to get down on master tape what they were hearing in their whizzing, whirring noggins.
Some of the best scenes are the low-key duo in the studio, sitting before the mixing board and placidly playing with the "slide knobs", letting us hear the individual and in-tandem aural nuts & bolts that went into the final layered beast.
Key recording studio personnel such as producer Gary Katz and engineer Roger Nichols, and contributing musicians such as guitarists Larry Carlton and Dean Parks, and vocalist Michael McDonald, are interviewed as well.
That's it for now...I'm going to drink my big Black Cow and get out of here.
_____________________________________________________________________
Posted 8/12/18:
Abstract Logix Live! The New Universe Music Festival (released in 2001)
Musicasaurus.com was surfing through Amazon and spied this DVD, and spurred on by the name "John McLaughlin", plopped this live music festival DVD into the shopping cart...
McLaughlin was, eons ago, critically acclaimed and worshipped by the jazz-rock fusion cognoscenti as part of the band he founded in 1971, Mahavishnu Orchestra. This early-'70s pioneering unit also featured Billy Cobham (drums), Jan Hammer (keyboards), and Jerry Goodman (violin).
Abstract Logix is a Cary, North Carolina-based record label that deals with and dishes out progressive, usually mind-blowing music by artists that have jetted way past the mainstream to live in the fusion jet stream...
The record label formed in 2003, and seven years later originated & produced a two-day fusion fest consisting of Abstract Logix recording artists including John McLaughlin. The Abstract Logix website advertised the 11/20/10 and 11/21/10 Raleigh, NC festival this way: "The lineup for the New Universe Music Festival is a music lovers' dream, boasting a roster of artists who handily defy genre categorization in favor if unbridled expression – all of whom seamlessly mingle compositional ingenuity and improvisational grace and fervor."
So, this is not music for the meek (even if they do inherit the Earth). It is by and large a very challenging viewing, but watchers are rewarded with performances that stretch and strive for new heights of creative expansion.
The festival's line-up / the DVD performers: John McLaughlin & The 4th Dimension featuring Zakir Hussain, The Jimmy Herring Band, Wayne Krantz, Lenny White's Anomaly featuring Jimmy Herring, Ranjit Barot, Alex Machacek, and Human Element.
Musicasaurus.com's Recommended Track: "Within You, Without You", performed by the Jimmy Herring Band.

Herring has toured and/or recorded with a number of prominent rock/jam/fusion outfits including Aquarium Rescue Unit (as a founding member), the Allman Brothers Band, the Derek Trucks Band, The Dead, Phil Lesh and Friends, and Widespread Panic.

This Beatles' tune in the hands of Herring features much derring-do. It's an 8-minute-plus instrumental, starting out true to the spirit of the original then shredding conceptions as it shifts into a soaring, cosmic warp-speed workout before returning to the thematic opening. Herring is backed here by three others, on drums, bass and keyboard, but he's the architect and the fleet-fingered driver of the piece.
_____________________________________________________________________
Posted 7/29/18:
Two concert DVDs that have at least a track each that are worth the price of admission to your music DVD collection:
Electric Light Orchestra: Zoom Tour Live (released in 2001)
Perhaps call this one "Electric Even-Lighter Orchestra", because the personnel consists of only two original band members from this 1970s classic rock hit machine--group founder Jeff Lynne and keyboardist Richard Tandy.
The concert was recorded in 2001 at CBS Television City in Los Angeles, as a sneak preview program for PBS in advance of the band's planned Zoom tour. Once the tour went on sale, however, ticket sales stiffed and the tour was cancelled. The program ended up as a VHS and DVD release instead.
The audio and editing on the disc are first-rate. The full ELO sound is here, and Lynne's voice is strong and commanding.
Musicasaurus.com's Recommended Tracks: "Strange Magic" and "Telephone Line" are especially captivating.
Calexico: Live from Austin, Texas (released in 2009)
This DVD is part of the on-going Live From Austin, Texas concert series featuring recorded performances that originally aired on PBS through the Austin City Limits television show.
Calexico is a Tucson-based indie band who traffic in Tex Mex, Latin, and sounds of the Southwest. The performance recorded herein was the band's actual Austin City Limits debut on September 13, 2006.
A preface to musicasaurus.com's recommended track:

Back in September 2005, Calexico had teamed up with one-man-indie-band Sam Beam (stage name, Iron & Wine), and these two collaborators issued a joint EP (i.e., an Extended Play record, which is just short of an actual album) entitled In The Reins. On this Live From Austin, Texas DVD, Iron & Wine (Sam plus his sister Sarah) join Calexico on stage for the lead-off track from their co-conspired EP. The song is called "He Lay In The Reins", and it's a sweeping and majestic track, a tantalizing mix of alternative + folk + Tex Mex.
______________________________________________________________________
Posted 7/15/18:
FILLMORE: THE LAST DAYS.....(DVD released in 2009)
This single-disc DVD is a music documentary about the final shows at promoter Bill Graham's famous Fillmore West venue in San Francisco.
The performances were recorded from June 30 through July 4, 1971 and showcase the acts that Graham put on stage through the years at this storied venue.
The film was released in 1972. It ain't no Last Waltz in terms of production values, but as a testament to the thriving music scene of the late 1960s and early 1970s, it's a keeper.
The split-screen shots, a la Woodstock, add to the smile-inducing flashback effect of watching this now forty-seven year-old film.
Musicasaurus.com's recommended tracks:

"You Got Me Hummin' " by Cold Blood - The pint-sized lead singer for this rock and funk powerhouse of a band is Lydia Pense, and she growls and yowls a lot like her contemporary, Janis Joplin (who reportedly recommended the band to Graham for eventual booking). Cold Blood also features a sizzlin' horn section, but it is Pense's performance that raises temperatures, and almost the roof.
"Uncle Sam's Blues" by Hot Tuna - Jorma Kaukonen and Jack Casady anchor this blues-based outfit, and here violinist Papa John Creach gives the performance a saucy swing quotient as well.
"Fresh Air" by Quicksilver Messenger Service - This guitar-driven outfit says "happy trails" to the Fillmore by playing one of their signature tunes from their fourth album Just For Love, a more rock song-oriented record than the preceding Quicksilver releases that trafficked in more expansive music tinged with psychedelia, blues and jazz.
"White Bird" by It's A Beautiful Day - An interesting curio...The performance is so-so, and it's truncated and interrupted by some of Graham's musings about the Flower Power generation, but it may be the only decent footage of this genre-blending San Francisco band that never quite ascended to widespread reverence and success like their San Francisco peers.
"Incident At Neshabur" and "In A Silent Way" - Santana - A percolating, percussion-driven jam that ebbs and flows, "Incident At Neshabur" is a song from the band's classic 1970 album Abraxas. This is followed by a jazz-rock spin on Miles Davis' classic composition "In A Silent Way", and in a way, it foretells the future directions of Carlos Santana in various side projects and exploits to come...

Other Artists featured on the disc: Lamb, Jefferson Airplane, Jerry Garcia with The New Riders Of The Purple Sage, Grateful Dead, and The Elvin Bishop Group.
_____________________________________________________________________
Posted 7/1/18:
A COUPLE OF CONCERT DVD RELEASES BY FEMALE ARTISTS.....Here are two compelling women singer/songwriters in live performance...and my favorite track from each of their DVDs.
JEWEL.....from Live At Humphrey's By The Bay.....released in 2002.
Originally from Alaska, Jewel started singing at an early age and went through stretches of "living out of a van" in California in order to break into the music business. Once she signed with Atlantic Records, it took a year or more for her debut album—1995's Pieces of You—to truly dent the public consciousness to a large degree.
On this 2002 DVD, Jewel—road tested and dues certainly paid—gives a captivating performance that exudes confidence and poise, and her vocal skills are flat-out amazing.
Standout track: "Who Will Save Your Soul" (a song that originally appeared on Jewel's debut record, and the first to "break wide" with the public).....Almost 7 minutes in length, this is an odyssey of build-and-release, full of sensuality. Jewel eases in and out, and dips and soars, through the vocal registers; near the end of the song there is a moment of One Held Note that induces astonishment and triggers an almost jaw-dropping reaction (happened to me, at least). Heavy praise, I know—but it's one of those "concert moments" we live for...
TORI AMOS.....from Welcome to Sunny Florida.....released in 2003.
Tori Amos, who started on piano at the age of four, has carved out a niche as a unique and talented artist who's won over alternative fans as well as '70s singer-songwriter aficionados. Vocally a bit similar to Kate Bush, she has reestablished the piano as a rock 'n' roll instrument (if ever it was in doubt).
This concert was filmed at the then-named Sound Advice Amphitheatre in West Palm Beach, Florida. It is Tori on keyboards (Wurlitzer and Rhodes) with just two other musicians: Jon Evans on bass and Matt Chamberlain on drums.
Standout track: "Cornflake Girl" (a song originally on 1994's Under The Pink album).....The song takes a few minutes to actually commence. After a couple of minutes of Amos talking to the audience, the song kicks off with a sinewy drum beat, bass, and then that piano...This is a superior performance captured in great "live" sound, and this three-piece unit rocks. Amos has great command of her key instruments—her voice and her fingers. The piano solos in this funky, rhythmic six-minute spectacle are intense, as Amos stands up from the piano bench and ignites the ivories. Intoxicating...Seek it out...Enjoy!
_____________________________________________________________________
Posted 6/17/18:
A MusiCares Tribute to Neil Young.....(DVD released in 2011)
A friend alerted me to this DVD release that features 17 performances of Neil Young material and the artist line-up is eclectic and all over the map—true to the spirit of Mr. Young himself. The roster includes Dave Matthews, Keith Urban, John Fogerty, Ozomatli, CSN, Lady Antebellum, Wilco, Ben Harper, Dierks Bentley, Elvis Costello, Josh Groban, and many others.
The MusiCares organization was first established in 1989 by the Recording Academy to benefit ailing and/or financially distressed musicians, and in 2010 boasted the largest number of clients served in its history—more than 2,200 members of the music industry had received needed funds via a grand total of more than $2.5 million in direct financial assistance.
Each year, the organization honors an individual in the business who, as the DVD liner notes say, "has made important contributions to the world of music and has demonstrated extraordinary humanitarian and philanthropic efforts."
On the evening of January 29, 2010, Neil Young was feted at the MusiCares gala event in Los Angeles...One overarching comment here: Young is an amazing talent, and though I enjoyed the performances on this disc from his peer admirers, there's simply nothing like taking journeys through the past with the man himself.
Musicasaurus.com's recommended tracks:
1. "The Needle & The Damage Done"by Dave Matthews- It's Dave unadorned, just solo acoustic (befitting the song).
2. "Ohio" by Ben Harper - Kind of a reinvention here by Harper...He has a slide guitar on his lap and he's "zoned" into a passionate rendering with just three female vocalists as accompanists.
3. "Helpless" by Elton John & Leon Russell - Perhaps the best of the lot...Elton and Leon are in fine form, facing each other, fingers flying over their ivories. Guesting on the choruses are Sheryl Crow and Neko Case.
Musicasaurus.com's honorable mentions, in several categories:
1. Quirky, Maybe Even Cool: "Harvest Moon" by Josh Groban - Groban is playing piano, and the back-up musicians are perfectly in synch with all the right, light touches, but...but...it's just a bit too much like a TV variety showkind of performance. Groban does have the pipes, though.
2. Nice Try, but No Cigar: "Rockin' In The Free World" by Keith Urban and John Fogerty - Not that this is bad or embarrassing, there's just not a real lift-off—and when you've seen Neil Young do this, or even Pearl Jam, it's at a whole different level.
3. Best Dressed (couldn't leave out this award; it's L.A.): Norah Jones, sleek and stunning in a black dress, sings "Tell Me Why" and it's a near-perfect cover with that voice…Jones is accompanied by Sasha Dobson, a bandmate from one of her musical collaborations called Puss n Boots.
_____________________________________________________________________
Posted 6/3/18:
Steve Hunter – Tone Poems Live...(DVD released in September 2014)
Most famous for his 1970s stints with Alice Cooper, Lou Reed (especially on 1974's Rock n Roll Animal) and Peter Gabriel, this Hunter was not a gatherer—of fame, that is. At least not on a grand scale. His album/compact disc output through the decades has been sporadic but always worthwhile, and now he's stepped out on his own for a first DVD of full-band instrumental performances.
His band mates here include 1) Tony Levin, a bassist most famous for his longtime association with Peter Gabriel; 2) Phil Aaberg, a keyboardist who early on was part of the new age label Windham Hill and who also has played with Nitty Gritty Dirt Band, Darol Anger, John Hiatt and Peter Gabriel; and 3) accomplished session drummer Alvino Bennett.
The vibe is "relaxed but laser focused", shot entirely in a studio setting with the musicians all within eye-and-ear shot of each other. It's a musical mind meld on display.
Best track is the unknown one: "222 W. 23rd". If you have the time to afford, clear your mind and let this unspool. Beautifully slow, spacious and funky—and lightly skirting the edges of blues and jazz rather than, say, leaning R&B—the tune is very haunting at the same time due to the crystalline production and the interweaving of these skilled, intuitive players.
Musicasaurus.com's honorable mentions: The rest of it! And besides the Hunter-penned tunes, check out these covers: "Riviera Paradise", a Stevie Ray Vaughn composition; "Solsbury Hill", Peter Gabriel's underground FM hit from the latter's first solo album from '77 (on which Hunter played); and a beautiful reinterpretation of Marvin Gaye's "What's Going On".
_____________________________________________________________________
Posted 5/20/18:
Jethro Tull – Nothing Is Easy: Live at the Isle of Wight 1970... (released in 2004 by Eagle Vision).
Clearly defining this band is a Tull order. English folk mixed with progressive rock? Jazz and Blues and Hard Rock? Even the Grammys were confused in 1989 when their brand new category of "Hard Rock/Metal Performance" pitted the following five against each other: AC/DC, Iggy Pop, Jane's Addiction, Metallica, and Jethro Tull. The latter won, which surprised the hell out of Tull, and I'm sure they held tight to their plane luggage for years afterward if they spotted any Metallica worshippers in airports...
Formed in England in 1967, Tull was fronted by the charismatic flautist/guitarist singer-songwriter Ian Anderson, and the band's first couple of albums mixed blues, even a touch of jazz, with the heavy English folk influence and the propensity to rock.
The band toured incessantly in the late 1960s and early 1970s in England and America and also on the festival circuits, winning converts through the music but also through Anderson's stage style: You'd think he'd coined the term "Kickstarter" the way he pranced and high-stepped with his left leg, all the while blowing out mind-bending, aggressive flute solos above the solid rock fray.
This concert DVD captures the band in 1970 at England's Isle of Wight festival in front of a reported 600,000 people, and is a fine representative look at the early fury of a Tull performance.
"Musicasaurus.com's "IF I HAD TO PICK ONE...okay, TWO":

"My Sunday Feeling" illustrates their jazz and blues inclinations within their ever-present propulsive rock style...The studio recording of this song appeared on their debut album This Was, released in 1968.
"Nothing Is Easy", originally appearing on the band's Stand Up album from '69, is the tour de force here, a blistering performance with Anderson absolutely flute-frenzied while stage prowling like a mad minstrel. The band behind him—Martin Barre on electric guitar, Clive Bunker on drums, Glenn Cornick on bass, and John Evan on keyboards—locks into the ride, and overall this is a great time-capsule track that preserves for us the band's sophisticated assault and their unique blend of hard rock, progressive rock, English folk and blues.
____________________________________________________________________
PLEASE NOTE! Musicasaurus.com is on the run this part of the month, so there are no new posts until Sunday evening, May 20th in this DANCING WITH MR. D...VD section of the site...
_____________________________________________________________________
Posted 4/22/18:
(Next post: Sunday evening, May 20, 2018)
Julia Fordham – That's Live... (released in 2005 by Vanguard Records).
Fordham is, in radio terms, an adult contemporary singer-songwriter with a startling range of lows-to-highs, and she also surrounds herself with top-drawer talent when committing her works to wax (okay, wax has waned--I meant digital recordings.)
This British songstress began her recording career in the UK in 1988 and had mid-level commercial success in the Isles, but then relocated to The States in time for her fourth album, 1994's Falling Forward. Her co-producer on that record was musician Larry Klein, at the time Joni Mitchell's husband.
Fordham and Klein reconnected for 2002's Concrete Love (Fordham's sixth), and he also plays bass in the incredibly gifted ensemble that supports Fordham on That's Live. (Klein also serves as musical producer.)
"That's Live" captures Fordham in concert in 2004, over two nights at the House of Blues in West Hollywood, California. The level of musicianship is sterling, and the audio production and video editing are first-rate.
The players include:

Julia Fordham - vocals, guitar
Larry Klein - bass.....Klein has played with Joni Mitchell and Freddie Hubbard, among others.
Vinnie Colaiuta - drums.....Colaiuta has played with a ton of artists, including Zappa, Sting and Jeff Beck.
Dean Parks - guitar.....Parks is perhaps best known for his work on many of the Steely Dan albums including Katy Lied, The Royal Scam, Aja and Gaucho.
Mark Isham - trumpet.....Isham wears a lot of hats, and wears them well, straddling the worlds of composing, recording, and performing jazz & new age music...writing and recording a number of successful film scores...and touring with titans like Joni Mitchell, Bruce Springsteen, Van Morrison, Suzanne Vega, The Rolling Stones, and XTC.

Musicasaurus.com's "IF I HAD TO PICK ONE": "Foolish Things" is musicasaurus.com's favorite performance on this disc, and it ably represents Fordham's deep talent and extraordinary passion. The track is a mid-tempo piece with masterfully fluid moves by her supporting musicians, including Isham at the outset and conclusion, and additional vocalist Amy Keys starting midway through...Fordham's performance style is just slightly unusual; she's sometimes suddenly wide-eyed, and her hand gestures seem just the slightest bit calculated instead of flowing directly from the heart, but these are just observations and not criticisms--her amazing vocal instrument, her projection of passion, and her stellar band and song arrangements all add up to a towering performance piece.
_____________________________________________________________________
Posted 4/8/18:
Legends Live At Montreux 1997 – Eric Clapton, Steve Gadd, Marcus Miller, Joe Sample and David Sanborn... (released in 2005 by Eagle Rock Entertainment).
If you're a fan and you're contemplating Clapton, as expected Cream will rise to the top. But if you're looking for some of his departures and diversions outside of traditional rock and blues, then Montreux is a must.
This DVD captures a performance at the Montreux Jazz Festival on July 4, 1997, and it's an incredible balance of virtuosity and musical kinship. In this setting, the assemblage reigns supreme--Clapton is but another band member, one of five talented musicians locking into each other in order to transcend their individual contributions.
The Montreux performance was actually one of eleven total European jazz festival stops that this unit made in the Summer of 1997.
Ultimately, the treat is this: Clapton can't (or won't) fully sublimate his blues-rock inclinations, so it's a uniquely enjoyable setting to have him playing alongside and out in front of four other esteemed players from the world of jazz...
The players:

Eric Clapton - guitar
Steve Gadd - drums.....Gadd has played drums for a number of rock and jazz acts including Steely Dan (most famously on Aja), Bob James, Eric Clapton, Chick Corea and Paul Simon.
Marcus Miller - bass.....Miller's been with Herbie Hancock, Miles Davis, Luther Vandross, David Sanborn, and more.
Joe Sample - keyboards.....Sample co-founded the jazz group The Crusaders, as well as guested on numerous jazz and rock releases from artists like Anita Baker, Miles Davis, Joni Mitchell, Marvin Gaye, Steely Dan, George Benson, and The Supremes.
David Sanborn - alto saxophone.....Sanborn's a successful solo artist and has also been on board as a session player with Hubert Laws, George Benson, Todd Rundgren, David Bowie, Bryan Ferry, Stevie Wonder, Al Jarreau, James Taylor, Elton John, and scores more...

Musicasaurus.com's "IF I HAD TO PICK ONE": "Snakes" is musicasaurus.com's favorite due to the searing solos of Sanborn and an often climactic Clapton...
Musicasaurus.com's RUNNERS-UP:

"In Case You Hadn't Noticed" is slow and easy with Clapton on acoustic guitar, a Marcus Miller workout, and then Sample and Sanborn solos--all along, there's a lazy, sophisticated groove.
"Put It Where You Want It" is a cover of an Average White Band song, and it's loose and funky--and here again, Clapton follows Sanborn, each nicely ascending before the pass-off to the next player...

Musicasaurus.com's DEBATABLE PICK: "In A Sentimental Mood / Layla" - The latter half of this track is Clapton on acoustic guitar doing his trademark tune with the other band members chiming in, but it seems a bit lifeless and almost "too cocktail hour"--I guess I have Duane Allman on the brain, and will live and die by the original recording from Derek & The Dominos.
_____________________________________________________________________
Posted 3/25/18:
Rock 'n' Roll Party Honoring Les Paul – Jeff Beck... (released by Eagle Vision, 2010).
Even if you just know guitarist Jeff Beck from eons ago in The Yardbirds...or from the few albums by the Jeff Beck Group featuring singer Rod Stewart...or through Beck's more modern day excursions in the realms of instrumental fusion or crushing near-metal, this DVD will surprise you.
The genesis of this DVD started with Jeff Beck's adoration of Les Paul, the American guitarist, songwriter and inventor. Paul (1915-2009) was responsible for the creation of the solid-body electric guitar, which fueled the growth of Rock 'n' Roll. He also contributed mightily to the evolution of studio recording processes including overdubbing and multi-tracking, and his guitar playing style inspired musicians from Beck to Eric Clapton and a host of others.
Jeff Beck, a year after Les Paul passed away, organized a one-night-only tribute concert on June 9th, 2010 in NYC's Iridium Jazz Club, where Paul had played throughout his career. The evening was recorded for DVD home sales, and the night's special guests included:

Imelda May(Irish singer-songwriter whose style might best be called "rockabillie holiday", as she hews largely to rockabilly music with a voice reminiscent of the famous female African American jazz singer)
Gary U.S. Bonds(most famous for his early '60s hit "Quarter To Three" often covered by Springsteen in the latter's earliest tours in the '70s)
Brian Setzer(he of the rockabilly breakout band The Stray Cats from the early '80s, and then his swing revival band Brian Setzer Orchestra beginning in the late '90s)
Trombone Shorty(trombone and trumpet player from New Orleans, working primarily in jazz, but also funk, hip-hop and rap)

The performances included songs from the 1950s and 1960s that were classics as performed by Les Paul and wife/singer Mary Ford, as well as some of Beck's personal favorites from that era.
Musicasaurus.com's recommended tracks:

"Cry Me A River", "My Baby Left Me", "How High The Moon", "Bye Bye Blues", and"Walking In The Sand".....with Imelda May on vocals.
"Peter Gunn".....instrumental; featuring Trombone Shorty
"Sleep Walk".....instrumental
"New Orleans".....with Gary U.S. Bonds
"Twenty Flight Rock".....with Brian Setzer
"Shake, Rattle & Roll".....vocals by Darrel Higham; featuring Brian Setzer and Trombone Shorty
_____________________________________________________________________
Posted 3/11/18:
Spectacle – Elvis Costello With... (released to home video October 2011).
Right now...Create another tab while you're reading this, and go to Amazon.com to snatch up this two-season treat featuring Elvis Costello. The two DVD package contains both Season One and Season Two of this music interview-and-performance program entitled Spectacle: Elvis Costello With...
Spectacle ran only two seasons--in 2008/2009 and 2009/2010--on Channel 4 in the U.K., CTV across Canada, and the Sundance Channel in the U.S.
On the program, Elvis and his trio The Imposters played host to a wide variety of musicians--stratospheric superstars and lower-altitude cult favorites--and each program consisted of interview segments and fascinating crossbred performances. Typically, Elvis and The Imposters would cover a song originally written & performed by their guest, and then collaboration would ensue with the guest artist playing with Costello on one or the other's material.
The interview segments were enticing, exciting, and revealing. Costello struck just the right balance as interviewer; his questions were really quite incisive and scintillating (no mean feat, as interviewing is an art form and too many bubble-brains over the years have slipped too easily into that chair).
If you are thirsty for revelations--from the musicians' mouths, both spoken and sung--this is the show for you...Featured guests include, among others: Bono and The Edge, The Police, Elton John, John Prine with Lyle Lovett & Ray LaMontagne, Tony Bennett, Smokey Robinson, She & Him with Jenny Lewis and Jakob Dylan, Herbie Hancock, Levon Helm with Nick Lowe, Richard Thompson and Allen Toussaint, and more...
Musicasaurus.com's "IF I HAD TO PICK ONE": Bruce Springsteen.....The interview portion is quite good in this two-part chat, and the musical highlights include Bruce and E Street Band member Nils Lofgren joining Elvis and his Imposters in a rousing two-song assault: "Radio Nowhere" right into "Radio Radio."
_____________________________________________________________________
Posted 2/25/18:
APPALACHIAN JOURNEY LIVE IN CONCERT – Yo-Yo Ma, Edgar Meyer, Mark O'Connor...Sony Classical (2000).
The appeal of this disc is beyond any one genre and captivating as hell, if your ears are open to amazing musicians in a setting that's a triple-threat sum of its parts.
Recorded in April of 2000 in New York's Avery Fisher Hall, this performance yields thrills to a degree that you'll berate yourself for never having followed up on those childhood music lessons—or if you ARE a performer today, you'll likely ponder instrument abandonment as you genuflect before the viewing screen.
Cellist Yo-Yo Ma, upright bassist Edgar Meyer, and fiddler Mark O'Connor originally teamed up for CD releases Appalachia Waltz (1996) and Appalachian Journey (2000), and in this beautifully recorded live appearance, they predominantly recreate the magic of their Appalachian Journey CD while mixing in a tune or two from the earlier release.
The musical performances are exhilarating, and beyond the trio's pieces, a couple of guest musicians contribute as well...
Musicasaurus.com's Recommended Tracks:

"1B".....By far, my favorite track. Superb interplay, and like the rest of the performances herein, this is a tantalizing mix of individual prowess and collective intuitiveness, all in service to songs that blend classical music and Americana...
"Emily's Reel".....With credit to Steve Martin for coining the term, I get "happy feet" from this one, just shy of breaking out in full square dance delirium.
"Slumber My Darling".....And lo, the holy triumvirate was visited upon by an angel...and this is in the form of Alison Krauss, who acquits herself nicely in a sensitive reading of this Stephen Foster song.
"Hard Times Come Again No More".....Stephen Foster is mined once more by the threesome, this time joined by James Taylor on acoustic guitar and vocal...Though not quite as magical as Krauss' moment in the spotlight, Taylor fits like a glove with the string trio, and one can see there's a strong mutual admiration here.

The Rest of the DVD: Includes..."Misty Moonlight Waltz"..."Indecision"..."Fisher's Hornpipe"..."Appalachia Waltz"...and more.
_____________________________________________________________________
Posted 2/11/18:
LIVE FROM ABBEY ROAD – Best of Season One...Fremantle Media Enterprises (2007).
Channel 4 in the UK started up this in-studio series of artists' performances in 2007. Beginning with Season Two, the show was reportedly available in America via the Sundance Channel.
The DVD contains a full segment with each performer, including interviews & performances; the latter is filmed without an audience to help capture and then convey the true spirit of a recording session.
Musicasaurus.com's Recommended Tracks:

"Love Foolosophy" by Jamiroquai.....By far, this is the nicest surprise on the DVD especially if you're not intimately aware of this particular British band...Jamiroquai started up in the 1990s, and is a blend of white R & B, soul and funk, and club music. (It's similar to Stevie Wonder's best funk-ified material from his 1970s heyday). The track reveals a very tight band with great punctuation from the horn section (though all of the musicians have razor-sharp timing throughout this groove); above it all are the soft yet soaring vocals of lead singer Jason Kay.
"Trouble" by Ray LaMontagne.....This is simply the singer-songwriter with an acoustic guitar on a stool before the microphone. As with the rest of the DVD, this performance is expertly shot and unobtrusively edited, and it's in HD—great viewing along with the clear and crisp audio.
"Can't Find The Moonlight" by LeAnn Rimes.....The spotlight here is on Rimes' voice, and it's gloriously out front with just light percussion and acoustic guitar accompaniment.
"Vultures" by John Mayer.....A track originally from Mayer's 2005 live trio album AND from 2006's studio record Continuum is performed here, revealing Mayer's penchant for heartfelt, tasty blues-based material. Nice lead picking and chorus falsetto by Mayer on this mid-tempo slice.
"On An Island" by David Gilmour.....Just what you'd expect from Gilmour—a compelling performance with great musicians; no Floydian slips here...Gilmour's band includes fellow Floyd alum Richard Wright on keyboards, and ex-Roxy Music guitarist Phil Manzanera who joyously trades licks with Gilmour in the song's midsection.
"Smiley Faces" by Gnarls Barkley.....Cee-lo Green and Danger Mouse lead a shimmy party in the studio while knocking out this tune from their 2006 St. Elsewhere album...The song is pure pop, and the video portion is a treat on this one as well—handclaps explode all around, and the musicians include four female string players dressed in their "retro finest" which lends even more color to the proceedings.

The Rest of the DVD: Includes Damien Rice.....Gipsy Kings.....Iron Maiden.....The Zutons.....Josh Groban.....Primal Scream.....Norah Jones.....Amos Lee.....Corinne Bailey Rae.....and more; 25 artists in all on this 2-DVD set.
_____________________________________________________________________
Posted 1/29/18.....
One of television's music incubators, starting in 1975...
Saturday Night Live / 25 Years of Music / Performances and Sketches......released on DVD in 2003 (Warner Reprise Video)
This five-disc DVD set contains over fifty musical performances from a wide range of rising stars and established artists, covering the years 1975 through 2000 on Saturday Night Live...
The disc also contains key SNL comedy sketches, some musically-oriented...but we're hear to talk tunes.
Musicasaurus.com's Absolute Favorite Track from Each of the Five Volumes in this Set:

From Volume One (1975-1980) - "Feelin' Alright" by Joe Cocker.....Okay, this one actually breaks out into a skit, as John Belushi—garbed identically to Cocker—walks out on stage after the song has already started, and joins Joe note for note and limb-twitch for limb-twitch...Belushi really struts his inner Cocker-doodle-doo, pulling off a mesmerizing and manic bit of mimicry....Priceless.
From Volume Two (1980-1985) – "Pink Houses" by John Mellencamp.....This is Mellencamp and band in an energizing performance of this FM Radio classic, and it is contagious fun—Mellencamp and musicians walk that fine line here between "loose" and "polished," and the band is anchored by the mighty Kenny Aronoff on drums. The cramped stage area only adds to the effect; it is as if we're spying in on "band practice" in one of the guy's garages, where passion is the fuel and songs are rehearsed unceasingly so each time one sees the light of day, it's the absolute best that it can be...
From Volume Three (1985-1990) – "We'll Be Together" by Sting.....For this 1987 performance, Sting brought together a particularly turbocharged back-up ensemble, this time consisting of eight musicians including a wailing Branford Marsalis on sax...It's a jazz and funk roll-out typical of Sting live in concert; he always brandishes the best players when going into battle.
From Volume Four (1990-1995) – "Free Your Mind" – En Vogue.....En Vogue is Em Powerment, plain and simple ("Free your mind and the rest will follow / Be color blind, don't be so shallow")...It is a riveting performance by the four leading ladies, who spit out this challenge with sass and conviction, all in great voice (and all in great outfits, I might add). The four are backed by a grinding, muscular five-piece band that fuels the funk and amplifies the message.
From Volume Five (1995-2000) – "Special" by Garbage.....This is a propulsive alt-rock song that implores you to hop on board and hang on...Garbage is a band fronted by Scottish singer Shirley Manson, and drummer Butch Vig is best known as the producer of some landmark alternative albums including Nirvana's Nevermind and Smashing Pumpkin's Siamese Dream...The performance here is all power chords & pounding, an assault on the senses. The band is absolutely locked into full frontal delivery; it'll take your breath away.
_____________________________________________________________________
Posted 1/15/18.....
Here's a Double Shot of Required Viewings...And a Standout Track from each:
1.) LEON RUSSELL AND THE NEW GRASS REVIVAL (self-titled release)
Oklahoman Leon Russell is a renowned singer-songwriter and multi-instrumentalist who did a ton of session work in the 1960's with The Byrds, Gary Lewis & The Playboys ("This Diamond Ring"), Glen Campbell ("Gentle On My Mind") and a host of others...In the 1970's he mounted and then played musical ringmaster for Joe Cocker's famous Mad Dogs & Englishmen tour, and also had a noteworthy solo career throughout that decade...In 2010, he recorded an album with Elton John called The Union, and this brought Leon deservedly to the forefront one more time...
This DVD was recorded in 1981 while on tour with the legendary bluegrass band The New Grass Revival (featuring mandolin and fiddle player Sam Bush and John Cowan on bass).
The Standout Track: "Wild Horses".....The Rolling Stones song from their album Sticky Fingers gets a bluegrass overhaul with Leon's trademark vocal sneer and stellar playing from The New Grass Revival. The song isn't so much revived as re-imagined, and it stands surefootedly on its own as a classic.
The rest of the DVD: Includes "Prince of Peace"....."Rollin' In My Sweet Baby's Arms"..."Stranger In A Strange Land"..."Jambalaya (On the Bayou)"..."I Believe To My Soul"...and more.
2.) SUZANNE VEGA / LIVE AT MONTREUX 2004
A Barnard College lit grad and veteran of the Greenwich Village folk scene, Suzanne Vega combines her incredibly rich talent for penning lyrics with performance aplomb...
Her commercial success in the late 1980's and early 1990's is widely thought to have opened the doors—or at least widened the doorway—for other uniquely talented female solo artists who were peers or were soon to follow, like Sinead O'Connor, Tracy Chapman, Michelle Shocked, Indigo Girls and others...
This DVD was recorded in 2004, capturing Vega's second appearance at the Montreux Festival. This time out she appeared with a full band, and it's great to see her as frontwoman of such a powerful, disciplined touring unit.
The Standout Track: "Solitude Standing".....Vega is all power & poise as her backup band rips through this title tune from Vega's second album, which was released in 1987. The essential ingredient to this song's success: Her inestimable lyrics, which add to the menacing wall of sound built up behind her: "Solitude stands in the doorway / And I'm struck once again by her black silhouette / By her long cool stare and her silence / I suddenly remember each time we've met." Chilling...Brilliant...and with the band wailing behind her, it's mesmerizing.
The rest of the DVD: Includes "Marlene On The Wall"....."Luka"..."Tom's Diner"..."Left of Center"..."The Queen And The Soldier"...and more.
_____________________________________________________________________
Posted 1/1/18.....
I've got a one-track mind when it comes to certain DVDs.....so here 'tis from the Coors, My Morning Jacket, and Ray Charles.
THE CORRS / UNPLUGGED
The Corrs are Andrea, Caroline, Sharon and Jim—Irish siblings who craft pop magic from their heritage.
This DVD was recorded for MTV's Unplugged series, at Ardmore Studios, County Wicklow, Ireland on October 5th, 1999.
The one track:

"Lough Erin Shore".....This traditional instrumental highlights the true musicianship of the close-knit Corrs, aided by an orchestra which give it grand, but not grandiose, backing on the tune. If this doesn't get your Irish up, then shite, I don't know what will.

The rest of the DVD includes covers ("Dreams" from Fleetwood Mac; "Everybody Hurts" from R.E.M.; "Little Wing" from Hendrix; and Thin Lizzy's "Old Town") and Corrs' hits "Only When I Sleep"..."Forgiven Not Forgotten"..."Radio"...and more.
MY MORNING JACKET / OKONOKOS
My Morning Jacket came together in Louisville, Kentucky in 1998, and after some interesting & reverb-soaked first few records, they produced their album called Z in 2005. Eight of the tracks on this DVD come from that particular release.
This 2006 DVD captures the pure power of this rock/alt-country band who have amassed a deserving reputation as one of the best live bands playing today—in a league with Neil Young & Crazy Horse, and Pearl Jam.
The one track:

"It Beats 4 U".....This is a driving tune that embodies classic rock fury in performance, but of course it's in the hands of this relatively new band who is clearly marking their territory while also paying homage to an upper echelon of live-in-concert legends like The Who, Led Zeppelin, and the aforementioned Young and Pearl Jam.

The rest of the DVD includes "Wordless Chorus"..."Gideon"..."What A Wonderful Man"..."Lay Low"..."Dondante"..."Anytime"..."Mahgeetah" and more.
RAY CHARLES / O-GENIO: LIVE IN BRAZIL, 1963
Ray Charles (1930-2004) was perhaps immortalized for the younger generation in Taylor Hackford's 2004 film Ray, starring Jamie Foxx. In the 1950's & 1960's, Charles pioneered a path to modern soul music with his blending of rhythm & blues, gospel, jazz and blues, and even country; his landmark vocal style is oft mentioned in the same breath as Elvis and Billie Holiday—good company to keep.
The video that makes up this DVD was unearthed by Charles in his tape vault only a few years before his death. It's in glorious black & white with Charles in his big band setting, filmed for Brazilian television in Sao Paulo, Brazil on September 22, 1963, just a day before Charles' 33rd birthday.
The one track:

"You Are My Sunshine".....This song features some amazing vocal interplay between Charles and one of his Raeletts, Margie Hendricks. Her out-front testifyin' in this tune is brief, but it's spellbinding as she continually sings & sets her jaw in determination to reach a pinnacle in "preaching" along with Brother Ray...About Hendricks, Charles had this to say: "Aretha, Gladys, Etta James—these gals are all bad, but on any given night, Margie will scare you to death."

The rest of the DVD includes "What'd I Say"..."Take These Chains From My Heart"..."In The Evening (When The Sun Goes Down)"..."You Don't Know Me"..."Hit The Road Jack"..."Hallelujah I Love Her So" and more.
_____________________________________________________________________
12/18/17: No posting this time in this DANCING WITH MR. D…VD section.
BUT THERE ARE brand new postings (as of 12/18/17) in the other sections of this website, in A DAY IN THE LIFE and in BUILDING A MIXTERY…
______________________________________________________________________
Posted 12/4/17.....
CLASSIC ROCK.....Various artists.....DVD released in 2007; Immortal IMM # 940959.
Trawling the fishing lanes for DVDs that are "out there" for purchase is both fun and frustrating. Other purchasers' reviews help, of course; this often gives you a sense of the artist execution, the production values, etc. as a guide to buying. Sometimes, though, you have to take the plunge and buy something unseen and unheralded, like this classic rock collection imaginatively entitled Classic Rock (uh-oh; not much time spent by the curators on this product's DVD title—be this trouble in paradise, right outta the box?!!)
The selections are for the most part recordings of classic rockers in concert, and the set includes full-song performances by the Allman Brothers Band (the later configuration), Creedence Clearwater Revival, The Kinks, Aerosmith, Rod Stewart, The Doors, and more...
Production is a mixed blessing track to track, and there are scant-to-no details on the actual performances' dates or locations, but there are some undeniably great performances to appease the pure critic that lurks in most of us. The brief DVD notes included with the package state that "an impressive number of these performances are not music videos but concert appearances shot on film and video, in certain cases with dexterity and clarity." Huh. At least they hired a crafty liner-notes writer to smooth over the quality issues; gotta love that phrase "in certain cases."
Musicasaurus.com's recommended tracks:
"Sweet Emotion"– Aerosmith.....The band kicks into this killer song with its ominously sweet opening riffs, and Steven Tyler and band blaze through this version.
"Medley: Tales of Kilimanjaro / Black Magic Woman / Gypsy Queen –Santana.....This is Santana from the early days of their first two albums, the self-titled debut from 1969 and the following year's Abraxas. This track really illustrates the mind meld that these musicians had as a unit; lead guitarist Carlos Santana sets the bar high as band leader and lead explorer, pulling down riffs from somewhere beyond our world. Pretty incredible stuff.
______________________________________________________________________
Posted 11/20/17.....
DAVID BOWIE.....A REALITY TOUR.....DVD released in 2004.
Recorded in November 2003 in Dublin, Ireland, this is everything one would expect from the now much missed, multifaceted Mr. Bowie...The band is a stellar assemblage of talent and it's hard to single them out for individual praise, because this seems to me very much a band effort rather than a singular showcase for Bowie, and I mean that in terms of the total effect on the viewer. (If I HAD to, though, I'd point out the pure-bliss delivery of the two guitarists who barnstorm with sophisticated assaults but then lay back and spool out amazing shadings as well; Gerry Leonard is one of the guitarists and band leader, and the other—the essence of punk rock cool—is shades-adorned Earl Slick, a longtime collaborator from the Bowie studio and touring stables).
The DVD liner notes, under "Show Production", list a little over 50 names associated with the recording of this concert and production of the DVD. This might give you a sense of the quality of the finished product; the sound & vision are excellent.
The song selections span over thirty years of Bowie's recording career, from 1970's The Man Who Sold The World through 2003's Reality...If you were a big fan of Bowie back in 1972 and were counting on some classics from that era, you'll be gettin' Ziggy with it—the last three songs on the DVD are "Five Years", "Hang On To Yourself", and "Ziggy Stardust".
Also laudable is the cinematography—some DVD concert recordings are cringe-inducing in terms of special effects that, in the end, decidedly detract from what is intended to be delivered. This is not the case with A Reality Tour; there is a perfect blend of intelligently and judiciously applied "touches", and these truly augment the viewer's emotional payoff.
Lastly, there are a couple of songs included that are not pure Bowie compositions, but rather are the result of collaborations with other artists. These are tracks that shine—see below.
Musicasaurus.com's recommended tracks:

"Sister Midnight" – A song originally written by Bowie, Iggy Pop, and guitarist Carlos Alomar, it first appeared in a studio version on Pop's 1997 debut The Idiot...Here, it's a blistering and powerfully pure rock song; again, I have to cite the Slick guitarist, who takes this song to the finish line with a sonic power wash like I've rarely heard or seen...
"Under Pressure" –Bass player/singer Gail Ann Dorsey (session musician in the alternative rock scene, and frequent Bowie band member since the mid-1990's) tackles the original Bowie/Queen collaboration and hits the Mercury highs...This is an enveloping treatment of the tune, and Dorsey soars.
Also recommended –Lead-off track "Rebel Rebel"..."Sunday" (an atmospheric, "deep cut" kind of track from Bowie's 2002 album Heathen)..."I'm Afraid of Americans"...and "Fame".
____________________________________________________________________
Posted 10/9/17.....
Special Edition of Dancing With Mr. D...VD: As I was looking through the list of DVDs to review for this latest posting, I thought "Gee, why don't I just grab a handful from the shelves and list a little clump of my collection?"
And so below is brought to you by the letter "G"….
Gabriel, Peter.....Secret World Live.....A must-have, even if you don't own a DVD player any longer (preserve it for posterity). One of the best live representations of an artist's vision, translated through impeccable musicianship and, post-concert, some incredibly skillful editing.
Gabriel, Peter.....Growing Up Live.....A concert filmed ten years after Secret World Live; Gabriel is grayer but still great.
Gaye, Marvin.....The Real Thing / In Performance 1964-1981.....A collection of Gaye's American and European television appearances spanning three decades.
Glass Harp.....Live! Circa '72.....Reportedly this in-studio concert with a small, certainly '70s-looking crowd of fans was recorded and broadcast simultaneously on PBS and on some FM stations (a first of its kind). Production values: Not so hot. Musicianship: Hotter than Hades. Phil Keaggy is the lead guitarist of this rock trio, and channels a heavenly talent.
Grappelli, Stephane.....Live In San Francisco.....A concert recorded at Paul Mason Wineyard in Saratoga, California on July 4, 1982 and at the Great American Music Hall, San Francisco on July 7, 1982. Grappelli is the French jazz violinist who founded Quintette du Hot Club de France with guitarist Django Reinhardt in 1934, one of the first all-string jazz bands. Here he is in concert with three other skillful musicians on acoustic guitars and double bass.
Grateful Dead.....Downhill From Here.....I took a stab at owning a Dead DVD; after all, there are 80,000 "out there" of varying quality in Deadhead collections and God knows where else. This particular show was recorded in 1989 at the Alpine Valley Music Theatre (capacity 37,000; located in East Troy, Wisconsin).
Griffin, Patty.....Live From The Artists Den.....Americana artist Griffin and her band perform at the Angel Orensanz Foundation For The Arts on New York's Lower East Side, in February 2007. Griffin went on in her career to hook up with Robert Plant for his Band of Joy project, which recorded and toured in the 2010-2011 timeframe.
Guster.....Guster On Ice / Live From Portland, Maine.....Alternative pop-rock band from Boston, captured live at the State Theatre in December 2003. Infectious smart pop pervades the set; standouts include "Happier" and "Demons."
____________________________________________________________________
Posted 9/25/17.....
Tom Dowd & The Language of Music...released in 2003.
Gregg Allman's death this past May was a tough one for musicasaurus.com…Although one can take some solace in knowing he's with his brother Duane up above the blue sky, it's still no consolation that down here on mother earth we're now without that blues-soaked growl and that whirr of the Hammond B-3…
And so Allman's ascension had me thinking about a certain DVD I've had in my stash for a while now, one from Palm Pictures, an independent film and music company started up in 1998 by Island Records company founder Chris Blackwell. Tom Dowd & The Language of Music is a 90-minute documentary released on DVD in 2004, after premiering the year before at the Sundance Film Festival and being showcased later that same year at the Toronto International Film Festival.
The first time I ever encountered the name Tom Dowd was from the liner notes of the Allmans Brothers' second album Idlewild South (1970). Dowd produced this record as well as the band's subsequent release At Fillmore East, which to this day still spine-tingles listeners with its live-on-stage capture of a young, hungry band—all of 'em just in their twenties—at the absolute peak of their powers.
I will let you uncover other revelations as you immerse yourself in this film, but here a few tantalizing bits to send you on your way to full discovery:
Before his recording career, the tech-savvy-for-the-times Dowd was a physics whiz who late in his teens worked on the Manhattan Project—the under-the-cloak development of the atomic bomb.
Dowd is renowned as an innovator in the field of multitrack tape recording. While working at Atlantic Records (starting there in the 1950s), he convinced the label to move away from acetate disc recording to using tape instead—and thus he made some of the very first commercial stereo recordings, having designed and then built Atlantic's first stereo and eight-track consoles.
He happened to be the one who brought Duane Allman and Eric Clapton together for the latter's landmark double album Layla And Other Assorted Love Songs (released under the band name Derek and the Dominos).
Along his path of producing and engineering, he was the man behind John Coltrane's "Giant Steps," Ray Charles' "What'd I Say," Aretha Franklin's "Respect," Bobby Darin's "Mack The Knife," and many more.
Enjoy.
____________________________________________________________________
Posted 9/11/17.....
LIGHTNING IN A BOTTLE / A One Night History of The Blues.....DVD released in March 2005.
In an effort to capture the blues masters and their acolytes in concert together, and to simultaneously tell the tale of origins & torch passings, executive producer Martin Scorsese and director Antoine Fuqua teamed up in February 2003 and staged a celebration-in-song of this treasured art form.
Filmed at Radio City Music Hall in New York City, Lightning In A Bottle features some truly tantalizin' testifyin', and gives us some killer collaborations between the old—uh, sometimes the very old—and the new.
Backed by a talented house band (including musicians such as Dr. John), these venerated performers tore into the material, taking the audience from Africa to the Delta and then up into Chicago, tapping into a wellspring of deep emotion and ritualism.
Slight warning: A few of the tracks are interrupted by commentary and/or clips. My favorite interview snippet, though, is of Son House, the Delta blues artist (1902-1988) who inspired both Muddy Waters and Robert Johnson. House is speaking about the meaning of the blues: "Ain't but one kind of blues, and that consistses (sic) between a male and a female that's in love."
Musicasaurus.com's recommended tracks:

"I Pity The Fool"– Shemekia Copelandjoins Robert Cray on this 1954 song originally performed by Bobby "Blue" Bland.
"Turn On Your Lovelight"– Another "Blue" Bland tune, this one is performed by 70-year-old soul pioneer Solomon Burke, who passed away in October 2010.
"Sittin' On Top of The World"– A song originally performed by the Mississippi Sheiks in 1930, and also famously covered by Cream on their 1968 album Wheels of Fire; here, it's a short and sweet roots-ier rendition by James "Blood" Ulmer with Alison Krauss.
"St. Louis Blues"– W. C. Handy's 1914 composition, covered here by Natalie Cole.
"Can't Be Satisfied"– Buddy Guy—often credited with being the bridge between Muddy Waters & Howlin' Wolf, and the later blues-rock disciples Clapton, Page and Beck—performs a 1948 Muddy Waters tune.
"Sweet Sixteen"– 78-year-old B.B. King sits and sweetly, stingingly delivers his own 1960 composition, joined by Lucille—that's his guitar, and he knows how to make her sing.
____________________________________________________________________
8/28/17: No posting this time in this DANCING WITH MR. D…VD section.
BUT THERE ARE brand new postings (as of 8/28/17) in the other sections of this website, in A DAY IN THE LIFE and in BUILDING A MIXTERY…
____________________________________________________________________
Posted 8/14/17.....
THE ROLLING STONES
SWEET SUMMER SUN: HYDE PARK LIVE
So the Stones, who I've seen just a handful of times since they started visiting Pittsburgh (first stop was Westview Park, a no-longer amusement park just outside of the city), can be raw not in a good way, but other times pretty damn resplendent.
They descended upon Hyde Park in London in 2013, forty-four years after their first gig there when the concert equipment and sound system was just starting to become a business, with improvement and innovation still on the cusp. Here in 2013 the Stones are blessed with good sound reproduction for the sake of the DVD, and their song performances are pretty stellar.
Highlights include an appearance of guitarist Mick Jones, who was in the Stones way back when, around the time of maybe the best chronological one-two-three punch in rock record history—Let It Bleed, Sticky Fingers and Exile On Main St. Jones plays guitar in this Hyde Park 2014 set on "Midnight Rambler," and he and harp-wailin' Mick reach a couple of crescendos.
Also recommended: "Miss You" and in the bonus section of the DVD, "Paint It Black" which is cool and comforting, seeing the band peel off a 51-year-old song of theirs infusing it with their accumulated experience.
_____________________________________________________________________
Posted 7/31/17.....
FESTIVAL EXPRESS…released on DVD in 2004.
Here is a delicious flashback film to savor, which recounts a five-day train trip in 1970 across Canada—with pre-designated concert stops along the way—by '60s icons The Band, Janis Joplin, The Grateful Dead, Buddy Guy, Delaney & Bonnie and more.
Word has it that the performers who agreed to hop on board accepted lesser fees than normal from the enterprising promoters, lured in by the promise of musical camaraderie and the chance to party heartily (worrying not a whit about personal derailment) as the festival express took them from Toronto through Winnipeg to Calgary…
Somehow I missed the theater wide release of the film when it hit screens in the Fall of 2003, but since 2004 Festival Express has been available on DVD in a 2-disc package that contains the film, rare footage, and interviews about the 1970 trip—35 years on down the tracks—with Bob Weir, Phil Lesh and others.
I'll have you know that the Tomatometer gives Festival Express a 96% rating, and I'll also point you now to a cool source to lap up a more microscopic view of the train trip and its inhabitants—something called "Grateful Dead Sources; An Appendix to the Grateful Dead Guide." The site is a seemingly authoritative collection of articles, reviews, etc. on the early Grateful Dead, self-proclaimed as dipping quite heavily into dead.net clippings.
Here's a quick example of the writing on this site: "Is this the bar car?" Janis asks, entering the room like an explosion, and everyone catches himself momentarily in an automatic reflex to the rocking of an imaginary train. Janis was the presiding spirit of this journey, the bacchanalian Little Red Riding Hood with her bag full of tequila and lemons, lurching from car to car like some tropical bird with streaming feathers, defying the sun to interrupt our revels with another day."
For the DVD, go to Amazon. To become a true fly on the wall, dig deeper into the aforementioned Grateful Dead Sources' blogpost: http://deadsources.blogspot.com/2013/07/junejuly-1970-festival-express.html
_____________________________________________________________________
Posted 7/17/17.....
THESE ARE CURRENTLY ON MUSICASAURUS.COM'S WISH LIST FOR PURCHASE…but that doesn't mean they'll ultimately be in the collection. Need more time for research and reflection…
GREGG ALLMAN – I'M NO ANGEL – LIVE ON STAGE
A full-length concert from Gregg with a solo band (including Dan Toler on guitar) recorded in Nashville in November 1988. The disc contains the title track, "Statesboro Blues," and, according to one Amazon.com reviewer who's seen it, a "lot of mullets."
SOUL COMES HOME: A CELEBRATION OF STAX RECORDS AND MEMPHIS SOUL MUSIC
This performance was filmed on April 30, 2003 in Memphis, and is an all-star assemblage of stirring soul singers gathered up for one great evening to commemorate the grand opening of the Stax Museum of American Soul Music. Performers include Percy Sledge, Isaac Hayes, Al Green, Booker T. & The MGs, Mavis Staples, and many more.
PAVAROTTI – THE DUETS
This is a collection spanning at least ten years worth of musical collaborations between Luciano Pavarotti and assorted superstars including Sting, Bono and The Edge, Eric Clapton, Celine Dion, The Eurythmics, Elton John, Frank Sinatra, Sting—and the incredible James Brown, who pairs with Pav on "It's A Man's Man's Man's World."
PRIMAL SCREAM - SCREAMADELICA LIVE
Primal Scream is a British band born in '82, and they have dabbled deliciously in indie stuff, garage rock, psychedelic music and dance. 1991's Screamadelica was a commercial breakthrough for them, and this 2010 concert at London's Olympia was the first time that the band performed the whole album live.
_____________________________________________________________________
Posted 7/3/17.....
Musicasaurus.com was recently curious about what a few of music and/or film-oriented publications felt might be the BEST EVER concert films—according to their readers.
ROLLING STONE READERS' POLL FROM MARCH 2012:
Position / Film Title / Artist / Release Date
10. Bullet In A Bible – Green Day (2005)
9. Sign O' The Times – Prince (1987)
8. Shine A Light – The Rolling Stones (2008)
7. Live At Pompeii – Pink Floyd (1972)
6. Gimme Shelter – The Rolling Stones (1970)
5. Rattle And Hum – U2 (1988)
4. Woodstock (1970)
3. Stop Making Sense – Talking Heads (1984)
2. The Song Remains The Same – Led Zeppelin (1976)
1. The Last Waltz – The Band (1978)
THE VILLAGE VOICE (NYC's premiere alternative weekly) FROM FEBRUARY 2013:
Position / Film Title / Artist / Release Date
10. Live At Red Rocks/Under A Blood Red Sky – U2 (1984)
9. Awesome! I F*ckin' Shot That! – Beastie Boys (2006)
8. Shine A Light – The Rolling Stones (2008)
7. Monterey Pop (1968)
6. Dave Chappelle's Block Party (2005)
5. Concert For George – Eric Clapton, Jeff Lynne & Friends (2003)
4. Fade To Black – Jay-Z (2004)
3. Woodstock (1970)
2. Stop Making Sense – Talking Heads (1984)
1. The Last Waltz – The Band (1978)
INDIEWIRE.COM (a film industry and review website launched in 1996) FROM JULY 2014:
Position / Film Title / Artist / Release Date
10. Heima – Sigur Rós (2007)
9. Ziggy Stardust & The Spiders From Mars – David Bowie (1973)
8. T.A.M.I. Show – Various artists including the Beach Boys, James Brown,
Marvin Gaye, the Rolling Stones and others (1964)
7. Gimme Shelter – The Rolling Stones (1970)
6. MTV Unplugged in New York - Nirvana (1993)
5. Awesome! I F*ckin' Shot That! – Beastie Boys (2006)
4. Woodstock (1970)
3. Dave Chappelle's Block Party – Various artists including Mos Def, The
Fugees, Erykah Badu, Common, The Roots, Kanye West and others (2005)
2. The Last Waltz – The Band (1978)
1. Stop Making Sense – Talking Heads (1984)
_____________________________________________________________________
Posted 6/19/17.....
Here's a guilty pleasure that I took a chance on, one rainy day with a laptop and money to spend on Amazon.com...
It is a compilation DVD of mostly classic rock bands, and the product's front cover advertised it as "22 Original Rare TV Recordings"—which is enough right there to scare some people away. Yep—sometimes these DVD's are shoddy as sh*t, and just lying in wait for a trusting soul to take the leap. In the end it was perhaps worth the purchase, and here's why:
LET IT ROCK...22 Original Rare TV Recordings...released in 2002 by Classic Pictures Entertainment.
According to the Amazon notes on this piece of product, supposedly this collection has been fully re-mastered in Dolby Digital 5.1 and DTS 5.1 sound, and it features "restored" videos (maybe the latter actually means videos "returned to the store").
All in all the sound quality is fairly decent, and the line-up boasts some acts you've heard 1,000 times...and some acts you've never heard of...and a few acts you'll never want to hear from again. Now THAT's a comprehensive compilation!
Musicasaurus.com's Recommended Tracks:

"All Right Now" by Free.....One should not come to view this song straight from the eye doctor's, especially if you still have those drops in your eyes. You'll think the doctor damaged you for life, or that you're having an acid flashback, or both. The video is all crazy-Sixties psychedelic swirls and splotches, but the musical performance is pretty damn fine—Paul Rodgers is in fine voice, and pitifully-under-acclaimed guitarist Paul Kossoff really cranks.
"Highway Star" by Deep Purple.....The same cosmically kitschy video effects are in play here, but once again there is real power and prowess on display in this live rendition of this classic track from the band's 1972 album Machine Head. I am just not sure, however, why guitarist Ritchie Blackmore is dressed all in black, looking like "Little Boy Lost" at Halloween crossed with Margaret Hamilton in witch mode from The Wizard of Oz.
"Ace of Spades" by Motorhead.....This revered metal trio charges through "Ace of Spades" (also the name of their legendary 1980 album) at breakneck speed while—finally!—someone cranks up the fog machine so that clichéd stage effects can continue their reign. Bassist Lemmy Kilminster and his two compadres "Fast" Eddie Clark (guitar) and "Philthy Animal" Taylor (drums) all contributed mightily to the birth and the continued long life of speed and thrash metal.
"Born To Be Wild" by Steppenwolf.....Methinks that this one is lip synched—but no matter, it is just great to see John Kay and his band rip through this classic song from the Summer of '68. The song ended up becoming a take-to-the-road anthem for the turbulent generation who, the following year, were spellbound by the film Easy Rider. "Born To Be Wild" was featured in that film.
"That Was Only Yesterday" by Spooky Tooth.....It is good to see something/ANYTHING by this band. Alas, it is another lip synched black & white performance on some unidentified TV stage set, yet it is still thrilling to see and hear them "perform" this track from the landmark 1969 album Spooky Two. On keyboards you'll see a very young Gary Wright, who went on to fame and fortune as a solo artist with 1975's Dream Weaver album.

Musicasaurus.com's Recommended Track TO AVOID AT ALL COSTS:

"Morning Dew" by Nazareth.....Unfortunately, this one is live and NOT lip synched. This is so foul that you're not quite sure it hasn't been broadcast in Smell-O-Vision (or whatever that 1960s movie-theatre system was that released particular odors during applicable parts of a film). And while I'm on the subject of Nazareth: If I had a choice of hearing the song "Hair of the Dog" one more time on FM radio, or having someone slip an earwig in my auditory canal so that it could lay eggs in my brain, guess which one I'd choose—What? I'm sorry; what's that you say?

The Rest of the DVD: Includes performances from Meat Loaf ("You Took The Words Right Out Of My Mouth").....Family ("The Weaver's Answer").....The Who ("Pinball Wizard").....The Doobie Brothers ("China Grove").....Stone The Crows ("Danger Zone").....Yes ("Yours Is No Disgrace").....Alice Cooper ("Under My Wheels").....Man ("Daughter Of The Fireplace").....Heart ("Barracuda").....and more.
_____________________________________________________________________
Posted 5/30/17.....
THE NEVILLE BROTHERS.....Tell It Like It Is.....released in 1989. (THIS PARTICULAR REVIEW IS DEDICATED TO THE JUST-DEPARTED GREGG ALLMAN, WHO IS ONE OF THE ACCOMPLISHED GUESTS ON THIS DVD.)
The individuals in this New Orleans rhythm & blues "family band" were all independently musically active through the 1960s, and it wasn't until 1977 that the Neville Brothers—Aaron, Art, Charles and Cyril—combined as one. Their first self-titled release came out in 1978, but it took until 1989's Yellow Moon album (produced by Daniel Lanois) for the rest of the country to really waken to their talents in larger numbers.
This concert DVD, recorded live at Storyville Jazz Hall in New Orleans, is a showcase of the Nevilles' deep roots and road-built musical prowess, and it also illustrates their allure to an incredible batch of A-list artists who all showed up to be a part of this time capsule performance: The tragically just-departed Gregg Allman (he passed away on Saturday, May 27, 2017), Jimmy Buffett, The Dixie Cups, John Hiatt, Bonnie Raitt, Buckwheat Zydeco, Herbie Hancock, and even Ed Bradley from CBS' Television's Sixty Minutes (and of course the tune he does with the Nevilles is "Sixty Minute Man").
Musicasaurus.com's recommended tracks:
"Tell It Like It Is" – this is Aaron Neville at his most soul stirring; a singer with this kind of voice and command of his "instrument" should be crowned King of the Flutter That Cuts Like Butter…The song is way early Aaron; it hails from 1966 when it was a teen dance staple and a Top Two song on the national charts. What's also notable right now, given the passing of Gregg Allman on May 27, is that Allman enters into the song just at the point where the lyrics turn to the following: "Life is too short to have sorrow / You may be here today and gone tomorrow"…Downright spooky—and right now, heartbreaking…
"Midnight Rider" – Just a towering achievement of funk and feeling. Gregg Allman is on keyboards and vocals, along with Aaron Neville sharing lead vocals on this classic Allman Brothers Band song. Bonnie Raitt applies some sensuous slide, as only she can do.
"Falling Out of Love" – This is the best track on the DVD, a star-making performance by Aaron Neville's son Ivan, on a song from the latter's 1988 solo album If My Ancestors Could See Me Now. The song is a duet between Ivan Neville and Bonnie Raitt, but it is Neville's voice here that is spellbinding in its emotional depth and maturity. (The studio version of this song from Neville's Ancestors album is decent, of course—but this "live in concert" version is a revelation.)
_____________________________________________________________________
Posted 5/15/17.....
20 Feet From Stardom.....2013 Oscar-winning Documentary available now on Netflix, home DVD, etc.
The film is just 90 minutes long, and it is a beautifully edited work that provides an emotional wallop.
The film explores the impact of individually unheralded backup singers who, through their participation and extraordinary talent & passion, have helped shaped our collective appreciation of some major musical artists' recordings
Back-up singers who reveal their hopes, dreams and challenges most notably include Merry Clayton and Darlene Love, but also lesser-known but no less talented performers such as Claudia Lennear, Judith Hill, Táta Vega, and an incredible should-be-a-star named Lisa Fischer. The latter almost steals this documentary's thunder through a short but spine-tingling session with Sting in the studio...
The whole film is a work of art and a tale that needed to be told...and Clayton's story may be the best of the lot. In a June 2013 interview on NPR's Fresh Air, Clayton told host Terry Gross about getting the call (literally) to do a vocal cameo for the Rolling Stones back in the Fall of 1969. The song that she recorded late that night with the band was "Gimme Shelter:"
"Well, I'm at home at about 12–I'd say about 11:30, almost 12 o'clock at night. And I'm hunkered down in my bed with my husband, very pregnant, and we got a call from a dear friend of mine and producer named Jack Nitzsche. Jack Nitzsche called and said 'you know, Merry, are you busy?' I said 'No, I'm in bed.' He says, 'well, you know, there are some guys in town from England. And they need someone to come and sing a duet with them, but I can't get anybody to do it. Could you come?' He said 'I really think this would be something good for you.'"...
(Musicasaurus.com's interjected comment here): So Mary, who was tired, pregnant, and had NO idea who the Rolling Stones were, gets out of bed and rushes down to their studio where she first runs into Keith Richards, who explains what they would like her to do:
"I said, 'Well, play the track. It's late. I'd love to get back home.' So they play the track and tell me that I'm going to sing–'this is what you're going to sing: Oh, children, it's just a shot away.' It had the lyrics for me. I said, 'Well, that's cool.' So I did the first part, and we got down to the rape, murder part. And I said, 'Why am I singing rape, murder?'…So they told me the gist of what the lyrics were, and I said 'Oh, okay, that's cool.' So then I had to sit on a stool because I was a little heavy in my belly. I mean, it was a sight to behold. And we got through it. And then we went in the booth to listen, and I saw them hooting and hollering while I was singing, but I didn't know what they were hooting and hollering about. And when I got back in the booth and listened, I said, 'Ooh, that's really nice.' They said, 'well, You want to do another?' I said, 'well, I'll do one more,' I said 'and then I'm going to have to say thank you and good night.' I did one more, and then I did one more. So it was three times I did it, and then I was gone. The next thing I know, that's history."
_____________________________________________________________________
5/1/17: No posting this time in this DANCING WITH MR. D…VD section--BUT THERE ARE brand new postings in the other sections of this website, in A DAY IN THE LIFE and in BUILDING A MIXTERY…
_____________________________________________________________________
Posted 4/17/17.....
The Wrecking Crew – distributed by Magnolia Pictures…initial wide release in March 2015.
In a review of this documentary in the March 12, 2015 edition of the Los Angeles Times, the publication's film critic Kenneth Turan started out his assessment this way:
"To Beach Boys guru Brian Wilson, 'they were the ones with all the spirit and all the know-how.' To Nancy Sinatra, they were 'unsung heroes,' to Herb Alpert, 'an established groove machine.' And to celebrated songwriter Jimmy Webb, they were simply 'stone cold rock and roll professionals.'
"If the history of rock music means anything to you, you know the individuals in question could only be the Wrecking Crew, a legendary group of Los Angeles-based studio musicians, and though their story has taken decades to reach the screen, it has been worth the wait."
So…"a legendary group of Los-Angeles-based studio musicians," saith Kenneth? Uh, UNDERSTATEMENT. The Wrecking Crew, a periodically assembled core group of between 15-20 versatile musicians in Southern California, were responsible for literally hundreds and hundreds of pop masterpieces throughout the 1960s and very early 1970s—and remained largely unheralded until this documentary set the record straight.
The hold-up, really, on this recognition stemmed from a wrangling over music rights to be able to tell the full story. Initial efforts to make the film began in 1996 and it wasn't completed until 2008 when it finally debuted at SXSW (South by Southwest), Austin's long-running and prestigiously hip film and music festival. Lacking the funds to secure the music licensing, the producers could only ply the festival circuit back then versus mounting a full-scale theater release, but by 2013 they came up with funding streams that ultimately unshackled them and the film finally saw release in theaters in March of 2015.
The documentary consists of interviews of Wrecking Crew principals including Tommy Tedesco, the father of the film's director Denny Tedesco, who obviously was deep into a labor of love. You NEED to check out this film, and I'll leave you now with a list that will get you primed for this story of these quite ready for primetime players—some of the pop radio classics from that '60s-'70s era that the Wrecking Crew arranged and played on.
The Byrd's "Mr. Tambourine Man"
Sonny & Cher "The Beat Goes On" and "I Got You Babe"
The Association's "Windy"
Buffalo Springfield's "Broken Arrow"
Canned Heat's "Going Up The Country"
The Ronettes' "Be My Baby"
The Beach Boys' "Don't Worry Baby," "Wouldn't It Be Nice," "Good Vibrations," and "God Only Knows"
The Righteous Brothers' "You've Lost That Lovin' Feelin'"
Nancy Sinatra's "These Boots Are Made for Walkin'"
Cher's "Half-Breed"
Shelley Fabares' "Johnny Angel"
Bread's "Make It With You"
Jackie DeShannon's "Put a Little Love in Your Heart"
Gary Lewis and the Playboys' "This Diamond Ring"
The Mamas & The Papas' "California Dreamin'" and "I Saw Her Again"
Sam Cooke's "Another Saturday Night" and "You Send Me"
Frank Sinatra's "Strangers in the Night," "Summer Wind," and "That's Life"
Glen Campbell's "By The Time I Get to Phoenix"
Johnny Rivers' "Secret Agent Man"
Mason William's "Classical Gas"
The Carpenters' "(They Long To Be) Close To You"
First Edition's "Just Dropped In (To See What Condition My Condition Was In)"
Simon & Garfunkel's "Mrs. Robinson," "The Boxer," and "Cecilia"
The 5th Dimension's "One Less Bell To Answer" and "Wedding Bell Blues"
Elvis Presley's "Return To Sender" and "Viva Las Vegas"
Scott McKenzie's "San Francisco (Be Sure to Wear Some Flowers in Your Hair)"
Barbara Streisand's "The Way We Were"
_____________________________________________________________________
Posted 4/3/17.....
Airplay: The Rise and Fall of Rock Radio.....a documentary released in September 2013; written and directed by Chris Gilson & Carolyn Travis.
1.) As seen on PBS, this revelatory tale begins with the early days of AM Radio in the U.S.A., and the impact that early disc jockeys—and their pioneering playlists of rhythm & blues "race records"—had on the American music scene and society at large.
2.) Those interviewed include the regional disc jockeys from the late 1950s and early 1960s who first championed black music to their listening audiences--Dick Biondi, "Cousin Brucie" Morrow, Wolfman Jack and Casey Kasem, among others. There is also footage of deejay Alan Freed, who organized the first shower-of-stars type concerts that brought out fans across the color lines.
3.) Note: There is a web companion piece to this documentary, which you can access by going to www.theairplaychannel.com, and here you'll find information on the formative on-air jocks who broke ground and broke down barriers, including Pittsburgh's own Porky Chedwick (2/4/18 - 3/2/14), who spun his sounds beginning in 1948. Porky—the self-described "Daddio of the Raddio"—was the first white deejay on the Eastern Seaboard to air exclusively rhythm & blues, and he helped launch the careers of Bo Diddley, Little Anthony, and Smokey Robinson.
4.) Also covered in the documentary: The payola scandal which kneed Freed to the ground...the rise of the Top Forty format and FM radio...the effect of corporate influence...and the birth of satellite radio.
_____________________________________________________________________
3/20/17: No posting this time in this DANCING WITH MR. D…VD section--BUT THERE ARE brand new postings in the other sections of this website, in A DAY IN THE LIFE and in BUILDING A MIXTERY…
_____________________________________________________________________
Posted 3/6/17.....
Sometimes when shopping online at Amazon, tempting as many items are, it feels good to just "park" some stuff in the Wish List so that uh, I can buy groceries or pay my community sewage bill on-time.
So here are a few items that don't have musicasaurus.com's official stamp of approval; they're just lingering in limbo until my $hip Come$ in.....or until my birthday rolls around again.
THE TWO IN THE QUEUE:
1. Chris Robinson and Rich Robinson / Brothers Of A Feather - Live At The Roxy.....released on DVD in 2007.
The Crowes collectively (should we call them a "band", a "flock" or a "murder"?) were on a break from recording and touring in the early 2000s, and before they took wing again, the Brothers Robinson toured together in 2006 in a largely acoustic duo setting.
This DVD was released a year later, and what has currently peaked musicasaurus.com's interest in this DVD is discovering that they cover Little Feat's song "Roll Um Easy" (originally on Feat's Dixie Chicken).
The reviews (from Crowes fan-atics) on Amazon are all positive, of course, and I'm leaning toward the purchase in order to catch the stripped-down versions of the few key Crowes tunes that I know, in addition to the covers on the disc.
Besides "Roll Um Easy", the cover songs include "Over The Hill", originally written & performed by Brit folkie John Martyn, and "Polly," a song popularized by Robert Plant & Alison Krauss on their 2007 album Raising Sand though originally written and recorded by folk artist and one-time-Byrds-member Gene Clark.
2. Return To Forever / The Mothership Returns - A 2 CD and 1 DVD set.....released in 2012.
The jazz fusion group Return To Forever's mainstay founder is keyboardist Chick Corea, who started up the band in 1971 as largely a Latin-influenced jazz ensemble (another founding member was bassist Stanley Clarke).
The band went through some personnel shifts from there, and had its best success (commercially speaking) with the more muscular jazz fusion mid-70s line-up of Corea, Clarke, Lenny White on drums and Al Di Meola on guitar, a foursome that reunited once on stage in 1983 and then—25 years after their original disbandment—again in the summer of 2008.
In 2011 a reformed and reconstituted Return To Forever toured again, this time without Di Meola but substituting in guitarist Frank Gambale and violinist Jean-Luc Ponty.
In pursuit of concert DVDs Musicasaurus.com has learned to not only scour the "Movies & TV" area of Amazon, but the "Music" section as well. Sometimes a band will release a concert video performance as part of an official new CD release, which can escape attention if you're not doubling your categories in your surfing (and that's the pearl of wisdom in this particular posting). To my point: The DVD included in this The Mothership Returns CD/DVD set has interviews, etc., but most tantalizing is the fact that there are two complete song performances on the disc as well, one captured in Austin (the song "After The Cosmic Rain") and the other at Montreux ("The Romantic Warrior").
_____________________________________________________________________
Posted 2/20/17.....
SOUNDBREAKING / Stories from the Cutting Edge of Recorded Music (2016 PBS television series)
Here's a gem if you missed it during its premier broadcast on PBS last year. It's available now on DVD in a four-disc set containing all eight episodes, and one doesn't have to be a music insider to appreciate this march toward creative freedom and innovation in the world of music production.
Interest level is maintained throughout because of the masterful editing and the "sound content"—landmark recordings dissected gleefully by hands-on producers like George Martin (the "fifth Beatle" at all Abbey Road recording sessions) and Rick Rubin (who benevolently nurtured disparate artists from the Beastie Boys and Public Enemy to Neil Diamond and late-career Johnny Cash)…a multitude of artist interviews including Eric Clapton, Paul McCartney, Devo, Ben Harper, Roger Waters, Dr. Dre, Brian Eno, Nile Rodgers, The Black Keys and Annie Lennox…and a fascinating look, of course, at the initial springboard of recording technology in the 1960s and the innovations that followed, fueled by tech, trends and artistic creativity.
It's all here…rock, rap, MTV, disco, Dylan-gone-electric, EDM, sampling, streaming, and what's bubbling up (hold onto the handrails).
A great collection, vetted by musicasaurus.com and his non-music industry couch mate, who was used as the "control" in this viewing experiment and whose enthusiasm jumped the baseline into something close to awe…
Enjoy.
_____________________________________________________________________
Posted 2/6/17.....
Amnesty International Presents RELEASED! The Human Rights Concerts 1986-1998 - A 2008 MVD Entertainment Group release
I spied this prize on Amazon.com a few Chrismases ago and quickly snatched it up. I had heard about these concerts, being a fan and admirer since the late 1970s of Peter Gabriel, who has championed great events through the years including his own creation WOMAD (World of Music, Art & Dance festivals), and causes like Amnesty International.
Amnesty International was born out of the 1948 United Nations charter called the Universal Declaration of Human Rights. The charter was adopted with the hope that ALL nations would then uphold the thirty articles that guaranteed basic rights to their citizens. However--as we all are painfully aware--human rights abuses continued in pockets all around the world, and so in 1961 an activist British lawyer named Peter Benenson called for and helped mount a one-year campaign calling for universal amnesty for all political prisoners. This campaign led to the formation of the permanent human rights organization Amnesty International, now a worldwide movement of over 3 million supporters who strive to draw attention to abuses whenever and wherever they occur in an effort to hold the applicable governments responsible...
Some key musicians have played a role in most of the Amnesty concerts through the years, including Peter Gabriel, Sting, U2, Jackson Browne, Bruce Springsteen, South African legend Youssou N'Dour, and more...
This multi-disc collection holds the original films of the 1988 "Human Rights Now!" tour; the 1990 concert in Santiago, Chile; and the 1998 Paris concert. Additionally, over five hours of performances from the 1986 "A Conspiracy of Hope" Giants Stadium concert have been restored and included in this set. AND...special "companion material" on the discs include incisive interviews with Springsteen, Sting, Pete Townshend and others, and also additional stage and studio performances (1979-2012) by a plethora of acts, among them Jeff Beck, Coldplay, Green Day, Mumford & Songs, and Seal (to name a few)...
There is so much to ferret out from these discs, but two performances alone are worth the price of admi$$ion if you are inclined to buy this collection, and the two are of the same exact song—Dylan's 1964 composition "Chimes of Freedom". A stirring song in its own right, the tune is performed on the 1988 tour on its Buenos Aires stadium stop, and it features the E Street Band behind singers Bruce Springsteen, Sting, Peter Gabriel, Tracy Chapman, and Youssou N'Dour. On a different disc in the set: Another performance of the song--this one from the Los Angeles show--which again features the E Street Band and the aforementioned five singers--but now also joined by Bono and Joan Baez...Powerful, inspiring stuff; good on the ears, great for the soul.
_____________________________________________________________________
Posted 1/23/17.....
Here's a way for you to pick up a great DVD and support PBS at the same time: Go to this website— http://www.shoppbs.org/home/index.jsp—and lay your $$ down. You'll be getting a real find from the underground—the DVD of The Best of Bluegrass Underground, Volume 2.
This compilation, from a taping 333 feet below the surface in Tennessee's 32-mile long Cumberland Caverns, holds performances household names in the Bluegrass realm, and some a bit more recognizable. The concert area proper is called the Volcano Room amphitheater and the acoustics are marvelous.
The Volume 2 Best Of DVD features a fairly wide-ranging bunch of artists, old and new, including Leon Russell, Lucinda Williams, Old Crow Medicine Show, North Mississippi Allstars, Jason Isbell, Del McCoury Band, The Civil Wars, David Grisman FolkJazz Trio, and more.
The highlight of the line-up is a performance by Andrew Bird entitled "Danse Caribe" (originally from the 2012 album Break It Yourself). A four-piece acoustic band (inclusive of Byrd) is poised and pitch perfect on the instrumentation as well as on voice. Eyes closed, lead singer Byrd absolutely swings with the flow of the four-piece's perfectly nailed notes. https://youtu.be/zDYvk3OP1wY
_____________________________________________________________________
1/9/17: No posting this time in the DANCING WITH MR. D…VD section, but there ARE brand new postings as of Monday, January 9, 2017 in the other sections, A DAY IN THE LIFE and BUILDING A MIXTERY…
_____________________________________________________________________
Posted 12/26/16.....
Let's set the stage: Cream rises to the top in '66, but then things go sour in '68 and the band members go their separate ways...Thirty-seven years later they return to the Royal Albert Hall, the site of their original farewell performance.
And so whadda we got? Two in-concert DVDs from Cream that are years and worlds apart. One is beautifully captured in sound and vision, and the band exudes a tremendous power that is almost transformative---and then we have the 1968 DVD.
Both of these DVDs--Cream / Royal Albert Hall / May 2-3-5-6, 2005, and Cream Farewell Concert / November 28, 1968--were released simultaneously in October 2005, but by different DVD companies. With all of the hoo-ha over the Cream 2005 reunion show, the distributors of the other DVD must have had a carpe diem-for-dollars moment, and pushed that unpolished puppy "out there" for the unsuspecting fans who were still all aglow.
The 2005 performance is uniformly praised. As elder rock statesmen at that point, they were still far from wizened though age had taken its toll a bit in mobility (take note of Jack Bruce in particular, who parks his butt on a heightened stool every now and again while playing). The music, though? Better than you would have ever dreamed.
But the 1968 DVD is lacking, and thankfully I checked Amazon.com reviews before jumping on that purchase-frenzy bandwagon:
1.) The lead-off Editorial Review on Amazon.com, before the reader review section - by Sam Graham:
"Cream's 2005 reunion (after a mere 37 years apart) was big news and a very hot ticket. But anyone wondering what the fuss was all about is unlikely to get much enlightenment from Cream - Farewell Concert. The trio's (guitarist Eric Clapton, bass player Jack Bruce, and drummer Ginger Baker) November 1968 gig at London's Royal Albert Hall, the same venue chosen for their reunion, may have been a spectacular display of their instrumental virtuosity and legendary improvisational skills, but you'd never know it from this sub-par document. The sound has been digitally remastered, but the audio is still a turgid sonic sludge. The visuals are even worse, with director Tony Palmer jerking the camera around as if this were an episode of NYPD Blue, layering the picture with dated and distracting psychedelic light effects, and providing far too many close-ups of Bruce's teeth (and almost no wide shots of the entire band)."
2.) Amazon reader review of Cream Farewell Concert / November 28, 1968 - by reader Studebacher Hoch:
"Cream was a great band. Their importance and influence in the rock world (and jazz and blues, too) can't be over-stated. I love these guys. Having said that, I must warn anybody who isn't aware of this movie - that it is one of the most horrible botch jobs in the history of rock documentaries. I think everybody from the director to the camera to the sound must have been awfully stoned. If you want to see a movie featuring Jack Bruce's acne scars with psych-ay-dell-ik sperm overlays crowding the frame, and almost unlistenable muddled sound in the background, then this film is for you. Or perhaps you'd like to see the camera zoom in and out on Clapton's nose to the movement of his wah-wah pedal...I read in an interview that Clapton was so incensed when he saw this botch of a movie that he actually went looking for (director) Tony Palmer. I can only hope he found him and soundly kicked his ass."
Parting note: I may now get creamed by other readers who have purchased the 1968 performance DVD and who absolutely love it. But I believe they may be somewhat blind (and deaf) to the imperfections as described by certainly more than a handful of Amazon purchasers.
In any event, fair warning---read the postings of Those Who Have Led The Charge, for they may save you Dollars and Disappointment.
_____________________________________________________________________
Posted 12/12/16.....
B.E. Taylor Christmas / Live at Heinz Hall.....recorded over two nights in December 2009, and released on DVD in 2010…..Available on betaylor.com.
This posting is in memoriam to a truly gifted artist and a wonderful human being…B.E. Taylor passed away in August of this year.
For those who ever saw B.E. in concert during the Christmas holiday season, suddenly nothing else could compare (back to Siberia, TSO; move over, Mannheim). The show was a perfect blend of holiday tunes with a far-from-cliché, powerful and pointed rock 'n' roll overhaul. The songs were masterful reinventions of traditional Christmas songs, and the musicians that backed B.E., including the effervescent Santa-capped Rick Witkowski on guitar, were flawless in their execution. This was a band whose amped-up joy just flowed from the stage.
For just shy of twenty years running, the B.E. Taylor Christmas concert played annually to over 40,000 total fans in the Pennsylvania-Ohio-West Virginia area and beyond those borders as well. In Pittsburgh, the show long ago grew into a successful two-night stand at Heinz Hall, with both annual performances at this 2,600+ capacity venue selling out.
I had seen the show countless times over the years since the phenomenon first sparked to life in Wheeling's Capitol Music Hall in 1996. It became a family tradition for the Musicasauruses, and we happily joined the like-minded throng of converts who all took up the banner that "It ain't really Christmas 'til B.E. comes to town."
As you can tell, I was baptized into the B.E. experience and with this particular artist's passing, I am more than ever duty bound to proselytize! Musicasaurus.com can guarantee you a multi-leveled holiday satisfaction if you purchase this DVD. If you like rock music filled with emotion, power, and heft, and can imagine it expertly applied to time-honored holiday tunes, this B.E. Taylor Christmas DVD will become a tradition in your home as well.
Full-song performances on the DVD:
Away In A Manger / Do You Hear What I Hear
Little Town Of Bethlehem
We Three Kings
Feel The Love Of Christmas (a B.E. Taylor original composition)
Mary Did You Know
What Child Is This
Light Of The Stable
Emanuel / O Come All Ye Faithful
It Came Upon A Midnight Clear
Hark The Herald Angels Sing
God Rest Ye Merry Gentlemen
The Great I Am
Joy To The World
O Holy Night
I Saw Three Ships
Silent Night
Mary's Boy Child
Happy Holidays...Enjoy. http://www.betaylor.com
____________________________________________________________________________________________________