Musicasaurus.com unearths & unveils my skeletal framework—the relics and remnants of my own Life in Music…
A new reflection will be posted every two weeks, on Sunday evening.....Each entry will highlight a happenstance, illuminate an episode, or capture an encounter—all mined from the music vein that has layered my life.
_______________________________________________________________________________
1/12/20.....YOU CAN'T JUDGE A BOOK BY THE COVER
(Next post: Sunday evening, January 26, 2020)
Here is a collection of cover versions of songs truly worth checking out. A few are somewhat faithful to the original versions, but the rest range from inventive departures to head-scratching affronts.

ELVIS COSTELLO COVERED BY LUCY KAPLANSKY AND THE CLARKS
"What's So Funny 'Bout (Peace, Love, and Understanding)" was originally written by musician Nick Lowe in 1974 for his band at the time, Brinsley Schwarz, but Elvis Costello's version from his 1979 Armed Forces album is the one widely accepted as the definitive handling of that tune. https://youtu.be/yYND-Lh2sgo
And here we have TWO notable cover versions by artists worth a mention:
Lucy Kaplansky is a Chicago born, NYC bred folksinger who plied her trade in the Greenwich Village scene for a while in the late 1970s and then took a career turn toward clinical psychology for a decade or so thereafter. In the 1990s she reemerged, reinvigorated, as an active musician who still records every now and again, and continues to collaborate with her folkie friends John Gorka, Shawn Colvin, Nanci Griffith and others. On her 1996 album Flesh and Bone (her 2nd), Kaplansky added a dash of downhome hee-haw to Costello's propulsive version. https://youtu.be/bKmfquw-iM4
The Clarks, one of Western Pennsylvania's favorite rock institutions, is a foursome originally formed in Indiana, PA almost thirty-four years ago. Pittsburgh-based Scott Blasey, Robert James, Greg Joseph and David Minarik, Jr. are still touring and recording today well beyond our borders. When the Tree of Life Synagogue massacre took place in Pittsburgh in late October 2018, the band immediately pulled together a charity project to help our community begin to heal—an energetic, inspiring and true-to-its-roots version of "What's So Funny 'Bout (Peace, Love and Understanding)" that was rush-recorded and placed on sale with ALL proceeds donated to the Tree of Life. https://youtu.be/MQUxJ4GdlYk

JIMI HENDRIX COVERED BY THE CURE
"Purple Haze" was for a lot of us here in America the first blast of the pin-back-your-ears psychedelia that emanated from the honed, London-based power trio Jimi Hendrix Experience. It was the opening track on the band's first American album Are You Experienced (1967) which the newborn underground FM radio stations across the USA began to embrace for their restless and clamoring young fanbase. https://youtu.be/WGoDaYjdfSg
England's alt-rock and goth pioneers The Cure, birthed in 1976 by founder/leader Robert Smith who made despondency a vogue, artfully reinvented the tune in 1993 as part of their collaboration with other bands on the tribute album Stone Free: A Tribute to Jimi Hendrix. https://youtu.be/KS89YojeFoM

THE DOORS COVERED BY LISA BASSENGE
The Doors wrote and recorded "Riders on the Storm"for their sixth album L.A. Woman, released in 1971. This cushiony, hypnotic seven-minute-long track was reportedly the last song recorded by all four members of the Doors and lead singer Jim Morrison's last one to be released in his lifetime (Google up "bathtub in Paris" if you don't know the fate of Mr. Morrison). https://youtu.be/lJZTgynPGT8
Lisa Bassenge is a German jazz singer that website HerzogRecords.com says "entered the jazz scene at the beginning of the 2000s and yet made it unmistakably clear that the jazz concept is too narrow for her." Investing her time and talent in the interpretation of pop songs, Bassenge "occupied a new, exciting musical field and let jazz turn somersaults with new ideas." Here is her arresting rendition of "Riders" from her 2015 release Canyon Songs: https://youtu.be/NHS5BkieXaQ

RICK JAMES COVERED BY BIG DADDY
"Super Freak" is the long-lasting party favorite from Rick James' 1981 album Street Songs. The song is actually a pretty sophisticated blend of styles as pointed out in a song review on allmusic.com by Donald A. Guarisco. He keenly notes that amidst the irresistible overriding funk, there are elements of pop, soul, gospel, and interspersed hooks that complement the overall groove with new wave synth touches and a killer sax at the song's conclusion. Even the Temptations are on board with a cameo, and are called out by James himself—"Temptations, SING!!" https://youtu.be/QYHxGBH6o4M
Two years after Rick James' smash hit, a satiric Southern California ensemble named Big Daddy released an album on the Rhino Records label called Big Daddy aka What Really Happened To The Band Of '59. This album bore songs that totally upended the originals through a very clever concept: Framing each tune in a late-1950s/early-1960s performance approach. With "Super Freak," Big Daddy slowed it down, extracted the funk, and transformed it into a yearning ballad. It's simply precious to hear the original lyrics so sweetly crooned, as if sung by crew-cutted teens from the 1950s—"She's a very kinky girl / The kind you don't take home to mother / She will never let your spirits down / Once you get her off the street." Big Daddy's total overhaul here is a real gem; a polished perversion of James' original. https://youtu.be/kaufhdtVCJ8

BRITNEY SPEARS COVERED BY RICHARD THOMPSON
One time reigning pop princess Britney Spears released "Oops!...I Did It Again" (the title song of her second album) in 2000, and it titillated tweens and teens worldwide. https://youtu.be/wsHbHR3Os6U
English folk-rocker Richard Thompson recorded his interpretation of the tune on a live album released in 2003 entitled 1000 Years of Popular Music, and the Brit's spin on Britney included a medieval-style approach based on weaving in the traditional tune "Marry, Ageyn Hic Hev Donne Yt." In this live performance on YouTube, Thompson and his dry wit set the stage before launching into this marvelously edgy, almost ominous sounding version: https://youtu.be/V4WGsMplGxU

THE BEATLES COVERED BY LARRY CORYELL
"She's Leaving Home" is from the Beatles' game-changer from 1967, Sgt. Pepper's Lonely Hearts Club Band. In the recording process the boys didn't lay a hand on this one in terms of instruments; the song is performed by a small string ensemble with Lennon and McCartney only providing vocals. This is, in musicasaurus.com's opinion, one of the sweetest gifts from the Fab Four that ever graced one of their albums. https://youtu.be/VaBPY78D88g
Larry Coryell, renowned American jazz guitarist whose major influence was Wes Montgomery but whose many exploits took him into fusion as well, covered the Beatle's classic in a trio setting with bassist Mark Egan and drummer Paul Wertico on 2004's Tricycles. Coryell puts his sidemen to the side for this one, and out flows a tender and virtuosic solo acoustic reading of the tune that is almost as quietly stunning as the original. https://youtu.be/PtBW6UjAMoc

LITTLE FEAT COVERED BY JACK JONES
"Dixie Chicken" is a signature song (along with "Willin'") from the '70s-era band Little Feat, and it is the title track from the band's third album released in 1973. The width and depth of songwriting and execution by Feat on this album is one that even today inspires genuflection from fans and rock critics alike. It's a perfect amalgam of New Orleans funk, rhythm & blues and rock and roll, and the title track is recognized by fervid Featists as perhaps the band's benchmark. https://youtu.be/K_njJToRbn8
Then along comes Cheesemaster Jack Jones. Far be it from musicasaurus.com to disparage the talents of earlier generation's stars, but the cheese quotient here is undeniable. Jones was a popular middle-of-the-road pop singer in the 1960s with commercially successful songs like "Wives and Lovers," "The Impossible Dream," and "Call Me Irresponsible," and in the following decade he appeared as well on a boatload of television variety shows (Ed Sullivan's, Dinah Shore's, Andy Williams' and others). He's also infamous in carping critics' circles for doing an entire album in 1972 covering the band Bread (goes great with cheese, yes?) and in 1977 recorded the theme song for the television series The Love Boat. How he ended up deciding to desecrate Little Feat is beyond my ken, but here it is, from Jones' 1977 album With One More Look At You: https://youtu.be/PO4UstVWtVQ

AC/DC COVERED BY CELINE DION AND ANASTACIA
"You Shook Me All Night Long" from the 1980 album Back In Black is one of AC/DC's rasp 'n' roll masterpieces, a staple of rock radio stations even today. I even remember the song from a sold-out Kenny Chesney concert at Post-Gazette Pavilion in the 2000s, when AC/DC's version was blasted over Kenny's sound system prior to the start of the show and 23,000 country fans went absolutely bonkers. https://youtu.be/Lo2qQmj0_h4
I don't know why or how bombastic belter Celine Dion and dance-pop/disco singer Anastacia decided to cover the song and squeeze every drop of essence from it, but they did so in a live performance in Las Vegas which ended up on the CD/DVD set Divas Las Vegas / VH-1 Divas 2002. You can view it on YouTube via the following link, and you'll also see a few rather unkind remarks in the Comments section, including one from collaboration4237: "When your mom and your aunt are drunk and grab the mic at karaoke"…from Kevin Bartosiewicz: "Sweet Lord, I've never cringed for such a sustained period of time"…and from Darth Bane: "I have never needed bleach close by more in my entire life." https://youtu.be/21iW_YMLvmU
_______________________________________________________________________________
12/29/19.....COVER ME
As each year winds to an end, Musicasaurus.com becomes more and more a nostalgic beast. In fact, I am still braying over the fact that we've in essence lost a wonderful, once-widespread art form as we inevitably hewed closer and closer to the pathways of technologically delivered tunes. I'm talking about album cover art.
The album cover was our gateway drug. The artwork and design sometimes revealed tantalizing clues about the addictive pleasures contained within; other times, it was conceptually befuddling--unadorned of explanation--and that just made us wonder all the more.
So with musicasaurus.com plainly pining away for that old thrill of discovery, I rounded up some readers and posed this question: "When I say the words 'album cover,' what is the first thing you think of? Do one or two come to mind, and why?"
Scott Blasey (Pittsburgh) / Musician and lead singer for The Clarks.....When I hear the words "album cover" I think of Eric Clapton's Slowhand. It was the first album I bought with my own money. I was 13 years old and I rode my bicycle to Atkins' Music Store in Connellsville because I loved the song "Wonderful Tonight." It's a fold-out cover with a big picture of Clapton's signature Strat. The inside is a corkboard with all these great pictures pinned on it. I still have it, in alphabetical order right in front of The Clarks' I'll Tell You What Man...
_________________________________________________________________________________
Jim Cunningham (Pittsburgh, PA) / WQED-FM..... The era of the download is so wonderful for its amazing variety. You can find almost any sort of music anywhere in the world however iTunes and Amazon have wildly devalued the absolutely exquisite cover art of the past 80 years. Such a shame! At least the vinyl LP has had a bit of a comeback in the last decade.
I love all the covers of all the Beatles and Rolling Stones albums. Their Satanic Majesties Request had the special multiple dimension image-shifting cover long gone from subsequent editions. I vividly remember getting my hands on the Exile On Main Street cover and the Andy Warhol designs for the Stones with Sticky Fingers and Some Girls.
Sgt. Pepper's still fascinates with all the people who turned up on the cover including avant garde composer Karlheinz Stockhausen. I still have all the inside cut-out art with the mustache and so on. Abbey Road brings back the warmth of Biekarck's Music Store in Warren, Pa. where I bought it. I like the Eric Idle/Monty Python spin-off The Rutles too, where the traffic lines seem to have gone all wiggly and the faux George Harrison forgot to wear pants.
All the Pink Floyd covers are so great. Even the compact disc of their hits Pulse is cool with a flashing red light on the spine. One of these days I'm going to look into replacing the battery which lasted about a year.
__________________________________________________________________
Russ Rose (Pittsburgh) / WXDX on-air talent and Creative Director, and Production Director at KISS FM.....Honestly, the first image that popped into my head was the Synchronicity album cover by The Police. The primary colors of the paintbrush swooshes and many black and white photos were striking. And I spent a LOT of time examining all the photos for their meaning, and looking for all the variations of that cover—there were 36 different versions of that cover and I wanted to see them all!
________________________________________________________________________________
Sean McDowell (Pittsburgh) / Afternoon on-air talent with WDVE who retired just this year from the station.....I once interviewed a guy famous for historic rock album covers, Henry Diltz. He shot the Crosby Stills and Nash "couch" album cover for their debut LP, and he did the Morrison Hotel album cover for The Doors and The Eagles first two album covers. He has unbelievable stories! Along with those, I think of historic covers and I think Sgt. Pepper's, Who's Next and the first Led Zeppelin album.
____________________________________________________________________________________________________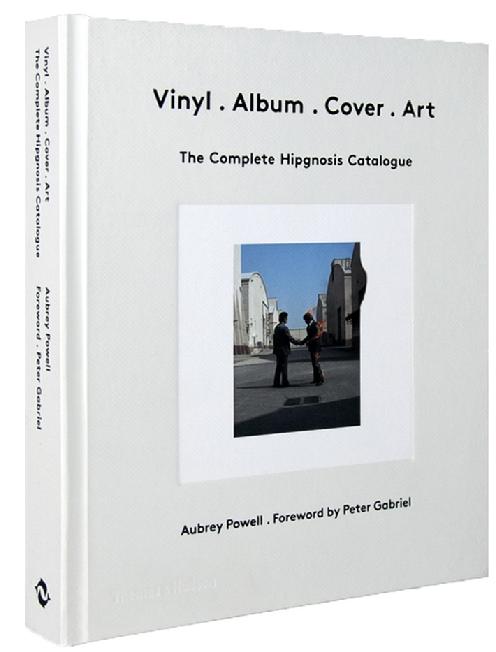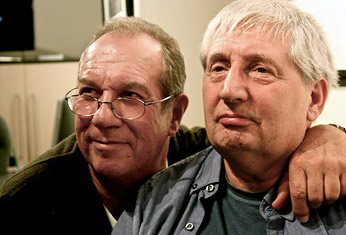 Steve Hansen (Pittsburgh) / Former on-air talent on WDVE's "Jimmy & Steve" morning program (1980-1986); currently an independent writer/producer.....The words "album cover" send my mind on a long, strange trip to an other-worldly time. Even though album covers had been around as long as albums, I doubt that they were thought of as an art form until the Sixties. It was then, however, that our enhanced focus turned from the music to the thing the music came in.
And why not? If you wanted to become one with the music it's only natural that you would search for clues about how the music came to be. Absent Google or Wikipedia, the Children of the Sixties had only the album cover to go on. Early on there were liner notes to guide us. Soon we dispensed with words altogether and found our answers in the visual clues deposited by our generation's Van Goghs: Hipgnosis (co-founders Aubrey Powell and Storm Thorgerson), Roger Dean and Andy Warhol. Eventually, need necessitated innovation. The double album became the perfect spinal workstation for rolling the joints that were causing us to find meaning in album art in the first place. The circle was complete.
____________________________________________________________________________________________________
Joe Grushecky (Pittsburgh) / Musician, singer-songwriter and bandleader (Joe Grushecky and The Houserockers).....The Beatles first US Capitol LP (Meet The Beatles!) changed a lot of lives, didn't it? I remember seeing it in a Murphy's Five and Dime before they were on the Ed Sullivan show and buying it immediately because it looked so different and exotic from what was popular at the time. I had heard some rumblings about the boys from Liverpool and had seen a clip of them on the Tonight Show with Jack Parr, so I was extremely curious. Of course, when I got home and gave it a spin the music exceeded anything I had expected. That's it. I'm getting a guitar.
____________________________________________________________________________________________________
Rich Engler (Pittsburgh) / Former president of DiCesare-Engler Productions (which eventually became part of Live Nation); currently producing concerts as Rich Engler Presents.....King Crimson's In The Court Of The Crimson King. On November 1, 1969 the album went to # 4 nationally right behind Abbey Road; on Dec 23, 1969 the band broke up. Still today I can't believe how great they were and let's not forget the devil screaming on the album cover. Another one, as mentioned: The Beatles' Abbey Road, and the classic shot of the band walking across the road in front of that studio.
____________________________________________________________________________________________________
Joe Negri (Pittsburgh) / Jazz guitarist, composer and educator (also, for all time, "Handyman Negri" on PBS' Mr. Rogers' Neighborhood).....Fortunately I grew up in a time when album covers were a specialty. They were works of art filled with wonderful information on the artists and the contents of the album. So much for the history lesson--we all know those days are gone. When I think album covers I think of two jazz guitar albums. The first was a recording of my idol Charlie Christian with the Benny Goodman Sextet. And the second was a wonderful album called Mellow Guitar featuring the virtuoso seven-string guitarist George Van Eps with strings.
____________________________________________________________________________________________________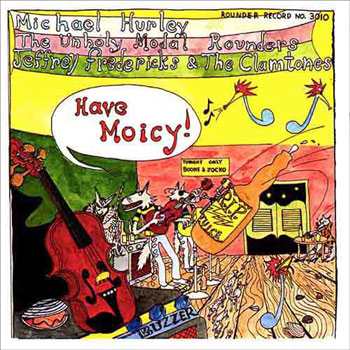 Rick Sebak (Pittsburgh) / WQED public TV producer and narrator.....What album cover comes immediately to mind? Sgt Pepper's of course. I guess it was the one that made me realize what an art there was to album covers. The montage of celebrity photos, the drum, the costumes on the Beatles, then the whole speculation about "Paul Is Dead" and were they looking into his grave?
I don't want to be too obvious, but R.Crumb's amazing cartoons for Janis Joplin & Big Brother & The Holding Company's album Cheap Thrills with "Piece of My Heart" on it was a milestone for me. In high school, I loved cartoons and I re-drew that cover for a poster for a school production. I still am in awe of Crumb and his drawings.
But I've been reminded of so many great covers on the Facebook group page called Cartoon Record Sleeves that was started by the Pittsburgh cartoonist known as Wayno (pictured immediately above, top right). It's a great collection of covers from the Ramones to Spike Jones. But it also made me realize how much I love the covers created by singer-songwriter Michael Hurley for his excellent LPs, from Have Moicy! to Hi Fi Snock Uptown. His cartoon wolves are classic.
But I think the music inside also influences how much we love a cover. I think of Randy Newman's cover for Sail Away. And Dylan's Blood On The Tracks. Oh, and Child Is Father To The Man, the excellent first album from Blood, Sweat & Tears. All these make me sound like I haven't heard any new music in years. But CD covers? Not the same impact. Although I like the style of the Adele covers. Like her music, too.
_______________________________________________________________________________
12/15/19.....THE BEST OF WHAT'S AROUND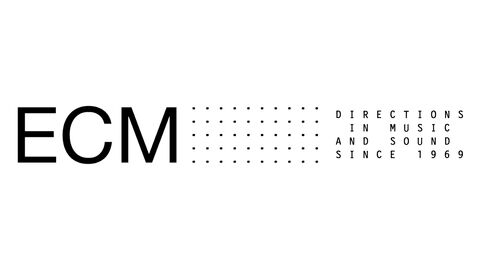 In the realm of recorded music an album coming up on its 50thanniversary is a fairly big deal, especially the formative ones with staying power and a high reverence quotient—like the following, and all of these hail from the year 1969: The Beatles' Abbey Road, Led Zeppelin's debut, Flying Burrito Brothers' Gilded Palace of Sin, Miles Davis' In A Silent Way, The Band's The Band, MC5's Kick Out The Jams, Happy Trails from Quicksilver Messenger Service, Neil Young's Everybody Knows This is Nowhere, James Brown's Say It Loud, I'm Black And I'm Proud, King Crimson's In The Court of the Crimson King, Dylan's Nashville Skyline, the debut album from Chicago Transit Authority (soon thereafter called simply Chicago), Joni Mitchell's Clouds, the first album from The Stooges, The Who's Tommy, the debut album from Crosby, Stills & Nash, Santana's first release, and many more.
There was understandably quite the clamor back then, especially with the floodgates of rock music in particular having really opened up by this point in the Sixties. And all of this fed nicely into the societal youthquake that had been building up in this country (and picking at the seams) since at least the midpoint of the decade.
I was certainly in the thick of it as a devout devourer. Rock music and its various permutations brought me thrills beyond measure and I prided myself on glomming onto the like-minded souls in my high school; we became deep-diving discographers one and all…
But in that same year of 1969 there was the quietly auspicious debut of a record company overseas that I had missed news of completely, a label called ECM whose first release was an album entitled Free At Last by American jazz pianist Mal Waldron. At the helm in a Ludwidsburg, West Germany studio was the label's founder, a German-born record producer named Manfred Eicher.
ECM is an acronym for Editions of Contemporary Music, and founder Eicher back then was beginning a career path in music that he had never really plotted and/or planned for. But Eicher was following his own muse, which for him was a melding of some musical background—in his youth a student of classical violin and bass—and a deep-set serenity that had seemed to take root from an early age. As Rootsworld.com writer Michael Stone relates in a 2010 interview with Eicher, the record producer "grew up in the shadow of the Alps, on the eastern end of Lake Konstanz (known in German as the Bodensee)…where the borders of present-day Germany, Austria, and Switzerland converge." Here, in this region "known for its sweeping Alpine horizons and ever-shifting patterns of sunlight, clouds, and water," Eicher spent many a day, in his words, "looking to the mountains, looking around the Bodensee, listening to the birds, the sound of waves."
This exposure to music, and to nature with its restorative rhythms and its equally awe-inspiring silences, led the artistically inclined 26-year-old Eicher to take out a loan of 16,000 German Marks (in U.S. dollars, $4,000) in 1969 to make his first handful of recordings for his fledgling label. As Eicher recounted to Rootsworld.com writer Stone, "I just kept making records, without a plan or anything. I found out that I was a good listener, or so people told me. And that's how I became a record producer."
By the mid-1970s Eicher had relocated to Oslo, Norway after a serendipitous meet-up with a similarly serene-to-the-core individual named Jan Erik Kongshaug, a recording studio engineer. Kongshaug had been born in Trondheim, Norway and, like Eicher, had grown up in a musical household and had training and band stints of his own. He and Eicher also enjoyed shared sensibilities—a steadfast calm at the center, and a patience with the process of capturing artistic expression. "We had the same attitude toward sound; it was very easy," Kongshaug opined in a 2010 interview posted on the website All About Jazz. "We didn't have to talk. It just worked, and it sounded nice."
The above picture is worth a thousand words, if only for the fact that these two individuals created their very own aesthetic through ECM Records. As producer and engineer, Eicher (left, above) and Kongshaug steadfastly refused to acknowledge any boundaries between musical genres as they studiously approached each recording opportunity. Over time, ECM Records built up a roster of incredibly gifted musicians, an amalgam of European artists, American artists, and others who flocked to this label haven where the artist's muse and music were the highest priorities.
The label has also always been noted for its slavish dedication to superior sound quality in the recording, mastering and ultimate reproduction of its artists' releases. Musically, the catalogue of ECM which now numbers well above one thousand releases is a bit hard to pigeonhole. ECM the label does not play host to just jazz…it is not strictly classical or folk…it is not fully third world or entirely other worldly…it IS, though, music as art in full flower. Some of the more well known artists that have recorded over the years on the ECM label (multiple times) include pianists Keith Jarrett and Chick Corea, guitarists Pat Metheny and Terje Rypdal, vibraphonist Gary Burton, multi-instrumentalist Ralph Towner, bassist Eberhard Weber, drummer Jack DeJohnette and many more.
I first found out about ECM through a musical mentor of mine in my hometown of Butler, PA, an ever-curious and industrious friend named Dave Kleemann, who while I was away in college from 1971-1975 opened up an indie record store called Exile Records in our hometown. Through Dave—who eventually became my boss when I abandoned my just-out-of-college search for a "real job"—I learned firsthand the sheer joy of discovery of landmark ECM albums, especially during the last half of the 1970s as I worked for Dave in Butler and subsequently Wexford, PA where he decided to open up a second store.
As I said at the outset, I was steeped in Rock in my own formative days of high school. But as time passed and I became aware of the worlds awaiting me on the ECM label, another side of me often gravitated to those particular artists and albums when I was alone with my turntable, wanting to turn inward, craving to connect on a deeper level.
It's damn hard (I've found!) to elucidate the true appeal of ECM, but it has to do with 1) jaw-dropping aural splendor...2) the spaces between the music that are sometimes of equal importance to the notes surrounding them...and 3) the fact that this genre-defying music ultimately strikes a chord deep within the listener—down where you hurt, where you harbor, where you heal and where you feel.
(p.s. Here are four examples of some of the finest recorded works on the ECM label. Ideally you will set the stage accordingly before listening—home sound system, morning coffee, a mind emptied of things that have yet to be done. This exploration is worth it.)
From 1974 – Witchi-Tai-To – Jan Garbarek & Bobo Stensen Quartet.....This track hails from the album of the same name, and some reviewers through the decades have labeled it one of the top jazz records of the 1970s. Norwegian soprano and tenor saxophonist Jan Garbarek and Swedish pianist Bobo Stenson joined bassist Palle Danielsson and drummer Jon Christensen for this landmark release, and this track in particular is the standout. The song is about four-and-a-half minutes in length yet timeless as it builds and builds; it is predominantly piano at the outset until the saxophone wafts into place and wails its way to the song's summit. The YouTube link will show a different album visually, but the track IS indeed "Witchi-Tai-To" from the album of the same name. https://youtu.be/6XVvOcyHDI8
From 1974 – Sand – Ralph Towner.....Acoustic guitarist and pianist Ralph Towner collaborates here with Jan Garbarek (saxes), Eberhard Weber (bass), and Jon Christensen (drums). The album Solstice from which this song is taken was a bit of a head-turner in that it helped elevate ECM's overall profile as a bastion of artistic excellence in European-style jazz. Towner was a prodigy—he played piano at three, and started trumpet at five—and in his twenties he played with the Paul Winter Consort before peeling off to form the group Oregon. "Sand" is an atmospheric, sitting and gazing at the fjord kind of tune with a haunting mix of twelve-string guitar, sax, cello, bass and drums. The tune opens dreamily, and then sonic wonders unfurl. https://youtu.be/z3TfjPMwBj4
From 1978 – San Lorenzo – Pat Metheny Group.....Missouri-born Metheny started playing guitar at the age of thirteen and taught at both the University of Miami and Berklee while still a teenager. His style is an almost indescribable mix of jazz, rock, and folk but that doesn't capture the idiosyncrasy of his approach. Aligned through his early years with European jazz label ECM, Metheny played on albums by vibraphonist Gary Burton and released solo records on the label as well. In 1978 he formed the Pat Metheny Group and released a self-titled band record that year featuring musicians Lyle Mays (keyboards), Mark Egan (bass), and Dan Gottlieb (drums). This track "San Lorenzo" opened that album; it is cinematic, majestic, and achingly beautiful in the interplay between all four musicians. In the late 1970s and early 1980s, I caught the Pat Metheny Group live in concert several times and thought to myself, "I've stumbled into the Church of the Truly Transported." The studio version of the song is currently unavailable on YouTube, so here is a live version by the Pat Metheny Group from 1977, the year before the studio version was recorded: https://youtu.be/hAlyWSAxNZ8
From 2006 – Number One – Manu Katche.....Katche is an accomplished drummer who has toured and recorded through the years with a number of top-level talents including Sting, Peter Gabriel, Joni Mitchell, Jeff Beck, Afro Celt Sound System, Robbie Robertson, Joe Satriani, and Tears For Fears, to name a few. He edged into bandleader territory in the 2000s and recorded his EMC debut Neighbourhood in 2006 (from which this track is taken). "Number One" swings with stellar ensemble playing that is fueled by Katche's punctuating drum style. The album also features trumpeter Tomasz Stanko and saxophonist Jan Garbarek. https://youtu.be/TXxu85FvtiA
And…Here are other ECM artists and songs to seek out. YouTube doesn't currently deliver 'em up, so search on Spotify or another streaming service—or perhaps go to your favorite indie record store to see what might be tucked away in the bins…
Chick Corea's song "Sometime Ago / La Fiesta" from the album Return To Forever.
Keith Jarrett's song "Country" from the album My Song.
Steve Tibbetts' song "Climbing" from the album Safe Journey.
Oregon's song "Crossing" from the album Crossing.
Zakir Hussain's song "Water Girl" from the album Making Music.
Charles Lloyd's "The Water is Wide" from the album of the same name.
Michael Galasso's "Boreal" from the album High Lines.
_______________________________________________________________________________
12/1/19.....Farther On Down The Road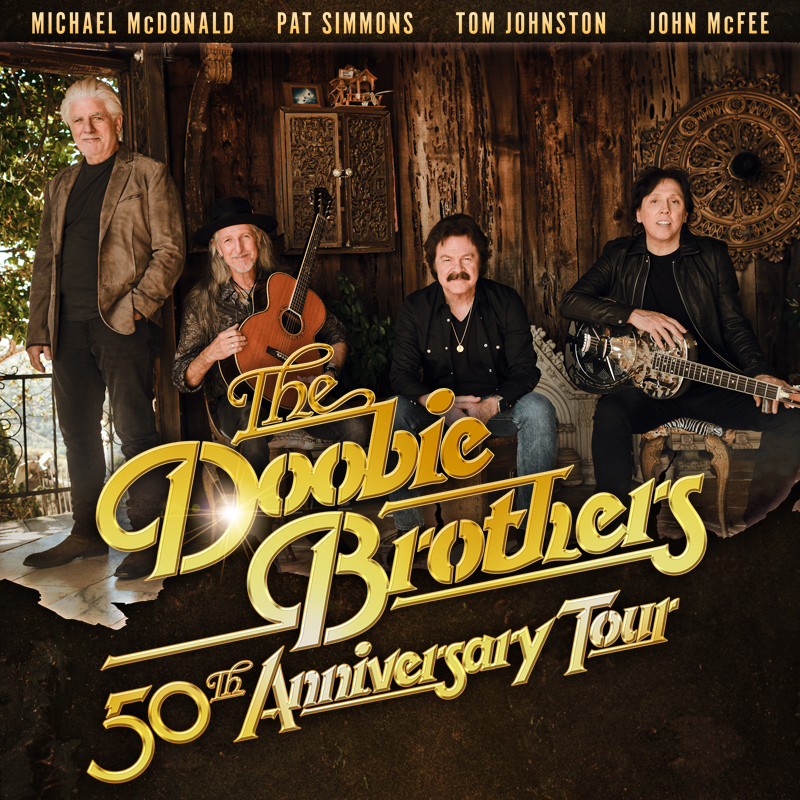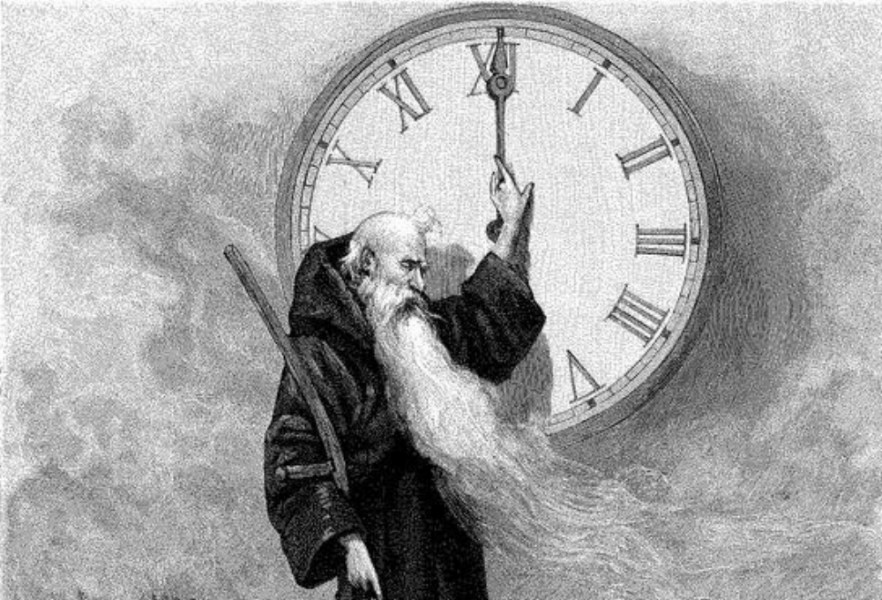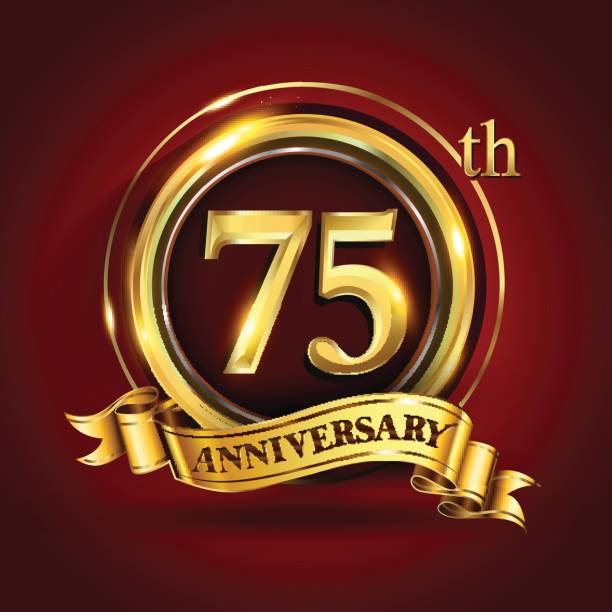 On the road again
I just can't wait to get on the road again
The life I love is makin' music with my friends
And I can't wait to get on the road again
— Willie Nelson
Willie's lyrics back in 1980 were prescient in terms of his classic rocker kin, for there are a number of bands right now who are out on the road or plan to be in 2020, and a lot of them are just now breezin' up to a particular career milestone—fifty years since formation.
Okay, make that wheezin' up. For some of the late 1960s/early 1970s bands still slogging along and slugging it out, health issues have begun to elbow their way into a prime seat on the tour bus. Many years ago Robbie Robertson of The Band, in a candid comment late in the 1978 film The Last Waltz, labeled the road "a goddamn impossible way of life." Back then he was speaking of plane accidents (Otis Redding and Buddy Holly) and the plainly accidental (Janis and Jimi), but the phrase holds true now more than ever since that famous first wave of classic rock progenitors are entering their seventies or are certainly on the cusp of it. Once upon a time, the toll of life on the road came from heady youthfulness and excessive appetites, but now the oldsters' bottles on the bus are more likely filled with probiotic drinks and any inhaling usually accompanies the morning yoga.
This past August that little ol' band from Texas ZZ Top didn't even get out of the gate when they had to cancel the first four dates of the North American leg of their 50th Anniversary tour. Drummer Frank Beard had suddenly come down with pneumonia just after the band had returned from a successful tour in Europe.
And then in mid-October, Little Feat dipped into southwestern Pennsylvania with an appearance at Greensburg's Palace Theatre as part of their 50th Anniversary Tour. The band had hit the road about seven months before that—still sporting longtime Feat members keyboardist Bill Payne, percussionist Sam Clayton, bassist Kenny Gradney and singer/guitarist Paul Barrere—but then in early October Barrere was swiftly sidelined for treatments for liver cancer, a disease he'd reportedly been battling for at least a couple of years. Barrere didn't make the Greensburg show and by the end of that month, he didn't make it period.
Just recently I saw another 50th Anniversary tour touted in a short article in CelebrityAccess' online site Encore, this one about the Doobie Brothers who, like ZZ and Feat, have had their long train runnin' since the very beginning of the 1970s. The Doobies will do dates all across North American in 2020 and the lineup for this anniversary tour includes co-founding members/guitarists Tom Johnston and Patrick Simmons; Michael McDonald, the golden-throated singer/keyboardist who joined the band in 1975 for a spell; and guitarist/fiddler/dobro player John McFee who first climbed aboard in 1978.
On the band's website, the group members expressed their thoughts about the longevity of their signature songs. "We have a hardcore fan base that has handed our music down through the years to their children and their children's children," said guitarist Simmons. "Repeatedly, people go to our concerts and come up to us and say, 'My dad turned me on to you guys years ago, and I've loved you guys all this time, and my kids are listening to you now.'"
So this particular 50th Anniversary Tour seems likely to succeed, drawing in the old faithful as well as next-generation fans following in the faithful's footsteps. And all of this 50thhoopla got musicasaurus.com a-wonderin': The Doobies are a band that has labored over many decades to hold onto fans through a fairly consistent commitment to the road, playing upwards of one hundred shows a year worldwide—so what does the future hold for this ceaselessly touring band of brothers? I personally believe they'll still be plying their trade for years to come—and that the next noteworthy trek for this band will be their 75th Anniversary tour.
I've tried to imagine what the Doobs will be up to, twenty-five years from now, so I've dusted off and shook that black fortunetelling overgrown 8-ball stored in my basement and flashed forward in time. Let's take a closer look now at 2045—and we'll do so through a peek at a letter that will be sent to all directors of assisted living facilities across the country from the Doobie Brothers' tour manager. He simply wants to advise the directors of these facilities of how to adequately prepare for the band's upcoming appearance at each of the venues.
January 5, 2045
Dear Mr. / Mrs. / or Ms.:
Greetings! I hope you are having a good day. As you know, the Doobie Brothers are headed to your assisted living facility later this month to perform an evening of music as part of their 75thAnniversary tour.
Well, not an evening of music, really. More like 5:30pm (when dinner's done being served) through MAYBE 7pm—is that too late? We've found in other facilities that slumber begins convincingly calling out to most of your residents right around then. So, let me know.
Here are a few things of note to help all of you at your fine facility "gear up" for this fantastic show! I know my guys are excited. Tom and Patrick, who will both turn 97 this year, are chomping at the bit to be out on the road again and headed your way (well, maybe no longer 'chomping'—'gumming' at the bit?). Please see below:
1. TALK TO YOUR RESIDENTS IN ADVANCE: It would be best to go door to door on the morning of our show and remind your residents that we are the Doobie BROTHERS. Don't just promote us to them as the "Doobies" because we've found at other locations a few folks then come to the community room asking when the "Do Be Do Be Do's" are going to start. You don't want these kind of confused expectations taking hold, quite frankly.
2. WE HAVE SOME FUN WITH THE MUSIC:
So you know, the guys sometimes like to play with the lyrics to suit the occasion, so the words to "Black Water" might get a little twist that evening. Instead of "Old black water, keep on rollin'" you're likely to hear "Old yellow water, keep on rollin'"—and this brings a real smile to the Flomaxers in the audience.
The song "Jesus is Just Alright" becomes "Jesus is More Than Just Alright." This tweak we have found to be a real mood booster; an extra dollop of heavenly reassurance to the religious folks in the crowd.
Another of our songs with an oft-repeated chorus—"It keeps you running / Yeah, it keeps you running"—honestly seems to make some folks restless, but it's not like we can skip that particular hit song. We just wonder if they're sitting there with minds drifting toward dietary changes, like less chocolate, for instance.
We don't mess with the song "Minute By Minute" at all. The repetitive chorus "Oh, minute by minute by minute by minute / I keep holding on" gets a lot of nods and thumbs-up from the assembled.
LARGE VIDEOSCREEN ON THE BACK OF THE STAGE BEHIND THE BAND IS REQUIRED: I mention this because, as previously stated, both Tom and Patrick in the band are now 97 years old—and they both have to wear oxygen masks periodically while performing. They still have their musical chops, but the masks kind of muffle their singing to the point where the audience becomes uncertain of exactly what they're hearing. So we need a teleprompter-type of thing to run the lyrics across the big videoscreen in synch with the timing of the guys' vocals. You could even have some fun with this and make it a singalong, and maybe do a "follow the bouncing wheelchair" kind of thing onscreen as the tiny chair rolls onto each syllable, and then rolls right off again over to the next one. This singalong/bouncing wheelchair thing is optional. We tried this in one other venue recently and it induced some vertigo in certain audience members.
SECURITY: For many years, we had specific language in the artist's contract that advised the venue to have adequate security to protect the artist from people rushing toward the stage. Note that when you receive the rider, you'll find that we removed that whole section. There might be some "creeping toward" on our evening with you, but we'll handle that.
JUST IN CASE IT COMES UP, THIS IS A COVER SONG THAT WE WILL NOT DO: The song "Bingo"—you know, "There was a farmer who had a dog and Bingo was his name-o"—is verboten with us. We tried it in another facility and every time the dog's name was sung, at least a few bewildered audience members stood up, with eyes moistening, and shouted "No, I won!"
I think I've covered most everything…I will send you the contract shortly, and we so look forward to performing at your facility! See you soon for an evening with the Doobie Brothers on their 75thAnniversary tour…
Warmest Regards,
Doobie Brothers' 2045 Tour Manager
_____________________________________________________________________
11/17/19.....I'M SO AFRAID
From the sludge that is—at least, these days—my memory bank, I recently let surface two specific remembrances on the theme of music melding with mayhem. Both of these instances occurred while I worked at the 23,000-capacity outdoor amphitheater that was originally christened Star Lake upon when it opened its doors in 1990 about 27 miles west of Pittsburgh.
Though these two memory call-ups are miles apart in substance, they keenly illustrate the pitfalls of working in the live entertainment business where literally anything can happen and often does. The Eagles sang "Life in the fast lane / surely make you lose your mind" and though lyrically they were detailing an L.A. couple's descent, this line also aptly applies to the overall concert business. Things can go so out of control in so many different ways…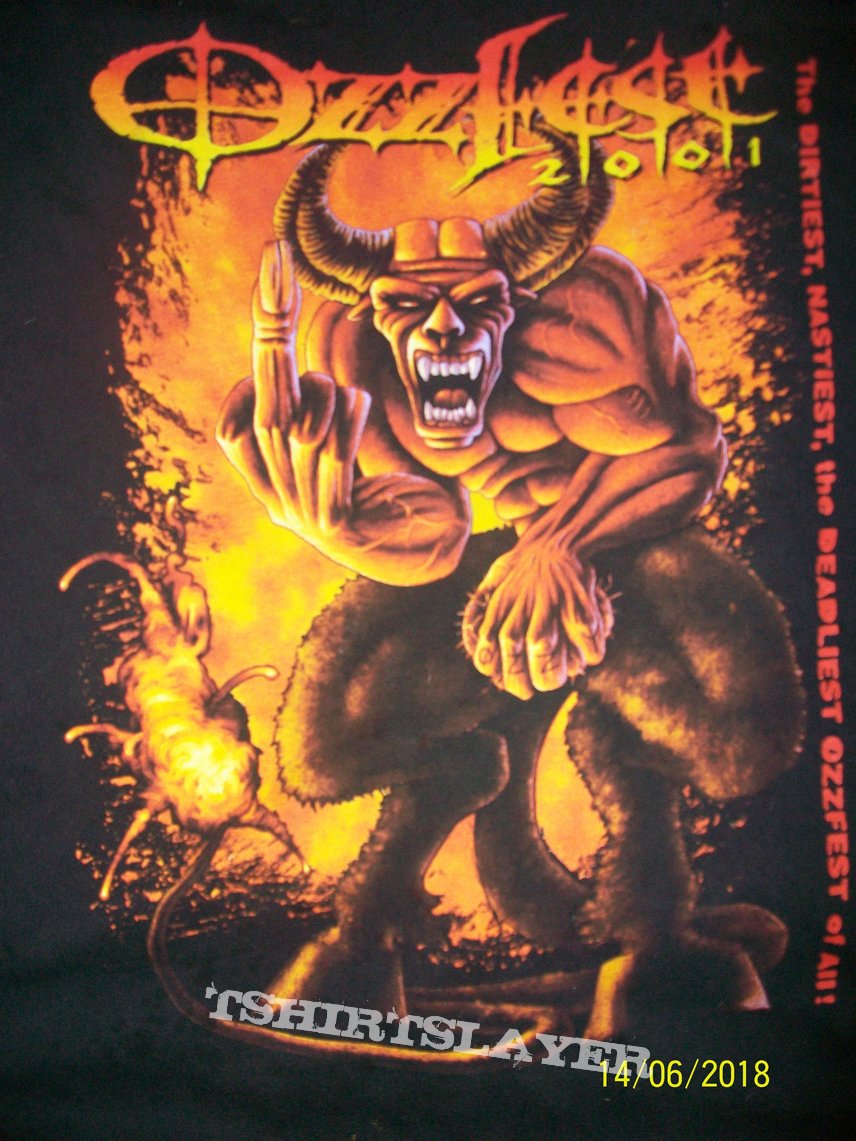 Music > Mayhem, # 1.....On July 28, 2001 the annual OzzFest rolled through our region, settling into and selling out our amphitheater just as it had done with each previous visit. This was OzzFest's fifth time through, and it no longer surprised the tiny township of 2,700 when almost 27,000 black-garbed and tattooed metal fans tromped their way over the hills of Hanover to descend into Oz.
For some of the fans who attended and for a lot of us who worked at the venue, OzzFest was just plain scary stuff: Wall to wall people...sideshow attractions like the body spray-painting booth and the photo op station with the barely-garbed Goth-lookin' girls on motorbikes...fans with their eyelids, ears, noses and/or navels pierced…and of course later in the evening, a number of boisterous boys with "beer muscles" milling through the crowd with layers of attitude, snarling for a fight.
Not that the entire audience was like that, mind you. There were the quote-unquote normal folks who just really loved the music, and they came to see and hear just that. Every once in a while, you'd see a petrified pair of parents edging their way through a sea of fashion black, nervously nudging their pre-teen toward the restrooms with a look on their puckered faces that all but screamed "We should have told Johnny 'NO,' we are NOT taking you to see this Oz character!" Yeah…if they only had a brain.
If there was a yellow brick road in this particular Land of Oz, it was the one that eventually led to the lawn. This was the place where 13,000 people converged once the sun went down and the higher-profile bands began hitting the main stage. It was also here—under cover of darkness—that you could almost sense, somewhere down below, Satan's eyes starting to dance and his long fingernails beginning to mustache twirl.
The trouble on the lawn would usually begin with arguably impish maneuvers like roasting empty beer cups, newspapers or discarded promotional flyers in small bonfires here and there, but at some point though, all of us on staff would begin to feel a wariness that things were heading toward out of control...
The musical line-up for this fifth annual OzzFest on July 28, 2001 was formidable. Ozzy was to headline on the main stage around 9:30pm with his old bandmates Black Sabbath, and the festival's "undercard" this particular evening included Marilyn Manson, Slipknot, Papa Roach, Disturbed, Zakk Wylde's Black Label Society and more. Sometime shortly after dusk Slipknot took the stage ahead of Marilyn Manson and Black Sabbath. Up on the lawn, certain pockets of people (the aforementioned roasters and toasters) took a break from their fiery pursuits, and—talk about stooping to the lowest level—they started bending to the ground, scooping up pieces of the lawn and beginning to hurl them indiscriminately skyward.
Sod tossing had been around for a number of the 1990s' harder-edged shows at the amphitheater, and it had especially plagued events like OzzFest, Lollapalooza and the X-Fest (the local alternative station's annual "radio show" at our venue). At shows like this, chunks of lawn could be seen hurtling straight up like a Fourth of July rocket, or arcing up, up and away only to land somewhere else higher or lower on the lawn.
But at OzzFest 2001 this long lawn tradition found a new trajectory. Some fans—the devilish, the dimmest, the dumbest—began grabbing some empty fishbowl containers that previously had housed their hops and barley from the beer stands, and they began stuffing sod inside of them. Once the sod was packed into place, these simpletons began whipping the fishbowls up in the air and into the back of the pavilion seating area.
Through a large portion of Slipknot's performance, then, these packed fishbowls sailed and assailed the hapless fans who were in the rear pavilion, and as quick as our lawn security team could spot and wrestle down an offender, a new fishbowl flurry would rise up from yet another location on the lawn.
The security guards absolutely did the best they could to try to quell this hell, but faced with these flashpoints throughout the lawn they could only largely react at the first signs of another fishbowl flight. The lobbing continued through intermission and finally came under control after Marilyn Manson took the stage and, with his manner and his music, he pretty much creeped out everyone to full attention.
Thank God this incident was just a space in time and was not the wave of the future. As the years went on at the amphitheater, the overall fires and sod tossing at these rougher shows abated. Someone suggested to me that perhaps the lawn loonies had finally wised up and maybe even grown up, and had put away their fishbowls. But I ain't buyin' that hook, line & sinker; there will always be a certain number of idiots acting out in this world and sometimes despite all countermeasures, they will have their way. We were just mightily relieved that 2001: A Sodyssey had come and gone.
Music > Mayhem, # 2.....Admittedly the following story may not quite stack up to "mayhem" status—musicasaurus might be being a tad dramatic here—but it was a scary encounter nonetheless. Ten years before OzzFest 2001 we were just in our sophomore season at the amphitheater and flush with success from a healthy and very packed first season of shows in the summer of 1990. Thus we adventurously set out in our second season to book all kinds of attractions in an effort to more firmly establish us as the concert venue of choice in the Tri-State Area.
It was July 11, 1991 and we had booked a touring attraction entitled "The Music of Andrew Lloyd Webber." Truth be told, we just didn't know at this stage whether the upscale arts and culture crowd from Pittsburgh would become active and engaged patrons of our facility; after all, we were about 25 miles from the heart of downtown. And, although there were other outdoor amphitheaters across the country that this kind of audience cottoned to—think Wolf Trap, in Fairfax County, Virginia for instance—we still had a ways to go in that respect.
So amidst the copious heavy metal shows, country concerts, and classic rock offerings, we plugged in this Andrew Lloyd Webber date. A vocal ensemble with a backing orchestra performing classic songs from Phantom, Cats, and Jesus Christ Superstar, this concert actually proved quite alluring to Upscale Pittsburgh and we experienced early success as the show went on sale and resulted in some quite nice ticket sales.
The evening of July 11thwas just stellar, weather-wise. I remember thinking that, soon enough, we just might have the Pittsburgh patrons of the arts in the palm of our outstretched hand. Then early in the evening just as the show was starting, I got a call on my venue radio from the box office manager. She told me that I must come to the box office right away, as there was a woman in line who would not move until she spoke with someone in management. As the marketing director of the venue at the time, I often involved myself in matters of patron relations so I sped to the ticket office.
I actually went out in front of the box office so I could speak to the woman directly, and not through the box office's hard-to-hear window glass (too much of a pane). I identified myself and asked this affluently resplendent woman and her husband to please step aside with me to a nearby area to talk.
She let me have it. She laser beamed my eyes with hers, and said, slowly and deliberately, "I want a full ticket refund....plus $400." My eyebrow arched and she threw up a finger to halt any further expression.
Then she reached down and snatched one of the shoes from her feet and turned it upside down, waving it slowly in front of me. "THIS is what happened to me walking from my car to your front gate. My left shoe no longer has a heel because of the MOON ROCKS that you have in your sorry-excuse-for-a-parking-lot."
Oh Lord, she had a point. Some of our rear parking lot surfaces had yet to be rolled and smoothed over—let alone paved—as we were just now in our second year of existence. And, it wasn't uncommon for amphitheaters like ours to forego certain improvements the first few years, especially costly ones like this that more or less begged to be done in stages over a few years' time as the venue's revenue (hopefully) climbed to higher levels.
I was half-thinking of launching into that very explanation when her by now red-faced husband suddenly whispered "Dear, why don't..."—and The Finger shot up again, this time to nip Hubby in the bud. Again came the laser beam. Okay, now it was a friggin' tractor beam. "You are going to refund me, and pay for my shoes."
Customer service classes often involve role-playing, but I just don't remember attending "Contending With Crazies" day. This formerly well-heeled woman was more than a bit intense, and just for a moment, my overly amped imagination saw her taking her other shoe off—the one with the good heel—and driving that thing two inches into my temple.
I decided to, as they say, "cut and run." I laced together a couple of quick apologies while pulling out a business card, and then close to stammered "Ma'am, please call me tomorrow at the number on my card." Then I darted for the side gate and disappeared into the facility.
That next day on the phone, of course, I ended up giving the woman a full ticket refund. But I also was able to nix the shoe replacement in favor of getting her free tickets to another arts & entertainment event, this time in downtown Pittsburgh. The woman accepted the offer but also made it abundantly clear she would never return to our lunar landscape parking lot ever again.
So...was this one particular customer service encounter scarier than all those ruffians at OzzFest who torched the lawn and flung fishbowls? In this particular instance of the lady with the laser beams, it seemed that Hell hath no fury like a woman shorn—of her expensive shoes. I can't decide here…tough choice…so maybe it's a toss-up. But not like the sod was.
_____________________________________________________________________
11/3/19.....THE HEAT OF THE MOMENT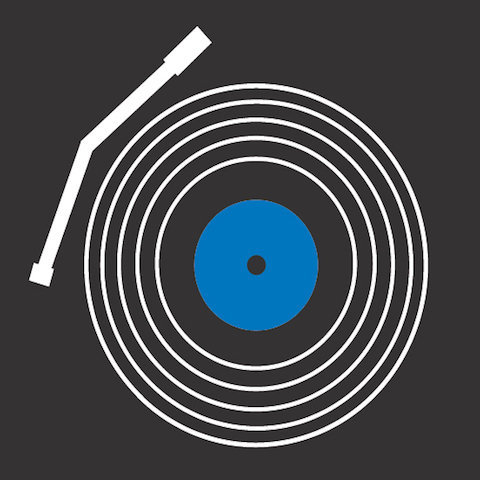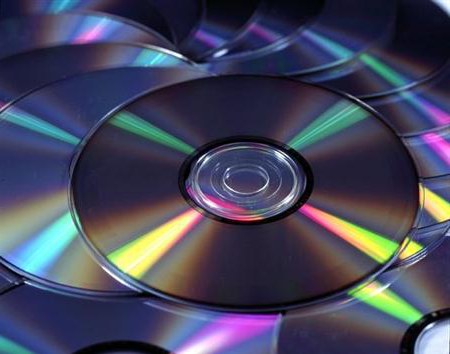 Years ago, I used to listen to music practically 24/7. As fits my musicasaurus moniker, I started way back in the late 1950s listening to my parents' 45 rpm 7" vinyl records called singles, and then I turned more and more to the 331⁄3 rpm LPs ("long playing") vinyl records called albums. By the time the 1960s hit midstride, album collection had become my passion. All the way up to and through the early 1980s I made record stores my second home, staying there for hours at a stretch until my stomach began rumbling for sustenance and my head began hurting from the unceasing internal deliberations over which five or six albums to ultimately take to the cash register.
Then compact discs emerged in the early 1980s and so I shifted to the shiny discs, again spending beaucoup bucks on new releases but also on replacement music—I just had to have that favorite artist & album on disc since my vinyl (and everyone else's) was receding in the rearview mirror.
Then the gods of Technology started meddling with my focused life. Back in the turning of the 1990s into the early 2000s I was one who just brushed off Napster, the file sharing service that surfaced and then quickly ended up with a squelched shelf life. This forerunner to everyday streaming rapidly became the scourge of record companies who dearly wanted to protect their eroding turf of selling consumers only the physical forms of music. So lawsuits flew and Napster went to sleep with the fishes.
But then iTunes came into prominence with widespread adoption around 2003 and I consequently built up a hellacious library of hundreds and hundreds of songs, feeding my computer with uploaded CD tracks but also spending $0.99-per-song a zillion times a month, only pausing to work, sleep, eat and occasionally floss.
iTunes then eventually gave way to Spotify and other streaming services at the same time that we all inexorably gave over our lives to our phones. Music became ubiquitous, but really all manner of things—all kinds of apps, news updates, Facebook posts, Tweets, Instagram, texts, work and personal emails—were now instantaneously available with a finger swipe. My ability to focus slowly fizzled, and with the world inside my iPhone clamoring for attention all of my waking hours, I ebbed away from exploring a lot of new music and even lessened my listening to old favorites and long ago playlists. Too many iPhone allures…and now too little time.
But all is not lost, I have realized just of late. On my phone—of course!—I came upon a podcast recently that brought me a genuine sense of return to all of the times in my life when a certain bit of a song—a piano splash, a climbing to climax guitar, a singer's sudden superlative howl—became the sweetest affirmation for me that I had made exactly the right choice in seeking out a particular artist and song.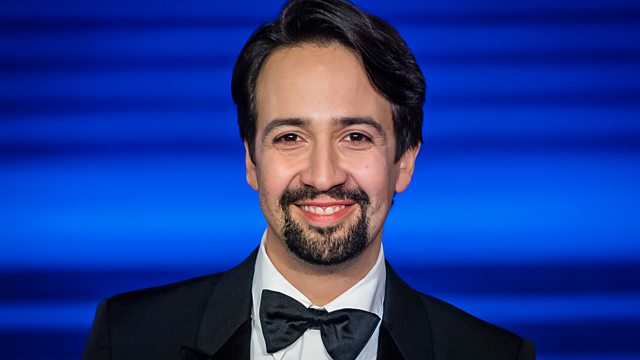 The podcast was the BBC Radio 4's program Desert Island Discs, which quite remarkably has been around since the 1940s. The concept is fairly straightforward—the host asks his or her guest to name eight indispensable recordings (most often music), a book and a luxury item that they would relish in spiriting away to the isle. In between the guest's pronouncements and justifications, the host steers things toward a brief discussion of the guest's early influences, his or her time growing up, and career milestones and twists & turns. All in all, Desert Island Discs is a keenly packaged interview program, peeling away layers and uncovering passions, musical and otherwise.
The guests run the gamut of hairdressers to historians, politicians to poets, scientists to surgeons, with a number of notables in the arts—like Lin-Manuel Miranda, composer, lyricist and original star of the Broadway smash Hamilton, who sat down for his Desert Island Discs interview earlier this month with host Lauren Laverne.
Early in the program Miranda talked about falling in love with theater when he was just fourteen years old and in the 8thgrade, snaring the lead pirate role in his school's production of Gilbert and Sullivan's The Pirates of Penzance. He also pointed to his parents' viewing habits as defining influences in his formative years. "My mom took me to see 'Breaking The Waves,' 'Schlinder's List,' 'Leaving Las Vegas'—the heavy stuff," Miranda says. "And my dad took me to every Schwarzenegger movie and every musical! And as I've grown up in my own habits I find at the end of the day I'm my dad. I just need something mindless and fun and/or heartwarming, you know, 'cause the world's hard enough." (Miranda ends that sentence with a quick laugh).
Soon thereafter Miranda was coaxed to reveal his first desert island pick, and this is where I immediately flashed back to my own myriad moments of rushes up the spine and euphoria skittering across the brain folds, all from listening to a favorite musician or singer who suddenly, unexpectedly, amps up the intensity and the emotional impact.
This is what happened to Miranda, as he recounts his experiences with the song "Cabaret" from Liza Minelli: "I've so many associations with this song. Mainly I think of my mother in our Subaru growing up, sort of turning the dial all the way to the top and screaming along with Liza, because that's how I fell in love with musical theater. I think all of us sort of see what moves our parents, and then as I grew older, falling in love with Liza's delivery of this incredible Kander & Ebb song, because she holds that note, that 'When I go, I'm going like Elsie' just a little longer than she needs to, and the way her voice kind of cracks, but perfectly cracks, on the last 'ba' in 'Cabaret'—it's really alive, and I get goose-bumps every time I hear it…That last 'ba'…she gives everything to that 'ba.'"
Perhaps Miranda has now made you think back to your own discovery (and ongoing rediscovery) of those moments of sheer magic in some of the songs you love…Here are just a few of mine, and it is a representative sampling of live performances and studio recordings covering a few different genres:
* LIVE PERFORMANCE … "Good Morning Heartache" … From Chris Botti's 2005 performance at the Wilshire Theatre in Beverly Hills, California … The song is on CD and DVD, both released in 2006 and both entitled Chris Botti: Live with Orchestra & Special Guests. Jill Scott is Botti's guest vocalist on this 1946 composition that Billy Holiday first made famous, and Scott soars through her interplay with trumpeter Botti—especially as these exchanges heat up, around the 4:00 minute mark … https://youtu.be/yIz2yhkql8g
* STUDIO RECORDING … "Bartender's Blues" … From George Jones' 1979 album My Very Special Guests, which features Jones in various matchups song to song with the likes of James Taylor, Emmylou Harris, Willie Nelson, Elvis Costello, Tammy Wynette, Waylon Jennings and others … Though some critics have derided this album, this was my first exposure to that fluttering wonder of a voice, and "Bartender's Blues" (a James Taylor composition) really slays me with George on lead and J.T. just doing the harmonies … https://youtu.be/wD6Y8Ae6RE4
* LIVE PERFORMANCE … "Cantaloupe Island" … From the DVD entitled One Night With Blue Note, billed as "the historic all-star reunion concert" recorded at Town Hall in NYC on February 22, 1995 … The players are a who's who of jazz including Herbie Hancock, McCoy Tyner, Tony Williams, Art Blakey, Ron Carter, Stanley Jordan, Jimmy Smith, Stanley Turrentine—it's a shorter list to say which jazz giants were not there. "Cantaloupe Island" is riveting principally because of trumpeter Freddie Hubbard, who is explosive in his two-minute-long solo turn that begins around 1:20 into the song. To get the full impact, of course, play the song from the very beginning … https://youtu.be/RNAjQBOP-lU
* STUDIO RECORDING … "O-o-h Child" … From Valerie Carter's solo debut Just A Stone's Throw Away (1977), an album masterminded during the recording process by Little Feat's Lowell George … The song was first recorded in 1970 by Windy City soul band The Five Stairsteps and has been covered by Laura Nyro, Beth Orton, Nina Simone and many others, but in musicasaurus.com's book the definitive version is Carter's. At the opening she sounds a bit like a meek pop princess but soon unleashes—several times throughout, like at 1:20, 1:35 and 1:48 of the tune—a devil of a bluesy wail … https://youtu.be/pxcU4OfdTfg
* LIVE PERFORMANCE … "Bullet The Blue Sky" … From U2's live album and accompanying concert rockumentary Rattle And Hum … The band members were only in their late twenties when touring America in 1988. This performance of "Bullet The Blue Sky" reveals guitarist The Edge as already at the peak of his powers, and in a minute-and-a-half solo that starts around the 3:25 mark of the song, he peals off power chords as Bono brandishes a spotlight by his side. The last 30 seconds or so of The Edge's solo turn here is perfect "rock god" stuff, as the guitarist lets his last chord fade away as you see him s-l-o-w-l-y slither out of the limelight—a cumulatively powerful display of instrumental mastery … https://youtu.be/x6ifY1UV3CM
Musicasaurus.com could list a hundred more of these magic moment testimonials…but let's loop back to Miranda, and finish up here by completing his desert island picks, the songs that moved mountains for him (and still do) along his own particular path:
Liza Minelli – "Cabaret"
The Decemberists – "The Crane Wife Part 2"
Rubén Blades and Seis del Solar – "El Padre Antonio y el Monaguillo Andrés"
The Pharcyde – "Passin' Me By"
Ali Dineen – "What You Know"
Regina Spektor – "On the Radio"
Gilberto Santa Rosa – "Déjate Querer"
Outkast – "Rosa Parks"
_____________________________________________________________________
10/20/19.....LONG AGO AND FAR AWAY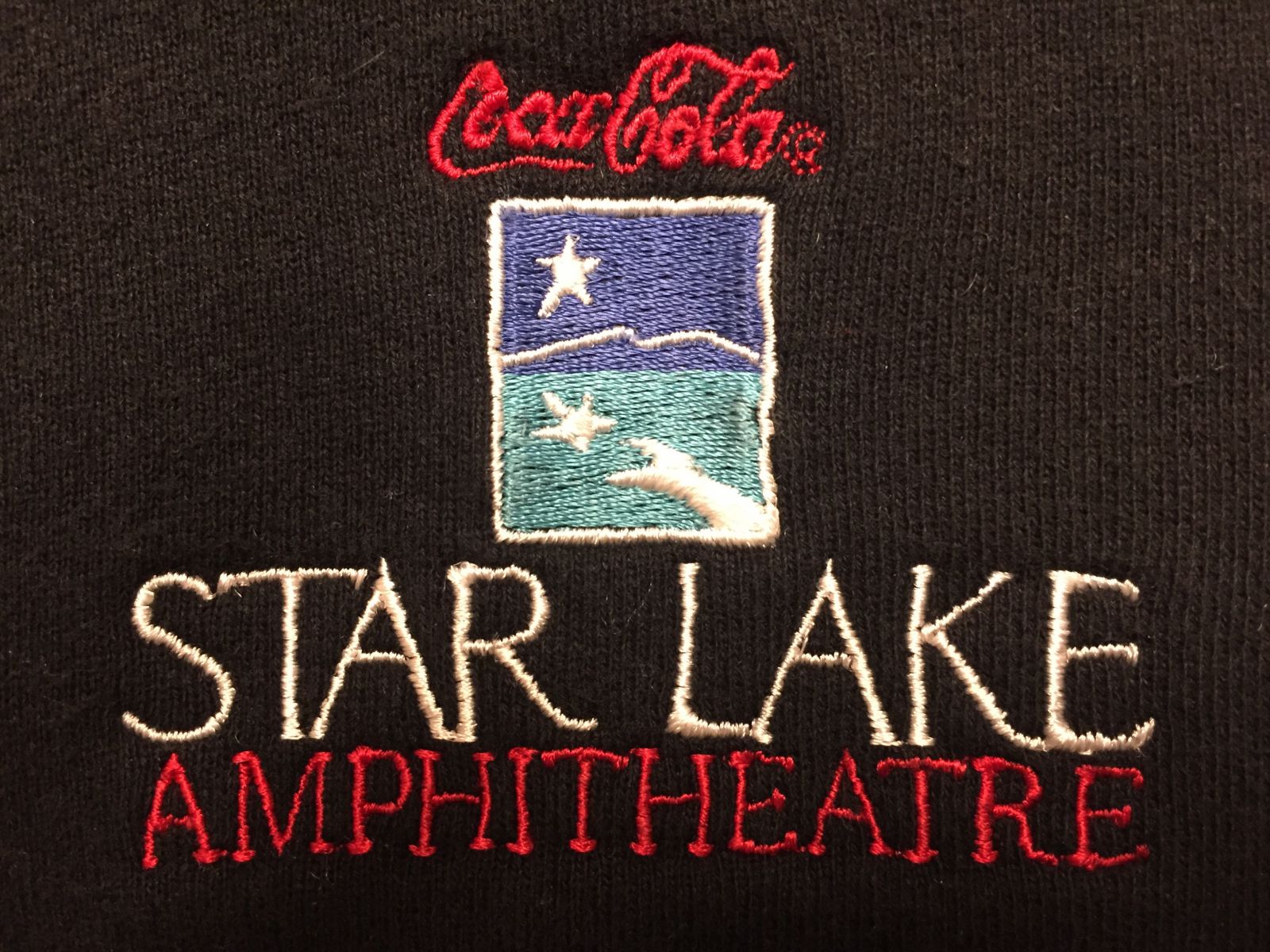 I spent a good chunk of my occupational years in the amphitheater business—from 1991 through 2007—as marketing director then general manager of Pittsburgh's premier open-air concert venue that opened its doors thirty years ago in 1990. Tucked into tiny Hanover Township in Washington County, 25 miles from "the big city," this amphitheater that debuted under the moniker Star Lake grew over the years to draw hundreds of thousands of concert fans each season.
In March 1990, though—about 2 ½ months before Star Lake was to open—there were still a number of folks around the Pittsburgh area who didn't quite understand what in the hell an amphitheater was...
Though Cleveland had an open-air venue called Blossom Music Center (originally built in 1968 for that city's symphony), a lot of Pittsburghers were still in the dark about this, not having travelled westward to personally check it out themselves.
So the Star Lake team found themselves, as Opening Day approached, with continued challenges on how to further educate the Pittsburgh market. The local public relations company hired by Star Lake suggested a "Frequently Asked Questions" type of press release, which all concerned thought was a good idea—the marketplace would thus be able to have, in advance, a very helpful guide to understanding this new venue that was scheduled to open in just two months' time.
And so a press release dated March 27, 1990 headlined "The 15 Most Asked Questions About The Coca-Cola Star Lake Amphitheater" was sent out to all southwestern Pennsylvania media before the first scheduled concert at the brand new venue. Musicasaurus.com recently unearthed a copy of this release and focused in on 9 of the original 15 questions. Empowered by hindsight, I endeavored to revise these answers to reflect what should have been written in each case, if only we had had the foresight. If this was a prescient press release, this is what it would have looked like:
1. What is an Amphitheater?
(From the 3/27/90 pre-grand opening press release): Amphitheaters have been around for thousands of years as outdoor arenas for meetings and performances. In the past several years, amphitheaters have become popular as outdoor music and entertainment centers. The new Coca-Cola Star Lake Amphitheater will be one of the best concert facilities in the world. This new $10 million dollar facility will feature the latest in state-of-the-art design and acoustics. It will comfortably accommodate 20,000 guests; 7,000 in reserved theatre seats within an open-air pavilion and 13,000 on a gently sloping natural hillside.
(In hindsight, the answer should have been): Amphitheaters have been around for thousands of years as outdoor arenas for meetings and performances. For example, the Romans used amphitheaters for gladiatorial games where bare-chested, brawling men fought each other until much blood was spilled. We expect this will be the case at the new Coca-Cola Star Lake Amphitheater on an occasional basis once OzzFest begins to annually stop at our venue starting in 1997. Also, the amphitheater will comfortably accommodate 20,000 guests; it will also on occasion uncomfortably accommodate 26,000 guests, as the expression "It's a tiny hiney show" will start to rear its head—which will be management's justification to expand lawn-ticket capacity for especially the popular tween-appeal shows, attempting to squeeze a lot more arses (the big and the small) into every open bit of green space.
2. Where is the Coca-Cola Star Lake Amphitheater?
(From the 3/27/90 pre-grand opening press release): It's just 25 minutes from downtown Pittsburgh. Star Lake is located on 328 acres at the intersection of routes U.S. 22 and State 18 at the northern edge of Washington County. From Pittsburgh, take the Parkway West toward the Pittsburgh International Airport. Follow U.S. Routes 22/30 towards Weirton to the intersection of U.S. Route 22 and State Road 18. The amphitheater is just 15 minutes off the Parkway West.
(In hindsight, the answer should have been): It's just 25 minutes from downtown Pittsburgh—if you have strapped on a jet-pack or snagged a low-flying drone instead of getting in your car. If you have no choice but to drive to one of the venue's sold-out shows, plan to pack a catheter, five back-issues of Rolling Stone magazine, some Zoloft and a deck of cards, and then take the Parkway West toward the Pittsburgh International Airport. Follow U.S. Routes 22/30 towards Weirton and spend somewhere between ½ hour and 2 ½ hours of stagnation and/or an angst-inducing crawl toward the intersection of U.S. Route 22 and State Road 18. And we love to claim that "The amphitheater is just 15 minutes off the Parkway West" but freely admit that this statement probably ranks right up there with "The check is in the mail"…"It's not you; it's me"…and "It's only a cold sore."
3. When is the Coca-Cola Star Lake Amphitheater going to open?
(From the 3/27/90 pre-grand opening press release): The opening concert for Star Lake will be June 17th. The normal amphitheater season will run from May to September.
(In hindsight, the answer should have been): The opening concert for Star Lake will be June 16th, and we will have regional and local artists perform in a "dry run" type of show so that our staff members—especially our parking personnel—get some much-needed practice before the sold-out Billy Joel show that is scheduled for the 17th. We anticipate that despite this run-through, parking will be a clusterfuck on this first night of Billy Joel's June 17-18 doubleheader engagement, and decades later the amphitheater will continue to be haunted by this Ghost of Crisis Past.
4. Where can I get tickets for events at the Amphitheater?
(From the 3/27/90 pre-grand opening press release): Tickets can be purchased through the Choice Seat computerized ticket service with over 30 tri-state area outlets including selected Kaufmann's, Horne's, Record Outlets and at the Civic Arena Gate #1 Box Office. Tickets are also available on the day of the show at the Amphitheater Box Office. You can charge your tickets by phone by calling 412/333-SEAT (412/333-7328).
(In hindsight, the answer should have been): At this moment in time, tickets can be purchased through the Choice Seat computerized ticket service with over 30 tri-state area outlets including selected Kaufmann's, Horne's, Record Outlets and at the Civic Arena Gate #1 Box Office. However, event ticketing is a volatile and topsy-turvy business, so don't be surprised if at some point Choice Seat closes down and TicketMaster swoops in, Kaufmann's eventually becomes a Macy's, Horne's and Record Outlets both go out of business, the internet majorly displaces ticket outlets and phone sales, web scalpers eat your wallet for breakfast, and the Civic Arena Gate #1 Box Office falls to the wrecking ball.
5. How can I find out who is appearing at Star Lake?
(From the 3/27/90 pre-grand opening press release): Listen for radio and TV commercials and watch for newspaper ads about upcoming concerts and events. Star Lake will also have a soon-to-be-announced hotline number.
(In hindsight, the answer should have been): Listen for radio and TV commercials, and watch for newspaper ads about upcoming concerts and events until such time that newspapers themselves begin to appear not on your doorstep but behind glass-window displays in the Heinz History Center.
6. What kinds of entertainment will be at the Coca-Cola Star Lake Amphitheater?
(From the 3/27/90 pre-grand opening press release): Billy Joel will set the standard by performing the grand opening concert at Star Lake with his record-breaking Storm Front World Tour on June 17. The brightest names in entertainment, including the Pittsburgh Symphony Orchestra, will appear at Star Lake. From country to pop, from classical to rhythm & blues, from contemporary to jazz--the superstars will all be at Star Lake this summer! The Coca-Cola Star Lake Amphitheater will also serve as a special events park perfect for fairs, arts festivals, company picnics, trade shows and corporate special events. More than 40 shows and special events will take place at Star Lake this summer. Watch for "Coming Attraction" announcements in the next few weeks.
(In hindsight, the answer should have been): Billy Joel will set the standard by performing the grand opening concert at Star Lake on June 17 in front of the least amount of people attending any sold-out event, as some concert-goers will still be trying to drive into the parking lots as Billy is ending his encore…The brightest names in entertainment will appear at Star Lake such as the Pittsburgh Symphony Orchestra, but only four times total and only in the first two summers, because the Well-Heeled and the High-Heeled will soon beat a hasty retreat (away from the dust and out of the heat) back down to the time-honored, climate-controlled Heinz Hall venue in downtown Pittsburgh…More than 40 shows and special events will take place at Star Lake this summer. Watch for "Coming Attraction" announcements in the next few weeks. Then watch for "Coming Contraction" announcements in the next few decades—the number of shows will necessarily take a nosedive as the amphitheater will "just say no" to the wildly increasing costs charged by more and more of even the midland level touring artists.
7. Can we bring a picnic with us to the Amphitheater?
(From the 3/27/90 pre-grand opening press release): Outside food, beverages, coolers, bottles and containers of any kind are not allowed into the facility.
(In hindsight, the answer should have been): Because we will be serving our food and drinks to you at "captive audience" prices, we are thinking of starting out this first year by banning you from bringing any food and beer, or wine and spirits, onto the amphitheater grounds at all—which of course means that in the parking lots tailgating will not be tolerated. But if during the first scheduled show the will of the people makes itself known and unstoppable tailgating cuts a mighty swath into our resolve, we will obviously cave and allow this black-and-gold mentality to nestle in for good.
8. What kind of parking is available at the Coca-Cola Star Lake Amphitheater?
(From the 3/27/90 pre-grand opening press release): There is plenty of secure, well-lit parking located immediately adjacent to the Amphitheater.
(In hindsight, the answer should have been): There are plenty of insecure parking attendants and well-lit patrons located immediately adjacent to the Amphitheater.
9. What happens if it rains?
(From the 3/27/90 pre-grand opening press release): Rain or shine, the show goes on.
(In hindsight, the answer should have been): Fans who bought covered pavilion seats are going to be fine, but our advice to those who purchased lawn tickets is as follows: Well, you could try Maybe you could You might want to You're screwed.
_____________________________________________________________________
10/6/19.....DEATH WALKS BEHIND YOU (part two)
Musicasaurus.com is going to hearken back to the subject matter of a not-too-distant post in this A DAY IN THE LIFE section, 9-8-19's Death Walks Behind You. That post dealt with the fact that a number of signature artists—our musical elders Dylan, McCartney and Starr, Jagger and Richards, Carole King, Page and Plant, Joni Mitchell, Bruce Springsteen, Daltrey and Townshend, and a host of others—have either just crept into or have already soared significantly into their 70s. Sad to imagine that the Grim Reaper might be picking a piece of lint off his scythe right now, looking over this list.
Why revisit this post? Musicasaurus.com missed a few passings of note this summer, including a legendary New Orleans rock-pop-jazz-blues amalgamator, a pioneer of pop-meets-punk (with a rock 'n' roll edge), and a film actor who wasn't really a musician but did ride into glory to the strains of "Born To Be Wild" and also directly inspired a Beatles classic.
DR. JOHN (November 20, 1941 – June 6, 2019)
When Dr. John passed away in early June, my brother-in-law Bernie Caplan pointed me to a particular Facebook post about the artist from former KDKA-TV public relations director Carolyn McClair.
In Pittsburgh during the 1980s KDKA's McClair worked closely with live events producer John Schreiber, a member of George Wein's company Festival Productions that booked jazz talent for festivals and music series events all over the country. McClair, the day after Dr. John died, posted a poignant recollection/twist-of-fate style remembrance about the man, stemming from her days in Pittsburgh:
"The first time I met Dr. John was in the 80s at Heinz Hall in Pittsburgh. Later in the day, he had a sound check, but first I had to run to the airport to pick up Producer John Schreiber. While driving to the airport with my daughter, LaNita Adams, we spotted two teenage boys hitchhiking. We determined they looked safe enough or that the two of us could take the two of them. The mother in me asked why they were hitchhiking on a busy highway. One of the boys said he was a piano player and he had a week-long gig at a nearby inn. He said they were bored and he and his friend were going to the airport to play video games.
"The pianist talked non-stop asking a zillion questions. Turned out the boys were from New Orleans and they knew Schreiber. That led to questions about what John and I were doing after the airport. I told him we were going to a soundcheck with Dr. John. The kid went wild and begged me to take them with us! To quiet him down, I told him if he promised to be cool and calm and John said it was okay, we would introduce him to Dr. John. Schreiber indeed knew him and agreed to let him tag along if he followed my previous instructions.
"The boys quietly watched the soundcheck, but when Schreiber said I could bring him over, all bets were off. The young pianist dropped to his knees, slid across the floor Tom Cruise/Risky Business-style, grabbed Dr. John's hands and said, 'I'm Harry Connick, Jr. and this is my producer Tracy. I love you and I want to record an album with you.'
"Amused and maybe a little in shock, Dr. John lifted his glasses, stared at the kid, who was still on his knees, and said, 'What an introduction. We might just do that; now stand up.' He was so cool. He seemed to enjoy chatting with this enthusiastic young musician and thanked me for bringing him to meet him. When I last saw Dr. John in Newport in 2015, he said, 'I think we have a story together.' I reminded him about Harry and he laughed and said, 'You know we eventually did that album.' I said, 'Talk about being in the right place as well as the right time.' We had a good laugh. I never saw him again, but I will always remember him and his music."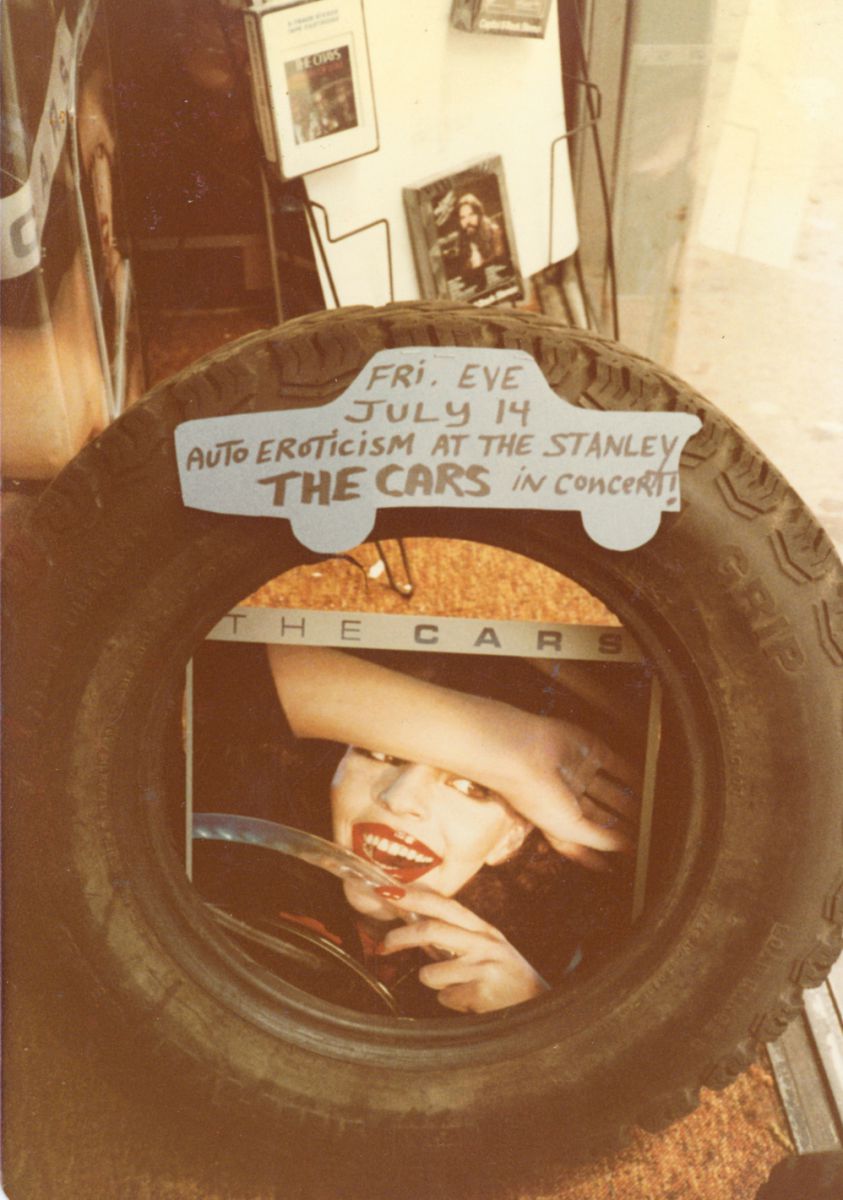 RICK OCASEK (March 23, 1944 – September 15, 2019)
I met Rick Ocasek once, though he never would have recalled it. It was July of 1978 in Pittsburgh, and I was backstage at the Stanley Theater just after the Cars had finished their show. I had been invited back by the band's record label representative from Elektra to quickly meet the group and show them a few photos of the displays I had done in Pittsburgh-area record store windows in order to help promote their appearance.
I was twenty-five, and had been hired just four months earlier by Warner-Elektra-Atlantic Corporation (WEA), the product distribution arm of three of the dominant record companies at that time. My title was "field merchandising specialist" as the business cards they had printed up for me maintained, but all this really meant was that I was a poster boy with a less-than-modest paycheck and a beat-up van that luckily could house a shitload of recording artists' display materials.
My job description included a couple of key tasks, chief among them taking care of the WEA record labels' priority artists of the day by systematically flooding area record stores with my back-o'-the-van materials and capturing the best in-store positions for my handiwork. My constant companions on my weekly display routes were a staple gun, scissors & tape, and a stepladder to help me scale new heights.
My other key task involved supporting the various WEA artists' tour stops in and around the Pittsburgh area through in-store displays, and so on each of these occasions, I lugged posters and 1' x 1' album cover reproductions around town to cover the high-traffic stores like National Record Mart, Record Outlet, Flo's, Heads Together and others to add impetus (however large or small) to ticket sales.
The Cars were booked for Pittsburgh's Stanley Theater on a Friday night in July, and I was pumped. The group's debut album had hit stores just one month before, and I was an instant convert, intrigued by everything from the model behind the wheel on the album cover (an unheralded but photogenic Russian poet/writer/singer named Natalya Medvedeva) to the keenly crafted and produced songs on the record ("My Best Friend's Girl," "Just What I Needed," "You're All I've Got Tonight," "All Mixed Up" and more). The New York Times and Rolling Stone magazine critic at the time Robert Palmer really zeroed in on the essence of the band when he wrote "they have taken some important but disparate contemporary trends—punk minimalism, the labyrinthine synthesizer and guitar textures of art rock, the '50s rockabilly revival and the melodious terseness of power pop—and mixed them into a personal and appealing blend."
As brief as my backstage encounter was that July evening in '78—all of about ten minutes, as I recall—I remember Ocasek and another of the band members smiling when they were shown the photo posted above. I'm not sure if it was my car tire or my hand-scrawled play on words, but their nods of appreciation for my record store window display stoked me beyond belief. Just what I needed.
PETER FONDA (February 23, 1940 – August 16, 2019)
Fonda was of course part of a Hollywood acting dynasty that included father Henry, sister Jane and eventually, daughter Bridget. He was not a musician, really, but became a counterculture legend once he hit the screen in 1969 in a film he also produced and co-wrote—Easy Rider.
Fonda was a rebel, rabble-rouser and a partaker, though, years before that influential film came out. In August 1965 his friendship with the group the Byrds led him, Roger McGuinn and David Crosby to visit the Beatles in a special hideaway house in Los Angeles. According to author Bob Spitz who wrote an exceptional book about the Fab Four, The Beatles / The Biography (2005), there was a whole lotta "Lucy In The Sky" goin' on.
Beatles manager Brian Epstein had rented a secluded private residence in Benedict Canyon, just off Mulholland Drive. This was the Beatles' one chance on their 1965 North American tour to hang and relax, as they had a four-day layover between concerts. With the hilly terrain and security guards keeping most fans at bay, the Beatles were finally unwinding. As Spitz writes, "During those lazy days, under picture-postcard skies, the Beatles lounged by the pool, pulling on 'the fattest joints' anyone had ever rolled and gorging themselves on a round-the-clock buffet to stem the 'munchies.'"
Before long, Fonda with McGuinn and Crosby popped by, as well as Eleanor Bron (the boys' actress co-star from the movie Help!),and Joan Baez. Meanwhile, according to Spitz, George and John were trying to coax Ringo and Paul into dropping acid. The former two had tried it before and were game again; this time Ringo succumbed but steadfast Paul did not.
After "Lucy" made the rounds—which included ingestions by the couple of Byrds—George got morose on his dose and settled into a chaise longue between McGuinn and Fonda. Reportedly George then muttered "You know, man, I feel like I'm gonna die." Part of Fonda's efforts to console the Beatle beside him included his own explanation as to why he could identify with George—Fonda had very nearly died when he was ten from an accidental self-inflicted pistol wound, and he lost so much blood, according to Spitz, that "his heart stopped three times." Fonda, now knowing intimately what death or near death was all about, said he was here now, and alive, to say that everything was going to be fine.
Walking by at that moment was John who caught just a snippet of the discussion, and Spitz recounts what happened next as John turned to Fonda:
"'What do you mean, you know what it's like to be dead?'
"Fonda, more than a bit wasted, stared blankly at him. 'I know what it's like to be dead.'
"'Who put all that shit in your head?' John snarled.
"The two Beatles watched half fascinated, half horrified, as Fonda lifted his shirt to display the blotchy wound. 'I know what it's like to be dead,' he repeated…'"
Exactly one year later the Beatles released their seventh studio album Revolver, which featured a great Lennon composition called "She Said She Said" that bore the beginning lyrics "She said / I know what it's like to be dead / I know what it is to be sad / And she's making me feel like I've never been born."
So that was Fonda's contribution to Beatle lore…and I'm guessing he had even helped nudge John on to at least a few more lyrics of lysergic origin down the road. On Revolver Lennon pushed sonic boundaries as well, with song contributions like "I'm Only Sleeping" and especially "Tomorrow Never Knows." It is debatable how much the little tabs really contributed to the Beatles' amazing creative strides on the works that followed, like Sgt. Peppers which came out the year after; maybe the boys did have a little help from their friends.
_____________________________________________________________________
9/22/19.....IN THE SUMMERTIME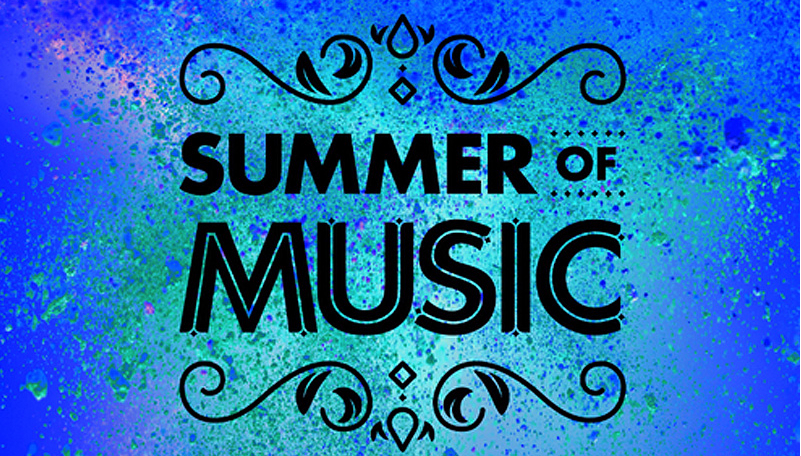 When musicasaurus.com thinks back to the summer just passed, it makes me feel like I should look heavenward and heave a sigh or two of gratitude. Looking upward is one way to see the stars...but I like being in Pittsburgh where the earthbound ones roll into town, shine their light and emit their stardust, and then leave you ever more in awe of the amazing musical talent that tours through our little part of the world.
Bruce Hornsby and The Noisemakers – July 13 at The Roxian
Pittsburghers were a particularly lucky bunch this year, with another new concert venue debuting this past Spring in McKees Rocks, the borough near downtown Pittsburgh that sits along the south bank of the Ohio River. The Roxian Theatre, a close to 1,500-capacity hall, originally opened in 1929 as a vaudeville-era venue and featured theatrical productions and films for many decades. It took a turn toward banquet hall from 1980 through 2003, but by 2007 the McKees Rocks Community Development Corporation and other partners/players were stepping in and stepping up to fulfill dreams of revitalization and restoration. The newly-renovated Roxian officially kicked off its grand opening with a May 15, 2019 performance by Snarky Puppy.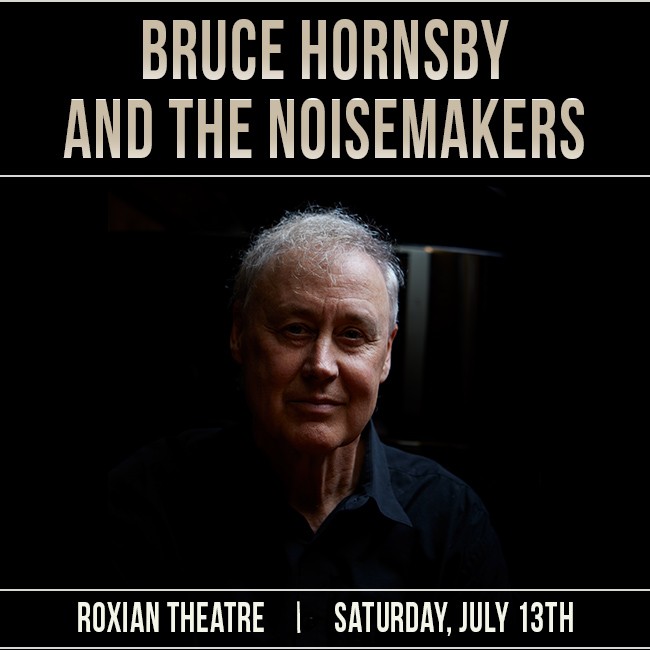 I missed that puppy, but caught Bruce Hornsby and The Noisemakers on the evening of July 13th. Scott Tady of the Beaver County Times did a particularly revealing interview with Hornsby before he rolled into the Roxian, and the musician expressed genuinely fond memories of playing in the 'burgh: "In the old days, we loved playing the Syria Mosque, a special and unique old-time venue. More recently, I've enjoyed playing at the Carnegie Library (Music Hall); there was a really good show tape from there that used to be available through Nugs.net…Like lots of musicians, I have an affinity for old classic theaters, old movie houses and even school auditoriums that have a funky, soulful feeling and good sound. Very much like the two aforementioned Pittsburgh venues."
Hornsby in concert, seated at the keys for most of the evening, was quite visibly the bandleader. And his Noisemakers seemed like they were just lovin' being led, smiling wide when their leader would quickly cue them for a solo turn with a nod or a pointed finger. Maybe these musicians were just innately talented and intuitive, or perhaps finely chiseled by the road or rehearsals, I don't know…but the collective really shone and it mattered not a whit that only one song was a hit (the early-in-the-set, retooled version of "Mandolin Rain"). In the end, this was an evening of jubilant exploration with Hornsby and his outliers collapsing musical boundaries and roaming the outskirts. (Here's a live version of "Echolocation" by Hornsby and The Noisemakers, taped during their current 2019 tour in Brooklyn, New York, about three months before hitting Pittsburgh: https://youtu.be/q8-zmsmh9Sw)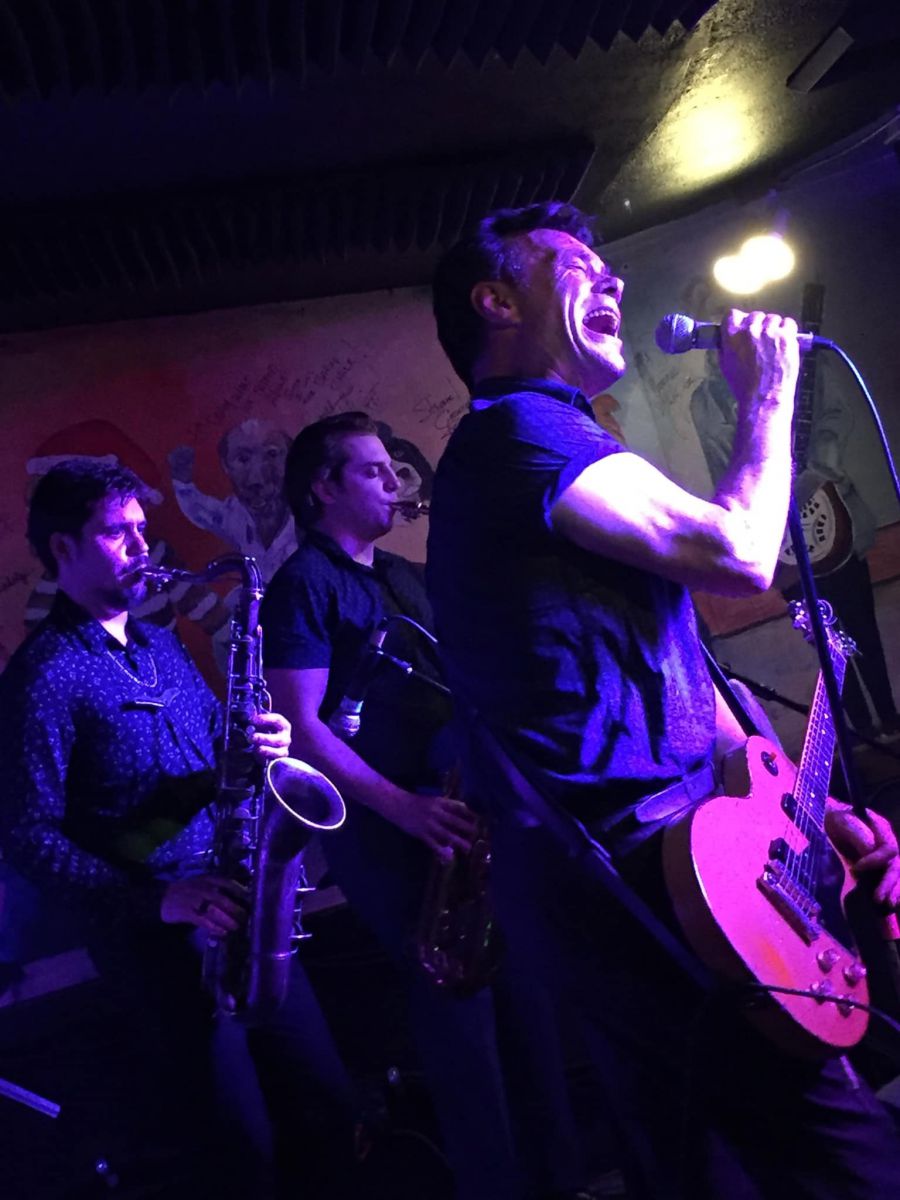 James Hunter – Tuesday, June 18 at Moondog's
There was another quite memorable indoor show this summer, in Pittsburgh's haven for the blues and other hues, Moondog's in Blawnox, PA. The town is an Allegheny County borough (population about 1,500) that hugs the Allegheny River 15-minutes drive from downtown Pittsburgh, where blues club Moondog's has sat perched on Freeport Road (the town's main drag) for the past thirty years.
When I heard that James Hunter, a Brit who's a hellacious blend of rock, rhythm & blues, and soul music, was booked at Moondog's on Tuesday, June 18th, I started calling friends in the know as well as a few of the Great Unwashed—those in our wider circle who had yet to be initiated into the cult of Hunter. I had to inveigle these latter folks into commitment mode, but by the end of that evening that Hunter played, the room was brimming with converts.
The James Hunter Six—the guitarist/singer and his band—took the stage that June evening and ripped into their repertoire of under-three-minute rock 'n soul songs, the kind that spiral up your spine and skitter across your pleasure centers. Looking down the bar I could see a lot of head-bobbin' and even a few limbs twitchin', not only because of the crisp, tight tunes but also because of Hunter's voice—the thing his album producer describes as "known not only for its natural beauty and grit, but for its honesty."
My friend Rick and I ran into Ron Esser (the founder and proprietor of Moondog's) at the end of the bar that evening, and as fans filtered out, Esser told me that at first he didn't realize who he was trying to book, and in his mind (for a millisecond) he THOUGHT he was calling the agent about booking the Grateful Dead's longtime lyricist. Musicasaurus.com loves this momentary lapse of reason on Esser's part—the Hunter he was first hunting was Robert, not James—but this initial bit of confusion led to one of Moondog's greatest coups: Snatching up a criminally under-the-radar superstar for an electrifying evening of melded rock, blues and soul. (Here's a live taste of Hunter, James not Robert, from a 2009 festival appearance at North Sea Jazz in the Netherlands: https://youtu.be/GJIqVQy_vDA)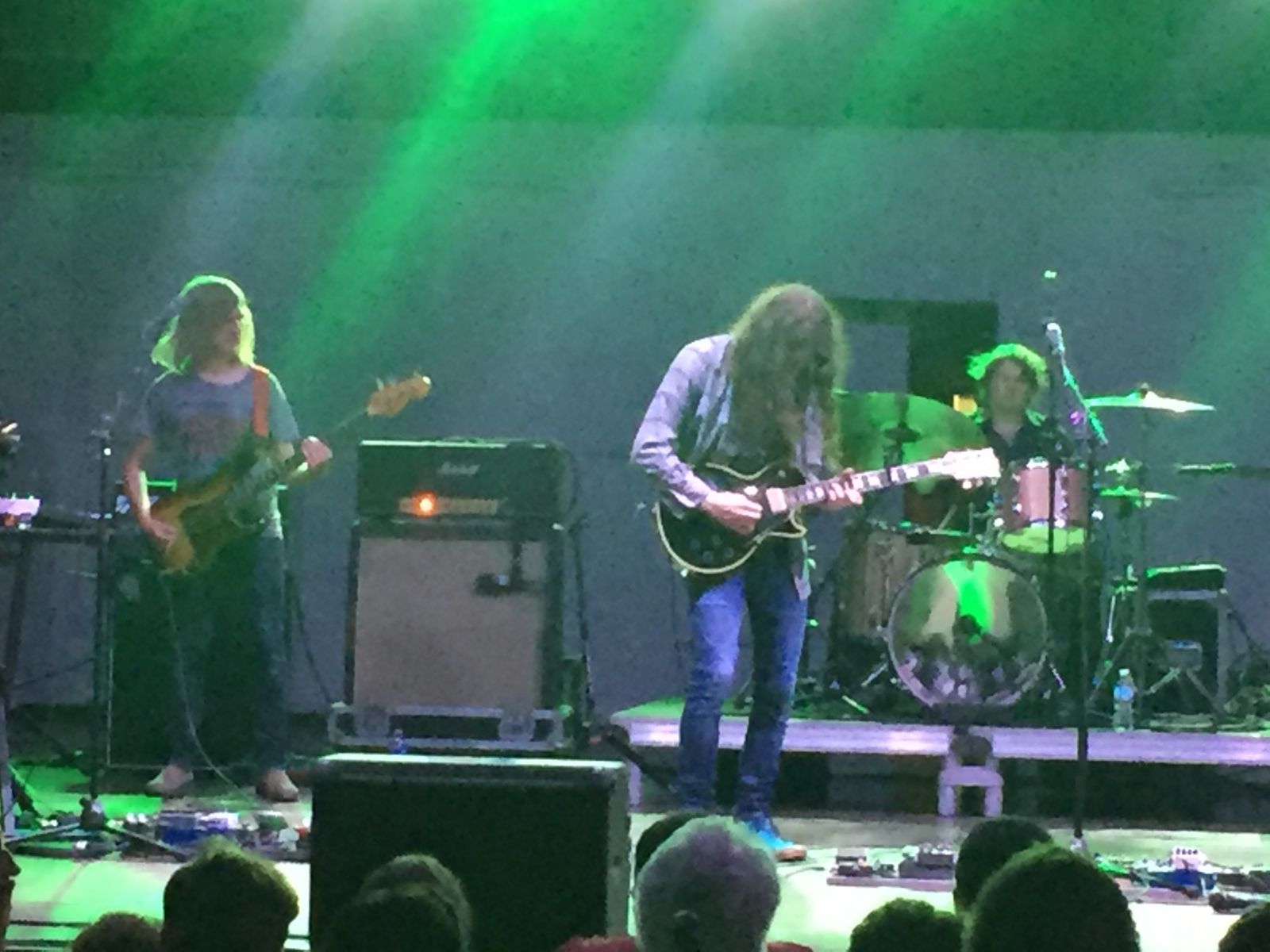 Kurt Vile – Sunday July 21 at Hartwood Acres
Since 2011, Pittsburgh's Bill Deasy (he of The Gathering Field and acclaimed solo works) has been booking the talent for the Allegheny County parks system's Hartwood Acres and South Park, where local concert-goers can always count on eclectic, if not always electric, performances from May through September. And they're FREE.
Deasy summed up the overarching philosophy of the bookings in a Trib Live article back in 2013: "It's so fun to have the opera one week, and Bob Mould the next week," he said. "How completely random and awesome is that? And yet a lot of the same people will come to both of those concerts."
This particular summer musicasaurus.com caught a couple of the Hartwood Acres concerts in July and August, and the Vile experience in particular was illuminating in a mind cleansing way. I had not previously delved into Kurt Vile's music except for the catchy "Pretty Pimpin" from a 2015 release of his called B'lieve I'm Goin Down.
At Hartwood on that July night—amidst great weather and a calm, not oversized crowd—Vile and his band were like the soundtrack to the gentle buzz that was going on in my head as paramour Mary Ellen and I strolled and calmly blanket-dodged, basking in people-watching and for a time, standing in line at one of the food trucks that was parked stage-left. Vile's music as a background to our wanderings was hypnotic; his dreamlike pieces unspooled rather than charged ahead, and he and his band mates really mastered the essence of somehow wringing out the real beauty of a sustained chord…This was a magical evening of folk/alternative music—tailor made for reflection and star gazing—at Hartwood. (Here is the artist's "Pretty Pimpin" video-- https://youtu.be/y26OdHnif7U--but after this while you're still in YouTube, explore on to find more Vile recordings including some from his recent teaming-up with Courtney Barnett.)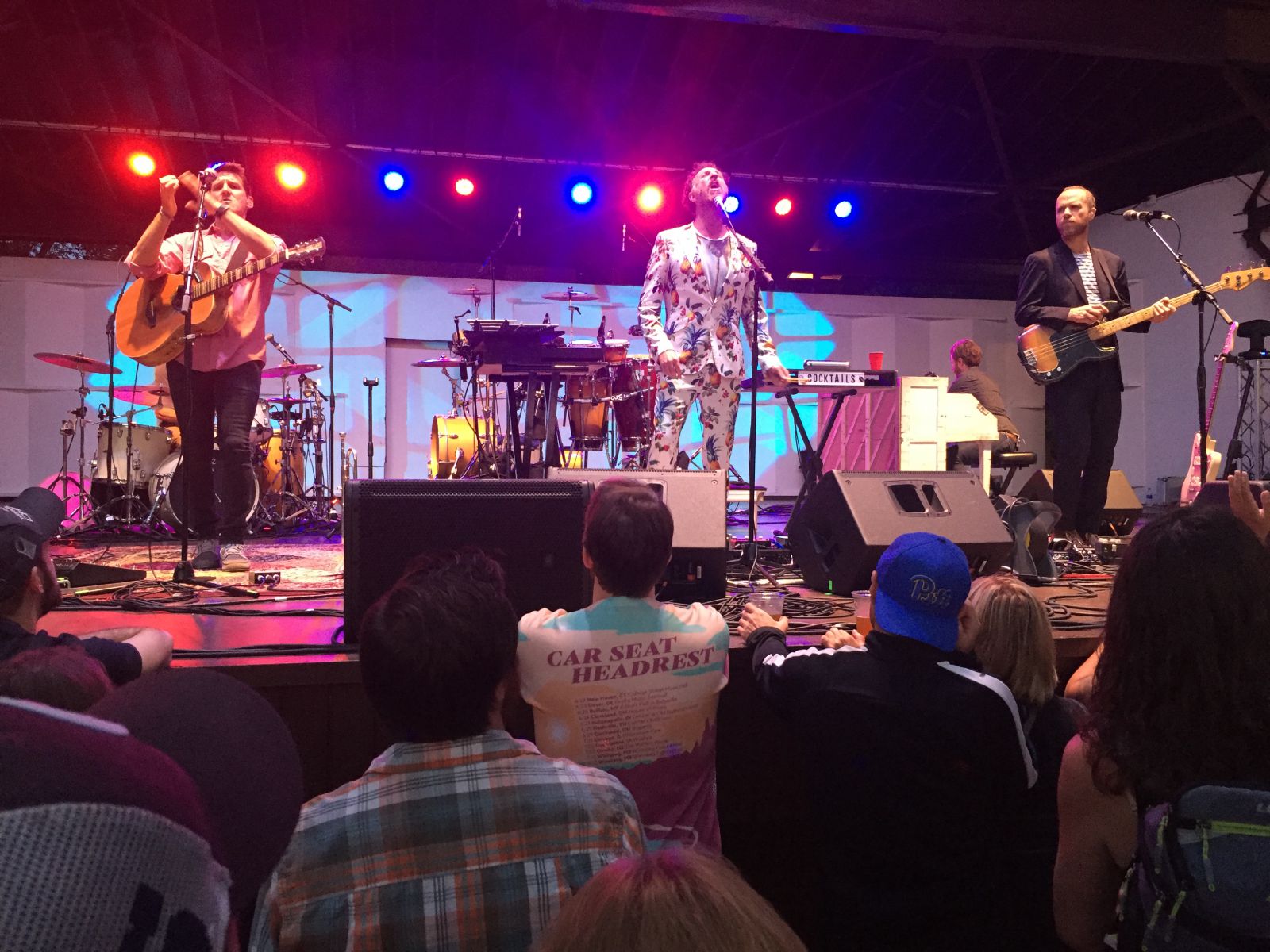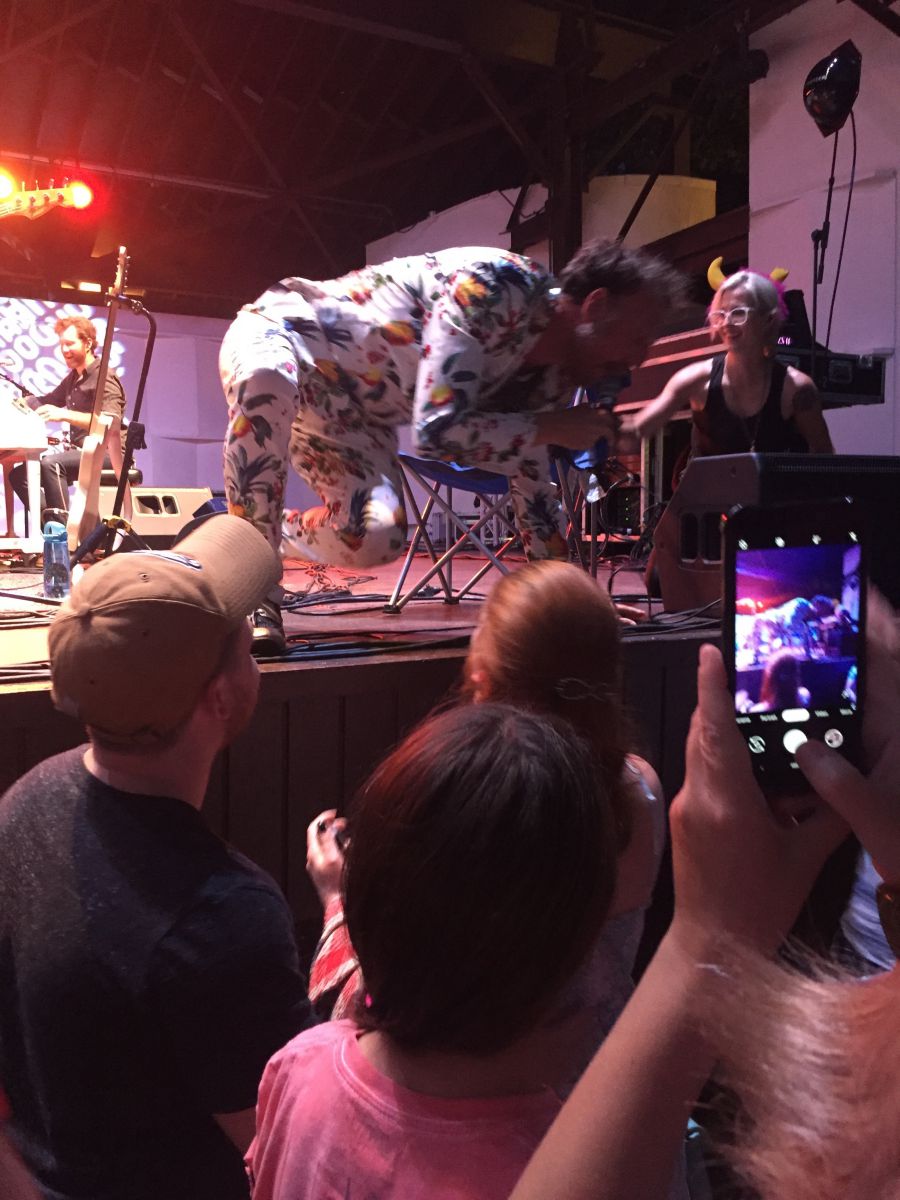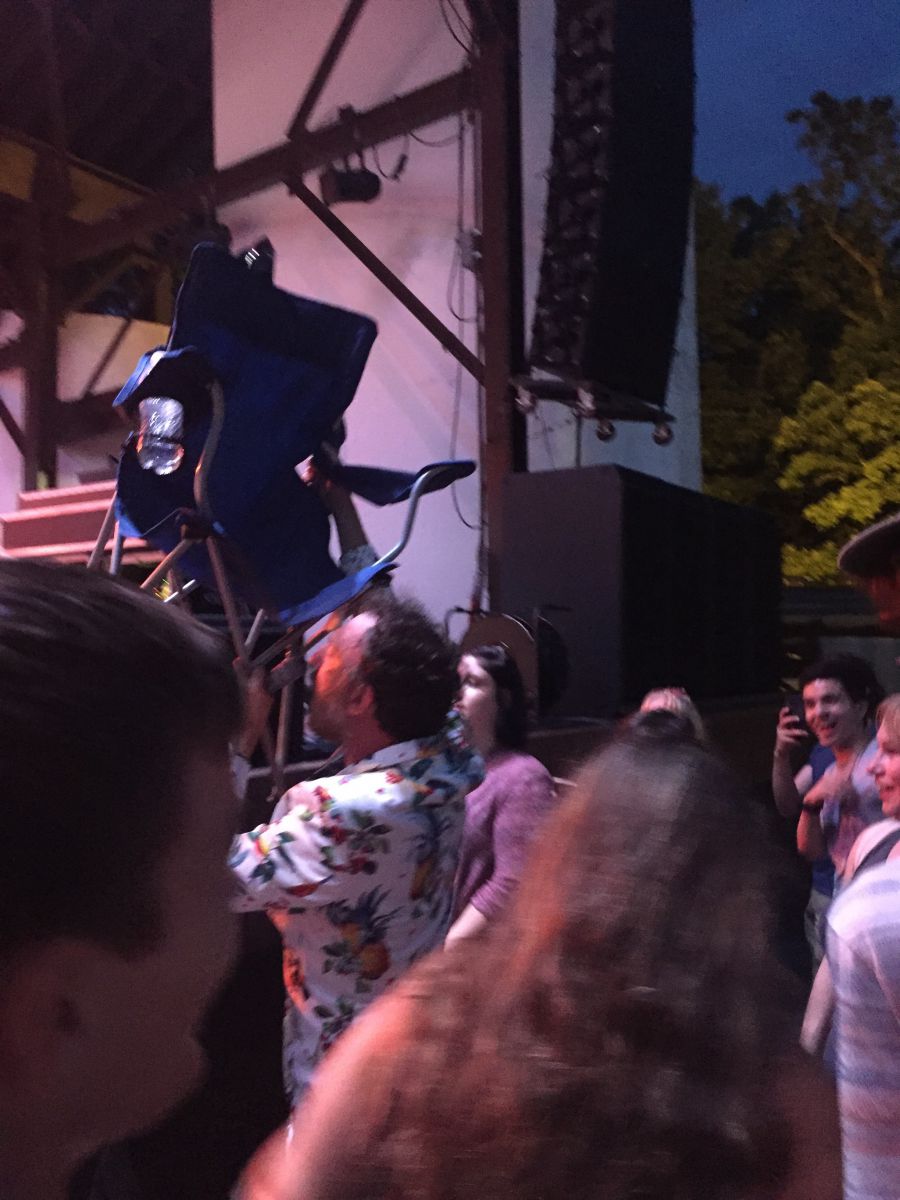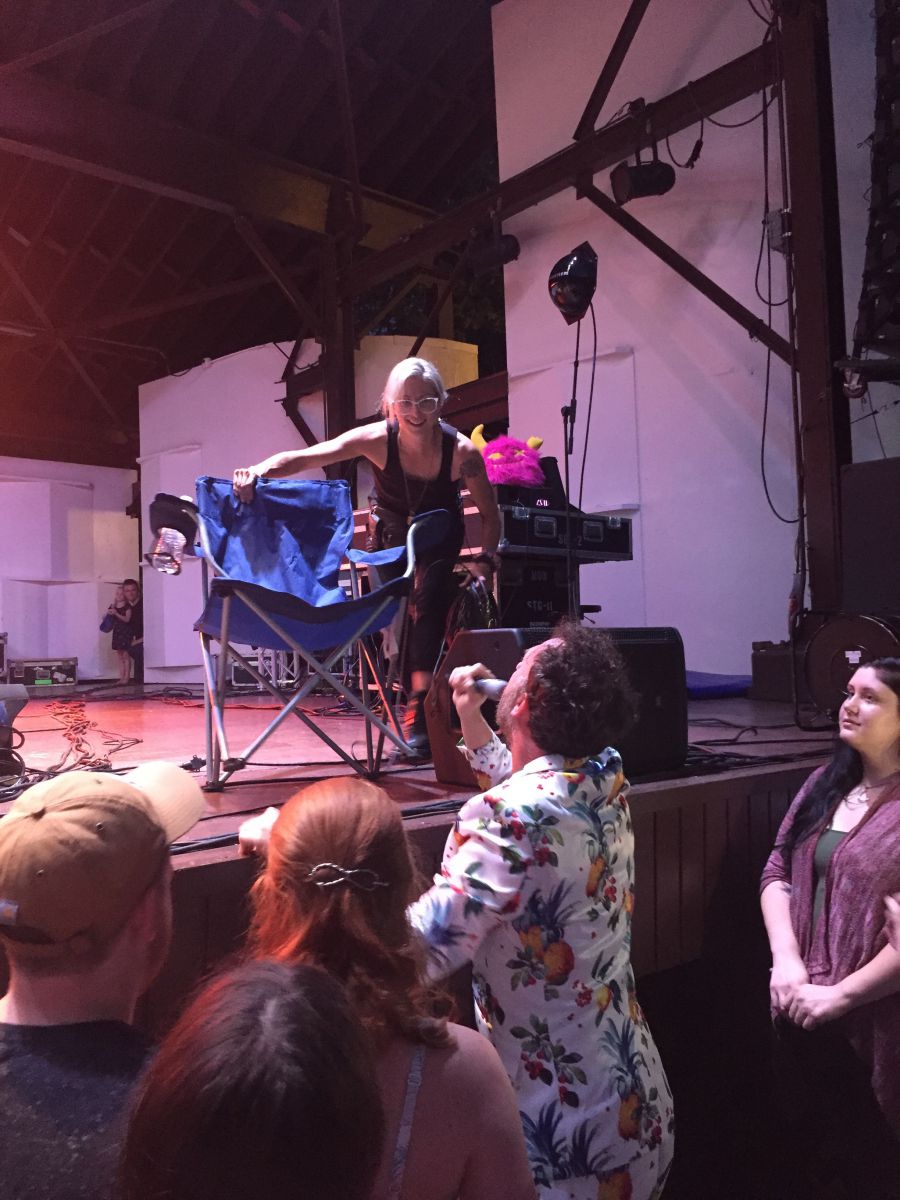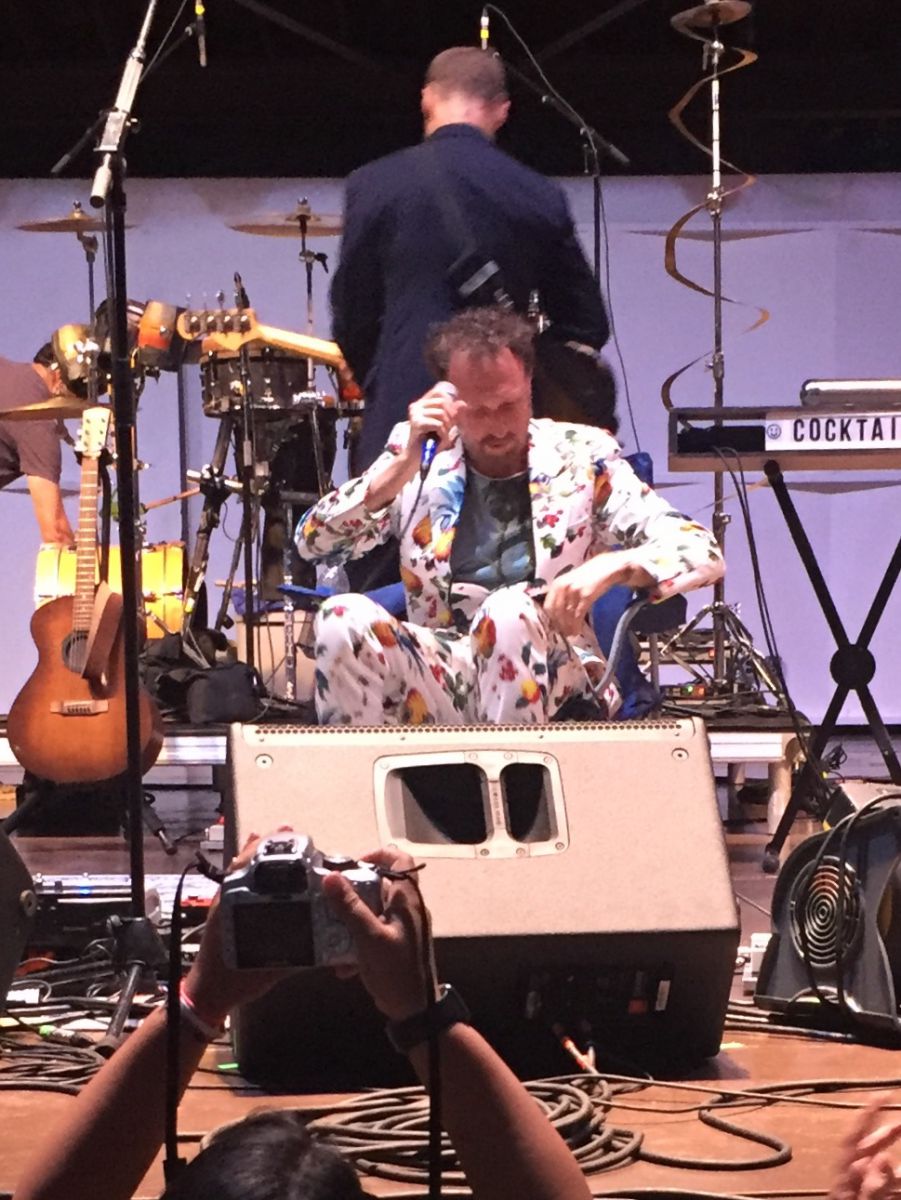 Guster – Sunday August 4 at Hartwood Acres
Guster is a pop-alternative band from Boston, Massachusetts and my first exposure to them came through an ears-unheard purchase of their third studio album from 1999 called Lost And Gone Forever. I was riveted by the smartness of the songwriting and the fetchingly interweaving vocal arrangements through tunes like "Fa Fa," "So Long," "Two Points For Honesty" and especially "Happier."
A few years later in 2003 when my first-born Moira went off to college, I fed her CD mixes through the U.S mail as any self-respecting music-nut papa would have done. She and her roommates loved the variety in these 18-count song sets and, Moira maintains, the Guster selections were often favorites.
As I was in the midst of writing this post about Guster's Hartwood Acres appearance this summer, Moira flashed me back to 2007 when she was a senior at Loyola University Maryland and the band happened to be headlining the university's one-day spring festival event on the Quad.
Moira, if she'd been born a boy, would certainly have been named Chip—as in Chip Off The Ol' Block. She had been weaned on music from an early age and following in her father's footsteps here—as well as bolstered by best friend & college roomie Bridget—Moira staked out front row territory for Guster's headlining set and then immediately post-performance, starting chatting up the band's guitar tech who had strode out to center stage to break down the equipment.
The result: Guitar tech Scooter and the band's drummer/percussionist Brian Rosenworcel ended up coming over to Moira and Bridget's house a couple of hours afterward, and the backyard party's ranks swelled with curious neighbors as word spread and a series of beer pong games erupted with Scooter & Bridget versus Moira & Bryan…
I never got that close to Rosenworcel on the evening of August 4th at Hartwood Acres. The best I can claim is that Mary Ellen and I snaked our way down to the front of the stage, and I managed to grab some quick shots of singer/guitarist Ryan Miller climbing off the front of the stage, going deep into the crowd, accepting a lawnchair from a fan, and then taking it back up to camp out in it for the remainder of a song.
Guster's performance that evening was inspiring and live Pop-Alternative at its finest, as the band cherry-picked nice nuggets from their catalogue of recordings that spans the mid-'90s through present day (as an example of their live prowess, here is an in-concert version of the band's tune "Happier" from a 2004 CD/DVD entitled Guster on Ice: Live in Portland, Maine in which you also get a real sense of their vocal arrangement sophistication: https://youtu.be/kKbKq0bEMVQ).
Anyway, back to Hartwood Acres 2019: They stopped at one point during their set to recount their very unique connection to the city of Pittsburgh. I will only provide a smidgeon of background on this, which is that in January 2016 Guster played an extremely short set during a snowstorm in an alley in front of a dumpster near the intersection of Sampsonia & Veto on the Northside, and then returned to Pittsburgh five months later to play the Three Rivers Arts Festival. Along the way between that January frigid pit stop performance and the Three Rivers gig, Guster cultivated a relationship with Pittsburgh Mayor's Bill Peduto. And…for all of the details, here is Guster's guitarist/singer Ryan Miller at the 2016 Three Rivers Festival performance (courtesy of a fan video) to clue you all in…Enjoy! https://youtu.be/qgTzY5s8ceg
_____________________________________________________________________
9/8/19.....DEATH WALKS BEHIND YOU
Rick Sebak is the one who steered me toward death. Knowing I am a self-professed one-note guy eternally drawn to the rhythm, one afternoon recently he told me of an article on music he'd run across, this one about the death of rock.
The article appeared on August 31st online in The Week, originally a British news magazine that started up in 1995 and launched a U.S. version in 2001, and which then went online in this country beginning in 2007. The article's author Damon Linker is a senior correspondent of TheWeek.com, and obviously felt that the time was nigh to explore the coming tsunami—the nearing demise of a host of our most famous, formative rock stars.
Linker's piece was entitled "The Coming Death of Just About Every Rock Legend" and he started off by citing a double meaning in the death of rock; first, there is "rock" defined as the popular music genre. Linker points out that this is certifiably on the wane in terms of cultural impact, and this is especially reflected in album & song sales levels which have been increasingly edged out of prominence over the past twenty years with the rise of rap and hip-hop, country music melding into the mainstream, and unstoppable pop.
Second, as Linker says, "…there's another sense in which rock is very nearly dead: Just about every rock legend you can think of is going to die within the next decade or so." When I went on to read his roundup of all of those who rock who are also fighting the clock, I felt a pang of great sadness. We are indeed headed for the mourning of a new day.
Linker laments this "tidal wave of obituaries to come. The grief and nostalgia will wash over us all. Yes, the Boomers left alive will take it hardest—these were their heroes and generational compatriots…Behold the killing fields that lie before us: Bob Dylan (78 years old); Paul McCartney (77); Paul Simon (77) and Art Garfunkel (77); Carole King (77); Brian Wilson (77); Mick Jagger (76) and Keith Richards (75); Joni Mitchell (75); Jimmy Page (75) and Robert Plant (71); Ray Davies (75); Roger Daltrey (75) and Pete Townshend (74); Roger Waters (75) and David Gilmour (73); Rod Stewart (74); Eric Clapton (74); Debbie Harry (74); Neil Young (73); Van Morrison (73); Bryan Ferry (73); Elton John (72); Don Henley (72); James Taylor (71); Jackson Browne (70); Billy Joel (70); and Bruce Springsteen (69, but turning 70 next month)."
Alrighty then…Musicasaurus.com readers who are anywhere even near the ages of the intrepid artistic travelers listed above will likely now feel the skittering of the Grim Reaper's touch on the back of his or her neck. I have felt that from time to time, of course, but I've never wheeled around to lay eyes on the bugger. I don't care if it's the black-robed, chess-obsessed pale dude from Bergman's The Seventh Seal, or the soft-toned, well-dressed Brad Pitt from Meet Joe Black, or even one of the many scythe-bearing hooded soul collectors who populate horror (and horrible) films—I ain't lookin'.
What CAN we do, all of us who are about to cross the Great Divide at some point way too soon?
We can live in the moment…and make these moments ones that are filled with music.
Musicasaurus.com now offers up some solace through song, digging into just a handful of the seventy-something artists mentioned above, and coming up with an amazing track from each of them for you to sample. It may end up being a commonly praised milestone from the particular artist's career, or an overlooked choice nugget buried on an album from yesteryear. Perhaps you'll even craft your own playlist from these offerings, hellbent on a heavenly mix. E N J O Y …
Bob Dylan – "Not Dark Yet" – written by Dylan when he was 56, the song appears on his 1997 album Time Out of Mind. It is a meditative masterpiece which Clapton, in a Rolling Stone magazine interview from May 17, 2016, says "…is one of the most beautiful songs ever written. It says everything about growing old and letting go of things." This could be one of Dylan's greatest triumphs in terms of poetry and poignancy, but the song's also aided by the album's intuitive producer Daniel Lanois who provides Dylan's front-and-center ruminations with a hypnotizing blend of instruments and pacing. This is wondrous... https://youtu.be/RZgBhyU4IvQ
Roger Waters and David Gilmour – "The Great Gig In The Sky" – Waters and Gilmour were 30 and 27 years old respectively when they were in the the Abbey Road studio with engineer Alan Parsons working on 1973's Dark Side Of The Moon. "The Great Gig" is all instrumental save for some snippets of muted spoken word at the outset. The rest of the song is taken by storm by Clare Torry, an EMI Records employee and studio session singer who provides the soul-searing wordless vocals that long ago elevated this song to legendary status with the band's devotees. There's not a Floydian slip anywhere in her performance…The accounts of the song's origins and the recording process vary, but keyboardist and composer Rick Wright is said to have had death in mind when initially creating the piece, stemming from the band's often frantic travel schedule on airplane flights and on the highways in Britain and the USA. Whatever the source of inspiration, the song for some fans speaks to this theme of death in the way that Torry at first wordlessly wails and rails against the universe, eventually then projecting calm acceptance by the song's conclusion. https://youtu.be/mPGv8L3a_sY
Brian Wilson – "Til I Die" and "Surf's Up" – Musicasaurus.com has deep reverence for the 1971 album Surf's Up principally because the boys had shifted gears from their songs about cars and girls and sun and sand, and had moved into other themes and more sonic experimentation. Brian by that point was—ahem—going on trips without ever leaving his house, so brother Carl emerged as a strong bandleader and producer, co-writing the album's lush opener "Feel Flows." But the last two songs on the album are Brian's: "Til I Die" and the title song "Surf's Up" (co-written by Van Dyke Parks). Crystalline harmonies and stellar production abound…Wilson was 29 years old at the time. ("Til I Die") https://youtu.be/eXZ_L6zJn1c ….. ("Surf's Up") https://youtu.be/v75f5W6LgLM
Carole King – "Beautiful" – The artist was only 29 when Tapestry was unfurled for the record-buying public. "Beautiful" is just one of the gems from this 1971 album and King recalls that it came to her spontaneously and unselfconsciously. The song of course figures prominently in the 2014 Broadway musical Beautiful: The Carole King Musical. https://youtu.be/6ZC17DIsDaQ
Neil Young – "Comes A Time" – This is the title tune of Young's ninth studio album released in 1978 when the artist was 33 years old. It's feel-good & fiddle-fueled, buoyed by the harmony vocals of accompanist singer Nicolette Larson. Young is of course still coursing along at 73, but Larson's time came when she succumbed to a combination of liver failure and cerebral edema (an accumulation of fluid in the brain) in 1997. Larson was 45. https://youtu.be/qxH_4e7W7hc
Mick Jagger and Keith Richards – "Dancing With Mr. D" – One has to throw about 120 scribbled slips of paper into a hat, and just pull one out—there are too many major songwriting achievements by this duo. So…we'll go with "Dancing With Mr. D" from 1973's Goats Head Soup album, when Mick & Keef were just turning 30—and maybe mulling their mortality? "Down in the graveyard where we have our tryst / The air smells sweet, the air smells sick / He never smiles, his mouth merely twists / The breath in my lungs feels clinging and thick / But I know his name, he's called Mr. D / And one of these days, he's going to set you free." https://youtu.be/r6huPIAdhh0
Van Morrison – "Tupelo Honey" – Van the Man was living in Woodstock, NY around the time he was writing songs for his 1971 album Tupelo Honey, but then he headed west to live in Marin County, California and there the record came to life. It was the fifth solo album from this 26-year-old Irish singer-songwriter who had found his initial calling in rhythm and blues laced with rock, country and jazz-inspired instrumentation. Reportedly Dylan once remarked that the title song had always existed, and that Morrison was just the vessel through which it flowed. https://youtu.be/QGkQ4mPiyoU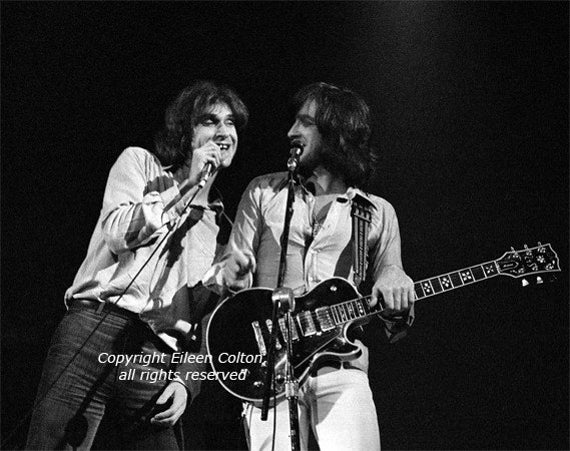 Ray Davies – "Life Goes On" – Musicasaurus.com appreciates Ray Davies the wordsmith, but also Kink brother Dave, who never got his full due and was largely just thought of as "the guitarist in the band." Both of the brothers' talents are on full display on this all-but-forgotten track on the 1977 album Sleepwalker. Dave Davies peals off some great riffs here, while big brother Ray—33-years-old and the writer behind the song—sings about making the most out of Life and preparing for the inevitable: "Life goes on, it happens every day / So appreciate what you got before it's taken away / Life will hit you when you're unprepared / So be grateful and take all that you can while you're there / Get that frown off your head, 'cause you're a long time dead / Life goes on and on and on / Life goes on and on and on." https://youtu.be/Pu5Ugs4piJg
Joni Mitchell – "My Secret Place" – Mitchell was well past her folkie beginnings and blazing with experimentation at the age of 45, when she recorded her 1988 album Chalk Mark In A Rainstorm. This track is a duet with Peter Gabriel, recorded in Bath, England at the latter's in-home studio. Though the lyrics are about two people moving toward intimacy, it's a song that cries for high volume on living room speakers—the better to hear the complex yet soothing sonic touches, and the masterful tapestry of the lead vocals and the swirling background harmonies. https://youtu.be/50tn9Es5ORU
Bryan Ferry – "Kiss And Tell" – Ferry contributed mightily to Roxy Music, but Musicasaurus.com loves his individual releases. His solo work is characterized by cool romantic croonings and a musical palette dominated by synthesizers, guitars and insistent bass—all nudging the listener toward the nearest dance floor. 1987's Bete Noire, released when Ferry was 42, featured talented contributors including guitarists David Gilmour (Pink Floyd) and Johnny Marr (The Smiths). "Kiss and Tell" is an impossible-to-resist dance tune, but it's not merely that—the song is slickly produced, churning and hypnotic, and masterfully straddles the line between dance pop and alternative. https://youtu.be/Yr-GzDb643M
Jackson Browne – "For A Dancer" – Browne at the tender age of 26 wrote this meditation on mortality and may have captured for all time—especially for the rudderless amongst us—a perfect encapsulation of life's mystery and death's inscrutability. Musicasaurus.com could certainly list out some lyrics here, but it's best—especially if this is one's first exposure to the tune—to take in the song and its sentiments from start to finish. "For A Dancer" is from Browne's 1974 album Late For The Sky. https://youtu.be/XnT_PbnpijE
Paul Simon and Art Garfunkel – Paul Simon's "St. Judy's Comet" and "Learn How To Fall" – After Simon & Garfunkel dissolved as a duo, Simon went solo and arguably reached his zenith as a composer, arranger and performer. I'm not as enamored by Garfunkel's solo output though he does command a song and gives it his over-emoting all…Choice cut from Simon: A tie between "St. Judy's Comet" and "Learn How To Fall," both from the 1973 album There Goes Rhymin' Simon, recorded when the artist was 32 years old. Regarding Garfunkel? I think we should just move right along here, and that's "All I Know"… ("St. Judy's Comet") https://youtu.be/n0U6Ut8YeEQ … ("Learn How To Fall") https://youtu.be/VqlaLXAoJN0
Bruce Springsteen – "Tenth Avenue Freeze-out" – This song contains the fan-favorite shout-out to blood brotherhood, when Bruce at the start of the third verse sings "When the change was made uptown / And the Big Man joined the band." Obviously that moment in "Tenth Avenue Freeze-out" may STILL lead to a moistening eye, even though it's been a little over 8 years since sax man Clarence Clemons departed this world. Bruce wrote the song for his album Born To Run in 1975 when he was 26 years old. As of this writing, Bruce is now 69—the age of Clemons when he passed away. https://youtu.be/g5mxxU2R2sc
_____________________________________________________________________
8/25/19.....GOIN' BACK
Musicasaurus.com just can't let go of a couple of things right now, so I'm goin' back to 1) the August 11th post's summer party playlist that illustrated the connecting threads from one song to the next, and 2) Woodstock.
Part One: We'll start out with seven NEW songs that you can add to the "song threads" playlist that is outlined in the 8-11-19 post in this A DAY IN THE LIFE section.
Then in Part Two, we'll take one last look at Woodstock (the 50thAnniversary hubbub has died down and is runnin' on fumes, so this will be our last-gasp mention before we turn the shovel over).
PART ONE: (Songs to add to the 8-11-19 post's suggested playlist of songs with connecting threads)
1. Little Wing…..Sting covering Hendrix / …Nothing Like The Sun (1987) – After Sting fled the Police he fired up a solo career, surrounding himself with topnotch musicians and collaborators including, on this second solo effort Nothing Like The Sun, the renowned jazz arranger Gil Evans. Evans was most acclaimed for his late 1950s/early 1960s work with Miles Davis (Miles Ahead, Porgy and Bess, Sketches of Spain) and here he provided Sting with a rich orchestral cushion while ace instrumentalists Hiram Bullock on guitar and Branford Marsalis on saxophone peppered the dream wave. https://youtu.be/4w-Tgx8voDw
2. Voodoo Chile (Slight Return)…..Anqelique Kidjo covering Hendrix / Oremi (1998) – I first became aware of West African singer Kidjo in 1998 upon the release of her fifth album Oremi, which showcases this artist's unquenchable thirst for pushing boundaries and collapsing traditions. While the whole album is a "world music" treat full of blended African rhythms laced a bit with American R & B, it is the lead-off tune that will all but peel back your scalp to bare the pleasure centers. Your limbs might twitch as well. This is a towering reinvention of Hendrix that has to be heard. https://youtu.be/36bGFi1U_vw
3. Purple Haze…..The Cure covering Hendrix / Stone Free: A Tribute to Jimi Hendrix (1993) – British band The Cure formed in 1976, all ghoulish-lookin' and goth-like. Their first album came out in 1979 and they climbed the pop charts only on their home turf until the mid-to-late 1980s when they finally pierced mainstream consciousness outside of the UK. Check out this "one-off" they recorded for the compilation Stone Free: A Tribute to Jimi Hendrix; it's sublimely spooky and mesmerizing. I don't picture anyone doing "air guitar" to this one; I DO see head bobbing and black lipstick smiles. https://youtu.be/JS68hRFM_QI
4. All Along The Watchtower…..Jimi Hendrix covering Bob Dylan / Electric Ladyland (1968) – Even diehard Dylan fans say that Hendrix's version of "Watchtower" is a triumph of reinvention, a cover that wrestles with the original and practically challenges it to come back out in the open and re-stake its claim. But lil Bobby Zimmerman may have met his match with this one. Hendrix turned the tune into a powerhouse of psychedelic-laced rock 'n' roll that hit the USA's Top Twenty as a single released about a month before Electric Ladyland hit record shelves, and the song also became an FM radio staple that, amazingly, sounds as vital today as it did upon first release. https://youtu.be/TLV4_xaYynY
5. Stuck Inside of Mobile With The Memphis Blues Again…..Bob Dylan / Blonde On Blonde (1966) – This is Dylan in Nashville, with Robbie Robertson and Al Kooper and Nashville studio musicians. This is one of musicsaurus.com's favorite Dylan tracks principally because of the rhythm and the flow and Dylan's vocal tackling. The lyrics have bright spots and brief snippets of insight though they're all famously fragmented and plucked arbitrarily; interesting that John Lennon commented on this, posthumously, when Yoko in 1998 released an anthology of Lennon's demos and unreleased works that contained a song called "Satire #2." This track was one of Lennon's home recordings from 1979, and reportedly includes the line "Stuck Inside of Lexicon with the Roget's Thesaurus Blues Again." https://youtu.be/3kh6K_-a0c4
6. Like A Rolling Stone…..Rolling Stones covering Dylan / Stripped (1995) – After these bad boys' Voodoo Lounge Tour the band released this aptly named album, a collection of live tracks as well as in-studio recordings that were one-take performances with no overdubs. "Like A Rolling Stone" is a treat, recorded in July 1995 at London's Brixton Academy, a hallowed concert spot with an intimate capacity of just under 5,000. If you have seen the Stones sporadically through the ages you know that they can be firing on all cylinders or sloppy but still engaging. Here on Dylan's tune Mick is in fine form and the other individuals in the band power through it with conviction—just like a Rolling Stone. https://youtu.be/BkN6bhp6UZM
7. (You Gotta Walk And) Don't Look Back…..Peter Tosh with Mick Jagger / Peter Tosh' Bush Doctor (1978) – Tosh never quite gained the mass recognition that Bob Marley enjoyed, but he was instrumental in the formation of the Wailers in the mid-to-late 1960s along with fellow Jamaicans Bob Marley and Bunny Wailer. On board for the first two albums (Catch A Fire and Burnin', both from 1973) Tosh departed the group in 1974 and started a smokin' solo career two years afterward with the album Legalize It. In 1978 Tosh released Bush Doctor, having recently signed to the Rolling Stones record label, and Mick Jagger joined Tosh on the vocals of the lead-off track "(You Gotta Walk And) Don't Look Back." It's a joyous bit of rooster strut reggae. https://youtu.be/8c-pl5APO5E
PART TWO (Woodstock):
The original Woodstock Music & Art Fair from 50 summers back is still whirling around my head like one of the copters who shuttled in the bands over that mass of humanity and the roads-turned-parking lots back in August of 1969. I wanted to swoop in on three less-than-household names who played the festival to give them their due, principally because if they don't get this shout-out now, it may be the 100thanniversary of the festival—in 2069—when they get their next crack at any rekindled-for-the-moment fame.
No time like the present to do this. Musicasaurus.com knows that he personally won't be stimulated at all by the 100th when that rolls around…
Here's the official line-up of Woodstock 1969, in order of performance:
Friday: Richie Havens, Sweetwater, Bert Sommer, Tim Hardin, Ravi Shankar, Melanie, Arlo Guthrie and Joan Baez.
Saturday: Quill, Country Joe McDonald, John Sebastian, Keef Hartley Band, Santana, Incredible String Band, Canned Heat, Grateful Dead, Leslie West & Mountain, Creedence Clearwater Revival, Janis Joplin, Sly & The Family Stone, The Who and Jefferson Airplane.
Sunday into Monday: Joe Cocker, Country Joe & The Fish, Ten Years After, The Band, Johnny Winter (whose set bridged the gap from Saturday night into Sunday morning), Blood Sweat & Tears, Crosby, Stills, Nash & Young, Paul Butterfield Blues Band, Sha Na Na and Jimi Hendrix (whose star-spangled set began around 9am Monday morning).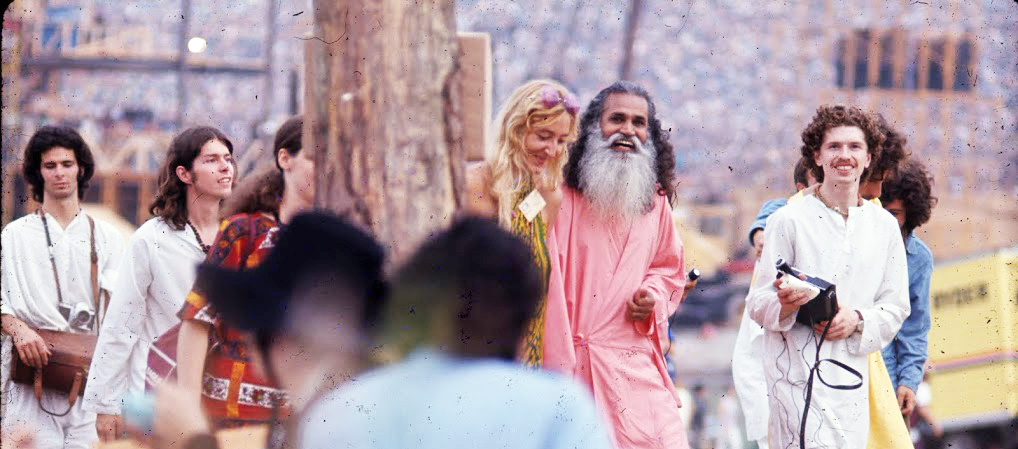 The three bands we'll shed a little light on here are Sweetwater, Quill and Keef Hartley Band. But wait, there's another unheralded Woodstock individual who graced the stage before any of the performers—Sri Swami Satchidananda (1914-2002) who was born in India and became a prominent religious figure and spiritual master, also bringing the Yoga tradition to America (circa 1966) initially through his friendship with Pop artist Peter Max.
Satchidananda opened up hearts and minds in the West back then, inspiring the very idea of integrative health, and among other achievements he founded the first Yoga magazine in America and opened the first vegetarian health food store in New York City.
Here literally in the spotlight at Woodstock, he addressed the crowd of 400,000+ with these opening words: "My Beloved Brothers and Sisters: I am overwhelmed with joy to see the entire youth of America gathered here in the name of the fine art of music. In fact, through the music, we can work wonders. Music is a celestial sound and it is the sound that controls the whole universe, not atomic vibrations. Sound energy, sound power, is much, much greater than any other power in this world. And, one thing I would very much wish you all to remember is that with sound, we can make—and at the same time, break. Even in the war-field, to make the tender heart an animal, sound is used. Without that war band, that terrific sound, man will not become animal to kill his own brethren. So, that proves that you can break with sound, and if we care, we can make also." (Musicaurus.com applauds this opening speech as a wonderful tone setter for the three days of peace & music, but cautions that not all of the festival goers who bathed in these remarks likely fully grasped the message; it might have been a bit head-scratchin' for some, with all that brown acid "upstairs" snaking through their synapses.)
SWEETWATER – Day One – Friday evening, 6:15 – 7pm / August 15th
The band members had gravitated toward each other originally through hangouts at L.A.-area coffee houses in the 1960s, and the group whipped up a song style that incorporated rock, folk and jazz through instruments not borne by most of the emerging rock bands of the day—Sweetwater honed their craft on flute, cello and conga in addition to sporting the traditional guitar-keyboard-bass-drums line-up. By the time the Woodstock opportunity came about, the band was already opening for major rock acts on tour and appearing on variety television shows including Red Skelton's program, Playboy After Dark and American Bandstand.
At Woodstock, the band was plagued by distractions of sound and vision; the stage monitors were faulty, and the band contended with bustling film crew members and a swarm of media photographers all jostling at the lip of the stage. A greater misfortune for the band was that not one of their songs made it onto the 1970 Woodstock film nor the accompanying soundtrack album. The band splintered in 1971 with the members straggling off to pursue other musical projects and/or to just open up other doorways in life.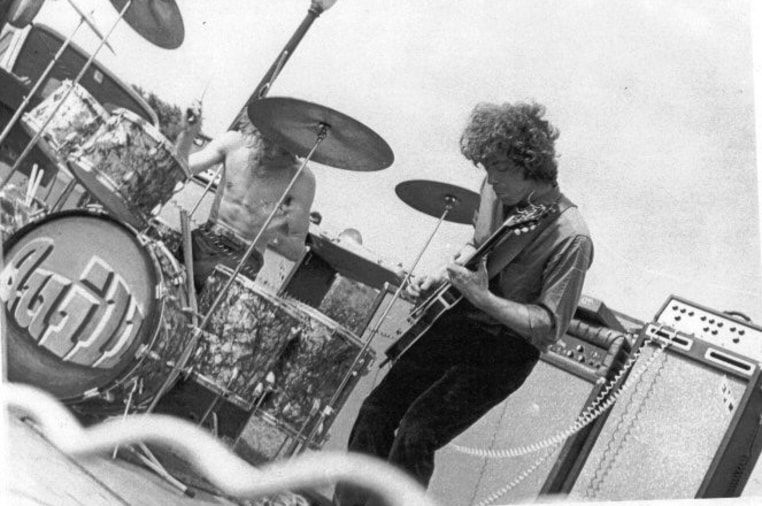 QUILL – Day Two – Saturday afternoon, 12:15 – 12:50pm / August 16th
Quill was a hard-driving, psychedelic and jazz-tinged rock band from Boston with real legs. For the year or two prior to Woodstock, the band was amassing fans and gaining traction in Bean Town, sometimes outselling the new and ascending bands who were passing through the market on the winds of mounting press and word of mouth. According to boston.com's James Sullivan in an August 9, 2009 interview with the band, they "came to the attention of Woodstock organizers a few months before the festival, during a memorable jam with Jimi Hendrix and Stephen Stills at a midtown Manhattan nightclub. After performing some public-service gigs on behalf of the promoters, the unheralded Quill had the distinction of being the first rock band to take the stage at Woodstock."
This was on Saturday, the second day of the festival and the first to feature non-folkies. Quill pounded out a four-song set, but failed to connect with the mass of humanity perhaps due in part to, once again, a troubled sound system. Sullivan's boston.com piece points out that at Woodstock the heavy rainstorms often contributed to spotty equipment checks, and the band ultimately learned that the audio tracking of their performance didn't match up to the footage as shot. Consequently the group didn't make it into the movie that emerged from the festival, wiping away the band's real chance for widespread recognition and success.
KEEF HARTLEY BAND – Day Two – Saturday afternoon, 4:45 – 5:30pm / August 16th
Hartley was a Englishman who emerged early in the '60s rock scene, starting out as a drummer in Rory Storm and the Hurricanes (replacing Ringo Starr, who was exiting for The Beatles). Hartley also played with fellow Brit John Mayall for a spell, and then cobbled together a band of his own which produced a stew of rock and jazz rooted in the blues and punctuated by a crisp horn section of trumpets, saxes and flute. The band had just recently released their 1969 debut album Halfbreed when they ventured across the pond to tour the States—and their first stop turned out to be the Saturday stage at Woodstock.
According to the official website of Bethel Woods Center For The Arts, the venue-and-museum now gracing the grounds of the original festival, Keef Hartley Band's manager was less than prescient when approached by the festival's filmmakers about the taping of his band's set. When the camera crew presented their standard release form for the rights to film the group's performance, the manager insisted on being paid $2,000 in cash on the spot. That sealed the band's fate. There would be no Keef Hartley Band in the Woodstock film nor on the successful soundtrack album that followed.
_____________________________________________________________________
8/11/19.....ONE THING LEADS TO ANOTHER
Being a one note kind of guy and a victim of over-preoccupation with music in my daily life, I think I would sometimes welcome thoughts on any other subject to enter my brain and scrub some of the sidewalls up there, flushing away all those musical cling-ons.
A case in point: I can be at a party with friends and deep in conversation one-on-one, and then in the background I hear the host's next tune over the nearby set of Sonos, one that I know and treasure because it happens to also be in my musical collection at home. Though at that point I am still immersed in my face-to-face with the friend, my brain switches from the conversation to the flood of artistry coming out of those little white speakers and I'm a goner.
My mind wraps around that song and I lose myself in it, all the while maintaining eye contact with my friend but not…hearing…another…word…he or she…says. I manage a smile or a nod, or even a "Hell, yes! I agree!" to hold up my end of the conversation, subconsciously hoping I can pass as a still-interested party in the exchange…
There. Now that I have sacrificed at least five friendships that I can think of, I'll move on to the proposed party mix below.
I was thinking lately that a perfect mix of party music would be full of threads. Subtle or not so subtle connections between the songs that partygoers—especially the ones who are as steeped in music as I am—could identify and appreciate. So for certain people at the gathering, it would be "double your pleasure" time: They would on the surface love the songs themselves as separate, stirring works of art, but then feel a special tingle upstairs as the song list rolls by and they're mentally making the connections that exist from one artist's song to the next.
You'll see what I mean. Below are 24 songs, and for the first 18, the links between them are done in pairs of songs. Then with 19-20-21 and 22-23-24, we end the "thread mix" with two trios of linked tunes…ENJOY.
1. Once You Get Started…..Rufus featuring Chaka Khan / Rufusized (1974) – A funkin' great groove and a wailin', sailin' triumph for lead singer Khan. https://youtu.be/bUKVTLWa_fM
2. Down in Hollywood.....Ry Cooder / Bop Till You Drop (1979) – Cooder brings in Khan for a guest vocal appearance on this slow, slinky infectious duet. https://youtu.be/d4lmMBHlAS4
__________
3. It's My Life…..The Animals / The Best of The Animals (1966) – Lead singer Eric Burdon's gritty vocals and the song's even grittier lyrics made this tune a classic. Reportedly the first television glimpse for USA viewers came on the Hullabaloo television show in October 1965 when the band sang over taped music in a setting that looked like hunter's den—where young women had their heads poking out of holes in the wall as if mounted there as animal trophies. Thankfully it was campy, not creepy. https://youtu.be/H3GNKUE-d9c
4. Spill The Wine…..Eric Burdon & War / Eric Burdon Declares "War" (1970) – Very shortly after The Animals disbanded in 1969, Burdon joined the California funk band War. https://youtu.be/NXavy54NiDw
__________
5. Ain't Too Proud To Beg…..The Temptations / Gettin' Ready (1966) – David Ruffin leads the charge on this soul/R&B classic backed up by the other Temptations and renowned Motown-label studio musicians The Funk Brothers. https://youtu.be/crWSG6liT5Y
6. Papa Was A Rollin' Stone…..David Lindley & El-Rayo X / Very Greasy (1988) – The band is headed up by longtime Jackson Browne guitarist/multi-instrumentalist David Lindley and the song—originally released on Motown Records in 1972 as performed by The Undisputed Truth—was a subsequent huge and enduring hit for The Temptations in 1973. Lindley's infectious cover from 1988 is all reggae-splashed funk, a well-conceived far cry from the soulful Temps' version. https://youtu.be/Dnbav8hd3jQ
__________
7. Here Comes My Girl…..Tom Petty & The Heartbreakers / Damn The Torpedoes (1979) – One of Petty's best—hints of the Byrds; rhythmic and anthemic. The half-singing/half-talking approach on the verses ratcheted up the emotional heft of the song like nothing else. https://youtu.be/UVC2dTO3b50
8. End Of The Line…..Traveling Wilburys / Traveling Wilburys Vol. 1 (1988) – This band of brothers release was a fluke. Petty, Bob Dylan, Jeff Lynne (of ELO), Roy Orbison and George Harrison had teamed up to produce a B-side for a Harrison single from the latter's latest album Cloud Nine, and lucky for us, things congealed into a full-blown album from the five. https://youtu.be/stxftCSiVBc
__________
9. I Gotta Right To Sing The Blues…..Toots Thielemans / One More For The Road (2006) – This selection is from a tribute album that harmonica virtuoso Thielemans put together featuring all composer Harold Arlen's songs as vocalized by a handful of special guests. This track features singer Beth Hart. https://youtu.be/RVjifqmCZHg
10. I'll Take Care Of You…..Joe Bonnamassa / Beacon Theatre: Live from New York (2012) – This track from blues-rocker Bonnamassa features guest vocalist Beth Hart in a completely different setting. Where she had swung with jazz player Thielemans, here she cuts loose with raw, rising passion. https://youtu.be/Doy72nl9ZU4
__________
11. In Your Eyes…..Peter Gabriel / So (1986) – A classic from Peter Gabriel, immortalized—for hip film followers—in Cameron Crowe's 1989 movie Say Anything that had as one of its pivotal scenes a young John Cusack hoisting a boom box, all doe-eyed and lovelorn. https://youtu.be/78U-WMJ7F3E
12. Solsbury Hill…..Steve Hunter / Tone Poems Live (2014) – Hunter, a rock guitarist perhaps best known for sharing guitar-hero duties with Dick Wagner on the 1974 live Lou Reed album Rock N' Roll Animal, was also the guitarist that played on Peter Gabriel's 1977 solo album which brought us "Solsbury Hill." This instrumental version by Steve was recorded live-in-the-studio in 2014 with band mates that included longtime Gabriel compadre bassist Tony Levin. https://youtu.be/QlRw98xX7K4
__________
13. The Pink Panther Theme…..Bobby McFerrin / Son of the Pink Panther soundtrack album (1993) – Italian actor/comedian/director Roberto Benigni starred in this 1993 film that turned out to be swansongs for both director Blake Edwards (who retired) and film-scorer/composer Henry Mancini (who expired). Amazing jazz vocalist McFerrin arranged and performed this time-honored nugget of popular culture, and it is a truly mesmerizing version. https://youtu.be/LxFFhfT8dXI
14. The Peter Gunn Theme…..The Silencers / Rock 'N' Roll Enforcers (1980) – The Silencers were a power-pop, New Wave, whatever-you-want-to-call-it band out of Pittsburgh, PA that scored a signing with CBS' sub-label Precision Records & Tapes around the same time that Donnie Iris and the Iron City Houserockers were bursting onto the national scene as well. Warren King wields the guitar in this turbocharged version of Henry Mancini's classic. https://youtu.be/_4slkIbyOlU
__________
15. Once In A Lifetime…..Talking Heads / Remain In Light (1980) – The quirky, herky-jerky song that asks the important questions in Life. In an interview with NPR, Byrne once said: "We're largely unconscious. You know, we operate half awake or on autopilot and end up, whatever, with a house and family and job and everything else, and we haven't really stopped to ask ourselves, 'How did I get here?'" https://youtu.be/CHatn3_UxEU
16. Once In A Lifetime…..Big Daddy / Cutting Their Own Groove (1991) – And you may ask yourself, "Why does a Talking Heads song now sound like it was plucked from Harry Belafonte's banana boat?" Big Daddy, a band of musical satirists in love with the late 1950s & early 1960s, take modern tunes and then dress 'em and regress 'em. You may find yourself liking this one as much as the original. https://youtu.be/mVbRE_ZzD6o
__________
17. Rock The Casbah…..The Clash / Combat Rock (1982) – The Clash's record company CBS reportedly coined the marketing tagline "The Only Band That Matters" around the time their double album London Calling was released in the USA in January 1980. True dat. This particular gem from Combat Rock was reportedly inspired by the ban on Western music in Iran after the 1979 Islamic Revolution. https://youtu.be/0pCFVX6lzHU
18. Train In Vain…..Dwight Yoakam / Under The Covers (1997) – Country singer-songwriter Yoakam takes this train from its roots in London all the way to Nashville, but it's clearly not a derailment. This is an intoxicating "take" on the original song by The Clash. https://youtu.be/q_6WXMJ3saw
__________
19. Cold Shot…..Stevie Ray Vaughan & Double Trouble / Couldn't Stand The Weather (1984) – This was Vaughan's second album, and he was quickly building a rabid fan base of followers who thought he wasn't merely a player, but a channeler. He seemed heavenly inspired especially in his concert performances, and I actually caught him "live" in the late 1970s at a club called the Evergreen Hotel on Babcock Boulevard in the North Hills of Pittsburgh. Even then, he was blowing away crowds and bringing on believers. https://youtu.be/2O_ke8MTjfE
20. Let's Dance…..David Bowie / Let's Dance (1983) – Stevie Ray Vaughan was brought into Bowie's sphere when the latter saw his performance at the Montreux Jazz Festival in Switzerland in 1982. Vaughan's guitar slinger contributions are more concise here than on his own solo works, of course, but they are no less powerful. The song itself is a hypnotic meld of rock, disco and soul. https://youtu.be/kg78UxE-BNA
21. All The Young Dudes..…Mott the Hoople / All The Young Dudes (1972) – Bowie wrote the song expressly for this fellow-Brit glam rock band who were in the throes of lack of success + an abundance of impatience from their current record companies (Island in the UK and Atlantic across the pond). Bowie's gift ignited the band—wham, bam, THANK you, glam—and this, their fifth studio album, charted higher and mightier. https://youtu.be/yNHdPPJGowY
__________
22. The Fever…..Southside Johnny and The Asbury Jukes / I Don't Want To Go Home (1976) – The song was written by Bruce Springsteen and recorded in 1973 in the studio sessions that led to Springsteen's second album The Wild, The Innocent & The E-Street Shuffle, but the song didn't end up appearing on that release. Three years afterward Southside Johnny and his Jukes covered it on their 1976 debut album, and it helped boost the band's career as well as shore up the success of the Jersey sound. https://youtu.be/rYFVplS3mYY
23. Because The Night…..Patti Smith Group / Easter (1978) – This song started out as a half-formed Bruce tune during 1977's sessions for recording of the artist's Darkness on the Edge of Town album, but it was handed over to Patti Smith via the young producer they had in common at the time, Jimmy Iovine. Patti lyrically fleshed out the tune and included the final product on Easter (there's an explosive live version of this song by Patti Smith Group available on YouTube, from the artist's 1978 appearance on the 1971-1988 BBC2 music series Old Grey Whistle Test. THIS is the way to best experience the power and passion of Patti). https://youtu.be/0od03LbKM1k
24. Spirit In the Night…..Bruce Springsteen / Greetings from Asbury Park, N.J (1973) – The Boss recorded this song for his debut album that hit stores in early 1973, and worshippers weren't all that widespread. People "in the know" though—largely from Jersey and Philly at that juncture—were already fervent fans of Springsteen's live shows and their word-of-mouth was just really beginning to kick in with the release of this first album. But this is where it all started, and on Greetings from Asbury Park, N.J., musicasaurus.com's favorite track is "Spirit in the Night." Cranked up to ten, this song reveals the essence of the evolving Bruce—power, poetry, and above all, passion. https://youtu.be/hFEeqfqoTSY
_____________________________________________________________________
7/28/19.....END OF THE LINE
As of this post dated Sunday, July 28, 2019, my friend Sean McDowell has only three days left—a statement I know that lacks a bit of context and thus sounds creepy, maybe even ominous…so allow me to elaborate.
Sean has three days left at 102.5 WDVE-FM, where he's been the afternoon deejay on since April 1993. Twenty-six years in the chair there, spinning classic rock and letting his huge body of listeners know—through tantalizing bits of rock trivia delivered in his trademark laidback style—that Rock continues to be alive and well. His on-air career actually began in 1978 here in Pittsburgh at another radio station, so Sean is a forty-one year Steel City veteran of peddling songs and artist tales and tidbits over the airwaves, and it all ends July 31st when he retires from the business…
Sean's unflagging passion for rock 'n' roll music runs deep and musicasaurus.com, about three years ago, plumbed those depths through a long interview over lunch in a Mount Lebanon restaurant just outside of Pittsburgh.
The following are excerpts from that 2016 musicasaurus.com interview.
M: I want to ask you about your early days. Actually a little bit about your father, Al McDowell. He was a renowned Pittsburgh broadcaster, of course, and I'm curious to know if he somehow led you toward a path into media when you were younger.
SM: (smiling) He missed his first day of work because of me. At KDKA-AM radio—October 17, 1955. That was the day I was born, so he couldn't start! This was his first job in big-time media. He had been working at WEDO radio in McKeesport and the newspaper there as well. He was a Pitt guy, and had written for the Pitt News…Eventually he ended up being a TV guy.
My dad was at KDKA-AM until 1965. He was a union guy, and was fired by KDKA because of his union support. I think it was that year or 1966 that we had to move to Philly because my father got a job at WFIL-TV. Once again he got involved in union organizing and he got fired there, and we moved back to Pittsburgh where he got a job at WTAE-TV Channel 4. He was there until 1986 or 1987.
He retired from WTAE-TV—maybe more like shown the door, actually—but went back to KDKA-AM a few years after that, doing overnight talk on Saturday nights from 12 midnight to 5am.
M: So your father's media experience helped shape you a bit; how about your passion for music? I know you grew up, as did I, in the mid-late '60s with all of the social changes erupting, the youth movement, the explosion of new music—was this a breeding ground of sorts for you?
SM: Absolutely. I grew up with the Stones and Beatles, of course, but also Led Zeppelin, The Kinks, all of that. But AM radio back then was pretty rich before FM came around. I loved what AM radio had begun playing—the new music hits that deejay Chuck Brinkman played here in Pittsburgh, and even when my family moved to Philly for my father's job, I found another AM station there that played the same kind of great stuff. Motown music, Stax records, the Atlantic-label R&B stuff. Even today I listen to '60s and '70s R& B as much as the classic rock stuff I love.
My wife Cindi and I have gone to Detroit to tour the Motown studios, and to Memphis to the Stax Studios. These places are like meccas for music lovers. We found so many studios in Memphis to tour, like Sun Studios where Elvis and Johnny Cash recorded, and the first radio station where B.B. King had worked.
M: What was the very first concert you went to?
SM: I vividly remember my first show. It was The Doors in 1969 in Philadelphia. And the band was playing at basically some kind of boxing arena on 59thStreet. Many years later I was interviewing the late Ray Manzarek and also Robbie Krieger of The Doors, and mentioned that my first concert ever was seeing them in Philly. And they BOTH remembered the venue after all those years. Manzarek said he remembered the line of security guys—not policeman, but dressed like policemen; maybe friends of the boxing arena owner?—escorting the band through the crowd and up onto the stage that was in the middle of that big square room. I was only fourteen, and I remember my next-door neighbor's mother led us into the venue and to our seats like little ducklings. There were four of us, and we just followed her in, and everywhere around us people were smoking pot, and my friend's mother kept saying "Don't look around; don't pay attention to them."
M: What other concerts are favorites of yours? Ones that were truly memorable?
SM: Pink Floyd on their Dark Side of the Moon tour in 1973 at the Pittsburgh Civic Arena…The Stones in 1999 at the stadium in Columbus where the Buckeyes play…Led Zeppelin at Three Rivers Stadium in 1973…Stevie Wonder in 2007 at Mellon Arena; an incredible show where he started right off with "Uptight (Everything's Alright)"…Way back, I saw The Eagles when they were an opening act for Jo Jo Gunne at the Stanley Theater here in Pittsburgh in 1972…And I saw the Grateful Dead through the years, but I wasn't a Deadhead traveler. If they were in the area, I went to see them.
M: When did you get your first real job in the media?
SM: I started my radio career in 1978 at 104.7 WYDD-FM, New Kensington, right out of college. I was just as raw as could be, only having done some college radio before that, which was, you know, a bag of weed, a six pack and you go on the air and play whatever you want to play. Our radio station was right there in the cafeteria at the University of Dayton.
So Steve Downs was working at WYDD, and he was a University of Dayton graduate. I had written him a letter and included a tape of my work, but believe me, nobody ever sent out a worse demo tape than me. It was 1977, I was 22 years old, and I was horrible—but he hired me…He was the one who gave me my first shot in this business, so I can blame him for this! Mostly thank him, of course…
I started on the air middays at WYDD. I was as green as green could be. But I got better. Anybody who is my age from Pittsburgh and who remembers WYDD will remember the freeform days of that station, with jocks like Jack Robertson, Steve Downs and another of my heroes, Herschel. I got there towards the end of that, when consultants were coming into the mix more and more at Radio overall. When I arrived, they were starting to rein things in; we needed to be more hit focused, they said, and not play so much goofy shit…I was fired after 2 ½ years, around 1980—
M: Why were you let go?
SM: They said they were 'making a change'…But then I got a job at a small Washington, PA station called WYTK for a while and then actually sold cable TV door to door for about 9 months before Chuck Brinkman hired me as a deejay at FM 97 (96.9) in Braddock in 1981. It was a soft rock kind of station at the time, playing the hits of the day but also softer stuff like England Dan and John Ford Coley.
I spent 13 years there but FM97 went through a million format and call letter changes—FM97, then WHYW, then WMGY Magic 97, and then WRRK. A million owners and a ton of turn-over, and then we were all fired on a Friday morning on Feb 3, 1993—all 43 of us who worked there!—when the ownership changed hands and the station was sold…
I collected unemployment for a while, but then that same year I had a phone call from Gene Romano from WDVE, who had heard about the blowout. Gene called me and said "Do you want to do part-time at WDVE?" I said "Sure!" I had no other prospects…
I owe a lot to Gene Romano for my chance at 'DVE. He brought me in and kept me there, so I will always be loyal to him.
M: I've always liked how you feature "deep cuts" on 'DVE during your shift.
SM: Yes, I'm able to pick from the archives and do deep cuts at 4:50 in the afternoon and 6:20 in the evening, but because of the research and methodology now we have to have a more restricted playlist overall to avoid people going somewhere else. There are so many other places to go now—our own iHeart radio list of choices, Pandora, Spotify. There weren't choices like this ten years ago.
M: Tell me about some of the interviews that you've done—and I know you've done hundreds. What were some of your favorites? It has to be a perk to be able to talk with some of your idols.
SM: Miami Steve Van Zandt. He came by when Bruce was in town for the start of the River Tour. Here's a picture of him (shows me a phone photo of him with Van Zandt, who's capped off by a headscarf). After I posted this, some guy on Twitter said Van Zandt looks like his 88-year-old Italian aunt. He is such a great guy; I like it that he always remembers me, too.
Interviews aren't always pleasant or fruitful, but I love to talk with Joe Walsh whenever he's in town. And Graham Nash is always good. Jimmy Page I've talked with at least three times in the past. And I've done all of Crosby, Stills, Nash & Young, except Young. And Ozzy, about a million times. Once I had Black Sabbath's Tony Iommi and Geezer Butler together in an interview, and their Birmingham accents were really thick—very nice guys, but trying to understand them sometimes was like, whew.
I never interviewed the Stones, but I've met them. Backstage at the arena one year. There were 20-30 people in the room. The band came in but first everybody had to line up on the two sides of the room—fifteen and fifteen. Some advance woman with the tour said to us all, "They'll be here for about three or four minutes. Don't move, don't extend your hands, don't touch them, and no pictures. Stand where you are. The band is going to come in, shake everyone's hands, but no reaching out to them. And no pictures." So the band came in and Ronnie, Keith and Charlie shook everyone's hands smiling, and Mick stood in the middle of the room and never came over to either side. Smiled, waved, never shook a hand.
M: Do you listen to a lot of music around the house, outside of work?
Sean: Yes, my '60s and '70s stuff, some '80s…I'm not really into television, mostly music…You know, I have never seen a reality TV show. I know nothing about American Idol. I know nothing about pop culture…I know the names, that's it. Kanye, the Kardashians, Taylor Swift. I know nothing about country artists except maybe for Kenny Chesney. But I DO know about the history of rock and roll. Though earlier today I was beating myself up because I thought it was Freddie King who played that song "Frosty" but it turned out to be Albert Collins. Oh no, how did I mess that up?!!
M: How much vinyl do you have? Do you still have a big collection?
SM: Well, we all thought vinyl was going to appreciate, but it really sort of didn't. I don't really know how many—4,000 maybe? Although I have largely moved on to an iPod and don't use my turntable much anymore.
M: Sean, I think that's it…Thanks for sitting with me today. Last thoughts before we go?
SM: I would just like to say "thanks" to the people who I followed down this road, who held up the lantern for me to see the way, like Jimmy & Steve, O'Brien & Garry, Scott Paulsen and Jimmy Krenn, Jack Maloy, Terry Caywood…I already mentioned to you Steve Downs from WYDD….and Jack Robertson at WYDD….and people like Herschel, Marcy McFerran, Denise Oliver, and Dwight Douglas who used to be on 'DVE back in the '70s when I was just an idiot kid listening. They all showed me the way.
______________________________________________________________________
Posted 7/14/19.....MY FAVORITE THINGS
From the archives…About seven years ago I polled some radio disc jockeys, those who had made their mark in Pittsburgh broadcast history a while back and others who were still in the chair and on the air. Musicasaurus.com wanted to know how the people who peddled music for a living, pulling the vast majority of artists & songs from their particular station's prescribed playlist, felt about their own immersion in music—what artists did they like? Who were their favorites? What concerts blew their minds or maybe even changed their lives, if they had to choose one or two or three?
The latter question is the one I sent out to the willing participants and the responses were widely varied of course. As Aldous Huxley once said, ""After silence, that which comes nearest to expressing the inexpressible is music."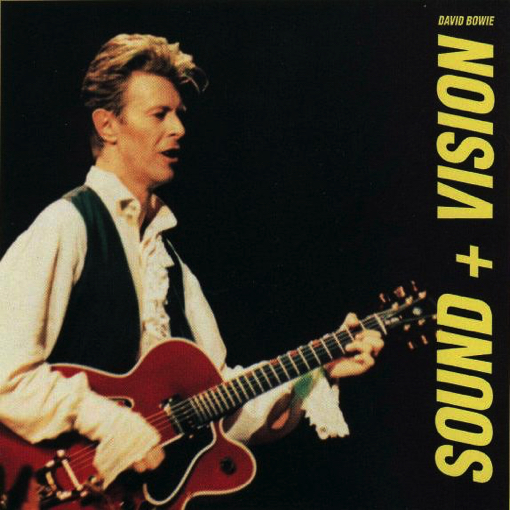 Cris Winter: Over her Pittsburgh career, Chris has worked for various radio stations—WXXP (Double X), WDVE, 3-W-S and currently WISH 99.7.
#1 Concert: David Bowie
"It was the Sound + Vision tour, and the date was June 27, 1990 at Star Lake Amphitheater. I have loved David Bowie since I was a kid; heck, I had my hair cut like his from the Pin-Ups album when I was in the 7th grade! My dog was named Bowie. This was my first time seeing Bowie LIVE. He was everything I had expected and then some. His playlist was phenomenal, and he dug deep. I haven't been the same since."
Also on Chris' list: Journey on their Evolution tour in 1979 at the Stanley Theatre…Depeche Mode in 1988 at the AJ Palumbo Center at Duquesne University…Chicago in 1977 at the Pittsburgh Civic Arena, who were touring to promote their Chicago XI album (this was Chris' first concert at age 15)…and Daryl Hall & John Oates every blessed time she could catch them, starting in 1977 at the Stanley Theatre. When Musicasaurus.com originally posted this deejay survey of favorite concerts in 2012, Chris had already seen Hall & Oates forty-seven times.
Steve Hansen: Steve was one-half of 102.5 WDVE-FM's immensely popular morning team Jimmy and Steve from 1980-1986.
#1 Concert: Tom Waits with Charles Bukowski
"It was at the Pitt Student Union on March 12, 1976. Really, probably the best and most influential show I've ever seen. Tom Waits in full Nighthawks at the Diner mode. I'd never heard of Charles Bukowski 'til then. Here's someone else's memory of the night: 'Bukowski brought a beer cooler on stage, downing one can after another without saying a word. Finally somebody yelled out, "Hey man, say something!" Bukowski burped in response and began reading.' I remember Bukowski trading insults with the audience the entire set. His performance ended when he had to be helped off stage to pee."
Also on Steve's list: U2 at the Decade, April 21, 1981…Joe Grushecky with Bruce Springsteen at Soldiers and Sailors Hall, November 4, 2011…Donnie Iris and B.E. Taylor together in back-to-back shows at the Stanley Theatre on December 31, 1982 and January 1, 1983…and Pittsburgh's own Silencers (with lead singer Frank Czuri) at the club called 2001 on the Northside sometime in 1982. Steve's succinct recollection of this particular evening: "They were 'delayed' from hitting the stage 'til four in the morning. Warren King. Peter Gunn Theme. A topless girl. Priceless."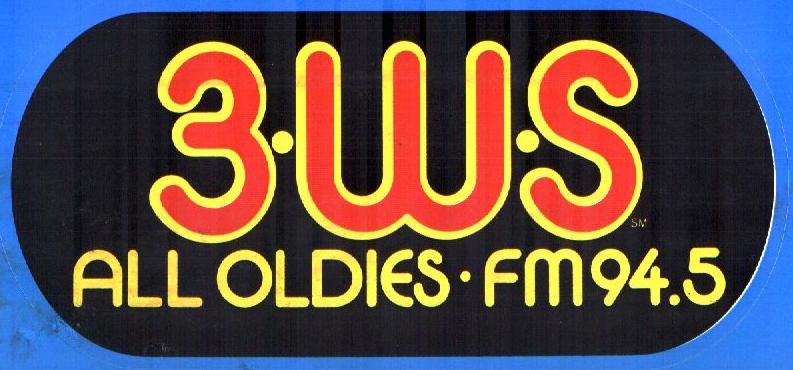 ​
Mike Frazer: In Pittsburgh since 1989, Mike was first at Energy 105/WNRJ which is perhaps better known as its prior incarnation, WYDD. He then joined 3-W-S where he's currently in his 29thyear (with the exception of a brief interlude "across the hall" at sister station 104.7 when it was "The Beat.")
#1 Concert (Mike found it hard to drill down to one selection (understatement): ALL of the 3-W-S Summer Oldies Celebration concerts at Three Rivers Stadium and Star Lake Amphitheater, AND the WQED/PBS My Music series of shows that were filmed at the Benedum Center, AND all of Henry DeLuca's Roots of Rock & Roll series of concerts.
Also on Mike's list: U2 at Heinz Field, July 26, 2011…Carole King and James Taylor, a "Troubadour Reunion" tour stop, on June 26, 2010 at Mellon Arena…The Rolling Stones at PNC Park on September 28, 2005…and the Beach Boys 50thReunion Tour Concert on May 11, 2012 at the Benedum Center. Mike's ecstatic review of the latter: "Seeing them ALL together again (with BRIAN WILSON!!!) on the same stage making music was INCREDIBLE! Just wish Carl and Dennis had been there too (although they "were" in spirit, and in video!).
Val Porter: Once an intern at 102.5 WDVE-FM between her junior and senior years at Clarion University, Val found her radio path taking her back to WDVE in 1994, first in part-time mode. Val is currently Music Director and a member of the station's acclaimed morning show.
#1 Concert: Val has a number of shows she says are memorable so in no particular order, they are...Kiss, June 23, 1990 at the newly-opened Star Lake Amphitheater…Paul McCartney opening up the Consol Energy Center (Pittsburgh) on August 18, 2010…Metallica with Kid Rock at Gund Arena in Cleveland on New Year's Day 2000…Bob Seger at Consol Energy Center on November 19, 2011…and two shows that make her list not entirely because of the artists' actual performances: 105.9 WXDX's X-Fest with headliner Green Day at Star Lake Amphitheater on May 25, 1998 where one of the members of Jimmie's Chicken Shack ran out on stage in full frontal nudity during Green Day's set…and Mötley Crüe at the Pittsburgh Civic Arena on October 19, 2007. Val's comment on this one: "They were horrible, but they caused quite an uproar by showing a porno flick behind me on the videoscreens while I was on stage making announcements. I had no idea what was going on. I just thought the crowd was really excited for the show. It created quite a scandal in the days after."
Jim Cunningham: Morning host on Classical WQED 89.3 currently celebrating his 40thAnniversary year with the station (in 2019).
#1 Concert: Pink Floyd
"This was their Three Rivers Stadium concert on May 31, 1994. I heard them in Buffalo not long after they started out in the 70's doing Set the Controls for the Heart of the Sun and then on the Momentary Lapse of Reason Tour in Pittsburgh in 1988, but the most fun was David Gilmore's guitar with the flying pig and Dark Side of the Moon all in one evening."
Also on Jim's list: Bob Marley in his last concert at the Stanley Theatre on September 23, 1980 ("Trenchtown Rock in the Iron City!")…Pittsburgh Symphony Music Director Mariss Janson's 60th Birthday concert on February 18, 2003 ("a cavalcade of stars with Mistislav Rostropovich, Yefim Bronfman, Gil Shaham and many more, all good friends together on a night that was just happiness")…Frank Zappa at the Syria Mosque on March 8, 1988…and Andres Segovia at Heinz Hall on March 23, 1983. Jim recalls this latter experience was like being in a time machine: "He gave his first concerts in 1916 in Madrid and Barcelona. His playing at Heinz Hall was so soft that some people said they couldn't hear him but it was silk and velvet. Segovia said he could reproduce the sound of the orchestra with his guitar, inspiring generations to pick up the instrument."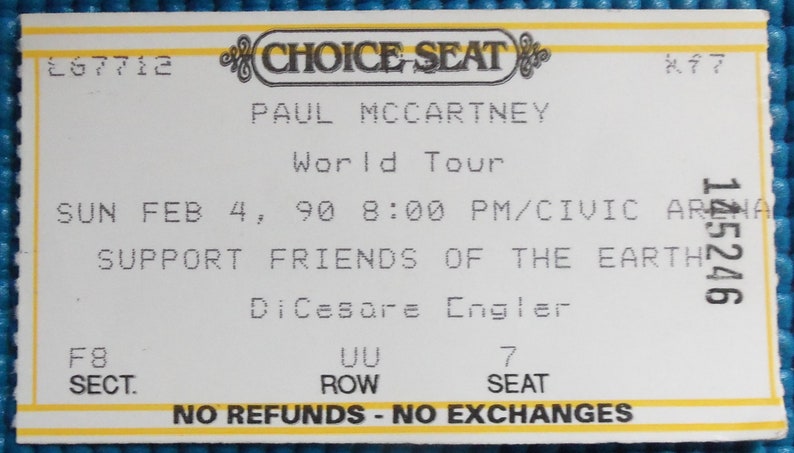 Steve Rohan: Steve is a 26-year veteran of Pittsburgh Radio, including 13Q in the late '70s/early '80s…Magic 97 from 1986-2005…and now with BOB-FM 96.9 starting in 2005.
#1 Concert: Paul McCartney
"McCartney played in February 1990 at the Pittsburgh Civic Arena, and I saw the first of the two nights. As a kid, the first record I bought was by The Beatles…Never got to see them. So, seeing Sir Paul for the first time, live, was amazing!"
Also on Steve's list: The Doors with opener Blues Image on May 2, 1970 at the Civic Arena…Grateful Dead with Rusted Root at Three Rivers Stadium on June 30, 1995…Roy Buchanan with singer Billy Price sometime in the 1970s at the V.I.P Hampton in Pittsburgh…The H.O.R.D.E Festival at Star Lake on August 21, 1994 (with the Allman Brothers Band, Dave Matthews Band and Blues Traveler)…The P.L.E.A.S.E Benefit for the American Red Cross on September 23, 2005 at Mellon Arena (P.L.E.A.S.E. is an acronym for Pittsburgh Lends Emergency And Saving Efforts; the line-up included Donnie Iris, The Clarks, Rusted Root, B.E. Taylor, Joe Grushecky, Bill Deasy, Poverty Neck Hillbillies, Margo B, Good Brother Earl and Crave)…The Rolling Stones, twice, at Three Rivers Stadium (September 6, 1989 and September 29, 1994)…The Outlaws 30thAnniversary Reunion Tour on October 14, 2005 at the Pepsi Roadhouse (the club next to Star Lake Amphitheater)…Stevie Ray Vaughan with Jeff Beck, November 4, 1989 at the AJ Palumbo Center…and Nirvana on September 30, 1991 at the famed local Pittsburgh music club Graffiti. About this last-referenced show, Steve says "This was grunge in the friendly confines of Graffiti. Kurt and the boys set owner Tony DiNardo's dressing room couch on fire after the show."
Mark Wallace: Mark was on WZUM-AM 1590 in the early '70s and then on WYDD-FM 104.7 from 1975-1977. From there he left the deejay chair for a Warner Brothers Records promotion position based in Pittsburgh (1977-1990).
#1 Concert: Bob Marley and The Wailers
"Pittsburgh, Stanley Theatre, September 23, 1980. This now legendary concert was Marley's last. I had met him and the band and extended family earlier in the day at the old Parkway Center Inn (now the Best Western) which they were staying at because it had rooms with kitchens and the entire floor was filled with the aroma of Jamaican food cooking. At the concert, backstage, I saw him again and the band in the smoke-filled dressing room. Later, I was asked if he appeared sick, as the rumors of his cancer were then circulating, and my reply was 'It's hard to say because they're all stoned!'"
Also on Mark's list: Yes at the Pittsburgh Civic Arena in 1974, which was especially memorable, Mark maintains, because of guitarist Steve Howe's playing, on both a 6-string and a 12-string Les Paul, but also on account of the red bud that was part of Mark and his friend's pre-gaming for the concert…U2 at the renowned small hole-in-the-wall club The Decade on April 21, 1981, where the young foursome actually had to repeat a song from earlier in the evening for their encore because they just didn't have enough material…Talking Heads at the Stanley Theatre on August 13, 1983, where the sold-out crowd was really into the band. Mark says of this one, "I believe it was their first concert in the Burgh and with Chris Frantz being from Pittsburgh, it was like a family reunion. Songs like 'Burning Down the House' literally felt like the theater would. It was a hot, sweaty, boisterous, and fabulous vibe."…and Bonnie Raitt with opener The Fabulous Thunderbirds on January 24, 1986 at the Syria Mosque. Mark recalls, "The Mosque was the crown jewel for intimate shows like this one. I was upstairs in the dressing room and l listened to Bonnie and Jimmy Vaughan jamming together, in between their copious sips from a bottle of Jack Daniels. Earlier in the day, I took Bonnie to WDVE for an on-air interview and I had my then 4-year-old daughter with me. To this day, Jessica still remembers how sweet Bonnie was to her. At Warner Brothers Records, we could never quite figure out how to make Bonnie have a "hit" record and when the first Capitol record Nick of Time won her three Grammys in 1989, even we at the Warner label were so happy for her. She was one of the sweetest artists I ever met."
_____________________________________________________________________
Posted 6/30/19.....HOT FUN IN THE SUMMERTIME
Summertime, and the livin' is easy—unless you happen to be working at a 23,000-capacity outdoor concert facility.
From 1991 through 2007 I worked at Pittsburgh's Star Lake Amphitheater, where every May through September the venue was a hive of activity with up to 40-some shows peppered throughout the summer schedule. Even on non-show days, the place was buzzing—the lawn crew salvaging sod where foot traffic had taken its toll; delivery trucks rolling in with concessionaire's wares; the administrative staff all crunching departmental numbers from the previous show, figuring out the win or the loss according to respective budgets...
When the last show of the season would roll around—even as the final batch of fans were hoisting cups and roaring at the musicians on stage—the core venue staff would already be plotting out the next few weeks' shut-down procedures, eager to turn the shovel on another long season.
And then our beast of a building would go quiet. The amphitheater's thunderous heartbeat, all summer long quickened by thousands storming the turnstiles, would slow to a crawl. And the worker bees that we hired for the summer as ticket takers, food vendors, ushers and security would all go back to their real lives elsewhere, while our core group of 12 to 14 people—with a mixture of relief and resolve—would shift our focus to shut-down.
That was the cycle—the ramp-up, the whipsaw summer, and the tear-down—and after a few years of this, the venue had eventually become a rather well-oiled machine in terms of successfully producing a wide variety of very challenging and high-profile events.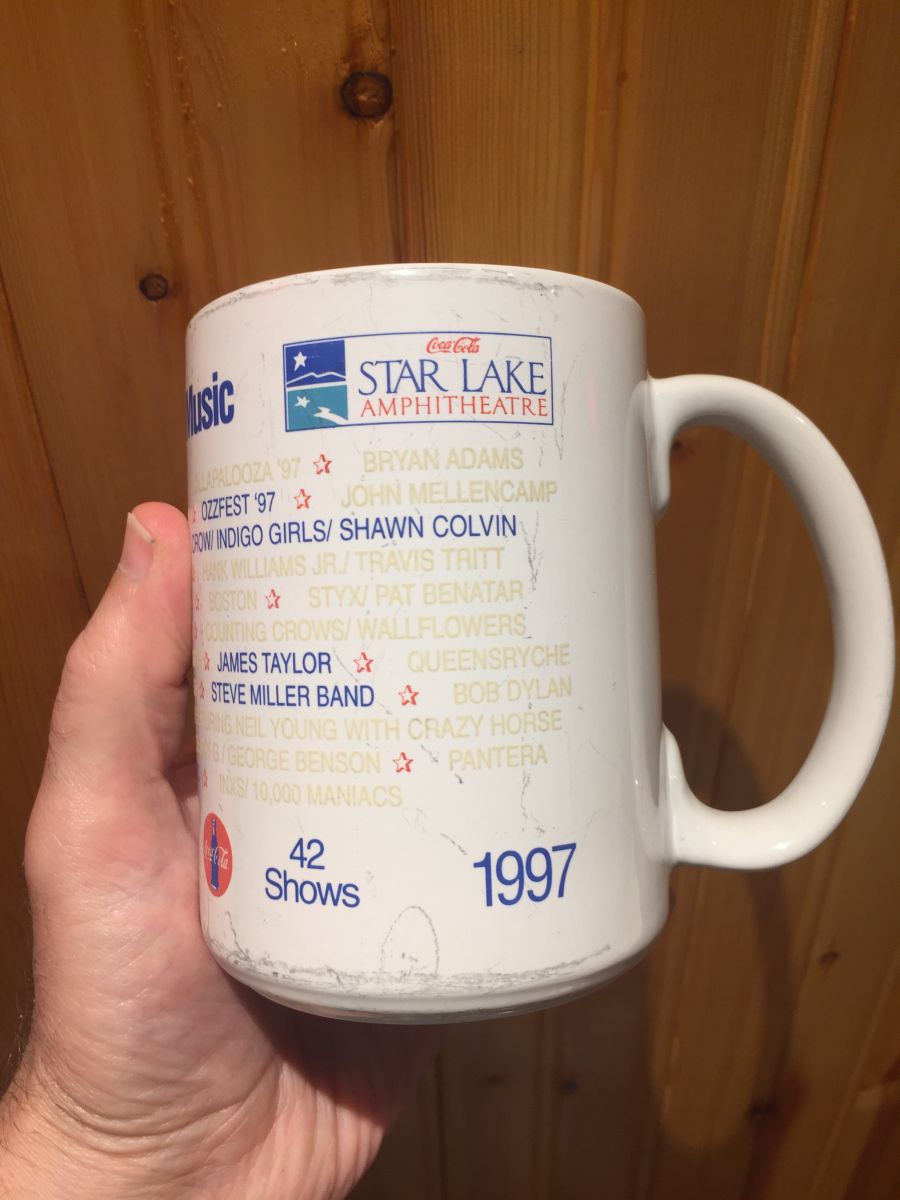 The summer of 1997, our eighth season, was particularly noteworthy. By the time the dust settled—or better put, by the time the lawn gasped relief—we had hosted 42 total concerts including 11 sell-out shows, and the combined attendance was over 600,000 for the summer.
Certain concerts from that particular year indeed still hang in my head. Here are five of the most memorable ones for me, from that Summer of '97:
* No Doubt - Wednesday, May 14, 1997
The song "Don't Speak" was absolutely inescapable on radio stations nationwide throughout 1996. In fact—in the weird but true category—the song appeared on our family car's radio every time we passed a small shopping complex called the Galleria just a bit south of the city limits of Pittsburgh near our home. My wife and young daughters (ages 11 and 9 at the time) were convinced that this meant something—but we never did see lead singer Gwen Stefani toting designer bags around that mini-mall, so we just chalked it up to the supernatural.
In terms of Star Lake that next year, No Doubt was the first show of the 1997 season and a slam-bang sellout. Gwen's star power and the song's ubiquitous video helped spark ticket sales well over 20,000 for this May '97 season-opener—and most of those who snagged tickets, it turned out, were moms with little girls, all pre-teen, wide-eyed and delirious.
This was the band's first concert tour and 28-year-old Gwen Stefani was electric on stage, and the screams and squeals of the little ones clasping hands with moms, siblings and pint-sized amigas were deafening. I remember more than a few of the moms in attendance saved their screams for later, though, in phone calls to our administrative offices over the next week or so. Stefani had let loose with a few F-bombs during the band's performance and—not so hard to predict—the moms went ablaze while their tots were unfazed.
* Surge Festival - Saturday, May 24, 1997
Our venue operations director Gary Hinston and I, with a few others in our midst, came up with the idea for a local band show that we thought just might draw a decent crowd if held early enough in the summer.
As we were contemplating who would be on the bill, we of course realized that Rusted Root was well beyond our orbit. This Pittsburgh band had sold 23,000 tickets at Star Lake in May 1995; were featured on the national tour of the 1996 H.O.R.D.E Festival along with Blues Traveler, Lenny Kravitz and others; and were already headed our way this summer once again, on a co-headlining date with Santana that was set for July 11.
Still, we sensed that the time was ripe for a celebration of local talent on a grand scale. Three bands in particular were percolating (or better) with popular acclaim and solid record sales, and we felt that a show with this anchor trio had a real shot at drawing eight, maybe even nine thousand fans out to the venue.
The bands with the buzz? The Clarks, who had heavy 'DVE airplay and a fourth album entitled Someday Maybe that was released just six months before...The Gathering Field, with lead singer/songwriter Bill Deasy, who were fueled by a major-label signing to Atlantic Records and a re-release of the band's self-produced debut album which contained the radio favorite "Lost In America"...and Brownie Mary, a rock quartet fronted by the charismatic Kelsey Barber, who were continually piling up fans from great live shows and were themselves headed for a major label signing that would come within the year.
The event was priced very reasonably at $10.25 per ticket, which tied into WDVE's radio dial position of 102.5. The show went on sale, and then never lagged. With WDVE's on-air support and a robust sense of pride welling up in the 'burgh, this multi-act concert went on to sell almost 19,000 tickets. The day of the show was one long, well-deserved victory prance—a day of wide smiles, high-fives, fist-pumps and fellowship.
The bands backstage were on Cloud Nine, understandably, and our venue accountant at the time was in a head-spin throughout the evening, tabulating the intake from ticket sales, long concession lines, and parking fees. Having this show end up a runaway success was certainly $weet, but for me, sweeter still was the camaraderie in full flower backstage while out in front, scores of fans showed their true hometown colors with every celebratory roar for the bands who walked out on that stage. This was a great day...
* OzzFest - Saturday, June 7, 1997
The original OzzFest had a twin-city birth, two test pilot dates that were held back-to-back in October of 1996. The first festival was staged in Phoenix, Arizona and the second, the very next day in Devore, California. These two daylong celebrations of hard rock & metal were deemed a success, and so national concert promoter Pace (Star Lake's parent company) powered up the Crazy Train and put it on the rails in 1997 to a majority of Pace amphitheaters across the U.S., including Star Lake on June 7.
Ozzy of course was a ramblin' shamblin' man, the figurehead that fueled ticket sales of this eleven-hour fest. Wife Sharon, on the other hand, had the brains and a bulldog grip on every aspect of the tour. Later on, on the occasions that she would visit Star Lake during a particular summer's OzzFest tour, she would find a central spot backstage in one of the production offices or dressing rooms and hold court. Some people in her purview seemed to quake in her presence, not entirely sure she wouldn't, if displeased, bite their heads off. Her husband, of course, preferred bats and doves.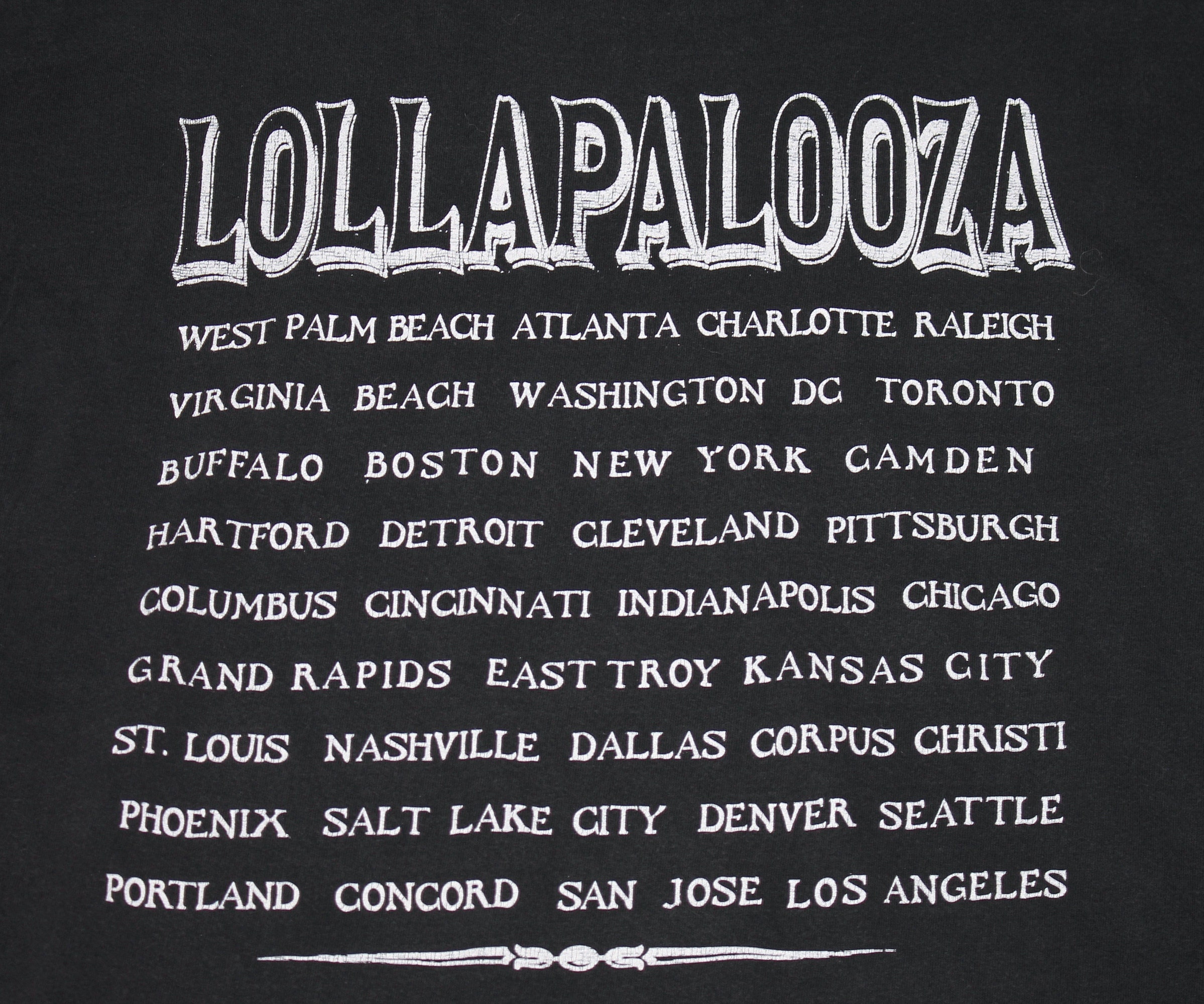 * Lollapalooza - Saturday, July 19, 1997
This touring festival originated in 1991 from the should-be-peeled-back brain of Perry Farrell, lead singer of alternative band Jane's Addiction and all around space cadet. Star Lake wasn't able to woo the festival our way until 1992, as the year before the tour had purposely bypassed Pittsburgh; it was deemed at the time by festival founders to be a market that wasn't quite hip enough to produce sufficient ticket sales.
Usually sporting alternative bands, punk outfits, industrial strength metal and at least a smidgeon of rap, Lollapalooza enjoyed critical and commercial success as it wended its way across the USA for the next few years.
By 1997, though, the festival's seventh consecutive summer of touring, there was a loss in luster and fan fanaticism. Perry Farrell was abandoning ship and—partial reason only, but still notable—some quizzical fans were still scratching their Mohawk haircuts over the fact that the 1996 Lollapalooza tour had featured Metallica, who was decidedly more mainstream and macho than the usual eclectic, alternative-heavy line-up.
I remember that night of July 19, 1997—the weather had turned unseasonably cold when the sun dipped below the horizon, and by the time headliner Devo took the stage, the crowd was sparse and largely disinterested. There was a small cluster of fans up front in the pavilion seating area but I remember thinking, as Devo started up their herky-jerky cover of a Rolling Stones song, that this just might be the end of this annual juggernaut. It was clearly not just festival fatigue that I was reading on these fans' faces—they just couldn't get no satisfaction.
* Fleetwood Mac - Wednesday, September 24, 1997
Here we're talkin' the Big Mac, of course; the most commercially viable line-up of this group that had originally formed in England in 1967. It wasn't until late 1974 that California duo Lindsey Buckingham and Stevie Nicks joined the band after its latest membership shuffle, and this particular injection propelled the band to chart-topping success here, there, and everywhere.
In the Spring before each outdoor concert season truly arrived, our booker from our parent company Pace Music Group would routinely survey the amphitheater general managers about upcoming summer concert opportunities. The news of Fleetwood Mac's reformation of their 1970s powerhouse line-up and their pledge to tour together for the first time since 1980 were indeed welcome bits of info.
We were a bit startled by the ticket prices that were suggested for this amphitheater tour, though. As was becoming par for the course, this upper echelon band was asking for a LOT of money from each venue, and the only way to try to snag a win with that hefty of an artist price tag was to goose up the ticket prices way beyond "normal." So we followed that logic, and still a bit queasy, held our collective breath.
The show was booked, placed on sale, and sold every damn ticket. Fleetwood Mac's national publicity machine was a driver, for sure, and the band had (pre-tour) produced a new live-on-a-soundstage CD of largely their hits entitled The Dance. Then MTV, along with strong radio play and word-of-mouth, laid final waste to any lingering ticket-price resistance; the Mac fans from way back had salivated for much too long and just wouldn't be denied.
I remember the show to be an audio marvel. The sound system and mix were stellar, and the band on this chilly September evening was on fire. I remember at one point strolling along "sponsor row"—our corporate boxes near the stage—and I believe I saw every single bigwig from every company that had signed up with us for that summer of shows. One glassy-eyed reveler leaned over his box railing, beaming at me: "This sure beats that Ozzfest pummel-your-head crap," he slurred. "But, my son loved that show."
Yep. A little something for everyone in that Summer of '97.
_____________________________________________________________________
Posted 6/16/19.....HAD TO CRY TODAY
Musicasaurus.com this past week polled some people in the music business and/or in the arts—deejays, musicians, writers, illustrators, promoters, and more—and they all came back with poignant reflections about the song that made them (or makes them) cry…Thanks to all for sharing these personal stories about the power of music…
Liz Berlin
Founder, partner and touring musician with Rusted Root; co-owner of Mr. Smalls Theatre, Recording And Mastering Studio; and founder/director, Creative.Life.Support
I was driving home from somewhere, listening to WYEP and just as I was pulling in front of my house the DJ came on and announced that Jeff Buckley had drowned and they played "Lilac Wine." I was stunned. I just sat there with my car running in front of my house, just listening to the lyrics: "I lost myself on a cool damp night / I gave myself in that misty light / Was hypnotized by a strange delight / Under a lilac tree"...It felt like he had predicted his own death and was trying to warn us or console us or something. From what I understand he was celebrating that night about the beginning of recording his next album with his band with a swim in the Mississippi River… https://youtu.be/5PC68rEfF-o
​ Steve Hansen
Principally known from the "Jimmy and Steve" days at WDVE from 1980-1986; currently an independent producer/writer in various fields
If Gene Pitney and Neil Young are right that only love can break your heart and Cat Stevens is correct that the first cut is the deepest, then I have to go all the way back to my original heartache for the song that makes me cry. While there were a few other break-up songs along my rocky road to nirvana, my first heart full of soul will always be my most lasting. But love has no pride and you don't get to pick what's on the radio the day you break up. You just have to hope that the song that will pierce your broken heart every time you hear it for the entirety of your earthly existence is worthy. Fortunately, "Without You" by Harry Nilsson is. His five-octave range takes you from the depths of despair to the heights of hopelessness. His pain mirrored mine, although it paled in comparison to the deeper despair of the song's writers, Badfinger's Pete Ham and Tom Evans, both of whom killed themselves due to squabbles over the song's royalties. And that will always bring a tear to my eye. https://youtu.be/8dnUv3DUP4E
​ Mark Wallace
Presently an English teacher and part-time radio deejay in Tampa, Florida, whose music career earlier on in Pittsburgh included disc jockey work on WZUM-AM and WYDD-FM, and then a coveted Warner Brothers Records regional promotion position in the late 1970s
So many songs...I would go with "The Sounds of Silence." I saw/heard Simon & Garfunkel do that at the Stanley Theatre and that version—like the original album—had an electric 12-string (instead of the acoustic) and my lord, you could hear a pin drop in the audience. Such a powerful song to begin with, and it being about the time of the 60's turmoil on many levels, it really resonated (literally) with their performance; a true anthem of the 60's. https://youtu.be/4fWyzwo1xg0
​ Stacy Innerst
Award-winning artist and illustrator for books, newspapers and magazines; recent book illustrations have included The Music in George's Head: George Gershwin Creates Rhapsody in Blue (2016) and Ruth Bader Ginsberg: The Case of RBG vs Inequality (2017)
I have to say I'm not much of a crier (over songs, that is) but if I had to pick one that I associate with tears it would be "Bell Bottom Blues" for this reason: I was playing in an Albuquerque garage band with some older guys when I was in high school. I was too young to have had my heart broken yet but the guitar player, a seasoned 20 year-old, couldn't get through our cover of that song without bursting into tears and walking out of the rehearsal. Too bad because he was a KILLER on guitar. I still come close to misting up when I hear it. https://youtu.be/I-q50NkZANE
​ Richard Scheines
Dean, Mariana Brown Dietrich College of Humanities and Social Sciences, Carnegie Mellon University; music lover; guitar player in local Pittsburgh band The Relics
Mine is "Thanksgiving" by George Winston. A good friend of mine in high school died tragically right around Thanksgiving in 1979, and when the song came out a few years later, it immediately filled me with nostalgia and took me back to walks with him in the late fall before he died. Somewhere around the middle of the song I just lost it and sobbed for what felt like an hour. It was the first time I really released, which is crazy, but it was profoundly helpful and I needed music to get there. I still fill up every time I hear it. https://youtu.be/5yhpDzsz2ps
​ Rich Engler
Former president of DiCesare-Engler Productions which eventually became part of Live Nation; currently head of Rich Engler Presents
"MacArthur Park" by Richard Harris. That's one of ten I could talk about. This one is all about the end of a relationship. https://youtu.be/sD-zTwi3_GU
​ Russ Rose
Also known as Whip, a 105.9 WXDX on-air talent (and more) at iHeartRADIO Pittsburgh
While this song doesn't make me cry, it does stop me dead in my tracks, stirs up many buried emotions, and transcends time and space when I hear it: Chris Cornell's cover of "Ave Maria." Maybe it is the mix of Chris' voice with what is a funeral/wedding/Christmas/month of May song from my catholic school youth, but when I hear it I become consumed by emotion of family and friends that are no longer around, and memories of my youth. I told Chris I wanted it played at my funeral, and he thought that was peculiar of me to have it planned, but he understood. https://youtu.be/9TMhxz1aGWU
​ Beckye Levin Gross
Currently Director of Business Development at UnifiedCommunications.com in Houston, Texas; former booker of Star Lake Amphitheater in the 1990s and early 2000s under the employ of Houston's Pace Music Group, which ultimately became part of Live Nation
The song for me is Elvis "If I Can Dream." I remember when I heard he had passed away. We were at the beach house in Galveston. I was almost 11 years old and I was destroyed. I thought the world would come to an end. I laid on the top bunk with a small radio and listened to Elvis song after Elvis song. For days and weeks and months after, I was crushed. I would lay in bed at night and listen to "If I Can Dream" over and over again sobbing. "There must be lights burning brighter somewhere / Got to be birds flying higher in the sky more blue / ...as long as a man / Has the strength to dream / He can redeem his soul and fly." https://youtu.be/0q3PpEX4sNk
​ Bryan Sejvar
Director of Programming and Production with 89.3 WQED-FM, and self-recording/producing musician and songwriter
"Nothing Lasts for Long" by The Samples…I've always liked this song, but after a very close relationship ended in college, this song was on repeat for days, with me tearing up (and outright weeping at times), every time I heard it. As I've grown older, this song still resonates and I have to fight not to tear up whenever I listen to it, especially when I hear it close to an event like the passing of someone close to me. "Maybe nothing lasts forever... / But the time we had together / They will always be with me." https://youtu.be/ZzARk0mFVY0
​ Sean McDowell
A 41-year veteran of Pittsburgh Radio overall, and since 1993 an on-air talent with 102.5 WDVE, the region's powerhouse album-oriented rock station
"The Song Is Over" from Who's Next always brings tears to my eyes. It's such a beautiful song to begin with, with Nicky Hopkins' piano opening, and I think about Keith Moon who was a deeply troubled alcoholic, especially during the ending of the song: "Searchin' for a note, pure and easy / Playing so free, like a breath rippling by." And then the band plays this repeating riff like 5 or 6 times, Keith making the rounds on his drums, John Entwistle's bass booming, Nicky Hopkins' piano and Pete's synthesizer all combining for just a killer finish. https://youtu.be/NuwciCfxumg
​ Dave Blaushild
Currently Senior Environmental Compliance Officer at Fluor Marine Propulsion, LLC and on-air host of select 91.3 WYEP-FM Pittsburgh programs
I could not really think of a particular song that makes me cry. But I do have a mental list of songs that cause sadness. I started thinking about social issues, environmental concerns, and our state of political divisiveness and pared it down to three songs: Marvin Gaye's "Inner City Blues (Make Me Wanna Holler)," Bob Marley's "No Woman, No Cry"' and Gil Scott-Heron's "Winter In America." I chose Gil Scott-Heron's "Winter In America." This song was a release when I was in college, the Vietnam war was winding down, our inner cities were in despair, and the Watergate hearings were going on. There are a lot of parallels to events today, especially regarding political issues. These lines in the song stand out to me: "The Constitution / A noble piece of paper / With free society / Struggled but it died in vain / And now Democracy is ragtime on the corner / Hoping for some rain..." and "It's winter in America / And ain't nobody fighting / 'Cause nobody knows what to save…" These lines are as true today as they were in 1973. Our government is broken and it affects or will affect every aspect of our lives, and we feel helpless to do something about it. Everybody needs to vote in 2020, so we can do something about it and preserve that "noble piece of paper." https://youtu.be/m2zKdIcOV5s
​ Tom Rooney
Former executive director of Star Lake Amphitheatre 1990-1994 and subsequently an executive with parent company Pace Music Group in Houston; currently president of the Tom Rooney Sports & Entertainment Group
"I'll Follow The Sun" by the Beatles brings back a difficult breakup but also resonates when I have had a job change for the people and places left behind. They all wash over me every time I hear it. I would also mention "Arlington" by Trace Adkins for a friend buried there from the Vietnam conflict. Had the nerve to actually ask Trace to play it once on a string a dates we did with him. There was a notable silence when he performed the song, then an audible pause at the end, then a standing ovation. https://youtu.be/28d_A_NuJ7A
​ Scott Tady
Entertainment Editor, Beaver County Times
Grand Funk Railroad's "I'm Your Captain (Closer to Home")…Hated it growing up. Too long, too redundant. But then I interviewed Mark Farner and asked what Grand Funk song mattered the most. He said this one, hands-down. Many Vietnam vets told him this was the song that got them through; that got them home. I hear it much differently now. I can't imagine what those soldiers went through, but I appreciate how powerful the yearning for home can be. When radio plays it, and conditions are right, this song gets me misty-eyed thinking how much it must have meant to them. https://youtu.be/fvOPucs7dC0
​ Ed Traversari
Former concert promoter and partner in Pittsburgh's DiCesare-Engler Productions (which eventually became part of Live Nation); currently associate professor in the sports, arts and entertainment management department at Point Park University
"The Messiah Will Come Again" by Roy Buchanan. Roy was the first show I ever booked going back to 1973 at Robert Morris University so when I hear Roy say those words "I walked in a lot of places that he never should have been / But I know that the Messiah, he will come again" and then he breaks into his guitar solo, it's very emotional. It's actually the guitar solo that gets me more emotional than the words. Remember it was Eric Clapton that said "Roy Buchanan can make a guitar cry." https://youtu.be/0dr0DwQJiAc
​ Billy Price
American blues & soul singer from Pittsburgh, now residing in Baltimore, who gained national attention through touring and recording with guitarist Roy Buchanan in 1974-1975, and who continued on with Billy Price & The Keystone Rhythm Band, the Billy Price Band, the Billy Price Charm City Rhythm Band and solo projects.
I can't listen to the record "No Charge" by the gospel singer Shirley Caesar without crying. Can't do it. It's corny, maudlin, manipulative, unsophisticated, and unsubtle, but it gets me every time. A kid comes home from school and presents his mother with an itemized bill for chores, for watching little sister, for cutting the grass, for doing homework, etc. The narrator of the song, the mother, comes back with an itemized list of acts of motherhood ("for the days that I carried you…") and for each one, assesses the little ingrate "No Charge." Even thinking about it now and hearing it in my head, I start choking up just a little. I wish I could arrest this spontaneous reaction, but I can't… https://youtu.be/rRy0qpqHn_4
_____________________________________________________________________
Posted 6/3/19.....THE ART OF HAPPINESS
My fingers were trembling when I began typing this particular post—not from weariness nor disease (thank God), but from a flashback to my youth.
I have many memories from my teens and twenties of being deliriously, deliciously lost in reverie, rooted with singular focus before many a stacked-to-the-gills record bin in department stores and little indie record shops, and my fingers were always flying.
There was an art to this, the flipping of albums forward from the front of the bin to the very back, with my thumb as stabilizer and my pointer and middle fingers systematically scrambling atop, flicking each album quickly into and out of view so my brain could rapidly process the ones that were new and yet unexplored…
Obviously it was the album cover art that spoke to me, as the first real clue to the potential treasures within. If the album had a visually arresting illustration or photograph or overall design, my right hand would overrule the flying fingers and pluck the record up and away from the rest so that I could study its cover, turn it around to read the song titles and liner notes, and then agonize within as to whether it should join my nearby small pile of must-haves.
This particular musicasaurus.com post is all about album covers and the artists and designers behind them, and those of you who had that glorious, time-suspending record store experience of hours in front of the bins may recognize a number of these. But like me, you may not have dug further beyond that initial brain stimulation back then to determine who the artist was behind a particularly captivating cover—and that's the purpose of this visual trek through the landscape of album cover art.
Musicians whose own paintings, illustrations, and/or photographs were used as album covers:
Christine McVie of Fleetwood Mac – the illustration on the front and back cover of the band's 1970 album Kiln House…..Christine wasn't officially in the band yet, but contributed the drawing and played a supporting role on the album.
John Entwhistle, bassist for The Who – the illustration on the cover of the band's The Who By Numbers (1975).
Joni Mitchell – the paintings and/or illustrations on some of her own albums including Clouds (1969), Ladies Of The Canyon (1970) and Mingus(1979), as well as the cover of her friends' greatest hits collection, CSNY's So Far (1974)…..Mitchell was once quoted as describing herself as "a painter derailed by circumstance."
Cat Stevens (now Yusuf Islam) – the illustrations on the covers of Tea for the Tillerman (1970), Mona Bone Jakon (1970) and Teaser And The Firecat (1971)…..Stevens attended art school early on and first considered a career as a cartoonist, but music successfully lured him into composing and performing.
John Lennon – the childhood drawings of young Lennon adorn the cover of Walls and Bridges, the solo artist's fifth studio release (1974).
Bob Dylan – the illustrations for the Band's first album Music From Big Pink (1968), and two of the artist's own recordings, Self Portrait (1970) and Planet Waves (1974).
Don van Vliet (aka Captain Beefheart) – the paintings used for the album covers of Doc At The Radar Station and Shiny Beast (Bat Chain Puller) (1978)…..Beefheart was an autocratic, idiosyncratic musician, sculptor and a painter, whose music was often abrasive and always challenging. Upon Beefheart's death in December 2010, an NPR obituary written by Rick Karr quotes the artist as once stating he had never set out to do standard rock and roll: "That 'mama heartbeat,' that 'bom-bom-bom' – it's so boring, it's so banal. I mean so, uh, hypnotic," he said. "I don't wanna hypnotize anybody. I just wanna play. I mean, I want things to change – like the patterns and shadows that fall from the sun."
Painters, illustrators, sculptors and/or photographers whose works were borrowed by musicians for their album covers:
Patrick Nagel – Nagel was an American illustrator whose works are linked by critics to the art-deco style of the 1920s and 1930s, and whose fame spread largely from his drawings for Playboy magazine in the late 1970s and early 1980s. Over the course of his career, he became known for his "Nagel women"—sharp-lined, angled views of women that often had black hair, white skin with a vampiric sheen, full-bodied lips and captivating eyes. Nagel's paintings ended up on a handful of musical artists' recordings back then but the one that brought him widespread recognition was his 1982 cover of Duran Duran's career-cementing sophomore album Rio.
Norman Seeff – Seeff's career began in medicine in South Africa, but he switched gears (and countries) in 1969, and through his creative impulses and New York connections ended up in the realm of rock and/or celebrity photography. Above are some of his captivating album cover photographs from the 1970s.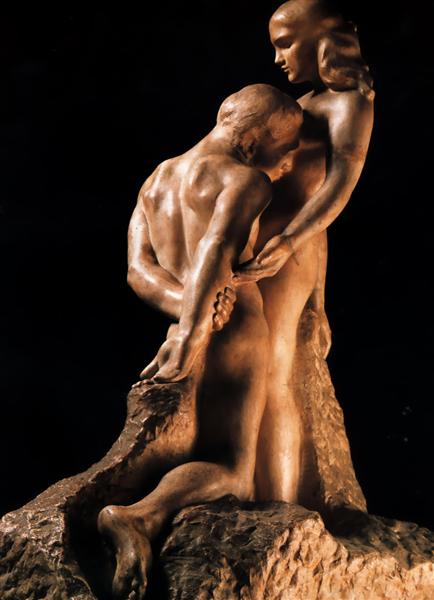 Auguste Rodin – French sculptor Rodin (1840-1917) created "The Eternal Idol" in 1889, and in 1987 Black Sabbath tried to secure the rights to photograph the sculpture and use it as their album cover. Reportedly permission was not granted so Sabbath employed two naked, body-painted models to recreate it as best they could.
Abdul Mati Klarwein – German painter Klarwein (1932-2002) created some intricate and stirring covers for artists including Gregg Allman, Herbie Hancock, Miles Davis and Santana.
Albert Hirschfeld – American artist Hirschfeld (1903-2003) was famous for his celebrity caricatures throughout his long career, and it was fortunate that he didn't draw the line at rock stars. He did the cover illustration for Aerosmith's 1977 album—which may be the most memorable thing about Draw The Line, according to critics and more than a few fans.
Paul Gauguin– French post-Impressionist artist Gauguin (1848-1903) had his 1899 painting "Two Tahitian Women" adopted by American jazz singer-songwriter Michael Franks for the cover of his 1982 album Objects Of Desire.
Albert Vargas– Peruvian born Vargas (1896-1982) is best known for his 1940s pin-up girl paintings for Esquire magazine that subsequently adorned the nose of a number of our fighter planes during that conflict. He was also known for his 1960s-1970s paintings featured in Playboy magazine. Vargas retired from his art upon the death of his wife in 1974, but then someone pinned him down a few years later to do another pin-up classic, the cover of The Cars' 1979 release Candy-O. The model Vargas turned to was 32-year-old Candy Moore, who had matured and detoured from her child actress years in late-'50s/early '60s television programs including Leave It to Beaver, The Donna Reed Show and The Lucy Show.
Andy Warhol– King of Pop Art Warhol may be remembered best by serious rock 'n' rollers for his creative kinship with the Velvet Underground and Nico, and the 1967 banana cover he designed for their album. Warhol also designed the cover of the Rolling Stones' 1971 album Sticky Fingers and in 1986 created a cool, colorful cover for Aretha Franklin's album Aretha. Warhol was busy before all that, though, in terms of creating art for albums; above are a few examples of his 1950s work for Kenny Burrell and a few others.
H.R. Giger – Swiss surrealist painter H.R. Giger, besides inspiring the bane of Ripley's existence in the Alien films, routinely churned out what Rolling Stone magazine called "disturbing, erotic 'bio-mechanical' images" that were either commissioned by or licensed out to musicians, a lot of them purveyors of heavy metal and death metal—but two of his most recognizable feats were for Emerson, Lake & Palmer (Brain Salad Surgery, 1973) and Blondie vocalist Debbie Harry who struck out on her own for a solo release (KooKoo,1981).
René Magritte - Belgian Surrealist Magritte's 1952 painting "La Chambre D'Ecoute" (aka "The Listening Room") was employed as the cover of the Jeff Beck Group's Beck-Ola album in 1968…..In 1983, Gladys Knight & The Pips picked the artist's 1960 painting "Les Mémoires d'un saint" ("The Memoirs Of A Saint") to become the cover of their newest album Visions…..and back in 1970, the just-formed jazz-rock band Dreams chose Magritte's 1953 painting "Golconda" as the cover of their debut album (the band's faces supplanted some of the ones originally in the painting). If you're into musical minutia, you might also like to know that four musicians from Dreams went on to much greater renown in the world of jazz and jazz-rock: The Brecker Brothers, saxophonist Michael and trumpeter Randy; John Abercrombie, a talented guitarist who went on to record solo & group efforts on the prestigious ECM European jazz label; and Billy Cobham, a drummer who soon left to work with Miles Davis and then afterward formed the legendary fusion band Mahavishnu Orchestra with guitarist John McLaughlin.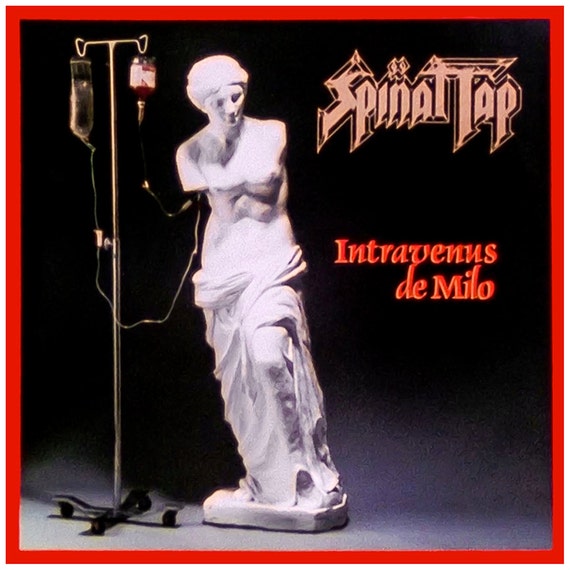 Spinal Tap – Intravenus de Milo– Musicasaurus.com loves this bit of medical malpractice foisted upon the Venus de Milo, the famous Greek statue which is thought to be the work of Alexandros of Antioch and dates back to somewhere between 130 and 100 BC. And, this is my favorite fictional album cover from the fictional catalogue of my favorite fictional band Spinal Tap, the aging British heavy metal group immortalized in Rob Reiner's 1984 mockumentary This is Spinal Tap. The faux band inspired a number of metal bands in real life, and Tap has actually toured intermittently, playing festivals including Glastonbury in England and an aptly named "One Night Only World Tour" in June of 2009 at London's Wembley Arena.
M.C. Escher – Escher was a mathematically inspired Dutch graphic artist (1898-1972) working primarily with lithographs and woodcuts who brought illusions of 3D to his 2D drawings while playing with various levels of reality. His 1943 work "Reptiles" adorns the cover of Mott The Hoople's 1970 self-titled debut album and his etching "Three Worlds" is on the Beaver & Krause 1970 release In A Wild Sanctuary. Both covers, I have a feeling, prompted the music-obsessed Stoner Generation of the 1970s to dig a lot further into Escher's other works like "Relativity" and "Belvedere"—and it likewise set off many a bong hit to try to figure them out.
_____________________________________________________________________
Posted 5/19/19.....COME TOGETHER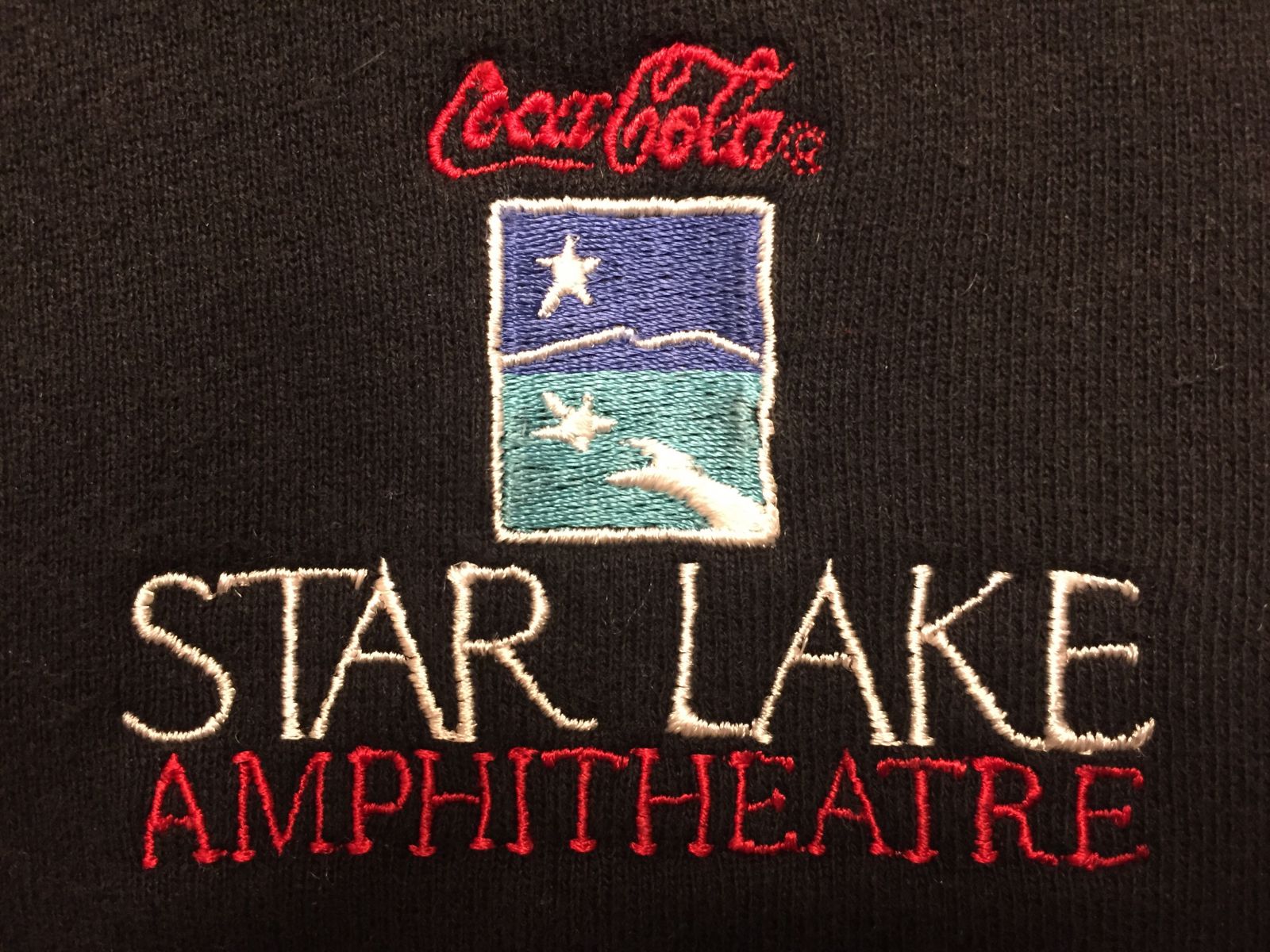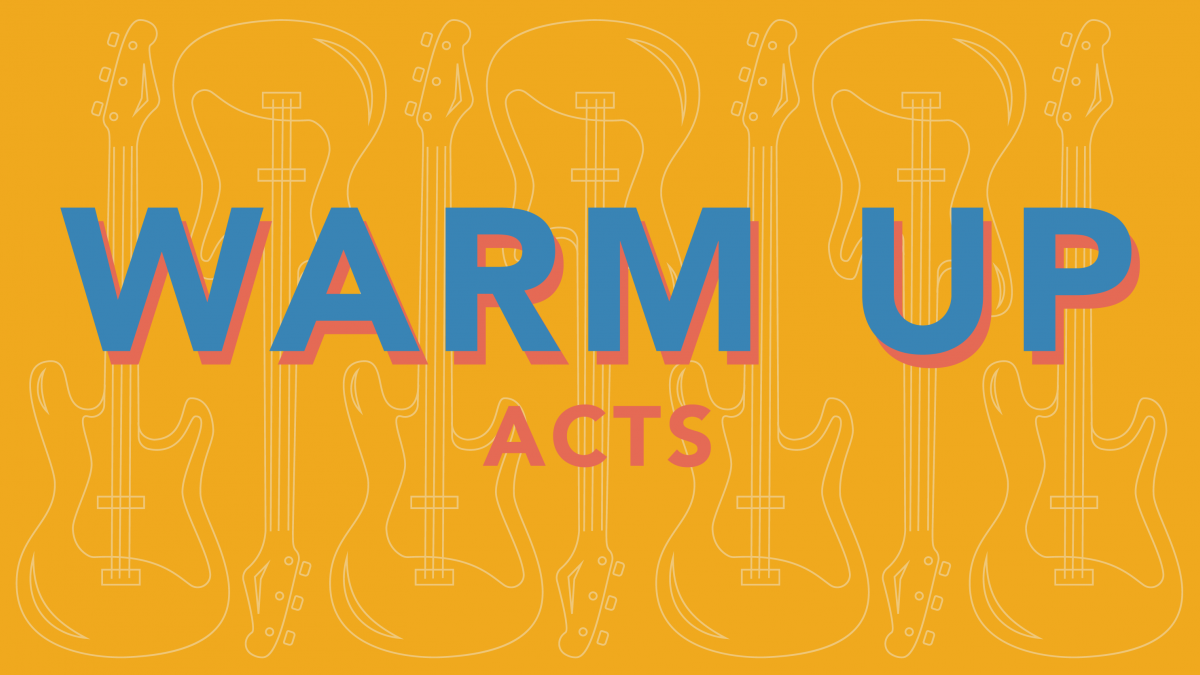 When you drill down on the concert experience, whaddya have? A headliner of some stature that is a must-see—and then the opening act or acts who you either delight in because they are simpatico of sound, or who you bail on for a bladder break and a little less lines at the brew stand.
I went to many concerts beginning in the late 1960s and experienced some great matchups early on, like the November 1967 show at Pittsburgh's Stanley Theatre with the Beach Boys and their openers the Strawberry Alarm Clock and—gasp!—the Buffalo Springfield. I also saw, under the wing of my friend Dan's older brother who drove us to the show, a jaw-dropping performance by Janis Joplin and opening act Santana at the Pittsburgh Civic Arena in November 1969.
I wondered even back then how certain artists ended up playing as warm-up to the headliners on a given tour, because there were some odd pairings "out there"—like the Jimi Hendrix Experience opening up for the Monkees on a handful of dates in July 1967. Though some could reflect back and think this was a Monkee maneuver for respectability—adding a cutting-edge artist for cred—the wildly popular foursome from the TV show just fell in love with Hendrix's onstage aura especially after seeing him play live in June at the Monterey Pop Festival. According to the website monkeeslivealmanac.com, though, the headliners soon gleaned that the audiences in large part were mystified and miffed, not mesmerized. The website quotes Micky Dolenz from his autobiography in which he says "The parents were probably not too crazy about having to sit through a Monkees concert, much less see this black guy in a psychedelic Day-Glo blouse, playing music from hell, holding his guitar like he was fucking it, then lighting it on fire…Jimi would amble out onto the stage, fire up the amps and break into 'Purple Haze,' and the kids in the audience would instantly drown him out with, 'We Want Davy!!' God, it was embarrassing."
Flash forward with me a lot. It was in the decade of the 1990s when I finally fully realized there was a method to the madness of adding openers to tours, and this came from my experience working at Star Lake Amphitheater, a 23,000-capacity outdoor venue near Pittsburgh where summers were filled with forty-plus shows every season. Not only did it become clear to me that the headliner-support dynamic was always pretty much structured, pre-tour, by the respective artists' managements and their booking agencies, I also had the good fortune to witness a ton of shows with all kinds of pairings-up—the Good, the Bad and the Inscrutable. From the venue's opening season in 1990 through the summer of 1999, I was at the amphitheater for almost every single show—and there were 408 of them.
That first decade was crammed to the gills. Especially when it was still a toddler, the amphitheater hosted all sorts of genres—blues, classical, comedy, Christian music, jazz, pop, folk, rock, dance, and more. Some of these shows gestated into annual events; others were, on Day One of ticket sales, tragically stillborn. But thankfully we also had the "automatics"—the juggernaut headliners of the early 1990s like Billy Joel, New Kids On The Block, and the Grateful Dead; the mid-decade ascendants like the Dave Matthews Band and Alanis Morissette; and also those who rolled on inexhaustibly through that entire ten-year period like exalted hedonist Jimmy Buffett and crazy train conductor Ozzy Osbourne.
Some artists back then would hit the road with no openers, or trot out on tour with a no-name opener. Others glommed on to a truly synergistic support act, one that fit the genre nicely or simply had a runaway hit record at that moment in time. Still others were persuaded by a manager and/or booking agent to pair up with an artist of equal footing in order to form a cool co-headlining situation for the summer.
Here are some of my observations about that first ten years of Star Lake shows, and the magical, sometimes mystifying couplings that were sent out on the road each summer:
Opening Acts for the Jimmy Buffett Concerts:
Not exactly a plethora of household names here: Buffett's openers back then included Zachary Richard, Fingers Taylor & The Ladyfingers Review, Evangeline, The Iguanas, and Marshall Chapman. And as best I can recall, Buffett in some years opted not to fill that opening slot, for he knew (as did we) that it didn't really matter: Weren't no one comin' through those entry gates until Buffett took the stage and the first few chords rolled on out from the venue's loudspeakers up…over…and into the parking lots where the Glazed and Confused were partyin' up a storm.
Opening Acts for the Chicago Concerts:
This band, born in the late 1960s and later embraced by white-bread radio stations who kept the group's ho-hum hits alive for decades, played every single year from 1990 through 1999—and the reason was Howard Rose. Rose was the booker and titular owner of a small but formidable booking agency that included Chicago, but also Lionel Richie, Elton John and Jimmy Buffett. The latter artist had every summer venue across the nation salivating to land him for their line-up, so Rose used this annually as a bargaining chip when it came time to book Chicago's summer dates.
It wasn't exactly framed or enunciated this way, but the clear message from Rose was this: "You vill take Chicago, und you vill be loving it." And so we did. The fan turnout was expectedly modest most years, falling somewhere between 5,000 and 8,000 in attendance, but the shows themselves were usually very good. Not to mention that the band members backstage were easygoing and unpretentious, and they seemed perpetually grateful to be playing in front of their fans. Chicago's openers and/or co-headliners through the years: The Flecktones, Triplets, Moody Blues, Stephen Stills Band, Tony Janflone (Pittsburgh artist), B.E. Taylor (another Pittsburgh artist who opened up for the band twice), Crosby, Stills & Nash, and the Doobie Brothers.
Opening Acts for the Steve Miller Band Concerts:
Here is another ten-year veteran of Star Lake playdates like Chicago, but this artist was one who brought a huge string of sell-outs to the amphitheater. The phenomenon was somewhat mysterious: All we could figure out was that Big Brother or Big Sister had passed along to their underage siblings more than a few Millers—like Fly Like An Eagle and Book Of Dreams—and the groundswell within this crowd of teens then took a mighty hold and multiplied, right after that first show in 1990.
Steve's openers were decent, usually steeped in classic rock or the blues. They were also—as were the Buffett openers—inconsequential to ticket sales. In our particular market, and practically nowhere else in our company's amphitheater system to any such degree, Miller was the muscle; our very own home-run king.
Chronologically through the years, Miller's show-openers were: Lou Gramm (ex-lead singer of Foreigner), Eric Johnson (rock guitar wizard), Curtis Salgado & The Stilettos (blues-based, R&B-laced rock), Paul Rodgers (ex-lead singer of Free and Bad Company), The Doobie Brothers, Pat Benatar, Eric Johnson again, Little Feat, and George Thorogood & The Destroyers.
At this last show in 1999 with Thorogood, Miller's fans turned out in such large numbers that the venue from the air must have looked like a geyser of humanity. Six thousand people marched up to the venue box office that evening from 6pm through 10pm, buying tickets, wave after wave...Final attendance inside the venue: 26,154.
A Handful of Other Interesting Match-ups of Artists & Support, and Dual Headliners:
Judas Priest & Alice Cooper (8/2/91).....This pairing entitled "Operation Rock 'n' Roll" was mounted by our own company's president, and was an attempt to bring together two arguably different audiences within the classic rock realm—but the fans didn't flock in sufficient numbers to make this operation a success. We hemorrhaged greatly.
Crosby, Stills & Nash with Michael Hedges (6/17/92).....Opener Hedges didn't help sales because he was merely a guitar genius whose fame unfortunately hadn't spread beyond a small, rabid cult.
10,000 Maniacs with World Party (6/18/93).....This pairing sold out the pavilion's seating at around 7,000, and was one of a few "pavilion-only" shows we organized to give our fans a close-up and very intimate concert experience—oh, and lest you think it was all about the fan right there, we ALSO knew we weren't going to sell more than 7,000 tickets so we used this tightened-up, lawn-closed configuration to save on staffing costs.
Midnight Oil, Ziggy Marley and Hothouse Flowers (8/24/93).....An example of "looks good on paper," especially when thinking we'd draw the college-age crowd. I guess most of them were behind in tuition and apartment rent.
Pantera with Sepultura and Biohazard (6/26/94).....Our nickname for shows like this were phlegm fests, as the lead singers were usually in a full-throated, lyric-muddying rage.
Santana and Jeff Beck (8/8/95).....Guitar gods alighted in this double headliner show that lit up the night, though not the turnstiles. Attendance at the amphitheater was not quite half capacity at approximately 11,000 fans.
Santana and Rusted Root (7/11/97)…..This time Santana opted not for a fellow guitar slinger like Jeff Beck, and instead teamed up with Pittsburgh's born and bred Rusted Root. Just two summers earlier, Root was actually the headliner of the lid-lifting show of the '95 concert season and sold out the venue. Post-Gazettewriter Scott Mervis, in his "20 Most Memorable Moments at the PG Pavilion" article in 2009, recalled Root's power to turn out fans for that 1995 headlining show: "In the history of Pittsburgh music, no local band had even come close to drawing 23,168 people. Just a year or two removed from its Graffiti gigs, Rusted Root packed Star Lake with "blissed-out souls" who chanted "Rooot! Rooot!" and danced in the aisles."
Culture Club, Human League and Howard Jones (8/14/98).....A great night of MTV-era nostalgia with a less-than-desired attendance. We really, really thought that this cool combination of early-'80s chartbusters would add up to more than the sum of its parts. I take issue with Howard Jones when he sings "No One Is to Blame"—it was us.
Tom Petty & The Heartbreakers with Lucinda Williams (6/23/99).....Williams is a cult favorite and was a symbiotic but not sales-driven selection by Petty's own camp; they just wanted to put her in front of a large audience for the exposure. Williams has good nights and bad nights (so say her live appearance followers), and this night was a stellar one for those that did work their way in from the parking lots to peek at the opener.
Paul Simon and Bob Dylan (7/18/99).....This combination of dual headliners worked very well, as we drew an audience of just over 17,000. Internally, those of us who worked at the amphitheater remember this concert tour as one of the first that our new amphitheater owners SFX had put together to "feed the system" (i.e., to provide more packaged shows to our outdoor venues across the country). It was also notable for its high ticket prices, which unfortunately became the hallmark of SFX and a questionable legacy for the live entertainment business—but let's end on a high note here. Simon and his band were enthralling and Dylan—well, was Dylan.
_____________________________________________________________________
Posted 5/5/19.....YOU DON'T MESS AROUND WITH JIM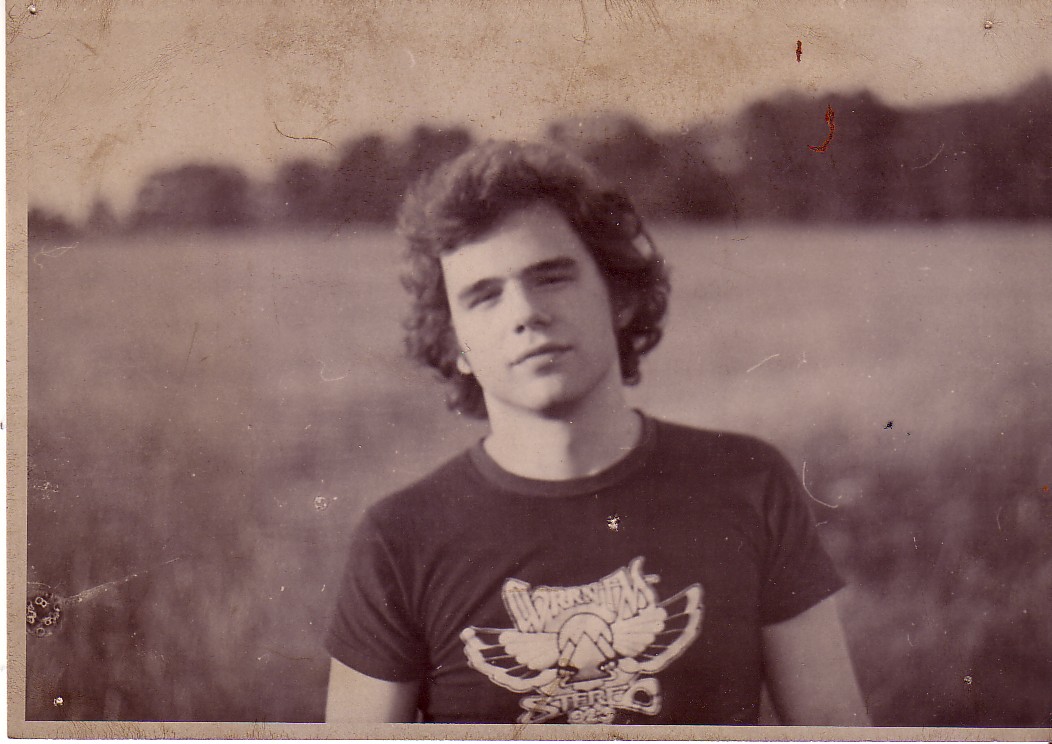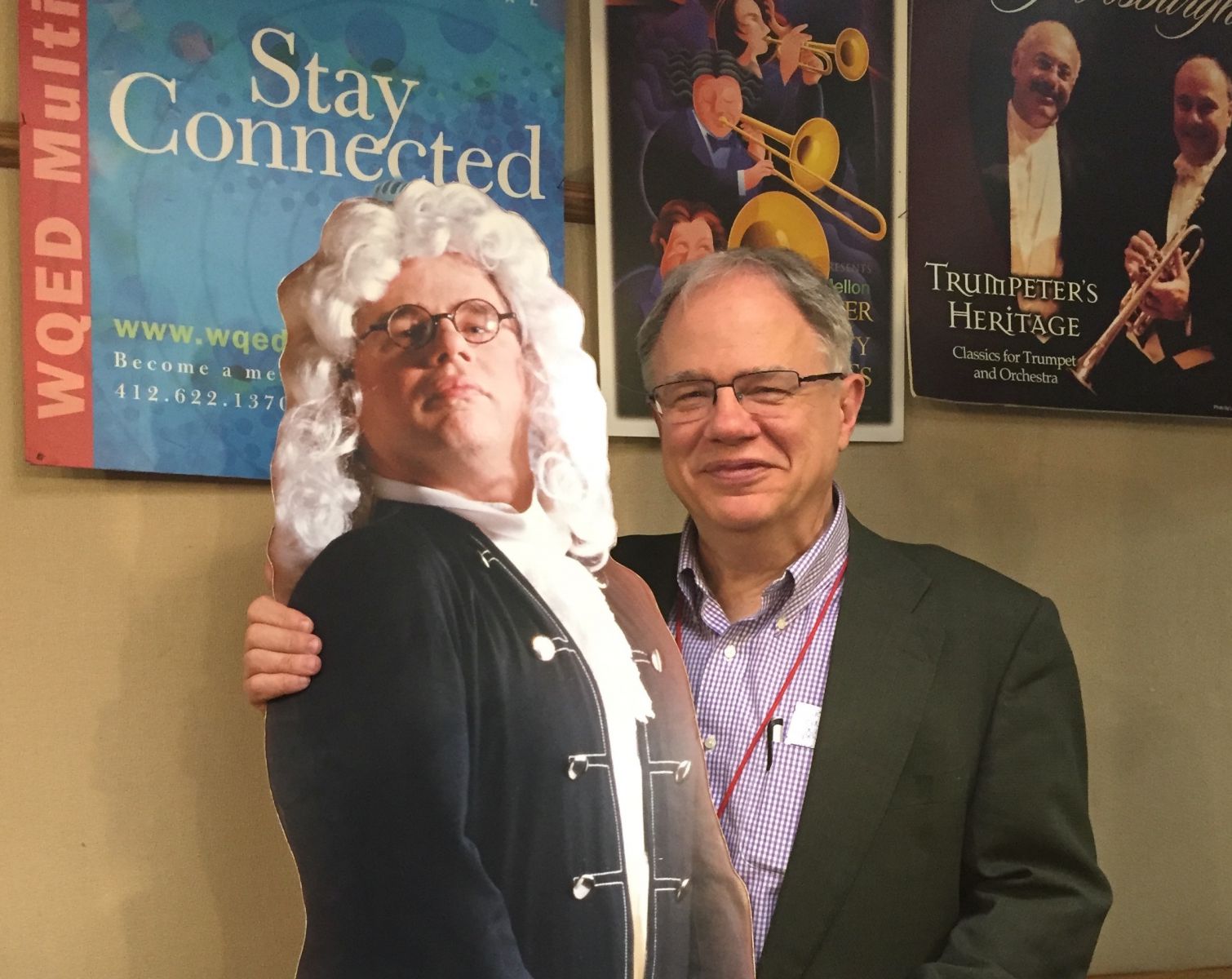 Above on the left is a picture of Jim Cunningham when he was a disc jockey at the free-form rock station WRRN-FM in Warren, Pennsylvania in the early 1970s. On the right is Jim later on, with even longer hair.
Jim is the morning host of WQED-FM / Classical 89.3 and is celebrating his fortieth anniversary with the station this year. I had the privilege of interviewing him recently about his path to WQED and his passions all along the way.
The following are excerpts from that interview.
M: Jim, you've been full-time with WQED radio since July 1, 1979 after becoming a part-time employee in September of the preceding year, so it's coming up on forty years now. Has this been a blink of the eye type of thing? Has the time just whizzed by?
JC: If you enjoy what you do, you never think about time. There is something different and interesting everyday so I never really think about time moving forward.
M: Your title is artistic director…
JC: Yes. I started at WQED as a part-time deejay, then full-time on the air, then producer, assistant manager, assistant program manager, program manager, manager, and several other things along the way to becoming artistic director. A little bit of everything. It's wonderful because it is centered on what I love the most, which is the music!
M: Tell me about your earliest influences in terms of music. Were your parents partial to it?
JC: I always liked all kinds of music. I grew up with it because my dad always had the radio on and my mother played the piano. I can remember her playing Debussy's Clair de lune in the basement when I was young. When I'd wake up in the morning, she'd be down in the basement practicing.
She played piano for fun, but was also a part of a group called the Philomel Club, local people who were interested in classical music. And she was a deejay, too, on local station WNAE. She used to take me there, and I just thought the atmosphere was so cool—reel-to-reel tapes going around, teletype clattering, UPI news, and records. Thousands of records on the wall of all kinds. She wrote the scripts for her show which was on two hours each week featuring just classical music.
I also sang in choirs in junior and senior high school, and in the church choir, so singing is really important to me. My grandfather was a Lutheran minister and he always proudly said, "Lutherans have Johann Sebastian Bach." Church music is important in the Lutheran tradition so I hung around the church secretary and the organist who was always there. I took lessons from him. He was an amazing "out there" guy who was equally talented as an organist and a harpsichordist, and he built harpsichords. I always thought it was fascinating to see how an instrument was made; he had one on the floor of his living room and he worked on it sometimes when I was there. He was interested in all kinds of music, which was impressive, too.
Also, my family went to Chautauqua every summer when I was young and I heard everything under the sun, from George Shearing to Creedence Clearwater Revival and The Lovin' Spoonful. All of that and the orchestra performances. My parents first met there and were married there, so Chautauqua was very important to my family. There was always a mixture every summer—an orchestra, soloists, pop music and rock music.
M: When you first started building your own record collection, where did you go in Warren?
JC: The Bieckark Music House. Mr. Bieckark had a music store that also had albums. I loved that store. I went to G.C. Murphy's as well. I mowed lawns to buy records and as soon as I had mowed enough, I headed to the record stores. Also, my dad was from Pittsburgh originally and we had family down there, so occasionally when visiting I would go to Heads Together in Squirrel Hill and later on the Listening Post in Shadyside. There was another place in Oakland as well, Flo's Records, and a record chain I remember called Peaches that was in the South Hills.
The first albums that were truly important to me were the Beatles' records. The bands that mattered the most to me early on were the Beatles and the Stones—and then everything that came along from that, the classic rock era with the Doors and other bands. Are You Experienced was another album that was mesmerizing to me.
M: I know that you are an avid collector of music, even today. That can lead to marital discord, so I've heard—okay, experienced! So, where do you store everything at your house? In the garage?
JC: There are a few things in there, but you should never store records there because of the temperature fluctuations. In the basement I have one big room, the size of a medium-sized bedroom for my albums and CDs. Before I got married, almost my entire apartment in Green Tree was filled with albums. My father helped me build wooden boxes to keep them in. There was some organization at first, but of course things went quickly out of control.
M: What was your first real radio station experience?
JC: That was while I was still in high school. In a small town like Warren at that time, the radio station played a little bit of everything--classical, rock 'n' roll, pop music, dinner hour music…FM was developing in the early 70s, so at first the AM and FM were simulcast. But when a friend of mine Scott Saylor came back from the Vietnam War, he convinced the manager of WRRN that he could make money for him if he did something different with his FM station, like playing rock 'n' roll. Scott said to the station manager, if you let me program it and sell it, this will cover our costs.
Scott had been on Armed Forces Radio while he was in Vietnam. He was a tremendous sales person and a music enthusiast and loved listening to rock 'n' roll music. And I had a giant record collection by high school, and so that became an important part of my resume to have my record collection be a part of what was essentially a free-form radio station. WRRN-FM had a powerful 50,000-watt signal and it reached all the way to Erie; regionally it was much more powerful than the AM station. I worked for both. It started with a high-school radio club I was in, plus I knew the WRRN station manager's son, and from there I became a part-time announcer. I worked a lot for WRRN-FM when it became that rock 'n' roll station.
M: Was there a certain genre you gravitated to? Sounds like you were open to most anything…
JC: That was the wonderful thing about free-form rock. It was Ravi Shankar followed by Hendrix and then the Beatles, and on and on. It was put together in a poetic way; the music seemed to flow and fit together, a late-night vibe always…There were so many discoveries then. One night I was playing Leonard Cohen and it was one of his songs with extremely "blue" lyrics and my father heard it and called me at the station, saying "Do you HEAR what he is SAYING?!!" My father was worried I would be fired for playing Leonard Cohen's most erotic material.
M: What were some of your favorite concerts back in your youth?
JC: We went to Pittsburgh a lot. I went to see the Stones on several occasions; my dad usually drove me down. I saw them once with my girlfriend and we stayed overnight at my grandfather's place. A whole bunch of friends stayed there as well. I slept on my grandfather's back porch that night.
During college I remember going to the Syria Mosque to see Frank Zappa. He was mixing in some classical music and did excerpts from Richard Wagner's Lohengrin! I saw Jefferson Starship, too, at the Mosque. I was at Bob Marley's last show of his life at the Stanley Theater. I saw a great arena show in Pittsburgh with Earth, Wind & Fire.
When I worked at WRRN we went to see a lot of shows, as that was part of the station culture. I got to see Pink Floyd several times. The Memorial Auditorium in Buffalo is where I saw the Dark Side of the Moon tour in 1972 or 1973, and I saw Crosby, Stills, Nash & Young at Rich Stadium in 1974. Shows at Rich Stadium were a total crazed cultural experience! I will never forget seeing Hound Dog Taylor and The Houserockers at an outdoor blues festival there with the other deejays from WRRN.
M: I want to circle back to your path in radio. How did you end up at WQED?
JC: I went to Thiel College in Greenville from 1973 to 1977, and did a student internship at WQED-FM in 1974. Once out of college in '77 I worked a year in Warren at station WGRP selling advertising time and working as an announcer. I got married in the summer of 1978 and that's when I applied for a job at WQED and got hired immediately as a part-time deejay.
M: Did you have any learning curve in terms of the inventory you were playing on-air?
JC: One thing about classical music is you never stop learning. It's so deep. Blues and jazz is the same, and to some extent rock 'n' roll, but I guess I felt like I had already learned a lot from album covers and from doing radio in Warren and Greenville, so classical music was just a new part of music to learn—and I'm still learning everyday.
Classical radio listeners want to hear Haydn and Mozart, the core artists, the core sounds, but there is always new music, new people writing music. We interview composers all the time. This afternoon I will be interviewing a pianist named Tom Roberts who played on Leon Redbone's tours. He is going to have a clarinetist with him, and they are going to play music by Charlie Chaplin for a Chamber Music Pittsburgh show. So, there's just an ocean of variety here to explore.
M: What do you like most about your job?
JC: Learning. And the people. Finding like-minded folks who enjoy it. You never stop learning. I interviewed Leonard Slatkin and pianist Garrick Ohlsson recently. Leonard Slatkin was premiering a piece that he wrote in honor of his parents, who were musicians and heads of music studios in Los Angeles; Warner Brothers Studio was one of them. All of their friends there were people like Nat King Cole and Frank Sinatra; they knew everyone in pop music. I just thought it was fascinating that Leonard Slatkin was sung to sleep by Sinatra. Who else would be able to make a claim like that?!! The guy conducting Rachmaninoff and Elgar at Heinz Hall. Crossed lines like that I think are interesting.
M: You have a long and enduring relationship with the Pittsburgh Symphony Orchestra, and its conductors and musicians. What's that like?
JC: Manfred Honeck I couldn't say enough about. He is an extremely kind man and interested in people. Interested in spiritual things, and in making Life better. Completely unassuming. Steeped in the traditions as a former member of the Vienna Philharmonic. He's at the top of the heap and just an amazing person.
I also spent eight years with André Previn. Lorin Maazel was astonishing. Mariss Jansons. I wish everyone could meet these folks personally! These maestros, like most of the great classical musicians I've met, are incredibly talented but also easygoing, down to Earth, and really trying to make the world better.
_____________________________________________________________________
Posted 4/21/19.....GOIN' DOWN THE ROAD FEELING BAD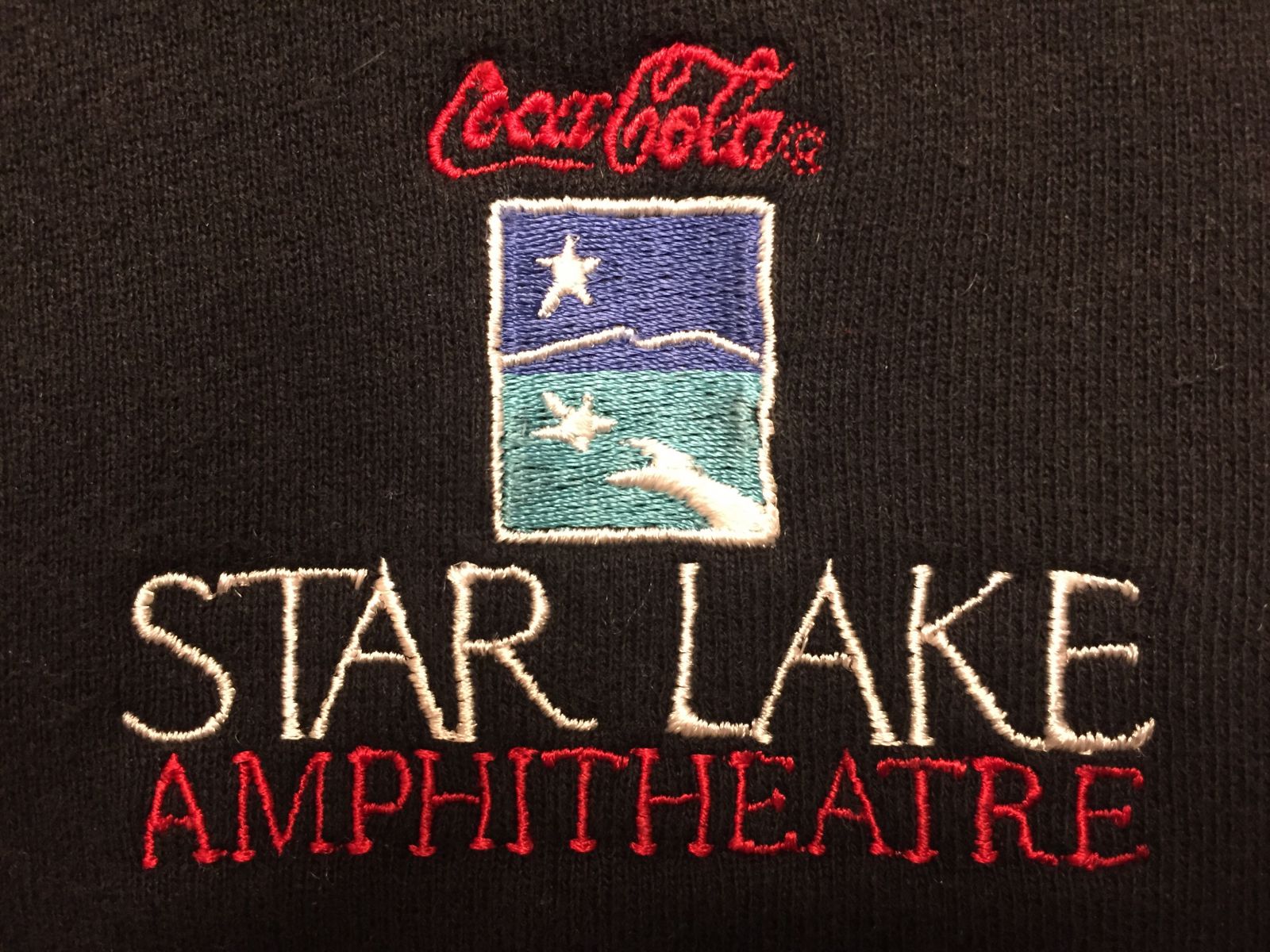 If we had done a pretty wide poll of concertgoers back in the 1990s about Star Lake Amphitheater—which of course then name-morphed over the years to Post-Gazette Pavilion >> First Niagara Pavilion >> Key Bank Pavilion—we would have received feedback on the fans' shows, the number of times they'd gone to the venue, etc., etc….
And I'd wager that if we had asked an open-ended question about the one thing they strongly disliked about the venue, 98% of that feedback would have come back in one word: Traffic. Or maybe, the word "Traffic" followed by a bunch of symbols: @#*&*%#!!!!!!!!
When I worked at Star Lake Amphitheater back then (as marketer '91-'94, then as general manager beginning in '95), the most headspinning, mindboggling operational challenge was always the traffic.
I remember running into an acquaintance in a downtown coffee shop one weekend morning sometime back in the early 2000s. While I waited in line for my half-double decaffeinated half-caf with a twist of lemon (alright, that wasn't my order, but I always wanted to use that line from the movie L.A. Story), the acquaintance sipped the foam off his brew and asked where I was working now. When I mentioned that I ran the amphitheater, he said "Oh, I've never been out there. I heard the traffic was horrible at that Billy Joel concert." I think I may have gently reached out and touched his arm to make a point. "You DO know that the Billy Joel show was well over a decade ago," I said, "the first big show, the first year the amphitheater opened. You might want to give it another shot."
Yes, traffic is something that has always loomed large in people's minds, sometimes to the point of driving them to the brink. There is something about being in a car…at a crawl…on the highway, still about two miles away from the amphitheater, with a full bladder and brain brimming over with steaming, righteous indignation: "What in the HELL is going on? WHAT ARE THESE PEOPLE DOING?!!"
"These people" refers, of course, to the parking lot personnel. Talk about a thankless job, these folks were on the front line, the first amphitheater staffers to greet the patrons as they drove into the facility—and instead of smiles and a thumbs-up, our people saw blood vessels on foreheads and a finger up.
In 1994, the venue's fifth season, the lines of cars to get into the facility—and conversely to exit the facility—were legendary. That same year we booked a classic rock band who hadn't toured in two decades, the much revered late 60s-early 70s band with Steve Winwood and Jim Capaldi named Traffic. As we rolled out news of this particular booking in all of our marketing efforts, some jabs and jokes poured in from a handful of concert fans: "Traffic's heading to the amphitheater? I'm sorry—is that news?!!"..... and ....."Traffic at Star Lake for the first time? BULLSHIT!!!"
To complicate things even further and to truly seal our fate, out on the highway there was Evil afoot: The Pennsylvania Department of Transportation. Looking back at this, I honestly feel PennDOT was worse than Al-Qaeda, SPECTRE, KAOS, Wall Street and every other dastardly criminal enterprise combined. There was just a single highway coming from Pittsburgh out to the venue—the two-lane Route 22/30—and PennDOT took great pleasure in erecting work zones and lane restrictions on that stretch for well over 75% of our summers of operation. The effect on the venue was palpable. We were inflicted with outraged fans and bad PR, everywhere we turned...
But we didn't exactly just sit on our hands, either. Later in the 1990s, before the start of a new season, I had an idea about a brand new game for our plaza entertainment areas inside the venue. We already had a basketball set-up and a football toss as part of our pre-concert fun for fans, but I turned to Shag, our facility operations guru, to develop a brand new offering that would be modeled after the beanbag throw. The twist was that this game would be a means for traffic-bewitched-and-bothered fans to let off some steam from the snail-like odyssey that they'd just experienced on the way to the show.
We decided the game would be a beanbag toss to knock down three items that were going to be lined up on a countertop about 12 feet away, and each lucky soul who aced the three shots would win a prize. The three knock-down items? They were 12" high and 8" in diameter—little orange and white barrels, patterned after their big-sized, badass cousins out on the roadways that PennDOT used to ensnarl traffic and enrage our customers.
We christened this game "The PennDOT Shot," and when we had it all set up in the East Plaza, we hung up a colorful sign as a backdrop. By directly acknowledging our nemesis via this fun little game, we hoped our fans would see a bit of humor in the situation and pull out a buck to pelt PennDOT (we knew they'd much rather be barreling down the road unencumbered, but at least here in the East Plaza they could revel in revenge and retribution).
Our new game was not a hit. The hoops and the football toss continued to pull in a solid amount of revenue per concert, but the PennDOT Shot never caught on as a moneymaker; perhaps the fans, we surmised, had decided instead to drown their sorrows in suds. We then retired our tiny barrels after a season or two of disappointing returns.
We did pursue real options as well, of course, to address the traffic situation. Complicating our plight, though, was the fact that our amphitheater had just one vehicle entranceway/exit—the four-to-five lanes that fed into all of our parking lots that were adjacent to the gates of the venue. We worked unceasingly with our parking personnel and traffic-duty police officers to eke out the best and fastest flow of incoming and exiting traffic, yet on the largest shows—how else can I say this?—we were screwed.
The worst traffic trauma came on weekdays, between the hours of 5:30pm and 7:30pm, when concert-goers were all headed out to the venue from Pittsburgh after a pit stop at home to shed their work duds. These fans then got caught up in the larger weekday commuter crush, and so thousands of cars—some concert-bound, some headed home—were all converging on the Pittsburgh parkway and then Route 22/30, headed in the general direction of the amphitheater. When this wonderful world of wheels then hit the dreaded PennDOT stretch, our fans were forced into some serious brake dancin'—and eager anticipation morphed into vehicular vexation.
For one of Tom Petty's heavily attended appearances at the amphitheater, a show that was on a weekday, we tried every which way to ameliorate the traffic on the ingress. We heavily promoted "Free Parking Before 6:00 PM!" and "Free Food & Beverage Coupons!" in all of our pre-concert radio and newspaper promotions, hoping that fans would respond to these enticements and head out to the venue early for tailgating. Not a whiff of success here. The fans either didn't care, or they were chained to their usual weekday afternoon work schedules and couldn't readjust the timing to make an earlier concert commute.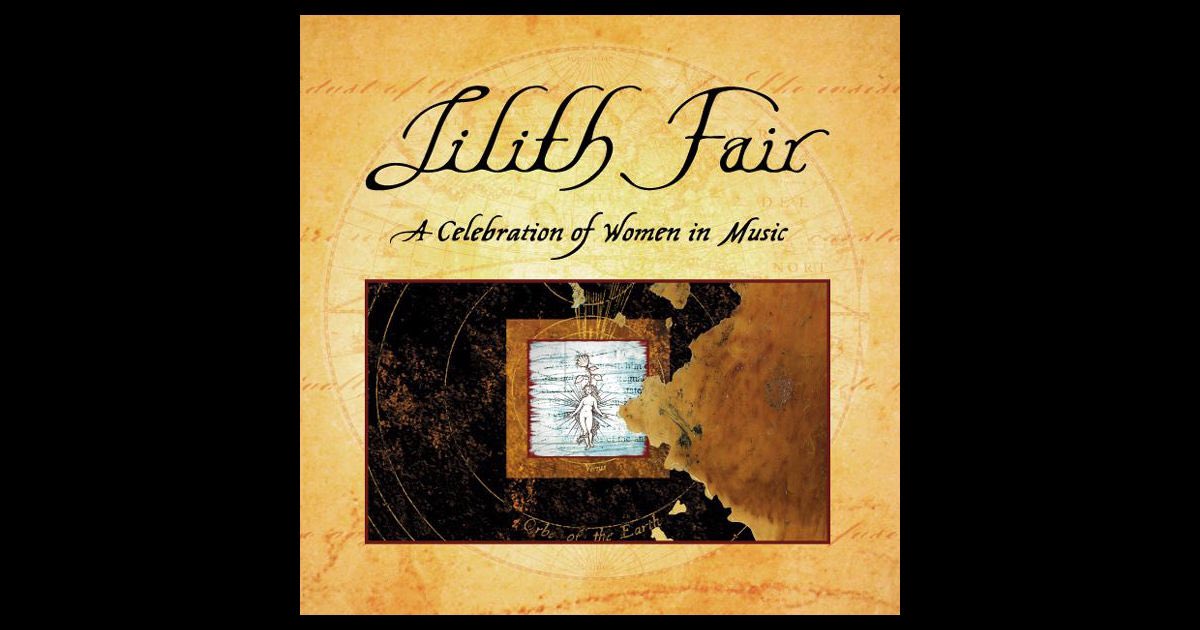 And then there was the Lilith Fair in 1997, the very cool concert celebration of women that was conceived, molded and then mounted to a national touring level by Sarah McLachlan. The buzz was so high on Lilith Fair that we pretty much sold all of the concert tickets in advance, yet we took a gamble on Show Day in allowing a few more cars into our lots so that these folks could buy tickets at the box office (note: Our venue capacity was governed a bit more by the number of cars in the lots, and not so much by the number of people in the venue; with our very sizable lawn, we could cram up there to our heart's content and squeeze everybody in.)
Our parking plan backfired. Way more people than expected had hopped on the highway hoping to buy their tickets at the gate, and so we literally, at a certain point in the evening, had to turn cars away from our entrance at the top of the hill. These late-arrivals—some of whom had already purchased their tickets—could now not enter the parking lots. There was no more room at the inn, and these people were pissed. The fans and followers of Lilith Fair, because of the nature of the festival, were mostly women—and now we could hear them roar in numbers too large to ignore (seems I'm always Reddy with a song reference).
We had a bit of a saving grace though, in our neighbor to the south—the Pepsi-Cola Roadhouse. The folks over there allowed us on occasion to use their parking lot as an "emergency overflow" site, and so we sent a wave or two of the Lilith travelers down there. These particular parkers were thus able to find an actual spot after all, but it was a bit of a hike over to our property, and so their nice little stroll usually ended at the front counter of one of our customer service booths for some venting, teeth gnashing and tongue lashing.
That was pretty much the worst of it in the first ten years of Star Lake. In the venue's second decade (entering the 2000s), we took additional steps in earnest to continue beating back the negative press and making the traffic situation for our fans more bearable. These measures included paying for an engineering study of the ingress and the egress of traffic flow within our lots and, eventually, deciding to change the mode of collecting our parking fee, moving away from collection at the parking lot entranceway to incorporating the fee into the price of the concert ticket. This move in particular saved precious time for our fans on the ingress as they subsequently found they could sail right by our parking staff instead of stopping to pay.
In a perfect world, the concert experience should be a fan's delight, a night of great music and socializing with friends, capturing memories that last a lifetime. Our amphitheater did try, ya know, to make sure a lifetime wasn't spent in the car on the way there and on the way in.
I'd say, it's time to give the amphitheater another chance—even if you just now heard about the traffic at the Billy Joel concert.
_____________________________________________________________________
Posted 4/7/19.....WHEN PUSH COMES TO SHOVE
Thirty years ago this month the City of Pittsburgh hosted a doubleheader that was one for the books. This wasn't a Buccos game at Three Rivers Stadium; it was a back-to-back concert event, and perhaps the term "doubleheader" is not entirely apt—call it the "doubledeadheader."
So much has been written about the Grateful Dead that I'm sure you pretty much know the deal. This historic San Francisco band who officially formed in 1965 inspired a generation of followers, and I mean that latter word in the literal sense: These fans—everyone from indigent hippies to lawyers taking leave—traversed the country for the better part of three decades (1970s through the 1990s), communing with like-minded souls inside the concert venues while scores of others, with their wares and wits about them, scored in the ad hoc parking lot villages outside, trading and transacting.
Back in 1989 I was VP of Event Development & Director of Booking at the Civic Arena, and the Grateful Dead had just confirmed with us an April 2ndand 3rd stopover in Pittsburgh. As arena operators, we welcomed this two-night stand because it meant two surefire sell-outs; the Grateful Dead organization would routinely hold back a certain percentage of tickets and sell them through the band's internal ticketing system to fans across the country, and the rest of the seats would be put up for public sale on TicketMaster, the arena's official ticketing company.
As I recollect, our operations department personnel did some due diligence in calling around to other venues who had hosted the Dead beforehand, and really, they found no surprises. We knew that the Deadheads would be flooding into town from all over Creation, hanging out in the parking lots, finding old friends, bartering goods & services, and maybe even ingesting various substances that seemed to be mushrooming in popularity.
Though there was definitely preparation on the part of our arena team and of course discussion and correspondence between the arena and the band's representatives, there was always floating in the background the possibility that something could go awry. One thing in particular helped complicate things with this early April engagement of ours; this Dead doubleheader was the band's ONLY Northeast appearance in that Spring timeframe, and so the word was out to the legions across the land that Pittsburgh was the place to converge.
Consequently, over that two-night span of April 2ndand 3rd a huge amount of road-trippin' fans descended upon the City of Pittsburgh and flooded into the arena's parking lots and vendor villages looking for tickets to the show. The east parking lot adjacent to the arena's main gate began to spill over its boundaries, and the ticket seekers then joined the ranks of the many other Deadheads aimlessly milling about—and a host of them then began marching around the arena's glass-door circumference, holding up pointer fingers and their hastily hand-scrawled "Need one!" signs.
As the second night's show started, those of us working inside the arena began to hear some thumps on the outer plate-glass windows and glass doors. It reminded me of the walkers from the classic George Romero films—in this case they weren't mindless zombies though, just single-minded souls prowling and probing the outer windows and doors, looking for any weak spots and distractible security guards. Inside, the tension among the staff elevated and a lot of us became deputized on the spot to help watch over some of these potentially volatile areas.
Soon the sounds of breaking glass began to appear here and there—the Deadheads had breached our inner sanctum! I remember collaring a beaded, bearded young man who had just slipped through a jagged hole left by his enterprising friend the window whacker, and I held onto this surprisingly placid individual until a couple of security guards came to "show him the door."
Outside on the grounds of the arena, the police were doing their best to disperse the non-ticketed Deadheads but it was a losing battle. In fact the zombie march around the building and the full-court press on the gates was so alarming to the local constabulary that reinforcements arrived in riot gear, and as often happens in situations like this, sparks flew on both sides and altercations erupted. Several fans were arrested in front of scores of booing, hissing Deadheads, and like pilot fish on a shark, the local media were everywhere.
Then...one officer was caught by a television camera, punching an already-restrained Deadhead who was being led up the one or two steps into the back of a police van. Though the evening eventually settled into a wary peace as the show inside wore on, this particular media footage made the eleven o'clock news and beyond, which prompted everything from City Father cries to ban the Dead, to onlookers' and aggrieved parties' accusations of excessive force being used by the Pittsburgh Police.
Along with this police video that packed a punch, one of the most memorable moments of the affair came from Sophie Masloff, our malaproppin' mayor of Pittsburgh at the time. Masloff was a 71-year-old woman who was not the most astute follower of pop culture phenomena like the Grateful Dead. Expressing her outrage at the goings-on, she let it be known that the "Dreadful Dead" was not welcome in this town and that their followers—the "Deadenders," as she called them—should never return.
Well, the band did return; in fact, the very next year they set their sights on the much larger Three Rivers Stadium. But before a permit was issued clearing the band's booking for July 8, 1990, the City of Pittsburgh demanded and received from the promoters assurance of additional dollars to be earmarked for increased security measures…
A few further words about, and from, Mayor Sophie Masloff: One month after the Grateful Dead's disastrous April 1989 doubleheader at the Civic Arena, Masloff met with Pittsburgh's stadium authority board about another sizable rock show headed toward the 'burgh—The Who, slated for July 16th at Three Rivers Stadium. The following exchange at this May 25th meeting actually happened, according to the Associated Press. Here is the account that ran over the AP wire services the next day:
May 26, 1989 / Pittsburgh—Associated Press—Mayor Sophie Masloff was confused Thursday as to who is coming to town for a rock concert this summer. Masloff, 71, who recently called the Grateful Dead the "Dreadful Dead" and the group's fans "Deadenders," asked Three Rivers Stadium officials about an upcoming concert by "The How."
"Not The How, The Who," said George Whitmer, the stadium authority's chairman.
"The who?" Masloff asked.
"Yes," Whitmer replied.
"Is there a Who group and a How group?" Masloff asked. "Somebody asked me the other day if The How was coming here."
"What the hell is The How?" said state Senator Eugene Scanlon, who, like Masloff, is an authority member.
"There isn't a group called The How as far as I know," said Gerald Baron of Spectacor Management, which runs the stadium.
(Musicasaurus.com's parting editorial comment on the above: Though there in spirit, Bud Abbott and Lou Costello were not at this meeting.)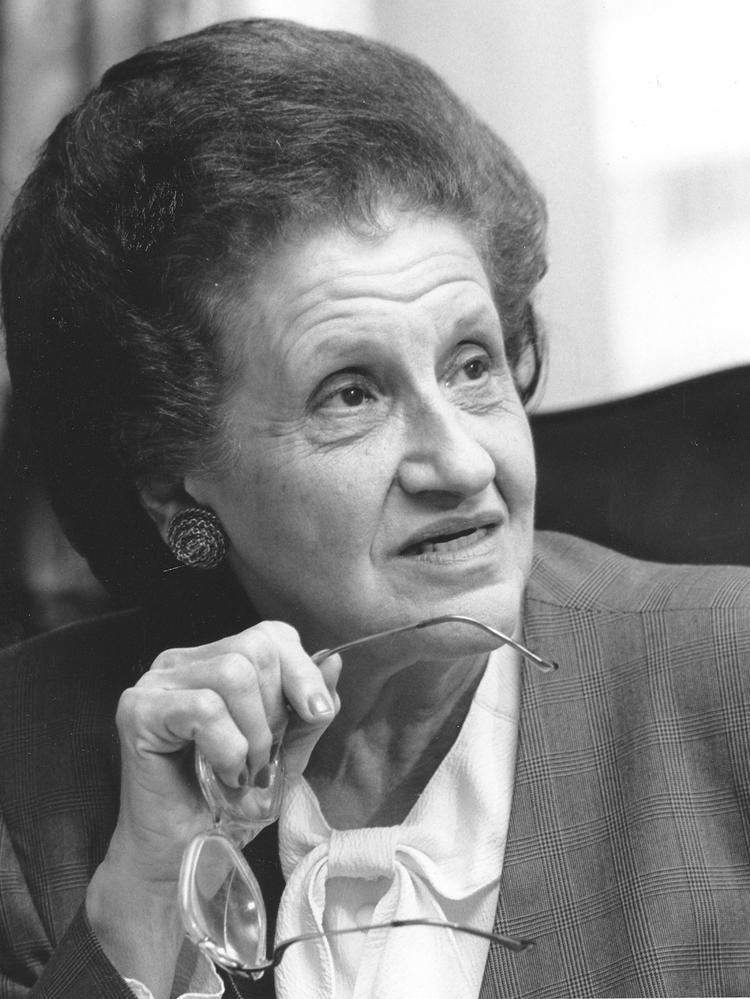 _____________________________________________________________________
Posted 3/24/19.....FEATS DON'T FAIL ME NOW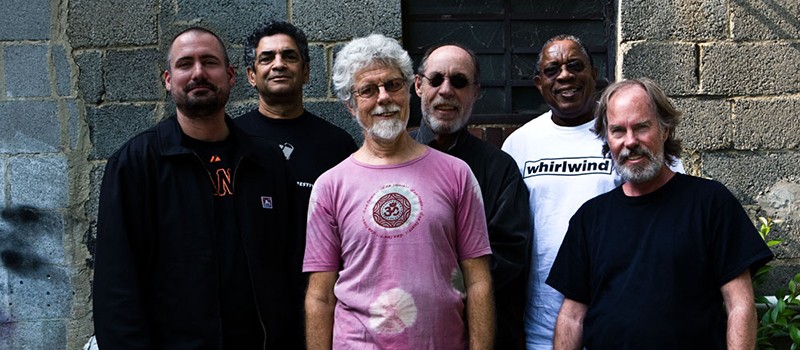 I was talking recently with my friend Ed Traversari, currently associate professor of Sports, Arts and Entertainment Management at Point Park University and before that—for almost thirty years of his professional life—a concert promoter whose first pathway into that industry was through Pittsburgh's DiCesare Engler Productions. He and I were catching up on the phone and he mentioned he'd been lucky enough recently to catch Little Feat in concert at the historic Ryman Auditorium in Nashville, Tennessee on Friday, March 15th.
It was when Ed said, "You know, this is the band's 50thanniversary" that my jaw hit my iPhone. I thought, "JESUS, how could that be?!!" Woodstock was now 50, of course, and understandably garnering a lot of press—everyone from the nostalgia spinners ecstatic over this summer's planned revivification to the online trolls set aflame by what they deemed a pure money grab.
This Feat anniversary? Nowhere near as newsworthy, for certain. The band even in their heyday had only a cult, not a large community of followers by any stretch.
But the magic and the majesty of this band was and is, to me, irresistible. And unassailable. I found a beautifully expressive nugget online in the music magazine Relix from contributing editor Jeff Tamarkin's 1989 article on Little Feat, and his description of the band in this piece is right on target: "Combining the blues with a New Orleans rhythm, acidified lyrical scenarios with good ol' rock 'n' roll, a bit o' country with an uncanny knack for taking a jam to stellar heights. Little Feat was an organic oasis in the processed, slick '70s."
The 1970s WAS their decade. Into that musical melting pot of overarching artistic achievement and the delirious fandom that grew alongside it—re: artists like Led Zeppelin, Talking Heads, Pink Floyd, Queen, Stevie Wonder, Bowie, The Clash and Bruce & The E Street Band—Feat found their own path, never gaining quite the limelight but consistently innovating and producing some of the most stunning, emotionally rich recordings in rock history…
I was in my second semester as a sophomore at Clarion State College when the band's third album Dixie Chicken was released in February 1973. Though I'd thoroughly enjoyed bits and pieces of their first two formative releases—1971's self-titled debut and 1972's Sailin' Shoes—Dixie Chicken was a motherclucker from start to finish. Breathtaking in its scope, the album flowed organically along with songs that were lyrically sophisticated, keenly arranged and flawlessly performed. The band had previously staked out their territory as a melding of American styles including rock 'n' roll, folk, blues, and country, but suddenly they'd found their funk, imbuing their stew with New Orleans-style rhythm & blues. To the fans of Feat, this integration was a revelation; it felt like their final growth spurt toward a wondrously revealing new level of musical maturity.
Founding Feat member Lowell George had always been at the helm as chief songwriter and wielder of a wickedly sly slide guitar. He and drummer Richie Hayward along with keyboard player Bill Payne had started the band back in 1969 with bassist Roy Estrada, formerly of the Mothers of Invention. George had also at that time recently departed the Mothers, and there are various accounts as to why—one story has it that Frank Zappa (the Grand Mother) rebuffed George's new tune "Willin'" due to its reference to "weed, whites and wine." As this particular tale goes, Zappa apparently wouldn't condone any song about drugs, yet at this stage in the Mothers he was all about nonconformist song structure and unusual sonic snippets, including surrealistic dialogue and even the sounds of human snorts—go figure.
Anyway, the first two albums were basically the Feat as this foursome—George, Hayward, Payne and Estrada. Going into the recording of 1973's Dixie Chicken, however, the band lost a member and picked up three new ones. Estrada had exited, and on came replacement bassist Kenny Gradney, now second guitarist Paul Barrere, and percussionist Sam Clayton. With this infusion, and Lowell George at the peak of his songwriting prowess, the band had coalesced into a killer unit.
Over the next six years, the band produced a string of albums that kept their coterie of followers totally enrapt. We felt Feat was ours alone. We were the cognoscenti; the ones who shared knowledge of a superior rock band whose music towered over all else. We let the FM radio stations have their Zeps and their Floyds, while we filled our living room parties and outdoor escapades with the funk and the finesse of Feat.
The first time I actually saw Little Feat in concert was in 1978. I had just nabbed my dream job in March as a traveling record-company merchandiser, and my role was to gather up posters, staple gun, and duct tape to plaster every record store across southwestern Pennsylvania with displays of Warner Brothers, Elektra/Asylum and Atlantic Records' newest releases. Within the first few weeks of my new job, a packaged-up roll of Little Feat posters arrived on my doorstep from the branch office; the band had just released their first live album on Warner Brothers, a double, entitled Waiting For Columbus and they were on their way to Pittsburgh to play a concert in support of that record.
The show took place on April 8that the Leona Theater in Homestead, PA just outside of Pittsburgh. It was a grand old venue, sadly in a state of disrepair; originally built in 1925 and hosting vaudeville and news reels, by the late 1970s the Leona had become the repository for this new rascal called rock 'n' roll. I don't remember much about the concert except a) the band was tight and focused, b) my seats were shitty, and c) the back 2 or 3 rows of the theater where I was sitting were threatened by hanging asbestos or some other injurious stuffing that was pushing through the dilapidated ceiling panels. It wasn't that many years afterward that the theater was torn down to make way for a convenience store new to the area called Sheetz.
The next time I saw Feat was a decade later in 1988, and a lot had changed by then. The band had split up in 1979 while putting the finishing touches on their seventh studio album Down On The Farm, and Lowell George, who had just started his solo career and a concurrent tour, died quite unexpectedly. Or perhaps that was to be expected—a brilliant musician and songwriter, George also lived a lifestyle of certain excesses and reportedly this contributed (along with somewhat of a weight problem) to a sudden heart attack while just weeks into his new solo venture. The band then scattered to the artistic winds, and reportedly a 1986 just-by-chance jam session attended by Bill Payne and Paul Barrere rekindled the spirit. All of the remaining members reassembled the next year, and in 1988 Feat trod once again over the musical landscape. They also picked up two new members—Fred Tackett, a multi-instrumentalist who had contributed material and musicianship to the band on a few of their early 1970s studio efforts, and new vocalist Craig Fuller whose main claim to fame had been forming the 1970s-era country-rock band Pure Prairie League and singing lead on their crossover country and pop Top-Thirty hit "Amie."
So on July 13, 1988, ten years after experiencing Feat with Lowell at the Leona, I sat enthralled at a small club in the Oakland section of Pittsburgh as Little Feat came roaring back to life under the eerily similar-sounding vocals of Craig Fuller. Fuller handled the previously Lowell George-led material with aplomb, and new guitarist Tackett helped complete this godsend reemergence of Feat. The club was called Graffiti, a true local treasure in that the room had great acoustics and intimacy even at capacity, which was said to be 600. In this sold-out setting, Feat took the stage to the opening roar of the frenzied faithful and proceeded to nail it with the funk, fusion, rock and rhythm & blues of their best material spanning 1971 to 1979.
Feat's plan here of reuniting and adding Fuller and Tackett, though, was long-term. Simultaneous to the launch of this tour, the band had released a new album called Let It Roll that featured all new songs that were true band efforts—new member Fuller writing with Barrere, Fuller with Payne, Fuller with Barrere and Payne, etc. The material was surprisingly strong, much to the relief of my fellow cultists who were initially semi-spooked that the band's legacy might be marred. Two songs from the new record received thunderous applause that night—the album's lead-off track "Hate To Lose Your Lovin'" and especially "Hangin' On To The Good Times" with lyrics that brought eye-glistening smiles from the 600 and then roars of recaptured bliss: "And though we went our own ways / We couldn't escape from where we came / So we find ourselves back at the table again / Tellin' stories of survivors and friends"...
The band's re-embrace by fans that evening was mirrored across the country, and Feat moved on up to larger venues within the year. In fact, less than three months after this hot July evening in the small sweaty club, Feat returned to Pittsburgh for a sold-out Syria Mosque show on October 2nd which had 3,700 fans—the already-baptized and the new initiates—reveling in this full-bodied return to glory.
After the band's triumphant return in 1988, I sort of lost my footing with Feat. I had strayed from the flock but it was unintentional and gradual. As the band continued to release albums sporadically through the years and abided some changes—like losing vocalist Fuller in 1993, and that same year bringing on female vocalist Shaun Murphy—I veered off from their path, mostly consumed with raising a family and climbing ladders of opportunity, which meant some things had to take a backseat or even just disappear in the rearview mirror.
I would run across occasional listings of regional appearances by Feat—in line-ups of various festivals and rib-fests, or as openers for more commercially successful bands—but somehow a huge chunk of time had elapsed and I lost track of their newly recorded output as well. All the while, though, in my CD mixes and my on-line playlists, there they'd be—the tantalizing tracks from the '70s, sounding as vital and fulfilling as the first time my turntable's needle dropped down on the vinyl...
I saw the band live one more time after those galvanizing club-to-theater concerts in Pittsburgh in 1988, and that was with my friend James Frederick at Jergel's Rhythm Grille in Warrendale, PA (north of Pittsburgh). It was January 8, 2013 and we were seated about 15 feet away from the lip of the stage. The band gear was in place with small amp lights on, and the room was abuzz with expectation and clatter. I had a few minutes then to really survey the crowd of the faithful—boy, something had happened since those shows in '88. Why, it looked like Grizzly Adams was at the bar, and Rip Van Winkle had just settled in; fifty shades of grey wherever I turned. Old people everywhere. I whispered this to James, and he suggested I go to the bathroom and take a long hard look in the mirror.
The performance that night—with 40-year Feat members Paul Barrere, Bill Payne, Sam Clayton, and Kenny Gradney, and 24-year veteran Fred Tackett—was not disappointing in the least, and I know that blind devotion and nostalgia were coloring my receptors but I gave in willingly. The real and reoccurring thrill for me that night was watching each of the individual band members watch each other. As they sailed through the song list, their faces road-worn and craggy, there were subtle but knowing nods between the players and cracks of smiles at the corners of their lips. Forty years on from the release of Dixie Chicken, this band of brothers was carrying on…
Little Feat will always be elbowing their way onto my perpetual playlists here at home, and there isn't really another band born in the 1970s that I consistently go back to in order to pluck amazing ballads (like "Willin'" from Sailin' Shoes, "Long Distance Love" from The Last Record Album, or "On Your Way Down" from Dixie Chicken)...or a bit of limb-twitchin' funk (such as the explosive live version of "Spanish Moon" from Waiting For Columbus or "Fat Man In The Bathtub" from Dixie Chicken)...or incredibly fetching rock 'n' roll (like "Rock & Roll Doctor" from Feats Don't Fail Me Now or "Red Streamliner" from Time Loves A Hero). I really don't know who else I'd turn to for such consistently awe-inspiring and fulfilling music—big shoes to fill, when it comes to Feat.
_____________________________________________________________________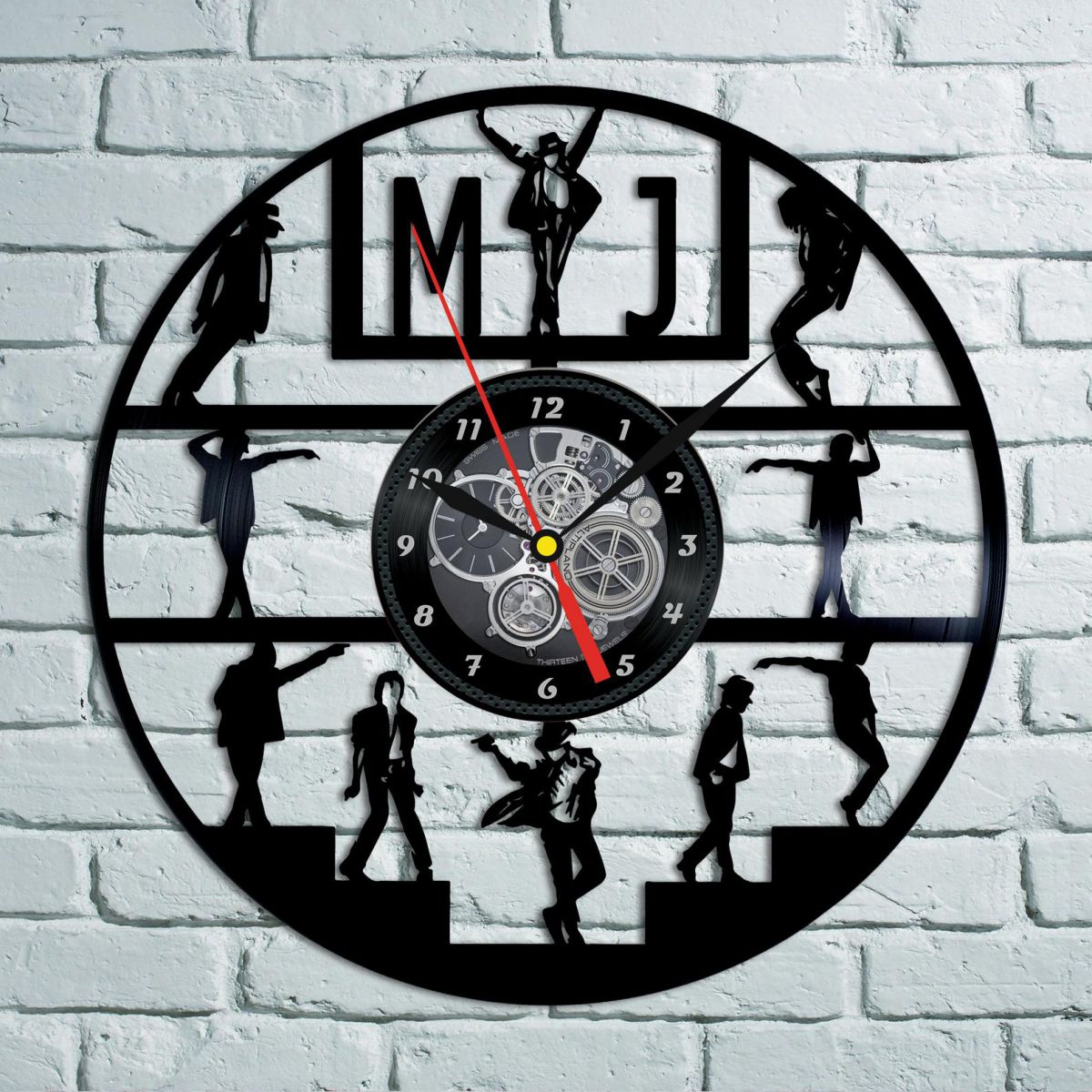 Posted 3/10/19.....TURN BACK THE HANDS OF TIME
H…B…Oh, no! One can't escape the media push & pull that is happening right now because of Home Box Office's recent debut of Leaving Neverland, a two-part, four-hour documentary focusing on two men who claim they were sexually abused by Michael Jackson as children. The program is sparking schisms and searing emotions across the country.
Musicasaurus.com wishes not to make its way into the fray, however, and instead turn back the hands of time to September 1988 when Michael Jackson came to Pittsburgh for the very first time as a successful solo artist. Jackson's first visit to the 'burgh was in 1971 as the diminutive standout star of the all-brothers musical group the Jackson Five, and they played the Pittsburgh Civic Arena on July 30th of that year. There were four more Civic Arena concerts that followed in the span of time between 1972-1981, all of them still performed as the brotherhood (with only a name change along the way, from the Jackson Five to the Jacksons).
Though Michael had a hugely successful fifth solo effort in 1979 called Off The Wall, the artist never mounted a solo tour until the Fall of 1987, a full five years after the release of his Thriller album which had pretty much jaw-dropped the planet on turntables, in tape decks, on radio stations and finally, on MTV (the video "Billie Jean" from Thriller is credited in some circles with essentially breaking the color barrier on the fledgling two-year-old music television channel back in the Spring of 1983).
On September 12, 1987 Jackson kicked off his Bad tour, so named for the album that had hit record stores like a tidal wave the preceding month. Between September and November Jackson hit tour stops in Japan and Australia, and then in February 1988 started up his conquest of various North American cities…and we wanted Pittsburgh to be one of them.
I was working as Director of Booking for the Pittsburgh Civic Arena at that time, under our organization's team leader Paul Martha, president of the Pittsburgh Penguins and head of Civic Arena Corporation, the entity that managed and operated the venue on behalf of long-term arena leaseholder the Edward J. DeBartolo Corporation. Martha's first step was to immediately dispatch a few key members of our staff to check out the first stateside concert of Jackson's Bad tour on the evening of February 23rd in Kansas City.
These scoping-out missions were not an uncommon practice for some arenas in the U.S. back then—having your people directly experience a show of this magnitude in advance of it eventually coming your way—and so a Civic Arena Corporation marketing person and a couple of our operations department team leaders made their way to Kansas City for opening night to check out everything from the tour's production requirements and stage set-up, to ticketing issues, crowd control procedures, and more.
Also, Martha and I did a "kiss the ring" visit to the tour early in its run. Frank DiLeo, a Pittsburgh native from Point Breeze who was Jackson's manager at the time and a friend of Martha's, was amenable to having dinner with us in Indianapolis on March 18th, the first night of a doubleheader concert at the city's Market Square Arena. The dinner took place late in the evening after the show, at the hotel where Michael and most of the tour personnel were booked to stay.
The purpose of our dinner, from Martha's and my perspectives, was to cement relations and to make sure things moved smoothly toward 100% confirmation of multiple nights in Pittsburgh, not just a single engagement. DiLeo, whom I'd never met, was warm and low-key and spoke in a fatherly tone about his relationship with Jackson. He had arrived downstairs in the hotel's restaurant a little later than he had wanted to, and apologized up front by saying he had just needed to check in to make sure Jackson was settled in for the night.
"Michael is just unwinding," I remember DiLeo saying, "he has his pajamas on, and he's watching some television with Bubbles." Bubbles was Jackson's sidekick chimpanzee and the two were inseparable, but this was not news; by this point in time the public was well aware of Jackson's ever-shifting facial appearance and his other idiosyncrasies, but there was not, it must be said, any sexual abuse rumors and charges floating around freely as this really only came to light beginning in the early 1990s.
Ida D'Errico, Director of Marketing and Public Relations for the Civic Arena Corporation from 1982-1989, had one of the best insider-view positions of anyone else on the Pittsburgh team when we finally confirmed our multiple-night run of Jackson shows for September 26, 27 and 28, 1988. Ida was one of the three from the Civic Arena that had gone on the original reconnaissance mission to Kansas City to preview the tour, and she was also an instrumental player once Jackson and entourage settled in for their September shows here in Pittsburgh.
In her own words, remembering back: "It was THE mega concert of our time. I was fortunate to be assigned to join two other operations staffers, Mike Gentille and Jim Sacco, to advance the opening date in North America of the Bad tour in Kemper Arena, Kansas City. Although never star-struck (you couldn't be in our business!) I was a huge fan of his incomparable talents. I recall that the well-dressed audience included a lot of families, very much like we were watching any touring family show such as Disney on Ice. People froze in their seats appearing not to move or even dare breathe fearing they might miss one of his mesmerizing gravity-defying moves.
"Our on-sale date approached and we planned accordingly to set up a bank of an additional twenty phone lines in the concourse of the lower arena outside our box office to receive the onslaught of calls. The receivers were off the hooks as 10am approached. All news cameras stood by as I gave the direction to place the receivers back onto their cradles. And we were off(!), with a major non-stop telethon of ringing phones in two areas.
"As usual, the tour's tech rider had several requirements. One was a leather couch in one of three dark colors—black, navy or gray. It was well-known that Michael had a serious concern about germs. Our operations manager Mike Gentille tried very hard to locate one without success. Just two days before the first night of the three night engagement, he asked if I could locate one through my relationship with Kaufmann's. They searched their warehouse and didn't have one. I contacted Higbee's department store in Boardman, Ohio (a store owned by the Edward J. DeBartolo Corporation). Higbee's had one and were preparing to quickly deliver it to the arena when Kaufmann's called me to say they located a gray one tucked away in their warehouse. It was quickly wrapped and delivered.
"Michael sat on that couch for three days wearing his famous silver-buckled black costume. The leather couch was then picked up by Kaufmann's after the final night's performance and I received an immediate call. Kaufmann's was upset that their soft leather $3,000 couch was covered with hundreds of slits and slices. I quickly said that the couch was now 'priceless' since Michael sat on it for three days, and explained that the damage was caused by his costume. They were in awe. I doubt they ever sold it to the public.
"The DeBartolo family was instrumental in being certain Pittsburgh had these tour dates and our Civic Arena management team was the promoter of these shows. I was asked by the DeBartolos to order a large impressive flower arrangement for Michael's dressing room. It was so large and heavy and filled with incredible exotic flowers that it took three of our utility crew to carry it into the dressing room where it covered an entire table!
"The road manager followed after me repeatedly saying the flowers couldn't stay due to 'germs.' I politely replied that they would indeed need to stay as they were a gift from the DeBartolo family. They stayed in the dressing room all three days. The road manager also insisted that the fabric wallpaper be removed from the newly remodeled dressing room—more 'germs.' That stayed intact, too.
"During the planning process leading up to the show, I was contacted often by Michael's manager Frank DiLeo. On the last night of shows, Frank insisted that he arrange to have a photo taken of me with Michael, along with his long line of many other backstage guests. I resisted, again, not being star-struck and having only one other photo with an artist (Robert Lamm of Chicago), also taken by accident and unplanned. But I said 'yes' and Michael was absolutely wonderful and so pleasant."
Veni, vidi, vici…He came, he saw, he conquered. The King of Pop dazzled Pittsburgh over three consecutive nights in September 1988, and that engagement stands as one of the most memorable events in the forty-nine year history of the Pittsburgh Civic Arena, from the opening Ice Capades event on September 17, 1961 through the arena's closing-bell concert by James Taylor and Carole King on June 26, 2010.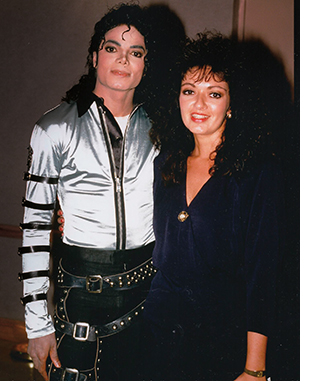 _____________________________________________________________________
Posted 2/24/19.....ROLLING IN THE DEEP
The following are a number of deep thoughts. Or at least I'd like to think so. They are (of course) music-centric and are things I have wondered about recently; random thoughts that have occurred to me that I can no longer suppress nor file away for another day…
Were perpetual road warriors Lynyrd Skynyrd succumbing to deeper and deeper depression over the years, as Bic lighters flickered out of existence and smartphone glow-screens edged into dominance? Experiencing "Free Bird" in concert—out on that amphitheater lawn, or up in those arena seats—just ain't been the same since iPhones and I hope the young will remember, a Skynyrd man don't need them around anyhow.
On December 31, 1984, drummer Rick Allen of the British hard rock band Def Leppard lost his left arm in a car crash in Sheffield, England. Did the band initially think about breaking up, and calling their final album Def Leppard: Out On A Limb?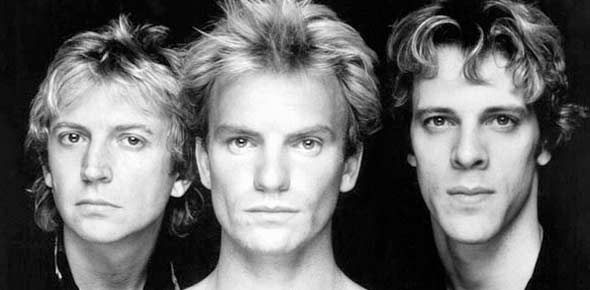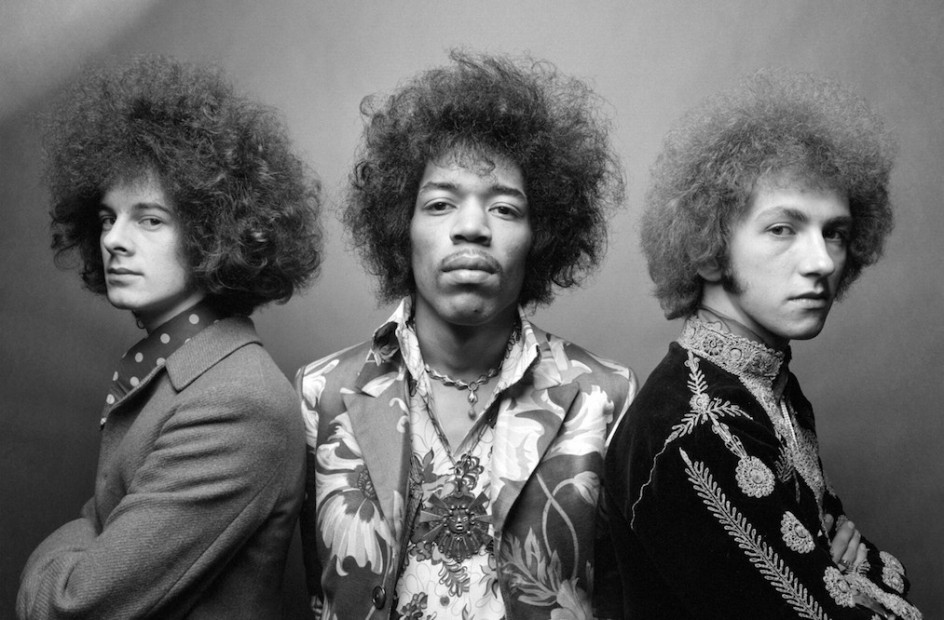 Ad agency types missed their chance with these possible corporate tie-ins to certain artists' songs:
1) The S.O.S Soap Pad company could have employed some propulsive theme music for their TV ads promoting their steel wool abrasive cleaning pad by licensing a repeating lyric from The Police's 1979 song "Message in a Bottle"—"I'll send an SOS to the world."
2) La Choy, the brand of canned and prepackaged American Chinese food ingredients, could have used a slightly lyrically rejiggered version of Deniece Williams' 1984 smash hit from the movie Footloose, "Let's Hear It For The Boy" (really? I need to spell this one out for you?)
3) GLADD is the acronym for the Gay & Lesbian Alliance Against Defamation and it works through entertainment, news, and digital media to share stories from the LGBTQ community that accelerate acceptance. They could have borrowed Jimi Hendrix's line from "Purple Haze"—"'Scuse me while I kiss this guy"—as a backdrop to a GLADD public service announcement, and this would have most assuredly gained traction as it's what some people think the lyric says anyway.
The following is true. In 1981, at a meeting in Los Angeles with CBS Records executives, Ozzy Osbourne bit the heads off two live doves. Do you think this dissuaded the Byrds from ever touring with the Oz man?
Is it true that some current progressive rock groups are considering paying tribute to classic 1970s prog-rock superstars Emerson, Lake & Palmer, with an album of cover versions called "With a Little ELP from My Friends?"
Frank Zappa was an iconoclast, his late '60s/early '70s songs peppered with satire, sardonic wit, surreal soundscapes, and herky-jerky musicianship. I wonder if his public relations people ever suggested he do some charity work to ratchet back parents' strongly held beliefs that his band was a threat to normality and family values…Maybe a "Mothers Against Drunk Driving" campaign would have helped.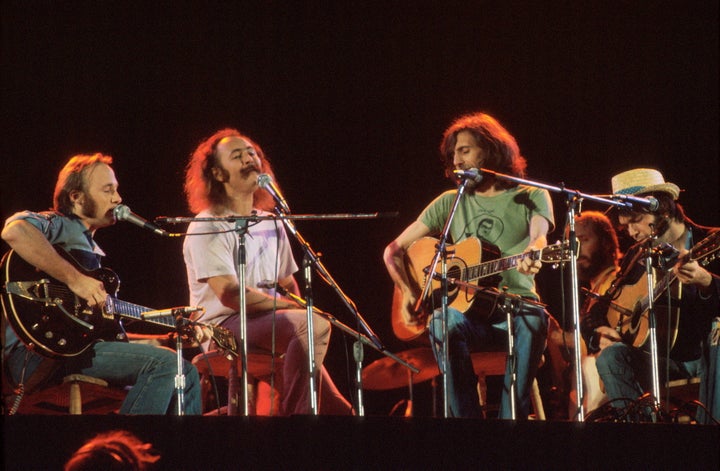 I had a dream one night that Crosby, Stills, Nash & Young were on-stage playing, and I was in the front row mystified that each of them didn't look anything like I thought they would. The next thing I remember in the dream is a friend telling me the original members had broken up, and what I had been seeing onstage in their place was a recently convicted perv, a renowned '50s-60s era female opera star, a country legend and a famous psychoanalyst. So there you have it: Cosby, Sills, Cash & Jung.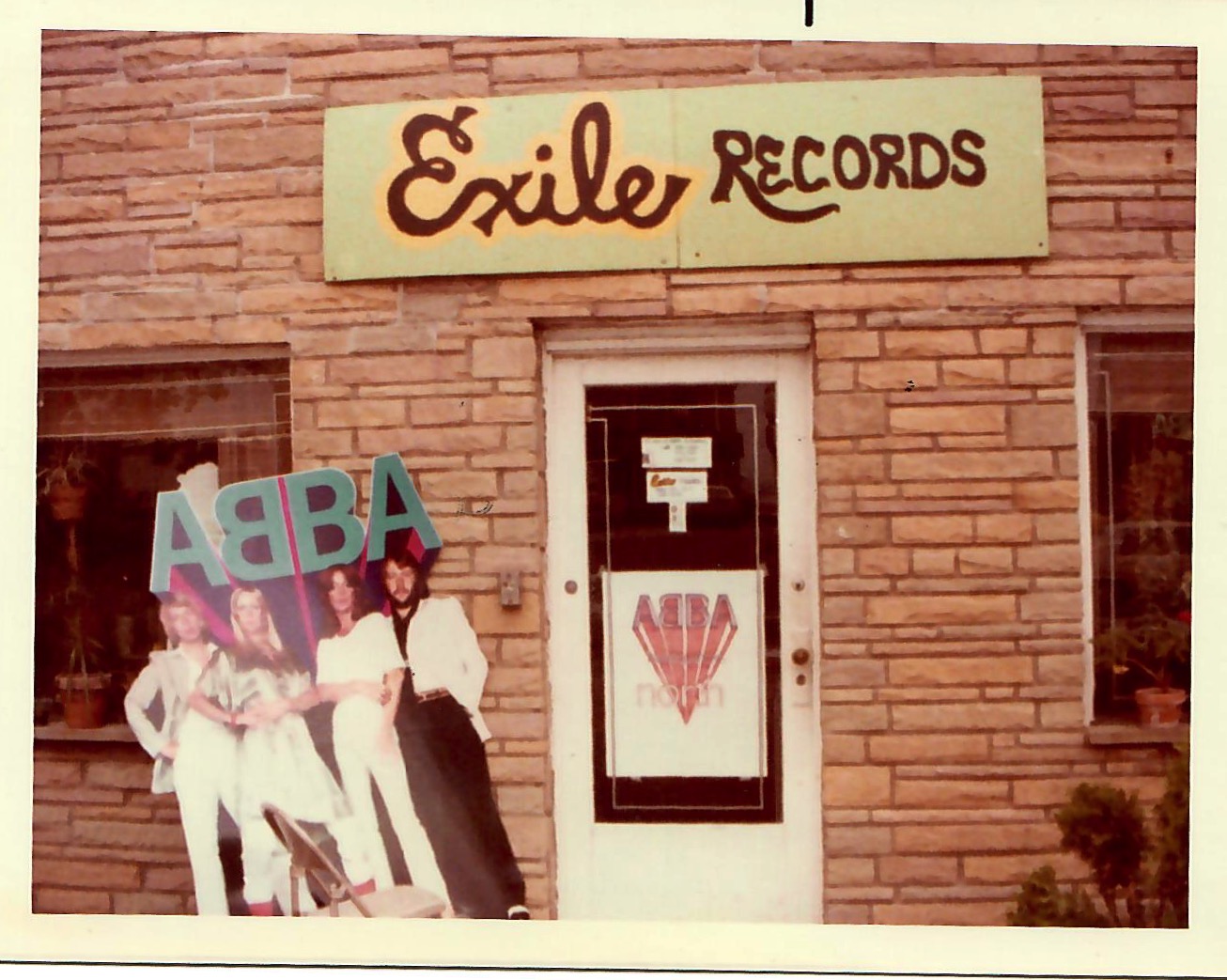 When I worked in a small independent record store called Exile Records in the mid-1970s, I always thought about organizing and promoting a Necrophiliac Sale in which dead artists' albums & tapes would be sale-priced for the weekend. And following that theme, I wanted to stage an "in-store appearance" of a band that same weekend, instructing the members to all lie down together on the floor in the corner of the shop and to feign demise, uttering not a word nor moving a muscle. I also wanted to run some radio commercials for the sale that ended with the tagline, "This weekend only, pick up on the best of those at rest!"…Never did any of that.
We all love polls. With one focusing on "The Albums That Sound Best On Drugs," the clear winner would be Pink Floyd's The Dark Side Of The Moon. Note that there is an inherent problem with this, however. Survey respondents would need to grapple with turning this record over and placing the needle on Side Two while tripping on acid, and here the degree of difficulty would be enhanced by heightened contemplation of the spinning vortex of a hundred tiny universes dotting the revolving surface of Side One.
Who of us, of age, didn't scream "Oh, no!" when The Beatles broke up? Yet we should not leap to crucify Yoko for this nor jump aboard that bandwagon 'cause I think that wagon's pretty damn overstuffed. I DO want to point out a "positive" here, though, in that Yoko recorded perhaps her greatest musical achievement in 1969, a track released that May on the John Lennon/Yoko Ono album Unfinished Music No. 2: Live with the Lions. The track is called "Two Minutes Silence," and it is exactly what is says it is. And yes, you can find it, and cannot listen to it, right here: https://youtu.be/Ap59l8YzGZo
Feld Entertainment, Inc., the company behind Ringling Bros. and Barnum & Bailey Circus, announced at the start of 2017 that the 146-year run of circus dates across America would cease in May of that year, citing dwindling ticket sales, high operating costs and changing public tastes. Why they didn't reach out to Insane Clown Posse just mystifies me; this could have been the circus' salvation for a couple of reasons.
If the Feld company had begun targeting the disheveled, the disaffected and the disenfranchised—yes, the ICP fan base, a previously ignored segment of the youth market—that might have boosted attendance beyond the usual family draw. Plus, Insane Clown Posse could have easily been integrated into the traditional "cram in the car" maneuvers in the center ring, but also could have run up and down the general seating sections hawking soda cans of Faygo (and then true-to-form spraying any six-year-old whose mom didn't immediately cough up the bucks).
Odd Couples or couplings you may have missed (dig further elsewhere, if you don't believe these): Cher was once married to Gregg Allman.....the Jimi Hendrix Experience was the warm-up act for the Monkees on seven dates of the latter's 1967 summer concert tour.....and Bing Crosby sang a duet with David Bowie on a television Christmas special.
Over the ten-year period of 1992 through 2001, the following bands appeared as either warm-up acts or as festival fillers for Ozzy Osborne concerts at the Pittsburgh area amphitheater where I worked: Ugly Kid Joe, Prong, Megadeth, Coal Chamber, System Of A Down, Snot, Incubus, Ultraspank, Slayer, Godsmack, Fear Factory, Slipknot, Hed Pe, Methods Of Mayhem, Deadlights, Disturbed, Slaves on Dope and Crazy Town. What I loved the best about these shows were the handful of parents who showed up and complained to our guest services staff about the coarse language from the stage, the fires out on the lawn, and the staggering amount of drunk people (or was it the amount of staggering drunk people…I forget.). Our guest services people tried to calm these outraged parents down, but clearly someone had NOT done their homework.
When I saw this particular photo of Ike & Tina Turner, I thought it might have been taken at the house across the street from where the much younger Ralph Northam was partying way back when...But this is actually a photo from the duo's 1969 release Outta Season which, according to the website PopMatters, "featured the infamous album cover of Ike and Tina in white face, chomping on watermelon. Ike and Tina were satirizing the idea that white musicians had co-opted rhythm and blues, as if black musicians had to feign whiteness in order to be accepted as a viable blues act."
What was Joe Cocker actually singing at Woodstock, during his electrifying cover of the Beatles' "With a Little Help from My Friends?" I never knew, as he was a bit marble-mouthed—and then I caught this YouTube clip that spelled it all out for me: https://youtu.be/eEb8DflQ9lY
_____________________________________________________________________
Posted 2/10/19.....MONEY (THAT'S WHAT I WANT)

They say that love makes the world go round...but you know, so does sponsorship.
Recently Musicasaurus.com was once again tackling the tar pit that is its life, and by that I mean the Clutter (with a capital "C") around my house. I don't border on hoarder; it's not that. I simply never took an ax (or a shredder) to the accumulation of decades of stuff, and so finding a personal little jewel tucked away, I found, is still possible.
One of the things I ferreted out was an amphitheater list from exactly fifteen years ago from the Spring of 2004. And it had to do with amphitheater sponsorship.
A bit of background first: Fifteen years ago I was the general manager of the Post-Gazette Pavilion (now Key Bank Pavilion), the full-size amphitheater serving Western Pennsylvania that is situated about 30 minutes from Pittsburgh in Washington County. When the amphitheater was truly crankin'—in terms of the number of summer events—we'd have about 40 shows a summer (essentially from 1990-1999). By 2004 our show counts were down in the 30s, but we were still profitable and probably all the wiser, in that it's not the number of shows you have, it's how many of them are winners and how many are losers. Putting the brakes on questionable bookings, we found, was not a bad thing at all.
From the beginning of our existence, though, sponsorship was key. Outdoor venues like ours craved shows to fill the schedule, and the negotiations to land a particular touring artist usually included paying them a whopping guarantee, i.e., some A$tronomical $um. We would then hope to sell enough tickets to cover all of our costs, yet in a lot of instances it was the ancillary revenue from popcorn, pilsner and parking that really $aved our a$$.
With the artists beating us up with their guarantees, we counted heavily on this revenue from food, beverage and parking to soften the blow and, most often, we'd then turn some level of bottom-line profit. Over time, though, some pinnacle artists who carried a big negotiating stick (Jimmy Buffett and a few others) essentially picked our ancillary pockets, constructing their deals such that some of our food, beverage and parking revenue would flow to them at the end of the day—hence the importance of venue sponsorship.
This was the one area that was untouched by the touring artists from Day One. Amphitheaters like ours in those early years loaded up their venues with sponsors of all kinds, and through each successive summer continued to creatively design new sponsor opportunities to keep amassing this local treasure-trove of funds.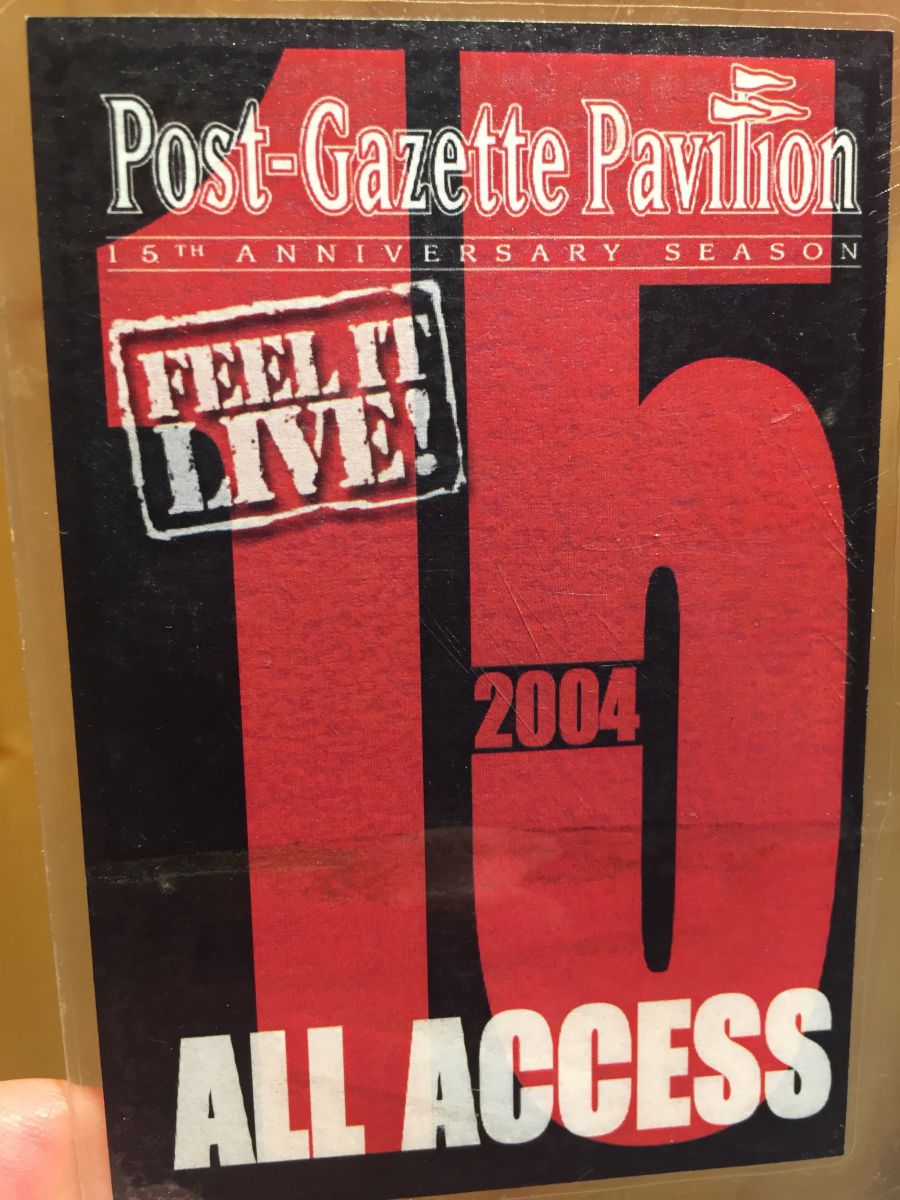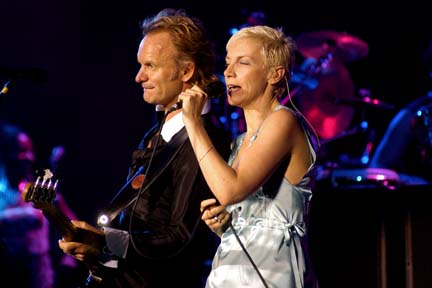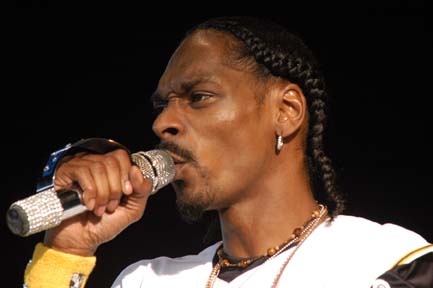 Post-Gazette Pavilion (first birthed as Star Lake Amphitheater in 1990) was in its 15thyear of existence in that summer of 2004. We had a great line-up of shows that year, including Jimmy Buffett, the recently reunited Fleetwood Mac, Sting with Annie Lennox, Projekt Revolution (Linkin Park, Korn and Snoop Dogg), pop queen Jessica Simpson, Dave Matthews Band, the tenth anniversary edition of The Warped Tour, and more. And we were "mature" by outdoor amphitheater standards by that fifteenth summer, having nurtured and built up an audience, kept pace with R & M (repairs & maintenance) and facility improvements, and uncovered new revenue streams to keep the parent company happy—or at least off our backs.
When I found this amphitheater sponsor list from 2004 it took me back to the heady days of runnin' the joint, and our unified scramble each Fall, Winter and Spring to renew the previous year's sponsors and to plow ahead, of course, angling for new money dangling.
The following list reveals just one aspect of venue sponsorship, but it is an important one: On-site visibility. This might be a stroll down memory lane for some of you "Summer of '04" concert-goers as well, since most of these entities lined our plazas and our walkways from the main entry gates on down to the lowest pedestrian points near the stage. I think this list lets you glimpse the ingenuity involved in securing a diverse group of promotion-minded sponsors—and occasionally it points to the depths we would plumb in order to make a buck (or more precisely, another buck).
The 2004 List of On-Site Sponsors at Post-Gazette Pavilion:
There were twenty-four total on-site sponsor/vendors. Each paid a pretty penny to be with us, and we afforded them the right to show and/or dispense their wares to the strolling concert fans who were either fresh through the gates, taking a breather from the mostly meaningless opening acts, or on their way to relieve themselves of bodily fluids before queuing up once again for more bladder fuel at the concession stands.
The on-site sponsor displays significantly contributed to the fun and festive atmosphere, altogether just one more interesting aspect of the total fan concert experience.
These first twelve will pass without much comment; they were fairly "standard stuff" at the amphitheater back then:
* Best Buy, sponsor of our second stage in the West Plaza.
* JBL, the audio electronics company who sponsored our sound technician's mixing tent in front of the second stage.
* Ebay, American Express, WPGH-TV (Fox 53), and the convenience store GetGo who all had 10' x 10' tents for literature pass-outs and/or new customer sign-ups.
* Land O' Lakes and Smith Hot Dogs, who each had large inflatables anchored to the ground for can't-miss visibility.
* Snyder of Berlin, the Berlin, PA chip company who passed out product and coupons at our "Kid Drop-off Zone" at the top of the roadway entrance to the amphitheater.
* Ticketfast, who handled our ongoing Ticketmaster promotion that allowed early entrance through the facility gates with a special admission pass.
* Wheeling Island, the nearby West Virginia gambling hotspot who sponsored our open-to-the-public deck area in the west plaza.
* And GMC, the automobile dealer association that sponsored our country shows who, in addition to a humungous logo inflatable and a 10' x 10' tent, had six of their cars parked onsite in high visibility areas of our east and west plazas.
These other 12 were a bit more interesting, as I reflect back:
* Post-Gazette newspaper stands and vendor stations – The Pittsburgh Post-Gazette was our name-in-title venue sponsor, of course, and they provided their own staff to sell—usually for $1.50—a recent edition of their newspaper that was wrapped with a four-page, full-color concert section specifically tailored to that night's performer line-up. Some artists grumbled about us giving the Post-Gazette the right to do this; they were under the impression that these Post-Gazette "wraps" would affect their own tour merchandise sales, which was…well, poppycock.
* Bound By Design – They had a 10' x 10' tent staffed by their employees who did temporary tattoos (to paraphrase Rick James, "the kind you can bring home to motherrrr.")
* The Captain Morgan's Hut – This little plywood building housed a liquor point-of-sale, and right next to it were the company's gigantic inflatables of a Smirnoff bottle and a Jose Cuervo bottle. I remember one night James Taylor, in between songs, spied the large liquor inflatables at the same time that he had noticed all of the GMC cars parked in the plazas. He pointed them out to the audience, and then said over the microphone, "Is this place telling you to drink and drive?!!"
* Dick's Sporting Goods' Sports Zone – This company sponsored a basketball toss and a small putting green in two different locations in the plazas, and our employees manning those games—dressed pretty much like Dick's—were charged with giving out store coupons as prizes.
* f.y.e. – The employees of this national entertainment-media chain sold records and tapes, and distributed store literature from a 10' x 10' tent. At the time, the chain's parent company owner Trans World Entertainment also owned record stores including Strawberries, Record Town, Coconuts and Camelot, and in 2009—no surprise—f.y.e. reportedly closed over one hundred locations nationally and then fifty-two more in 2012.
* Rick's Ranchwear – This entity had two stocked-to-the-gills trailers of cowpoke merchandise, one in each of the two main plazas. They set up only at certain shows, selling their wares to the country crowds at concerts like Toby Keith, Brooks & Dunn and Tim McGraw. The area around these trailers seemed perpetually jammed—and that's not counting the handful of male security guards who would more-than-occasionally "wander by," stealing glances at the young women leaving the line sporting their new knee-high boots and brand new hats.
* Gunslingers – This sponsor had a 10' x 20' tent usually with one grunge dude and one motorcycle mama doing tattoos and body piercings.
* Simple Twist of Fate – This hip little entrepreneur sold tapestries, incense and beads, and likely came up with his company's name while under the influence of the Dylan song, or maybe he had simply twisted up a fatty for inspiration—in any case, his product was popular especially at the jam band shows.
* U.S. Smokeless Tobacco Company – This sponsor had a 10' x 15' tent for sampling snuff (not the films). Of course they didn't peddle this cancerous commodity at kids' shows like Britney or Backstreet; instead, they served the more adult segments of our Buzzed and our Sloshed—i.e., the crowds at our country music concerts and classic rock shows.
* Jack Daniels – This liquor company had one tremendously oversized inflatable, a big badass bottle of Jack, at five mutually-agreed shows during the concert season (you can bet your bottom dollar they blew up that sucker for Hank Jr. and Skynyrd!).
* Beano's – This was the deli condiment company and not the fart-suppression firm, just so you know...Their sponsorship deal enabled them to sample their deli condiment products at eight of our shows, cruising in one of our venue golf carts throughout the parking lot areas where people tailgated. And for two of their chosen eight shows, Beano's was able to have one of their inflatables inside our facility gates in one of the plazas. I honestly can't remember what the inflatable looked like or how large it was; it was probably one mean mister mustard, though.
* Trojan – This sponsor had a 10' x 10' tent from which their employees distributed free condoms at mutually agreed shows. At the conclusion of some of these concerts we would find a number of still-packaged condoms peppered about our lawn and sprinkled throughout the parking lots, and we'd even find a few in our exit lanes—truly the place where the rubber met the road.
_____________________________________________________________________
Posted 1/27/19.....FUNNY HOW TIME SLIPS AWAY
On January 9, 2019 the online professional entertainment magazine CelebrityAccess ENCORE reported that the original Woodstock Music & Arts Fair is going to be commemorated by the launching of a golden anniversary event. Official confirmation for this was provided by the original festival's co-producer and co-founder Michael Lang, who said, "It's time to put the speculation to rest and officially announce that Woodstock 50 is happening.
"The original festival in '69 was a reaction by the youth of the time to the causes we felt compelled to fight for—civil rights, women's rights, and the antiwar movement, and it gave way to our mission to share peace, love and music. Today, we're experiencing similar disconnects in our country, and one thing we've learned is that music has the power to bring people together. So, it's time to bring the Woodstock spirit back, get involved and make our voices heard."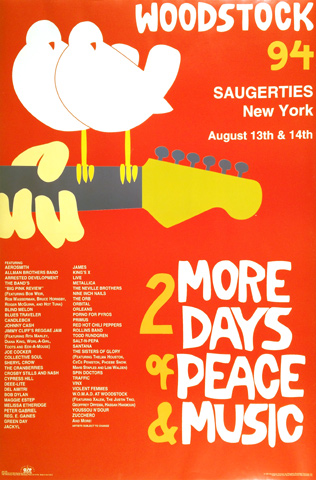 The festival has had more than a couple of hiccup rebirths through the years, principally Woodstock '94 (two, not three days of peace & music in mid-August in Saugerties, New York) and Woodstock 1999 (four days in July on the site of a former Air Force base in Rome, New York). Both of these large-scale attempts to feed off the brand were unfortunately marred by greed and poor planning. Neither doled out peace and music in equal measure, as fans were plagued in both instances by, among other things, a lack of security coordination given the size of the gatherings, and an ill (nay, dead on arrival) conceived policy of the promoters at least initially prohibiting food, beverages and alcohol from being brought into the concert areas by fans.
Who knows…Woodstock 50, headed for Watkins Glen, New York for August 16-18, 2019, may turn out to be quite a paean to peace, love and understanding. This year's organizers may be more committed than ever to conjuring up and infusing that spirit of the first festival—but of course we haven't had that spirit here since 1969…
I did not attend the original Woodstock festival, by the way, even though I was certainly of age to contemplate it. I had just turned 16 a few months before the festival took place, but within my immediate circle of friends in Butler, PA no one owned a set of wheels to at least start us down that road. And no one had sympathetic parents either, a father or mother who could brush aside the notion that their child was just going to fill the car with scuzzbucket friends and barrel northward.
So twenty years passed before I had any significant brush with the spirit of Woodstock, and that came—in 1989—in the form of a Woodstock reunion concert that was touring the country that particular summer. I was employed at the time by the Pittsburgh Civic Arena and held the title of director of booking. My job was handling the official calendar for the building, placing dates on hold for the Pittsburgh Penguins to annually work out their season home game schedules, and I also worked with a host of live-entertainment promoters who brought us a myriad of events like WWF wrestling, motorsports and truck & tractor pull events, circuses, ice shows—and of course concerts.
The concert business in the mid-late '80s was morphing a bit. Across the country, arena operators were usually standing idly by and waiting for their local-market concert promoters to bring all of the musical artist attractions into town. In Pittsburgh, we looked at that situation a bit differently. We were part of an aggressive, proactive organization headed by Edward J. DeBartolo Sr. that held the management lease to the arena (DeBartolo also owned the hockey team), and we realized that we needed to inject ourselves into that concert promotion business to ensure that as many shows as possible came to Pittsburgh and played our venue.
Hence we became promoters as well, and our internal marketing department Civic Arena Corporation Advertising became the face of our new in-house concert promotion company. Note: We never called Civic Arena Corporation Advertising by its acronym, for it seemed to suggest something smelly in a baby's diaper. But appropriately enough, in that summer of 1989, we did lay a bit of a turd with the concert called "The 20thAnniversary Woodstock Reunion Show."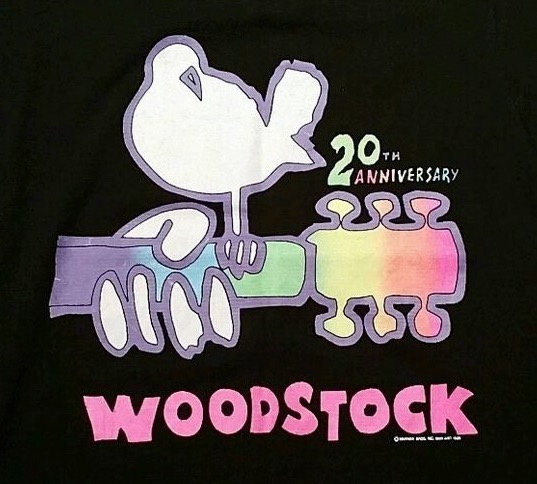 To be fair, we had had a great number of successes promoting our own concerts at the Civic Arena, including the likes of Elton John, Lynyrd Skynyrd, Heart, Chicago, James Taylor, The Beach Boys and many more. But success sometimes breeds...overreaching. That summer of '89 we needed one more show to fulfill our minimum quota for our concert-series sponsor Miller Beer, and it seemed to be rather slim pickin's in the touring circuit at the time so we grabbed this Woodstock reunion package, selling ourselves internally on its potential viability by saying "It's WOODSTOCK, man...Twentieth Anniversary! How bad can it be?!!"
Bad to the bone, as it turned out. Tickets were placed on sale, and the show limped along on life support. The line-up wasn't terrible, really; we had Richie Havens, Melanie, John Sebastian (lead singer of the Lovin' Spoonful), Country Joe McDonald (of Country Joe & The Fish), and Band of Gypsys (minus Jimi, of course). We had apparently just overestimated the enduring appeal of Woodstock, and we now knew we were headed for a real financial whacking...
Fortunately, there is an unspoken code of self preservation among promoters and venues that when a show is lagging in sales, with no good fortune in sight, one does what one has to do to protect the bottom line. In this case, we exercised Promoter Survival Tool # 43 (just made that up, but it sounds official): Cancel one of the artists right before the show so that you save money in the overall expense budget—but also don't let the general public know this fact in advance so that there's not a stampede for ticket refunds. Well…we all loved Melanie, but she drew the short straw.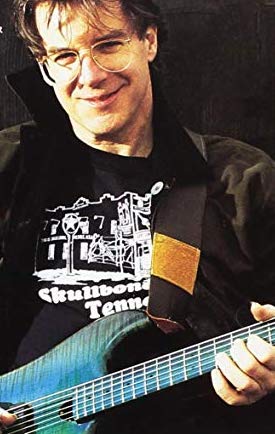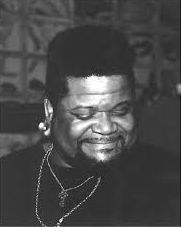 On Wednesday August 16th, the evening of the 20thAnniversary Woodstock Reunion Show, there was a huddle backstage about the Melanie situation. It was decided that our arena production manager Mike Gentille would run up immediately before the first artist took the stage to let the crowd know this piece of news. So at that appropriate moment, Gentille ran up to the microphone and blurted out "Ladies and gentlemen, due to unforeseen circumstances Melanie will not be appearing tonight. And now, here's JOHN SEBASTIAN!!!" Sebastian bounded to center stage, and well into his first song, the crowd was still relentlessly booing over the newsflash about Melanie. After Sebastian's set was done, he raced backstage and found Gentille in the dressing room hallway. Inches from his face, Sebastian screamed "Don't you EVER do a thing like that AGAIN!!!!"
That happened about the same time we found out that Buddy Miles of the Band of Gypsys had missed his flight to Pittsburgh, and we were told he wasn't sure he'd be able to make it in time to do the show. This bit of bad news was relayed to us by the Woodstock Reunion tour manager, and we pleaded with him to get back on the phone with Mr. Miles and insist that he take the very next available flight. We then set about switching the order of appearance of the artists so that the Band of Gypsys would play last—and then we held our breath. With the next-to-last artist on stage and literally minutes to spare, Buddy Miles strode through the backstage entrance along with Jimi Hendrix's brother Leon, the Gypsys' guitarist. The show would go on with no more Sturm und Drang. Buddy had made it, and was a Miles of Smiles.
There was no such relief, however, when our arena accountants prepared the profit/loss paperwork on the show the next morning. With only a couple of thousand people in attendance, the 20thAnniversary Woodstock Reunion Show was an unqualified non-success...
Woodstock '69 was the real deal, and we had found it hard in '89 to replicate. Besides the debacle on the financial side of things, the performances were shadows of their former selves; John Sebastian was noticeably off-tune through portions of his set…Country Joe? He was so-so…and Leon Hendrix could never in a million years even brush up against the hem of his brother's garment.
Today you can still run into the occasional concert zealot who says that he or she was there at the original Woodstock. And you sometimes get the immediate, likely well-founded impression that he or she really wasn't. Regarding the Civic Arena's reunion concert, our "Woodstock on fumes," I know there's at least a handful of folks who would say they weren't there—even if they were.
_____________________________________________________________________
Posted 1/13/19.....ALL THINGS MUST PASS (revisited)
All in all it's just another pass on the wall…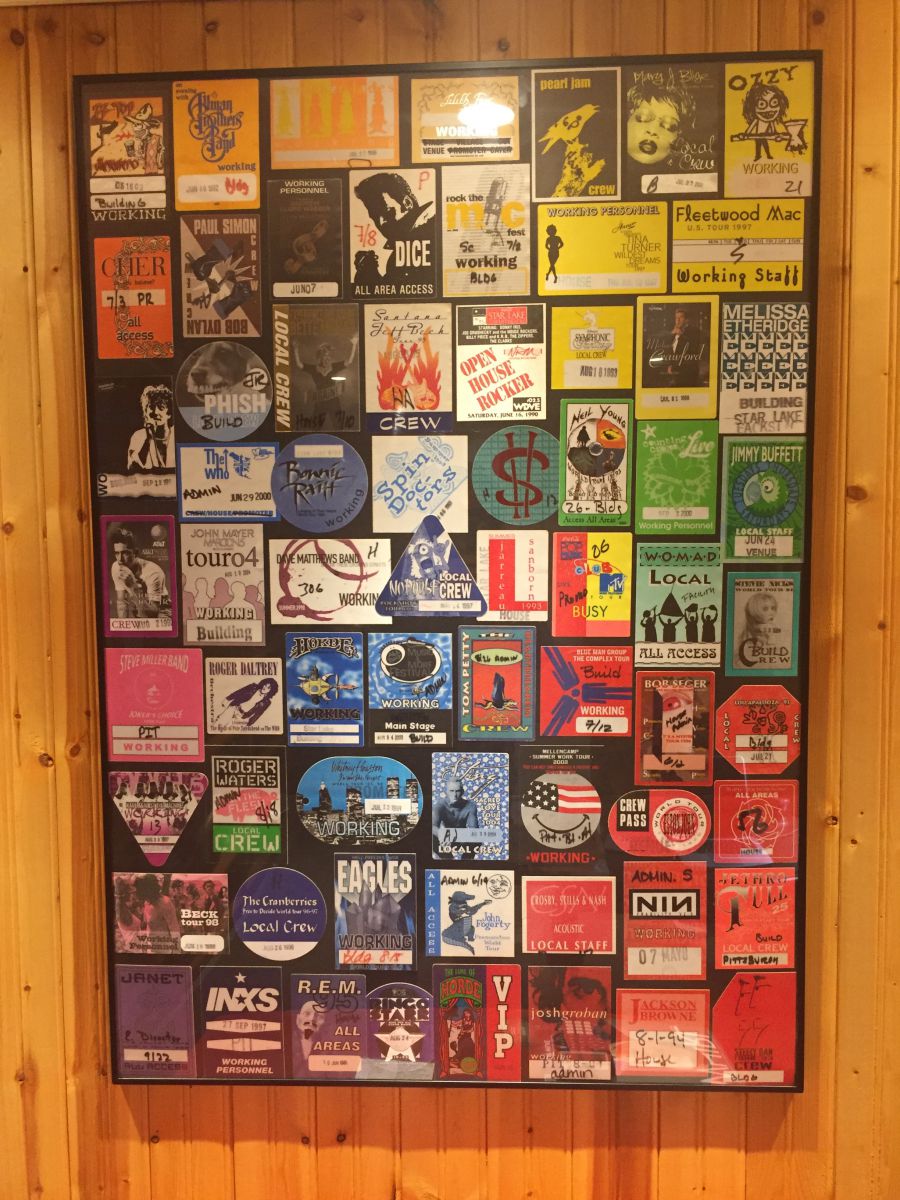 The above photo is a framed wall collage of some of my favorite backstage passes from time spent in the concert venue business at Star Lake Amphitheater. Below is a close-up view of a handful of these and the accompanying reasons why the show triggers more than a trickle of memories…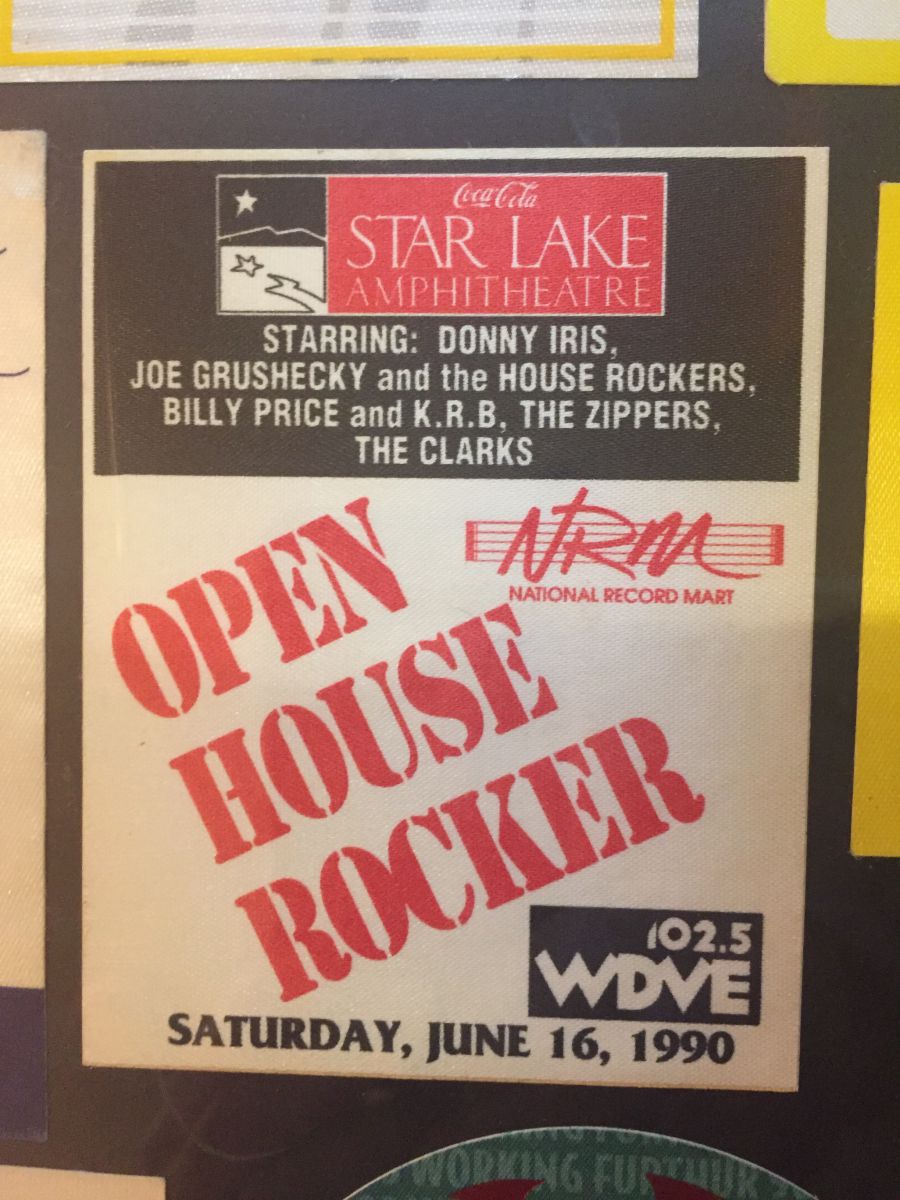 Saturday, June 16, 1990 – The Open House Rocker
When June rolls around this year, it will notably be the 30thanniversary of the opening show at Star Lake Amphitheater (the 20,000+ capacity outdoor venue about 27 miles from downtown Pittsburgh in nearby Washington County). My time at the amphitheater as marketing director-turned-GM spanned 1991 through 2007, so I missed by one year this cobbled-together kickoff event which launched the very first season.
When amphitheater goers from that first season of 1990 are asked "What was the first show ever at Star Lake?" they invariably point to the sold-out Billy Joel concert of Sunday, June 17. Joel played that sold-out Monday night as well, but it was the Sunday show that largely remains lodged in people's memories—like a tumor. The traffic getting out to the amphitheater and the line of cars trying to get into the venue's parking lots via the one and only entrance amounted to a horrific nightmare. Traffic was snarled and car occupants snarling; it was a quagmire that still lives in local legend.
But the Open House Rocker on the night preceding the first Joel concert was, with only 6,000 people in attendance, a different affair. The venue operators had scheduled this local artists' show to be before Billy as a "test case" to work out the operational bugs on concession stand staffing, security team deployment, etc. And though the parking personnel also did their run-through that evening, they just couldn't prepare for, or even begin to imagine, the problems they'd encounter the very next night as a deluge of 20,000 people (and half as many cars) descended upon the amphitheater…
Onstage at the Open House Rocker was the bright spot, however. Donnie Iris and The Cruisers headlined the concert, and also performing that evening were Joe Grushecky & The Houserockers, Billy Price & The Keystone Rhythm Band, The Clarks, and The Zippers. The latter may not be as well known to Pittsburghers as the first four, certainly; they were a "power-pop bar band" that had a brand spanking new album on MCA records at that point in time. These days, thirty years later, Iris is still cruisin', Joe still rockin', Billy still belting the blues, and The Clarks—with all of their original members intact—are still recording and performing. The Zippers, though, pulled apart. Their 1990 MCA release had little success, and the band broke up about a year after that Open House Rocker.
Monday, July 8, 1991 – Andrew Dice Clay
It must be noted that back in 1991 we were all essentially just on the cusp of the very first commercial uses of the internet and were likewise way ahead of YouTube's creation as well, so back in those "uncivilized" days it took word-of-mouth and the press to generate excitement and launch new stars. At that point in time, a former bit actor named Andrew Dice Clay was about three years into his stand-up career as a potty-mouthed, homophobic and misogynistic comedian, and he was on a tour of theaters and amphitheaters supporting a new double-live record and also a film of his act at Madison Square Garden entitled Dice Rules.
We had set the show up as "pavilion-only," meaning we offered only the pavilion seats for sale and kept the lawn closed based on an expected turnout of less than the pavilion's 7,000 capacity.
We ended up drawing a crowd of just 4,000, and the audience seemed to be evenly spit between the bellicose and the comatose. There were the unruly shouter-outers who whooped it up with every salacious comment from the Dice Man, and then the beer-befogged party animals who had apparently run out of steam while pre-gaming and so just sat there in stupefied reverence.
This was not Star Lake's finest hour in terms of programming but we were, after all, built and booked to become an equal opportunity employer of summertime attractions. So we had rolled with the Dice, of course (as they say, every dog has its day).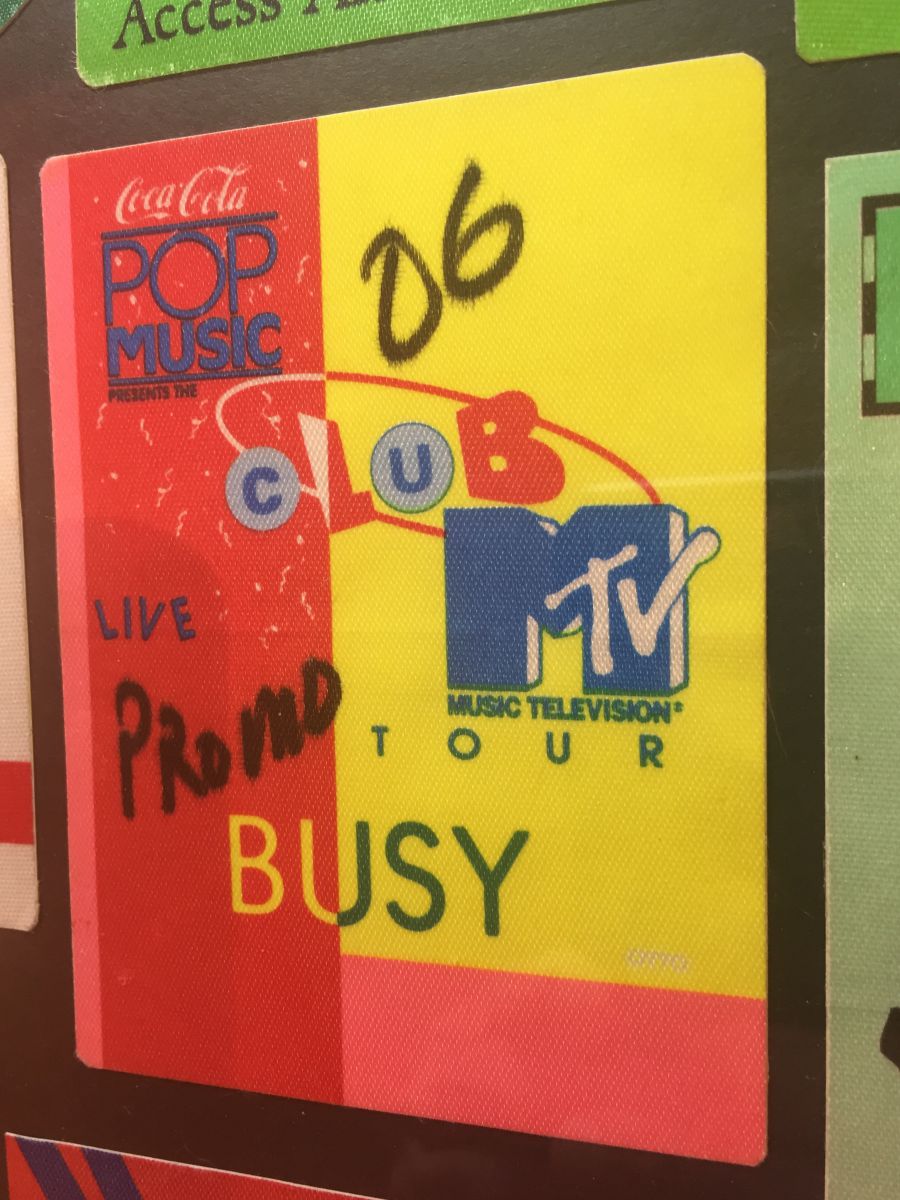 Friday, July 12, 1991 – Club MTV
Club MTV was originally a dance program that debuted on MTV in 1987, the music channel's sixth year of operation. It was hosted by station veejay Downtown Julie Brown and was a generational upgrade of the old American Bandstand program that had teens gyrating beginning in the 1950s for decades to follow, first on network and then in syndication. Club MTV's dancing teens were more provocatively garbed and ready for nightclubbin', and the program featured hit dance song videos interspersed with longer segments of the razzle-dazzle on the dance floor.
MTV first cobbled together a touring version of the show in 1989, with Was (Not Was), famous at that instant for "Walk The Dinosaur," Information Society, Paula Abdul, Milli Vanilli and Tone Loc. It wasn't until 1991, though, that the tour landed at the Lake.
The show was thankfully booked at Star Lake for a Friday night—more chances of folks havin' their dancin' shoes on, versus a weekday situation—and the tour was promoted nationally on MTV, of course, so we peppered our local media (cable TV, print) with news of the upcoming concert. Even with the national push, however, our date ended up doing considerably less than half of the amphitheater's 23,000 capacity. The concert itself was kinda cool, though, tailored as it was for the non-discriminating fan who didn't mind watching most of their favorite dance-tune slinging artists outright lip-synching, backed by audio tracks versus live musicians. For most in attendance, it was a plastic but fantastic evening.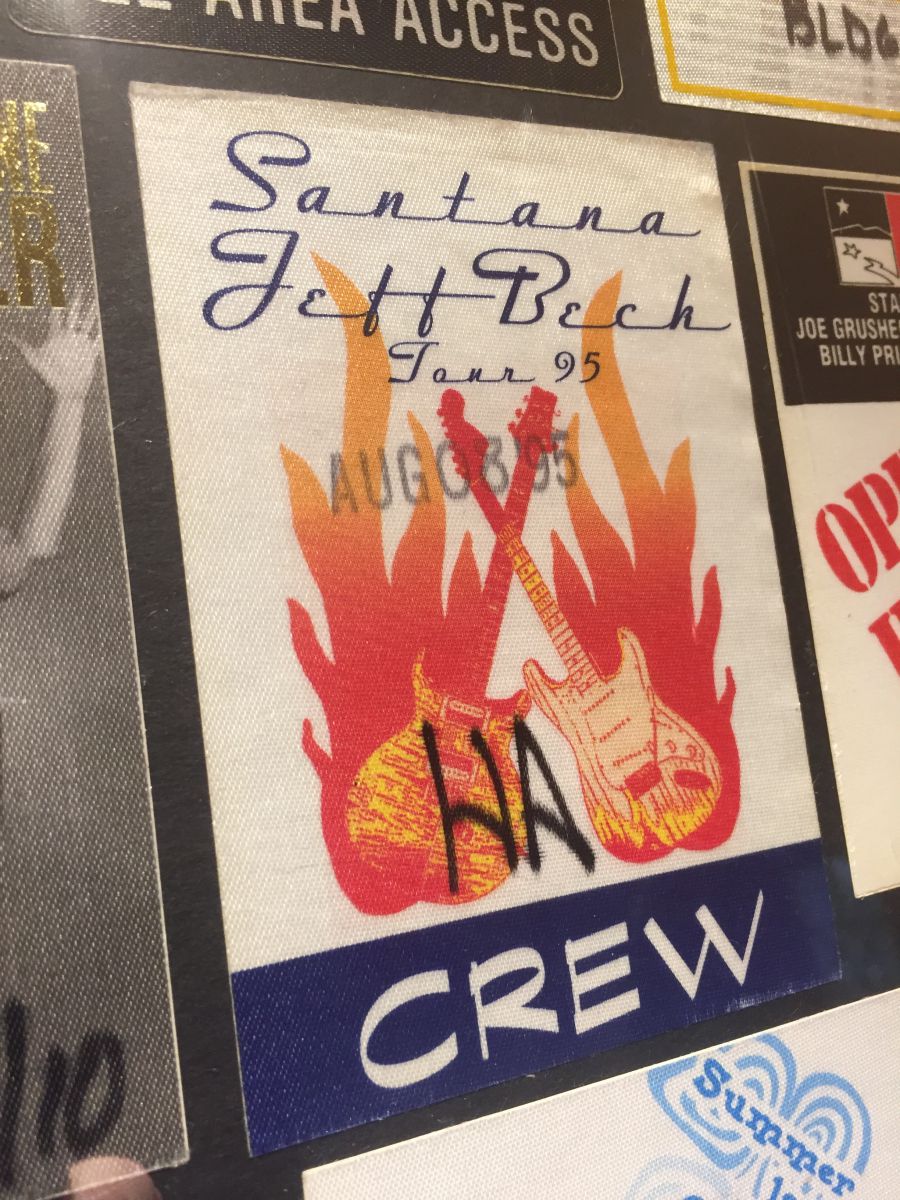 Tuesday, August 8, 1995 – Santana and Jeff Beck
For me this tour package was a dream come true. I am a long out-of-the-closet guitar worshipper simply because of the soundscapes I have discovered through the years, whether it is the original Allmans' guitar interplay, or Ry Cooder's sly slide, or Christian artist Phil Keaggy's heavenly nimbleness, or Norwegian Terje Rypdal's atmospheric accents.
With Santana and Jeff Beck, the Star Lake crowd of around 11,000 fans soaked up an evening's worth of guitar heroics, with Carlos and company performing the band's classics such as "Black Magic Woman" and "Oye Como Va" at encore time, and Beck during his set delivering "Freeway Jam" and "Cause We've Ended As Lovers" from his revelatory record 1975's Blow By Blow.
Santana and his band even mixed in a couple of covers during their set—Bob Marley's "Exodus" and Jimi Hendrix's "Spanish Castle Magic." Carlos was reportedly just flat out in awe of the latter's gifts on guitar, and somewhere along the line in my rock readings I found a revealing quote from him about his hero: "I especially always liked it when Jimi Hendrix would play the song ("Voodoo Chile") and then he'd go on to, uh, Chainsaw Massacre Tasmanian Devil Aurora Borealis Galaxy…I liked it when he'd start with the feedback. And I saw Stevie Ray do it one time too. I'm sure he did it many times but I only saw him do it one time where the guitar became like an Aurora Borealis and all these colors of sound were screaming out of it even though he wasn't putting his fingers on it. That's kinda like invoking ghosts or something and that's my favorite part that I miss about Jimi is when he would open up certain channels and let certain demons and angels dance together."
On this August 1995 evening at Star Lake, that's what we saw and heard—the sacred and the profane, spooling out all evening long through two cosmically inspired, infinitely gifted guitarists.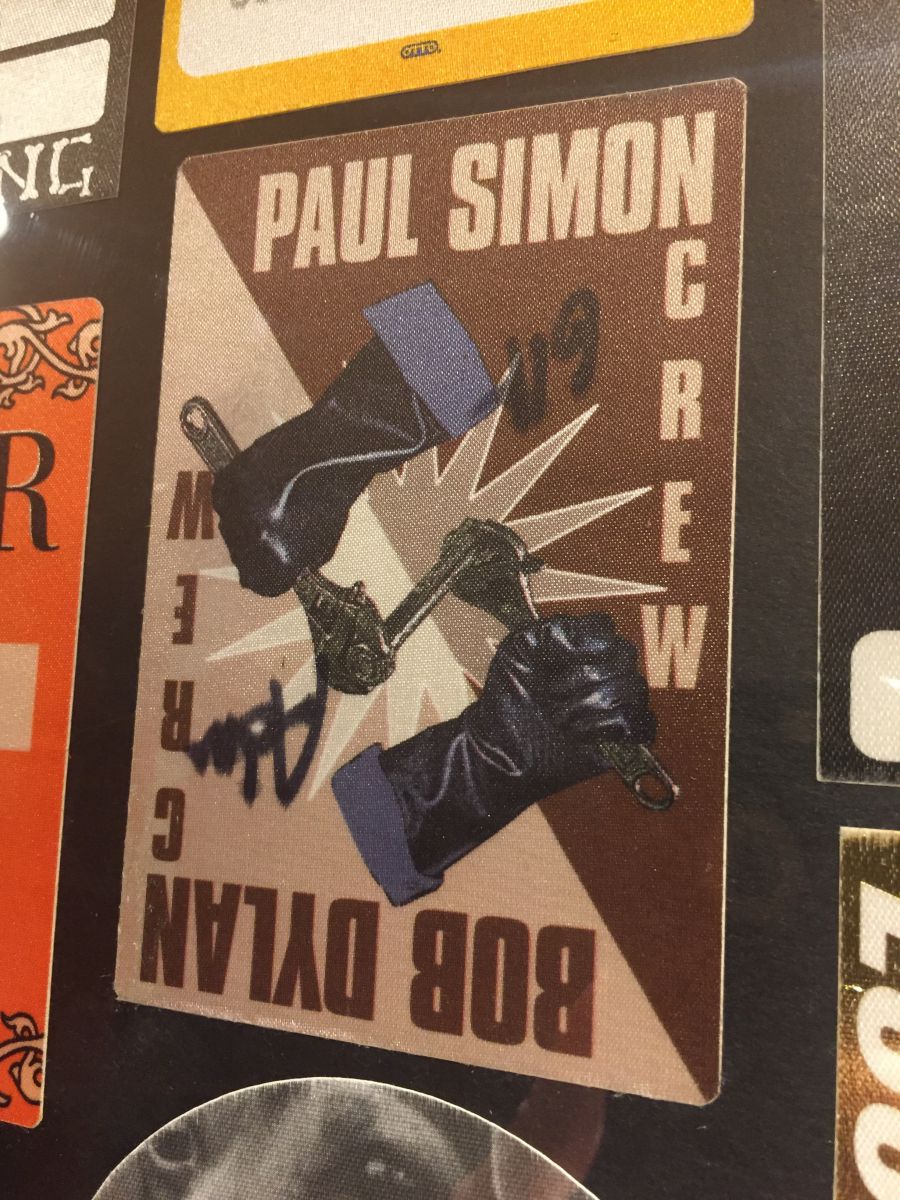 Sunday, July 18, 1999 – Paul Simon and Bob Dylan
This combination of dual headliners worked very well in terms of attendance with over 17,000 trekking out to Star Lake on this Sunday evening. This was a bit surprising to me because the ticket prices were fairly aggressive for this late 1990s time period. I don't recall the specific pricing, but let's just say that mucho dinero was required to sit up close anywhere near the stage and from there on back, ticket prices were similarly steep but tiered in sections until the seats eventually gave way to the lawn…
This tiered, boundary-pushing pricing was the "brilliant" idea of SFX Entertainment founder Robert F.X. Sillerman, a shark and a bold, brash entrepreneur who had begun in the mid-late 1990s buying up concert promotion businesses all across the USA, including the Houston-based parent company of Star Lake Amphitheater, PACE. All of us at the amphitheater were a bit flummoxed by the new rules coming down from SFX, as Sillerman was not someone who had ever worked in the music business before.
The Paul Simon / Bob Dylan pairing was in fact one of the first shows that SFX had put together to "feed the system," i.e., to provide more shows to the company's outdoor venues all across the country. A decent start for sure, but unfortunately the high ticket prices—necessitated in large part by escalating touring artist prices—became the rule versus the exception. This approach unfortunately became the hallmark of SFX and a questionable legacy for the live entertainment business that is still under debate today.
Oh…what about the concert itself, though? I looked back to the day-after-show concert review on Monday, July 19, 1999 by the Pittsburgh Post-Gazette's entertainment writer Scott Mervis, whose first thoughts were about the weird teaming up of Simon and Dylan at the outset, performing and singing together on a handful of songs: "You had to be there to believe how odd it was," Mervis wrote, "to hear the opening strains of 'The Sounds of Silence,' hear Paul Simon's mournful, melodic opening, and then, in the place of the high harmony of Art Garfunkel, hear the raspy croak of Bob Dylan. If Bob had been Paul's boyhood friend growing up, let's just say the history of pop music, not to mention the '60s, could have been a lot different. But Dylan grew up in Hibbing, Minn., and thank goodness for that."
On Paul Simon, who performed the first full set: "Simon, wearing jeans and a T-shirt, opened, unleashing what you could call his United Nations Orchestra, one of the tightest, funkiest, most dynamic ensembles that you'll ever see. There wasn't a flat note, a missed cue or an inaudible lyric. Everything was perfect. The horn section, including Pittsburgher Jay Ashby on trombone, was bright and well capable of playing serious jazz. The rhythm section, like a certain cereal, had that snap, crackle and pop."
On Bob Dylan, who closed the show: "Although he has an even bigger repertoire to draw upon, Dylan and his four horsemen had a hard act to follow, especially with Dylan's even more aloof stage presence and his constant tinkering with his classic melodies. (What was wrong with 'Tangled Up in Blue' the original way?)
"Dylan's set opened like a religious revival with the rousing gospel hymn called 'Hand of the Lord,' that recalled his shows at the Stanley Theater 20 years ago.
"Rather than the bright dynamics of Simon's ensemble, Dylan's bar band, featuring Charlie Sexton on guitar, came to grind it out with only guitars, bass and drums. They aren't the cleanest band in the land, but they can play dark and dirge-like for songs like 'Masters of War' and 'Not Dark Yet.' Or rev up like rolling thunder as they did on 'Highway 61.'
"The puzzling thing about Dylan is he has this strange need to reinterpret his songs, but he's been on a Never-Ending Tour without ever changing the instrumentation.
"While Dylan might be better off taking a break to regroup, it would be nice to see Simon around a little more often."
_____________________________________________________________________
Posted 12/30/18.....WILL I SEE YOU IN HEAVEN
Another year passes…and so of course do singers, songwriters and musicians. This is a look at those who left us in the calendar year 2018…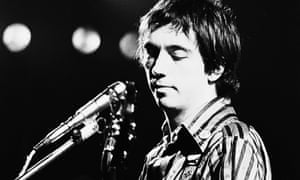 Pete Shelley of The Buzzcocks – December 6, 2018 at the age of 63
Pete Shelley, along with singer-songwriter Howard Devoto, was a co-founder of The Buzzcocks, a pioneering punk band that formed in Manchester, England in 1976 over a shared love of NYC's Velvet Underground. In their own country, the fledging band was enthralled with and greatly encouraged by the rise of snarling agitators the Sex Pistols, who were just beginning their assault on Britain's staid cultural conventions.
The Buzzcocks brought notoriety to the burgeoning Manchester scene in this mid-late '70s period where peers like The Smiths and The Fall were forming, and they also are credited with fomenting punk's D.I.Y. ("Do It Yourself") approach to the record business. Their initial release Spiral Scratch from early '77 was an EP (i.e., a handful of songs and not a full album), and was one of the earliest English punk recordings. The band had snubbed the major London-based record companies and released it on their own quickly-hatched label instead, and this helped spawn—some critics agree—the ascent of the indie music scene in the U.K. The term "indie" eventually came to define both a style of songwriting and recording, and a method of publishing and promoting.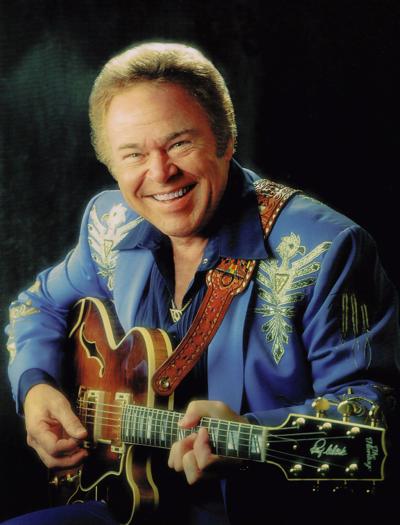 Roy Clark – November 15, 2018 at the age of 85
I first remember Clark from the CBS network's Hee Haw, which was an incredibly popular television program filled with comedy skits that ranged from corny to corn-pone. But it also had guitarist Clark and other master musicians nestled in with the revolving list of country music guest star appearances. The program ran uninterruptedly for 25 years, first on CBS from 1969 through 1971, and then in syndication throughout the nation all the way through 1993.
I wasn't a fan during its initial three-year run on CBS because this coincided, for me, with the floodgates of rock 'n' roll (and all its permutations) bursting wide open and titillating my coming-into-college-age brain. But one particular evening in 1971 my car broke down on a weekend trip home to Butler, PA from my first year at Clarion State College. No spare tire; no cell phone. So I knocked on the nearest house's front door somewhere along a snaking passage of rural Route 38, and I was invited in to call my father via their landline. While I waited for my father to fetch me I got cozy in the living room with my saviors, an elderly couple who were glued to Hee Haw, and if they weren't exactly knee slapping throughout, they were highly entertained. This was my first and only exposure to this program in its entirety.
It was much later in life when I looked back at the talent of Clark and the other members of the program's Million Dollar Band, who provided musical interludes full of prime pickin' and instrumental wizardry. Throughout the '80s, Clark led this band that featured Nashville greats including Chet Atkins on guitar and Boots Randolph on saxophone, and the lesser known but equally skilled Floyd Cramer on piano and Charlie McCoy on harmonica.
Upon Clark's passing, country star Brad Paisley said in a tweet, "How many guitar players started with a Roy Clark guitar method book? How many guitars were sold to people wanting to play because of him? How many lives were made better because of his wit and joy?
"Roy Clark shaped my path. My Papaw introduced me to his music as a toddler. Every Saturday we'd watch Hee Haw. My first guitar book was a Roy Clark guitar method. I practiced his style, then practiced making his facial expressions.
"He was a hero. And so many have the same story."
Marty Balin – September 27, 2018 at the age of 76
Balin was a fascination for me in terms of his voice, which sailed on a bit higher register than some other rock 'n' roll singers of the mid-late '60s and early '70s, and he had a prowess and a passion that, to me, fueled the Airplane. He was a founder of this legendary band, the Jefferson Airplane, a psychedelic and politically pointed ragtag crew of San Franciscans who swept their followers up into the tide of social upheaval and musical exploration that was firing up the youth culture at that time.
While co-vocalist Grace Slick arguably drew the most attention through her powerhouse performances of songs like "White Rabbit" and "Somebody To Love" from 1967's Surrealistic Pillow album, it was Balin who I gravitated to in album cuts such as "Comin' Back To Me" and "Today," and also in songs like "She Has Funny Cars," a more uptempo rocker that demonstrated the band's adeptness at showcasing two unique-sounding lead vocalists.
But the tunes that I always turn to when I want to ride with the Airplane are performances of "3/5 Of A Mile In Ten Seconds" and "Plastic Fantastic Lover," absolutely ripping live versions of these songs that were originally recorded for and placed upon Surrealistic Pillow. Culled from Fillmore East and Fillmore West concerts in late 1968, these live renditions on 1969's Bless Its Pointed Little Head shear off the shackles of their in-the-studio recordings and riotously reveal the band members' formidable talents and propulsive interplay. This is loose, swinging and thunderous rock that shakes you by the lapels and commands you jump into its slipstream—and on top of it all, Balin is a-wailin' as if his life depended upon it.
The singer's full flight with the Airplane wasn't all that long, however. The band had formed in 1965 but Balin bailed by 1971, citing (much later on) the emerging differences in the band members' lifestyle choices—chiefly in matters of consumption, ingestion, etc. Balin had abandoned the bottle and turned up his nose at the ubiquitous presence of coke both in the band and on the scene, and left to pursue other projects.
In 1974 he was approached by the Airplane's Paul Kantner about co-writing a song for Kantner's newest band project Jefferson Starship, and Balin then wrapped his pipes around this new tune called "Caroline" which turned out to be one of the more arresting tracks on the resulting album Dragonfly. The success of Kantner's newest formation led Balin to officially climb aboard the following year, and the band's 1975 album Red Octopus sported the singer's self-penned tune "Miracles," a song that noted New York Times critic Stephen Holden subsequently labeled the singer's "little masterpiece of pop pillow talk." "Miracles" became the highest charting single ever for The Jeffersons (both Airplane and Starship).
He may be gone now, but I know I will still revisit his works from time to time…Oh, Marty boy, your pipes, your pipes are calling…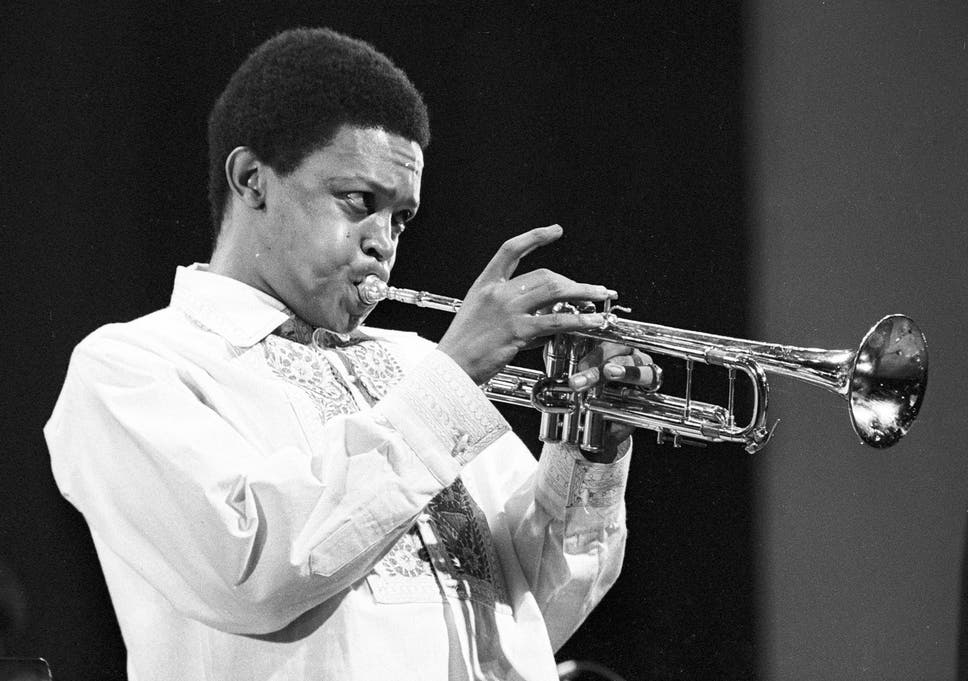 Hugh Masekela – January 23, 2018 at the age of 78
Masekela was a South African jazz musician who is principally known outside of jazz circles as the man behind the Number One pop radio hit from 1968 entitled "Grazing In The Grass." He was a man on a mission, or really, several missions—trumpeter and flugelhorn player, bandleader, and political activist.
From South Africa at the age of 21 he set out to study music abroad, and a couple of mentors—Africa's Miriam Makeba (later on his wife for a time) and the USA's Harry Belafonte—helped him on that path. He received a scholarship to the Manhattan School of Music and became steeped in the jazz scene of New York City, catching some of his idols in concert such as Miles Davis, John Coltrane, Thelonius Monk, and Mingus. Davis in particular had some career advice for Masekela, begging him to ease up on the bebop and find his own path. "Listen," Davis told him. "I'm going to tell you something. You're going to be artistic because there's thousands of us playing jazz but nobody knows the shit that you know, you know, and if you can put that shit in your shit, then we're going to be listening."
Masekela thus found his calling—a mix of jazz and soul leavened with South African influences that had permeated his childhood, like the popular urban musical style called mbaqanga. In the late 1960s the artist appeared at a string of music festivals in the USA including Monterey Pop in 1967 alongside Joplin, Hendrix, Otis Redding and The Who, and that same year also played at Bill Graham's legendary Fillmore West in San Francisco.
Politics—specifically, crusading against the apartheid of his homeland—coursed through his veins as much as the music. Exiled by his own government as a young man, Masekela in 1977 released a protest song ("Soweto Blues," sung by Miriam Makeba) that garnered international attention for the 1976 student anti-apartheid uprising in Soweto. In 1986 he then wrote and recorded "Bring Him Back Home (Nelson Mandela)," an appeal for the release of the revered black leader who by that time had been imprisoned by the white South African government for twenty-four years. This song became a touchstone for the anti-apartheid movement in the latter half of that decade, and contributed to the groundswell of support for Mandela which culminated in his release, finally, in 1990.
Upon the death of Masekela in January 2018, South African President Jacob Zuma said that the musician "kept the torch of freedom alive globally, fighting apartheid through his music and mobilising international support for the struggle for liberation and raising awareness of the evils of apartheid...His contribution to the struggle for liberation will never be forgotten."
Geoff Emerick…December 5, 1945 – October 2, 2018 (age 72)
Emerick was not a musician, but he, along with producer Sir George Martin, helped change the landscape of music for generations that followed—he was the engineer who helmed The Beatles' game-changing albums of the 1960s. At the age of 15, Englishman Emerick found employment at Abbey Road Studios in London and was assistant engineer on The Fab Fours' earliest recordings starting in 1962 including "Love Me Do," "P.S. I Love You," "I Saw Her Standing There," "She Loves You," "I Want To Hold Your Hand" and on down the line…Just before he turned 20, Emerick became the band's official recording engineer and worked directly with producer Martin and the boys on their seventh studio album Revolver, which heralded a new direction for the band in terms of their sonic experimentation within the studio.
Revolver (August 1966) was the album that, critics agree, substantially elevated the art of studio recording. Upon its release, the record set musicians' and wannabes' tongues wagging all over the UK and throughout the USA. Just as the group's early hits such as "She Loves You" sparked kids here, there and everywhere to pick up a guitar and start a band, songs from Revolver like "She Said She Said," "Yellow Submarine" and "Tomorrow Never Knows" spurred a number of other bands to delve into all of the creative outlets and avenues that the studio could reveal through time spent and an "all things possible" approach to recording.
Yes, Revolver was revolutionary. Bear in mind, this was 1966 and there was no internet, no social media leaks—music fans everywhere simply waited until any new Beatles' album would hit the stores and then they'd rip off the wrapping, drop the needle on the turntable, and revel in the reveal. Revolver was the first of The Beatles' albums to have innovations galore—tape loops, backwards guitar parts, double-tracked vocals, sound effects and samples. About Emerick's work on "Tomorrow Never Knows," author Kenneth Womack (biographer of a two-volume work on Sir George Martin) said "One need only look to his first session as the Beatles' engineer in 1966, when he worked the session for 'Tomorrow Never Knows' and dared to capture the sound of John Lennon singing like the Dalai Lama on some faraway mountaintop."
Emerick continued in his linchpin collaborative role with The Beatles and Martin on the undisputed classics Sgt. Pepper's Lonely Hearts Club Band and Abbey Road,and on significant portions of Magical Mystery Tour and The White Album. As the '70s dawned and the Beatles' sun had set, Emerick went on to work with some other sonically adventurous artists including McCartney (Band On The Run), Jeff Beck (Wired), Robin Trower (Bridge Of Sighs), and Elvis Costello (Imperial Bedroom), and he labored as well on select albums by Badfinger, Art Garfunkel, Cheap Trick, Supertramp, Split Enz, and many more.
Some honorable mentions of others who have gone on to Rock and Roll Heaven this year:
Tony Joe White…July 23, 1943 – October 24, 2018 (age 75)…Swamp music balladeer who wrote and sang 1969's "Polk Salad Annie" and who also wrote "Rainy Night In Georgia."
Mac Miller…January 19, 1992 – September 7, 2018 (age 26)…Rapper, singer and record producer born in Pittsburgh.
Ed King…September 14, 1949 – August 22, 2018 (age 68)…guitarist for the psychedelic one-hit wonder Strawberry Alarm Clock, who then joined the just-formed Lynyrd Skynyrd for their first three albums, (Pronounced 'Lĕh-'nérd 'Skin-'nérd), Second Helping and Nuthin' Fancy.
Yvonne Staples…October 23, 1937 – April 10, 2018 (age 79)…Yvonne and sisters Mavis and Cleotha joined with their Pop to become the Staple Singers, whose recording career began in the early 1950s but who are most famous for early 1970s hits "Respect Yourself," "I'll Take You There" and others. In musicasaurus.com's mind, though, it is their appearance in the 1978 film The Last Waltz by The Band on the song "The Weight" that is an emotional treasure.
Avicii (real name Tim Bergling)…September 8,1989 – April 20, 2018 (age 28)…Swedish musician, DJ, remixer and record producer.
Dolores O'Riordan…September 6, 1971 – January 15, 2018 (age 46)…Possessed of a wondrous mezzo-soprano voice fueled by her Irish heritage, O'Riordan was the lead singer of the rock band The Cranberries who first formed in 1989 and whose signature tunes included "Dreams," "Linger" and "Zombie."
Dennis Edwards…February 3, 1943 – February 1, 2018 (age 74)…Edwards filled the shoes of original Temptations lead singer David Ruffin in 1968, and sang on songs including "Cloud Nine," "Papa Was a Rollin' Stone" and "Just My Imagination." He was fired from the band a decade or so later, and returned periodically but mostly had his sights set on a solo career that ultimately didn't pan out.
Ray Thomas…December 29, 1941 – January 4, 2018 (age 76)…Thomas was a flautist and original member of The Moody Blues, the Birmingham, England band that formed in 1964, most famous for their rock-meets-classical epics such as "Nights In White Satin" and "Legend Of A Mind." The latter song is from the band's 1968 album In Search Of The Lost Chord, and is one that Thomas composed in honor of the band members' friendships with LSD guru Timothy Leary—and uh, dabble they did.
Nole Floyd "Nokie" Edwards…May 9, 1935 – March 12, 2018 (age 82)…N

okie was p

rimarily a guitarist with The Ventures, the American instrumental rock group that started in the late 1950s and who influenced scores of bands who came afterward. They popularized "surf music" before the term was even hatched, snagged a worldwide hit with "Walk, Don't Run" and were labeled by many as "The Band That Launched A Thousand Bands." And…Nokie was also an occasional actor, appearing for a time in the HBO western series Deadwood.
Gerard Marenghi (aka Jerry Maren)…January 24, 1920 – May 24, 2018 (age 98)…Maren was an American actor who starred in the classic 1939 film The Wizard Of Oz. And does he belong in this roundup of deceased singers / songwriters / musicians? Absolutely. Maren was the last surviving cast member, short in stature but huge in impact, who had shuffled into place and stood before Dorothy to sing "We represent the Lollipop Guild, the Lollipop Guild, the Lollipop Guild. And we wish to welcome you to Munchkin Land."
Aretha Franklin…March 25, 1942 – August 16, 2018 (age 76)…What can musicasaurus.com say here that hasn't already been said? This legend will be sorely missed…and here she is in a late-in-life triumphant appearance at the 38thannual Kennedy Center Honors in 2015, regaling recipient Carole King, the assembled crowd, and millions who watched on television…Rest easy, Queen of Soul… https://youtu.be/XHsnZT7Z2yQ
_____________________________________________________________________
Posted 12/16/18.....THE GREATEST GIFT
Christmas is nigh and musicasaurus.com thought you might like, here in mid-December, a music-lover's guide to some holiday gifts that are for the most part delightfully off the mainstream. ALL of the items below are real and available for purchase, and most of what you'll see is available through Etsy.
Pick anything here…and then be glued to those Christmas morning faces when eager hands rip off the wrapping. At some point you may just find the lion's share of your recipients starting to mutter those immortal words "It is better to give than to receive."…
1.) "I MIGHT LOOK LIKE I'M LISTENING TO YOU" MUGS FOR MUSICIANS
This is a relationship clincher for sure. If you are bestowing this mug on your mate, someone who's guilty as charged, you are essentially dismantling pretense and ripping the covers off the cold hard truth. And this MAY end up being your loved one's favorite coffee cup from Christmas Day forward, so get ready for many more mornings of an intense gaze above a steaming mug which bears a message that bares it all.
2.) Guns N' Roses Christmas Sweater
This had me at "Welcome To The Jingle." I am not sure how many folks can really associate the spirit of the holidays with GNR, but some people have an appetite for construction.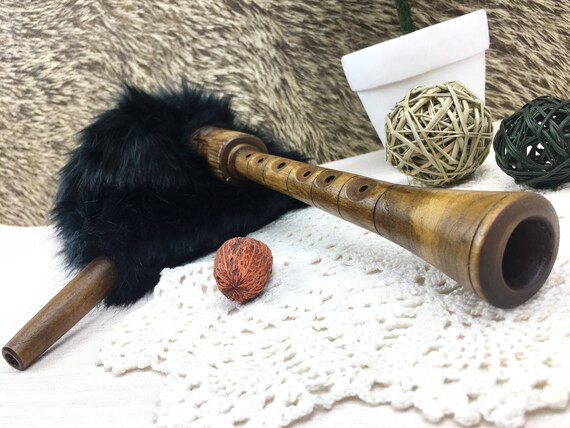 3.) The Bladder Pipe
Just the name alone gives me some discomfort, but this medieval bagpipe is handmade to order, constructed of elderberry wood (then varnished) with its attached bag made of rubber and covered with artificial black fur. You can check it out further through this YouTube clip: https://www.youtube.com/watch?v=nDh4dVlVA28.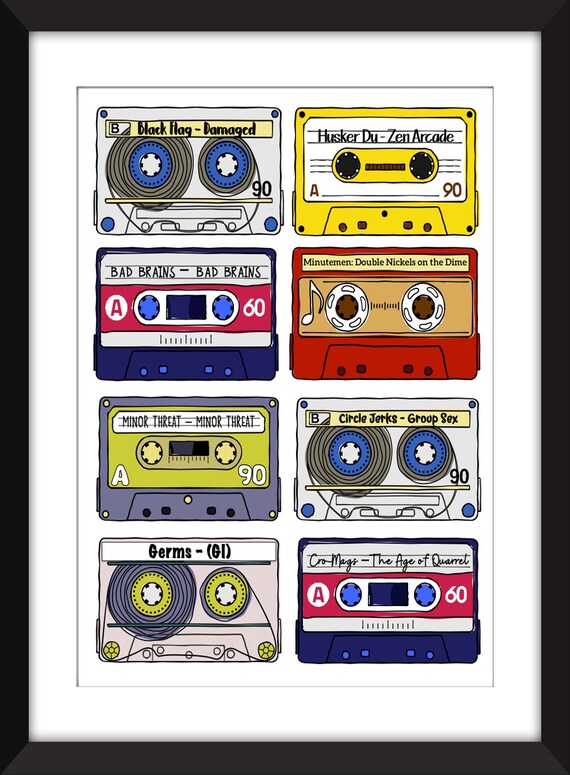 4.) Classic Hardcore Punk Albums – Unframed Print
This poster was tailor made for loners' bedrooms, and reflects the best of this country's hardcore punk innovators and purveyors from the '80s into the '90s, including Hüsker Dü, Germs, Minutemen, Circle Jerks, Black Flag and more from original hotbeds such as Southern California; Austin, Texas; Washington, D.C. and New York City.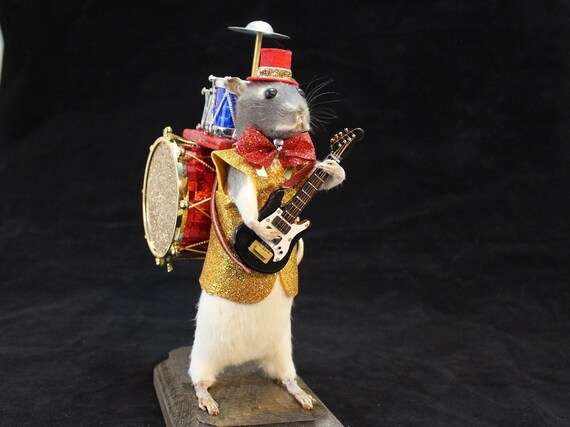 5.) Rat Taxidermy One-Man Band
The perpetrator calls his business Eerily Beloved ("The Cutest the Dead Can Get! Taxidermy + Oddities") and is apparently based in Anderson, Indiana. As the pitch on Etsy goes, "This little guy makes the perfect addition to anyone who collects sideshow inspired decor, unusual taxidermy and oddities or cute & creepy things!" And, should you be wondering where the mice and rats come from before they end up in these freak-show stances and situations, Eerily Beloved explains that "we get all of our mice frozen from a feeder supply that caters to people with carnivorous pets such as snakes and lizards. After we skin them we donate the meat to a local bird of prey sanctuary. So if you buy a mouse you're also feeding a beautiful hawk or eagle and the little mouse is being memorialized into a cutie that will bring you smiles for years to come!" I'm smiling now…or at least my lips are curling up after re-reading that.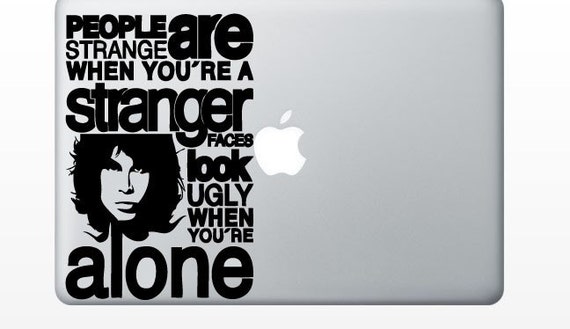 6.) The Doors "People are Strange" Laptop Decal For Macbook / PC
I don't know anyone today who doesn't hail the Lizard King, the bold, bumptious and inscrutable 1960s shaman Mr. Morrison. But this laptop decal with this particular snippet of lyrics isn't the most welcoming of messages to put "out there" when you're in lid-up laptop mode in the coffee shop or in the local library. Perfect, though, if you don't want anyone to darken your door.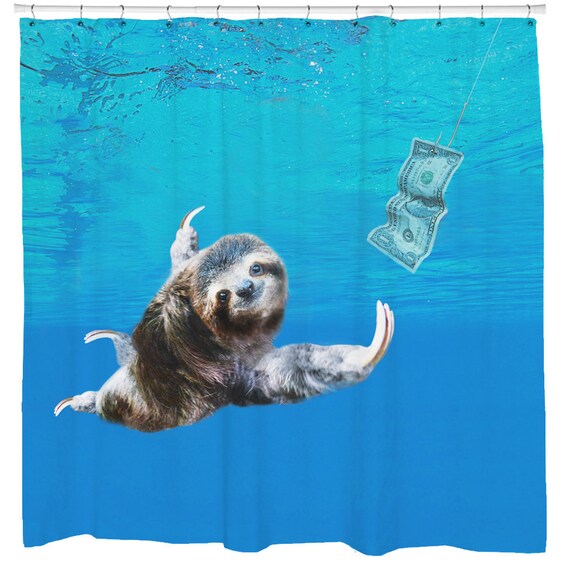 7.) Music Shower Curtain – Sloth
A company called Sharp Shirter manufactures these 71" wide x 74" high shower curtains to fit any standard-sized tub or standalone shower space. And for the sloth-obsessed subculture out there who can't resist these critters, here's a nice take on Nirvana's distinctive cover from their 1991 album Nevermind. A little grunge to go with the bathtub ring…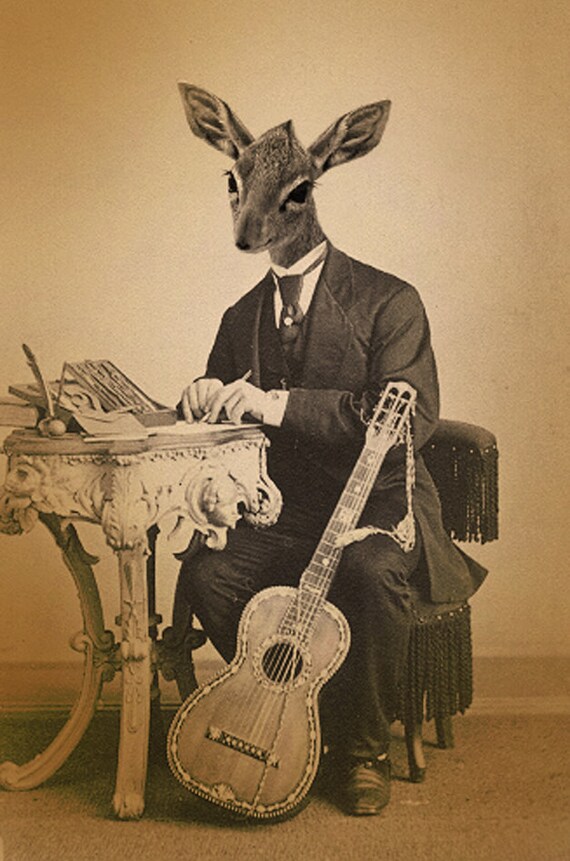 8.) Old World Animal Photographs – Dik-dik With Guitar
According to this item's Etsy description, an artist named Lara Aiken "combines stock photos from the 1800's and early 1900's along with animal photos to create wondrous things. Perfect for mixing into your family photos, as a gift for a friend or to accent any home decor." I, for one, am not so sure about that "mixing into your family photos" suggestion, but I guess everybody's extended family has a real Dik-dik in there somewhere along the line.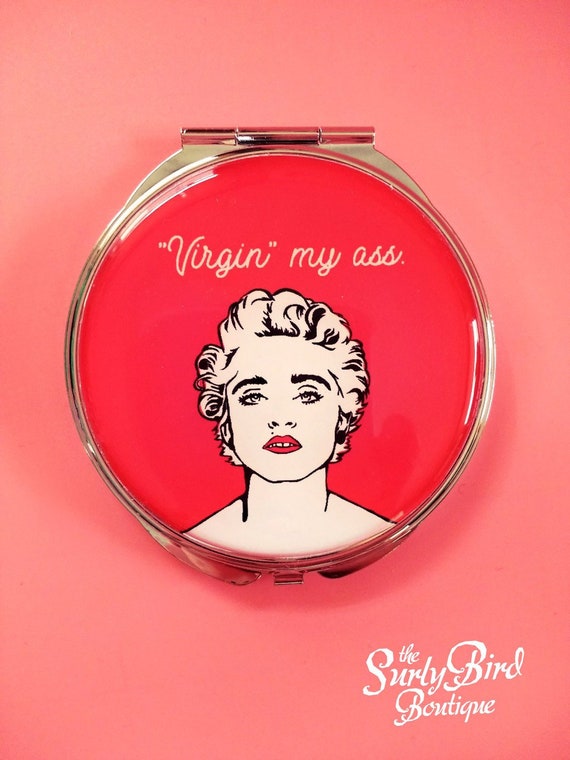 9.) Madonna "Virgin My Ass" Compact Mirror
Madonna, especially in the '80s, was far from being an immaterial girl. If your chosen beneficiary is really into this supreme diva as well as overall female empowerment, this compact pocket mirror could be your lady friend's most treasured holiday present.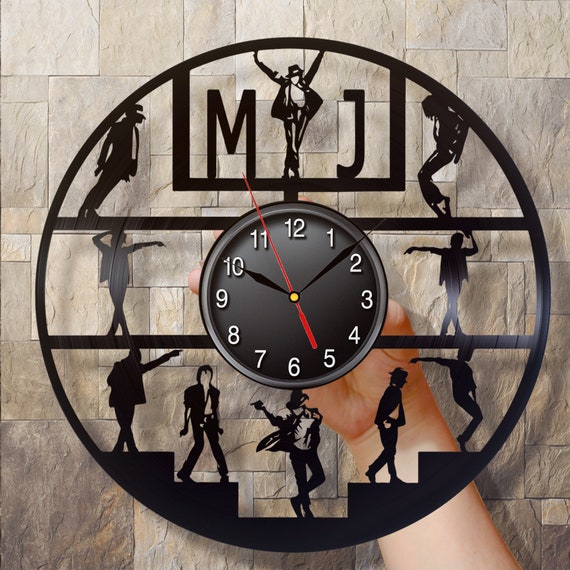 10.) Michael Jackson Vinyl Record Clock
His moonwalking, his criminally smooth forward lean, it's all here…The King of Pop is immortalized in this 12" x 12" clock that has been crafted out of a vinyl record.
11.) Custom 3D LED Illusion Lamp
For anyone on your list that is multidimensional, here are 3D LED Illusion lamps for home or office that come with eight different color mode options. You can trumpet your tastes or get your zing through strings; there are at least several instrument options available.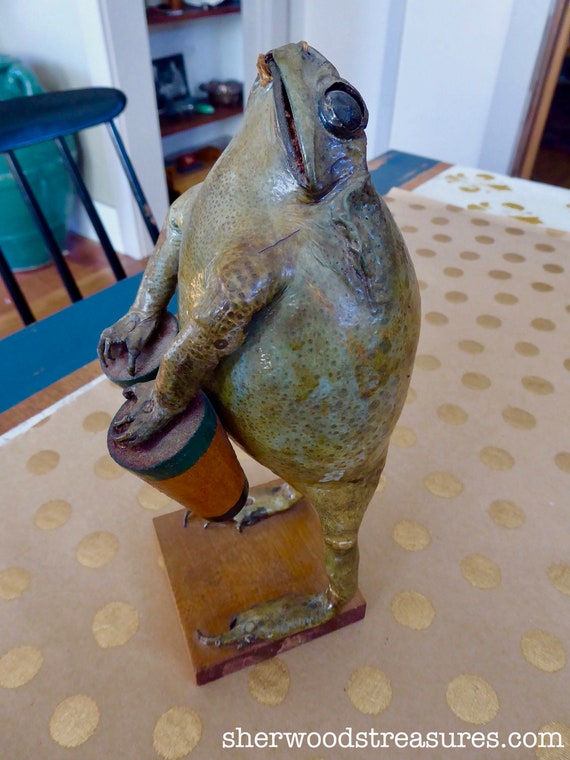 12.) Weird Strange Vintage Taxidermy Real Frog Musician Playing Bongos
The seller's comments and lead-off confession as posted on Etsy: "This is a weird one. Vintage taxidermy frog musician playing bongos. Probably from Mexico in the 50s. If you like strange uncommon items then this is are for you…The frog is stuffed and mounted on a wood platform. These are part of the strange subculture of stuffed animals playing in bands. The art of anthropomorphic taxidermy has thrived since the Victorian era."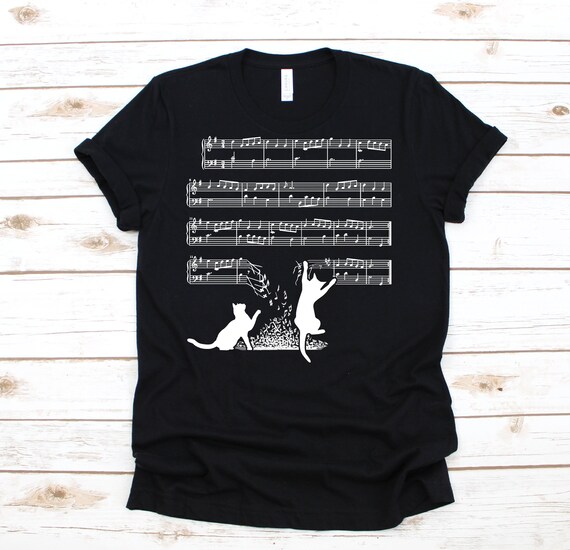 13.) Cats and Music Notes T-Shirt
I'm fairly certain you have animal advocates in your midst, or at least some pet owners whose level of devotion is off the charts. This is a music and cat lover's dream T-shirt, illustrating the nature of these frisky felines to hit the high notes with paw-dropping displays of skill.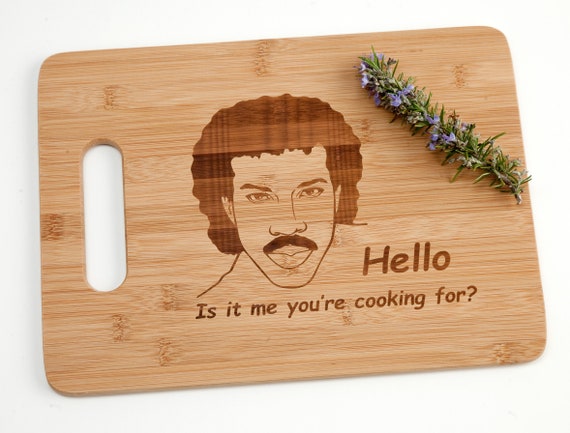 14.) Lionel Richie Cutting Board
I am sorry if you know someone who is a hopeless romantic. Sometimes these folks have their shields up to the point of never being able to recognize some real honest-to-goodness schmaltz. Case in point: Somebody you know is going to love this bit of kitchen kitsch. This is apparently one way that Lionel Richie decided to face his knife-sharpening critics in the dim twilight of his career—placing his countenance on a cutting board. Made out of bamboo, this 9" x 13" board is a safe and effective surface for cutting up all sorts of veggies, but also your Jarlsberg, your Brie, etc. (illustrating that the cheesiness extends well beyond the engraved lyric from Lionel).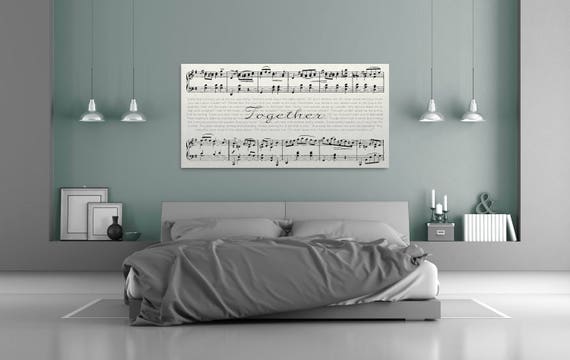 15.) Sheet Music Canvas – Wall Art
This canvas, measuring 30" high x 60" wide, includes two sheet music stanzas and the title and the lyrics to a given couple's favorite song. Hung here above the marriage bed, a sacred place of togetherness and love, it's pretty dominant, even imposing—and so we wonder, what happens one day when they wake up and look over at each other, realizing they can't stanza no more?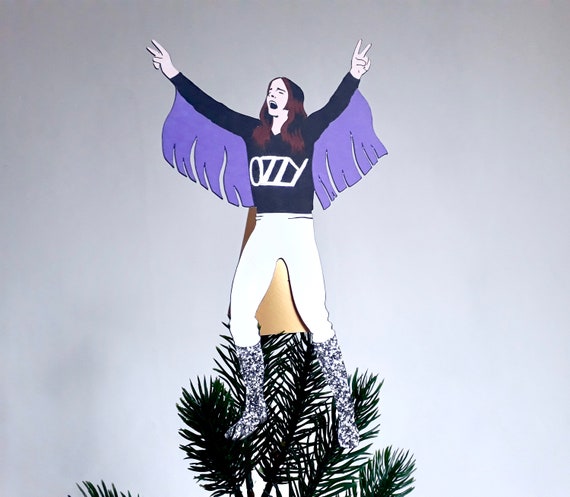 16.) The Ozzy Osbourne Christmas Tree Topper
What is the measure of a man? In this case, Ozzy is approximately 9" in height, perfect to perch at the apex of your Christmas tree in place of the more traditional star or angel figure. I was wondering…In a future redesign of this particular product—as tech advances even more, permitting a host of new interactive features—should there be a chip placed in the Tree Top Ozzy that responds to the happy voices in the family room at Christmas? When the first few gifts are starting to be passed around the room on the morning of December 25th, I would love to hear Ozzy shout out a wild and robust "SHARIN'!"…(Here is a link for you to check out other rock star Christmas Tree Toppers including Freddie Mercury, Elvis, Prince and David Bowie: https://www.etsy.com/uk/shop/MaterialGods?ref=seller-platform-mcnav§ion_id=25071656)
_____________________________________________________________________
Posted 12/2/18.....I WON'T BACK DOWN
"I could do anything to make this work because the one luxury of this particular exercise was the certainty that anything you did was morally justified." – Is That It?, the autobiography of Bob Geldof, 1986.
Christmastime's a comin', this I know. But when that holiday spirit kick-starts for everyone is truly an individual thing. Some people feel it as early as Halloween, just after their little devils are finished door-knockin' for sugar rushes garbed like a ghost or a goblin. Others don't surrender until late November after that other kind of gobblin'. For me, increasingly, it's later and later, and I never fully get infused by the spirit until I seek out, usually in early December, my own personal launch mechanism—the YouTube video of "Do They Know It's Christmas?" by Band Aid.
Band Aid, a call-to-arms coming together in 1984 of Britain's top musicians and performers to record a charity single, was the brainchild of Irish singer-songwriter Bob Geldof of The Boomtown Rats and Scottish musician Midge Ure of the band Ultravox. "Do They Know It's Christmas?" was recorded on Sunday, November 25, 1984 and was rush-released to radio stations in both the UK and the USA. The speedily written and recorded one-off single, sporting the signature voices of Britain's most popular recording artists of the day, subsequently exploded on radio on both sides of the Atlantic.
But it was Geldof who planted the seed. One evening in early November he needed a break from his mounting frustrations with his band's new album In The Long Grass and radio stations' tepid response to the first three singles released from it. So he turned on the television and, in Geldof's words, "I saw something that placed my worries in a ghastly new perspective."
He watched as a BBC reporter detailed a devastating famine in Ethiopia, and the images haunted Geldof well into the wee hours. The reporter had used the word "biblical" to describe the severity of the situation. As Geldof writes in his 1986 autobiography Is That It?, this was a "famine of biblical proportions. There was something terrible about the idea that 2,000 years after Christ, in a world of modern technology something like this could be allowed to happen as if the ability of mankind to influence and control the environment had not altered one jot. A horror like this could not occur today without our consent. We had allowed this to happen and now we knew that it was happening, and to allow it to continue would be tantamount to murder. I would send some money, I would send more money. But that was not enough. To expiate yourself truly of any complicity in this evil meant you had to give something of yourself."
And so Geldof began to think about how he might help, struggling musician that he was. By the time he hit work the next day he was, rather tentatively, putting it out there to a few co-workers that he an idea to make a record to benefit Ethiopia.
Mildly encouraged, he rang up his old friend Midge Ure of Ultravox and from there the two began rallying friends, music industry peers at The Rats' record label, people in publishing, the record sleeve and vinyl manufacturers, potential host recording studios, and others. Geldof, fearless because of the horrors he'd seen on TV that night, turned his inner willfulness loose. He'd always been stubborn, and one to press on in difficult situations, and seized by the images still in his head he felt empowered and righteously determined to plow forward.
The pace was picking up, and the challenge daunting in terms of trying from the outset to get all participants in the coalescing project to donate their fees and services. The cost of printing of the record, the percentages to distributors and retailers, the artwork and all of the rest were falling into line, and so Geldof peeled away from this kind of prep to approach the artists, the few that he knew and the rest that he felt were ultimately essential to end up with a successful record and fundraising effort.
"I came to discover that I didn't really have to sell the idea at all to the artists," Geldof said. "If I got through to them direct, the response was always positive. But if I got through to the managers, their attitude was often negative…It is irritating when managers assume the moral guardianship of their charges. Often they are simply obstructive in the misguided notion that they are 'doing their job.'"
The eventual roster of current hit-making artists confirming their desire to record the song, for no remuneration, was impressive—Sting, Bono and Adam Clayton from U2, George Michael from Wham!, Boy George from Culture Club, pop-princess trio Bananarama, Tony Hadley of Spandau Ballet, Paul Weller previously of The Jam and now Style Council, Simon Le Bon of Duran Duran, members of Status Quo and Heaven 17, Phil Collins, Paul Young, and almost twenty others.
With November 25th fast approaching, the song's lyrics and music were patchworked to conclusion by Geldof and Midge Ure, and a willing studio was found. SARM Studios in Notting Hill agreed to waive all studio time—if all forty of the performers could pile in between the hours of 11am and 7pm to record their parts. "I had no certainty that anyone would come," Geldof remembered. "They said they would, but maybe it was just so I'd leave them alone. It was an odd sensation watching them all drift in. It was very low-key. Most people looked as if they had just got out of bed, which by and large they had." Both the final take of the song and footage of the stars milling about and performing their parts (for an eventual music video) were all completed by 7pm…
As Geldof promoted, cajoled, arm-twisted and bulldozed his way along the continuum from idea inception to actual record on the shelf, he suffered no fools and pretty much decimated the opposition. Just one of example of many: His dealings (prior to the studio recording session taking place) with London's Daily Mirror. The newspaper had been running a campaign to raise money for what Geldof describes as "rather melodramatic 'mercy flights' to Ethiopia" and because they were already connected to famine relief in some way, Geldof offered them exclusive pictures of the recording session if they promised to give it the entire front page. Here's how the conversation went:
The executive on the phone: "Sorry Bob, we'll do the story, but it's just not front page material."
Geldof (who instantly recalled that the cover of this particular morning's edition of The Mirror was Princess of Wales' head as seen from behind): "Have you seen today's cover on your paper? How do you have the nerve to say that to me about a whole page of the back of someone's head? This isn't just about another pop record. This is the biggest record ever and it's about millions of people who are starving to death."
Geldof hung up and scurried to find the private phone number of the newspaper's publisher/owner Robert Maxwell, and they had a conversation. He recounts what happened next, which is that the executive he'd been dealing with earlier phoned him back: "OK Bob, you've got the front page." Geldof's response: "I know I fucking have." As the intrepid musician remembers that exchange, he says "It was my first lesson in always going straight to the top. I had learned to speak to the engineer, and not be content with talking to his oily rag."
"Do They Know It's Christmas?" was released in early December 1984 and is still the UK's fastest-selling single of all time, selling one million copies in the first week alone (eventually selling over three million copies). In America, where MTV glommed onto it, the single reportedly sold over one million copies. Worldwide, the estimate of total sales topped fourteen million…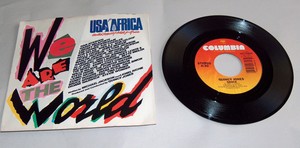 Quickly on the heels of Britain's Band Aid success, America took its own turn in producing a star-studded charity single. "We Are The World," a song written by Michael Jackson and Lionel Richie, was recorded in January 1985 with an all-star cast (dubbed USA for Africa) that included Jackson and Richie, and also Dylan, Springsteen, Diana Ross, Ray Charles, Paul Simon, Cyndi Lauper, Kenny Rogers, Billy Joel, Tina Turner, Stevie Wonder—and on and on.
Los Angeles-based Ken Kragen, the manager of Lionel Richie and Kenny Rogers at that time, was the one who stirred the USA for Africa project into motion along with Harry Belafonte, who was desirous of mounting America's answer to Band Aid. In a recent email Kragen had submitted to music biz insider Bob Lefsetz's e-newsletter, he lauded Geldof as the inspiration for the project—and correctly cast him as a willful provocateur on the right side of justice:
"…Bob Geldof was clearly the inspiration for me organizing the 'We Are The World' recording. When Harry Belafonte saw the pictures on television of children starving to death in Africa he sought me out to organize a concert to raise money for a relief effort. I suggested instead that Geldof's 'Do They Know It's Christmas?' which had become a big hit in England was a perfect blueprint for us here in the US and that we could do it even bigger with the artists we had like Michael Jackson and my client Lionel Richie as well as so many others.

"I flew Geldof over where the recording session at A&M Studios in Hollywood was and he gave a terrific talk to the assembled artists about how important it was that they were doing this. Unfortunately he also went in into the adjoining sound stage where a few hundred agents and managers' spouses and others connected to these artists had congregated to watch on a large projection television we had placed there. He criticized them for eating the food we laid out for them since it was going to take all night to accomplish the recording session. A large part of the crowd left as a result before I could get in and rescue things. Bob had fed the artists at his London recording session with Kentucky Fried Chicken he went out and bought, and he didn't realize everything at our place had been donated.

"Probably the funniest moment of all with Bob was at the press conference we had a few days after the recording. We had some T-shirts and sweatshirts left over so I brought them and offered them to the media who were there. Bob immediately stood up and said loudly 'Fuck that! If you people want the shirts you can pay for them.' Bob and I left with our pockets stuffed with cash which we gave to the USA for Africa charity."
"We Are The World," released two months after that January 1985 recording session, ended up selling over twenty million copies and the entire project (with all related items including the video, books, magazines, posters, etc.) raised approximately sixty-three million dollars.
That success, of course, tracks back to Geldof and his late evening epiphany of November 1984 when images of human tragedy and suffering were playing out on his TV screen. After Band Aid, he went on to originate and orchestrate Live Aid, a July 13, 1985 dual-city (London and Philadelphia) famine-relief concert of unbelievable scope, once again directly benefiting sub-Saharan Africa and directly injecting a sense of higher purpose into almost two billion people who in part or in full watched this televised concert on two continents.
A final few words…About ten years ago, I giftwrapped a couple of copies of Geldof's 1986 autobiography Is That It? and presented them to my two daughters on Christmas morning. The book itself is three hundred and fifty-two pages; the last one hundred and forty or so deal with Geldof's awakened state, his take-no-prisoners approach to establishing the Band Aid Trust (beneficiary of the November '84 fundraising song and the July '85 Live Aid event), his laser-focus on enlisting the bands and skilled supporters of every stripe, and his absolute refusal to be swept aside, turned away, or misdirected from his goal. It's required reading for the soul—and so said the brief inscription I wrote inside the cover of each of the books.
This holiday season, take a page from Geldof. Dream big, become inspired—and realize, if you haven't awakened to it already, that it can start with just one person.
_____________________________________________________________________
Posted 11/4/18.....THIS MUST BE THE PLACE
Musicasaurus.com loves to give in to its nostalgic urges…I was reflecting back recently about my best concert experiences over the course of a fairly long lifetime, and in particular the ones that I saw at southwestern Pennsylvania's legendary venue, the Pittsburgh Civic Arena.
The Civic Arena was originally built in 1961 for the Pittsburgh Civic Light Opera and, remarkably, its roof was designed and built to be the world's first retractable dome. This 17,000+ capacity venue played host to sports teams like the Pittsburgh Penguins, the Pittsburgh Spirit (MISL soccer team), and the Pittsburgh Gladiators Arena Football team in the late 1980s, and of course many concerts that dotted the decades (some of them with the dome opened up, weather-permitting).
I worked at the Civic Arena from March 1985 through February 1991. We had an amazing team in place (meaning, all of us involved in that wild thrill ride of staging sporting events and concerts). I moved on after February 1991 to a job at Star Lake Amphitheater and then on to other occupational adventures from there, but I have always treasured the memories of seeing concerts at that arena through all the phases of my life—and its life. The Civic Arena was demolished over a seven-month period beginning in September of 2011 to make way for a brand new arena and property redevelopment plan courtesy of Mario Lemieux and the Penguins organization.
A few of my favorites of Civic Arena shows? The Santana/Janis Joplin concert in November 1969…Michael Jackson (a three-nighter) in September 1988…and U2, on their Elevation Tour, at the venue in May 2001.
I thought it would be interesting to pose a "best concert" question to three individuals who are Pittsburgh radio giants—men who are (or were) immersed personally and professionally in music. They are: Sean McDowell of WDVE who has now been in local radio deejay slots for almost forty years, Jim Cunningham of WQED-FM who will be celebrating that same distinction in 2019, and Steve Hansen, ½ of the legendary morning radio team Jimmy & Steve from WDVE's early-80s period.
So, Sean, Jim and Steve, "What was your favorite concert of all time at the Civic Arena?"
SEAN MCDOWELL – Sean is woven into the fabric of WDVE (since 1993). He is an on-air talent that has provided countless hours of enjoyment to listeners through his incredible knowledge of music and his passion for rock 'n' roll.
My favorite show at the Civic Arena was, without hesitation, Pink Floyd, June of 1973. It was the "Dark Side of the Moon" tour, they opened the roof at the arena just as the band was playing "Breathe," and a huge cloud of smoke from inside the arena rose up into the sky, as the roof slowly slid back.
I vividly remember people around me literally yelling and screaming with amazement as the sky appeared overtop of us and lit-up downtown buildings could be seen, too—all while Pink Floyd continued to play "Dark Side of the Moon," which at the time was a brand new album and had just been released.
I asked Pink Floyd drummer Nick Mason a few years ago if he remembered at all the Pittsburgh concert in June 1973, and he immediately responded "Yes, clearly, they opened the roof at the civic center in Pittsburgh, didn't they? That was a special night." He remembered Pittsburgh and the roof opening up!
I also remember the quadraphonic sound system at that show; they had huge speakers set up all around the arena's interior for a swirling, all-encompassing effect. It was 1973, we were all big pot smokers, so as you can imagine it was a spectacular, unforgettable "Oh, Wow" evening.
I saw some other artists there over the years who also opened the roof during their performances, but none left such a lasting permanent impression on me as Floyd did.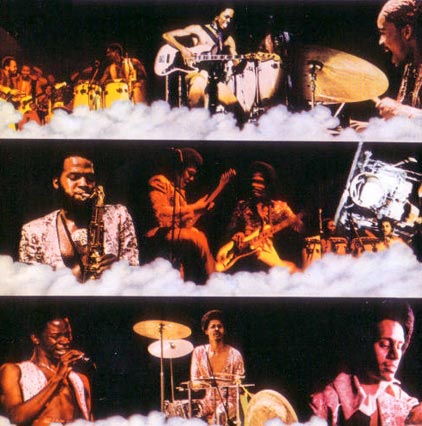 JIM CUNNINGHAM – Jim is the morning show host for WQED's classical radio station and an avid advocate/promoter of the arts & culture scene. Jim celebrates forty years as an on-air talent at WQED-FM, come the Spring of 2019.
Pavarotti: Concerts are always fun but the best thing is the people you're with and the meal afterward. Luciano Pavarotti gave his last Pittsburgh concert at the Arena in 1991 after he'd dropped out of Tosca at the Benedum. It was presented by the Pittsburgh Opera and WQED. Even with his large reputation it was a risk financially due to the expense of the show. The concert was fantastic with one of the last roof openings when Luciano sang his signature Nessun Dorma "None shall sleep!" from Turandot and the cool night air rushed in.
Pavarotti seemed as wowed as everyone else at the roof opening, clutching his signature white handkerchief looking up at the sky in wonder. I brought my wife Laurie and my Grandmother Mary Elizabeth who was always a big opera fan. As a child record fanatic it impressed me that she had a big box set of Metropolitan Opera records with a piece of the Old Met curtain inside the box.
I had the honor of hosting the Pavarotti post-concert reception in the arena's Igloo Club with a $500/ticket sit down dinner with birthday cake and the Italian folk band I Campagnoli serenading the guest of honor. I had been told not to recognize Jean Claude Van Damme who was in the audience while in town filming the movie Sudden Impact (which was set at the arena with terrorists upending a hockey game). He was "touchy," someone said. Of course I couldn't resist asking the group to give Jean Claude a round of applause. Did I imagine him frowning? Ten minutes later he was gone, his dinner uneaten. Was he bored or mad? I'll never know.
Earth, Wind & Fire: My girlfriend with long blonde hair was with me when I went to see Earth, Wind & Fire in 1975. It was sold out. We were standing in a long line waiting to be let in. My brother Matt was along and friends who worked for WTGP in Greenville. My roommates at Thiel College Harry Swallow and Rob Clements entertained our group by singing favorites from Captain Beefheart's Trout Mask Replica. In a flash the guy next to Linda grabbed her ticket and was gone. She was in tears. This concert was sold out but a kindly ticket taker took pity on us and let her in anyway without a ticket. No sign of the thief at our seats.
Afterwards Linda said "You'd have left me standing out in the cold by myself if the ticket taker hadn't been sympathetic." A prophetic statement regarding the stability of the relationship...The concert was challenging. My buddy Craig Fehr had his camera gear stolen. Earth, Wind & Fire blew us away with Maurice White hitting the high notes and Wade Flemons spinning around at a white piano, smoke, choreography, punchy brass, funky bass and audience sing along on "Shining Star" and "That's the Way of the World."
The Rolling Stones: I saw Pink Floyd, Grateful Dead, Prince, and Springsteen, and loved them all but it was the first of several Rolling Stones concerts that is number one in my mind on July 22, 1972. I was at Warren Area High and working part time at WRRN-FM in Warren Pa. I remember the day the tickets came in the mail. You could only order six. I went with Marilyn and fellow longhaired cheerful rockers Mick Wolf and Joe Biachi. Marilyn worked at Mr. Donut on the all night shift. She'd been up for 48 hours when we hit the road. I was working during the day at the radio station and at night running the cash register for Kwik Fill. I'd been up for 48 hours. We crashed at my grandparents in Wilkinsburg. It was brutally hot and sticky. I slept on the back porch on an old army surplus cot. An invasion of six Stones fans was a stretch for my grandparents.
My WRRN colleague Scott Saylor and his girl bought tickets, too. Scott was a Viet Nam vet who'd done Armed Forces Radio and talked the station manager into letting us play way-out album rock like WDVE in its "Love Radio" format period, as long as we sold enough advertising. WRRN is 50,000 watts and covered Erie. There wasn't a playlist but the Stones were on the air all the time that summer. The band had just released Exile on Main Street in May. As soon as we could our hands on the albums I remember my fellow deejays and I playing all four sides without stopping in our FM paradise.
Stevie Wonder opened for the Stones riding high on his radio hit with "Superstition." The Stones had been all over the country but Pittsburgh was their next to last stop before the end of the road in Madison Square Garden. The Pittsburgh show started with "Brown Sugar" through "Tumbling Dice" and Chuck Berry's "Bye Bye Johnny." "Street Fighting Man" was last. I still have slides I took with my 35mm camera. The set was simply big Super Trouper spotlights around the stage in various colors. Mick Jagger was wearing his blue velvet jumpsuit.
Wish I could have been there at the Civic Arena for the Arthur Fiedler and the Boston Pops show with Duke Ellington. I also missed the 1964 welcome home concert for the Pittsburgh Symphony after they'd toured the world for three months with State Department sponsorship. I did hear Mariss Jansons when he conducted the world's largest orchestra in an attempt for the Guinness Book of Records...But nothing tops the greatest rock and roll band in the world, the Stones. Paint it black, you devil! Drape black crepe around the former demolition site. The Igloo is no more.
STEVE HANSEN – Principally known from the "Jimmy and Steve" days at WDVE from 1980-1986, and now independently a producer/writer in various fields, Steve has always been a concert guy. He was at the Last Waltz at San Francisco's Winterland Ballroom in 1976—not too shabby for an early concert experience.
I've seen a lot at the Civic Arena, no doubt. The good (pretty much any Springsteen show, McCartney and, surprisingly, REO), the bad (pretty much any Dylan show, Duran Duran and especially Rod Stewart's lame American Songbook sham), and the ugly (a ghostly Elvis flashed on a screen as his touring band tagged along behind him).
I've seen performers in the round and in the buff (David Lee Roth's ass-less chaps, Uriah Heep's David Byron's wan, slack upper torso). I've seen shows in the aisles (when two interlopers took my Who seats and refused to move) and under the stars (the best was when Clapton broke into "Let It Rain" under an open roof during an impromptu storm). I saw the best opening to a show ever—ZZ Top's white instrument cover disappearing in a snort up a gargantuan nose. I saw the lights go up during a Simon and Garfunkel show—who hadn't accumulated any new audience in 25 years—and realized for the first time just how old my generation had become.
I witnessed the Michael Jackson Bad tour in September 1988, two hours of soulless, sterilized pablum that left me wishing he'd ditch the lame bad boy moves for just one song from the heart. I felt cheap and used until Prince showed up a month later and bathed me in some raw, sweaty funk.
The best show I didn't see was Prince's 1999 Tour, which I passed on to stay home and watch the M*A*S*H finale, a show that I had never watched up until that point. It wasn't very good. The Prince concert was. I bought a VCR shortly after.
But the best Arena show ever? I'm going to throw in a personal qualifier and make it something other than a Springsteen show, because really, what metric exists that could determine which of his many masterpieces was better than any other? By that standard I think my personal favorite was the 2008 Van Halen show at the Civic Arena—by then called Mellon Arena—the first with David Lee Roth back out front since 1985.
Amazingly, Roth looked like he'd arrived on stage from the planet Idiot-zope, a planet where no one sang in tune, moved with grace or gestured with anything less than a carnival barker's restraint. The show was amazing because Eddie Van Halen, who was canceling dates and even whole tours during this time, was phenomenal. Deft, inventive, blazing, harmonic and precise. All while an insufferable clown mugged just feet away. I was mesmerized by the dueling spectacles—Eddie reaching for the note that would crack the universe, Roth reaching for a shred of his former showmanship.
I think it was the last show I ever saw at the Arena. After watching a lifetime of shows both good and bad it was, fittingly, both.
_____________________________________________________________________
Posted 10/21/18.....WITH A LITTLE HELP FROM MY FRIENDS
We're now on the cusp of 2019, and musicasaurus.com is getting a bit long in the tooth—not the website, which is only seven years old, but King Saurus Himself.
I'm thinking back to when I was sixteen years old, and almost fifty years have passed. It's the blink of an eye, really, albeit one that now needs reading glasses…
I was a junior in Butler Area High School back in 1969 and music was my number one passion, my friends and I diving deep with all we could get our hands on, all of us equally obsessed. We pored over music magazines like Crawdaddy!, Rolling Stone, CREEM and Circus, and our trips to the G.C. Murphy's and Woolworths' record departments yielded new finds for us that we hustled on home and played to death. We were a music tribe, one nation under a groove (borrowing that phrase from Funkadelic), united in this exhilarating quest to scoop up new music and excavate deeper meaning.
There was one person in our tribe, though, that kick-started me into total exploration and really fed my head—my friend Gary Kleemann's older brother Dave. He became our musical guide. He was a few years older than we were and he absolutely lived and breathed music; the way his eyes widened over new-band discoveries and the way he gushed over his findings, I wouldn't have been surprised to see G clefs fly out of his nose if he'd been seized by an exceptionally violent sneeze.
As our elder and principal guide, Dave was diplomatic as we searched on our own for new sounds. For a time, he reigned from his album-strewn bedroom at his parents' house on North Washington Street in Butler, and when we'd occasionally pop by with a new purchase, Dave would plop it on his new direct-drive turntable and render judgment. To his credit, when he obviously felt we had made a misguided investment, he was largely benevolent.
In that time period of the late '60s into the '70s, I was sampling a fair bit of new music and somehow became enamored of Grand Funk Railroad. It is not something I'm proud of today. As penance, I feel like I should stand up before all of you in some community-center basement hall:
* "Hi, I'm musicasaurus.com."
* "Hi, musicasaurus," you all say in unison.
* "I was a Grand Funk Railroad fan." (showing great remorse, but having the inner strength to get it out)
I had bought their first few albums but was a bit gun-shy about touting them to Dave. I had also seen the band live at Pittsburgh's Civic Arena at the peak of their popularity in 1970, and at that time my blind worship was undimmed by what I should have recognized as pure mediocrity. I remember just shards of the concert, really—guitarist Mark Farner wringing out none-too-complicated riffs, and drummer Don Brewer doing a slow-paced and senseless forehead-down-to-drumhead interlude as part of an interminably long drum solo.
The band, though, was among the most popular on the planet. Music critics were not as impressed, and they were largely dissin' and dismissin'. Robert Christgau, a noted Village Voice writer, penned in his January 29, 1970 consumer guide column that the group was "creating a stir, apparently because they play faster than Iron Butterfly. Which I grant is a step in the right direction. I saw them live in Detroit before I knew any of this. I enjoyed them for 15 minutes, tolerated them for five, and hated them for 40."
I didn't see that piece of vitriol when it was published in January '70, and it likely wouldn't have dented my devotion anyway. When the band's fourth album hit later that year in November—a double-record set called Live Album—I scampered off to Woolworth's to snatch it up before heading over to Dave and Gary's house.
In Dave's room, the shrink-wrap came off and Side One was immediately on his turntable. He smiled as he dropped the needle on Track One, but where would it go from here? When we were previewing records with him in his upstairs chambers, it was usually the furrowing of his brow that confirmed to us we had another "near miss" or "clear miss" in terms of a new purchase. After a song and a half of this latest by Grand Funk, Dave wheeled around from looking through a crate of his albums, and just said very softly "This...is...shit."
"No offense," he continued, "but there are SO many other records out now that are better than this kind of stuff." He turned toward another peach crate on the floor, and pulled out the new double album from Miles Davis, Bitches Brew. "This came out about six months ago," Dave said, slipping the record out of its sleeve and placing the disc gingerly on the turntable.
I sat there hoping to be all agog, but as this jazz-and-rock stew burbled forth at an excruciating volume over the bedroom speakers, I gleaned only confusion from the fusion. I wanted so much to like it, and managed a "thumbs-up" nod to an expectant Dave, but it was way too free-form for me to wrap my rock 'n' roll head around...
But this encounter (and ones like it) helped me to firm up my footing on a path I'd already begun to tread. When I recall that Miles Davis moment and similar others in Dave's quarters—with all of us sampling new sounds across a wider-ass spectrum than we'd ever thought possible—the effect was electrifyingly palpable. We were all afloat in a period of artistic innovation that had, in just a few years' time, sparked up and fanned out like never before in terms of intensity and reach.
In 1970 alone, our eager antennas picked up on artists and albums such as the second release from horn-dominated rock band Chicago...The Mothers of Invention's Weasels Ripped My Flesh...jazz keyboardist Joe Zawinul's first solo record...Traffic's John Barleycorn Must Die...the debut albums from British bands Black Sabbath and Emerson Lake & Palmer, and prog-rockers Curved Air and space-rockers Hawkwind...Van Morrison's Moondance...Fun House by The Stooges...jazz saxophonist Stanley Turrentine's Sugar...Joni Mitchell's Ladies Of The Canyon...My Goals Beyond from fusion guitarist John McLaughlin...The double album The Butterfield Blues Band Live...prog-rockers Van der Graaf Generator...CSNY's Déjà Vu...Hendrix's Band of Gypsys...the debut album from Funkadelic...and vibraphonist Gary Burton and pianist Keith Jarrett's duo release.
Also in 1970, Pink Floyd's fourth record, Atom Heart Mother...Elton John's self-titled first American release...the album Benefit from Jethro Tull...jazz trumpeter Freddie Hubbard's Red Clay...the debut albums from German art-rockers Kraftwerk and Tangerine Dream...records from folkies The Incredible String Band, Pentangle, Fairport Convention and Fotheringay...the sophomore albums from the Jackson Five (ABC) and the Allman Brothers Band (Idlewild South)...Burrito Deluxe by The Flying Burrito Brothers...albums from progressive jazz-rock artists Colosseum and Soft Machine...jazz flautist Hubert Laws' Afro-Classic...Spirit's Twelve Dreams of Dr. Sardonicus...King Crimson's In The Wake of Poseidon...Santana's Abraxas...Loaded from The Velvet Underground...Death Walks Behind You from Atomic Rooster...blues-duo Hot Tuna's first album...and the second record from English prog-rockers Yes.
Perhaps we can brand this musical slice-of-an-era (i.e., the late '60s into the early '70s) as Youth's first real feeding frenzy. Artists back then were pushing boundaries such that genre walls were heavily pockmarked if not completely chiseled through, and record companies were bursting with newly-signed talent and buzzing like central hives. And we as fans and followers fed both those flames, because quite simply, music—in all its permutations—became central to our existence.
p.s. Thanks to Dave, and to his brother Gary and my other high-school friends for all of the music and the shared education. And to Dave in particular, in regard to the evening I brought that Grand Funk record to your room: Thanks for the smiles and putting on the Miles—and I think we're both happy that I got the Funk out of there.
_____________________________________________________________________
Posted 10/7/18.....TIME OF THE SEASON

Let's turn the clock back a quarter of a century on Star Lake Amphitheater (now Key Bank Pavilion) since the outdoor shows out there are now over for the 2018 season. Back in 1993, the venue's fourth season, there was a uniquely interesting assortment of genres represented on stage—country music, alternative, classic rock, instrumental schmaltz, jazz, blues, families-with-kids appeal programming, now very moldy oldies, and even a then-ahead-of-its-time Third World music festival. It was a good summer to revel in the artistry on display, especially if you happened to soak all of it in (yeah, that's not likely, but I, unlike you, had no choice. My job was working at the amphitheater marketing all of its shows, so every night with my venue radio holstered and my laminated passes 'round my neck, I trudged through the crowds catching a glimpse, or more, of what was on stage.)
Here is a sample of what I lived and breathed that summer:
Saturday May 22 - Hank Williams Jr. with Aaron Tippin and Lee Roy Parnell.....This began Hank's four-year run ('93-'96) of season-opening shows at the amphitheater. His booking agent loved this opening slot because his artist could directly benefit from "cabin fever"—a collective longing for the outdoor concert experience and an urge to party hearty at the very first show of the season. For those readers who hail from parts outside of Pittsburgh: Our area's standard weather forecast for the November through April time period is Blah and Blech with a 10% Chance of Reaching for the Razor, but then in May the sun successfully ducks the clouds and dents the gloom, and both moods and temperatures begin to lift. There are medications for this type of Seasonal Affective Disorder, of course; I recall the Hank fans downed a ton of these 24-ounce cure-alls.
Sunday June 6- Spin Doctors with Screaming Trees.....We determined through some feelers at Radio and Record Retail that this group was buzz worthy and bound for glory, so we appealed to the agent to book his relatively new act at our large venue. Though conventional wisdom was to book a less-proven band into a small hall, the agent eventually acquiesced and we got the date. This particular booking was aided by a smaller independent Pittsburgh-area promoter named Jack Tumpson, who ran a concert company called Next Big Thing and who had booked the Spin Doctors into a small venue in Pittsburgh the year before. Jack helped sell the agent on the concept of that cabin fever fan phenomenon, and we all agreed on a cheap-ass lawn ticket to hedge our bet. With the help of classic-rock powerhouse 102.5 WDVE and a $10.25 lawn price, the Doctors spun us ticket sales of well over 13,000.
Friday June 11- Kenny G with Peabo Bryson.....This was the first appearance at the amphitheater in Pittsburgh for this musical milquetoast, and what I remember most—aside from the coma-inducing performance—was the stipulation from Kenny G's booking agent that we include the tour's national sponsor in all of our concert ads. I was marketing director of the amphitheater back in '93 and this was not an unusual request, but I had never heard of this company called "Starbucks." As it turns out, the Pittsburgh area was behind the curve of the expansionist plans of the Seattle-based company, and so in '93 no one around these parts knew who in the hell Starbucks was—but I ended up including their sponsor attribution in our ads nonetheless. (I'm not sure how Kenny G's folks landed Starbucks as a tour sponsor, but indeed it seemed simpatico; the husbands & boyfriends who are dragged to this kind of show may start their evening with alcohol, but most assuredly end up with caffeine to shrug off the narcolepsy near the end of the night.)
Saturday June 19- Mellon Jazz Festival with the Pat Metheny Group.....1993 was the third year in a row that we went out on a limb to see if jazz could draw a significant enough number of purists from the Pittsburgh clubs and pubs out to the amphitheater. In '91 we tried a David Sanborn, Michael Franks, Take 6 and Yellowjackets package, and in '92 we offered up Grover Washington Jr., Spyro Gyra and Acoustic Alchemy as the "meat" of that particular year's line-up. Neither show drew enough fans for the venue to turn a profit, so we licked our wounds and limped into Year Three of our jazz experiment with one more try—we placed the Pat Metheny Group at the top of the bill. Even though we had heard that other meaningful jazz headliners were in short supply that summer and we couldn't really help fortify the Pat package all that much, at some point we just gulped and braced ourselves, and then put the show on sale. In the end the jazz diehards and cultists showed up as we knew that they would—but not in the numbers we needed. Though Pat Metheny still today towers over a lot of others in terms of artistic achievement, in that harsh spotlight of ticket sales—simply said—Metheny was weeny.
Sunday June 20- Steve Miller Band with Paul Rodgers.....This was the fourth year in a row for Miller at Star Lake. There was certainly quite a buzz building around this 1970s rocker, and it seemed to correlate to the degree of buzz in the brains of the youthful tailgaters. By 1993 Miller was selling out the venue at 23,000 tickets every year he touched down, and each time there was a staggering number of individuals in the parking lot (yes, I mean that both ways). Though our security guards, ID checkers and local police did their very best out in the parking lot to control the situation, it was always an on-the-edge affair—one of the more pleasant aspects of the workaday life of amphitheater staff.
Wednesday July 21- Lollapalooza featuring Alice In Chains, Arrested Development, Dinosaur Jr., Tool, Primus, Rage Against The Machine, Fishbone and more.....This was the third summer tour for Lollapalooza, the alternative music festival originated by Jane's Addiction lead singer Perry Farrell in 1991. That first year the festival whisked right by us, unsure of the sales potential for this cutting-edge event in the Pittsburgh market where there was no commercial (i.e., big league) alternative station. Through some subsequent lobbying of the booking agent responsible for routing the festival nationally, we were able to get it confirmed for that next year of 1992, and continue on for the next five years…
The most memorable part of the very early Lollapaloozas was the Jim Rose Circus, one of the sideshow attractions that travelled with the tour and performed on each venue's second stage. This freakishly fascinating ensemble wowed the crowd and even siphoned off curious viewers from the main stage activities. Leader of the pack Rose would, among other feats, hammer a nail up his nose, staple dollar bills to his forehead, and ask someone from the crowd to put a boot on his head after he poised it above some broken glass. And then there was The Amazing Mr. Lifto who did strongman stunts utilizing his body piercings...(Check out The Jim Rose Circus Wikipedia entry via the following link, and be assured that there's no need to fact-check this puppy. I'm not sure anyone could have made this up: https://en.wikipedia.org/wiki/Jim_Rose_Circus)
Monday August 2- Blues Music Festival '93.....This was the second year in a row that we had tried the blues and then cried the blues. The year before, in 1992, we had booked a package of B.B. King, Buddy Guy, The Fabulous Thunderbirds and Dr. John, and our initial thought process was to make the ticket prices a bit on the high side because the four-act package was expensive and we needed to make sure we covered our costs. Result: Only about 3,000 paying customers. Granted, we had a wildly appreciative crowd; still, it was a genuinely painful night in terms of our pocketbook...
Come 1993, B.B. and Buddy were joined instead by Koko Taylor and Eric Johnson, and we rolled the dice again but took a different tack. We made the tickets cheaper so that more people would come to the show and spend beaucoup buck$ on all of our parking, popcorn, pop and pilsners. Result: Only about 3,000 paying customers. And who the hell knows, maybe 2,994 of 'em were the exact same people that had come the year before. Pittsburgh's blues fans, we found, were fiercely devoted. But we also learned that their loyalties lagged when confronted with a half-hour drive out to our amphitheater, far away from their comfortable city-scene haunts.
Saturday August 14- Steely Dan.....The reemergence of this group after almost a two-decade layoff from touring was welcomed by a rapturous sell-out crowd of 20,000 fans, all joyously singing along to the musical question-and-answer of the evening: "Is there gas in the car? / Yes, there's gas in the car." The razor-sharp and deeply satisfying performance of that song "Kid Charlemagne" and others from the Dan canon made it an unbelievable evening for those who had waited nineteen years to see them again—and I ran into a decent amount of fans who were seeing them live for the very first time. These latter folks were particularly well served that night, as they were finally liberated from having to genuflect solely in front of their CD players.
Wednesday August 18 - Disney Symphonic Fantasy.....Our parent company Pace Music Group had worked with the newly-formed Disney Theatrical Group to mount an evening of musical theatre highlighting various Disney characters in song-and-dance selections from the company's many film successes, including Beauty and The Beast, Little Mermaid and more. The tour was designed to play the amphitheaters versus the arenas as another "special event offering" that Pace could crow about—nationally and locally—to its outdoor venue sponsors and season ticket holders. Though the attendance ended up at only 6,000 paid, it was deemed a decent success for a first-time foray. Most of the other amphitheaters in the Pace system across the U.S. didn't do quite as well as we did, however, and so the Disney Symphonique Fantasy never took root as an annual amphitheater event.
Monday August 23 -Bette Midler.....Bette played Star Lake Amphitheater for the first time this particular year, and then trotted back for an encore in 1994. From the moment she appeared on stage The Divine Miss M (better yet, how about...Lawdy Miss Bawdy?) was phenomenally entertaining in her singing, skits and audience asides. As is standard, she had been briefed in advance by her writers about the Pittsburgh area so that she could throw out localized bons mots to completely dishevel and level the crowd.
Saturday August 28 -Summer Oldies Party: Grass Roots, Mark Lindsey, Tommy James, Rascals, Turtles, and Pure Gold.....Pittsburgh Oldies station WWSW (3WS) had for quite a few years run a cheap-ticket, fan appreciation Oldies concert at Three Rivers Stadium, and then in 1992 the station downsized it in order to play Star Lake Amphitheater. The show did very well at our venue, and we were both mystified and perturbed that the station, in the Spring of 1993, suddenly informed us that their annual oldies extravaganza would not continue. We then had a bit of a spat with them over this discontinuance (perpetually hungry, as we were, for more and more events), so we did the "shun thing" and told them we were going to book our own Oldies Fest show and align with a different radio station to help us promote it. Boy, did we show them—uh, that we were spiteful and clueless. This show that we had cobbled together ourselves had a decent enough oldies line-up, but it turned out to be a complete failure without the galvanizing power of 3WS to get behind it and promote it to their fiercely loyal, engaged audience. Our venue/station good relations resumed by the following summer, but there was never again a full-scale, jam-packed and successful Oldies concert in our Great Outdoors.
Wednesday September 8- The WOMAD (World of Music, Arts & Dance)Festival: Peter Gabriel, Crowded House, PM Dawn, Stereo MCs, Inner Circle, James and more.....Our parent company Pace, ever watchful in those days for new event opportunities, brought this festival to our attention and offered us a chance to host one of the first few American dates of this esteemed U.K.-originated event. WOMAD was collaboratively conceived by Peter Gabriel and some close arts-minded associates in 1982, and he had his paws all over this amazing assemblage of Third World musicians...
The show—a combination of performances and music, and arts & dance workshops—was truly ahead of its time in 1993, for the artist line-up amounts to a perfectly assembled Spotify playlist. Without the web back then to successfully weave our concert news into the Greater Mind's Eye, we of course went the accepted routes of radio, print, television and street flyers. Our marketing efforts were just not impactful enough to prevail, however; the bottom-line negative number was of historical proportions, the largest amphitheater loss in the company's history to date. It was a very nice scarlet letter to have on our foreheads as we departed for the annual Pace amphitheater summit meetings later that Fall, but luckily no unfair blame was accorded. It had been one of those roll-the-dice risks that just didn't pan out, in a time when our business really called for us to test limits and book all sorts of shows.
Friday September 24 - The Beach Boys.....Twenty-five years ago, the Beach Boys were already in essence tired old guys. They were all entering their fifties, and had been peddling that surf-sand-and-sun stuff for seemingly centuries. Friday, September 24th turned out to be a very chilly Fall evening at Star Lake Amphitheater, certainly not ideal for another warmed-over unspooling of this band's summer sentiments. The reason I remember the cold that night was because of my late wife Margot, who had found herself backstage with a friend in a Beach Boys meet-and-greet/photo-opportunity prior to the group's performance. She was told to huddle close with the other few folks in attendance, so that everyone could squeeze into the shot. She related to me later that evening that she'd been positioned right next to lead singer Mike Love, and had muttered something almost under her breath as to how cold it was...
Love immediately wrapped his arms around her and pulled her in tight, smirking "Oh honey, I'll keep you warm!" My wife kept her revulsion largely at bay, and semi-smiled for the camera. Somewhere, maybe lost for eternity, there's a photo of the lecherous Love in a near-groping of my wife with her priceless, restrained look of bemusement. My temperature always rises slightly when I think about this incident, but on that cold evening in September '93, I very much appreciated she'd been frigid in the face of Love.
_____________________________________________________________________
Posted 9/23/18.....BEHIND CLOSED DOORS
Backstage encounters with artists run the gamut, as most folks immersed in the live entertainment business know full well…There are "swing-bys" in dressing rooms to say "hello," hallway happenstances, and even some brushes with greatness that don't qualify at all as "meeting" the artist. Over the years at Star Lake Amphitheater (now Key Bank Pavilion) I met a fair amount of folks in that sanctuary of backstage where the artists roam free.
I've bumped into Buffett and Sting in the catering area, visited with Styx and Toby Keith in their dressing rooms, and grabbed the Spice Girls (not literally) for a quickly staged snapshot…I've said "hi" to James Taylor who was pacing the dressing room hallway nervous as hell about an approaching thunderstorm…and I've met women performers I greatly admired such as Stevie Nicks, Valerie Carter and Alana Davis, the latter part of the 1998 H.O.R.D.E. festival line-up and an amazing singer who deserved more than the ripple of fame she ultimately experienced.
Here are four more artist encounters, a bit more fleshed out to give you a better sense of what can unfold…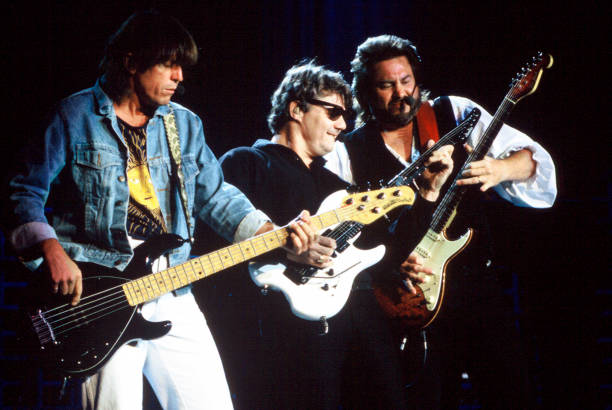 STEVE MILLER.....
Starting in 1990, Coca-Cola Star Lake Amphitheatre's opening season, the Steve Miller Band came to play and then returned every year thereafter for the next decade. The first two years Miller drew about 10,000 fans each, but then something happened: word spread that this was a show not to miss. The lawn ticket was cheap—just $10 (imagine that)—plus the band had proved at the outset that they could deliver mightily on all of Miller's FM hits through the years like "Fly Like An Eagle," "Jungle Love," "Rock 'N Me," "Take The Money And Run," "Jet Airliner," "The Joker" and more.
It truly was the summer's biggest party for a number of years in a row. Tailgating was in full flower out in the venue's parking lots, and the way younger brothers and sisters of original Steve Miller fans were finding out that these classic songs—coupled with the cheap ticket and ample tailgating tonic—made for a night to remember (or a night to attempt to remember).
By Miller's third appearance in 1992, the show was selling out at over 20,000 tickets. In fact, Miller sold out every concert from 1992 through 2000, and the crowds wouldn't stop storming the gates. In 1996 there was an unprecedented "walk-up"—i.e., sales at the venue box office windows—of almost 6,000 lawn tickets. Inside, the lawn turned into Sardine City. Fans had about a square foot of space each, which was just room enough to hoist a lighter for the encore while praying your neighbors' beer-sloshing wouldn't snuff it out.
At that '96 show I was called back to say "hi" to Steve Miller by his manager, after the band had heard about the huge walk-up and the 27,000 people in the venue. Miller was a gracious host in his dressing room, and we chatted a lot about his early records (my favorites, like Brave New World and Your Saving Grace) and about his love for the blues. Miller was congratulating us on a record attendance, and was feeling quite empowered. "Lance," he said, "I've sold out the last five times I've played here, and tonight we hit 27,000—can you rename it 'The Miller Dome?' " I smiled and played along, telling Steve I'd first have to consult with my soft drink sponsor who was currently paying us multi-six-figures to be called the Coca-Cola Star Lake Amphitheater. He grinned and said "Oh, alright...I was just kidding anyway" (what a joker; not sure about the midnight toker).
NEIL YOUNG & CRAZY HORSE.....
Neil Young, much to his minions' delight, played many times through the years at the amphitheater. Idiosyncratic and talented beyond measure, Young barreled through many a stellar performance, whether commanding the stage alone with just guitar, harmonica and keyboards in a full evening of career-spanning music, or backed by a powerful band like his 1993 outing with Booker T & The M.G.'s.
On September 3, 1996, Neil rode into town with Crazy Horse, his quintessential accompanists who first came together to fuel Young through the recording of 1969's Everybody Knows This Is Nowhere. Bassist Billy Talbot and drummer Ralph Molina were there at the inception, along with guitarist Danny Whitten. The latter overdosed in 1972, replaced in the saddle by Frank "Poncho" Sampedro around 1975.
I didn't actually meet Young at this 1996 concert; let's call it a "close call." All through the evening, the worshipful crowd was ecstatic as Young journeyed into the past, pulling out Crazy Horse chestnuts like "Hey Hey, My My (Into The Black)," "Pocahontas" and "Cinnamon Girl." Near the end of the concert, I found myself backstage near the one door that the artists use to enter and exit the stage from the dressing room hallway. Still onstage at that point, the band had turned things up to eleven, taking themselves (and the fans) on an extended guitar freakout that was part of their last number of the evening—either "Cortez The Killer" or "Like A Hurricane" (I cannot rightfully recall). The song ground to a halt, the lights went up and the crowd roared, weary but seemingly fulfilled.
Backstage where I was standing, the stage door burst open and this exhausted yet exhilarated foursome stumbled into the dressing room hallway and immediately collapsed back against the walls for support. I was about six feet away, but my life force wasn't even a blip; the four were grinning madly, completely lost in their own little world. Molina and Talbot were laughing and panting in equal measure; with his head back against the wall, Sampedro asked the cosmic question nipping at their heels: "What in the HELL kind of spaceship were we just ON?!!!" Young and the others all broke up again, doubling over and slapping the walls in delight. With no answers at hand, the foursome scrambled into loose formation, giddily pushing each other along as they baby-stepped down the hallway to their dressing rooms.
Hey hey, my my, rock and roll can never die...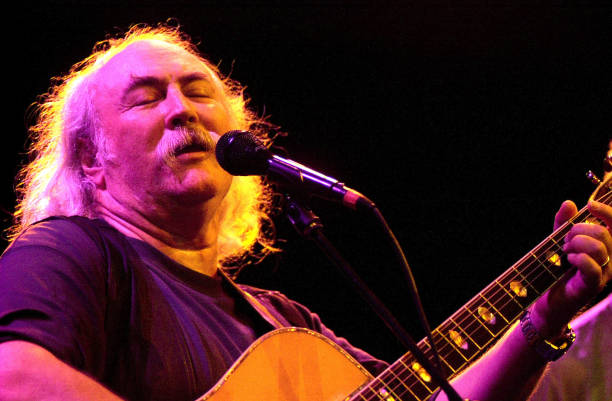 DAVID CROSBY…..
Crosby, Stills & Nash played at Star Lake on the evening of August 16, 2001.
It had been a perfectly scripted day for us at the venue—the band's load-in of equipment went smoothly and the tour crew was laidback, and "backstage" was now in its usual comfortable lull between sound check and gates-opening time. There were beautiful blue skies as evening crept in, and to top it off, we were only expecting a crowd of maybe 8,000 headed our way. This guaranteed that traffic would be a breeze, with our incoming fans unhurried and likely not the least bit harried.
I was standing backstage leaning against the railing next to the start of the dressing room hallway, talking to Roy Smith who was our venue's marketing director. We were discussing the number of complimentary tickets that Roy had used for this CSN show for radio station trade buys and promotional giveaways, and he was assuring me that the tour folks had pre-approved all of these, so once again the Amphitheater Gods seemed to be smiling down on us.
Suddenly the door of the nearest Artist Dressing Room flew open, and a young boy (3, maybe 4-years-old?) bounded out and plopped down near our feet, squinting in the sunshine. "I want some ICE cream!" the little boy harrumphed to no one in particular, and as Roy at the railing responded with "I think there's some in the catering room right there," David Crosby emerged from the dressing room and caught this exchange.
Crosby walked straight over to Roy and stood about six inches from his face. He hung there in silence for about three seconds, and then muttered the words "Just add water" before puckering his lips—still inches away from Roy—and making a slow sucking-in sound that started out low and then kept rising up and up to a sudden nipped-in-the-bud finish. "Wa-LAH!" cried Crosby, "INSTANT ASSHOLE!" He paused for effect: "Don't you EVER tell my kid he can have ice cream!"
Crosby turned and walked away, following his son into the catering area. Roy and I looked at each other, our eyebrows involuntarily up. Then he shrugged it off, saying "Just trying to help..."
Luckily we were somewhat accustomed to the occasional prima donnas--and davids--in the course of our work, exposed as we were to egos of all sizes and proportions. It just went with the territory in rock and roll.
ROD STEWART.....
I was never much one for actively trying to orchestrate backstage meet-and-greets because of the particular demands of my job. Ninety-five percent of the time I was wrestling with issues front-of-house—i.e., checking on the parking lots and tailgating, the lines at the concession stands and the artist merchandise booths, and the crowd demeanor. This was all pretty daunting stuff especially on a sold-out or nearly sold-out show, and it kept me and my staff pretty much rooted to the public spaces in the venue.
But one night in August of 1998, I took advantage of the tour manager's offer to get someone backstage to meet Rod Stewart, and I picked just the right individual for this mother of all opportunities—my mom.
This was a couple of years after my father had passed away, and my mother—always a huge Rod Stewart fan—had come to the show with a girlfriend to sit in my personal seats in section two near the stage (another perk of the biz at that time was a pair of excellent seats for the amphitheater general manager to dispense to family, friends or clients for each show).
Stewart was just minutes away from heading for the stage, and suddenly the tour manager offered this up to me out of the blue, as I happened to walk by him in the dressing room hallway—"Do you have anyone that wants to say a quick "hello" to Rod?"
I ran out to the lower West Plaza from the backstage swing-gate, and dashed to my personal seats. No mom. I jumped up the four or five steps to the upper-house seating area to see if mi madre was anywhere in that milling throng. I turned away from scanning and suddenly saw that she had slipped into section two after all.
I gave her a quick kiss and the scoop—she had to come with me right now. So mom wisely decided to ditch her concert companion who had gone off to the ladies room. "She'll get it over it," Mom said. "Do I really have to run?"
We made it back to the dressing room hallway in time to catch Stewart and his tour manager midstream in the path to the stage. The tour manager nodded at me, and I nudged Mom into Stewart's path. The singer lit up and said "And who's this?!!" My mom introduced herself and then dutifully made the connection, pointing over my way and explaining that her son ran the venue. She told Stewart that she had been a fan of his since the 1970s, and the singer said, "Well, Alison, it is a pleasure to meet you!"—and then he was whisked away. The 20-second meet-and-greet was over.
Mom was happy to be able to just walk back to her seat. Was all that hustle worth it? "Oh, Lanny, that was great," she said. "He seems so nice. And he called me by my name."
Every once in a while, your star rises in your mom's universe. And that's just a fine day on planet Earth.
_____________________________________________________________________
Posted 9/9/18.....KEEP ON GROWING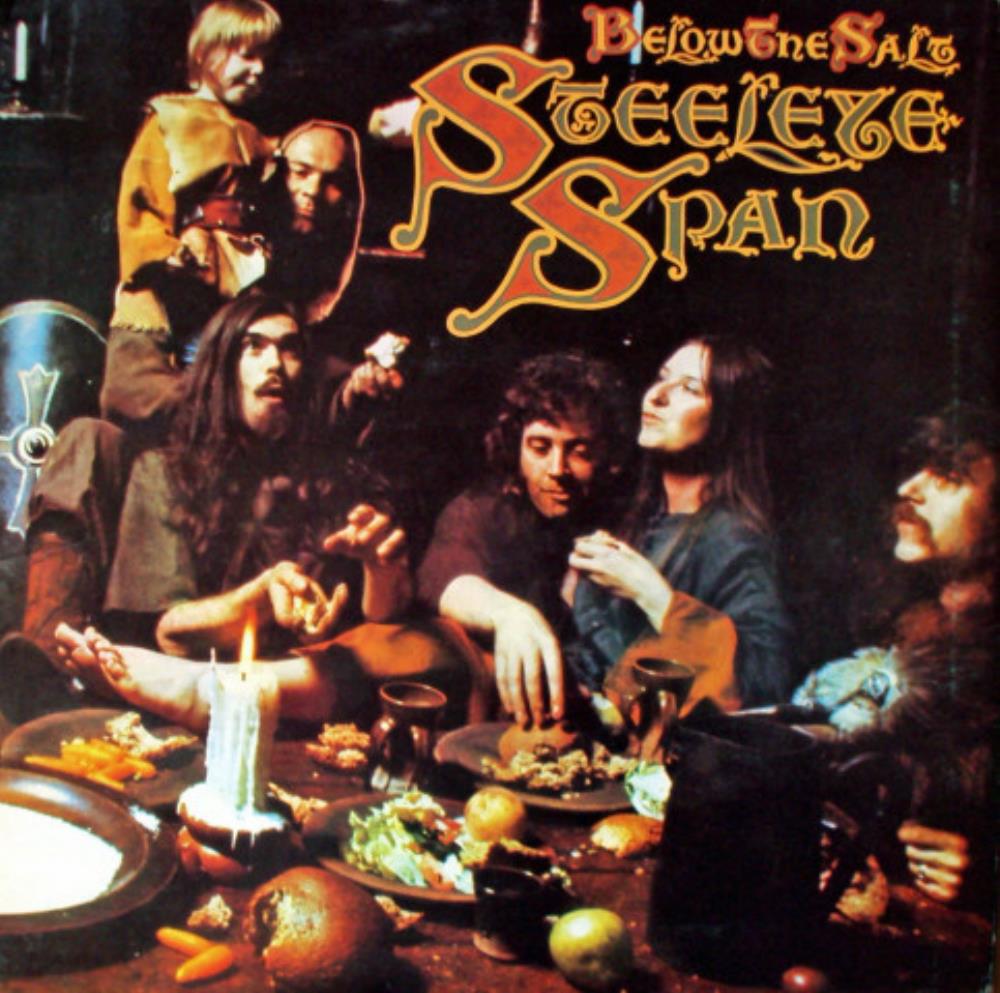 For a period of almost twenty years from the mid 1960s to the early-mid 1980s, I was an explorer and a collector. Not exactly on the level of someone like Charles Darwin, of course; he famously spent five years (1831-1836) on the British ship HMS Beagle as naturalist and companion to the ship's captain, exploring remote regions of the globe and gathering up samples of the unique, the strange, and the unknown.
But indeed I was an explorer and collector—just without the sea voyages, and more or less confined to southwestern PA and a couple of state colleges. My passion and paths of pursuit were of a different ilk, but I amassed a vast amount of specimens as well. And like Darwin (I suppose) most of these opened up whole new worlds for me.
I'm talking about albums. Vinyl records that were 12" in diameter and spun at 33 1/3 revolutions per minute on a turntable. These were my salve and salvation, as I made my not-always-discernible way from teenager to the cusp of thirty-something.
It's clear to me, however, that my obsession was first fomented by the momentous changes taking place in society in the Sixties like the rise of the counterculture, the hue and cry over civil rights and women's lib, etc., but for me in particular it was the accompanying evolution of popular music that turned my young head around. Through junior high and high school peers, and fledging youth-oriented magazines like Circus, Creem and Rolling Stone, I began to unearth previously unheralded worlds of music to explore…
Those times were explosive in music. The Beatles launched a thousand ships, of course, for those who wanted more than just the dream of being in a band, and the Fab Four's albums (one after the other) paved the way for experimentation and unbridled creativity, and luckily produced as many iconoclasts as sheep and imitators in their wake.
Album buying became the province of Youth. By the mid-to-late 1960s, the record departments in chain stores like Woolworth's and GC Murphy's were brimming over with new releases from carpe-diem minded record companies who were signing new bands left and right. In junior high I was hitting these kind of places in my hometown of Butler, PA, but in high school ('69-'71) I started venturing to "the big city"—Pittsburgh, about an hour south of us—to visit the independent record stores that were popping up in abundance, meccas for the tuned-in, turned-on and dropped-out like The Free People's Store and (later on) Flo's in Oakland, and Heads Together in Squirrel Hill.
My album fixation followed me to my years of higher ed ('71-'75) at Clarion State College (now Clarion University) and subsequently Penn State's main campus, where I sat on the staffs (and in the deejay chairs) of these two institutions' radio stations. Their studio shelves were constantly being replenished with new albums from record companies, and my learning curve as I waded weekly through these literal stacks of wax was arcing up, up and away.
Along with new American artists who were gaining popularity through their first few albums—like Springsteen, Lou Reed, Steely Dan, Little Feat, Tom Waits, Jackson Browne, The Eagles, and scores more—I was finding treasures from other parts of the world as well. On these radio stations' shelves, l discovered new releases from England's Soft Machine, Osibisa, King Crimson and Steeleye Span, the German fusion band Passport, and the genre-blending jazz-classical-folk instrumental recordings from the Oslo studios of European record label ECM.
After college, my passion for music circuitously led to occupational paths in that realm. My diploma had marked me as a budding journalist, and though I tried early on to worm my way into radio station gopher jobs, and did one or two freelance pieces for the local newspaper, nothing opened up. Back in my hometown, my friend Gary Kleemann's older brother Dave soon gave me a shot at clerking in his independent record store, located about a block-and-half from Butler's main drag and appropriately called Exile Off Main Street (or more formally, Exile Records).
Similar to my college radio days, this time in Exile was an incubator for me. The job didn't pay a lot but the fringe benefits included listening to albums all day long on the store's crystal-clear speakers that boomed from the high corners, and "talking music" with all comers, the confident souls who knew exactly the new record they had to have and the tentative ones who would trot out a genre and ask you for suggestions.
Of most value to me, though, was the ongoing tutelage from Dave on the width and breadth of new music being released by the major record labels. Every Tuesday—restocking day at Exile—he would bring a slew of new releases back from his record wholesaler and we'd crack open these untapped treasures of rock and reggae and jazz and blues and all other hues, and this just stoked my desire to keep collectin'…
My album stash was growing by leaps and bounds. My path over the next handful of years ('76-'84) took me to a co-manager position at a second Exile Records location, one that we opened up in Wexford, PA…then to a job with record company distributor Warner-Elektra-Atlantic Corporation as a southwestern PA field merchandiser…and then to employment as merchandiser-turned-marketing director in the Pittsburgh headquarters of the record retailer behemoth National Record Mart. At my apartment in Pittsburgh, the albums were piling up and I couldn't keep pace in my search for space. Each of the aforementioned jobs put me in a position where free promotional copies of albums were plentiful and came in like the tide, and my buying sprees were no longer as necessary. I was truly in a place where dreams come true.
By 1984, I had well over 1,000 albums in my collection. Having that many was literally a struggle; I remember moving my entire library of albums from my ground-floor bachelor pad to my first living quarters as a newlywed in a second floor apartment. The box-upon-box haul up the stairs was not the chief difficulty; it was the massive wooden shelving unit that previously housed a lot of my collection in the living room of my old apartment. Standing at least eight feet high with a healthy six-foot width, it was hernia-inducing just to look at.
Worse yet, the monstrosity would simply just not fit through the front door, so my engineering specialist brother-in-law Ed came up with a solution. He buzzed home for his circular saw, and safety goggles in place, he sliced my bookcase-on-steroids horizontally in two. This was enough to allow us to haul the two halves up to a roof ledge and get them individually through the large window into our new second-floor living space. I thanked Ed profusely. And the lesson I learned that day: There is a price to be paid—occasionally divertible to family members, as luck would have it—for a passion this deeply rooted.
That same year was just about the time that compact discs were moving swiftly from the first wave of early adopter audiophiles to the general population. I had picked up a Philips compact disc player and I'll always remember christening it with a newly acquired compact disc issued by the new age label Windham Hill, a compilation of the label's current recording artists. Entitled Windham Hill Records Sampler '84, the CD started off with a song called "Aerial Boundaries" by guitarist Michael Hedges. I Spinal Tapped my stereo receiver's volume control (i.e., turned it up to "11") and sat back, almost floored, by the crystalline beauty and the power of this tune.
But the inescapable allure was also because of the sound quality. I knew the handwriting was on the wall for vinyl, at that point in time; technology was moving to all things digital, the record companies were behind it 110% and there was just no turning back to the admittedly warmer sound of those 33 1/3s…
Thus I started to divest of my assets. Slowly but surely over the years, starting in the mid 1980s, I made trips to Jerry's Records in Squirrel Hill and sold off my collection bit by bit, box by box. I saved only a small pile of personal favorites, and they were attic-banished for years before seeing daylight again about three years ago in a move to a new abode.
I know that some day, though, when I am in the Old Folks' Home and can no longer recognize my loved ones, I will however still be vividly recalling the sights and sounds of ecstasy on Earth—tearing shrink-wrap off a brand new album…gingerly laying the turntable's tone-arm and needle down on the outermost grooves of the disc…sitting back cradling the album cover, poring over the liner notes…and waiting to exhale.
p.s. The following 26-second movie clip pretty much sums up my love for albums and music. I agree 100% with what Albert Brooks says here, but do not endorse the activity his character indulged in that led him to these heartfelt expressions. Suffice to say that his motivating indulgence (not seen in this clip) might strike some as lude and inappropriate. https://youtu.be/TZm3h-PNRR0
_____________________________________________________________________
Posted 8/26/18.....HEROES
Judging from my recent concert excursions here in August 2018, one would think that my checkered past must have included dropping out of adulthood between the years 2005-2009 to stay in my basement with Guitar Hero, sugary drinks, cheese-and-crackers plates and a cot. Guitar Hero you may remember was an addictive music rhythm game with a guitar-shaped game controller where the player could easily match up its colored fret buttons with what was illuminated on the game's note-scrolling screen.
But that wasn't when, or even how, my passion for guitar took full flower. It was many years before that as a music-obsessed youth in the 1970s who gobbled up and stockpiled hundreds and hundreds of albums, always in search of that spine-tingling thrill that came from the nexus of a musician's passion and technique. And occasionally I would find that thrill in certain instrumental recordings by a handful of fleet-fingered auteurs, pioneering souls who had such a grasp of their stringed instruments that, once I discovered them, I latched on for life…
Witness my concert selections, circa August 2018: I went to three shows in the space of one week; two were guitarists and the third yet another master of strings. All three of these artists I've followed since the 1970s when they were each truly trailblazers, and those of us fortunate enough to have been swept up in their wake have piled on additional thrills intermittently through the decades. They are guitarists Jeff Beck and Larry Carlton, and electronic violinist Jean-Luc Ponty.
Jeff Beck…Saturday, August 11, 2018
The first of my three-in-a-week live shows was the only indoor experience, at Pittsburgh's Heinz Hall which is usually an acoustically trustworthy venue. This show didn't disappoint in that vein, and Beck's penchant for full-throttle performances brought out the decibels both on his metal-like flurries during the faster tunes and on his sweet and aching swoops & slides on the slower material.
For those of you who may only tangentially know this artist, Jeff Beck is one of the true guitar gods of the 1960s, right up there in stature (and age) with fellow Brits Eric Clapton and Jimmy Page. Deep music aficionados (i.e., those of us whose brains have crowded out the more sensible and essential stuff of Life) know that these three were alumni of the English rock group The Yardbirds, all passing through its ranks in the 1960s on their way to more formidable unions and achievements.
Beck was in several group formations after The Yardbirds, but his outta-left-field masterwork appeared in 1975—the all-instrumental classic Blow By Blow. This was a boundary-pushing revelation helmed and held together in the studio recording process by famed Beatles producer George Martin. Through this collaboration, Beck became liberated; he was no longer restrained in traditional rock-group settings with adequate but largely uninspiring song structures and performance styles. He and George Martin created a lasting work of art, and Beck cemented his status as a guitar innovator and a fearless voyager into breathtaking soundscapes that are incredible melds of the searing and the serene.
Previous to this August 11th evening at Heinz Hall, I had only seen Beck twice before. In April 2015 his tour bypassed Pittsburgh (due to venue unavailability, according to promoter Brian Drusky) and so the guitarist ended up at the Palace Theatre in Greensburg, PA about 35 miles to the east. That show, which I had trekked to with best friend Frank Fotia, was amazing from start to finish; the sound mix was impeccable and the musicianship sublime.
Almost thirty years prior, at the AJ Palumbo Center in Pittsburgh in 1989, the experience was far less winning. Beck and his band at the time were flip-flopping headliner status night-to-night on an October through December concert tour dubbed The Fire Meets The Fury; the other act on the bill was Stevie Ray Vaughan & Double Trouble. My expectations were sky high with this double barrel attraction, but the problems with Palumbo I'd classify as jumbo—bad, bad acoustics that night in this glorified gymnasium, and there was an absolutely pulverizin' decibel level that must have been perpetrated by the tour's sound man stationed at the mix position, a guy who undoubtedly could have run a Q-Tip through one ear and took it directly out the other.
Larry Carlton…Sunday, August 12, 2018
This outdoor show was held at Hartwood Acres, a 629-acre county park in Allegheny County PA that contains a mansion for touring, trails for walking/hiking/skiing, a fenced-in tract for dog romping, and more.
On Sunday evenings from June through August every year, our tax dollars bring us free entertainment on a fixed stage area in front of a gently sloping lawn, and a diverse set of artists both homegrown and imported are our collective balm for heading into the workweek that follows. Carlton headed up a five-piece ensemble that evening—guitar, bass, keyboards, drums and sax—and his solos were standouts in terms of nimbleness and jaw-dropping fluidity up and down the scales. Some solos were bluesy and intense; others were jazz-tinged, quite moving and mellifluous.
Carlton and I go way back, though I remember and he would not. But in 1978, the year the guitarist signed with his first major record label (Warner Brothers) and subsequently released a slickly produced, self-assured album of rock instrumentals, I was fresh on the job as a Warner Brothers/Elektra/Atlantic merchandiser for Western Pennsylvania. My principal role was to pepper the region's record stores with our company's posters and album covers of breaking new artists and the labels' superstars, but once in a while I was dispatched to do a bit of my handiwork in a hotel.
Occasionally our Warner/Elektra/Atlantic promotion personnel who routinely schmoozed and huckstered the important Pittsburgh radio and record retailer VIPs would rent a small social room at an area hotel, bring in a new recording artist, and then invite the freebie-lovin' radio and record people to a wine-and-cheese "listening party" of the artist's brand new album. Larry Carlton was one such artist who received this whisk-into-town opportunity to glad-hand the people who held the keys to airplay and sales success, and my job was to slather the room with posters of the artist's new album before the meet-and-greet affair began.
I remember that somehow I was short on posters, so I weaved in some pictures from a magazine that had an ad for Carlton cigarettes, a low tar and nicotine brand popular at the time. Right before the radio program directors and record retailers started to trickle into the room, the guitarist noticed the cigarette pack pictures that were stapled up around his new album's posters on the wall, and God love him, he smiled at the connection and appreciated the humor. I didn't even think about it at the time, but I may have been a heartbeat away from losing my merchandiser job if the guitarist had woken up on the wrong side of the bed that morning…
You can check out for yourselves the paths that Carlton had ventured down even before that 1978 major-label debut on Warner Brothers Records. A Californian by birth, Carlton first loped into the lobes of rock music lovers as a session guitar player who cropped up on numerous classic 1970s recordings like Joni Mitchell's Court and Spark, Hejira and Don Juan's Reckless Daughter, and Steely Dan's Katy Lied, The Royal Scam, Aja and Gaucho. In addition to his sporadic but enticing solo works through the years, he has also stinted and sometimes then stayed with jazz ensembles such as The Crusaders and Fourplay.
Jean-Luc Ponty…Friday, August 17, 2018
Zing went the strings of my heart when I heard a few months ago that Ponty was coming to Pittsburgh to play a free show at Allegheny County's South Park Amphitheater. Digging in online a bit, I learned that the set list for this tour was also going to concentrate on the violinist's mid-late 1970s works, which was a period of jazz-rock bliss for me; those were the days that formative bands like Weather Report, Pat Metheny Group, Mahavishnu Orchestra and Jean-Luc Ponty all toured through this area, all landing (at one time or another) at the esteemed, award-winning concert hall the Stanley Theater.
At South Park Amphitheater, this was literally the first time I had seen Ponty live in 40 years. He looked a little frail, now aged 75, but his stage presence was quietly commanding and his solos—and accents, as others in his band soloed—were engaging, pristine and quite powerful. In delving back into the '70s with tracks like "The Gardens of Babylon" and "Imaginary Voyage" Ponty took me back to the joys of discovery…and when he played the title tune of his late-'70s album Cosmic Messenger, I really had a memory flash.
Cosmic Messenger was released in 1978, that year when I first boarded Warner/Elektra/Atlantic and was deemed Pittsburgh's "poster boy" of the local team. I remember lugging tons of the album's merchandising pieces to record stores all over the 'burgh, and my Atlantic Records rep at some point announced a gathering similar to the Larry Carlton exercise—snagging a downtown hotel's social room off of one of the major ballrooms, and inviting radio programmers and record store district managers to the album's exclusive listening party. Someone on our local team (I can't remember who) came up with a "hook" for the gathering, and suggested that instead of wine we offer a specially named drink for the occasion—the Cosmic Messenger. It was a potent concoction of Amaretto, Kahlúa and Baileys Irish Cream, and I was invited to imbibe along with my fellow hosts and our VIP guests.
I remember much clinking of glasses. I floated out of that listening party around 7pm as it was winding down, and headed home to quickly pack for a night flight to Cleveland, where the Warner/Elektra/Atlantic (WEA) regional headquarters was located. A meeting of all of the WEA field merchandisers—myself and my peers from Buffalo, Cincinnati and other Midwest locations—had been set up a few weeks earlier to take place the next morning at 10am at the Cleveland branch office. Feeling amorous from the Amaretto and maybe a tad too confident from the Kahlúa, I called a female friend that I'd been starting to see a bit, and asked her to join me at my house before I departed for the airport. One thing led to another…bad judgment prevailed…and I missed the flight.
I called my peer from the Buffalo market who had already arrived in Cleveland, and poured out my slurred tale of incompetence. He promised to let my regional boss know that I had unnamed "unavoidable circumstances" and that I would catch the earliest flight possible the next morning to be at the WEA offices as the meeting was just beginning to get into gear…
I made it to the meeting by a few minutes after 10am. And forty years hence, the only Cosmic Messenger I've partaken of since has been the infinitely more energizing one that Ponty pushed forth from the stage at South Park Amphitheater.
_____________________________________________________________________
Posted 8/12/18: IT TAKES TWO
TWO STORIES THIS TIME IN "A DAY IN THE LIFE"…THE FIRST FROM SEARCHING THE WEB FOR SONG ORIGINS…AND THE SECOND FROM DIGGING INTO RECENT MUSIC STUDIES:
STORY #1
In the May 20, 2018 post here in A DAY IN THE LIFE, I spun a few origin stories about classic songs from a variety of artists such as Neil Young ("After The Goldrush"), The Eagles' ("Hotel California"), The Vapors ("Turning Japanese"), The Beatles' ("She Said She Said"), and others. Along the way to finishing that post, I ran across a few other interesting items while scouring the internet. Since I didn't use these specific bits in the May 20thpost, I guess you could call them my alternative facts about more song origins…
"Blackbird"
Beatles' fans have pored for decades over Lennon lyrics and McCartney musings, and all of us now know that "Lucy in the Sky with Diamonds" is NOT about LSD—at least that's my acid reflex. The inspiration instead came from a drawing that young Julian Lennon did in school and brought home to show his parents…"Blackbird," a song written by McCartney, has a couple of different origin stories goin' on as well. This song that ended up on the 1968 double album commonly called the White Album has lyrics that include the lines "Blackbird singing in the dead of night / Take these broken wings and learn to fly / All your life / You were only waiting for this moment to arise."
In various publications over the years McCartney has pointed to America's tempestuous Civil Rights movement as the impetus for this song, but also has thrown out a more literal source—hearing a blackbird's call one morning in India when he and the rest of the Fab Four were transcendentally meditating with the Maharishi Mahesh Yogi. It could very well be a synthesis of the two…
"Save The Last Dance For Me"
Doc Pomus, originally a blues singer turned songwriter of some classic early rock and roll hits of the 1950s and 1960s, wrote "Save The Last Dance For Me" based on his own experiences at his wedding. In a wheelchair because of polio, Pomus watched his new wife dance with other guests all evening long, and wrote this 1960 song with a happy ending: "So don't forget who's taking you home / Or in who's arms you're gonna be / So darling save the last dance for me."
"Space Oddity"
David Bowie wrote and released the song "Space Oddity" in July 1969, and the release of the single to radio stations that month preceded the most famous moonwalk of all (apologies to Michael Jackson) by ten days: Two astronauts of the Apollo 11 mission, Neil Armstrong and Buzz Aldrin, became the first men on the moon. A lot of people think there's a link, but it is only coincidence.
Instead, Bowie's inspiration stemmed from the film 2001: A Space Odyssey. In a 2003 interview with Performing Songwriter magazine, Bowie explained that the song "was written because of going to see the film 2001, which I found amazing. I was out of my gourd anyway, I was very stoned when I went to see it, several times, and it was really a revelation to me. It got the song flowing."
"Louie Louie"
This is a song from 1955 that was played in thousands of American garages by pimply kids with guitars and bash kits, spurred on by the hit version from The Kingsmen that aired on radio stations nationwide in 1963. Since then, the song's been covered by everyone from Otis Redding, The Kinks, The Mothers of Invention, Motorhead, and Toots & The Maytals, to The Clash, John Belushi, Stanley Clarke and George Duke, and Iggy Pop.
The Kingsmen's version in '63 was reportedly investigated by the FBI because of suspicions that the marble-mouthed lead singer was spouting lyrics that were considered obscenities. The case never ended up in prosecution, though, and the song may have actually had a cussword in it after all; reportedly the drummer drops his drumstick and an F-bomb at the 54-second mark of this 2:45 raucous mini-masterpiece.
"Ring Around The Rosie"
I grew up in the 1950s and in my pre-school years, I remember holding hands and moving sideways in an unbroken circle with friends, spouting the sing-songy lyrics of "Ring-a-round the rosie / A pocketful of posies / Ashes! Ashes! / We all fall down." And I was crestfallen to learn through an internet search that perhaps the most plausible origin tale of this tune stems from the Middle Ages. Some—I say, some—scholarly folklore types insist that the song sprang from the occasion of the bubonic plague that raged across Europe and killed millions of people in the 15thand 17thcenturies.
"Ring-a-round the rosie," these scholars maintain, refers to a red circular rash that was a common identifier of those stricken, and that the posies likely represented the flowers and/or herbs that the luckless carried with them in hope of warding off the scourge. And the "ashes!" and "falling down?" This might well be the final sneezes, coughs, and the drop to the ground. If this tale be true, God, I was SO naïve at the age of five.
STORY #2
Having spent almost half my life employed by the music industry—beginning as a record store part-timer in 1975; ending as an amphitheater general manager in 2008—I obviously loved being a one-note guy. Now I've found justification for it.
I just laid eyes on a new bit of research mentioned on Consequence of Sound, a Chicago-based online publication that bills itself as "the missing link between mainstream pop culture and the underground." COS in an April 7, 2018 post spills the highlights of a new study (first reported on England's music site NME) that claims concert-going can contribute to longevity—in fact, hitting a show at least once every two weeks can actually add nine years to your life.
The cynic in me bubbled right up, though, when I read that the study was conducted by a Goldsmiths University of London associate lecturer (touted as a behavioral science expert) in conjunction with O2, a massive mobile network operator in the UK and beyond. In addition to being the name-in-title sponsor of London's most successful arena, O2 offers its customers access to tickets to 5,000+ concerts in more than 350 venues across the UK each year through a service called Priority Tickets. Huh.
But back to the findings as reported in the COS article: "The logic here," says the article's author Randall Colburn, "is that live music increases feelings of self-worth, closeness to others, and, especially, mental stimulation, all of which contribute to one's sense of well-being. According to the study, there's a 'positive correlation between regularity of gig attendance and wellbeing,' and 'additional scholarly research directly links high levels of wellbeing with a lifespan increase of nine years.'"
I really have just a few questions at this point:
About this "adds nine years to your life" thing…Can I start seeing a live show every two weeks beginning when I'm 90, so I can live until I'm 99? (To paraphrase Prince a bit, "I'd wanna party like I'm livin' 'til '99")
What if you went only to outdoor heavy metal concerts every two weeks? I know at least a handful of these types of shows do in fact bring people closer together (like someone's fist to someone else's face) but the decibels alone, one would think, would scramble your sense of well-being like an egg.
And…What if you went to fifteen freakin' shows in a two-week period? I worked at Star Lake Amphitheater in 1994, and we had a pretty unusual logjam of concerts that particular August—15 shows within 17 days. It started with Metallica on August 12thand then rolled on one after the other, our hot August nights filled with unrelenting evenings of artists and their flocks on August 13, 14, 15, 16, 18, 19, 20, 21, 22, 23, 24, 25, and 27, finally ending with Harry Connick, Jr. on August 28. So…I wonder if I accrued any life-prolonging benefits from crammin' in so many shows in this two-week (and three-day) stretch? At the time, I'll tell you, I felt like I was fixin' to die…
There is one more music-related survey that I found on the COS website, this one dating back to 2016 and a post from COS writer Scoop Harrison. Unlike the rejuvenating jolt that the formerly described survey provided, this one had only sobering news—and not for the fans and followers of music, but for those who make it.
Even though we music lovers benefit from concerts through fan-shared experiences, passions stirred and spirits lifted, the musicians themselves apparently don't fare so well over the long term. Author Harrison reported that a survey "conducted by Sydney University found that, on average, musicians die 25 years younger than non-musicians." The survey had looked at a total of 12,655 musicians who died between the years 1950 and 2014, and researchers found that these folks, on average, passed away at ages somewhere between their late 50s and early 60s.
Certainly we had a depressing stat already in hand before this survey came to light, which is the fact that a number of rock luminaries bought the farm at age 27: Kurt Cobain, Amy Winehouse, Jimi Hendrix, Janis Joplin, Brian Jones from the Rolling Stones, Jim Morrison of The Doors and a few others. I doubt this handful of heroes and hellions majorly skewed the findings, but a couple of those listed point to another disturbing commonality—a penchant for suicide. According to the survey, the suicide rate among musicians was between two and seven times greater than the average population.
The individual who spearheaded the study, University of Sydney's Professor Dianna Kenny, was quoted by the media as saying "The music scene celebrates drugs and promiscuity and valorisation of early death, so young musicians who are depressed and suicidal are attracted to these types of environments. They are meeting fellow travellers where they amplify each others suicide, depression, or substance abuse and that gets into an-out-of-control spiral leading to early death." (Note to self: Remember to scratch Dianna Downer from any upcoming dinner party guestlists.)
_____________________________________________________________________
Posted 7/29/18: I'M BEGINNING TO SEE THE LIGHT
I was thinking fondly of my old flame a few nights ago…and I don't mean an ex-girlfriend. I was reflecting back to the concert days of my wayward youth in the 1970s, remembering the flame from my old lighter—the one I hoisted skyward more than a few times joined by thousands of others, all held aloft, as we screamed for encores and "One…more…song!"
Those were the days, my friend, and they did end—but not abruptly. The flickering sea of lighters under night skies and arena roofs very g-r-a-d-u-a-l-l-y went away over the next several decades, not snuffed but rebuffed; tech eventually muscled out the torch.
Cellphones had arrived, of course, and over time they beat back the standard-bearers—the Bics and the Zippos—to the point where today, Elton's "Candle in the Wind" has lost all its original luster and Lynyrd Skynyrd is fully resigned to little or no flames for "Free Bird" (though I think the band still glowers at the glow-screens).
These Bics and Zippos, though, were essential concert gear for a long stretch starting in the late 1960s. The Bic company, founded by two Frenchmen in the mid-1940s who originally only trafficked in ballpoint pens, expanded to pocket lighters in 1971 through the acquisition of a traditional-lighter manufacturer named Flaminaire. Two years later the first Bic with an adjustable flame was produced and soon thereafter, here in this country, "Flick Your Bic!" TV ads became…ubiquitous.
Zippo was a homegrown product of the USA and in fact was born near here in Bradford, PA, a town about 3-hours drive northwest of Pittsburgh. The first Zippo pocket lighter—a patented, much-improved redesign of an original Austrian lighter—was invented by Bradford native George Blaisdell and was out in the American marketplace by the mid-1930s. By my recollection, in the 1950s and 1960s at least, everyone from my father to the Marlboro Man brandished a Zippo with its gleaming thin metal case and its snap-back lid on a hinge. When the 1960s hit and the youthquake rumbled across the land, the lighter started to show up at concerts—but a lot of people aren't sure exactly when.
Most rock writers and theorizers (maybe even fanboys) do agree that the late 1960s and early 1970s was indeed the time period of the lighter's emergence on the music scene, and consensus is that the practice debuted here in the States. Zippos, which were built to be wind resistant in terms of keeping the flame alive, were the ones that first started the lighter's creep into concerts.
Chronologically, Woodstock may have been first. American singer-songwriter Melanie, folk-pop princess of the late 1960s, performed at the famous festival in August 1969 and her experience there led to the 1970 composition "Lay Down (Candles In the Rain)" which appeared on her next album. The song's chorus implores "So raise candles high / 'Cause if you don't we could stay black against the night / Oh, raise them higher again / And if you do we could stay dry against the rain." Candles are the cooler context for sure, but Melanie was also likely looking out at a veritable sea of lighters in those thousands of points of light.
The Toronto Rock and Roll Revival concert followed Woodstock less than a month later, and originally the promoters went with a lineup of mostly heritage acts like Chuck Berry, Little Richard, Gene Vincent and Bo Diddley. Ticket sales were lagging and literally the day before the September 13, 1969 event, an appeal went out to John Lennon and Yoko Ono to emcee the festival. Lennon and Ono agreed to come only if, instead of emceeing, they could play onstage with their Plastic Ono Band. Once the public came to believe the hard-to-swallow radio reports of this eleventh-hour confirmation of a Beatle, the festival quickly sold out. At the concert, emcee Kim Fowley reportedly beseeched the crowd to light up matches and lighters to help welcome the Plastic Ono Band, and this was probably one of the first incidents of exhortation from the stage to "light it up out there"…
Across the Atlantic in England, the third installment of the Isle of Wight Festival took place in August 1970 and featured both established and emerging artists from both sides of the pond: Jimi Hendrix, Chicago, Joni Mitchell, Supertramp, Pentangle, The Doors, Miles Davis, Lighthouse, Jethro Tull, The Moody Blues, Cactus, Emerson, Lake & Palmer, Joan Baez, Sly & The Family Stone, Donovan, The Who, Ten Years After, and many more. Leonard Cohen's 2am-ish performance on the concluding day of the five-day festival figures prominently in the lore of lighting up—he successfully settled down the combustible, sometimes riotous crowd with calming, monotone storytelling and a request to light a match so he could see everyone out there in the darkness. This might have been the first time at a rock gathering where the flames were a real show of unity and led to a strong sense of bonding between artist and audience.
The last frequently cited example of the flickering flame becoming elemental to shows is from 1974, and Bob Dylan and The Band's two-month tour of the U.S. (with two shows north of the border in Toronto and Montreal). Reviews of the tour were strong; the fans were agog at a reenergized Dylan onstage with his beloved backup musicians. The show included 4-to-5-song alternating mini-sets that included Dylan + Band, The Band alone, Dylan solo acoustic, then returning to Dylan + Band—and audiences were electrified. They also often lit up the night, as captured for posterity through a photograph taken on tour that became the cover of Dylan and The Band's follow-up live album release Before The Flood.
Musicasaurus.com surveyed a few current and/or former music industry friends here and there, in order to get a feel for each person's brightest concert memories as they pertain to the flame. Here they are, in no particular order:
Rich Engler and Ed Traversari (Pittsburgh) / Two of the three principals of legendary concert promoter DiCesare-Engler Productions
Rich and Ed (along with company co-founder Pat DiCesare) brought thousands of artists to Pittsburgh in their heyday, from club dates to stadium extravaganzas. Ed offered up AC/DC as one of his favorite evenings of illumination, and Rich replied back that one of the Led Zeppelin concerts at the Civic Arena—either the one in 1975 or in 1977—was "probably the biggest response I'd seen, with lighters up throughout the evening."
Bob Klaus (Durham, NC) / Original marketing director of Pittsburgh's Star Lake Amphitheatre (1990); currently general manager of Durham Performing Arts Center
The Rock Superbowl in Orlando at the Tangerine Bowl, August 27, 1978…Eagles onstage playing "Hotel California," their opening song.
Paul Carosi (Pittsburgh) / Designer/developer of the website Pittsburgh Music History (https://sites.google.com/site/pittsburghmusichistory/)
The December 1969 concert by Crosby, Stills, Nash & Young at the Pittsburgh Civic Arena.
Sean McDowell (Pittsburgh) / Longtime on-air talent with WDVE, the powerhouse album-oriented rock station
The Grateful Dead…I was at the legendary Cornell University (Ithaca, NY) concert on May 8, 1977. Either it was all the lighters I saw being held up around the arena (Barton Hall) or it was the blotter acid we all had taken 2 hours previously. Anyway, lotsa lights, lotsa colors! That is one of the most infamous Dead concerts ever. I've told Mickey Hart, Bill Kreutzmann and Donna Godchaux that I was there at that concert and they were all like, "Whoa. You were THERE?!!"
Mark Fritzges (Coraopolis, PA) / SVP, Promotion at Atlantic Records
Nothing really stands out in the 60s and 70s; I'm more a concert-goer of the 80s on...I would guess in the early 80s it probably would have been a Crosby, Stills & Nash show at the Civic Arena. I'm not sure of the exact date, but that might have been the show where David Crosby left the stage very early in the set and never returned. I remember the lighters illuminating the arena that night (or maybe that was the spotlights trying to locate Crosby?).
Barry Gabel (Cleveland, OH) / SVP Marketing and Sponsorship Sales at Live Nation
Actually I do remember this vividly—Grand Funk Railroad at Madison Square Garden in 1972. "I'm Your Captain (Closer to Home)" and a sea of lighters; simply amazing…That was my first arena concert; prior to that I went to Westbury Music Fair or Wollman Rink concerts in the Park.
Tom Rooney (Pittsburgh) / Former executive director of Star Lake Amphitheatre 1990-1994; currently now president of the Tom Rooney Sports & Entertainment Group
In 1987 when the surviving members of Lynyrd Skynyrd reformed with kid brother Johnny Van Zant on vocals for brother Ronnie, it was when the band played the Civic Arena and young Johnny placed one of his brother's trademark hats over the microphone and departed the stage. They went into "Free Bird" sans singing that the whole Civic Arena then turned into an impromptu light show. That was repeated at all their tour stops and I see the farewell tour is ongoing this summer…Still to me a band that went down (on a plane) at the very top of their artistry.
Joe Katrencik (Pittsburgh) / Former public relations work—mid-'80s through mid-'90s—for the Pittsburgh Civic Arena then Star Lake Amphitheater
As a teen in the 60s I'm not sure whether I or my friends even knew there were such things as rock 'n' roll concerts. I did go to a wedding once at Canonsburg's Slovak Club where the Joe Gudac combo played a polka version of "Proud Mary," and seven of my cousins got "lit-up" on highballs. As it was, I didn't go to my first arena concert until 1989 I think - the Pointer Sisters at the Civic Arena where I worked. I was so excited I forgot my lighter.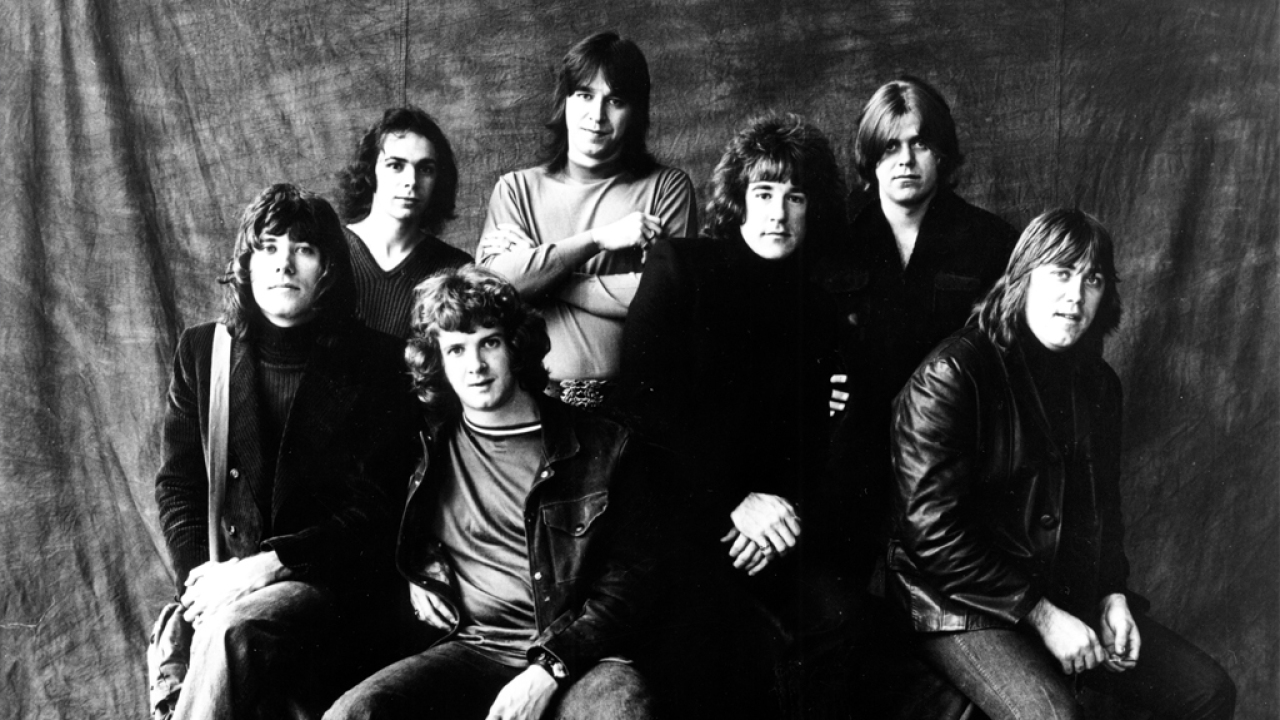 Cris Winter (Pittsburgh) / Former on-air talent on WXXP, WDVE, and 3WS; currently on WISH 99.7
It would have to be my first concert: Chicago with Terry Kath October 5, 1977 at the Civic Arena. It was an AMAZING show! It was early in the set list as I recall when Terry Kath sang "Colour My World" and I remember the lighters coming out. I had never seen that in person before! The music, the sights and the smells (insert smiley face) bring back great memories…Sadly, Terry would be gone a few short months later, but I do remember how incredible he was as a guitarist and on stage and what energy the whole band had. I'm glad I got to see Chicago with the original line up.
Steve Hansen (Pittsburgh) / Former on-air talent on WDVE's "Jimmy & Steve" morning program (1980-1986); currently an independent writer/producer
In the 70s one of my musical goals as a DJ was to go through each new release in search of the epic anthem, the next "Low Spark of High-Heeled Boys" or "Firth of Fifth" or "Bohemian Rhapsody." It was usually the longest cut on the album and often the last song on side two. If it caught on it was destined to be set closer and flame-lighter…But there wasn't an anthem that could lay a finger on "Free Bird." It was like sex on drugs. Once, at a Bill Graham Day On The Green in Oakland, California, Lynyrd Skynyrd opened for The Who. Even though it was still light during their set, they were at the height of their power. When the plodding dirge that opens the song exploded into the soaring guitar riot that ends it, the crowd erupted and 50,000 freak flags started flying in the wind. It's a moment that I got to witness a few times but none more electric than on that hot summer day in 1977.
Postscript: I HAD to return to Zippo here before sign-off. I came across the above photo when looking up the brief histories of lighters for my tale, and was frankly kinda wowed by the look of the illustrious Zippo/Case Museum. The venue first opened in Zippo's hometown of Bradford, PA in 1993 as a rather modest building, but then was Willy Wonka'ed in 1997 with this fantastical front. Yep, that's a mutha of a lighter—forty feet high—and it has a pulsating neon flame to boot (below it is a pocketknife, also on steroids, as the parent company also owns the Case line of knives). Reportedly the museum has an exhibition called Zippo Rocks!, a look at Zippo's role in music through the decades, but—just sayin'—I don't think any serious music lovers should start reshuffling their bucket list items anytime soon.
_____________________________________________________________________
Posted 7/15/18: KING OF THE ROAD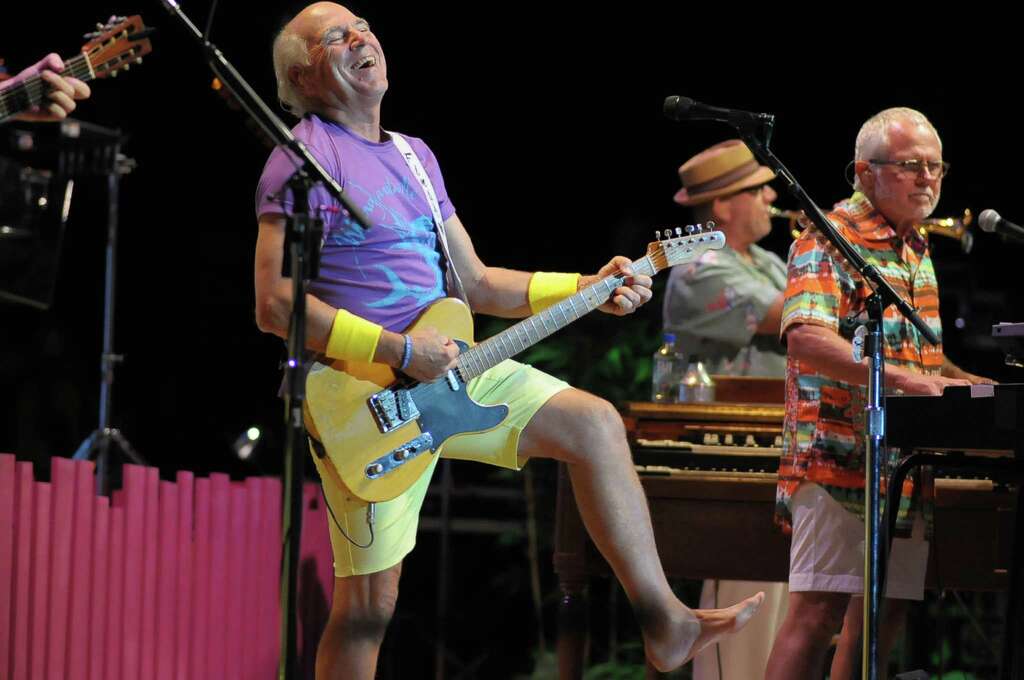 I happened to be out of town the weekend of July 8-10, and it was not until that Monday afternoon that I heard from friends about the Jimmy Buffett hoo-ha at the gates on Saturday evening at Key Bank Pavilion. Seems like there was a crush—nay, a standstill—at the entrances, and it could have been a security checkpoint issue of some sort (just hazarding a guess here). Whatever the reason for the logjam, the suds-and-sunbaked crowd started buzzing all over Facebook, Twitter and Instagram that evening and on into the morrow…
Not an easy, breezy weekend for the venue with all that Parrothead angst and anger skittering over social media, but really, is the amphitheater totally to blame? I worked there for a number of years—actually Year Two (1991) through Year Eighteen (2007)—and pretty much all of the Buffett concerts had some kind of temporary but quite hefty back-up at the gates 'round about the time Jimmy hit the stage. That unfolding was pretty damn reliable, when I think back on it: Buffett would strike up the band, and that was the dog whistle that caused literally thousands and thousands of tailgating fans to perk up their ears, drain their cups, adjust their coconut bras (mostly the gentlemen), and head on over to the entry gates all at once...
Buffett, way back in time in the 1980s, did start out playing much smaller venues than the 23,000-capacity Key Bank Pavilion (the former Star Lake Amphitheater>Post-Gazette Pavilion>First Niagara Pavilion). On the Pittsburgh Music History website curated by Pittsburgher Paul Carosi, there is a listing for Jimmy Buffett playing the Syria Mosque in the Oakland section of town on December 11, 1983. And according to Scott Mervis of the Pittsburgh Post-Gazette, in a Buffett trivia quiz he trotted out in August 2015, that Syria Mosque gig was indeed Jimmy's first time in the city.
I remember that date well, and not because I was there. The 1983 Syria Mosque show came up in a conversation I had with Steve Smith of the Howard Rose Agency during the winter of 1986 when I was less than a year into my job as booking director of the Pittsburgh Civic Arena. Steve was offering up a Buffett date for our arena's summer concert series of shows, and quite dispassionately was telling me that this show was a no-brainer. "You'll see," Smith said, "just do this date and you'll be fine. Buffett's played there before, his fans spread the word; he comes back again, the audience increases." Smith said he'd seen this growth in multiple markets already, and told us to get ready.
So we booked our date with Buffett, bringing his "beach-hammock-and-margarita-mind-blur" ideology to town; in other words, a lazy, hazy then crazy day of summer, set for the evening of June 24, 1986. Jimmy and his Coral Reefer Band played our side-stage setup with more than 6,000 rabid hedonists packed into the arena's orange seats, festooned in florals, carousing and caroling to the high heavens (the arena roof was opened up that night).
Buffett came back one more time to Pittsburgh before Star Lake Amphitheater came into being, and that was a return engagement to the Syria Mosque in December of 1989. Six months later, off the parkway west and 15-20 more minutes down Route 22/30 toward Weirton, Star Lake opened its doors for its first summer season. Buffett's booking team members in Los Angeles—the Howard Rose Agency and Jimmy's manager Howard Kaufmann—were elated that their artist could now move into the Great Outdoors in the Pittsburgh market. Buffett by the late 1980s had been racking up considerable sales elsewhere where amphitheaters already existed, and on August 10th in Star Lake's debut season Buffett descended to start to lay claim to the throne…
This first time around Buffett drew almost 11,000 fans to the party. In his second Star Lake stop the very next summer, which was my first season employed at the venue, the artist pulled in 50% more. And Steve Smith's words from my arena days were ringing in my ears: Buffett and his merry band—espousing the carefree island life where drive and determination matter not a whit and life pursuits are limited to locating lost shakers of salt—were converting the masses and pumping up the nascent Parrothead movement, Pittsburgh-style…
What I loved most about the Buffett shows at Star Lake was the venue parking lot, where concert-goers parked campers and vans, beat the heat via hot tubs, built operating replicas of volcanos (those things were smokin'), set up drink-tube contraptions that looked like liquid hookahs, and much more.
I found out quickly through riding on the security golf-cart patrols that one could get lei'ed out there as well. Grass-skirted girls would ask you to slow down so they could gingerly drop one over your head as a peace offering, reflecting the general vibe of the denizens of this endless expanse of parked cars and colorful commotion—smiles wide, senses deliciously dulled; most life strife set aside for this special evening out.
Inside the venue, along "corporate box row" that arced the stage at the back of the first three sections of fan seating, it was quite the social register. For Buffett shows, practically all of the venue's top sponsors and box owners were present and accounted for, the extreme inverse of other situations where the box tickets didn't mean as much and the people filling the chairs were more likely the receptionist's nephew's friend and a doe-eyed date. At Buffett, the powerbrokers and the box-lease signers were all on display, and collectively they were the ones who kept this precious revenue stream going for the venue year after year, always asking at renewal time, "So, is Buffett coming back?"
Jimmy's show the third year (1992) began his amazing, unbroken string of sell-outs at the Lake, and in 1994 the artist doubled down—two back-to-back nights were booked for Friday, June 10 and Saturday, June 11 and both sold out in advance. Buffett's reign had begun—and then the storm hit. On the first night of the doubleheader, the skies filled with dark clouds and we had an incident that couldn't be labeled anything but harrowing.
Tom Rooney, currently president of the Rooney Sports & Entertainment Group based in Pittsburgh, was executive director of Star Lake back then. Rooney recalls, "Lightning made a direct hit on the main transformer rendering our sold-out show in darkness before Jimmy even hit the stage. We were standing on the backstage deck when we saw the bolt hit and we were all lucky to survive. We were saved by two things: The Iguanas, the opening act, traveled with a portable generator and Mark Susany, our electrician, ingeniously hooked it up on the main stage and we got (barely) through an unplugged show. The next day Buffett's management required a full backup generator for every show, anywhere they played! And I still remember Star Lake's local fire departments showing up with their trucks to provide our only lights for the parking lots…"
Through the rest of the 1990s Buffett pretty much continued rollin' doubles—two-night stands in '95, '96, '97, and '98—and he has long since cemented his status as the Sell-Out King of the amphitheater.
A few things I learned along the way in all my years as marketing director-turned-general manager of the amphitheater, and hosting the Buffett shows:
The folks who were part of Buffett's touring entourage year-in and year-out were some of the nicest, laidback music biz professionals that I've ever run into—tour manager Charlie Fernandez, tour accountant Henry Rosquete, John Vanderslice, Kino Bachellier, Charleston Miles, and many more. Backstage always had a pretty consistent vibe of "What, Me Worry?" and a lot of the folks just seemed grateful that fate had called upon them to serve a guy who so unswervingly delivered the essence of summertime fun to hundreds of thousands of Parrotheads across the country.
Two of the reasons that our amphitheater was consistently on Jimmy's summer tour hit list of "must-play" venues: 1) He liked our backstage catering a lot—especially the dinners—which in the early years were carefully cultivated by our catering company's resident chef, Burger Bob. Burger Bob was just what everyone called this quirky but immensely talented individual who was a total vegan (of course!), but who whipped up amazing menus that ran the gamut and really pleased the tour's palates…2) Our venue was a hop, skip and a jump—by small plane—from Buffett's summer home in the Hamptons. Jimmy sometimes piloted his own small aircraft, and with a tiny airstrip located in the vicinity of Star Lake, he would often arrive an hour or so before the scheduled 8:15pm start, and then be back in his plane shortly after the show, arriving in the Hamptons by midnight or 12:30am. Not a bad commute for a two-hour show, one that yielded a paycheck so weighty that I'm kind of glad he didn't take it on the plane with him…
And one last account, from my Buffett memory bank: One time in the late 1990s, I heard a story from my operations manager of a problem one of our ushers had in the lower house, in that aforementioned realm of the venue's row of corporate boxes. It seems that a rather spirited (or spirits-filled) concert-goer was trying to slip his way into one of our boxes there, and the usher—in performance of his duties—diplomatically asked the interloper to please step outside of it for a moment. When the wobbly but determined individual could not produce a ticket for it, the usher calmly explained that the box was the property of the company who had purchased it for the season, and thus the gentleman could not sit in there. This is the rest of their exchange, as relayed to me by my Ops guy:
The gentleman: "I don't care what you say, man, I am taking a seat here."
The usher: "Sir, I am so sorry but as I've explained, this box belongs to—
The gentleman: "I DON'T CARE! YOU DON'T KNOW WHO THE HELL I AM…I'M A LAWYER, AND I'M GOING TO HAVE YOUR JOB!"
The usher: "Sir, if you want to make $6.00 an hour you certainly can have my job, but you still cannot sit here. I am very sorry."
What a great comeback for the puffed-up Parrothead whose margaritas must've got the best of him and brought out the worst in him…And that usher: I regret not seeking him out later on to give him my thanks and a high-five. Wherever you are today, my friend, thank you—I am still smilin' over that one all these years later.
_____________________________________________________________________
Posted 7/1/18: POWER OF TWO
TWO STORIES THIS TIME IN "A DAY IN THE LIFE"…THE FIRST FROM A RECENT TRIP, AND THE SECOND FROM A TRIP DOWN MEMORY LANE…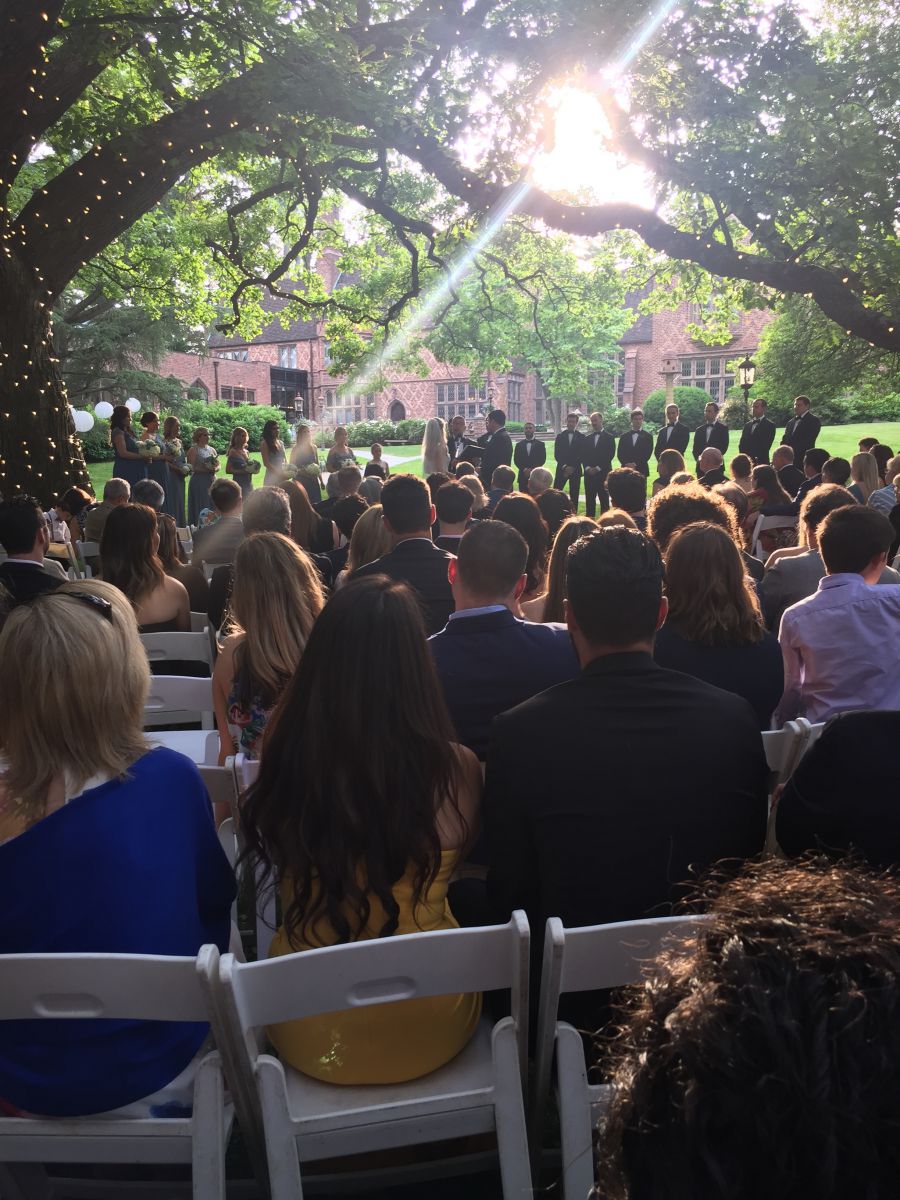 STORY #1
To attend the wedding of my daughter Maeve's very good friend, I drove over to Philadelphia (actually, Doylestown, PA) a few weeks back, and I was a happily surprised that the two just-turned thirtysomethings who got hitched—Caroline Dean and Matthew Smith—had plotted out such a moving, fun and quite-left-of-orthodox wedding. This was reflected in the outdoor manor site selection, and the vows and the overall ceremony, but my marvelment really stemmed from the music that was selected by the bride that day, especially the songs chosen for the initial settling in of the wedding guests.
The attendees arrived and leisurely took their seats in the row upon row of crisp white chairs set out on the manor's lawn. Behind the last row of seating, in the general area where the bride would eventually appear for her walk up the aisle, there was a musical duo planted—a woman seated at a keyboard and a nearby male counterpart on acoustic guitar and vocals, and they began peeling off some unexpectedly very nice covers of Van Morrison, The Band, and others. It was refreshing to the ears that schmaltz and wedding tried-and-true was nowhere to be heard—a testament to the cool factor level of this particular couple.
The best moment for me was when Caroline appeared with her father on her arm, way in the back, poised to process up the aisle. Suddenly the woman on electric piano lilted out some opening chords that triggered a flashback to a song I first heard back in 1967 but hadn't in many years. Single notes danced up an ascending scale, and "She's A Rainbow" flowed out of the duo as Caroline and her father walked up to and into the aisle separating the two throngs of well-wishers.
I beamed, and thought The Rolling Stones! What an intriguing selection for the father-daughter stroll! And really, this song in particular with its lyrics "She shoots colours all around / like a sunset going down / Have you seen a lady fairer?"—perfect!
I turned to Mario, one of my favorites of daughter Maeve's good friends seated to my right, and whispered "This is a much better selection than 'Sympathy For The Devil,' wouldn't you say?" Mario laughed and didn't comment beyond that, and I suddenly realized he may have had no idea what song I was talking about. Oh, these Millennials…can't blame them, really, but I am going to lay blame at the feet of both streaming and the attention spans of today, in a world where fingertips never flutter far from clutched digital devices. The result is, there's largely little time or interest in digging back into the rich histories of a variety of evergreen artists that still mean so much to musically infused elders such as myself…Isn't it a pity…
But that is—shameless plug coming—one of the reasons that every two weeks, the Building A Mixtery page on this very website spins out ten more tunes of music spanning the 1960s to recent times. In there, there's much to explore; some to adore, maybe some you'll abhor. But I'm doing my part for the site-visiting oldsters who want to travel back and for the younger people who just might subsequently delve and find delights, given a window into this world.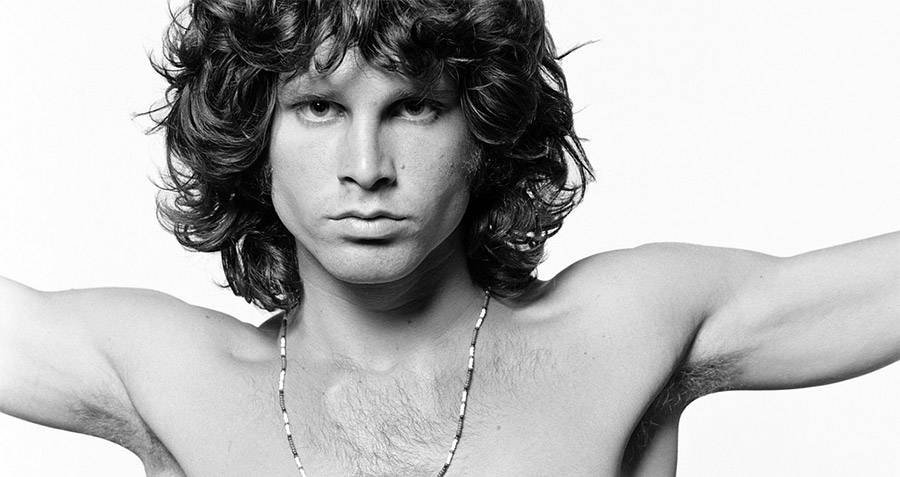 STORY #2
I somehow missed, in large part, any real fanfare or friend frenzy from the release of The Doors' self-titled debut album in January of 1967, but I keenly remember midway through that year when an edited version of the album's centerpiece "Light My Fire" was everywhere. I remember it first spilling out of my mom's transistor radio on a sandy beach in Erie, Pennsylvania. I was nearby on a beach towel, eyes closed and near lobster-kettle hot, 14 years old and desperate to get a tan. The deejay did a breathless bit of patter and then came the crack of a drum shot and a flurry of notes from an electronic organ that suddenly slowed to accommodate singer Jim Morrison's cocky confessional, "You know that it would be untrue / You know that I would be a liar / If I was to say to you / Girl, we couldn't get much higher…"
That song was riveting and inescapable that summer, and although I did not go on to be a real Doors devotee, I did follow along as the band over the next five years churned out some infectious songs of swagger, courtesy of the confidence and charisma of Mr. Morrison.
For those who don't know, Morrison was (offstage and on) volatile, unpredictable, indulgent and indulging throughout this 5-year stretch of ascending fame, and ultimately he succumbed in 1971 while on a "leave of absence" from the band in Paris, discovered dead in the bathtub by his paramour Pamela Courson. There's a shroud over the details, and that added to his legend; Morrison died at 27 (like his contemporaries Hendrix, Janis Joplin, and Brian Jones from the Stones) and no autopsy was ever performed and only "heart failure" adorns the official death certificate.
Fast forward to 1983. My love of music had propelled me into "the business" after college graduation, first easing me into part-time work at hometown record store Exile Records, and eventually, into full-time employment in the early '80s at the large six-state record retail giant National Record Mart which was headquartered in Pittsburgh. With my wife-to-be Margot, I had plotted out an overseas vacation for a full two weeks in Norway, Denmark and beyond (thanks to Eurail) and we found ourselves in Paris for a few days near the end of our excursion.
This city was truly intoxicating. We booked a room at the Hotel D'Harcourt which was two blocks from Notre Dame and less than one from the Seine, and then spent afternoons strolling in the Louvre, whispering in wonderment at Sacre-Couer, and more. On a "free" afternoon Margot indulged me with pit-stops in various record shops including Lido Musique, where we found tons of European artists alongside mainstream new releases from the Stones, the Pretenders, Supertramp and others...
The real musical high note, though? I got to meet Jim Morrison—or as close to that as I could possibly get. We squeezed in a visit to Pere Lachaise Cemetery (established 1804), where playwrights, statesmen, composers and artists of all walks of life were now in their deepest repose. We took the Metro out there on a sunny afternoon, and once through the gates, Margot went the way of Chopin, Molière, Proust, Piaf and Colette—and I went in search of the Lizard King.
Yes, the Doors' lead singer Jim Morrison was buried in Pere Lachaise, and with the cemetery's "dead celeb" map I found my way to a heavily congested area where the plots thickened. As I approached the grave site, I spied three figures sprawled out on nearby headstones, just wistfully staring at the small porcelain bust of Morrison that someone had set in place on his grave. Graffiti was everywhere, along with discarded dead-flower bouquets. The three saw me coming and half-nodded hello; one was a man in his early twenties, and the other two were women perhaps just a bit younger. They turned back toward each other and conversed quietly in French. It seemed I had already been forgotten.
The man withdrew a small liquor bottle from inside his vest, took a snort, and half-coughed, half-laughed. One woman sighed and pushed back her hair, staring at the young man who was now mumbling and stumbling over his native tongue, addressing no one in particular; the other girl just nestled more into the marble and closed her eyes. From out of the mouth of the young man I heard a word-backed wheeze make its way to the surface, and suddenly, in slurred and blurted English, the Frenchman slowly sang "Show me...za way...to za next weez-key barrrrr"....
Margot approached just then from her more literary pursuits around the cemetery, and I convinced her to snap a picture of me graveside as a keepsake. But first I donned my dark glasses and bummed a cigarette from the Frenchman; it seemed fitting to look at least a tiny bit debauched at the burial place of a rock god who freewheeled (as long as he could) through the boundary-pushin' '60s.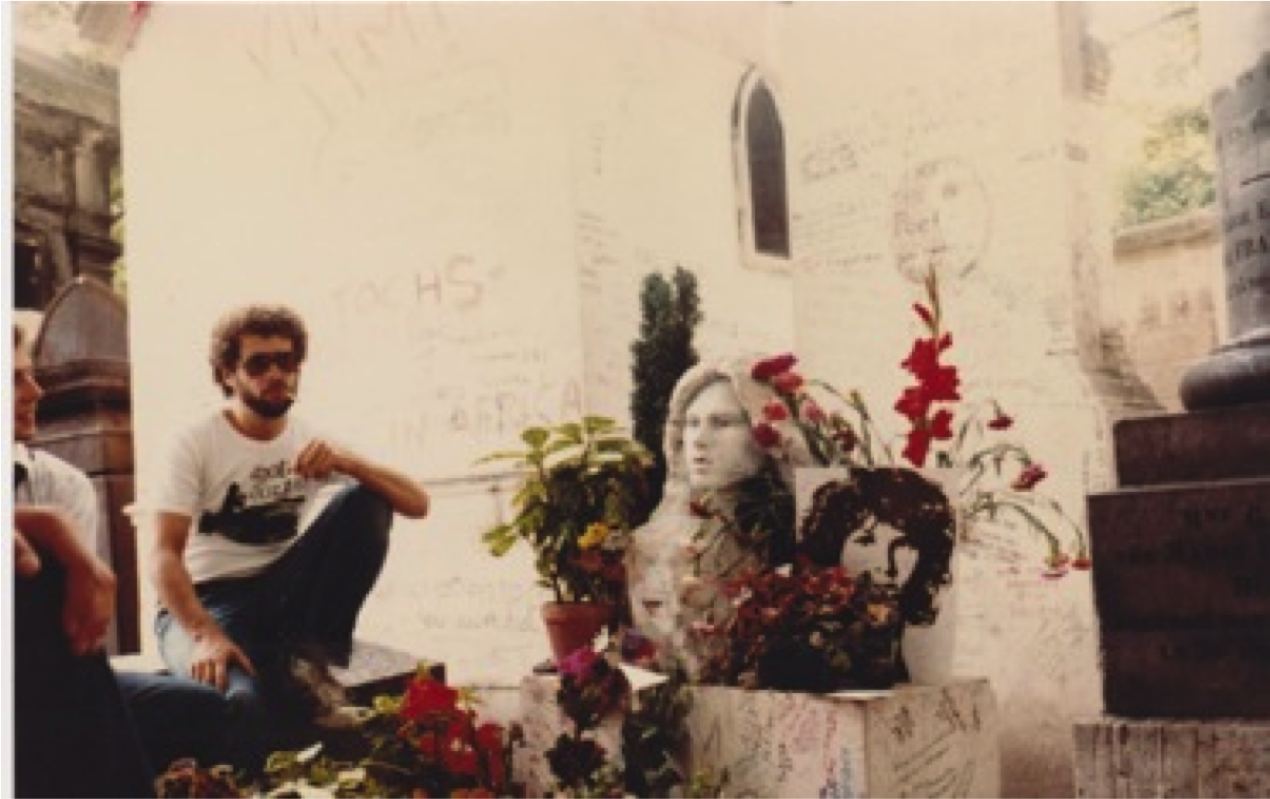 _____________________________________________________________________
Posted 6/17/18: MONKEE MAN
I was 13 years old in September 1966 when The Monkees hit the nation's TV screens. This was right on the heels of the song "Last Train To Clarksville" which had buoyed up on the radio waves not more than a month before. My friends and I quickly snatched up that 45 (i.e., the 45 RPM single) from the Woolworth's store record department in downtown Butler, PA, as we did with all other such bright and tuneful new pop-rock hits.
"Last Train To Clarksville" fit right in—we were literally stacking up a ton of new sounds at that point, our new 45s piled up high in the corners of our parents' bookcases or on our bedroom dresser tops, where they laid splayed next to their oversized, fleshed-out and more fully-formed big brothers, the 33 1/3 LPs (record albums).
This latter half of 1966 was especially revelatory in terms of the kinds of songs that were muscling their way to the top of radio playlists. Frank Sinatra, Brenda Lee, Ray Conniff and others of the old guard seemed to be losing in the squeeze play brought on by the newer, more exciting sounds that were jostling for prominence in increasing numbers. That Summer and Fall, for instance, brought Number One hits from The Stones ("Paint It Black"), The Beatles ("Paperback Writer"), The Troggs "("Wild Thing"), The Lovin' Spoonful ("Summer In The City"), ? and The Mysterians ("96 Tears"), and The Beach Boys ("Good Vibrations").
It's notable that the Monkees had two Number Ones in that latter-half of '66, as multimedia Monkeemania kicked into gear. Though I never coughed up my allowance for actual Monkees albums, I nevertheless scooped up the 45s that followed their September '66 NBC television debut, and for at least that first full year afterward, watching The Monkees every Monday night at 7:30pm became appointment television.
My brother and I were glued to their antics. In the living room, come 7:30, we often still had our "TV trays" in place. These were the tiny individual fold-open trays-with-legs that would accommodate a plate and a beverage on top, and we frequently parked these in front of the television set well before dinnertime, which more often than not saved us from the fate of family togetherness. Yes, instead of insisting on head-healthy, full-family dialogue at dinner every evening, my parents sometimes opted to huddle up as a pair at the kitchen table, feeling not a whit of compunction about handing their young boys' impressionable minds over to the television teat from which we sucked up all sorts of silliness.
Monday nights my mom might venture in when the Monkees—moving from drummed-up schtick to drum stick—would hit the opening chords to one of their songs. Then she'd shimmy a bit here and there, maybe even frugging through the living room, remarking to my brother and me that she had heard the same song just a bit earlier that day on the radio. My dad—a mill worker who largely only listened to Sinatra, Stan Getz and Ella Fitzgerald, and who often opined that this new music (including the Beatles!) would never last—rarely crossed the line of demarcation between his kitchen perch and the TV room when this Monkee business would begin to unfold.
I moved on from the Monkees fairly quickly after that first year, continuing to dig deeper and wider into this world of emerging new music. I began religiously collecting albums and following certain artists' careers, and this became my full-time preoccupation...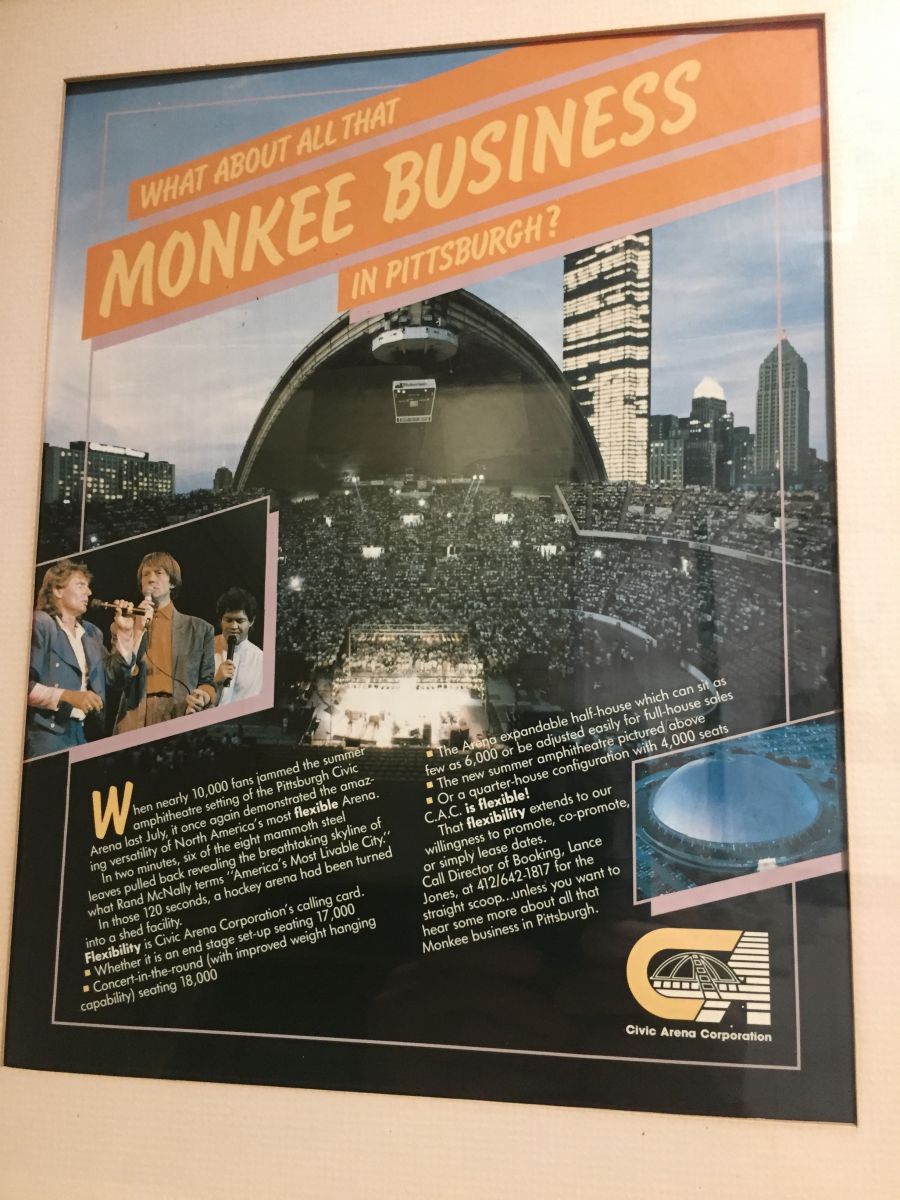 It wasn't until twenty years later, in 1986, that the Monkees re-entered my life quite suddenly. I was thirty-three years old and the director of booking at the Pittsburgh Civic Arena. My primary job was to work with outside concert promoters such as DiCesare-Engler, Electric Factory and Beaver Productions to bring artists into the Pittsburgh market, and specifically into our venue. By 1986 (just my second year on the job) we had also established ourselves as a venue with a reputation of willingness to book our own shows—meaning, if an outside promoter got cold feet about bringing an arena-level band into town, we would step in and step up to the plate to take the risk and play the show ourselves (by way of explanation: In the music business at that time, the artists all basically received a guaranteed amount of money to play a concert for a given promoter, regardless of whether the show ultimately ended up selling ten thousand tickets or ten tickets period.)
Phil Citron, an agent from the booking agency William Morris, called me one day in that Spring of '86 and said that Pittsburgh-based promoter DiCesare-Engler balked at booking one of the dates for the upcoming 20thAnniversary Tour of The Monkees. Citron said that earlier in the year, MTV had aired the 1960s Monkees' episodes in a compressed marathon situation to unexpectedly wild response from viewers, and that right now the cable channel Nickelodeon was 99.9% sure they were going to add those old shows as a daily airing. Despite this fact, the agent went on, DiCesare-Engler planned to pass on playing a date in Pittsburgh.
I told the agent that our arena would definitely step in as promoter of this concert, as I had the hunch that something this crazy just might work. So after I internally sold the idea to my venue management, the agent and I struck a deal that made sense for both of us: Our venue would commit to a $20,000 artist guarantee and, if Nickelodeon indeed began to air the 1960s episodes on a daily basis prior to our concert date, the guarantee would then automatically go up to $25,000, which is what the agent really wanted in the first place.
Thus a date of The Monkees Reunion Tour—featuring Davy Jones, Micky Dolenz and Peter Tork, but not fourth and final member Michael Nesmith who had other commitments—was confirmed for the Civic Arena for July 9th, 1986. The show ended up being a huge hit, so much so that the band then returned to play the arena just three months later on October 8th. A few of my avid concert-goer friends were surprised when they heard the news of the return engagement, but they were also a bit oblivious to the level of sustained Monkee chatter going on "out there." With our arena's promotion and advertising, and the national daily airings of The Monkees on Nickelodeon, lots of folks—in numbers we came to very much appreciate—were very much still goin' ape-shit over these revivified retro boys…
In 1996—ten years FURTHER down the road—I was working at the large amphitheater called Star Lake, located about a half-hour's drive from Pittsburgh. I had moved from the arena's booker's chair to one that swiveled me from marketer to eventual general manager in the Great Outdoors. In that Spring of '96 as our parent company's Houston-based booker Beckye Levin was scouring a list of possible summer tours, she came upon a certain anniversary tour opportunity. "Hey, hey it's the Monkees," she said (or something close to that) when she called. "Do you want to take a chance on this show? They're calling it the 30thAnniversary Tour, and it's going to play quite a few other amphitheaters from what I hear."
I told her my arena Monkee tale from ten years prior, and we agreed to see if lightning would strike twice in Pittsburgh. Beckye soon confirmed the show for us for Friday night July 12th.
As that summer's season of shows approached, I attended a weekend party with friends and somehow became the Monkee butt. My friend Barb Neuenschwander was especially wound up when she found out in conversation that I had booked a band that was now three decades away from their initial popularity. "Why in God's name did you book the Monkees?!!" she exclaimed loudly, fueled by incredulity and alcohol. Unfortunately her mantra was picked up by others at the party as the night wore on. At first I smiled at the ribbings but honestly got a little perturbed over the mounting howls. "They'll see," I remember thinking to myself, "I shall be redeemed."
When the day of the concert arrived and the venue's parking lots opened up late that afternoon, almost immediately we had fan clusters popping up just outside the admission entrances. When it was time to open the gates we began welcoming in what appeared to be a graying population of long-lost Monkees fans, a lot of whom looked like they had never left their houses since the band broke up in 1970. Where HAD these people been, especially the last seven years? Even though the venue at that point had been open since 1990, there seemed to be amphitheater first-timers galore streaming through our turnstiles. It was as if they had time-capsuled their Monkees' records and their Tiger Beat magazines and swore off everything the day that music died, only to finally shake off the hibernation blues when the TV antennas on their roofs beamed down word of this 30thAnniversary Tour.
There were young folks in attendance as well, though. Some of this age group even came dressed in 1960s garb, either scattering a few moths in their parent-closet deep-diving, or hitting just the right thrift store on the way to the show.
We only had one significant problem that evening to speak of…Much to our chagrin, this mixed crowd of young and old was laser-focused on the band and we had abysmal sales at our food-and-beverage concession stands all night long. Instead, the fans flocked to the merchandising tents where Monkees T-shirts, sweatshirts, and albums were stacked high for purchase. Before the headliners even took the stage the merchandise booths were picked clean as a monkey carcass, and those fans who went away empty-handed and crestfallen likely went on to barter with others in the crowd all night long.
The attendance? We ended up with a paid-ticket total of around 6,000 fans that evening. Not a major embarrassment nor a financial failure, but certainly not a roaring success (we weren't standing around the Monkees minions beating our chests).
A sad and related final note from that summer of 1996: My father who was only 69 years old had passed away in June after his second (and what turned out to be final) open heart surgery in October of the previous year. He was far from heart healthy, and I can't really say that his passing was unexpected.
The funeral in that last week of June went as well as it could. Afterward, family and friends were invited to a nearby church hall where we had food and soft drinks, thus offering up a place where stories could be shared and more personal condolences could be expressed. My mom seemed to weather it well but I could tell that she was tiring, so as the crowds started to dim I gently advised her to head back to her house, and told her I'd join her there after coordinating a bit of clean-up.
I remember to this day my entry into my parents' house. I had my arms full of church food leftovers, and nudged the back door open with my knee. The door swung open and my mom was sitting in a chair at the small kitchen table, with her head in her hands, sitting very still. I swung the bags down onto the counter and turned toward her.
"Mom", I said in a hushed tone, "Are you okay?" My head was filling with that deep spread of sadness as I looked at this woman who had lost her husband, sitting hunched over, face in her hands. "What's the matter?" I asked.
With her face still buried, she slowly said "Oh, I'm alright, I guess...but why did you have to book the Monkees?"
I literally stepped backward and went "Whawwww…" as my mom then looked up at me. She was smiling just a bit. "Barb told me to say that," she said.
Relief flooded into me that my mom wasn't—at least at this particular moment—bent over with grief and entirely drained from the day. She had apparently been able to tap her inner fun-loving spirit in a church hall conversation with my aforementioned friend Barb, and the two had conspired (I surmised) to pull this bit of Monkee business on me. Mom was okay…and I was glad to have her "back" if even for a few moments that evening. It gave me hope.
I put the church food away and flashbacked for a second to my more youthful mom, dancing through the living room to the tinny TV sounds of "Last Train To Clarksville." And Barb? Her day of reckoning would come—hmmm, maybe bar her from even buying VIP Parking at the amphitheater? She'd learn that she had clearly monkeyed with the wrong guy.
_____________________________________________________________________
Posted 6/3/18: TO THE ISLAND
When Life turns a bit chaotic, you tend to have a few thoughts about chucking it all—and certainly if it isn't the chaos that's currently upending you, it's the routine that plumb numbs you. So between this push and pull perchance you begin to dream, "What if I left it all behind?"
One day recently in the grip of such a funk, I began to think about the attractive nature of the "desert island" scenario, where one could essentially be stripped of stress by reducing Life to a party of one. Indeed if this possibility of a pure escape from the modern world opened up to me, I'd be certain to be prepared for it by following the golden rule of all potential castaways: Make sure you have your Top Ten albums with you.
So, let's get started: I imagine myself on a large ship traveling the tropical seas and suddenly there is a titanic happenstance of one kind or another, and soon I'm cast adrift on an old oak barrel, bobbing away from the doomed and drowning mother ship. The only thing I've clasped onto in my frenzy to leave the sinking vessel is a handful of albums wrapped in watertight plastic (of course). But then what to my wandering eyes should appear but a miniature island toward which I then steer...
As I stagger exhaustedly up onto the shoreline clutching my prized records, my first thoughts are not about food or shelter. They are: "Why in the hell did I bring albums when an iPhone would have been a much smarter bet?"
I let that anger subside, however, and set about defining my mission: Finding some way to build a turntable, amplifier, and speakers, and also to then find some kind of power source. Then I think to myself, Nawww, that's too tall an order. I soon find myself kneeling, and praying to a God who I fervently hope is just and musical—er, merciful.
Suddenly…down the beach a bit…I see a speck of hope on the shoreline. Face furrowed, tottering along, I soon come to realize that an amplifier, stereo speakers, cords and connectors, a supply of battery packs and a turntable have all washed up on shore, encased in plastic wrap and seemingly in excellent condition! (okay, take the leap with me here; you would NOT have been happy had I gone through some kind of Rube Goldberg rant about hollowed-out logs, water buckets, vines and pulleys, a flat circular stone, and a single needle from a porcupine fish).
So this bit of washed-up good fortune sews it up for me, and I'm now set for playing the soundtracks to my new Life. I am so lucky to have death-gripped my Top Ten before the boat went under…and in no particular order—because I just could not do such a thing—here they are: The Beatles' Abbey Road, the Stones' Sticky Fingers, Little Feat's Dixie Chicken, Miles Davis' Kind Of Blue, the Clash'sSandinista!, Joni Mitchell's For The Roses, Rufus' Ask Rufus, the Pat Metheny Group's self-titled release, Van Morrison's Moondance, and Bruce Springsteen's The Wild, The Innocent & the E Street Shuffle.
But…I actually have more than these ten. Something would have possessed me to grab a handful of others before I set sail, and some of them I would now count on as additional insurance, as life preservers of a sort—albums that would help me meet my needs and provide me various forms of comfort, relief and even protection:
SETTLING IN
Oh, here it is…Jimmy Buffett's Changes In Latitudes, Changes In Attitudes…Yes, I know that this album selection seems to be a bit obvious, but it is perfect for perhaps the first full sun-drenched day of my new life on the island, when I need a bit of transitional listening material to start my new voyage into solitude.
As far as the song selection on this 1977 release, I'd stay way the hell away from "Margaritaville." To some folks that song may bring rafts of pleasure, but I'm paddling right on by that bit of Kon-Tiki Bar music. It is the title tune I'm after, and it would pave my way to an initial attitude adjustment as I then delve into Island Life. https://youtu.be/cmHb_wXZU1U
COPING WITH LOSS
Well, as is obvious, I would have no laptop, no tablet, no phone, and thus of course no means of accessing television—which I think would be a good thing. Even fantasizing for a millisecond about rolling up a tree stump to sit in front of the tube would lead to regret and not a little nausea. Having crash-coursed into this Island Life, would I not revel in the fact that I had fully escaped that vile and pernicious slime (Zappa's line; not mine) once and for all?!!
Some television programming is vital and redeeming. But having a Pandora's Box situation with an actual functioning television set on the island would be ill-advised. I would fear the worst—that the only clear reception under starry skies at night would be limited to shows like The Real Housewives of Orange County…Ghost Whisperer…Maury…Manimal…Here Comes Honey Boo Boo…and the occasional "television special" like Geraldo Rivera's The Mystery of Al Capone's Vault (truly Must Not See TV).
But playing some songs on my turntable related to television would bring a welcome whiff of nostalgia, so I think that I would unpack my long-ago covertly purchased copy of Television's Greatest Hits, Vol. 1: From the 50s and 60s. This would serve nicely in jetting me back to childhood bliss for three minutes or so, first listening—appropriately—to one particular song from this collection of 65 timeless TV tunes: The theme from Gilligan's Island. I would revel in the memories of watching, as a boob tube-entranced 11-year old, my favorite cast of castaways Gilligan, the Skipper, Thurston Howell III and his wife "Lovey," The Professor, Mary Ann—and of course the other female in the series who had me cuckoo for coconuts in my hormonal pre-teen years, the original spicy girl, Ginger. https://youtu.be/-fqXcKFg08w
STARTING A FIRE
The psychedelic lunatic-fronted band, The Crazy World of Arthur Brown, produced one self-titled album in England in 1968. The song "Fire" from that album is the one that I would use as a good luck charm, as I stare down at my twigs-and-shoots pile on the beach while holding a couple of poised flint stones in my hands.
There has to be some incendiary magic in this particular tune's opening strains, when whack job Arthur Brown roars "I AM THE GOD OF HELL FIRE, AND I BRING YOU...FIRE!" The devilishly cheesy organ kicks in, and then—chiefly because I'm "home alone"—I'd start to do some wildly uninhibited arms-at-face-level dance moves, trying to summon up enough fire spirits to be able to flint-spark that blaze into being. https://youtu.be/h56bfUxY0PM
WARDING OFF PREDATORS AT NIGHTFALL
Ah yes, here it is; the Tom Waits album…Waits started off his career as a wondrous singer-songwriter in the early '70s with songs like "Martha," "Ol' 55," "(Looking For) The Heart of Saturday Night," and other delights. Somewhere along the recording trail, though, his voice turned into the drummer Animal from the Muppets band, a very croaking and scary kind of thing.
I would cue up the song "The Earth Dies Screaming" from his 1992 Bone Machine release and blast it late at night when worried that predators might come near the campfire. This is sure to give them pause—either scare the bejesus out of them, or lull them into thinking that one of their beastly comrades had already staked out his turf. https://youtu.be/wnYkY3SpCRQ
HEAD CLEARING
In the event that I needed a morning to just assail the universe and do some primal screaming on the beach, I would lean on Ozzy. The track "Crazy Train" from the 1981 release The Blizzard of Ozz would be a rousing start, and my only lament would be that I didn't have MORE of these types of tunes available to plunk down on the turntable.
What would have been perfect to pack would have been an album of representative tracks from a number of artists who played on Ozzy's national OzzFest tours (the multi-band outdoor festivals he started doing in 1997). I can't say that I know even most of these artists intimately, but judging by their names I am sure there would be primal-scream nuggets here aplenty: Prong, Megadeth, Every Time I Die, Snot, Ultraspank, Slayer, Fear Factory, Methods of Mayhem, Hatebreed, Slaves on Dope, and Disturbed. Talk about a head-clearing listening experience; this could be the perfect sonic colonic. https://youtu.be/RMR5zf1J1Hs
OFFSHORE THREATS AND MEDICAL EMERGENCIES
Out of my albums kitbag I would draw something that was two-fold useful—Barry Williams Presents: One Hit Wonders Of The 70s. Included on the album are a couple of songs that would work wonders…
"Sometimes When We Touch" by Dan Hill would come in handy if I were to wake up one morning and spot off the coastline a ragtag ship of windblown, wayward Somali pirates. I would quickly lug my stereo system down to the beach, point the speakers out to sea, and full-tilt blast that song out across the water, hoping to the heavens that music is truly a universal language that transcends cultures. I then pray for the desired effect—befuddlement turning quickly to flat-out nausea, and then a swift turn of the rudder. https://youtu.be/MOC3j5sUfPM
The other song would be a lifesaver as well. If at some point in my island food foraging I mistakenly eat some seeds or berries that turn out to be poisonous (a la Alexander Supertramp, as chronicled in Into The Wild), I would just cue up Terry Jacks' "Seasons In The Sun." Hard on the ears but effective on the upchuck. https://youtu.be/bWdQbxNEFEs
FULFILLING THAT MOST BASIC NEED
Have mercy, I have needs like everyone else. Being alone on the island, without human companionship and its attendant physical benefits, I MUST be prepared for the inevitability of seeking solace in the arms of…well, whatever fills the bill.
And if I feel myself starting to look longingly at any of the island's animal inhabitants—a gibbon here, a tapir there—I'm just going to have to get myself in the mood or I won't go through with it. Barry White will help with that. I will start by playing the song "I've Got So Much To Give" (https://youtu.be/3ltFkK5GcxA) from his 1973 debut album, lay some bedroom eyes on one of my animal friends, and then for an encore, spin a song from Barry's third album: "You're The First, The Last, My Everything." (https://youtu.be/VyfD5kW_VWI)
ESCAPE ATTEMPT
One album I've always kind of liked is Heart's Little Queen from 1977. And this is the one album I would bring to the island that I wouldn't actually place on the turntable. Instead I would tuck it under one arm as I wade out into the surf, guiding a crude raft of vine-wrapped logs toward the open sea.
This would be the moment when Island Life would become just too unbearable and I would be utterly determined to escape the shoreline tides and break free to the wide ocean shipping lanes beyond…
And the Heart record? This would be my chance to call up my deepest emotions in the manner of all good castaways, for if the album somehow got dislodged by rocky seas and was swept off my makeshift raft, I would just catch my breath in helpless fashion and then scream "Wilsons! I'm sorry! WILLLLLLSONNNNNS!"
IN THE EVENT THAT I EVER DID SUCCESSFULLY BREAK FREE OF THE COASTAL WATERS AND GET ON OUT INTO THE DEEP BLUE…
Out on that raft for days on end, I would surely be dehydrated and near death. But just in the nick of time, I believe, I'd be picked up out of the water by a passing cruise ship. I'd be too woozy to focus on very much, but would whisper sleepy gratitude to the high-fiving, highly relieved crew members who would be poring over me with warm blankets and medical attention.
When I would finally "come to" in the ship's medical center, I'd sit up and wrap myself in a blanket and walk the decks to get a better sense of my surroundings. And that's when I would gently push open the double doors to the ship's Grand Ballroom to find a large banner slung across the top of the darkened stage: "WELCOME TO THE REO SPEEDWAGON MUSIC CRUISE...Four Nights & Five Days of Fun and Festivities"…
I can tell you there would be a sound of a splash off the starboard about ten seconds later. Back to the island it would be, for me—or at least a merciful end in the open seas.
_____________________________________________________________________
Posted 5/20/18: BEGINNINGS
Musicasaurus.com takes a trek into the sometimes murky, perhaps even obfuscated world of song origins, inspirations and executions…
WICHITA LINEMAN – Glen Campell – 1968
This song to me was a breath of fresh air on Pop Radio in the late '60s. The tune was written by Jimmy Webb, a songwriter who was ascending and building a track record, having just scored with the Fifth Dimension's "Up, Up And Away" and Glen Campbell's "By The Time I Get To Phoenix." Even after the latter song became ubiquitous on the airwaves, Webb still hadn't actually met Campbell. They matched up again when Campbell called looking for a second song, and coincidentally Webb had just written a new tune that afternoon.
Webb says that he had a lot of "prairie gothic" images in his head when writing "Wichita Lineman," and he wanted a song about the common working man, a blue-collar individual, dedicated to his craft but with an everyman poetic longing for the girl he's missing. According to Webb, Billy Joel years later summed it up as "a simple song about an ordinary man thinking extraordinary thoughts."
The song has three verses but the last is a guitar solo (with a slight vocal refrain), so really there are only two chances in this three-minute piece to evoke feeling, foster understanding, and try to capture the essence of a workingman whose rivers may run deeper than most of ours. Webb spools it out and scores, because Campbell conveys.
AFTER THE GOLD RUSH – Neil Young – 1970
I was only sixteen when the album After The Gold Rush came out and the title song entranced me, with its unadorned piano and flugelhorn and its three verses leading the listener from some medieval pageantry to present day, when apparently there is a nuclear blast, to the future when "the chosen ones"—humanity's "silver seed"—are whisked away to a safer place out in space.
The song has been covered a lot through the years; notable recorded versions include those of Thom Yorke from Radiohead, k.d. lang, the Flaming Lips, James Taylor, Michael Hedges, Freddie Hubbard, Restless Heart, Patti Smith, Natalie Merchant, R.E.M., and the trio of Linda Ronstadt, Emmylou Harris and Dolly Parton. When this trio was recording songs for their second album together, 1999's Trio II, they chose "After The Gold Rush" and Parton reportedly asked Ronstadt and Harris if they knew what the song meant, and got shrugs. The women rang up Young, and according to Parton, he said he did not know. "We asked him, flat out, what it meant, and he said 'Hell, I don't know. I just wrote it. It just depends on what I was taking at the time. I guess every verse has something different I'd taken.'"
Neil cleared this up a bit—at least in terms of where the idea came from—in his 2012 book of reflections Waging Heavy Peace: A Hippie's Dream. In 1970 Young had just finished a tour with his go-to (between CSNY commitments) band Crazy Horse, and had returned to his home in Topanga, California. Young's friend, actor Dean Stockwell, stopped by with a screenplay that he wanted Young to read. It was called After The Gold Rush. "He had co-written it with Herb Berman," Young recounts in the book, "and wanted to know if I could do the music for it. I read the screenplay and kept it around for a while. I was writing a lot of songs at the time, and some of them seemed like they would fit right in with this story. The song 'After The Gold Rush' was written to go along with the story's main character as he carried the tree of life through Topanga Canyon to the ocean.
"One day Dean brought an executive from Universal Studios to my house to meet me. It looked like the project was going to happen, and I thought it would be a really good movie. It was a little off-the-wall and not a normal type of Hollywood story. I was really into it. Apparently the studio wasn't, because nothing more ever happened."
Stockwell's screenplay—a non-linear, end-of-the-world scenario that had offbeat characters and California sinking into the sea—never got the green light.
HOTEL CALIFORNIA – Eagles – 1976
I never knew that this song was brimming with such evil potentiality.
Nor did I know that the album held other clues of Satanism.
But there they were, the words on my computer screen, digging deep, muckraking…
Ramp up just a small allowance for credibility and you'll find that the Eagles' Hotel California is Beelzebubbling over. On the inner album (gatefold) cover there is—perhaps—Satanic High Priest Anton LaVey perched in the balcony, arms stretched. And on the back cover, internet chatter says that the janitor in the background is not someone who's mopped up—it's a corpse that's been propped-up. One online comment I found claimed the man was a human sacrifice for LaVey, an offering from the band members.
Maybe it's not fair that the Eagles have been bedeviled by such rumors. I even found a book that dedicates a chapter to Hotel California and its flagrant flaunting of Satanism. Backward Masking Unmasked was evangelic pastor Jacob Aranza's 1983 published work about the backward Satanic messages in rock songs, and in a chapter entitled "Which Way Are The Eagles Flying?" he discusses the hellbent tendencies of the band to indulge in subtle persuasion. He labels the album a tribute to the Lord of the Underworld, and maintains that there is indeed a backwards-masked message in the title tune: "Yes, Satan organized his own religion."
Lyrics like "You can check out any time you like, but you can never leave"…"This could be Heaven or this could be Hell"…and "They stab it with their steely knives / but they just can't kill the beast" all support the pastor's contention that these particular Eagles traded soaring for diving to the depths. And the line "We haven't had this spirit here since nineteen sixty-nine" was a purported reference to the year that the Spirit of Christ was cast out of the hotel upon the formation of a California-based Satanic cult.
Henley has a more earthbound interpretation. Referring to the title track, the drummer/singer/cofounder of the band was quoted as saying that the song "sort of captured the zeitgeist of the time, which was a time of great excess in this country and in the music business in particular." Let's go with that.
Here are a few other short tales of song inspiration and inception, from the frankly untested, non-vetted waters of the internet…
TOTAL ECLIPSE OF THE HEART – Bonnie Tyler - 1983
I don't know how this could have escaped me, but the song I couldn't seem to escape from in 1983—"Total Eclipse of the Heart," by Welsh singer Bonnie Tyler—had according to some sources a vampiric theme. Written by bombastic songwriter Jim Steinman, who Meat Loaf had dined upon for successful late-'70s songs like "Paradise By The Dashboard Light" and "Two Out Of Three Ain't Bad," "Total Eclipse" includes lyrics like "Once upon a time there was light in my life, but now there's only love in the dark." Hard to peg if this truly an ode to the undead, or as Amanda Petrusich postulated in her August 17, 2017 New Yorker piece, "Perhaps Steinman's narrative is purposefully nonsensical, an homage to the ways in which we gabble and rant when deeply wounded. Tyler, like Meat Loaf, seems to instinctively understand that the best way to animate a Steinman song is to sing it like a crazy person—red-faced, flinging your arms every which way, single-handedly sucking each molecule of oxygen from the room."
TURNING JAPANESE – THE VAPORS – 1980
British pub rockers The Vapors solidified their one-hit wonder status in 1980 with this tune that climbed fairly high up on the USA's Billboard Magazine "Hot 100" chart (to #36) and was also huge in Australia where it held the #1 slot for two weeks straight. The meaning of the song, according to band lead singer/songwriter David Fenton, has long been misconstrued. Fenton has said that it is simply a song about the angst of Youth, losing a love, and "turning into something you didn't expect to." There you have it, from the source himself—doubters, get a grip.
WALK THIS WAY – Aerosmith – 1975
According to some online sources, inspiration for this song came to the band as they took a break from recording their breakthrough third album Toys In The Attic, opting to hit a late night showing of the Mel Brooks' movie Young Frankenstein. It was reportedly bug-eyed actor Marty Feldman—starring as Dr. "Fronk-en-steen's" assistant, Igor—who made a memorable impression on the band as in the film he entreats the castle's visitors to "Walk this way."
I SHOT THE SHERIFF – Bob Marley & The Wailers – 1973
In 2012 a girlfriend of Bob Marley (there were many) made the claim that the reggae singer's lyrics in this 1973 composition refer to Marley's frustration over his woman's use of birth control: "Sheriff John Brown always hated me / For what, I don't know: / Every time I plant a seed / He said kill it before it grow / He said kill them before they grow."
IN-A-GADDA-DA-VIDA – Iron Butterfly – 1968
Go tell it on the mountain—the Red Mountain. Reportedly this was the wine that keyboardist/singer Doug Ingle was drinking when he wrote the song and relayed the title, under slurred conditions, to drummer Ron Bushy. Thus "In A Garden of Eden" became "In-A-Gadda-Da-Vida" and the resulting 17-minute+ track became an underground FM classic, dazzling the fledging rock generation and giving FM disc jockeys a great means of escape to the bathroom between their queued-up songs. The album of the same name was the number one seller in America in the year 1969, and mercifully (I say in hindsight), there was also a majorly edited version of the song released to Top Forty radio as a single, and this one clocked in at just under three minutes.
SHE SAID SHE SAID – The Beatles - 1966
The Beatles were holed up in Beverly Hills, California in a rented house for a week or so in August 1965, escaping for a time from the madness and fan mania brought on by their tour of the U.S. Outside the house, the band was besieged by unwanted curiosity seekers and rabid well-wishers and media, but they managed to spirit in a few folks to spend some quality time—on drugs. As the story goes, on the evening of August 24th two of the Byrds (Jim McGuinn and David Crosby) nestled in along with actor Peter Fonda. LSD was passed around (reportedly only McCartney abstained) and in the collective head trip that followed, Lennon was apparently continually weirded out by the repeated mutterings of the shades-wearing Fonda, who kept tugging up his shirt and pointing to his accidental childhood shotgun wound, saying "I know what it's like to be dead." Lennon had the presence of mind to remember this bit of weirdness as he then weaved it into the very innovative and haunting "She Said She Said" from the band's landmark Revolver album that hit record stores one year later in August of 1966.
YOU AIN'T SEEN NOTHING YET - Bachman-Turner Overdrive – 1974
This song from Canadian rockers BTO came out on their third album Not Fragile, and it was the clear winner on the record—and in fact, was the band's career-best—in terms of chart success. The song was written during the band's hunkering-down to record the Not Fragile album, and it was at first purely a labor-of-love joke aimed at bandmember Randy Bachman's brother Gary who had a speech impediment (the lyrics memorably included the line "B-b-b-baby you just ain't seen n-n-n-nothin' yet"). When the song content of the album was nearing completion, the album's producer Charlie Fach begged Bachman to include this fleshed-out prank because it stood in contrast to the traditional rockers on the record. Gary eventually shed the stuttering problem through speech therapy, but may have likely still felt his b-b-b-brother was a b-b-b-bit of an ass to do this in the first place.
_____________________________________________________________________
PLEASE NOTE! Musicasaurus.com is on the run this part of the month, so there are no new posts until Sunday evening, May 20th in this DAY IN THE LIFE section...The subject will be on song origins--will this suffice to entice? If so, see you then...
_____________________________________________________________________
Posted 4/22/18: I'LL TAKE YOU THERE
(Next post: Sunday evening, May 20, 2018)
A few years ago in a Barnes & Noble one work-avoidance Saturday afternoon, I came upon a book in the music section (where else?) that I hadn't spotted before: I Was There / Gigs That Changed The World. It was a book by a Brit, Mark Paytress, a writer who has authored works on Bowie, Marc Bolan of T. Rex, Siouxsie & The Banshees and others while contributing as well to English music magazines like Mojo and Q.
Paytress says in the introduction, "I Was There lifts the lid on a century's worth of classic performances, legendary in-concert moments, included here for their historical significance, era-defining importance, or simply their you-just-had-to-be-there rep." Some of the 101 entries here are particularly below-the-radar, like some of the Britain-based selections including a London 1976 concert by punk-rock/performance art band Throbbing Gristle, but as the author says in his introduction,"…as you'll discover as you begin turning the pages of this book, there really is no such thing as a definitive list. So if your favourite show isn't here, you're by no means alone."
One of the nicest touches about this collection of 101 music events is that Paytress injects a world view, so not only do we see Live Aid, Woodstock, Monterey Pop and other mega-events pop up on these pages, but a number of defining moments from elsewhere around the globe as well.
Here are five that I've picked from the litter—the ones from I Was There that I wasn't there for (but wished I had been):
The Moondog Coronation Ball – March 21, 1952 at the Cleveland Arena in Cleveland, Ohio
If this wasn't the birth of rock and roll itself, it certainly was the birth of the utterance. Local Cleveland deejay Alan Freed of WJW is generally regarded as the originator of the term "rock and roll," which he used to describe the rhythm & blues "race records" (songs by predominantly black artists) that he had begun to spin for the station beginning in 1951.
At some point, Freed changed the name of his radio show to Moondog's Rock 'n' Roll Party and he used his rising popularity with white teen listeners to put together and promote the Moondog Coronation Ball, likely the first rock and roll concert in the country. Top black acts at the time such as The Dominoes, Paul Williams and Tiny Grimes were booked to perform, and the evening of the show a crush of fans descended upon the venue, some bearing tickets and a lot, well, not.
Inside the venue this mixed-race crowd was clamoring and clambering, trying to score and save seats or even just find a spot to plant their feet. Outside, there were thousands of additional adrenalized fans vying for entry, and the arena's doors and windows soon bore the brunt of it…The concert was cancelled by fire department officials shortly after the first act had begun, and as author Paytress points out in his brief event snapshot of this coronation ball, "'rock 'n' roll' had its first headlines."
The Trips Festival – January 21-23, 1966 at Longshoreman's Hall in San Francisco
According to Paytress, this event was the first full-scale "acid test" party, though Ken Kesey and his Merry Pranksters (famous '60s progenitors of LSD-fueled gatherings) had been dose-si-do-ing young and willing San Franciscans for months beforehand.
The "happening" was priced at $2 per day or $5 for the three-day affair, and it offered the mind-boggled attendees video on large screens, light shows and slide shows, exhibitors 'round the room including counterculture booksellers and paraphernalia salesmen, and of course music, supplied here by the Grateful Dead and Big Brother And The Holding Company (featuring then 23-year-old Janis Joplin).
The crowd over the three days amounted to around 10,000 people. In Paytress' words, Saturday evening (the second night) was when everything jelled: "The audience, some in Indian headgear, others in hooped Breton shirts, others still bare-chested and dancing ecstatically, their eyes closed in blissful abandon, weaved in and out of the technicolour shadows. Hell's Angels grinned. Allen Ginsberg wandered guru-like.
"One man, head-to-toe in bandages and with only his eyes visible, wore a sign around his neck that read: 'You're in the Pepsi Generation and I'm a pimply freak.' The Grateful Dead and Big Brother provided the 'psychedelic symphony' promised on the posters. By the third and final night, the cops had been dosed and were now more interested in playing with model aircraft than in policing the event."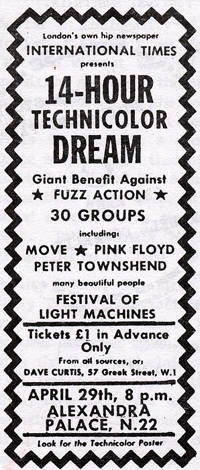 The 14-Hour Technicolor Dream – April 29, 1967 at Alexandra Palace in London
This was a multi-artist, multi-arts, psychedelic style gathering that was created as a benefit event for the sixth-month-old alternative newspaper IT (International Times) which was already getting furrowed-brow scrutiny from the local authorities.
The Dream had a pretty stellar line-up of musicians. Heading the bill was Pink Floyd, who were just about six months away from releasing their debut album Piper At The Gates Of Dawn. Rounding out the show were The Crazy World of Arthur Brown (remember "Fire," not-the-Bruce-tune?), Soft Machine, The Move, Pete Townshend, Champion Jack Dupree and Savoy Brown, and then a lot of lesser-knowns, of which my favorite (in name only) is the band that had somehow decided to name itself Utterly Incredible Too Long Ago To Remember Sometimes Shouting At People.
The event's set-up team went with three stages, two that held the musical performances and a center one that featured poets and poetesses, dance troupes, jugglers and more. Strolling through the activity centers that evening were attendees including Andy Warhol and John Lennon, and the vibe was peaceful and the crowd harmonious, according to event co-founder/poster designer Mike McInnerney.
"I loved this idea of taking over a space so that it becomes something else at night," said McInnerney, "and Ally Pally was an amazing place for such an event—and appropriate, too, being a palace. It was a Utopian feeling. There's no question it felt very genuine. You were sharing things with other people. It was no longer about being an audience that had come to see the star on stage. It was simply the idea of being there, being with a tribe of like-minded people."
The Stax/Volt Tour – March 17 through April 2, 1967 in Britain, Paris, etc.
Around 1965 the Memphis record label Stax, who'd been churning out riveting, southern-tinged soul and rhythm & blues songs since the start of the decade, started to occasionally put its stable of recording artists out on the road. I Was There author Paytress points out that this combination of R & B singers and precision back-up (in the form of the label's "house musicians" Booker T. & The M.G.'s and horn section The Mar-Keys) was key to this label's well-deserved ascendancy throughout the 1960s.
Stax's recording studio was a haven and a bit of a harbinger. Here, unlike outside its doors in Memphis and throughout the South, there was full integration starting with the house band itself—keyboardist Booker T. and drummer Al Jackson, Jr. were black, and guitarist Steve Cropper and bassist Donald "Duck" Dunn were white. Booker T. & The M.G.'s released songs of their own that made the charts, but were principally lauded (within The Biz) as absolute groove kings who could kick alive most any visiting vocalist's material to make the song a hit.
The 1967 overseas tour, around thirteen dates in all, was revelatory according to Paytress. The passion of the individual singers, the soulful and rhythmic arrangements infused with the blues, and the crisp, tight back-up by Booker T.'s foursome and the Mar-Keys all coalesced in, says the book's author, "a masterclass in package tour dynamics of a kind that was rarely witnessed again. Even the musicians were taken aback as their performances grew stronger, and the scenes ever more hysterical, with each successive show."
Wish I'd have been there at one of these performances, start to finish, as Booker T. & The M.G.'s opened up with a few instrumentals (including "Green Onions" and "Red Beans and Rice")…followed by a short set from horn masters the Mar-Keys…then songs from Arthur Conley ("Sweet Soul Music")…Carla Thomas ("B-A-B-Y")…Eddie Floyd ("Knock On Wood")…the electrifying Sam and Dave ("Hold On, I'm Comin'")…and closing the show, Otis Redding (covers of Sam Cooke's "Shake" and The Stones' "Satisfaction," and signature songs "Respect," "I've Been Loving You Too Long," and "Try A Little Tenderness").
Nine months or so after this European tour, Otis Redding—at the peak of his popularity and rightfully cruising into pop superstardom—died in a plane crash back in The States at the age of 26.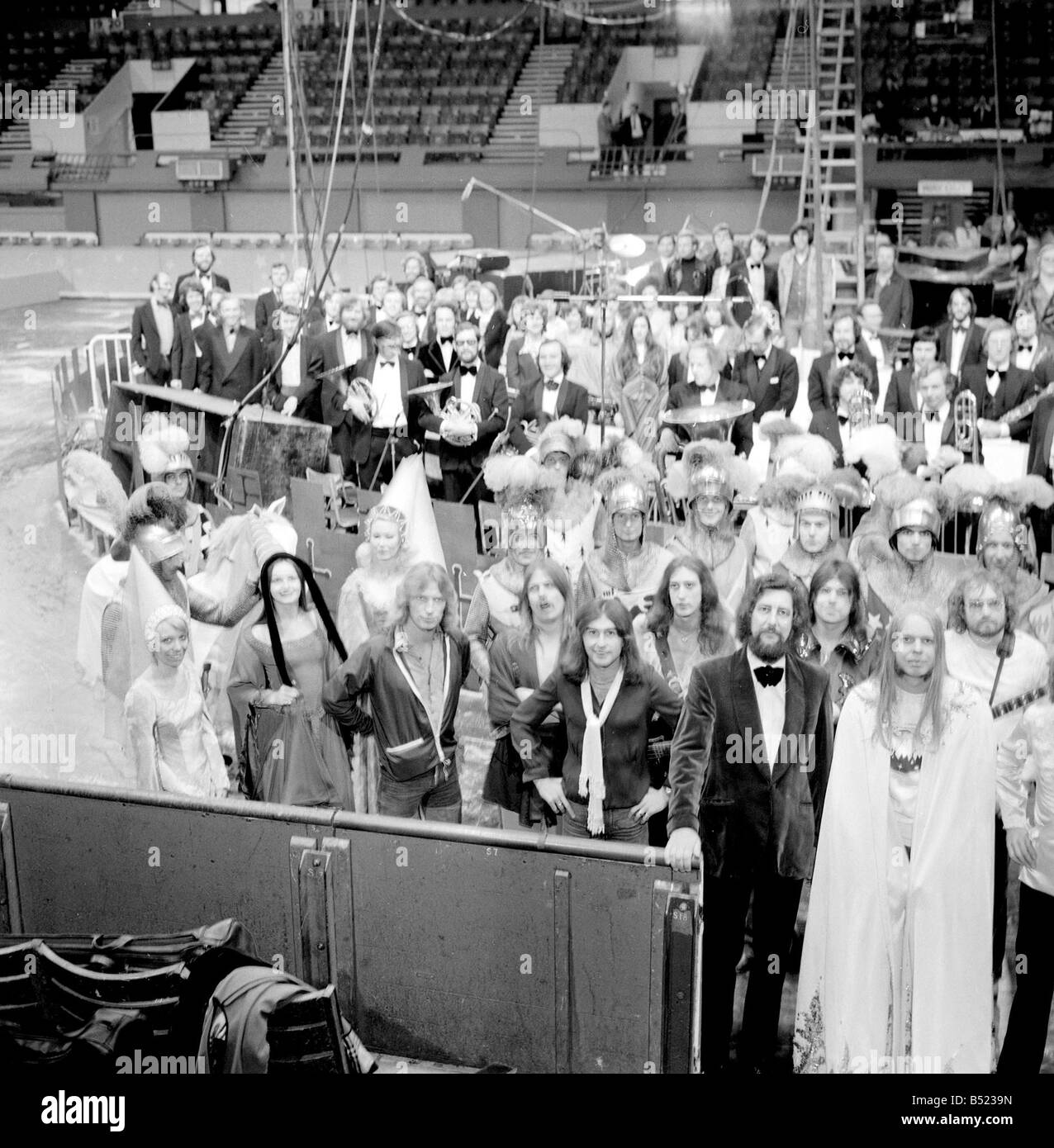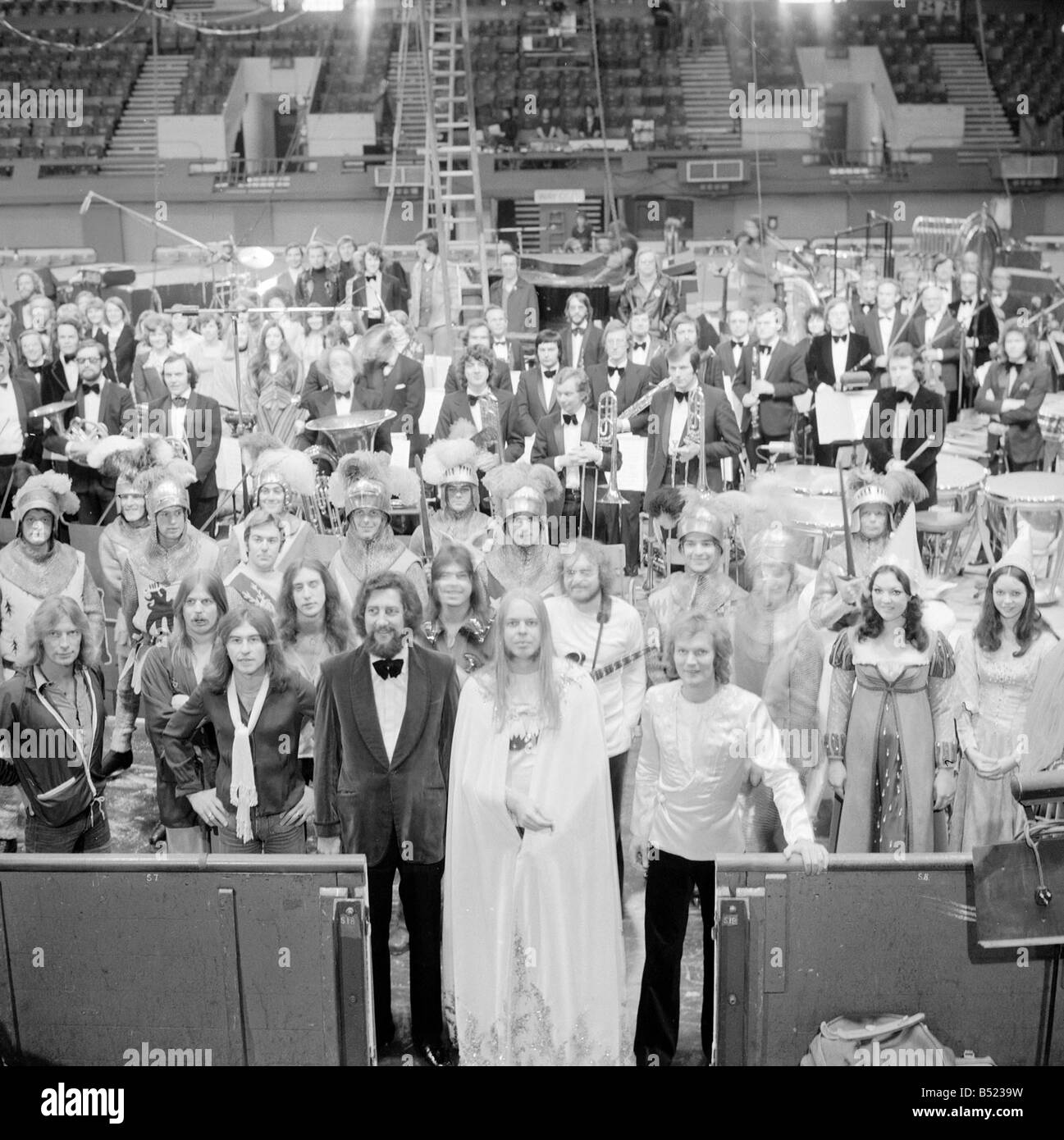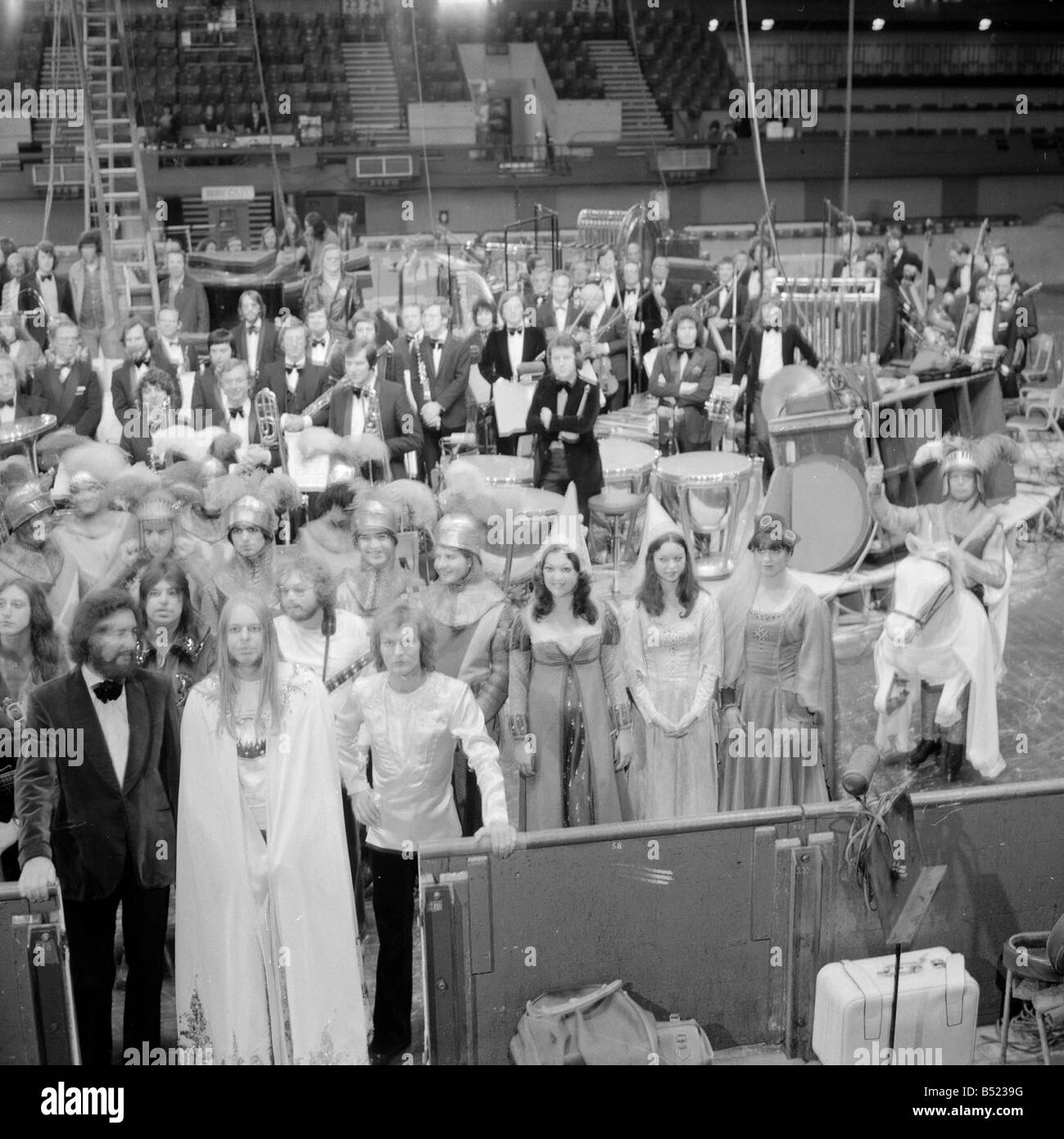 Rick Wakeman – May 30 & 31, 1975 at Empire Pool (indoor arena) at Wembley, London
Wakeman, an English musician who easily could have gone the route of concert pianist as a youth, opted instead to indulge his progressive rock leanings just as the band Yes was casting about in 1971 for a new keyboard player. With great compositional skills and a battery of keyboards, Wakeman gave the band Yes incredible depth and a range of choral colors and orchestral heft, as they churned out studio albums #4 through #6, Fragile ('72), Close to the Edge ('72) and Tales from Topographic Oceans ('73).
The reason I have listed his Empire Pool concert here? Well-l-l…because I'm flat-out zonked at the man's ambition. Wakeman by 1975 had issued three separate solo albums, which were all thematic and nestled somewhere between grand and grandiloquent—The Six Wives of Henry VIII, Journey to the Centre of the Earth, and The Myths and Legends of King Arthur and the Knights of the Round Table. And it was this latter album that the enterprising Wakeman wove into one of the most elaborate stage productions of the era.
According to Paytress, the musician's management wanted to steer him into the 5,300-seat Royal Albert Hall but Wakeman insisted on Wembley Arena (then called Empire Pool). The arena had a major ice show already scheduled for a week or so after the date Wakeman wanted—in fact, the venue's ice rink set-up was already in place—but this didn't deter the artist in the least. Wakeman, who had hi$ own $take in thing$ related to the project, decided to put the whole damn show on ice. Literally.
In the book, Wakeman is quoted as saying "Most of the skaters were flown in from around the world. We flew the PA—the first to be net-hung—in from America and put together a huge cast. I had a 45-piece orchestra, 48 singers in two choirs, 50 skaters, 50 knights, a seven-piece band, a narrator and heaven knows what else."
One night Wakeman's cape was caught up in one of the elevated keyboards early in the show, and he was hanging in mid-air. Another night the dry ice machines kept pumping (despite attempts to turn them off) such that some of the cast, the lower tier of the orchestra and in fact the bottom seating level of the arena disappeared behind the machine-bred cloud cover.
And then there was the night of the suicide—er, the knight of the suicide. Wakeman remembered it this way: "In the final battle, there were 25 knights opposite each other, poised to simultaneously kill each other and disappear into the dry ice. On the last night, I was told that one of the knights was ill. 'Doesn't matter,' I said. "There are loads of knights.' But of course when we finished the piece, there was this one knight still looking around for someone to kill him. The conductor looked at me helplessly. But this guy was brilliant. He wandered aimlessly, then had a stroke of genius and committed suicide. Pure entertainment!"
_____________________________________________________________________
Posted 4/8/18: EVERY DAY IS A WINDING ROAD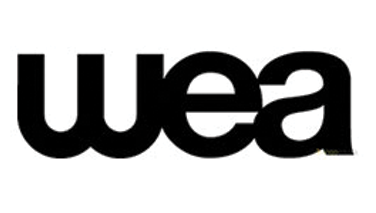 I've posted before about my display days with WEA (Warner-Elektra-Atlantic), the mighty, multi-label distribution arm of a record company conglomerate. But this era bears revisiting, as that two-year period in which I cultivated record store relationships and exercised my art was one of the best free-floating experiences of my young working life...
I started with WEA in early 1978 and my role as their regional in-store merchandiser was to be their Man On The Street—to visit all kinds of record stores, inveigling prime display space from the managers to make certain that WEA was predominantly represented. To paraphrase (and mangle) a lead lyric from Elektra recording artist Queen, my adopted mantra was "WEA the champions." Out there in the realm of Record Retail, I honed my skills of persuasion & poster placement such that I gained, and maintained, a great deal of in-store space dedicated to my company.
I worked out of my apartment because there was no WEA office in Pittsburgh. The closest branch office was in Cleveland, and so I answered to the bosses there as well as—to some degree—the Pittsburgh-based label promotion reps for Warner Brothers, Elektra and Atlantic. These label reps all had on-going and ever-changing priorities in terms of the records they were trying to secure airplay for in the Pittsburgh radio market. My job was to back up those priorities at the retail level, and secure prime in-store display space in as many regional outlets as humanly possible.
This job was an open road filled with freedom. I plotted out my own travel schedules, hitting the Pittsburgh stores each week, but also—every other week—scheduling day trips east to Greensburg...then southwest into Wheeling...and on another given day, northwest into Youngstown. There was no shortage of stores to cover; this was an explosive period for record sales nationally, and the labels could do no wrong as they pushed out of the womb a ton of new artists as well as cranked out a continuing line of releases from their superstar level bands.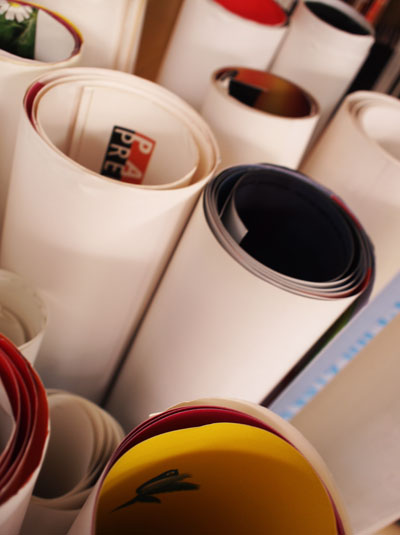 Without a local WEA office, my apartment in the Oakland section of Pittsburgh became the repository for all of the labels' display materials. Everyday I had shipments of posters, artist stand-ups, album covers and other materials shipped to my door, and I crammed all of that into my small bedroom—and the hallway, and parts of the living room, and in the unused pantries in the kitchen, and...The stuff never stopped coming.
My passion for the job knew no bounds. I had zeal and zest and no time for zzz's. There were more stores than I could possibly attend to in any given week, but my plotting-out of the periodic visits worked very well, and I managed to build up relationships with the store managers at the same time I was ratcheting up WEA's presence in their domains.
When I first got the job, I was driving a Chevy Vega hatchback and I started routinely dumping into it a veritable shitload of display stuff. With my WEA Cleveland bosses and the local Warner, Elektra and Atlantic label reps all pushing me for prime positioning at Retail, I simply made sure that I had—in my overstuffed Vega—materials from every one of their artists.
I remember cruising along the highways, with the back of the car and the entire back seat filled to the brim, and as I took to the bends in the road, the ends of a few cardboard poster tubes would occasionally give my right cheek a nice little sideswipe caress. Even with this piloting predicament I soldiered on, completely content to wile away the hours listening to mix tapes and enjoying the occasional loud, solo sing-along with my car's cassette deck. On one such trip I stumbled upon the perfect soundtrack song for my crammed conditions—"The Weight." Pointedly paraphrased, the lyrics I thought up (but didn't sing, to be honest) were like my own prayer in the making: "Take a load off Lanny / Take this load for free / And don't put the load, put the load back on me…"
My trusty Vega eventually turned on me. A trip to Wheeling in the hatchback turned out to be a clutch-burning disaster; there were signs earlier that day that my car was balking at the load and the distance, but I ignored it and hit the highway anyway. When the Vega gasped and ground to a halt, I called AAA to the tune of $200, and sullenly endured an all-too-chipper tow truck driver all the way back to Pittsburgh.
That put the kibosh on my car, and so I said adios to the vexing Vega. I of course had no further means of making display deliveries all around the compass points, and so with my circuit blown I had no choice but to scrounge for another vehicle. The very next day I took out a loan to buy a friend's used, two-tone blue van (as someone once said, you load sixteen tons and that's what you get—another day older and deeper in debt.)
Secure in my new—well, newer—vehicle, I scouted out even more stores to convert to the ways of WEA, and my favorites became the under-the-radar, independently owned establishments. These were usually off the beaten path, far from the malls and inhabiting a retail space two sizes too small, but they had character—and characters. A typical sight in some? A longhair behind the counter plopped on a stool, looking in need of sleep, or caffeine, or a reverse lobotomy. Dazed and Confused? Maybe...But these were also true music junkies, and they sparked to Life when I'd walk in with an armful of "promo copies"—the free albums that I was given by the label promotion reps to bestow upon the store personnel.
Warner, Elektra and Atlantic—especially Warner—had their share of non-mainstream records to complement the more commercial rock and pop offerings, and they all also provided distribution for a few much smaller independent record companies. Back then, Warner distributed Sire Records, an indie label who trafficked in emerging new wave and punk rock bands like The Ramones, The Dead Boys, Talking Heads, and Richard Hell & The Voidoids (if there was ever any doubt that the latter was indeed a punk band, its debut from around that time sure cleared up any further speculation with songs like "Blank Generation" and "Love Comes In Spurts").
The independent record store managers and clerks loved these free promo copies, especially the off-kilter releases. They also loved to just talk music, and were therefore generally a bit more interesting and passionate compared to some of the run-of-the-mill mall store managers who worked for the bigger record chains.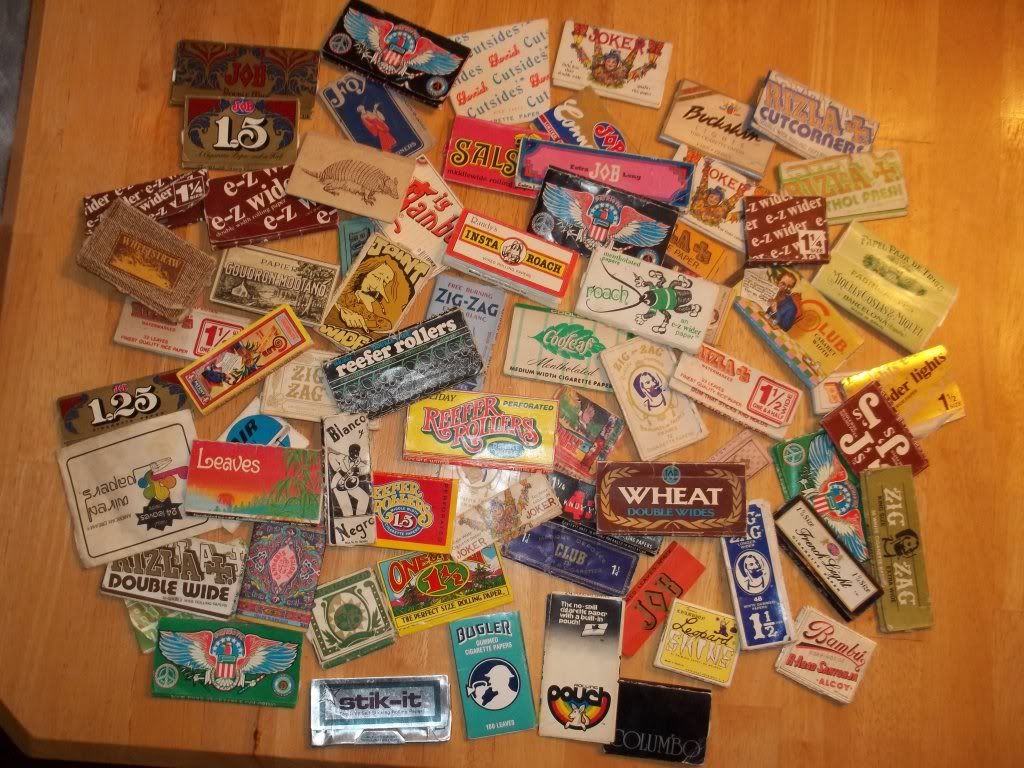 The independents also had more interesting "product" in their stores. A few of these indie shops sold, in addition to records & tapes, a wide array of paraphernalia for smokers. (Sidebar: Hmmm...clerk on a stool...lookin' drowsy and not far from drool...but, I digress.). These particular shops usually displayed their smoking wares in glass cases that oftentimes also served as their front counters, so that somebody plunking down their favorite new album for purchase might also see the enticing glint of a shiny new roach clip beckoning from below.
The glass case content was usually very artfully arranged, a dotted landscape of rolling papers, pipes and screens, bongs, joint-rolling contraptions, and even "throw-them-off-the-scent" bottle sprays that purported to rid one's auto of certain smells. I am not sure how much these stores sold of those particular materials in comparison to their recorded music, but back in the 1970s at least, there seemed to be a consensus—just in certain circles, of course—that things go better with toke.
Though all of us at WEA loved the musical passion of these indie store owners and they certainly contributed to our sales success, no one moved product like National Record Mart (NRM). This was the Pittsburgh-based record retail giant who at the time had amassed about 70 stores touching six different states. The Pittsburgh headquarters/warehouse of NRM was on Baum Boulevard just east of downtown Pittsburgh, and occasionally I'd be dispatched there by my bosses to help out with album inventory assignments, etc.—but my main mission, of course, was to be out on the road and plastering the NRMs with our posters and propaganda.
The NRMs were the stores where I could really shine in terms of display space and free rein. After multiple visits with posters and promo copies in tow, I had managed to earn the "hot spots" in most stores—large front window space, key end-of-aisle positions, and more. I also always took my sweet time in each store—never lookin' to hit and run; never cravin' an earlier end to my display day. I always made time for the managers and the staff to catch up with their news, and to talk about new releases, take stock of my competitors' actions and antics, etc.—and then I worked up my WEA wonders on the walls and in the windows.
During my two years with WEA—early 1978 through the end of 1979—I forged many great relationships, some of which are still intact today. Plus it was a damn exciting time to be plugged into music on a personal and professional level. Most gratifying? The work, of course—being able to unbridle my one true passion and then funnel it into something fun and fundamentally rewarding.
In closing...Here's a random sampling of on-and-off-the-wall displays from my two years of climbing that particular ladder of success (staple gun and roll of posters in hand):
In a downtown Pittsburgh NRM store...I fashioned a "pre-concert" display for The Cars, who were coming to the Stanley Theatre in Pittsburgh. Commandeering prime window space, I filled it with car tires and threw a banner overtop which proclaimed "The Cars in concert...An Evening of Auto Eroticism at the Stanley!"
In the NRM store in McKeesport, PA...Perplexed by the lack of traditional display space in this store, I finally looked to the heavens for an answer—and found that the dropped-ceiling tiles were all 2' x 2's, perfect for replacing with my styrofoam-backed 4' x 4' posters of the Rolling Stones' album cover Some Girls. Another record label merchandiser found out and almost hit the ceiling—but he couldn't, 'cause it was mine.
In the Record Outlet store in downtown Pittsburgh...I created a huge wall display for Genesis' new album And Then There Were Three (the 1978 album released after the departure of Steve Hackett, leaving just Phil Collins, Tony Banks, and Mike Rutherford in the band). I had a local bakery produce a huge white cake with the album cover's startling colors replicated on its top layer, and then I placed three little Indian figures on the icing—And Then There Were Three, indeed. The cake became part of the album display, surrounded by Genesis posters and sale-priced copies of the record, with an "enter to win" sign letting potential buyers know that they could have their cake and eat it, too.
In various Oasis Records & Tapes stores in the Pittsburgh area...Warner Brothers had shipped me about 10 or 12 life-sized stand-ups of teen idol Shaun Cassidy, in support of his latest album Under Wraps. So I thematically encircled each of the cardboard Cassidys' heads in Saran Wrap, particularly pleased to be able to "silence" this wimpy, sugary singer while still fulfilling my company's display priority.
In the NRM store in the Oakland section of Pittsburgh...Founding Outlaws member Henry Paul had started up his own self-named rock band in 1979 with the debut album Grey Ghost. This album's lead track is a tribute song, dedicated to the memory of Ronnie Van Zant and Lynyrd Skynyrd's fateful 1977 plane crash—so of course I grabbed a grey bedsheet and a horrifically disfigured Halloween mask, and hung my grey ghost amidst the Henry Paul Band posters and album covers in the window display. Soon thereafter, I was asked by my Atlantic label promotion rep to give up the ghost—he was worried that the band might not appreciate my theatrical touch, and he didn't want me to end up a victim of a different kind of crash and burn.
Oh, and back to those independently-owned record shops, with the deep-fried but highly engaged store personnel...I often would leave a few extra display items behind for store owners to put up on their own, if they so requested. At one of these indie stores, I came back on my next appointed round to find that they'd put up a Doobie Brothers 4' x 4' poster behind their wall display of smoking paraphernalia.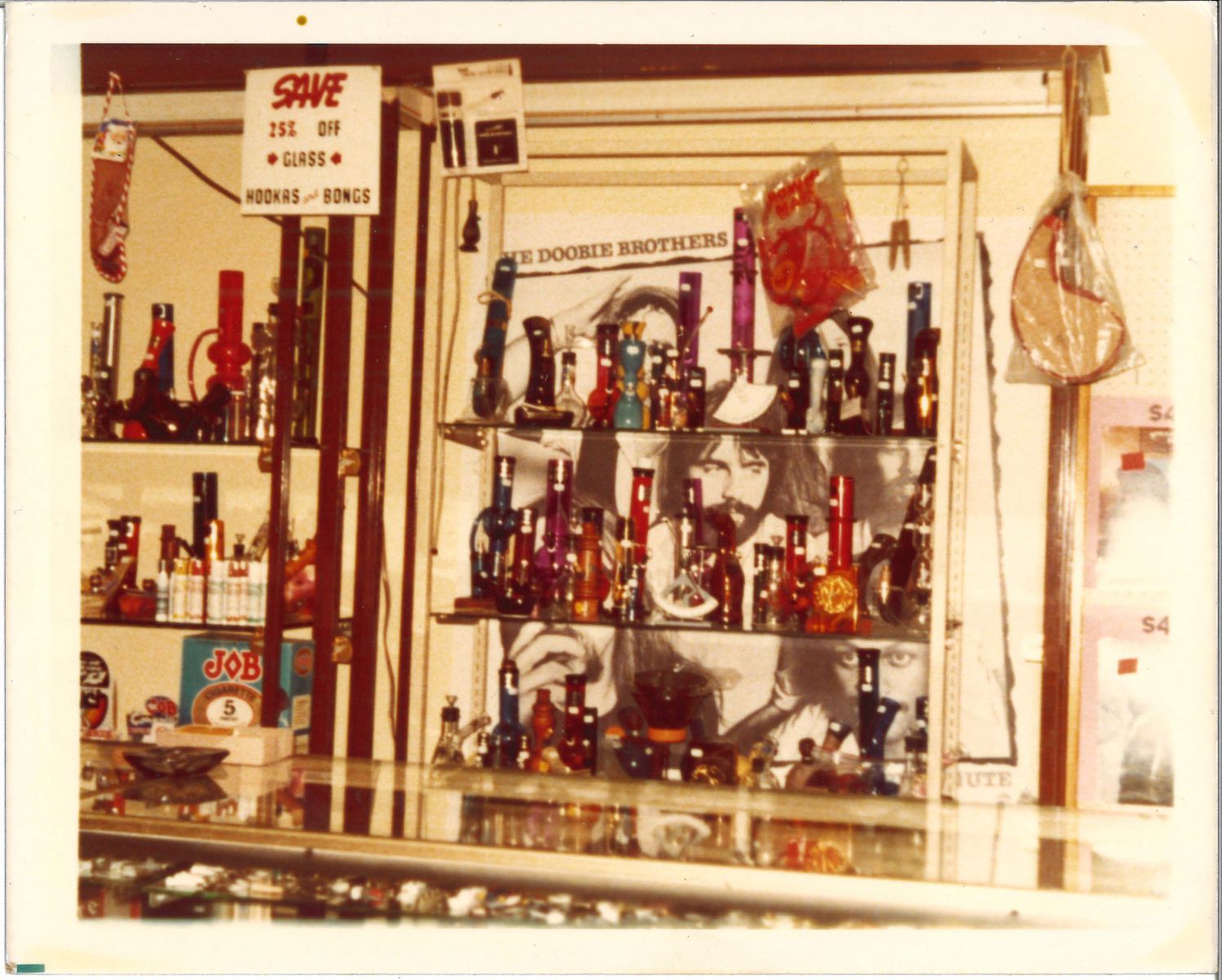 _____________________________________________________________________
Posted 3/25/18: STAND
The last page of every issue of The Atlantic is dedicated to a usually tantalizing question. In fact, the ongoing back-page series is entitled "The Big Question." For its March 2018 issue, the magazine had posed the following to its readers: "What was the most influential act of protest in history?" Responses ranged from Rosa Parks to Martin Luther's 95 theses, but the last entry on the page really fired me up—because, of course, it dealt with music. Lucia Perri of Guthrie, Oklahoma contributed the following in response to the "most influential act of protest" query: "The Beatles' refusal to play for segregated audiences in Jacksonville, Florida in September 1964. The band's contracts, signed by its manager Brian Epstein, stated that it would not play to segregated audiences. Since then, we've come together."
I had not known about the Beatles' articulated stance on this issue in their earliest days of touring the USA, but God bless 'em (and Brian Epstein). This tidbit in The Atlantic made me think—in terms of musicasaurus.com—that reaching out to people in the arts about their favorite protest songs might lead to some interesting selections and reflections—and I was right.
1. Joe Negri (Pittsburgh) / Jazz guitarist, composer and educator (also, for all time, "Handyman Negri" on PBS' Mr. Rogers' Neighborhood)
I became rather captivated with the thought that you presented here. I suppose the main thrust of protest songs came in the 60's and later. I was really not into that period of music. My focus has always been on jazz and the American Songbook. That being said though, the song that immediately popped into my head as a true protest song was "Strange Fruit," originally a poem written by Abel Meeropol (his pseudonym was Lewis Alan). The song was introduced by Billie Holiday in 1937 and has been covered by numerous people since, for example, Nina Simone, Dee Dee Bridgewater and many more. The song protested American racism, particularly the lynching of African Americans. In 2002 the Library of Congress honored it among the top 50 songs. I also remember songs like Woodie Guthrie's "This Land is your Land" and Bob Dylan's "Blowin' in the Wind." And when I was still at South Hills High School I wrote a song with a classmate of mine called "Buy that Extra Bond." It was a few years before the start of WW2. ("Strange Fruit" https://youtu.be/Web007rzSOI)
2. Scott Blasey (Pittsburgh) / Musician and lead singer for The Clarks
I was deeply affected by the song "Ohio" by Crosby, Stills, Nash & Young. I was just a kid at the time of its release but I remember hearing it on the radio and wondering what it was about. Beyond the powerful lyrics, the music moved me too. I always loved the melodic change when it goes to the chorus: "Gotta get down to it / Soldiers are cutting us down / Should've been done long ago." It opened my young, innocent eyes to all of the turmoil going on in our country in the early '70s—Vietnam, Watergate. It's a great song that still moves me. (https://youtu.be/l1PrUU2S_iw)
3. Jeff Sewald (Pittsburgh) / Former music journalist; currently an independent filmmaker and writer whose latest completed project was We Knew What We Had: The Greatest Jazz Story Never Told, a documentary exploring Pittsburgh's significant contributions to the legacy of jazz music in the world
When it comes to protests songs, very few have inspired me. Most are callow "calls to action" that few ever heed, and they disappear into the ether as soon as the next "protest-able" event occurs. One, however, stands out as a strong and unambiguous statement of disgust and disdain, and that is Bob Dylan's "Masters of War." What individuals do you think of when you hear this? "…Let me ask you one question / Is your money that good / Will it buy you forgiveness / Do you think that it could / I think you will find / When your death takes its toll / All the money you made / Will never buy back your soul…And I hope that you die / And your death'll come soon / I will follow your casket / In the pale afternoon / And I'll watch while you're lowered / Down to your deathbed / And I'll stand over your grave / 'Til I'm sure that you're dead." (https://youtu.be/U5F4vJrIp1s)
4. Tom Rooney (Pittsburgh) / Former executive director of Star Lake Amphitheatre 1990-1994; currently now president of the Tom Rooney Sports & Entertainment Group
"War" by Edwin Starr (1970)…I went to racially blended Perry High in the city. "War" reflected what many of my classmates thought was the abject unfairness of race and the draft. Many of the white kids like me went to college. Many black kids got caught up in the draft of a very unpopular conflict and we saw some of them come home to the "undertaker" referenced in the song. Chills me to hear Starr's version today. (https://youtu.be/kgJ11FW6B3E)
5. Rick Witkowski (Weirton, WV) / Former founding member of the 1970s progressive rock band Crack The Sky, longtime B.E. Taylor group band member, and currently musician/writer/producer working out of his own recording facility, Studio L, in Weirton, WV
Definitely "Ohio" by Crosby, Stills, Nash & Young written by Neil. This song had a major impact on me musically & mentally. I was definitely "anti war" and if not for the high lottery draft number I got, I would have considered moving to Canada to avoid having to go off to fight in a war I didn't believe in. When the shootings happened it shook me to the bones & I felt like I needed to do something to speak out about this horrible injustice that occurred practically in my own backyard. The next thing you know, I think it was within a week or two, I hear "Ohio" on the radio & I ran out & bought the single & learned to play it, note for note on the guitar & brought it to the cover band I was in at the time & we killed it!! I felt like I was making my voice be heard every time I rocked it!! (https://youtu.be/l1PrUU2S_iw)
6. Steve Hansen (Pittsburgh) / Former on-air talent on WDVE's "Jimmy & Steve" morning program (1980-1986); currently an independent writer/producer
Flashback: My first day of college at Colorado State University. The freshman journalism prof quizzes the class on the pillars of the Fourth Estate. Which, in 1967, were print, television and radio. I thought about raising my hand to ask about records, since so much of my generation's political education was being conducted to a heavy backbeat. "Eve Of Destruction," "Blowin' In The Wind," "For What It's Worth," "Society's Child" and "7 O'Clock News/Silent Night" were political manifestos that aired several times an hour in tight rotation and which helped fulfill Scott McKenzie's promise earlier that year that "there's a whole generation with a new explanation."
I was too shy that fall day in 1967 to raise my hand. But as the decade rolled on I thought about that moment every time I heard "War (What Is It Good For)," "Ball of Confusion," "I-Feel-Like-I'm-Fixin'-To-Die Rag" and "Street Fighting Man," each a Top 40 smash. Big corporate America's unwitting role in disseminating the views of the underground left can't be over-emphasized. Late Sixties Top 40 radio was a reverse Fox News for youth.
That said, for the answer to the question of "what is my favorite protest song" I must defer to the great Anne Feeney's belief that "If I Can't Dance It's Not My Revolution" and submit "Fortunate Son" as my answer, a song with more truth in 2:21 than the entire Trump Administration. ("Fortunate Son" https://youtu.be/rKuLtVXGRp8)
7. Steve Acri (Pittsburgh) / Longtime music fan; former record store manager; currently VP & Director of Procurement for SMARTSolution Technologies
The first protest song I remember hearing, and consequently the one that has stuck with me through my life, is "Eve of Destruction" by Barry McGuire. It's a strange paradox in that I found it very memorable and catchy musically, yet troubling and almost scary in its lyrical content. I was still pre-teen and didn't really understand fully what was being put forth, but I somehow knew the content was controversial. I also knew it pissed a lot of people off. Folks were protesting the protest song! I later found out that it was written by P.F. Sloan, who also wrote "Secret Agent Man," another of my faves from the era. Also, I would be remiss to not mention "Monster/Suicide/America" by Steppenwolf. Musically great and lyrically still 100% relevant 50 years later. ("Eve of Destruction" https://youtu.be/cG6_RWJBjhg … "Monster/Suicide/America" https://youtu.be/v9456xD9B-M)
8. Ed Traversari (Pittsburgh) / Former concert promoter & partner in DiCesare-Engler Productions (which eventually became part of Live Nation); currently associate professor in the sports, arts and entertainment management department at Point Park University
I would say my song was "Ohio" by CSNY. Since the Kent State killings happened in 1970 I was a freshman at RMU and it made an huge impact on me of what was happening at that time both in our military and on university campuses including little RMU in Coraopolis. When CSNY sang "four dead in Ohio" it really stuck with me as it does to this day when I hear it. (https://youtu.be/l1PrUU2S_iw)
9. Billy Price (Pittsburgh) / American blues & soul singer who gained national attention through touring and recording with guitarist Roy Buchanan in 1974-1975, and who then formed the Keystone Rhythm Band in 1979
A great one that comes to mind is George Perkins' "Crying in the Streets," on the great Memphis label Goldwax. It came out during the Martin Luther King era but is not about any one protest or cause in particular. It has a beautiful gospel feeling and is one of those recordings that, once you've heard it, it haunts you forever. (https://youtu.be/JNhVm1yGxS8)
10. Amy Cooper (Pittsburgh) / Director of marketing for PromoWest North Shore/Stage AE
Two come to mind. "(You Gotta) Fight for Your Right (To Party!)" by the Beastie Boys and "We're Not Gonna Take It" by Twisted Sister. (https://youtu.be/eBShN8qT4lk … https://youtu.be/4xmckWVPRaI)
11. Charlie Brusco (Atlanta, GA) / Pittsburgh-area native, artist manager and former concert promoter; currently manages Poison, Ann Wilson, Collective Soul, Marshall Tucker Band and the Outlaws, among others; and heads up the Atlanta office of artist management company Red Light Management
Two protest songs talked to me closely as I was in college starting '69 summer..."For What It's Worth" just great feel great lyrics, but even more "Ohio" as I went to high school in Pittsburgh with Allison Krause who was killed at Kent State on May 4, 1970. I was protesting the day before that at Kent State but had traveled to Ohio State on the day of the shootings. I went to college at Ashland College that was geographically right between Kent State and Ohio State Universities. ("For What It's Worth" https://youtu.be/1eD-8NTwP9I … "Ohio" https://youtu.be/l1PrUU2S_iw)
12. Scott Tady (Beaver, PA) / Entertainment Editor of the Beaver County Times
My formative years coincided with Bruce Springsteen's 1980s glory days, so like many fans I excitedly purchased his 5-LP "Live/1975-85" box set. There were so many great tracks on there, including Bruce's cover of Edwin Starr's anti-war song "War." In the intro, Springsteen referenced the Vietnam era of the original song and applied it to the current context, specifically addressing teenage fans whom he encouraged to load up on knowledge. This came at a time of saber-ratting in the Reagan Administration, and while it didn't seem like The Draft would be reinstated, I thought Bruce raised a compelling point: "in 1985, blind faith in your leaders, or in anything, will get you killed." That "blind faith in your leaders" warning always stuck with me, and has been one of the foundations for why I've been registered as an Independent voter for nearly 25 years. p.s. On a lighter note, I also drew a lot of strength from the 1986 Beastie Boys protest song "Fight For Your Right (To Party)"! ("War" https://youtu.be/21y0h049h8o)
13. Joe Grushecky (Pittsburgh) / Musician, singer-songwriter and bandleader (Joe Grushecky and The Houserockers)
"Ohio" by CSN&Y…I remember how raw the emotions were about Kent State. I was stunned that the National Guard had opened fire on students. If you were in the Guard in those days you were avoiding Nam. End of discussion. Within days the song came out. "Four dead in Ohio"—it was electrifying. Bought it immediately, learned it, and began playing it with my band. ("Ohio" https://youtu.be/l1PrUU2S_iw) (additional note: In case you are unaware, Joe released a protest song of his own with the Houserockers exactly a year ago. Entitled "That's What Makes Us Great," the anti-Trump song features vocal chip-ins from Bruce Springsteen, and you can check it out here on YouTube: https://youtu.be/u81YZDEmXrA)
_____________________________________________________________
Posted 3/11/18: THAT'S LIFE
I fell in love in 1977. With an album cover.
I was working at an indie record store in Wexford, PA at that time, livin' the life—underpaid and overjoyed to be working in a place where for pretty much eleven hours a day, music blared and passions flared. This was the first year of our store's existence on the Wexford Flats, and our trickle of curious customers soon turned into a tide of regulars who on average spent 90 minutes per trek in our world of albums & tapes.
Album covers were things to linger over, to study—mentally scrambling to affix reasoning to the particular artwork on the front; flipping the album over to soak up the musician and producer credits on the back. That's how, unpacking a shipment of newly arrived albums from our record distributor, I chanced upon Valerie Carter's debut album Just A Stone's Throw Away…
I was captivated by the cover, first of all—an alluring photo of a beautiful young woman, dressed just like the hippie-ish girl of my twenty-something dreams, with a hat that was part flapper and flower, and an expression that locked my gaze. The back of the album really told the tale, however, with its right-side top to bottom roster of contributing singers and musicians who apparently had all boarded and banded together to get this young girl's musical message out to the masses. For me, the list was a who's who of artists I loved—four members of Little Feat including Lowell George, a handful of Earth, Wind & Fire, Jackson Browne, Linda Ronstadt, the Lovin' Spoonful's John Sebastian, singer Deniece Williams, the band Orleans' front-man John Hall, Toto's Jeff Porcaro on drums, L.A. jazz session players Ernie Watts (saxophone) and Oscar Brashear (trumpet), and more.
When I cracked open the cellophane on Carter's debut and dropped the needle on its contents, the mastery and the meshing of talent was immediately apparent—and palpable. The sound of the record was deep and glorious, pristinely produced by the savvy musician/producer Lowell George, who I found out later on had squired Carter through an earlier band-effort recording, subsequently then taking her under his wing.
I was a diehard Little Feat fan back then so I was predisposed to love most any album where Feat had trod, but with Carter, it was something different: Amidst the swirl of talented musicians and the whip smart song arrangements, Carter's voice was the overarching thing that stirred something deep within me. Listening to the album all the way through, I came away, frankly, in wonderment.
Somehow, as she moved through each song at hand, she was able to adhere to a sense of innocence and emotions held in check, but then this softness sometimes ceded control to reveal much deeper reserves of power—and this is where the real Valerie Carter shone. In those fuel-injected moments, lost in her art and untied inhibitions, she unleashed an incredible wellspring of passion into those passages…
Carter recorded her debut album, Just A Stone's Throw Away, in Los Angeles, California when she was 24 years old. Born in Winter Haven, Florida in 1953, Carter's father was in the military so the family moved fairly often in her early years. In an interview that Carter did with writer Laura Stegman for the JTO (James Taylor Online) website in September 1999, Carter talked about how she wound up in California:
"Well, my teenage years were pretty strange. Probably everybody's teenage years were pretty strange (laughs). I left home — my parents were frantic — and I went and stayed with my cousin in New York City. I grew up in the South in small towns, if you can even call them towns, and I'd never been to a big city in my life. I looked in the Village Voice for work, and I found this waitress-singer thing in the Village. I would do folk music sets with this Iranian guy, and in between I would serve meals while these belly dancers came out. I did that for about seven or eight months, and I learned how to write a little bit. Then I hitchhiked across country with some friends — because that's what you did then — and we wound up in San Francisco and started playing coffeehouses."
Carter soon formed a band while in northern California called Howdy Moon. The group released a self-titled album in 1974, produced by Lowell George, and also holed up with some regularity at West Hollywood's famous '70s-era rock club the Troubadour. Carter points to her manager Bob Cavallo—who also managed Laura Nyro, the Lovin' Spoonful and Little Feat at the time—as being incredibly supportive as time drew near to her 1977 debut album:
"He handled this 'candy store' full of amazingly talented people, very nice people, who were very willing to help out somebody who obviously had some talent but wasn't honed at all. Like Maurice White of Earth Wind & Fire, and just a really interesting conglomerate of people. They were all there for me, some in small ways that still were huge to me, and some in very large ways. They just gave a hundred percent of themselves so I could kind of find my way."
As thankful as Carter was for the rallying of support from her manager and generous peer musicians, she was also plagued by self-doubt. About her mentor Lowell George, in the Stegman interview from September 1999, Carter said:
"…Lowell was always so curious about anybody and their music and what they were up to. And, honestly, I've looked back at some of the stuff I did, and I just had so much innocence and such a lack of understanding of who I was. And my voice is kind of small, you know, real shy, and I don't even know why he took up his time with me. I really don't know. I look back on it and think it was so incredibly brave of him. And if he saw something, I wasn't aware of it.
"I think part of what happened for me is that I felt like I was going to get 'found out' back then. I was thinking, 'I can't really do this, but here I am and these people are so talented and wonderful, and I'm just sort of coasting on their heels.' But then I look back and I think, well why would they have worked with me, and I try to feel 'validated' (laughs)."
And this is where I circle back to that first album of Carter's, 1997's Just A Stones Throw Away. It seems apparent to me, listening to it through the years and again just recently, that everyone in her sphere, everyone who lent a hand and much needed support for that record, must have genuinely felt that she had the gift. In the lead-off track to that album alone; "Ooh Child," a cover of a 1970 pop/R & B hit from Chicago-area soul band The Five Stairsteps; one can hear Carter's soaring abandon come to the fore as—sometimes through the lyrics, sometimes through a powerful wail from her inner depths—she sings as if her life depended upon it. It is a thing of staggering beauty, timeless in every way.
Though Carter stinted with other artists in the mid-'70s including Jackson Browne and James Taylor, and released a second solo album in 1978, wide success eluded her. She explained to writer Stegman how she abandoned her aspirations for a solo career in the late 1970s, only to resurface much later on, around 1990, as a background singer:
"I got scared, and I got frustrated, and I got sad. I dropped out of the whole music thing for a while. I had personal difficulties with living here in Los Angeles, with a life of music. I was at an all-time low in my life, and I didn't quite know what was going to happen. Eventually, I got some help. I took a really long time away from friends, away from anything I had ever known around here.
"When I came back I decided that I couldn't handle trying go out and forge for a record deal and start all of that madness over right away. I was too delicate. But what I could do was sing, and that's what I've always been happy doing. And I knew I could stand behind someone and let the spotlight shine somewhere else. I could at least express myself through the power of singing.
"So I made a few phone calls to say, 'I'm ready to come back.' I called Peter Asher [James Taylor's manager at the time]. That was one of the first calls, and I didn't expect anything to come of it. I didn't expect anything to come of anything. I didn't realize that people are as good as they were and as forgiving of someone who just kind of stepped away from them and from everything having to do with music. But friends rallied and really supported my wanting to come back...I literally called Peter and just put it out there. And it came right back. And I did the same with Jackson [Brown], and the same thing happened, but in a lesser way because Jackson just doesn't tour as often as James. And it also happened with Linda [Ronstadt]. They really came through with open arms, and I've been nothing but grateful since the day it started."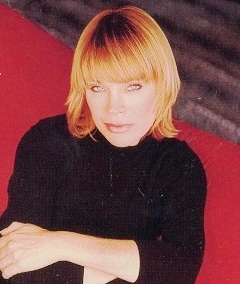 Finding herself on more of a steady track within the music business—touring with Browne and Taylor; guesting on a number of other artists' albums like Aaron Neville, Don Henley, Glenn Frey, Linda Ronstadt, Neil Diamond and Shawn Colvin—Carter in 1996 mustered a third solo album, her first in eighteen years. The album, entitled The Way It Is, was a welcome return to form. On this album, artists appreciative of Carter's depth of talent signed on for guest vocal appearances, including Taylor and Browne, Linda Ronstadt, Phoebe Snow and Lyle Lovett (the latter sharing vocal chores on a tune originally co-written by Bill Withers, a gritty bit of insistent funk called "Who Is She (And What Is She to You)").
Carter's last recording was a 5-song CD entitled Find A River, released in 1998. By 2007, she had decided to retire from the life of a professional musician and subsequently moved back to her birth state of Florida, to St. Petersburg, to help care for her mother Dorothy.
In the previously mentioned Laura Stegman interview piece from September 1999 when Carter was still living in L.A., Stegman asked her if she definitely knew back in the early/mid-'70s if she had wanted to be a singer. The response:
"Yeah, all indicators pointed in that direction quite strongly. I hadn't taken a great deal of interest in school. Music came so naturally, and everything else in my life was a fight, and a real, real difficult struggle. One side of my brain is functioning — my music side — and the rest of me is trying to do the best I can."
I think that last line in particular is quite telling. In 2009 while living in St. Petersburg, Carter was arrested in August 2009 by police for possession of cocaine. In October of that year, caught again—this time with crack. It was Carter's good fortune to land in the drug court of Judge Dee Anna Farnell, who sees about 1,200 people come before her each year. The drug court is set up to give out a bit of hope with its justice; if a person is not a convicted felon or a sex offender, and the crime is solely drug possession, the sentence can be served in a rehabilitation facility instead of a jail cell. And at some later date—after treatment, fines paid in full and drug tests passed —there is a graduation ceremony where the individual's permanent record simply says "Adjudication withheld."
James Taylor paid for Carter's three-month term in a Texas rehab facility shortly after her 2009 arrest, and when May of 2011 rolled around, he was there in drug court at graduation time. Her slate cleaned, her certificate awarded, Carter embraced Taylor. "Thank you," she said. "Thank you for taking such good care of me." The judge said to the assembled, by way of explanation, that Mr. Taylor had had a long relationship with Carter, and "you have heard her on his albums. And you will hear her again."
That was not to be. Valerie Carter passed away just one year ago, in March 2017, from a heart attack at the age of 64. On a Facebook post soon thereafter, Taylor wrote the following:
"I first met Valerie when she came with Lowell George to a session of mine at Amigo studios in Burbank CA. That was in the mid 70s and the song we were working on was 'Angry Blues,' one of mine. After Lowell put down an amazing guitar part, Valerie offered to try some vocal passes. It was just the thing, one of my favorite days in the studio and the beginning of a long working relationship with one of the great singers of her generation. You'd hear it said time and again: 'how can such a big sound come from such a delicate, diminutive creature?' 'Where does it come from?' For sure it's a mystery but Valerie was an old soul and as deep as a well. Her voice came from her life and her life was a steep, rocky road. I believe that we can hear it, whenever the music is that crucial, when the song is saving someone's life. We were the lucky ones, who worked (played) with Valerie Carter over the long arc of her creative career; we got the best of her love..."
(Click the links below to hear some selections from Valerie Carter, an artist most in sync with her life force when immersed in song…self-effacing; ever grateful to friends and family…a woman with an amazing gift that fortunately she shared with us all.)
Additional source material for this blog post: "Drug Court Grads Have A Friend—James Taylor" – an article by Lane DeGregory, Tampa Bay Times Staff Writer – May 25, 2011.
_____________________________________________________________________
Posted 2/25/18: ALL THINGS MUST PASS
About twelve years or so ago I was rifling through some files from my former life as marketing director-turned-general manager of Star Lake Amphitheater, the 23,000-capacity amphitheater just 30-minutes drive from downtown Pittsburgh. I came upon a cache of old amphitheater backstage passes, and as they came spilling out onto my desktop for review, I came upon the sensible realization that they were not doing a damn bit of good hidden from view.
So I bought an oversized picture frame, and one commitment-free Sunday afternoon at the dining room table, I patchworked all of my favorite passes into what amounts to a cool, collector's-item representation of my first fifteen years at Star Lake (1991-2005).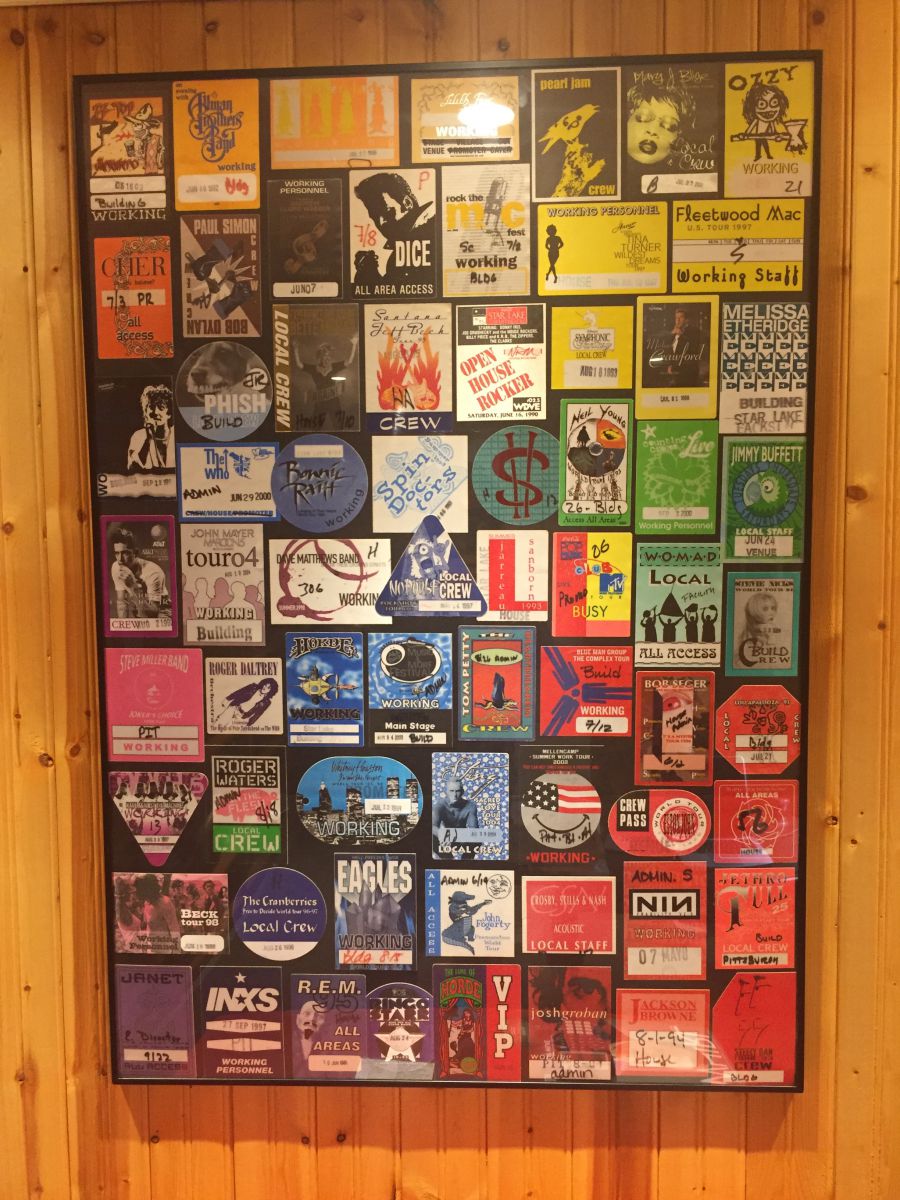 They aren't quite Oscars on the mantle, but these passes are indeed little tokens of achievement—surviving many summers of shows at the amphitheater, where artists of all kinds pit-stopped for their Pittsburgh-market play in front of hordes of music fans.
The passes brought back a lot of memories…blazing financial wins and humbling failures…solo artist concerts and multi-act festivals…passion-infused, surprising sets from newer bands and rote performances from road-weary elders…
So now, I've snapped a few close-ups of just a handful of my backstage souvenirs, laid out here for your inspection—and thanks for indulging me this reflection: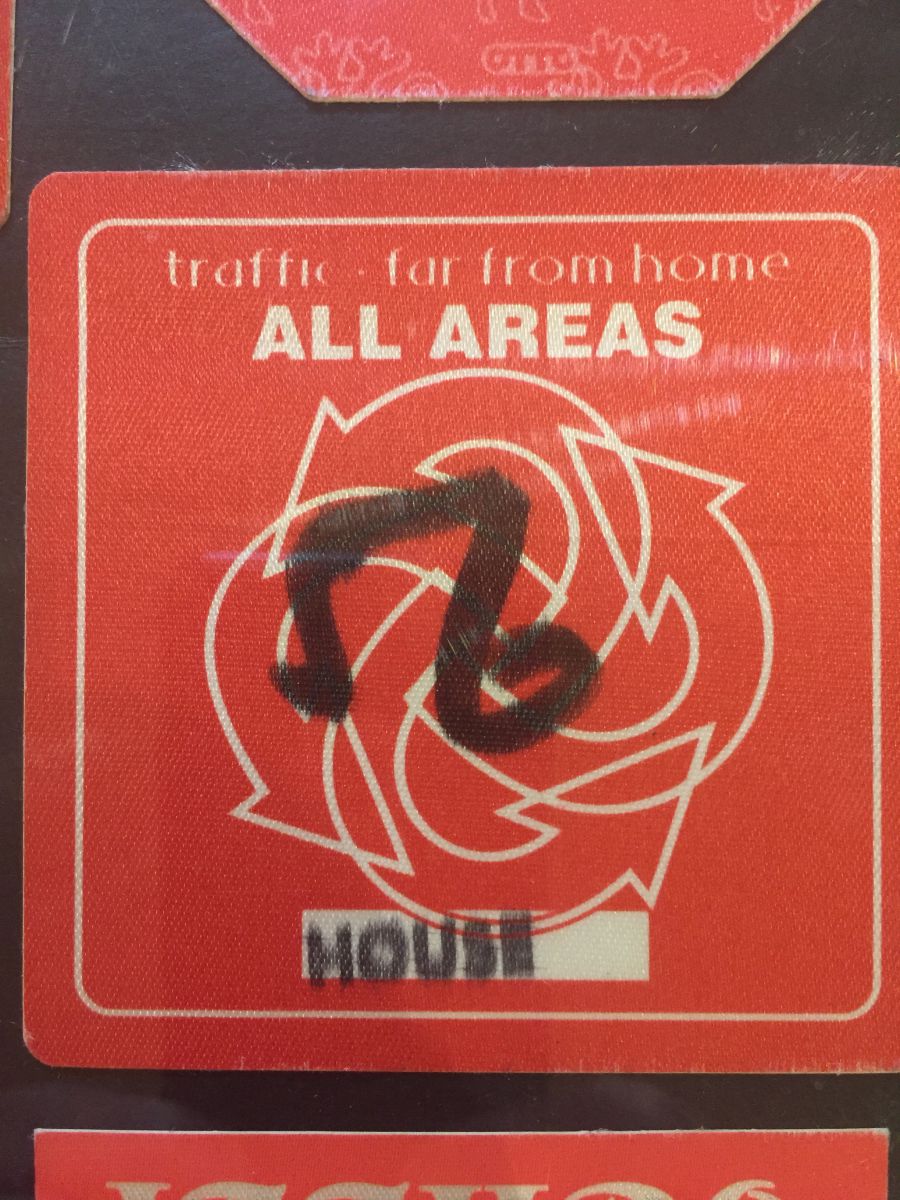 1. Traffic – Tuesday, August 9, 1994
Founding members of Traffic Steve Winwood and Jim Capaldi reunited this particular year to record a new album and mount a tour, and the announcement had local tongues wagging above drool cups. Die-hard fans all around the tri-state area were clearly salivating over the chance to see this late '60s/early '70s rock band who had produced classics such as "The Low Spark of High Heeled Boys" and "Dear Mr. Fantasy," and the band had not toured for twenty years. Pittsburgh's deeply rooted rock station WDVE helped us promote the show, and we offered Traffic fans a real deal—$10.25 for a lawn ticket, courtesy of 102.5 WDVE.
The results? Our enticing pricing didn't ignite sales; the show only did about 8,800 people at the end of the day (perhaps the public just missed the point of the radio advertising; when they heard "Traffic at Star Lake" they probably just thought, "Well, no shit.")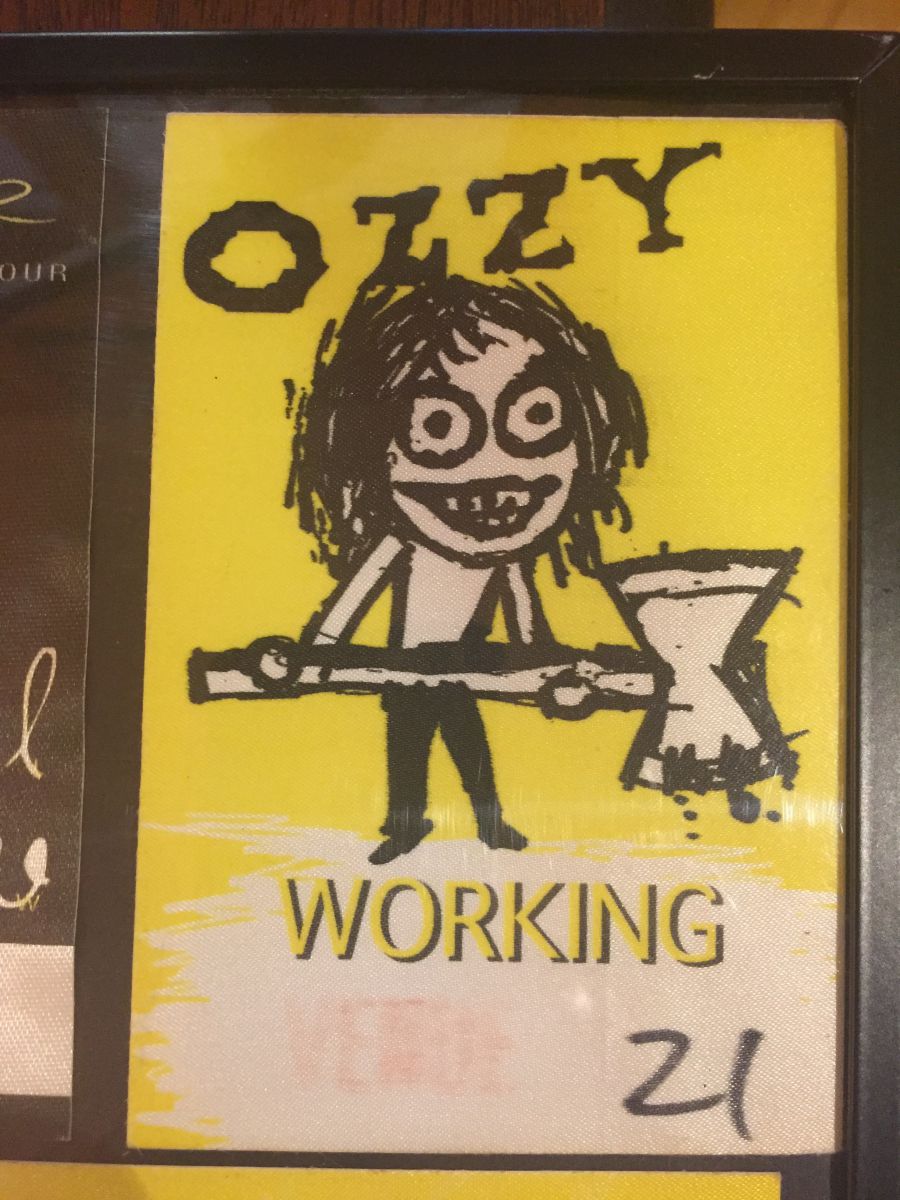 2. Ozzy Osbourne – various concerts through the years
Ozzy of course first dented public consciousness as the front man for the pioneering metal sludge/hard rock band Black Sabbath, whose eponymous debut album hit record stores way back in 1970. Many years and psychotic episodes later, Ozzy the solo artist hit Star Lake with his band and a couple of similarly sledgehammer-style support acts in 1992 and 1996. In 1997, however, the juggernaut called Ozzfest was conceived by our company's touring division, and this festival then hit the touring circuit of amphitheaters across the country, absolutely slaying in ticket sales.
A typical Ozzfest was a mixture of bands with buzz-saw leanings and chuckle-worthy names like Prong, Crazy Town, Snot, Ultraspank, Methods of Mayhem, and Disturbed. Notable from an audience perspective, some of the fans who turned up were, especially in the earlier years of the festival, irrepressible arsonists out on the lawn where fires lit up the evening sky, challenging our venue's security staff to try to keep a lid on the major ugliness unfolding.
I remember about a year ago leafing through an issue of Rolling Stone and finding an article about Black Sabbath's career-capping reunion tour in 2016—the farewell lap from Ozzy, guitarist Tony Iommi and bassist Geezer Butler, the three out of four original members from 1970. At the end of this article (written by Kory Grow), there is a great quote from Ozzy about life on the road, stating it was far different now compared to the band's first tours of the early 1970s: "I was the fucking rebel for so many years," Osbourne is quoted as saying. "Now I can't understand why I was going out, getting full of Jack Daniel's, having a bag of white powder and talking shit till daybreak, thinking that was fun. I would poke my fucking eyes out if I had to do that now."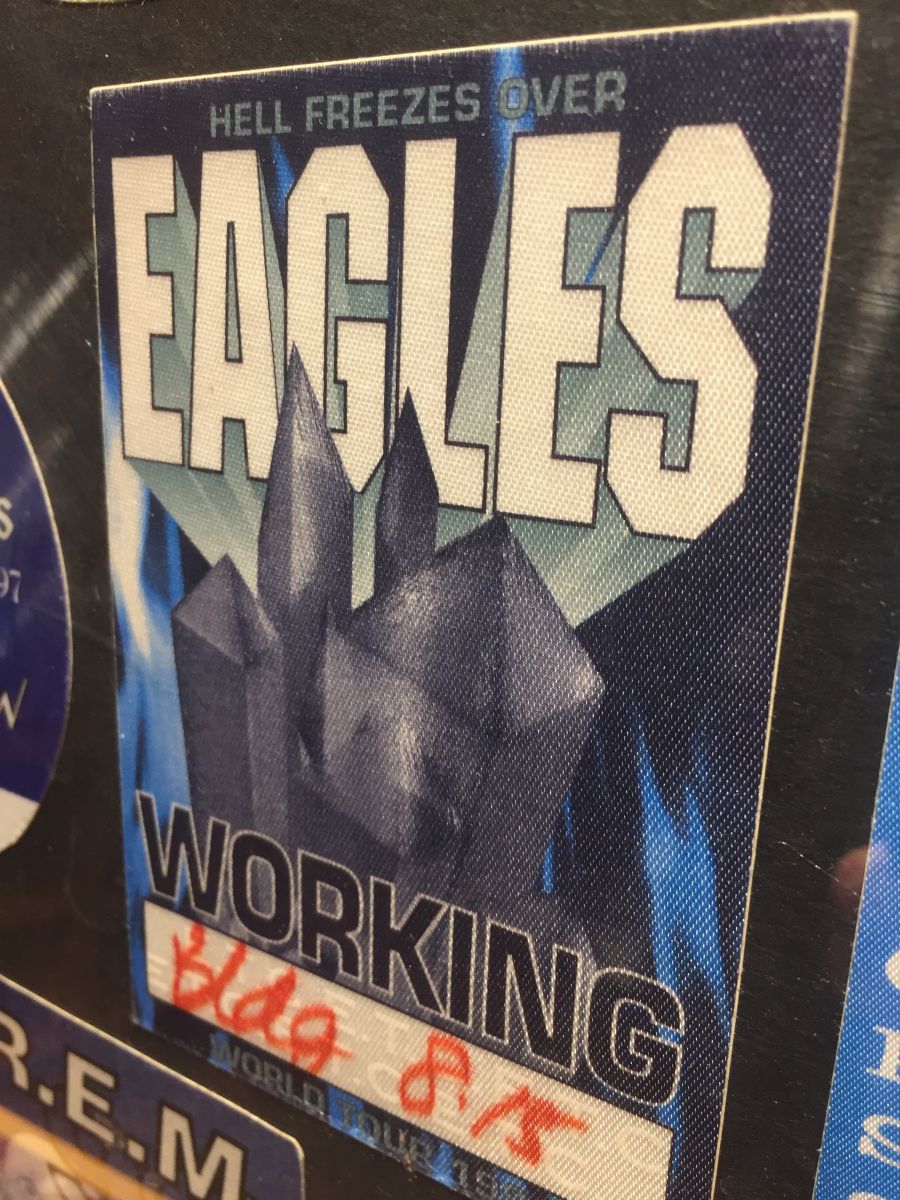 3. The Eagles – Monday, August 15 and Tuesday, August 16, 1994
Probably the commercial and artistic highlight of the summer of 1994 was the reunion of a band who hadn't played together in fourteen years—the Eagles. When word of this reformation was trickling along the internal booking pipeline of our company in late Spring of that year, a lot of us balanced elation with some concern when we learned about the very ambitious ticket prices being discussed for the upcoming tour. We were starting to think that the term "Hell Freezes Over"—the tour's official name—could also serve to describe the likelihood of some fans deciding not to buy these unprecedentedly pricey tickets.
As it turned out, both of these August evening shows ended up selling out. I am not the biggest Eagles aficionado, but I have to confess that the two concerts were spectacular in terms of musicianship and tour production—great lighting and even better sound, and I remember some staff members remarking that the level of passion exhibited by this crowd of 23,000 people per night hadn't been witnessed at the venue since the facility opened four years earlier.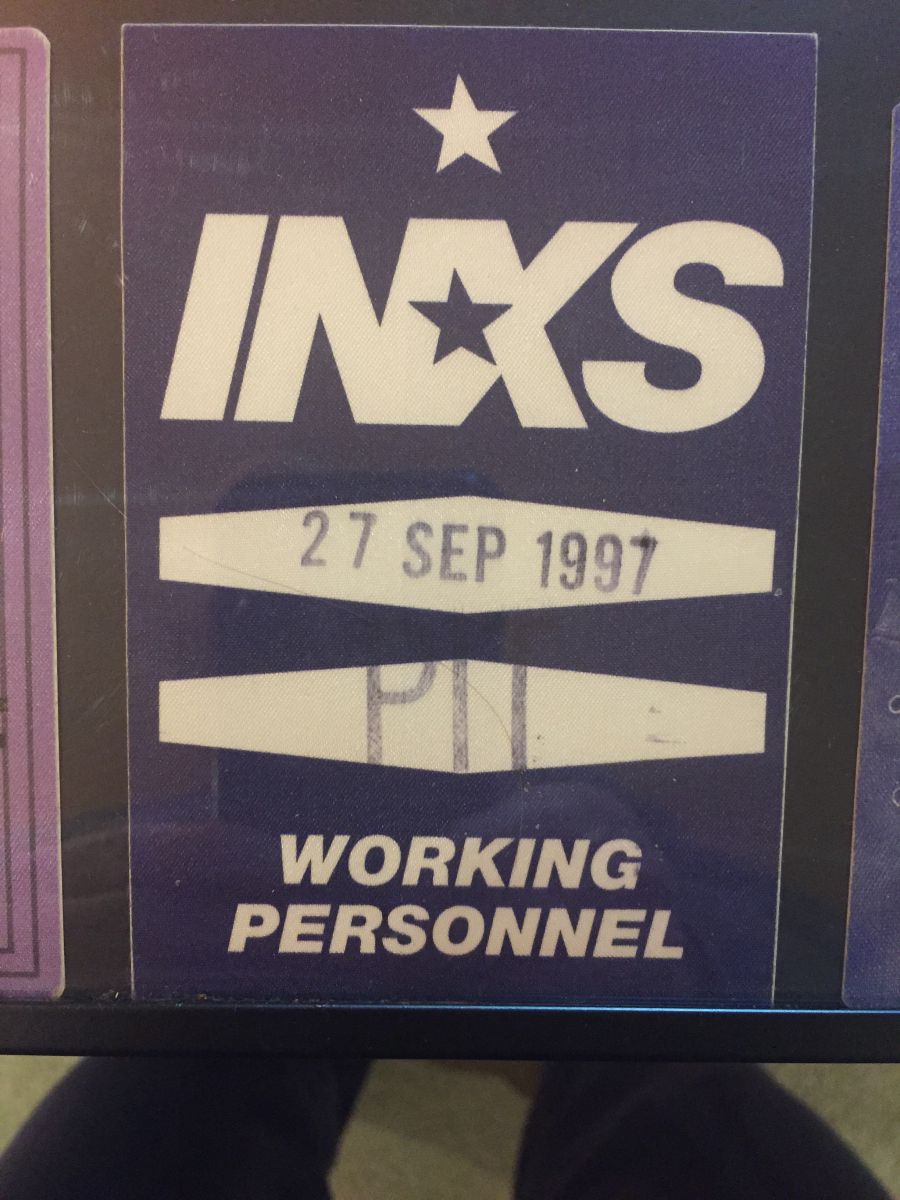 4. INXS – Saturday, September 27, 1997
This was a radio station show, meaning that the station itself (instead of the amphitheater) booked all of the talent for this listener appreciation event. This particular radio show was WBZZ-FM's, promoted as the "B94 Summer Stretch Concert," and the lineup was a hodgepodge of acts including Christian singer Amy Grant, a no-Natalie 10,000 Maniacs, and pop band Savage Garden who at the time had a sickly sweet, unstoppable hit waiting in the wings called "Truly Madly Deeply."
The headliner was Australia's INXS, and they rocked this sparse but enthusiastic crowd of less than 7,000. Lead singer Michael Hutchence had moves like Jagger, but a lot less rooster strut and way more fluidity with the rhythmic, driving force of the band behind him. This Star Lake performance, as it turned out, was Hutchence's last on Earth. Two months after the B94 radio show gig, he was found dead in his hotel room in Sydney, Australia and a coroner's report labeled it a suicide (things be murky with this; you can dive into the details elsewhere).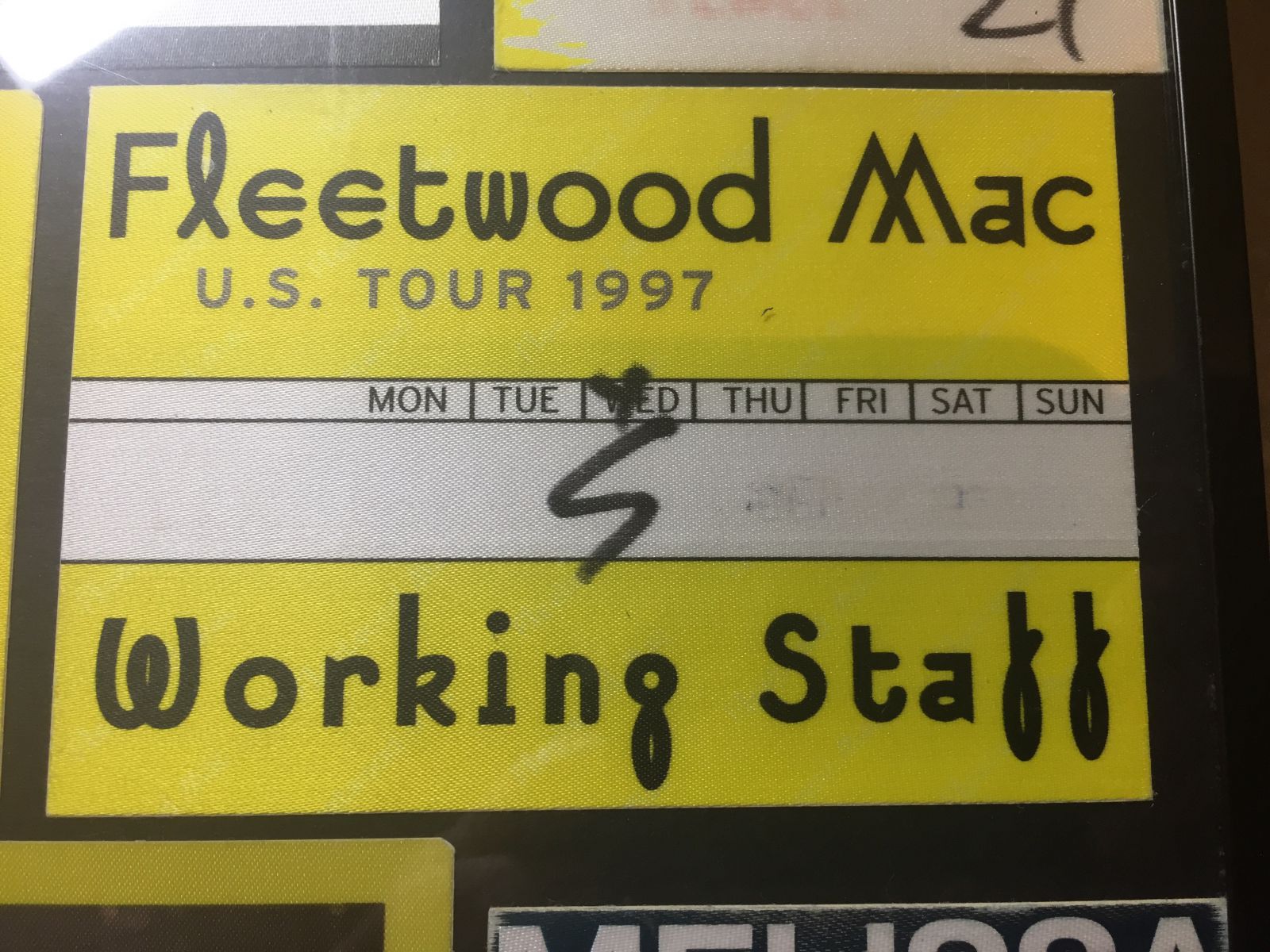 5. Fleetwood Mac – Wednesday, September 24, 1997
Here was a band that started out of England in 1967 as a pretty pure blues outfit, then lost and added members over nine albums and the next seven years until founder Mick Fleetwood fortuitously fostered a paradigm shift of personnel in 1974. His band at yet another point of needing an infusion, Fleetwood was checking out L.A.'s Sound City Studios when the studio's house engineer played him a new song ("Frozen Love") from California duo Buckingham Nicks. Fleetwood welcomed in Buckingham who brought Nicks in tow, and starting in 1975 this new configuration became the biggest Mac, with their next two albums (Fleetwood Mac and Rumours) scarfed up by an insatiable public.
By the late 1980s this lineup fractured and split, but then in 1997 the Rumours-era band reassembled for an in-studio live album and tour, and this reenergized ensemble hit Star Lake with much fan anticipation, a high price tag, and head-scratchingly high ticket prices. I remember September 24th as a chilly night with a warm reception for the reconstituted five-member band. The concert sold out well in advance and it remains a commercial and critical highpoint of the first ten years of Star Lake's existence.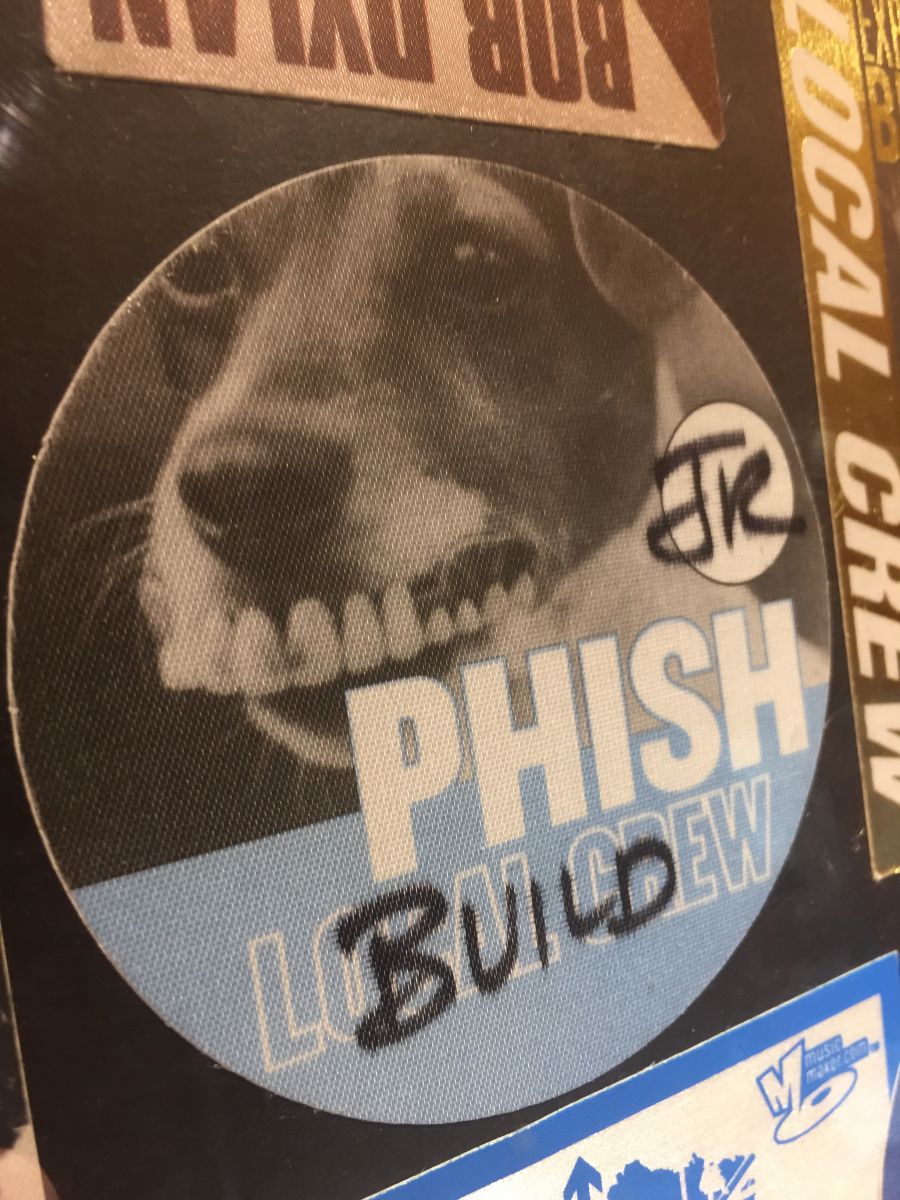 6. Phish – A string of shows beginning in 1997
Jam band Phish's first foray into the tiny township of Hanover in Washington County where Star Lake resides was uneventful. Thankfully. I remember Herb Grubbs, one of Hanover's township supervisors, was a bit worried in advance that there might be some trouble akin to the Grateful Dead crowds that descended upon the amphitheater back in June of 1992. The ticketless Deadheads back then who were camped out in the parking lots were persistent little buggers—and excellent fence snippers and scalers—so we had a slew of slithering going on all around (and through) the chain-link and wooden fences that ringed our amphitheater.
The Phish crowd was different. Totally into the band, loose-limbed and twirling, polite as can be—they even picked up trash on their way out of the venue after the show. Also quite unique: That Phish smell, something which pervaded the atmosphere of the whole inside of the amphitheater. I like what one fan commented on the website phish.net in one of its forums, in response to the query Anyone know what scent of candles Phish use on stage?: "Well we know it's not patchouli. They got the whole crowd for that."
Phish first hit Star Lake on Wednesday, August 13, 1997 and returned to sellout crowds the next three years as well, and Star Lake seemed to become a fan favorite judging from the fan buzz online. There is even a highly reviewed and revered DVD "out there" called Star Lake 98, which captures the August 11 show from that year, reportedly the only full show available from the video archives of that summer tour as a multi-camera lawn screen feed. Fans remember this 1998 tour as the "summer of covers" because the band, by the time they hit the Lake, had done about 19 previous shows that were notable for never-before-played covers. Pittsburgh's set included Bob Marley's "Trench Town Rock" which was the band's opener, and soon thereafter in the set, "Time Loves A Hero," a song originally performed by Little Feat.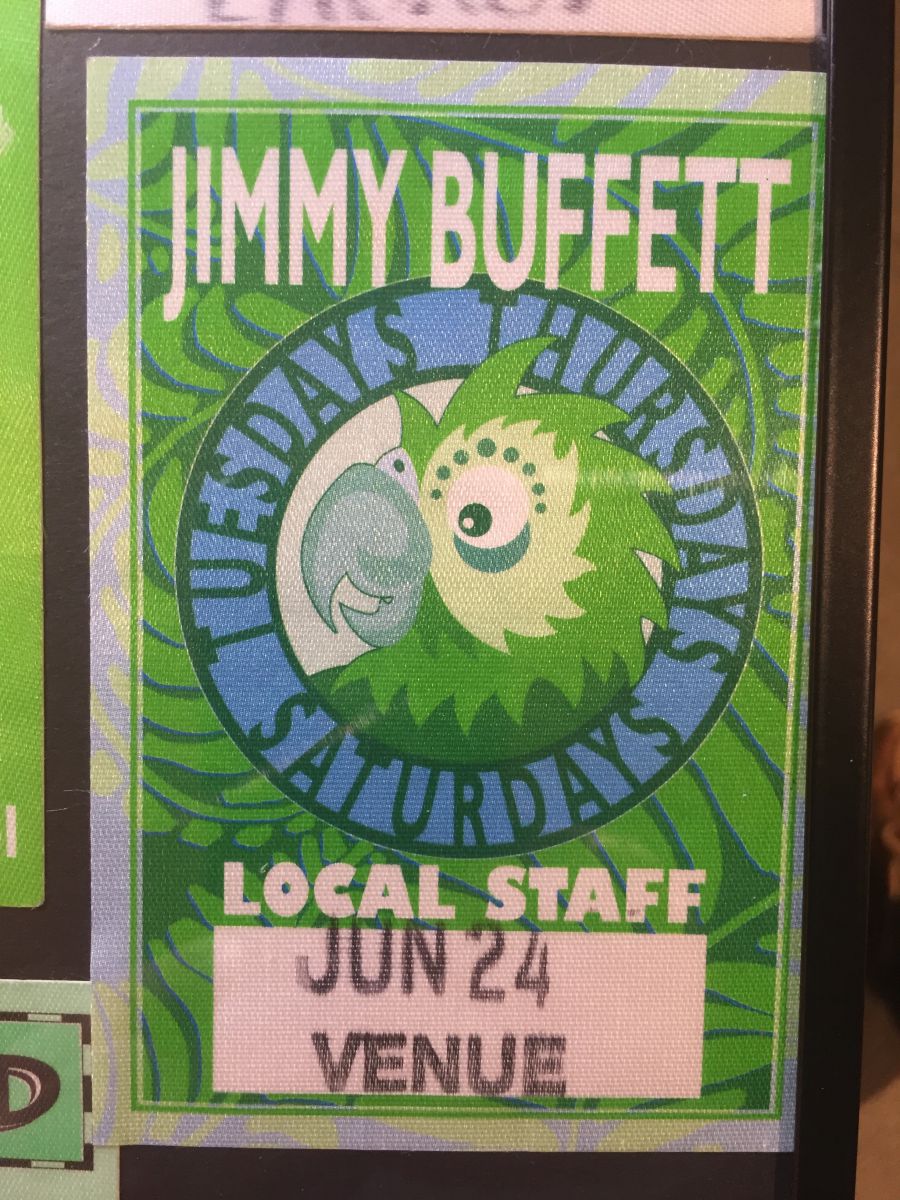 7. Jimmy Buffett – various concerts through the years
Buffett has a long history in Pittsburgh, dating back to at least 1986 when he played the Civic Arena in that venue's cut-down capacity that housed approximately 8,000 people. I was working at the time as director of booking for the arena, and I remember the booking agent Steve Smith telling me that this would be the start of something big. "Jimmy plays a certain city, his audience has a great time, and then he returns again and again, building up his fan base organically," said Smith. "You'll see…"
Smith was right. By the time Star Lake Amphitheater opened in 1990, Buffett had built up enough of a fervent following to play larger outdoor venues, something he'd already been achieving in markets like Boston, Cleveland, Detroit and more. A job change in 1991 took me to Star Lake from my arena position, and Buffett and band had already played the amphitheater the year before, drawing in almost 11,000 Parrotheads. That year of '91 he returned to rake in almost 16,000 fans, and then starting in 1992, Buffett began a long stretch of annual sellouts—one and two-nighters—that continued like clockwork through the rest of the decade, and beyond…
Buffett was and is the King of Hedonism, through a song catalogue that espouses the good life of beach chairs, sunsets and margaritas. In a February 8, 2018 New York Times article about Buffett, writer Taffy Brodesser-Akner puts it this way: "Mr. Buffett came into the national imagination in the 1970s, just in time to become a counterpoint to what would end up being called the Yuppie generation. What if you didn't work that hard?, he dared to ask. What if your ambition was not for success or money but for the in-betweens: the vacations, the frozen cocktail and joint in the evening? His emphasis was on the essentially Buffettian notion that we'd all spend our lives on the beach splayed out on a towel, our lips caked with salt, if we could."
But that is not Buffett's own lifestyle. Long ago he found his songwriting niche—proselytizing through his lyrics; building up Parrothead Nation—and all the while he was evolving into the savviest of businessmen behind the scenes. This month his new musical "Escape to Margaritaville" debuts on Broadway, a show described as a salty song-and-dance romantic comedy peppered with fan favorites.
But if your paycheck can't get you to the Great White Way for this Buffett theater experience, don't despair. Buffett's marketing acumen, organically applied through the last few decades, now accounts for a lot of options elsewhere for people who just want to sidle up to The Good Life for a taste…
Let's close with a lifestyle list just for you, courtesy of the enterprising Mr. Buffett and nicely encapsulated by Taffy Brodesser-Akner in her New York Times piece:
Listen to SiriusXM Radio's Margaritaville station.
Cook up some Margaritaville® Jammin' Jerk Shrimp or Calypso Coconut Shrimp.
Kick back with Margaritaville® Margarita Mix or a LandShark® Lager.
Hop on a Norwegian Cruise Line ship that features the restaurant Margaritaville at Sea…and the 5 o'Clock Somewhere Bar…and the LandShark® Bar & Grill.
Stay in a Margaritaville® hotel, which at check-in provides you with a lanyard for your room key/room card (the perfect antidote for later-in-the-evening fuzzy recall).
And for Buffet fans who want to flock with fellow Parrotheads in their final years, there is a new idea on the wing: An adult-living community which will be opening soon in Hilton Head and Daytona Beach—Latitude Margaritaville®, where (according to the website) "your new home in paradise features exciting recreation, FINtastic dining and live entertainment."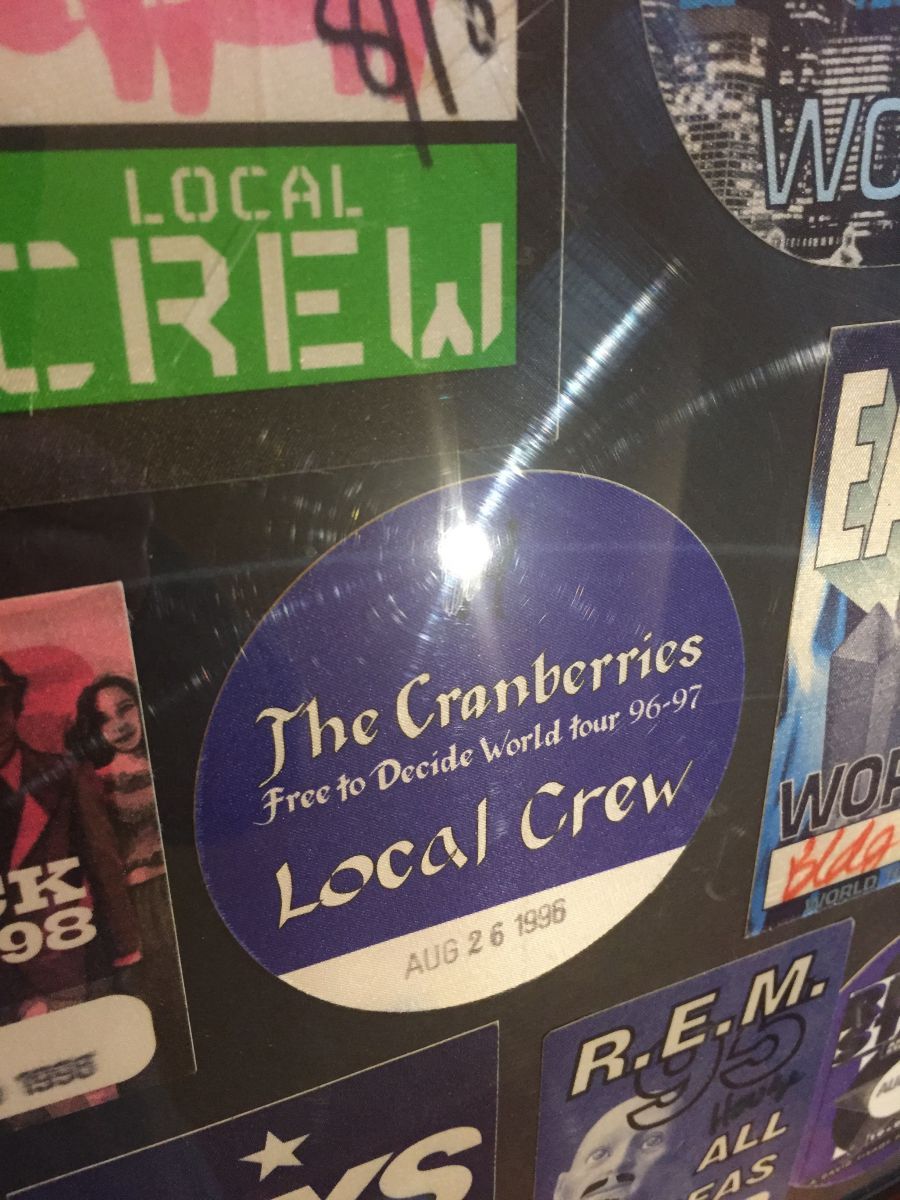 8. The Cranberries – August 26, 1996
At the age of nineteen, Dolores O'Riordan answered a band's advertisement for a new lead singer in Limerick, Ireland and went to the audition. She lingered and then latched on for the ride. With a producer that had previously worked with The Smiths and Morrissey, the band crafted and then released their debut album Everybody Else Is Doing It, So Why Can't We in the Spring of 1993.
The music on that first album from this four-piece band was a delectable blend of jangly, dreamy alternative/pop music, the charge led by O'Riordan, whose voice was, according to music website Pitchfork and contributor Stephen Thomas Erlewine, "a natural gift, but she honed her skill with deliberation. O'Riordan chose to sing with her Irish brogue intact, a decision that smacked of so much defiance, it gave the Cranberries' softest songs a measure of toughness, and their loudest ones a lovely hint of vulnerability."
Armed with a songlist including "Linger," "Dreams," "Zombie," "Salvation," and "Free To Decide," the Cranberries slid into Star Lake as part of their 1996 North American tour. The evening was a dream come true for alternative fans who wanted their music laden with power and pop instincts, and above it all soared O'Riordan with a voice that was by turns haunting and seductive, and railing and raging…
Forty-six-year-old O'Riordan died unexpectedly in a London hotel room on January 15th of this year (autopsy results not due until perhaps April). I'd like to think that the bit of light that my iPhone caught when snapping the Cranberries' backstage pass (pictured above) is not a coincidence; just my imagination, runnin' away with me, but I'm thinking it's kind of like O'Riordan's spark shooting up to where she now belongs.
_____________________________________________________________________
Posted 2/11/18: The Times They Are A-Changin'
Almost fifty-three years ago Bob Dylan appeared at a KQED (public educational television station) press conference in San Francisco, right around the time Columbia Records was pretty much back-to-back releasing his fifth and sixth studio albums Bringing It All Back Home (March '65) and Highway 61 Revisited (August '65). The singer-songwriter was in the Bay Area for an upcoming series of shows, and this press event turned out to be the only full-length press conference by Dylan ever televised in its entirety.
It opened like this. A bespectacled suit-and-tie guy stood in front of the folding table where Dylan sat alone in front of four planted microphones, ashtray with a smoldering cigarette to his right and his sunglasses folded off to the left. He seemed calm—or perhaps it was a whiff of indifference.
"Welcome to the first KQED poets conference, press conference," said the suit-and-tie. "Mr. Dylan is a poet. He'll answer questions about everything from atomic science to riddles and rhymes. Go!"
The first question from the assembled press corps was from a young man who said "I'd like to know about your album, the one with 'Subterranean Homesick Blues' on it. I'd like to know about the meaning of the photograph with you and the wearing of the Triumph t-shirt?"
Dylan: "What do you want to know about it?"
Young man: "Well, I'd like to know if that's an equivalent photograph. It means something, it's got a philosophy in it." A few audience members laughed, and Dylan chuckled once and smiled wide.
"I'd like to know visually what it represents to you," continued the young man, "because you're a part of that."
Dylan: "Umm…I haven't really looked at it that much."
"I've thought about it a great deal," interjected the young man.
Dylan: "It was just taken one day when I was sitting on the steps, you know. I don't even remember that much about it."
Young Man: "But what about the motorcycle as an image in your songwriting? You seem to like—"
Dylan: "Well, we all like motorcycles to some degree."
Another voice popped up from the crowd. "Do you think of yourself primarily as a singer or as a poet?"
Dylan: "I think of myself mostly as a song and dance man."
Laughter erupted in the room.
And so it went.
Dylan the Inscrutable was making his mark, batting away pretensions and playing with the press, and in that same year, skidding out of folk music into an electric slide…confounding fans…lyrically tightroping politics and the abstract…all part of his plan to write from the cryptic, honest heart.
When Bringing It All Back Home and Highway 61 Revisited came out in 1965 I was only twelve years old. I hadn't a chance to really glom onto Dylan at that stage, and by 1967 or so I was off in a multitude of new directions with Buffalo Springfield, Cream, Hendrix, Jefferson Airplane, and many more, my young teen brain aflame with such discoveries.
For reasons I now can't fathom, I was not one of Bob's most fervent followers. Through the subsequent years I checked into and out of Dylan, loving of course Blood On The Tracks and, because of my love of Emmylou Harris, his album from 1976 entitled Desire. Close friends of mine, though, were hanging on his every thread from early on, always intrigued with the poet who cared not for convention and blazed his own mercurial path.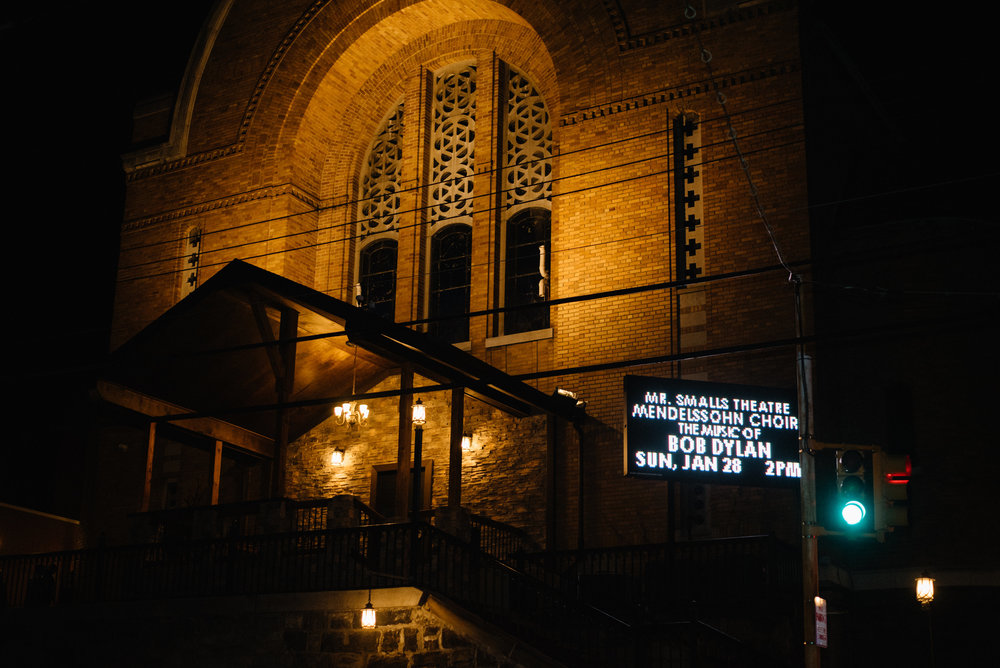 Fast forward to the present: About six weeks ago, I came upon a listing of events for Mr. Smalls (a concert venue in Millvale, PA, the main space of a repurposed 18th century Catholic Church), and instead of the usual fare of newer, breaking bands I found a mention of the Mendelssohn Choir of Pittsburgh—doing the songs of Bob Dylan! The event was entitled The Times They Are A-Changin' and the performances by the choir were set for Thursday, January 25th through Sunday, January 28th.
I had known of this outstanding, longstanding Pittsburgh choir and its fine reputation, of course, yet had never seen them "live," and so to be clued in a bit closer I turned to Jim Cunningham, longtime morning host of Classical 89.3, WQED-FM.
Jim is an incessant presence at WQED-FM, joined at the hip to the illustrious Pittsburgh Symphony Orchestra, working to promote arts groups, and pretty reliably contributing to his own growing storehouse of interview podcasts on wqed.org (Voice of the Arts).
He's also a fount of musical knowledge, and so filled me in: The Mendelssohn Choir is the oldest continuously performing arts organization in the city—founded in 1908—and it has a great reputation stemming from its concerts. They compete with the best choirs in the world as the choir of choice for the Pittsburgh Symphony. During the tenure of former conductor Robert Page, the Mendelssohn had won every award there is for choirs; Page was internationally recognized, and the choir toured with him in Europe.
Generous with their gifts, Jim noted, the Mendelssohn Choir has donated money and more importantly many, many hours during WQED-FM fundraising drives, and they hold the record for raising the most amount of money for WQED as an outside group.
One particular concert he cited was the choir's Carnegie Hall appearance in New York back in 2014. The focus there was on Mozart's Requiem with F. Murray Abraham narrating and the Pittsburgh Symphony Orchestra's Manfred Honeck conducting. And this past December, in addition to their annual stop at Holiday Pops, the Mendelssohn Choir joined the Pittsburgh Symphony to perform Haydn's Creation with video projections, choreography, costumes and staging.
Jim's final assessment: They are passionate about what they do and put countless hours into rehearsal along with everything else.
The other intriguing ingredient to the Mendelssohn Choir's upcoming attempt at Dylan was Steve Hackman, a young innovator whose picked passion seems to be breaking down walls and creating bridges from classical composers & orchestra performances to a playlisting & streaming younger audience. His attempts to meld worlds have resulted in certainly artistic successes, with some choice orchestras around the county including the Pittsburgh Symphony Orchestra. Interweaving classical passages and alternative and/or pop songs, Hackman brought to Pittsburgh some heavyweight programming, all arranged and orchestrated by him: Beethoven v. Coldplay…Copland v. Bon Iver…and others.
How did Hackman and the Mendelssohn ever connect and then converge on Mr. Smalls? I contacted Liz Berlin, whose current stage of life includes her roles as founder, partner and touring musician with Rusted Root; co-owner of Mr. Smalls Theatre, Recording And Mastering Studio; and founder/director, Creative.Life.Support.
"I teach a class," Liz said, "for CMU Heinz College's Masters of Entertainment Industry Arts Management program called 'Live Music: Touring and Revenue Streams.' One of my students from last year, Benaiah Sombke was working for Bob Moir who is Steve Hackman's manager and he was the one who got us talking about the possibilities.
"I was very intrigued by Steve Hackman's other work with mashing up Radiohead with Brahms, Bjork and Bartok, and Beethoven with Coldplay. So it seemed like a pretty amazing concept to have his new work with Dylan classics and the Mendelssohn Choir debut at Mr. Smalls Theatre. Also, my parents were members of the Mendelssohn Choir and as children my sister Katie and I sang with them as founding members of the Children's Festival Chorus. So it was one of those super crazy full circle life things for me…"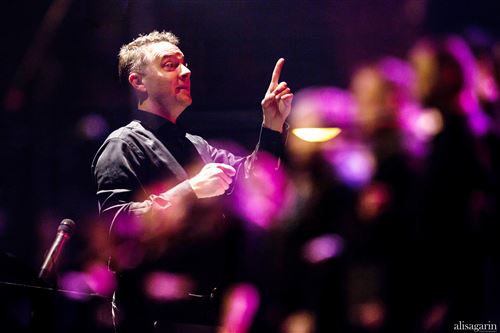 For Matthew Mehaffey, Robert Page Music Director of The Mendelssohn Choir of Pittsburgh, this was a continuation of a relationship already very much in the works. "Steve started working with the choir in 2016," said Mehaffey. "He was in Pittsburgh, and the choir was on a hiatus, as the season had ended early and the new music director (me) hadn't started yet. Bob Moir, a consultant for the choir and Steve's manager, arranged the performance. In June 2016 the choir and Steve performed a series of his arrangements at Three Rivers Arts Festival. A main stage show. As part of this, the choir received a residency grant to work with Steve on a new commission. This was in the works when I came on board.
"The original idea was a choral opera of some sort. We came around to the Dylan piece after Dylan won the Nobel Prize. Bob Moir and I worked on the idea and then presented it to Steve. Nothing was set in stone. Steve and Bob worked on the song list. The original performance was supposed to be in September 2017 at a much larger venue, but that fell through last spring, so we had to quickly change a lot of our plans, and luckily came around to Mr. Smalls. I believe a large part of the success and the impact the piece had on the audience was venue driven. We kept revising the order and some of the lengths of the pieces up until the week of the performance."
I asked Mehaffey about the period of rehearsals, which I had learned ultimately spanned a month of intense twice-a-week sessions. "I feel I am pretty good at looking at a score and knowing how long something will take to get done,' said Mahaffey. "Steve's arrangements were so unique that this was a bit of challenge. A few things that I looked at and thought, "this will take forever" came very quickly, and the reverse was also true. The final product came off almost exactly as I had envisioned it, but I think the choir had a hard time seeing that until they got to Mr. Smalls. Even after the dress rehearsal some of the choir was not really sure what to think about the piece. But the response they got from the crowd on the first night was really great and it just built from there.
"I was surprised how great the choir sounded through the sound system. My experience with amplified choirs has been very poor. The sound crew at Mr. Smalls did a great job. I think having the choir come through the PA made all the difference in the way they connected with the audience. People are used to hearing music out of speakers, and I think that provided an immediate comfort level for the listener. It removed the question of 'why is a choir singing rock music in a rock venue.' It just felt like music being made in the place it should be made."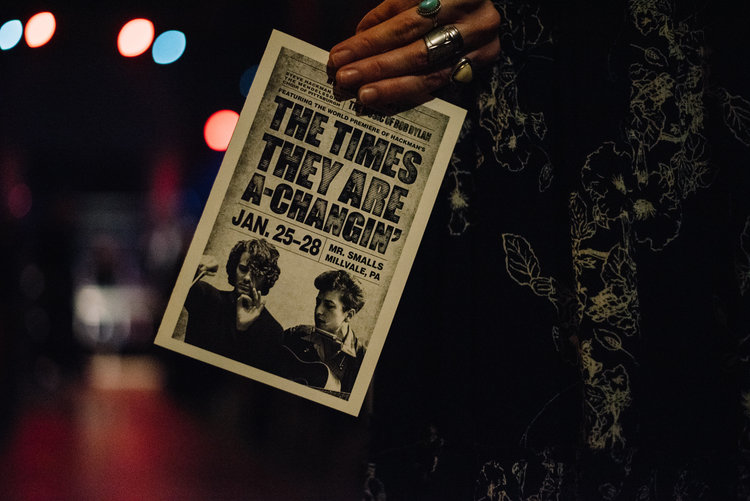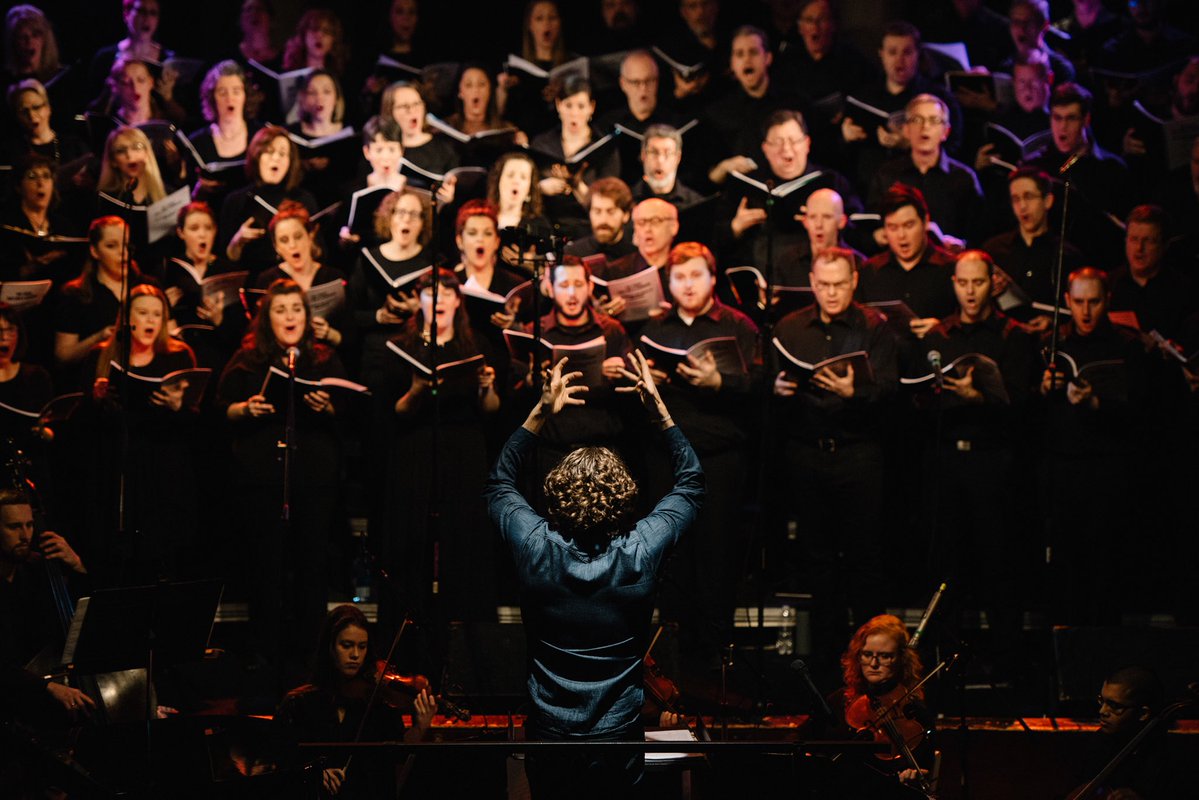 I can testify—I need to testify—that the Mendelssohn Choir's collaboration with Steve Hackman was well conceived and breathtakingly performed. My companion (and Dylan devotee) Mary Ellen and I came to Sunday's matinee, the fourth performance of the run, and learned from the event program that the evening was split into two halves. The first set was of varying material but consistent excellence—a mash-up of Leonard Cohen's "Hallelujah" and Randall Thompson's "Alleluia," a lush "Dark Night of the Soul" from Norwegian composer and pianist Ola Gjeilo, and a beautifully hushed "Creep" from Radiohead. The latter had me beaming in this former church, serenaded by all these souls with an alternative music anthem, rechristened right before my ears…
The second half of the evening was all Dylan, with Hackman conducting the choir (and a pianist and a handful of string players) through surprising and stirring reinventions of the man's catalogue, and who knows what the Nobel Prize winner-almost-snubber would have thought of it, but Mary Ellen and I were mesmerized—it was not only the weavings that Hackman contributed to these compositions and his emotive conducting, but the power of these men's and women's voices all wrapping their cords around these incredible lyrics.
I personally have many favorites from that afternoon's set, but I must say that my feelings about the show, I found after the fact, mirrored those of Liz Berlin's. Though I did not see her at the concert, Liz had attended that same Sunday matinee. And so Liz will close this story out:
"I was blown away," she said, "astounded by the sonics of the choir in the church building, hearing the walls the way they were meant to be heard, just voices and instruments and acoustics. My favorites were 'To Make You Feel My Love,' 'Subterranean Homesick Blues' and 'I Shall Be Released.' But, I think the most profound moment for me was 'Hard Rain.' I can honestly say I have never truly heard that song in its full intensity until now.
"There was a long silence after the musicians hit the last chord, and that moment of respect that happens when the whole audience waits for the sound to dissipate…We heard what sounded like a muffled sob. So Steve Hackman remained still, holding the choir, instrumentalists and audience in a prolonged moment of silence, while the quiet sobbing grew slowly into a deep and profound wail…One single person in the audience was channeling all of the pain of all of the realities illuminated in the song and it was too much for them, and the whole room was there for them, in a long protracted moment of silence and support. It was an astounding moment."
The set list from the second half: The Times They Are A-Changin':
The Times They Are A-Changin'…Like A Rolling Stone…Mr. Tambourine Man…All Along The Watchtower…The Times They Are A-Changin'
Tangled Up In Blue
Subterranean Homesick Blues
Don't Think Twice It's Alright
I'm Only Bleeding
I Shall Be Released
Knockin' On Heaven's Door
Make You Feel My Love…The Times They Are A-Changin'…A Hard Rain's a-Gonna Fall…Blowin' In The Wind
A link to WQED's Jim Cunningham's interview with Matthew Mehaffey of The Mendelssohn Choir and classical-infuser Steve Hackman https://www.wqed.org/fm/podcasts/voice-arts/matthew-mehaffey-and-steve-hackman
A link to The Mendelssohn Choir of Pittsburgh https://www.themendelssohn.org
A link to Steve Hackman's website (bio) http://www.stevehackman.com/bio
A link to Bob Dylan's 1965 press conference in San Francisco https://youtu.be/wPIS257tvoA
_____________________________________________________________________
Posted 1/29/18: YOU'RE THE TOP
Everyone loves a Top Ten. Delving into that when the subject is concerts is particularly excruciating, though. How does one choose a favorite from those they dearly love? I don't like how it went down for Meryl Streep's Sophie, so this whole thing gives me pause…
But here they are. My Top Ten. At this moment. Someday subject to change…
# 10: WOMAD - September 8, 1993 - Coca-Cola Star Lake Amphitheater; Burgettstown, PA
WOMAD is the acronym for World of Music Art & Dance, and it is an international arts festival (first staged in the U.K. in 1982) that is replete with musicians, participatory workshops and global village vendors. Its essence is diversity, no borders, and all about inclusion. And it is the brainchild of one of my favorite artists, Peter Gabriel...
In 1993 I was marketing director at Star Lake Amphitheater near Pittsburgh, and our Houston-based booker Bob Roux called our venue's GM Tom Rooney and me to discuss the booking of WOMAD. The festival had been going on for a couple of years in England, and now it was headed for a few test dates in the USA. Roux didn't downplay the risks and he left the decision completely up to us—and we replied "Bring it on!" The line-up was appealing in a third-worldly sense—joining headmaster Gabriel were East Africa's Drummers of Burundi, Jamaica's Inner Circle, American rappers P.M. Dawn, London's Stereo MCs, South India's Sheila Chandra, and many more.
The WOMAD festival folks used several pop-up stages at our venue in addition to our main one and they sprinkled their traveling vendor stations all about, and then our region's globally conscious music lovers all showed up for the event—but in numbers much too small to steer us into any financial success. The event really was just ahead of its time—today, we have Spotify and the internet has opened up the world's music to us for the taking; back in 1993, it was just too much of a new and niche attraction to make any significant dent in ticket sales and turnout. The highlights for me: Checking out the various stages featuring this wealth of 'round-the-globe talent, and especially Peter Gabriel's main-stage 90-minute set with special guest Sinead O'Connor singing on a couple of tunes.
# 9: David Bowie - May 17, 2004 - The Benedum Center; Pittsburgh, PA
On the heels of his Reality release in September of 2003, Bowie took to the road with a first-class production and stellar back-up band that included double-threat guitarists Earl Slick and Gerry Leonard, and bassist/vocalist Gail Ann Dorsey. In Pittsburgh, we were fortunate to have the tour stop at the Benedum Center (formerly the Stanley Theater), a 2,800-seat ornate and acoustically marvelous small hall. Videoscreens at the back of the stage toggled between shots of the band members performing and interspersed, glorious color patterns and symbols that deeply accentuated the musical proceedings.
This concert made the Top Ten list because of the small hall experience—being truly enveloped in the sound and vision of Bowie—and also because of the high level of musicianship augmented by the best sound system I've encountered in eons.
The highpoints of the night: Lead-off track "Rebel Rebel"…some tunes that were more than just hunky-dory including "Changes" and "Life On Mars?"…an especially haunting "I'm Afraid Of Americans" (from his 1997 Earthling release)…a sizzling powerhouse performance of Iggy Pop's "Sister Midnight"…and Bowie and bassist Gail Ann Dorsey bringing life to "Under Pressure" with Dorsey dazzling on the Freddie Mercury parts. Altogether, this was a night of non-formulaic rock, refreshing in that fact alone; a genuine thrill ride for us all generated by Bowie's artistry and commitment to unrestrained excellence.
# 8: Glass Harp - May 1, 1971 - Butler Area Senior High School; Butler, PA
Glass Harp was a Christian-themed power trio out of Youngstown, Ohio, composed of teenaged guitarist Phil Keaggy, bassist Dan Pecchio and drummer John Sferra. The band had formed in 1969, and a year later produced their self-titled debut on Decca Records. Two more studio albums followed, but by 1973 the band was asunder, and Keaggy then accelerated his move toward more contemporary Christian music.
At first I couldn't remember exactly what year Glass Harp played my high school, but the band's manager Bob Brandt filled me in—it was May of 1971, and the concert was actually sponsored by Butler Community College but staged at the high school auditorium. The albums that Glass Harp had produced up to that point were fine, but they had failed to capture the incendiary nature of this trio when fully engaged, live on stage. In a concert setting, the band often stretched out and sailed into solos and improvisational jams, and that night in May of 1971 I almost couldn't fully process the prowess—Phil was a revelation.
He was totally plugged in—to his guitar and to God—and the audience was enrapt with his lightning-fast runs, his deftness, his soaring and swooping and scaling new heights, all through that lone instrument. So, there is a God-given reason this concert is on my list! (Editor's note: Glass Harp is still active today; seek out updated info at www.glassharp.net).
# 7: Sigur Rós - March 25, 2003 - The Byham Theatre; Pittsburgh, PA
A true gift to music as art, this Icelandic band—cool and elegant, balancing fury and finesse—hit the Byham Theatre for a devastatingly beautiful evening of crushing volume and captivating soundscapes. The band was on their third album at that point in time, and news of the Pittsburgh booking lit up the local cults of The Music Elite and People In The Know.
We all assembled at the Byham that evening to bask in this very different world, full of majestic Icelandic-language songs that often built from sweet, serene beginnings to ear-battering crescendos—and all along the way we were spellbound, conjuring up images in our heads to match that sound and fury. Sigur Rós live was at times frightening—and always achingly beautiful. My most recent Sigur Rós encounter was indoors at Stage AE in Pittsburgh on June 15, 2017 and the concert was very, very good. But it's the Byham Theatre show, fourteen years back, that leveled me like few others I'd experienced.
# 6: Steely Dan - August 14, 1993 - Coca-Cola Star Lake Amphitheater; Burgettstown, PA
This famous genre-bending band—principally a blend of pop, rock and jazz—came together in 1972 and then hung up their touring shoes after just three albums, in 1974. So, how many years did they stay away from life on the road? Hey…nineteen! And in that year of 1993 I was the marketing director at Star Lake Amphitheater, and had long been a Dan fan. The anticipation for the show was ping-ponging in music circles all over Pittsburgh, as obviously almost two decades had passed and there were essentially a couple of generations' worth of audio freaks who were pining for a performance and lining up for tickets.
The crowd that night was a sell-out at 20,000+. To paraphrase Bowie from a line in "Suffragette City," it was kind of like "Wham, Scam, Thank You, Dan!!!" because the band had chosen to open the evening with the title track of their classic album The Royal Scam. This was immediately followed by "Peg" and then "Aja," and the evening rolled on from there with 20,000 voices singing those wry and referential lyrics.
And musically? Fagan never faltered, Becker was unbowed, and the band—immensely talented and religiously rehearsed—cranked out one sophisticated, soul-satisfying song after another. The music took us all right back, reelin' in the years.
# 5: The Clash - August 18, 1982 - The Stanley Theater; Pittsburgh, PA
"The Only Band That Matters"...Despite that phrase having been concocted by a CBS record-label guy hungry for publicity, over time during the late 1970s and early 1980s both fans and/or critics took up the mantra and took it to heart. Though I love their recorded work—especially Sandinista! and London Calling—I was lucky enough to see them live, just once, and the experience widened my perspective of the band's relevance as a rabblerousing band of truth-tellers that didn't suffer fools and put their hearts & minds on the line with every performance.
The concert was at Pittsburgh's storied Stanley Theater (now the Benedum Center), a venue that starting around 1976 received occasional national acclaim as the top-grossing concert theater in America. The concert was sold out in advance and it was part of the band's Combat Rock tour—and their first-ever appearance in the 'burgh. I was in the front of the balcony for this show with my roommate and two women friends, and from that vantage point we felt ourselves stirred immeasurably by witnessing not only the band's onslaught, but the frenzied, jostling and body surfing crowd immediately below us.
It was an unbelievable show, with lead singer Joe Strummer's sturm und drang delivery, spitting out lyrics and raging against the machine. Highlights of the night: Their opening salvo, "London Calling," and then (slotted here and there through the evening) "Brand New Cadillac," "I Fought The Law," "Magnificent Seven," "Train In Vain," and what would become the band's biggest commercial success, the song "Rock The Casbah."
(Postscript: This show was in August, and later in the Fall of 1982, the band opened for a number of The Who's farewell concerts across America—and reportedly they were often booed off the stage by the intolerant classic rock fans in attendance. To any other band, that might have been a demoralizing bummer, but in this case? Probably just more fuel for Strummer.)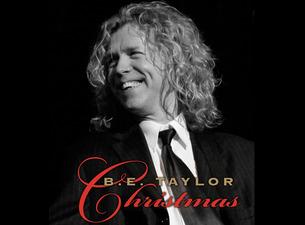 # 4: B.E. Taylor - Various shows through the years - Heinz Hall; Pittsburgh, PA
Aliquippa, PA-born B.E. Taylor grabbed radio ears beyond our region with a tune called "Vitamin L" in the 1980s, and also strategically discovered a path to guaranteed annual success—his ingenious rock-flavored Christmas concerts. In 1991, Taylor joined two other regional rock stars Donnie Iris and Pete Hewlett in a collaboration on "Silent Night," a track that was included on local oldies station WWSW's 1991 holiday CD. Based on the great reception to that track, Taylor turned toward the holiday and ended up finding his true calling.
He assembled a crack band of regional musicians (primarily from Pittsburgh and Wheeling) and in 1994 produced B.E. Taylor Christmas, the first of his two holiday-themed albums. Taylor then took to the stage as well; in 1996 he launched what became his Christmas concert cottage industry in Wheeling's Capitol Music Hall.
The annual November-December concerts by B.E. Taylor and his band grew to the level of two sold-out shows at Heinz Hall in Pittsburgh amid successful one-nighters in other cities all through the holiday season in Wheeling, Chicago, Charleston and many more. His 2009 Heinz Hall engagement was captured on DVD, and now airs annually on some American Public Television stations across the country (including Pittsburgh's WQED).
Three reasons that this concert made the list: A) The rock rearrangements of traditional Christmas songs by Taylor and his group are high-art reinventions—stirring, moving, emotion-filled and masterfully performed...B) My late wife and I raised our daughters on this annual joy-filled feast for the senses and it became a meaningful, inspirational part of the holiday for each of us…and C) Taylor passed away in August of 2016 and though the shows are no more, we have that DVD, the Christmas songs on CD or to stream, and the memories of years of stellar shows during that most wonderful time of the year.
# 3: U2 - May 6, 2001 - The Mellon Arena; Pittsburgh, PA
Jubilation kicked in, with this concert announcement: The band had not been in Pittsburgh for four years, and their last visit in was during the PopMart tour when they played Three Rivers Stadium. This latter show just left me cold in a swell of humanity with no close connection to the band. The Mellon Arena, however, was perfect to house the band's new Elevation tour with its fan-friendly, inclusive approach to set design.
The stage was set up such that a heart-shaped ramp extended out from left and right, and then connected up again a bit deeper into the house. Within this heart-shaped box was pure nirvana—i.e., the fortunate fans who snagged tickets for this section could all stand together in a festive and finite enclosure, enjoying the show from a great vantage point. Bono and The Edge both skittered down this heart-shaped ramp at least a few times during the evening, with especially Bono pausing to interact with a fan or two during select songs.
This concert was doubly special in that my sixteen-year-old daughter Moira tagged along with a friend to see if my rapturous ramblings were at all grounded in reality. She brought her schoolmate Heinz with her, and the two of them took in, for the very first time, the elation and thrill of a U2 concert. The band started off with "Elevation," and then segued into "It's A Beautiful Day," "Until The End Of The World," and "New Year's Day"—and on and on. My favorite performance of the lot: "Bullet The Blue Sky," the first song of the encore, a pinnacle peek at the sustaining power of The Edge.
# 2: The Pat Metheny Group - November 16, 1997 - The AJ Palumbo Center; Pittsburgh, PA
Pythagoras (Greek philosopher; approx 570-495 B.C.) proposed a concept called the "harmony of the spheres," a belief that celestial music was produced by the movement of the stars and the planets, but that it was imperceptible to the human ear. Well, I think we get a rare open channel to this through the Pat Metheny Group, who I swear draws down this sound direct from the heavens.
The music is all instrumental save for some occasional floating wordless vocals, and it blends jazz, rock, folk, and third world music into a joyous mix that is indescribably life affirming. At a Metheny show, part of the wonder is watching the musicians individually, and noting how they're so secure in their art—they're all uniformly amazing. This particular concert was held on the campus of Duquesne University in Pittsburgh at the AJ Palumbo Center, and even this gymnasium/basketball hall couldn't thwart Metheny's magic. It helped immensely that the stage had been set up on a side of the gym versus one of the longer ends, so the audience was tighter and closer in to the action.
I loved the band's onstage setup, too. Guitarist Metheny and drummer Paul Wertico were side by side practically on the lip of the stage, and thus for the fans it was a visual feast to be able to note the intuitive interplay as well as the individual prowess. This particular evening's performance was part of the group's Imaginary Day tour (so named for the album they'd released that year), and the band churned out some of this album's best tracks as well as dug back in the catalogue to pull up "Minuano Six-Eight" from 1987's Still Life (Talking) and "Are You Going With Me?" from 1981's Offramp. This was a wondrous night of celestial seasonings.
# 1: Bruce Springsteen & The E Street Band - February 19, 1975 - University Auditorium on the campus of Penn State; State College, PA
This Bruce concert, for me, was THE ONE. Never been bested. In my senior year of college, and at the initial coaxing of my Philly-area dorm neighbor Paul, he and I grabbed tickets to the Bruce concert scheduled for the intimate University Auditorium (2,600 seats) at Penn State.
This was a life-changing event; to swim more fully in my streams of praise, see the older 1/25/16 posting entitled The First Time Ever I Saw His Face, right here in the A DAY IN THE LIFE section of musicasaurus.com.
Yeah, well, you can go ahead and call me the Bosselytizer (as in, proselytizer), but I was truly converted that February evening into the Church of Rock 'n' Roll. And today, though Time ravages and races on, we still have Bruce with us and it's a wonderful life (makes me hope that Clarence the Angel is watchin' over E Street right now).
_____________________________________________________________________
Posted 1/15/18: PICTURE OF YOU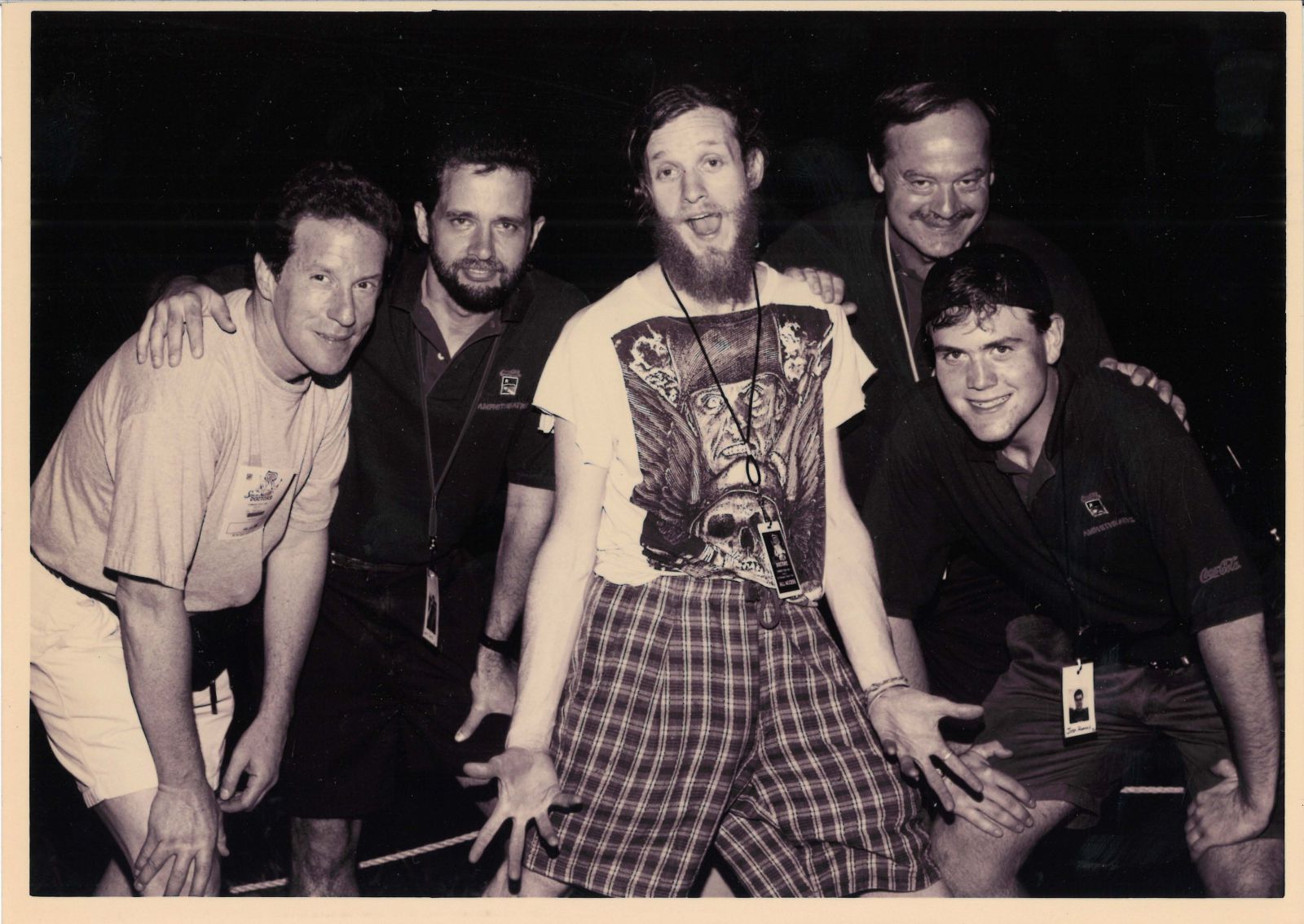 1. SPIN DOCTORS.....From June of 1993, this is a picture of the arms-splayed Chris Barron, lead singer of the Spin Doctors, who is flanked here by Jack Tumpson (then head of Pittsburgh-area promoter Next Big Thing) and Star Lake Amphitheater's Yours Truly, Tom Rooney and Josh Rooney. The Spin Doctors were a pop-savvy jam band who toured incessantly in the early '90s to build its fan base, and they finally basked in well-earned success a year or so after the release of their debut album Pocket Full of Kryptonite when there was a sort of good fortune cosmic convergence—MTV was on 'em, radio was picking up tracks, they played on SNL in late 1992, and then they made the cover of the Rolling Stone in early 1993.
In that summer of '93 I worked at Star Lake as the marketing director, and remember that we (GM Tom Rooney and I) had to convince their booking agent that the time was ripe for a Spin Doctors' play at our 23,000-capacity outdoor venue. The agent was used to his band playing smaller "safer" venues—meaning lower-capacity places where the band could play to a packed house. Prodded by us, and by Tumpson who had booked the band earlier on at a Pittsburgh club, the agent acquiesced and rolled the dice with us. This early-in-the-summer-season headlining gig at Star Lake ended up pulling in over 15,000 fans.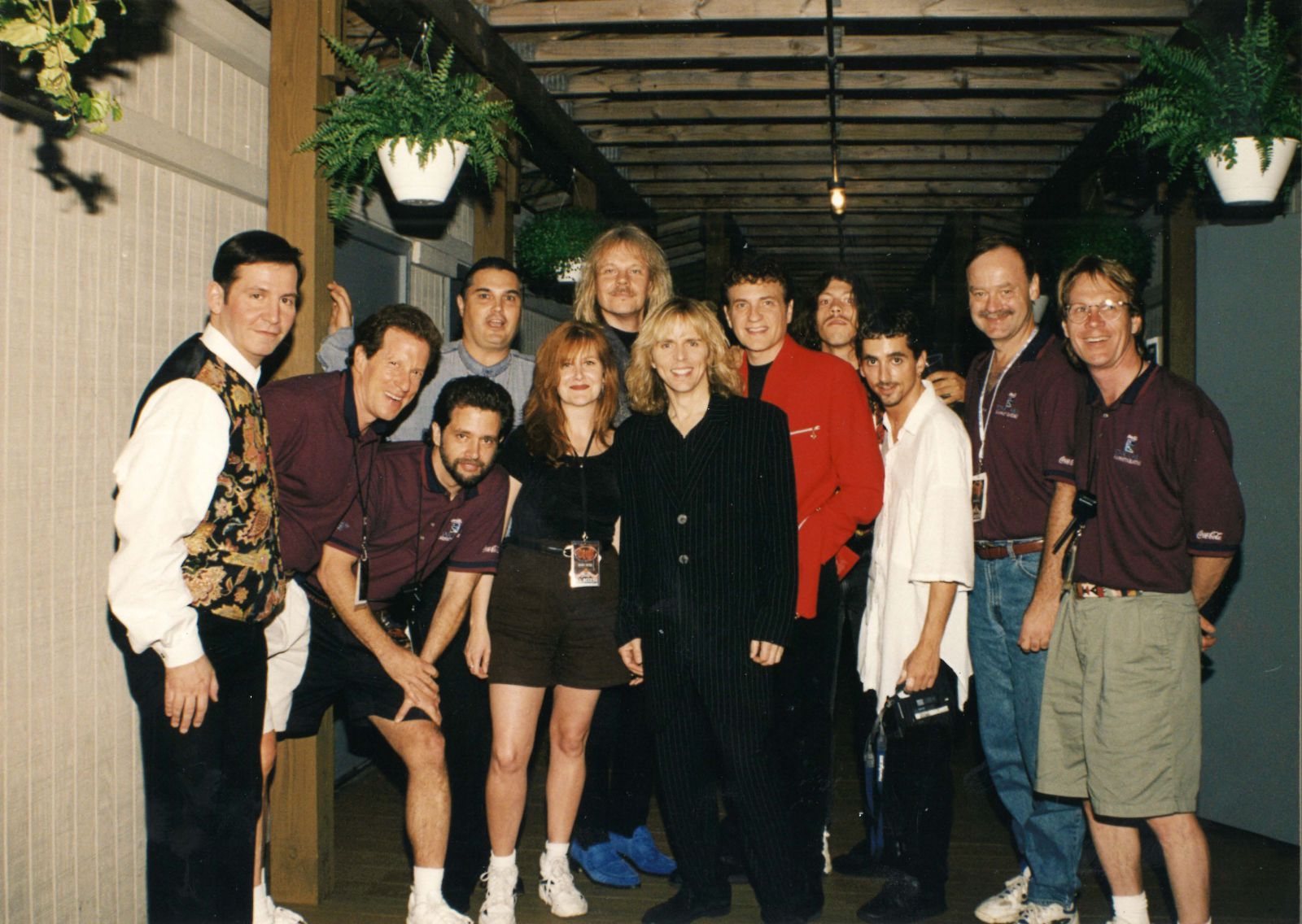 2. STYX.....The band Styx was an album mega-seller and FM Radio heavyweight back in the late 1970s and early 1980s, but by 1984 had split due to the tug of solo careers. Most members reunited around the turn of the 1990s, but it was Tommy Shaw's return to the band in 1995 that sparked the largest reunion buzz. A year later a full-blown tour was put together, and Styx (with Kansas in tow) played Star Lake Amphitheater on Friday, June 7, 1996. The show was a monster success, selling out the venue and giving diehard fans a chance to soak up "Come Sail Away" and other signature tunes like "Renegade" (which became a Steeler reenergizing anthem circa '2002), "Lady," "Too Much Time on my Hands," "Mr. Roboto" and more.
I was especially gratified that my friend and industry mate Charlie Brusco (pictured above, in the gray shirt standing behind a hunkered-over Yours Truly) had yet another success to notch into his long career as a rock promoter and manager. Brusco, originally from the Pittsburgh area, managed and secured (through Arista record label chief Clive Davis) the signing of his band The Outlaws in 1975, and their debut album that year provided the audio earwig "Green Grass and High Tides" to FM Radio and rabid southern rock fans all across the country. In 1987, Brusco reunited the surviving members of Lynyrd Skynyrd ten years after that band's tragic plane crash, and then skillfully set them on course for a hugely successful comeback tour.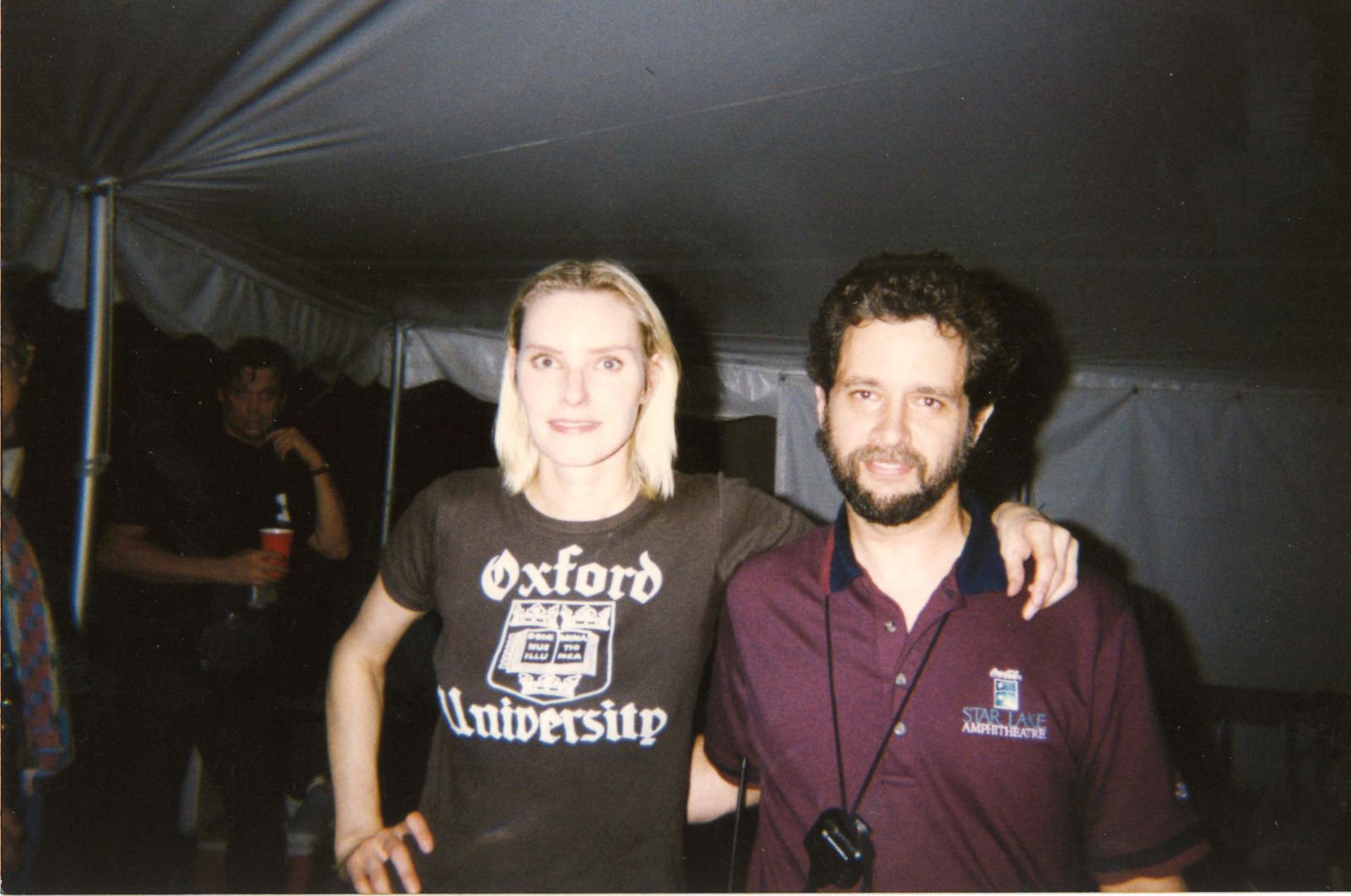 3. AIMEE MANN.....The mercurial, inscrutable Bob Dylan had never played Star Lake Amphitheater in the first six years of the venue's existence, but finally in the Spring of 1996 his name suddenly appeared on our ever-evolving list of confirmations for that summer. Sacrilege to say I hadn't been a fan of the nasal poetic genius through the years, but I certainly respected his body of work—and in this case, his choice of opening acts. Slated to play on stage before Bob's set on this May 1996 summer evening: Guitarist Kenny Wayne Shepherd and his band, and the opener of this three-act package, Aimee Mann.
I had been in love with Aimee Mann since her mid-80s stint with the band 'Til Tuesday, who produced the MTV hit "Voices Carry" in 1985 but fizzled in terms of subsequent success. She went on to a solo career around 1990 and I scooped up her earliest offerings, CDs that were giant steps ahead of her work with 'Til Tuesday; her songs were now intimate, confessional, and finely crafted. Among the highlights: "Fourth of July," and "Jacob Marley's Chain" from 1993's Whatever, and then from 1995's I'm With Stupid album, "That's Just What You Are," a perfect piece of power pop featuring guest vocals from ex-Squeeze members Chris Difford and Glenn Tilbrook.
So here I was on the evening of May 18, 1996 entering the catering tent backstage at Star Lake, on my usual nightly prowl of looking for dessert-like things that were bad for me—and I bumped right into Aimee. I blurted out my praise for her last few CDs, and as a photographer just happened to be loafing in Tent World nearby, I asked Aimee for a picture memento. It's a great keepsake that I treasure, capturing that one fleeting moment when we had our heart-to-heart, man to Mann.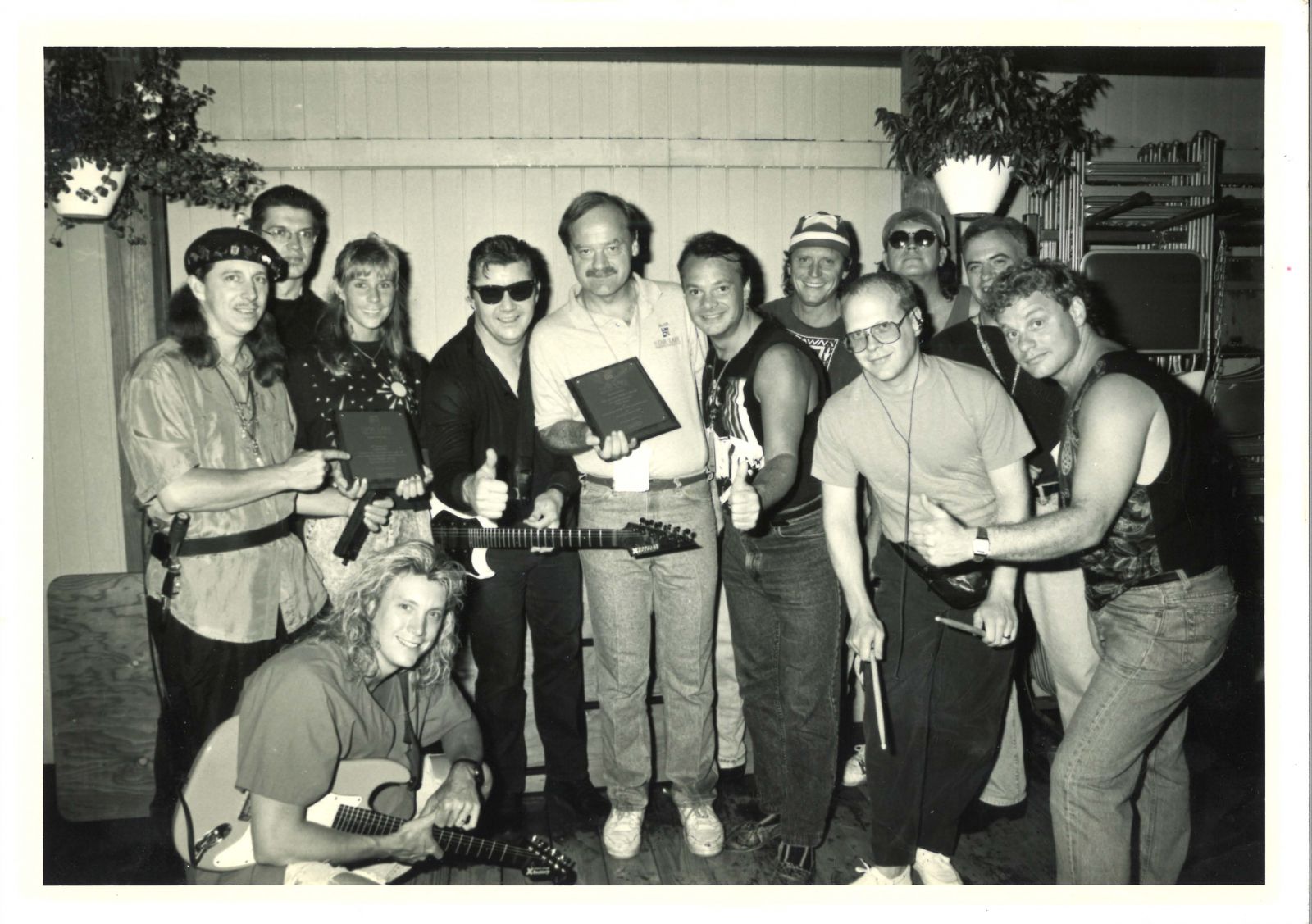 4. STEVE MILLER BAND.....Starting in 1990, Star Lake Amphitheatre's opening season, the Steve Miller Band came to play and then returned every year thereafter for the next decade. The first two years Miller drew about 10,000 fans, but then something happened in Year Three of Steve's annual trek to the venue: Word had spread that this was a show not to miss. The ingredients to success were a low lawn price of just $10 per ticket, and the fact that Star Lake's tailgating was definitely in full flower. Our prevailing theory? The younger brothers and sisters of the original 1970s Miller fans were finding out that this was the party of the summer through a self-determined theme of "drink irresponsibly," and so hit-after-hit songs like "The Joker," "Jet Airliner" and "Rock'n Me" coupled with the cheap ticket price made for a night to remember—or a night to attempt to remember.
During that pivotal "Year Three" concert by Miller—Thursday, July 23, 1992; the first of his eight consecutive Star Lake sell-outs—I was called back with my boss Tom Rooney to say "hi" after the band had heard about the huge walk-up and the resulting capacity crowd. Miller was a gracious host in his dressing room, and we chatted for a few minutes about his early records (I steered him toward Brave New World and Your Saving Grace) and about his love for the blues. We then gathered up Miller's bandmates and opening act Curtis Salgado & The Stilettos, and crowded all together in the dressing room hallway for a quick photo. (Yours Truly was not in the shot; I was deputized to camera duty on this one. Star Lake GM Tom Rooney is front-and-center holding a commemorative plague denoting the sold-out show, and that shadesy-looking character next to Rooney is you-know-who.)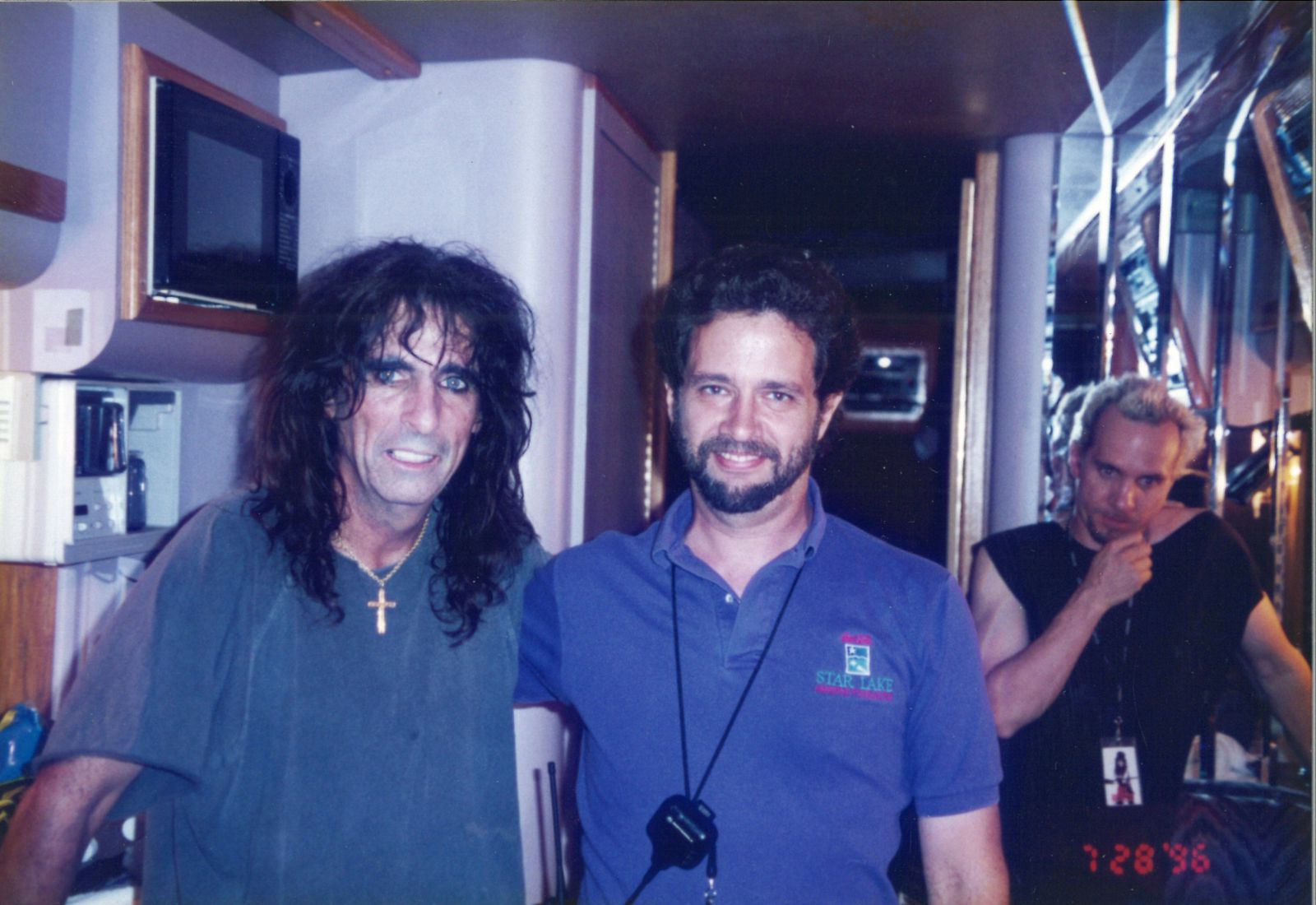 5. ALICE COOPER.....I only remember that this photo, likely at his Sunday, July 28, 1996 Star Lake co-headliner show with the Scorpions, was taken on his Alice's tour bus parked backstage. He's an affable, approachable guy; he regaled me with stories about golfing in years past with local promoter Rich Engler of DiCesare-Engler Productions, the legendary Pittsburgh-market concert company.
Alice's first visit to Star Lake on Friday, August 2, 1991 was an abomination, but really only from the standpoint of ticket sales. The show had been put together by our parent company Pace as a can't-miss double-shot of headliners of Alice with British band Judas Priest. But maybe Alice's theatrics and rock show biz flair clashed with the Priest's peddle-to-the-metal approach, and the on-the-fence fans out there turned their noses up in indifference. Attendance, if I recall correctly, was under 9,000 so the show was not a homerun for the venue by any stretch.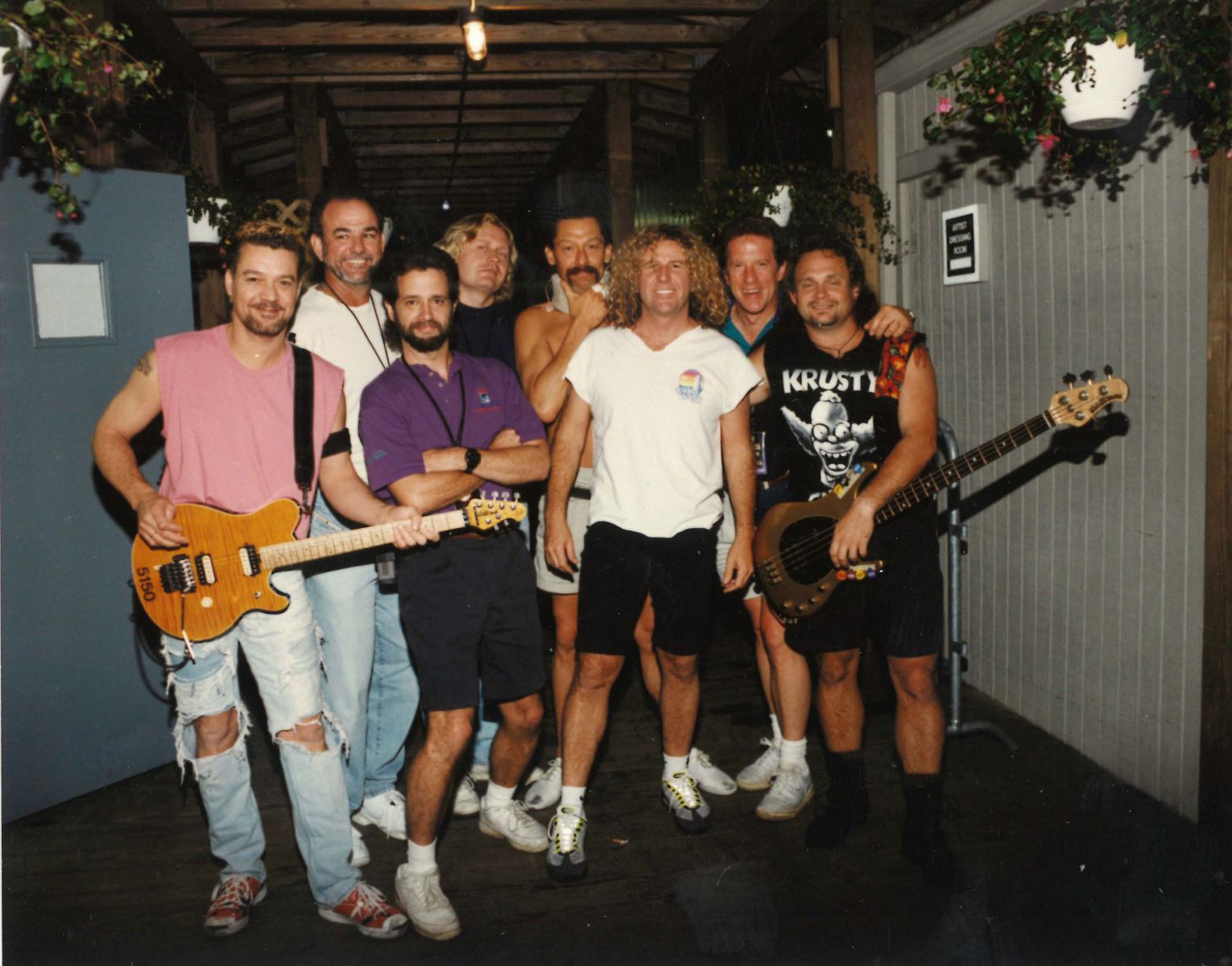 6. VAN HALEN.....Van Halen is one of those rarities that had two winning (at least in a commercial sense) singers who I think in some way molded this powerful band's sound to best suit themselves. First was the flamboyant cock of the walk David Lee Roth who eventually had his pipes supplanted by Sammy Hagar, and it's the latter stage of the band reflected in this Friday, August 11, 1995 photo at Star Lake. Parent-company Pace's Louis Messina is white-shirted and standing second from the left behind purple-shirted Yours Truly; on the far right of the photo standing behind bass player Michael Anthony is the venue's Jack Tumpson.
Van Halen in 1995 had been to Star Lake three times and each visit was a sold-out affair. Hagar was at the helm in this era of the band, but then parted ways in 1996 for reasons reportedly disputed; in any event, the band soldiered on with Gary Cherone, who'd previously sung for Boston rock band Extreme (famous, or infamous, for the song "More Than Words" from the group's 1990 Pornograffitti album). This version of Van Halen hit Star Lake on Friday, July 24, 1998 and sales were ailin'—less than 7,600 tickets were ultimately sold for this unembraceable iteration of a pretty decent band.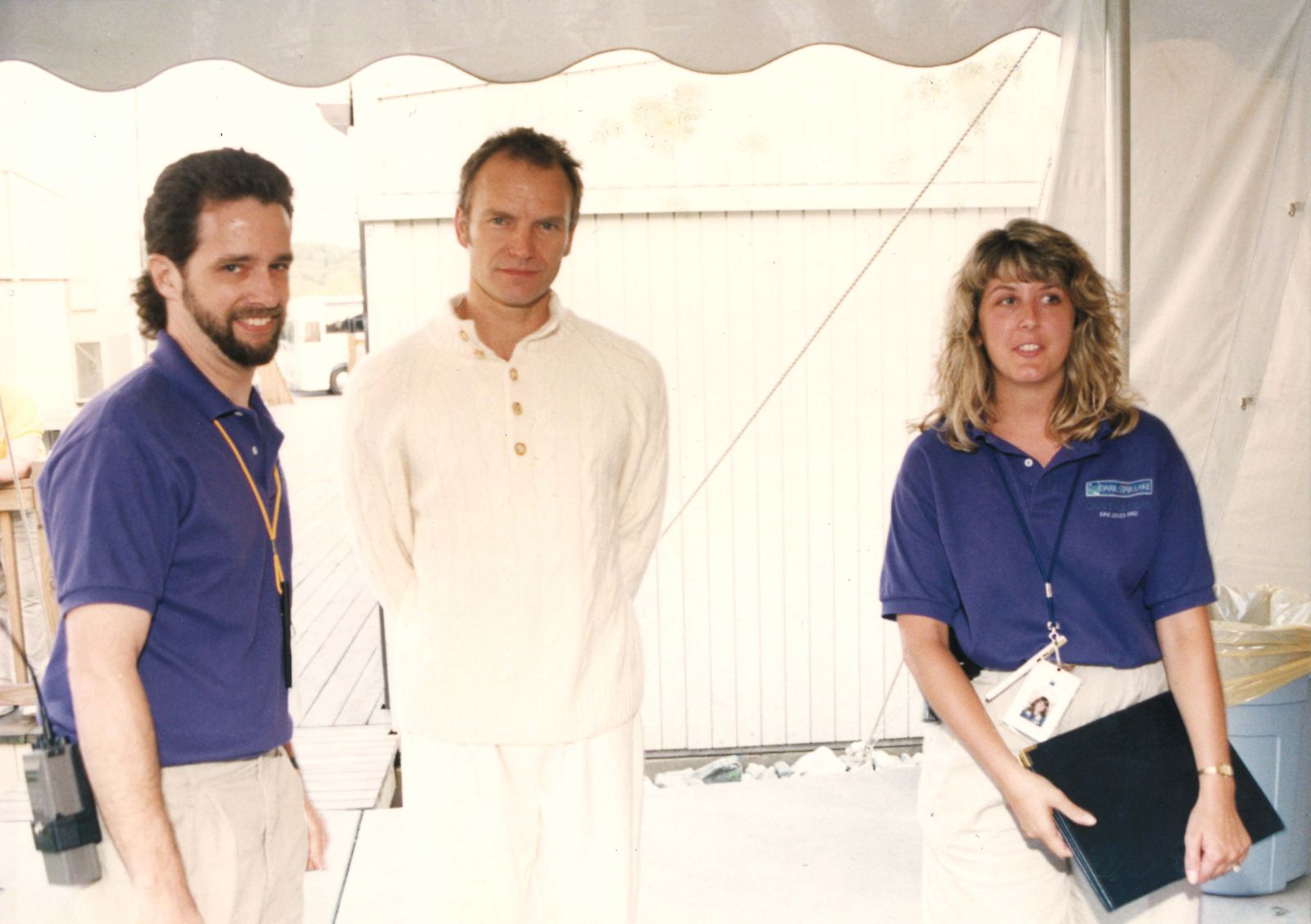 7. STING.....Star Lake Amphitheater (now Key Bank Pavilion) has hosted a slew of high caliber shows over its many years, and one of the most satisfying strings of artists' visits to the venue has to be credited to Sting, who never seems to travel with less than a majorly muscular, way-intuitive batch of musicians on the road with him.
Sting's thing seemed to be timing. His tours were timed to new album releases—not that unusual, in the day—but interestingly in his case this equated to an every-three-year-or-so cycle of appearances with us over the first fifteen years ('91, '93, '96, 2000, and 2004). Even though one would think this would goose attendance because the market was given "time off" to re-whet fan's appetites, the number of concert-goers hauntingly hovered just around 10,000 each time.
The shows were uniformly excellent, with Sting of course dipping into The Police and mining his earliest solo efforts to spark that familiarity. His opening acts, too, were notable; in that first fifteen-year period of the venue, Sting conjured up Lyle Lovett, Special Beat (American handle: The English Beat), Tracy Chapman, and most memorably, Annie Lennox in Sting's 2004 swing through Western Pennsylvania. The latter was a one-two punch of precision and passion; it's the Sting show that stands out in a lot of Star Lake-goers' minds as perhaps the pinnacle.
The photo above may have been taken at the Sunday, July 21, 1996 stop at Star Lake, but the memories (and any date on the back of the picture) have been worn away…It's Yours Truly on the left, Sting of course in the center, and Lori DiLucente (our rep from Caplan Capozzi, the amphitheater's original public relations firm) on the right, and we're all in sweet downtime mode, backstage, about two hours before the doors to the facility were scheduled to open.
_____________________________________________________________________
Posted 1/1/18: WHAT IS HIP…gnosis.
Happy New Year to ALL of you!
Musicasaurus.com's post this time was kick-started by a Christmas present—a book entitled 1,000 Record Covers.
I spent more than a little bit of the holi-daze immersed in this book that seeks to capture the creativity and charisma of three decades of album cover art in the U.S. Leafing through, I came upon some of the works of English design firm Hipgnosis who dazzled many an album collector starting in the late 1960s with their unique approach to photography, darkroom techniques, and conceptual settings. Some say, in a way, they paved a nice path for technology in terms of the eventual development of and unbridled creativity associated with Photoshopping…
Read on, and soak up these images from Hipgnosis…
1. Pink Floyd – A Saucerful of Secrets (1968)
This second studio album from Pink Floyd was noteworthy in a couple of ways: a) The finished product reflected the contributions of the outgoing Syd Barrett (jettisoned for increasingly aberrant behavior) and the incoming David Gilmour, and so Saucerful was a passing of the torch and a stabilization of the line-up; and b) The album also essentially launched the careers of design wizards Storm Thorgerson and Aubrey Powell, who had come up with the cover. Afterward, record label EMI peppered the two with requests for additional covers for some of the other artists they represented, and so the design duo's new company Hipgnosis was born shortly thereafter.
It was really Floyd's 1973 album Dark Side of the Moon, though, that cemented Thorgerson and Powell's reputation for album cover artistry and presented them with a slew of new artist opportunities as their fame mounted alongside the worldwide success of Moon. In addition to keeping its fealty to Floyd with subsequent albums including Wish You Were Here and Animals, Hipgnosis began working with other top-notch bands including Led Zeppelin, Yes, Genesis, Peter Gabriel, Emerson, Lake & Palmer and many more.
2. Quartermass – self-titled debut album (1970)
I have loved pterodactyls from the first moment my tiny, pre-teen fingers freed a plastic replica from the toy box to thwart the chomping of a brontosaurus by a marauding tyrannosaurus rex—you get the picture. Back then, boyhood was dino heaven. My love affair continues with this compelling cover that masks an album of progressive rock by an English band whose shelf life was just three years, 1969-1971. They produced this one studio album of urgent, rollicking material that fans have likened to a lesser-talented Emerson, Lake & Palmer; I also hear strong hints of Uriah Heep, Deep Purple and Bloodrock, sans the guitars.
Quartermass, named for the fictional professor who was the focus of a few sci-fi serials on British television back in the 1950s, consisted of three musicians in an organ-bass-drums set-up. Bassist John Gustafson handled the vocal chores while keyboard wiz Peter Robinson helmed piano, clavinet, harpsichord, synth and especially a Hammond A3, which pumped out those rich, swirling fuzz tones that warmed and won over many a young prog-rocker.
3. Led Zeppelin – Houses of the Holy (1973)
I lifted the following from London's Daily Mail which published an interview with one of the kids from the Houses of the Holy album cover, timed to appear just a day or two before a reunited Zep did their one-off Ahmet Ertegun Tribute Concert at London's O2 Arena. Writer Rick Hewett interviewed Stefan Gates, who talked about the long-ago album cover shoot on the Giant's Causeway in Northern Ireland which featured Stefan and his sister Sam:
"I've heard people saying they put wigs on several children. But there was only me and my sister and that's our real hair. I used to love being naked when I was that age so I didn't mind. I'd whip off my clothes at the drop of a hat and run around having a great time, so I was in my element. My sister was older so she was probably a bit more self-conscious."
The cover art was the brainchild of Aubrey Powell and Storm Thorgerson of legendary album-sleeve designers Hipgnosis. They took several multiple-exposure shots of Stefan and Sam to create the image of more children clambering over the rocks.
There is endless debate among rock fans over the significance of the image.
Powell has claimed he was inspired by the science-fiction book Childhood's End by Arthur C. Clarke, in which children climb off the end of the world.
Stefan Gates—who lives in North London with wife Georgia and daughters Daisy, four, and Poppy, two—is skeptical of all the theories about the artwork's meaning, including Powell's.
He said: "In a lot of cases with graphical design work it's an evolving process and they think up the explanation later. I personally have no idea what it means.
"There's something about it though that is disturbing and haunting, perhaps more so because I am in it."
Although a fan of Led Zeppelin, Stefan confesses he has never listened to Houses Of The Holy, which was released in 1973.
"It carries too much significance for me," he said. "A part of me wants to go out to the Giant's Causeway with a big pair of speakers, strip naked and play it just to see if I have some kind of great epiphany."
4. Hydra – self-titled debut album (1974)
While in college at Penn State, I came upon this debut record from an Atlanta, Georgia rock band that, from the first cut, went full-tilt boogie ("Glitter Queen"). I pretty much wore out the grooves on the album on my less-than-costly, less-than-kind stereo system at the time, head bobbing to this hormone-hyping Southern rock record for a spell—and then it was gone. I had moved along to so many other new bands through my coterie of college friends and my volunteer deejay position on the campus radio station that I had forgotten all about the album with the man and his many heads of snake…
In researching this blog post about Hipgnosis late last week I rounded a bend on this design firm's long stretch of fetching masterworks, and…there it was again. I was smitten to be bitten by this old friend, the album cover I had cradled in college, reading and re-reading the liner notes while gruff vocals and gritty guitars exploded around me. (Postscript to this "reunited and it feels so good" story: The album doesn't hold up for me at all now, but I'm sure the WDVE crowd would soak it up, same as it ever was…)
5. The Alan Parsons Project – I Robot (1977)
In June of 1977 I was clerking at Exile Records in Wexford, PA and furiously writing up sales slips with pen to pad as this album flew out the doors. Local radio stations were relentlessly playing the single "I Wouldn't Want To Be Like You" and the more rock-oriented ones were keying in on the album track "Breakdown."
The album's theme intentionally mirrored writer Isaac Azimov's series of short stories and novels about artificial intelligence, but not close enough to merit litigation (the rights were owned by a TV/film company). The first book in the series of five novels was I, Robot—and reportedly Parsons and company just dropped the comma between "I" and "Robot" to avoid a slap on the wrist (best case) from the media group owners. Project leader Parsons also shied away from direct references to Azimov's writings and steered the lyrics to more general themes of man vs. machine.
6. Strawbs – Deadlines (1977)
This twelfth album by English rockers Strawbs hit record stores in 1977 as well. And once again flashing back into Exile, I remember some of my store customers—the serious collectors who finger-flicked religiously past every album in every bin on most every visit—pulling this one out of the stacks and bringing it to the counter to ask the time-honored "Is this any good?" The artwork had brought them to the counter and me to the cusp of a sale, but being an honest sales guy—that is not an oxymoron, mind you—I had to let them know that I wasn't all that familiar with the band.
Strawbs had formed back in 1964 and originally plied a course toward bluegrass, but then went folksy before veering into progressive rock in the very early 1970s (keyboardist Rick Wakeman had boarded the band for two albums around that time period before departing to join Yes).
7. Renaissance – A Song For All Seasons (1978)
This haunting design was one of several done for the English folk-rock/prog-rock group Renaissance by Hipgnosis, and it's a cover that I could never cast from my cranium. This 1978 album was released in the U.S. in the very month that I started my new job as a record store merchandiser for the Warner-Elektra-Atlantic Corporation—it was March of that year—and on my front porch a week into my new gig, I found a newly-shipped poster tube containing twenty-five (25) "A Song For All Seasons" album covers. These were not normal covers; the merchandising folks at my new record-company employer were obviously seasoning with growth hormones, for the covers were retooled from their original 1' x 1' album size and reproduced as 4-feet x 4-feet posters.
This made for some interesting exchanges out in the field. Some managers of large, stand-alone record stores loved the expansive Renaissance blow-up and cheerfully afforded me some space. Others, especially those eking out flat-liner existences in smaller and much less trafficked locations, gave me expressions I would tend to label as "bemused"—and then sent me packin' before I unpacked.
8. Peter Gabriel – Peter Gabriel (1978)
Gabriel was post-Genesis by about three years when he released his second solo album in 1978, the one that his growing fan base eventually referred to as "Scratch" because of the claw mark approach on the cover. Like the artist's solo debut that preceded this one, and indeed then his third and fourth albums that followed, this second effort had no title other than "Peter Gabriel." The artist apparently didn't mind pissing off his record company in this regard, and so we have only the nicknames to further identify his first four solo outings…
Gabriel's commercial juggernaut finally came with his fifth record, 1986's So (yes, he had finally acquiesced to the record label's request to give the damn thing a name, and relented with a two-letter album title). Sales of So weren't just so-so: The album exploded internationally (aided by MTV) and this rocketed Gabriel out of cult status with songs like "Sledgehammer," "In Your Eyes," "Big Time," "Red Rain" and more.
9. Catherine Wheel – Chrome (1993)
This British band was pretty active all through the 1990s in terms of touring and recording though they only have five studio albums to their credit. Catherine Wheel was labeled part of the shoegazing genre of alternative rock—so named for bands that, on stage, ostensibly stared downward more than most, working their effects pedals for drones and sustains—but after a time they edged a bit toward metal but preserved some lush leanings as well, always atmospheric.
The cover was designed by Storm Thorgerson, co-founder of Hipgnosis and the one who continued on after that design firm's dissolution in 1983 to create a number of other captivating covers for artists. The photo for Chrome was shot in an indoor swimming pool, and it eventually graced the cover of the designer's 1999 publication Eye of the Storm: The Album Graphics of Storm Thorgerson.
10. Ian Dury and the Blockheads – Mr. Love Pants (1998)
British singer-songwriter Dury was most notably a recording artist on Stiff Records, an independent record company born in England in 1976 that immediately caught the wave of some of the most adventurous new punk rockers emerging on the scene. Stiff had attitude to spare, with marketing slogans like "If It Ain't Stiff, It Ain't Worth a F**k," and part of their promotional genius was to mount various tours of Stiff recording artists in their quest for world (or at least U.K.) domination. The label's first tour in 1977 was U.K.-only; it was dubbed the 5 Live Stiffs Tour and featured new and fledging artists of the genre including Ian Dury and the Blockheads, Elvis Costello and The Attractions, Wreckless Eric, Nick Lowe and Larry Wallis.
Over here in the U.S, CBS Records did the best job of promoting Stiff stateside through a label distribution deal, and so I was fortunate enough back in late '78—while working as Warner Brothers/Elektra/Atlantic's field display person—to snag a copy of Ian Dury and the Blockhead's newest single "Hit Me with your Rhythm Stick" from an industry mate who worked as the local CBS record rep. "Rhythm Stick" was my introduction to Dury's unique style—a sound that borrowed from rock, reggae, jazz and funk, often powered by English "music hall" (the music rooted in Britain's theatrical traditions, a la America's vaudeville). Lyrically, Dury was zany, erudite, full of word play and not above some sexual mischief. The album pictured above is a Dury & Blockheads reunion record released in 1998 and the cover was a Storm Thorgerson production (post-Hipgnosis).
__________________________________________________________________________________________________________________